Are you a K-pop fan who can't get enough of Lisa from BlackPink? Have you ever wished you could hear her voice say anything you wanted, or use her unique voice to prank your friends? Well, now you can! Thanks to the latest AI technology, you can change your voice to sound like Lisa's with just a few clicks. And the best part? You can even customize the voice to say anything you want!
Whether you're a content creator looking for BlackPink Lisa's AI voice for your videos or just a fan who wants to hear Lisa say your name, this technology is sure to impress. Now, follow the blog and learn how to get Lisa BlackPink AI voice with the best voice changer.
An Overview of BlackPink Lisa AI Voice
Who is Lisa from BlackPink
Lisa is a Thai rapper, singer, and dancer who is best known as a member of the South Korean girl group BlackPink. Lalisa Manoban was born in Thailand and joined YG Entertainment as a trainee in 2011. Lisa made her debut with BlackPink in 2016 and quickly became popular for her impressive dance skills and unique fashion sense. She has since become one of the most recognized and influential K-pop idols in the world.
What's So Special about Lisa's Voice
Lisa's voice is one of the most unique and recognizable voices in the K-pop industry. Her voice has a distinct tone that is both sweet and powerful, making it perfect for singing and rapping. Fans have fallen in love with her voice and often comment on how it adds a special touch to BlackPink's music. With the new voice technology that can generate Lisa's AI voice, fans can now enjoy hearing Lisa's voice say anything they want, making it a truly special and personalized experience.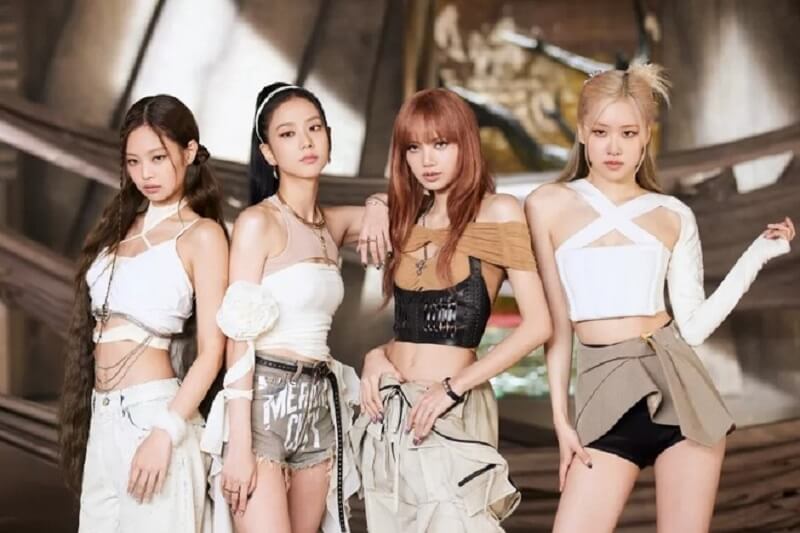 How to Get BlackPink Lisa Voice with Voice Changer?
If you are a fan of BlackPink's Lisa and want to generate her voice with AI technology, you might want to check out Wootechy SoundBot. SoundBot is a cutting-edge voice changer software that allows you to modify your voice in real-time, giving you the ability to sound like anyone you want, including Lisa BlackPink.
The software is incredibly user-friendly and has a range of features that make it stand out from other voice changers on the market. In addition, SoundBot offers a variety of voice modulation options, including pitch, speed, and delay, so you can create a truly unique Lisa BlackPink AI voice that suits your needs.
Some Popular Features of Wootechy SoundBot--The Best Voice Changer
75.000.000+

Downloads

Change your voice via the microphone in real-time or a voice file.

250+ voice filters to modify your voice to different characters including celebrities', Ghostface, male to female, Cartoon, Anime, etc...

600+ sound effects to diversify your Background voice.

Comparable with various platforms, live chat, gaming, live streaming, conferences, etc...

A wide range of customized options are available.

Easy to use, even for beginners.

Update new voice constantly.
The step-by-step guide to getting BlackPink Lisa AI voice with Wootechy SoundBot
Step 1: Download and install Wootechy SoundBot on your computer.
Step 2: Open the program and set your microphone and speaker settings following the on-screen instructions. It is recommended to select the appropriate output device, such as your headphones, and the real microphone as the input device.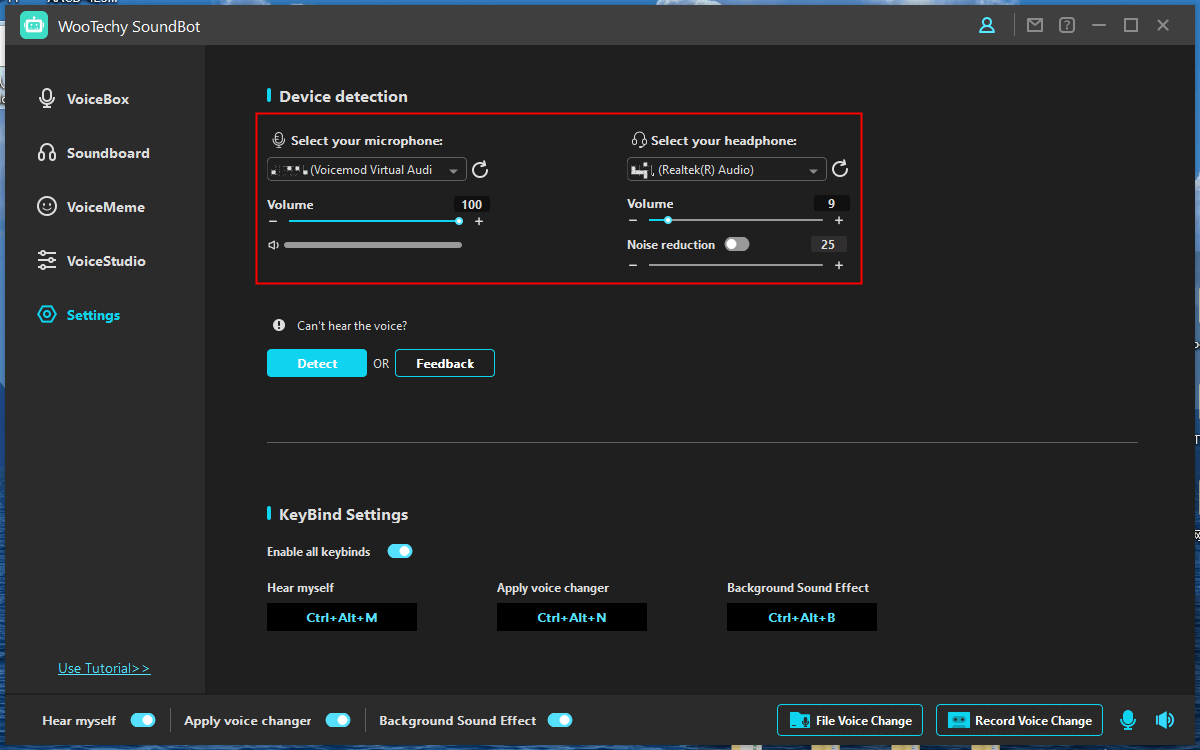 Step 3: Now, you should be on the SoundBot interface and should see the "VoiceBox". Here, you can find a wide range of voice filters. To change your voice to sound like BlackPink Lisa, click "Lisa" and speak to your Microphone. Then, you will get the Lisa AI voice in real-time. It's that simple.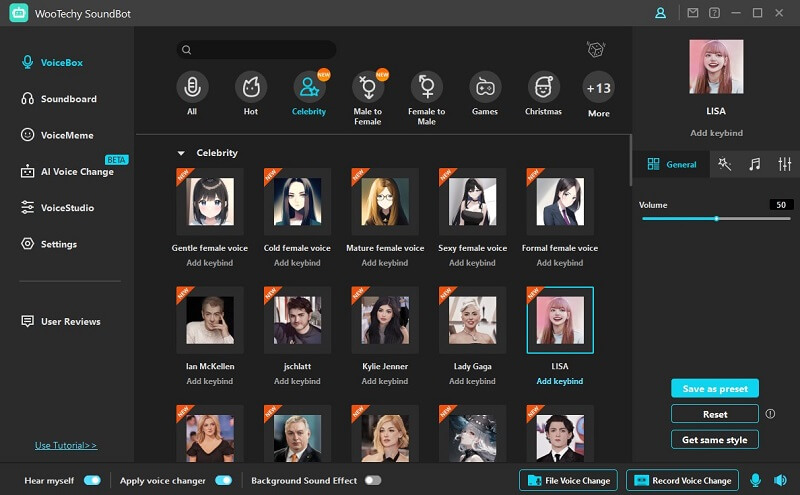 Step 4: If you wanna have more unique sound features, you can click Voicestudio and adjust 3-EQ, pitch, pas, echo, and so on.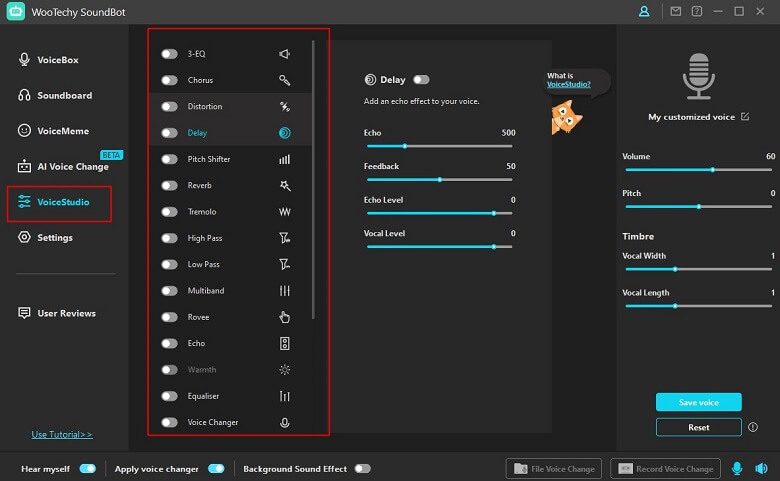 Tips: Use Lisa AI voice changer on different platforms
SoundBot is compatible with platforms like Fortnite, PUBG,
Discord
, Skype, Twitch, and more. Open the platform you want to use SoundBot with and navigate to its voice settings. Choose the "Microphone (Voice Changer Virtual Audio Device (WDM))" as the input device to apply the voice changer effect in real time.
Conclusion
Overall, Wootechy SoundBot is a powerful and user-friendly voice changer software that can help you create a unique and personalized Lisa BlackPink AI voice. With its real-time voice-changing capabilities and customizable presets, you can easily modify your voice to sound like Lisa's and use it for a variety of applications, from content creation to voice chat programs.
Whether you're a fan of BlackPink or just looking for a fun way to experiment with your voice, the Wootechy SoundBot is a great tool to have in your arsenal. So why not give it a try and see how you can transform your voice into something truly special?
Part 3: The Latest News about BlackPink Lisa that People are Most Interested in
1

Will BlackPink Lisa renew her contract with YG?

According to reliable sources, BlackPink Jennie did not renew her contract with YG Entertainment. She may leave YG after an encore tour. Negotiations with Lisa are still ongoing, but Lisa also wants to leave. Rose's contact with BLACKLABEL has been confirmed. Jisoo will go with YG or go to the BLACKLABEL.
2

Is BlackPink Set to disband?

There is no official announcement about BlackPink disbanding, and the future of the group is uncertain. BlackPink's members have been pursuing individual activities, such as solo music releases, fashion endorsements, and acting roles. In addition, the group's label, YG Entertainment, has announced plans to debut the new girl group, Baby Monster, which has led to speculation about the future of BlackPink. However, based on the current situation, It is unlikely that all four members will renew their contracts.
3

Dating Rumors with Frédéric Arnault

Lisa sparked dating rumors after being spotted with Frédéric Arnault in Paris. A TikTok video captured them enjoying lunch together, leading fans to speculate about a potential romantic relationship. While there has been no official confirmation, fans have expressed their support for Lisa's happiness.