Voice changers are fun and versatile tools that allow users to modify their voice in real-time, opening up a world of creative possibilities for entertainment, gaming, and online communication.
Some of you may know what Clownfish voice changer is. In this article, we will explore this tool and discuss how to use Clownfish voice changer. Additionally, we will introduce you to an excellent alternative called Wootechy SoundBot, which offers a range of innovative features and a user-friendly interface.
Part 1: How to Use Clownfish Voice Changer?
Clownfish Voice Changer is a software application based on Windows that enables users to alter their voice during live voice chats, recordings, and other forms of digital communication. To use Clownfish Voice Changer, you can follow the below steps.
Step 1: Find the appropriate version for your Windows PC based on the "Bits" of your system (64-bit or 32-bit). Download the Clownfish Voice Changer setup file.
Step 2: After installation, a drop-down side window will appear with various options. In the setup option, click on "System Integration." Set the appropriate audio source from the available options.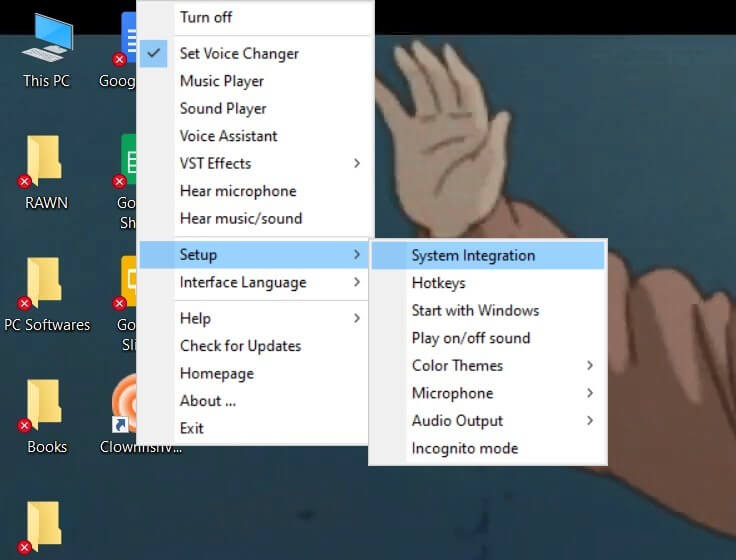 Step 3: Adjust the settings according to your preferences and experiment with different voice effects. Now you can choose a voice effect and begin the voice changing.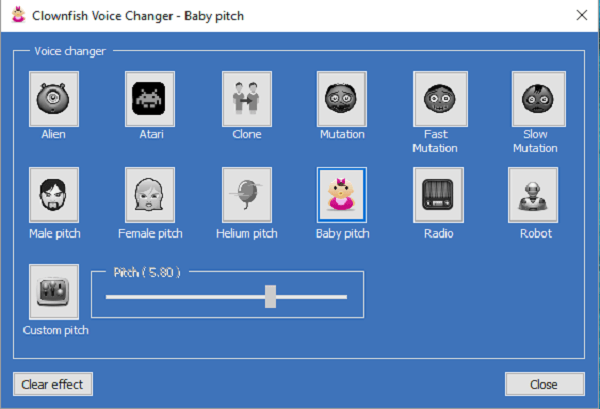 Clownfish Voice Changer Features and Effects

Alien Voice: Transform your voice to sound extraterrestrial.

Female Voice: Modify your voice to sound like a woman.

Male Voice: Alter your voice to sound masculine.

Robot Voice: Give your voice a robotic tone.

Echo: Add an echo effect to your voice.

Background Sounds: Incorporate background noises like rain or traffic into your voice chats.
Part 2: Is Clownfish Voice Changer Safe?
Clownfish Voice Changer is generally considered safe to use as long as it is downloaded from the official website and installed correctly. However, like any other software, it is recommended to be cautious and take necessary precautions when using Clownfish Voice Changer, as ask for permission to access other files on your computer.
Part 3: The Best Clownfish Alternative--Wootechy SoundBot
While Clownfish Voice Changer is available to change your voice to a different type, you may encounter some issues along the way, such as Clownfish not working, no voice change, capability issues, echo or feedback. Fortunately, there are alternative options available. One of the best voice changers is Wootechy SoundBot.
The WooTechy SoundBot is a real-time voice changer software developed by WooTechy. It offers various features and effects that allow users to modify their voices in real-time during voice calls, gaming sessions, and content creation. With the SoundBot, users can change their voices using over 200 voice filters and 400 sound effects, providing a fun experience.
Some of the key features of the WooTechy SoundBot include:
Extensive voice effects, including popular choices like robot, male to female, alien, and echo, and unique effects like celebrity voices and animal sounds.
Modify your voice in real-time or by uploading pre-record audio file.
Can be used with various programs, including gaming platforms, streaming software, and communication tools like Discord.
Update new voice filters for every week.
Provides a soundboard with over 400 built-in sound effects, allowing you to play sound effects in multiple ways such as replay, cycle, overlap, and mute.
Export the modified audio for sharing on platforms like TikTok, YouTube, and Facebook.
Supports importing MP3 or WAV audio files, expanding the sound effect library.
How to use Wootechy SoundBot Voice Changer?
Wootechy SoundBot provides an intuitive and easy-to-navigate interface, making it accessible to both beginners and advanced users. All you need is to follow the below simple steps.
Step 1: Download and install the SoundBot software on your PC.
Step 2: Once installed, a prompt about setting up output and input devices will pop up. Select the output device as your headphones and the input device as your real microphone.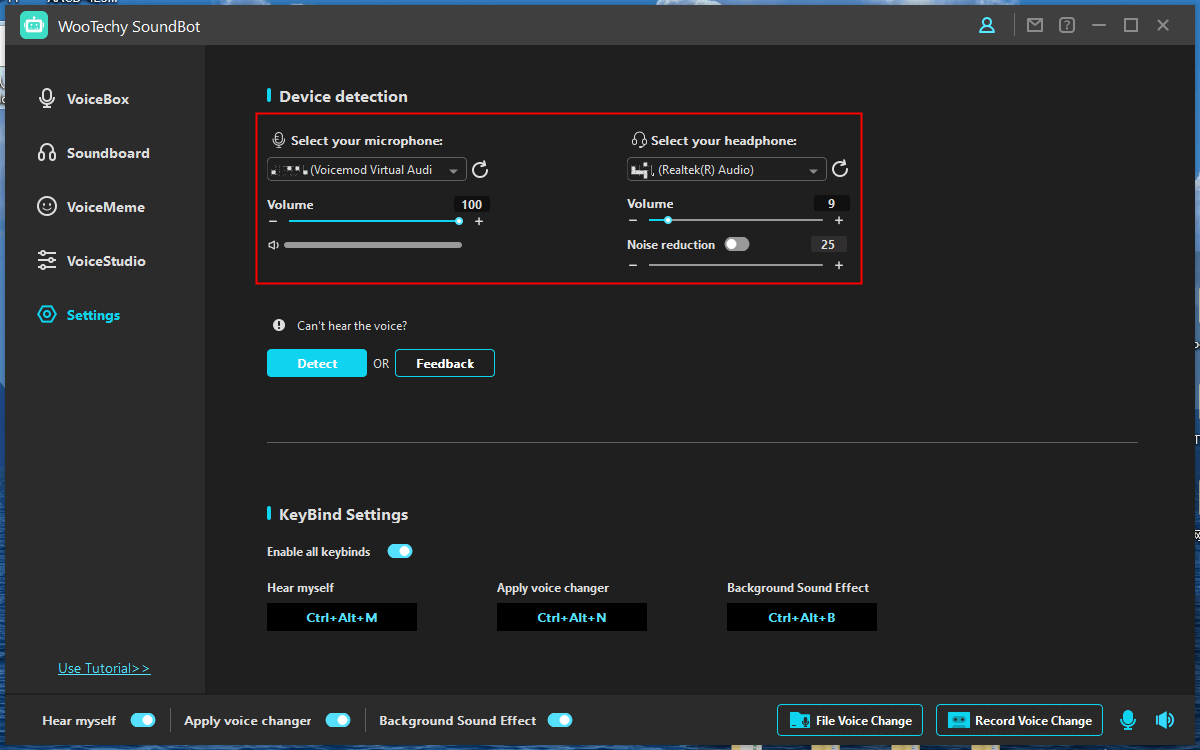 Step 3: Experiment with the different voice effects and settings, find and click a perfect voice transformation for your needs. Speak into your microphone. You will find your voice is being changed in real time.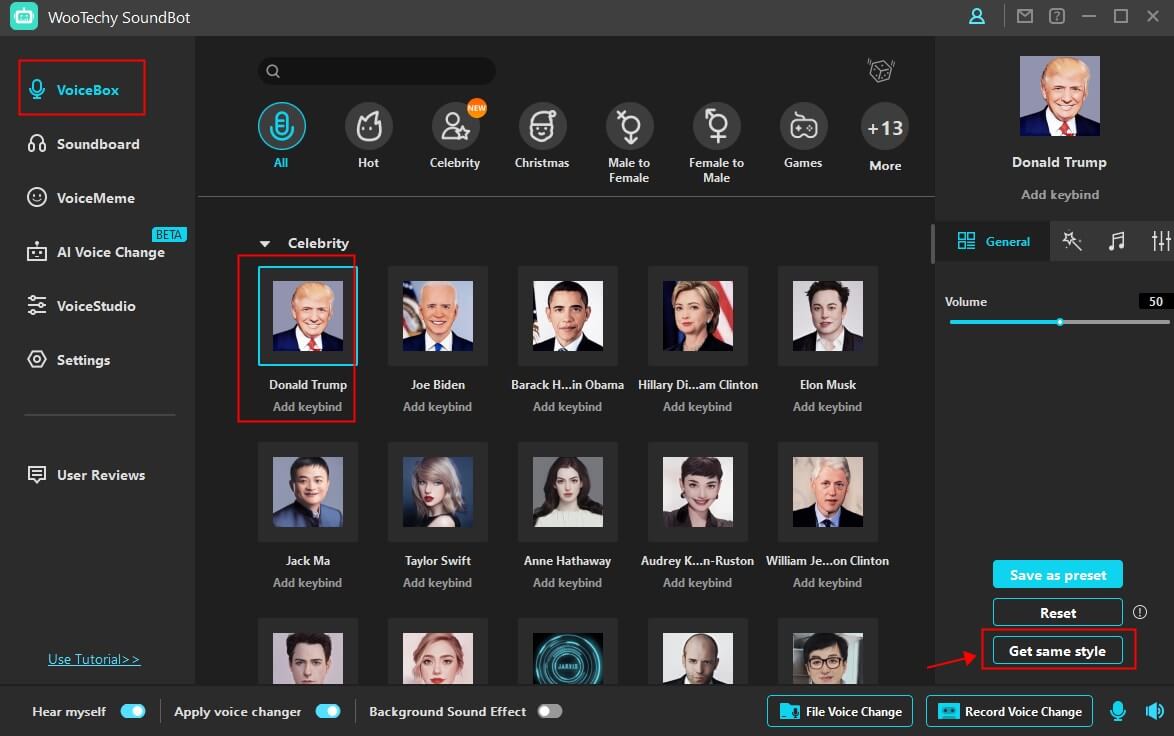 To customize the voice, you can also use the voice studio, or enable an auto-tune.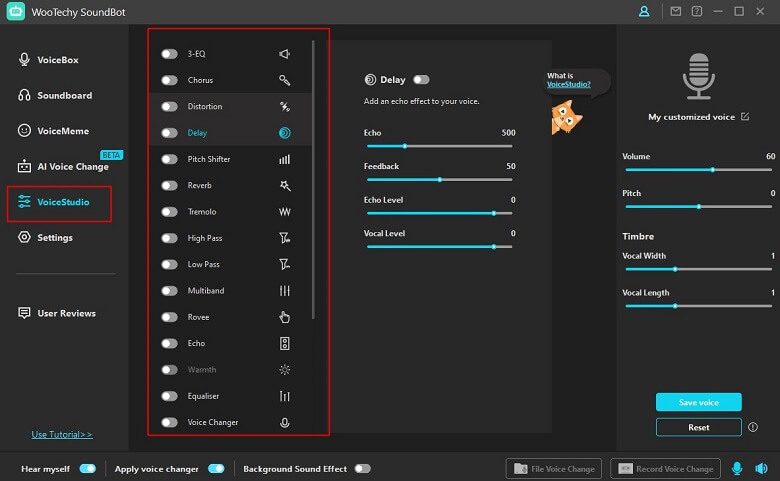 To use SoundBot on different platforms like Discord, plus one more setting:
Launch Discord and click on the voice settings icon at the bottom.
In the user settings window, navigate to the "Voice" tab. Under the "INPUT DEVICE" section, choose "Microphone (Voice Changer Virtual Audio Device)" as the input device.
Turn off the "Automatically determine input sensitivity" option. Adjust the sensitivity setting to ensure that the green notification appears when you speak.
Click the "Escape" button to save the settings.
Now, every setting is done. You can freely change your voice to sound like different types on live chat, live streaming, gaming communication, pranking friends or content creation.
Wootechy SoundBot VS Clownfish
When comparing Wootechy SoundBot and Clownfish, it's evident that they have similar features and both of them offer voice-changing capabilities. Of course, there are some different ones
| Voice Changer | Real-time changing | Audio File changing | Voice Filters | Sound effects |
| --- | --- | --- | --- | --- |
| SoundBot | Support | Support | 200+ | 400+ |
| Clownfish | Not Support | Not Support | 20+ | 200+ |
Conclusion
In this article, we provided the steps about how to use Clownfish voice changer, as well as review the best alternative, Wootechy SoundBot. For SoundBot, It has been praised for its ease of use, extensive range of voice filters and effects, and real-time functionality, making it suitable for content creators, pranksters, gamers, and social media enthusiasts.
So, what are you waiting for? Download Wootechy SoundBot for free today and unlock the power of your voice!