How to get a voice changer on Oculus Quest 2? Is there any voice changer for Oculus Quest 2 without PC?
The Oculus Quest 2 is an excellent piece of gear, but you can't change its voice in the official setting. However, with a voice changer for Oculus Quest 2, you can change your voice in real time while you're playing VR games, chatting with friends, or even just recording videos. From this article, you will learn the best voice changer for Oculus Quest 2, and the step-by-step guides to use it on your Oculus Quest.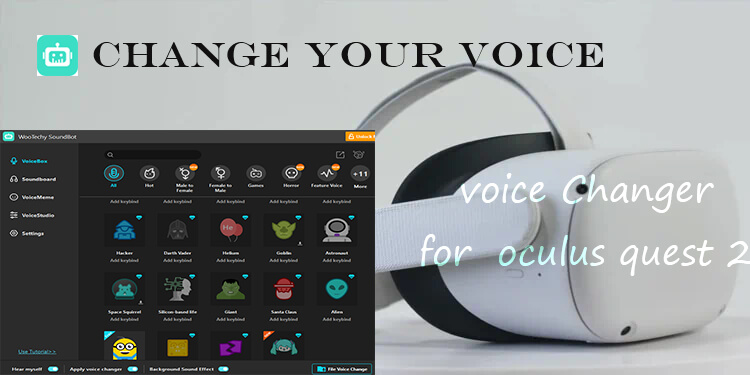 Part 1. An Overview of Voice Changer for Oculus Quest 2?
The Oculus Quest 2 is a virtual reality (VR) headset developed by Oculus, a division of Facebook. Released in 2020, it offers an all-in-one VR gaming experience without the need for a PC or external sensors. With improved graphics, performance, and a high-resolution display, the Quest 2 provides immersive gameplay and access to a wide range of virtual reality experiences and applications.
Well, can I get change voice of the Oculus quest 2? Yes, you can get a voice changer for the Oculus Quest 2. The answer was quite obvious in a world where AI voice technology has advanced enough to allow us to hack our voices. There are tons of apps available for the Quest that enable you to do so.
Next, we will explore how to get a voice changer on oculus quest 2 and learn the step guide to change your voice using a voice changer app…
Part 2. The Best Voice Changer for Oculus Quest 2 on PC
As mentioned above, there are many voice-changing apps for the Oculus Quest 2. We gathered and reviewed them, so you don't need to confuse which one is the best voice changer for Oculus Quest 2. Based on our reviews, we highly recommend the WooTechy SoundBot app.
SoundBot is a handy AI voice changer for various applications, programs, and games, including Oculus Quest 2. You can instantly change the voice to make it sound like different types without downloading files or plugins.
A lot of people may argue about the quality from some different voice changers. But this particular one is superior. When it comes to sound, there is no such thing as better as SoundBot as it has the noise reduction feature and ensures your sound quality.
SoundBot - Best Oculus Quest 2 Voice Changer

75.000.000+

Download

VoiceBox includes 250+ voice filters to change your voice in Oculus Quest, such as Darth Vader, gamer girl, Master Chief, or celebrity voices.

It has 600+ built-in sound effects and 400+ voice memes to double up the game fun in Oculus Quest.

You can use keybinds to control the above voice filters and sounds whenever you want without disrupting the game.

Can be used in other game platforms such as Fortnite, Valorant, Xbox, PUBG, or Discord, Skype, ect...

Keep updating new voice for every week, including free voices.
Soundbot makes it easier to enjoy virtual reality with your friends. It's fun to play around with it and try all the different features. Plus, it has an easy-to-use interface as well. You can get a lot out of it if you know how to use it effectively. Let's see how to get this AI voice changer on oculus quest 2.
Step 1: Download Soundbot
First, download the SoundBot voice changer from the WooTechy site. Install and launch it on your PC.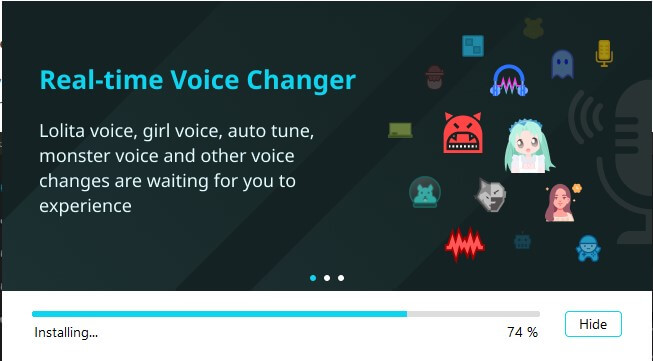 Step 2: Choose input and output devices
To use Soundbot effectively, select the input and output devices from the application's settings. Go to Settings and assign your headphone as the output and microphone as the input device.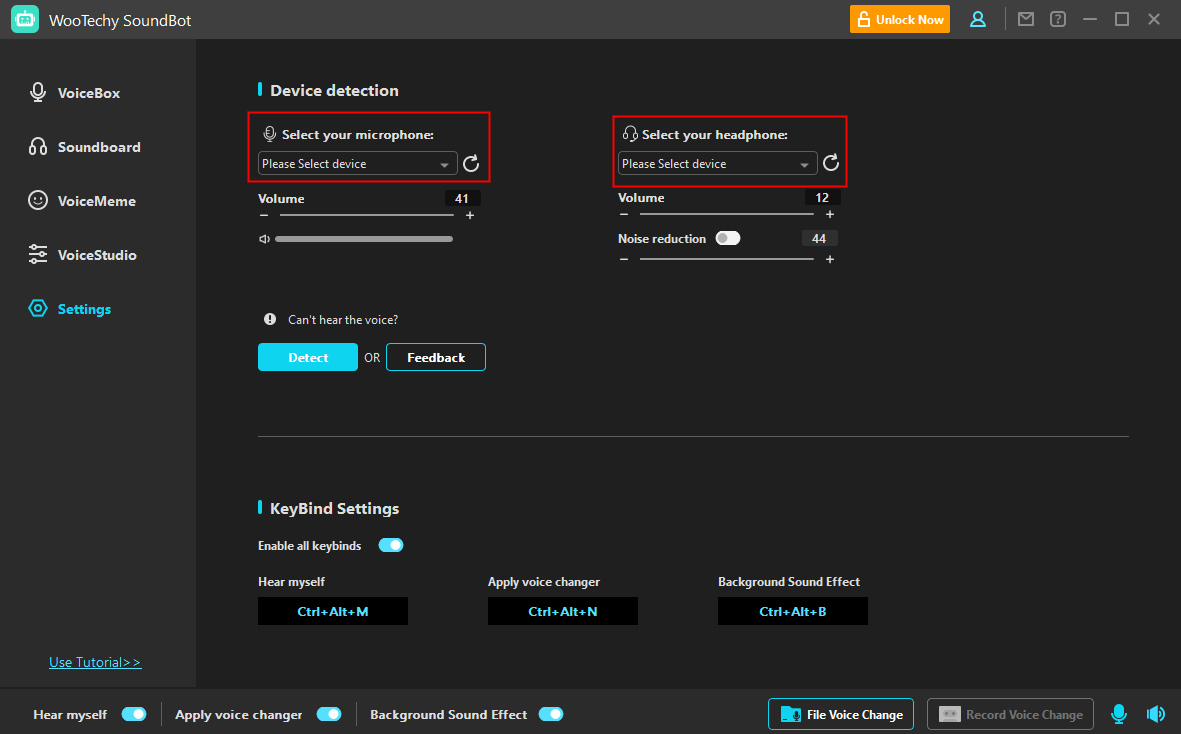 Once you've set the input and output channels, the app will say the setup is complete.
Step 3: Check the Voice-Changing Effects
Go to VoiceBox listed on the left side of the application. Click any effect and speak into your microphone to hear how your voice sounds filtered through the different soundboard filters.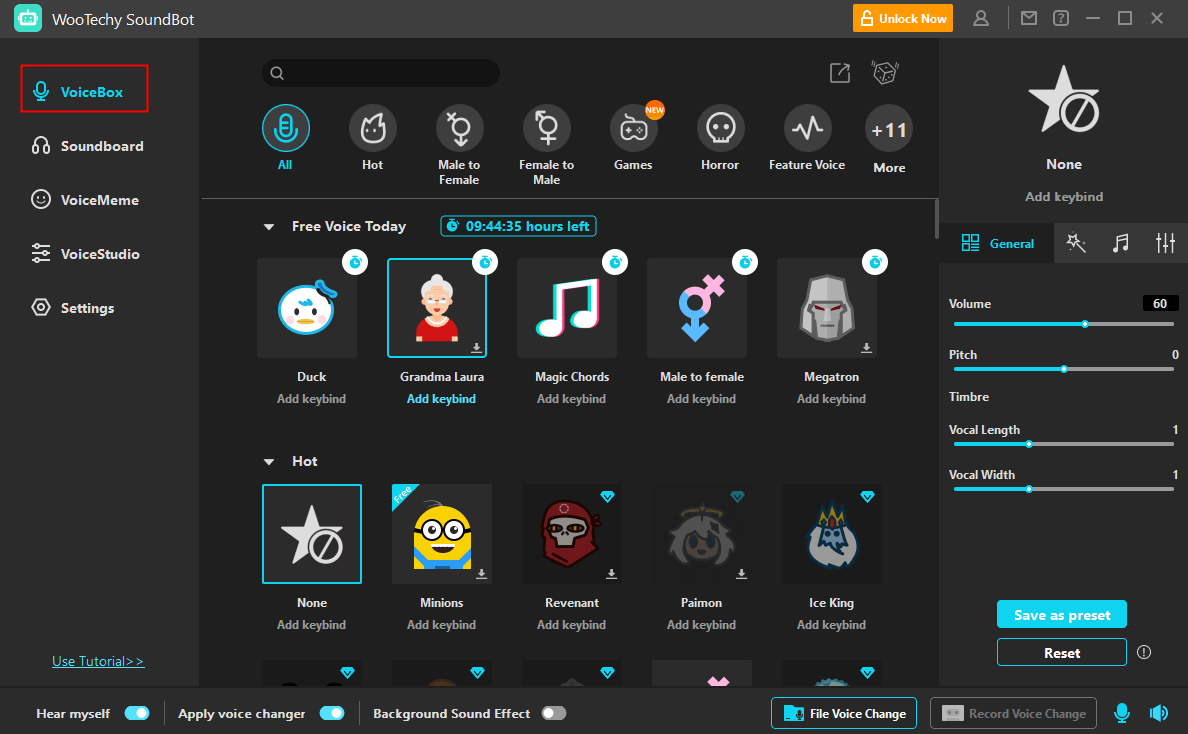 Step 4: Change Your Voice in Oculus Quest 2
Make sure SoundBot in running in the background. Open Oculus Quest 2 and head to its Settings. In the Input Device, choose (Voice Changer Virtual Audio Device (WDM)). After that, you can change the voice from Soundbot, and it will change your voice in real time.
Part 3. How to Get a Voice Changer on Oculus Quest 2 without PC?
Unfortunately,there is no way to get a voice changer on the Oculus Quest 2 without a PC. The Quest 2 does not have the ability to install apps from outside of the official Oculus Store, and there are no voice changer apps available in the store.
Part 4. Other Tips for Using Oculus Quest 2?
Except for providing the guide for how to get a voice changer on Oculus Quest 2, here we also provide some tips for using this virtual tools and hope it can enhance your AR experience.
Clean the lenses: Use a microfiber cloth or lens cleaning wipes to gently clean the lenses. Avoid using harsh chemicals or abrasive materials that could damage them.
Clear play area: Create a clear and spacious play area free of obstacles to prevent accidents while playing VR games. Clear away furniture, cords, and other potential hazards.
Utilize guardian system: Set up the Guardian system, which creates a virtual boundary to keep you safe within your play area. It helps prevent collisions with real-world objects.
Customize settings: Explore the settings menu to personalize your VR experience. Adjust audio, tracking, and comfort settings according to your preferences.
Connect with others: Connect with friends and other VR users through multiplayer games, social VR platforms, or online communities. It enhances the social aspect of VR and allows for shared experiences.
Conclusion
This article covers most of details of the voice changer for Oculus Quest 2. The best tool is, no doubt, Soundbot by WooTechy. It offers multiple features and unlimited voice-changing effects that you'll ever need. This is also a guide on how to use this voice changer for Oculus Quest 2. Still, if you have any queries, comment below, and we'll answer all your questions!