In recent years, the gaming culture across the world is having a big transformation. Back in the days, gaming means sitting on the couch with a bunch of friends or family and having fun. But now it's more like talking to friends or strangers with a game voice changer app while streaming to viewers all across the world.
The reason why gamers love gaming voice change is that, by changing your voice with a voice changer app for gaming, it would not only make things more fun, but also protect your personal information when you are exposed to a whole bunch of strangers online.
If you are thinking about picking up a good game voice changer app, read on because today we're going to introduce everything about gaming voice change, as well as the best game voice changer apps.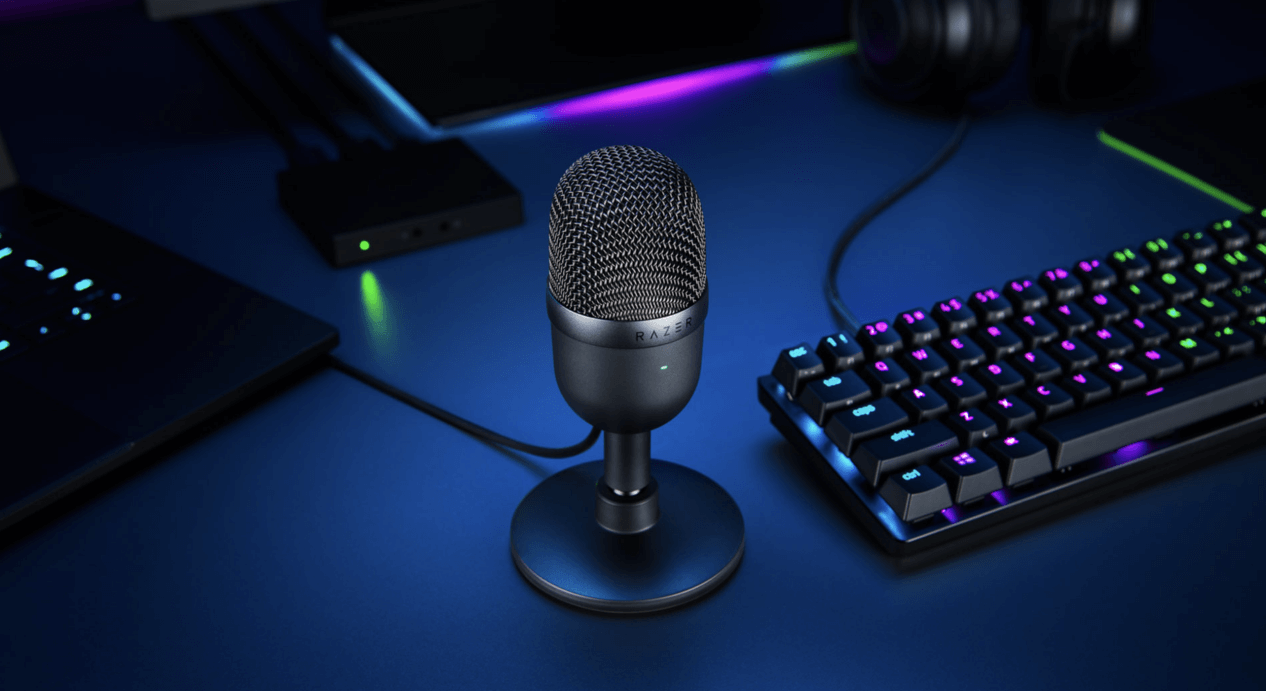 Part 1. Can I Change My Voice While Gaming?
Of course, you can change your voice while gaming.
If you have never done such a thing like gaming voice change, you might be wondering if it is possible to change your voice while gaming. After all, it is not very common to see a setting where you can change your voice in the games.
But the truth is, most the gaming voice change you see online are achieved not by the game setting itself, but with some external game voice changer app. With these apps, it is easy to change your voice into any character in your mind with a simple click of a button.
So yes, you can change your voice while gaming, but only when you have a solid game voice changer app, or voice changer mic for gaming.
Part 2. How to Select A Great Gaming Voice Changer?
Although there are thousands of game voice changer apps online, few of them is actually good for gaming a voice change. When you are selecting a gaming voice changer, here are a few things that you should keep in mind to choose an excellent gaming voice changer.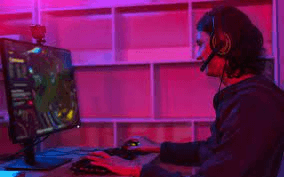 Capability of real time filtering. Many voice changer apps only allow you to upload a pre-recorded audio and add the filters to it. But when you are doing gaming voice change, what do you need is a real time filtering function instead of adding filters to pre-recorded audios.
Simplicity. Many game voice changer apps provide tons of parameters for you to set up. It is good for industrial or professional audio tuning, but could be more of an overkill for gaming voice change.
Amount of voice filters. When you are doing gaming voice change, it is very easy to get bored of one voice or two. A better game voice changer app provides hundreds of voice filters which allow you to switch up and always have fun.
Compatibility and quality. It is important that the game voice changer app you choose is compatible with not only your games, but also your gaming platform. Also, you want to make sure that the output quality is high enough for other people to not recognize the voice being faked by software.
Part 3. Full Guide for Gaming Voice Changers
There are many gaming voice changers in the market, but not all can be alternative ones to help you change your voice in games. The following will list top 6 gaming voice changers from the most popular one to the least.
Voice Changers

WooTechy SoundBot

UnicTool MagicVox

Clownfish Voice Changer

Voicemod

NCH Voxal Voice Changer

Magic Call

Features

Realtime voice changing
High quality voice qoutput
Key-bind control
SoundStudio

Realtime voice change
SoundStudio
Voice memes
User friendly

VST plugin support
Music and sound player
Text to sound

Twitch extension
AI voice changer
sound effects
Voicelab

Phone call support
background sounds

Voice Effects

500+

100+

14

50+

30+

10+

Free Trail

Yes

Yes

Yes

Yes

Yes

Yes

Key-bind Control

Yes

Yes

No

Yes

No

No
1

Use WooTechy SoundBot

WooTechy SoundBot is one of the most popular and recommended gaming voice changer apps on PC. With hundreds of brilliant AI voice filters and voice memes, it is extremely suitable for gaming voice change as you can freely switch to any voice with preset hotkeys or the hotkeys you customized yourself.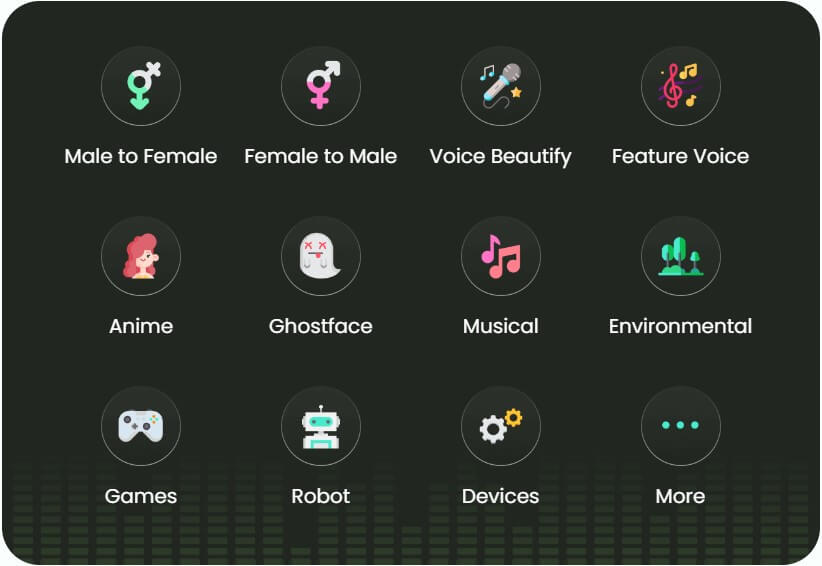 75.000.000+
Downloads
You can use over 500 voice effects to customize your recording in real time, such as changing vice to a witch, Space Marine and so on.

More than 500+ voice filters and voice memes.

Indistinguishable and high-quality fake voice output.

Great compatibility for all games.

One-key voice change shortcut and customizable voice.
How to Use SoundBot to Change Your Voice?
Step 1: Download SoundBot from the official website and install it on your PC.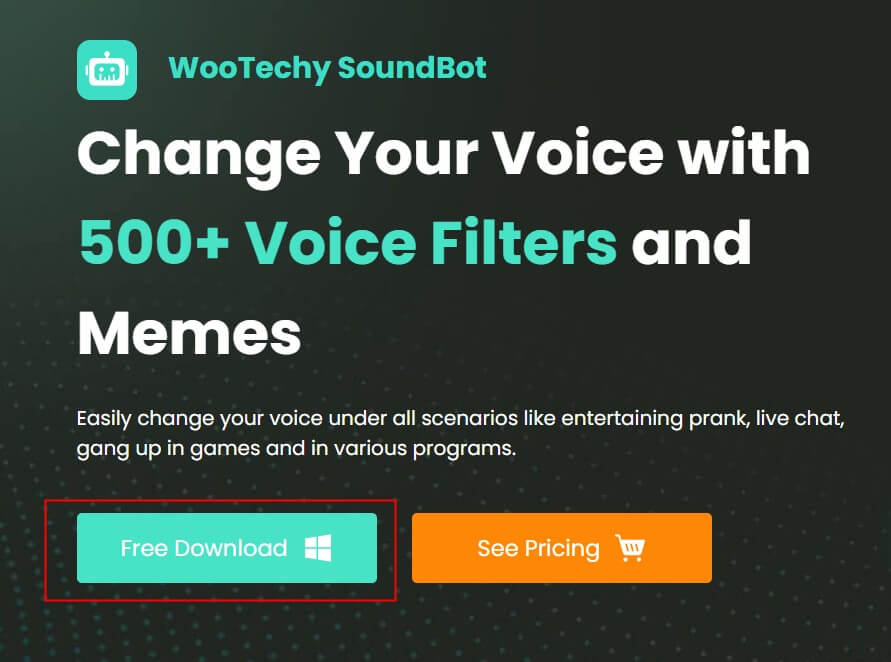 Step 2: Launch the application and select the correct input and output devices in the popup setting window. Then click OK to confirm.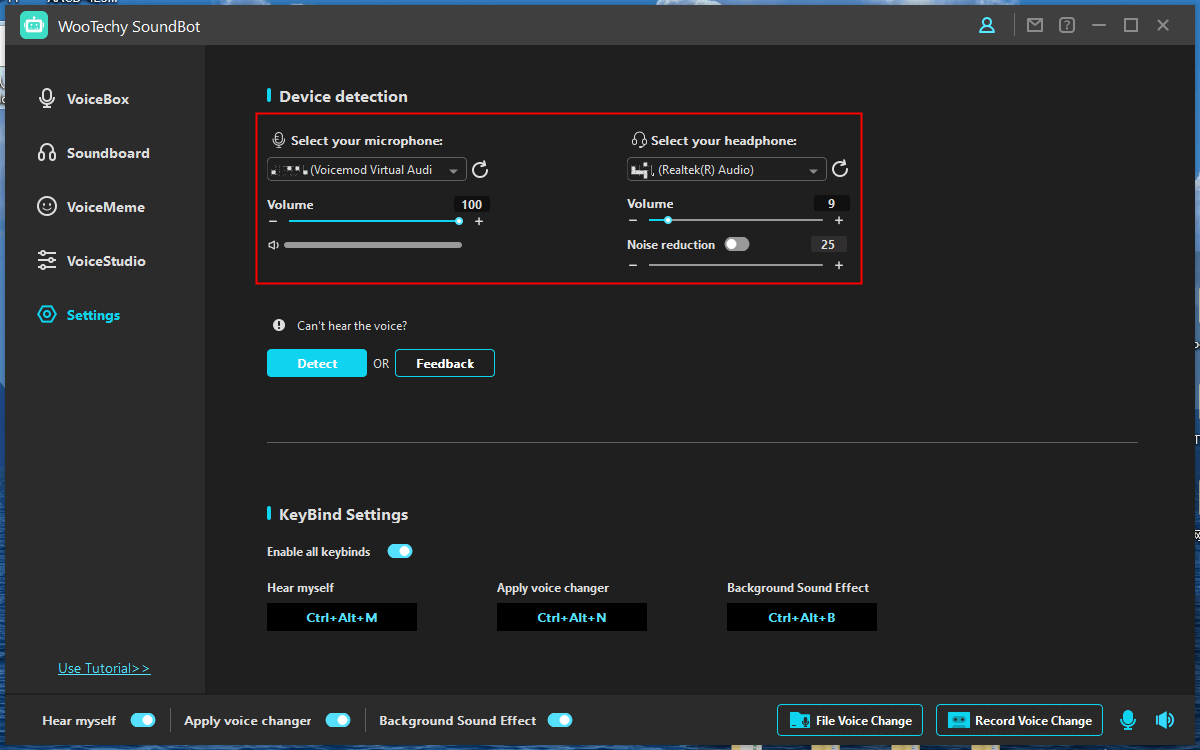 Step 3: Then launch your game, and select a preferred voice from the home page of SoundBot.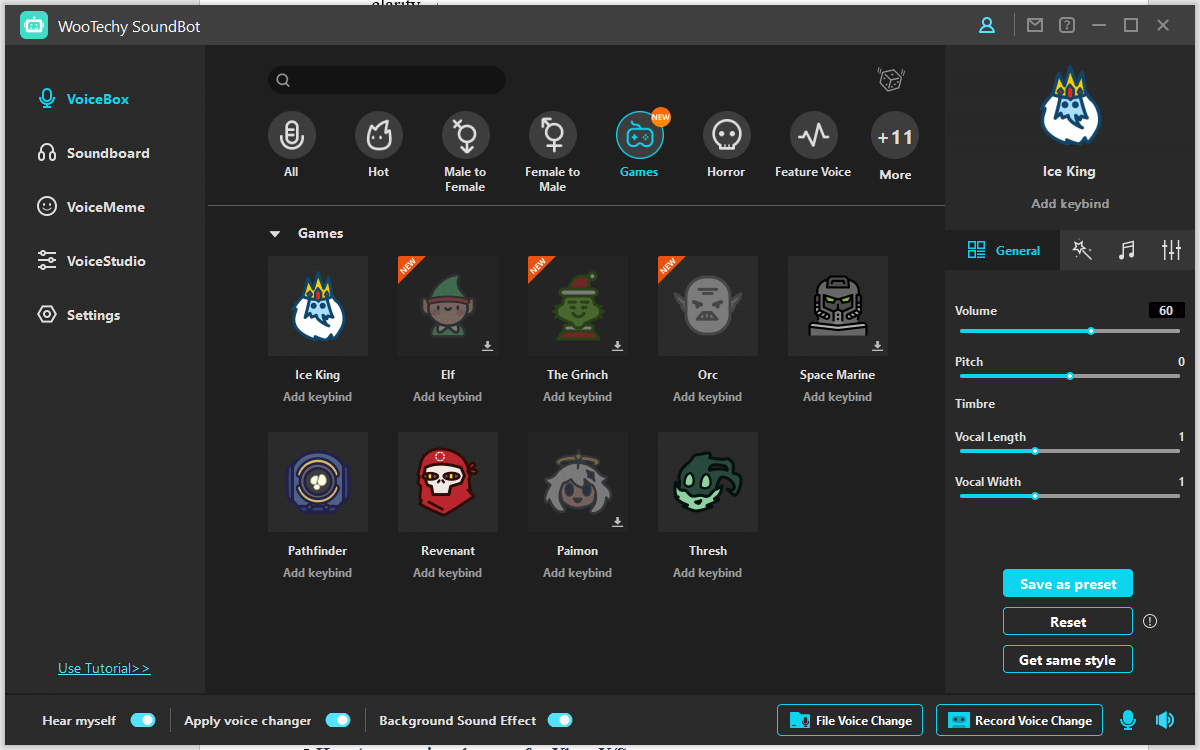 2

UnicTool MagicVox

UnicTool MagicVox it's a gaming voice changer quite like WooTechy SoundBot. It has a clean user interface and intuitive interaction Logic. The program supports various main stream games, and you can easily take any voice from its massive voice library.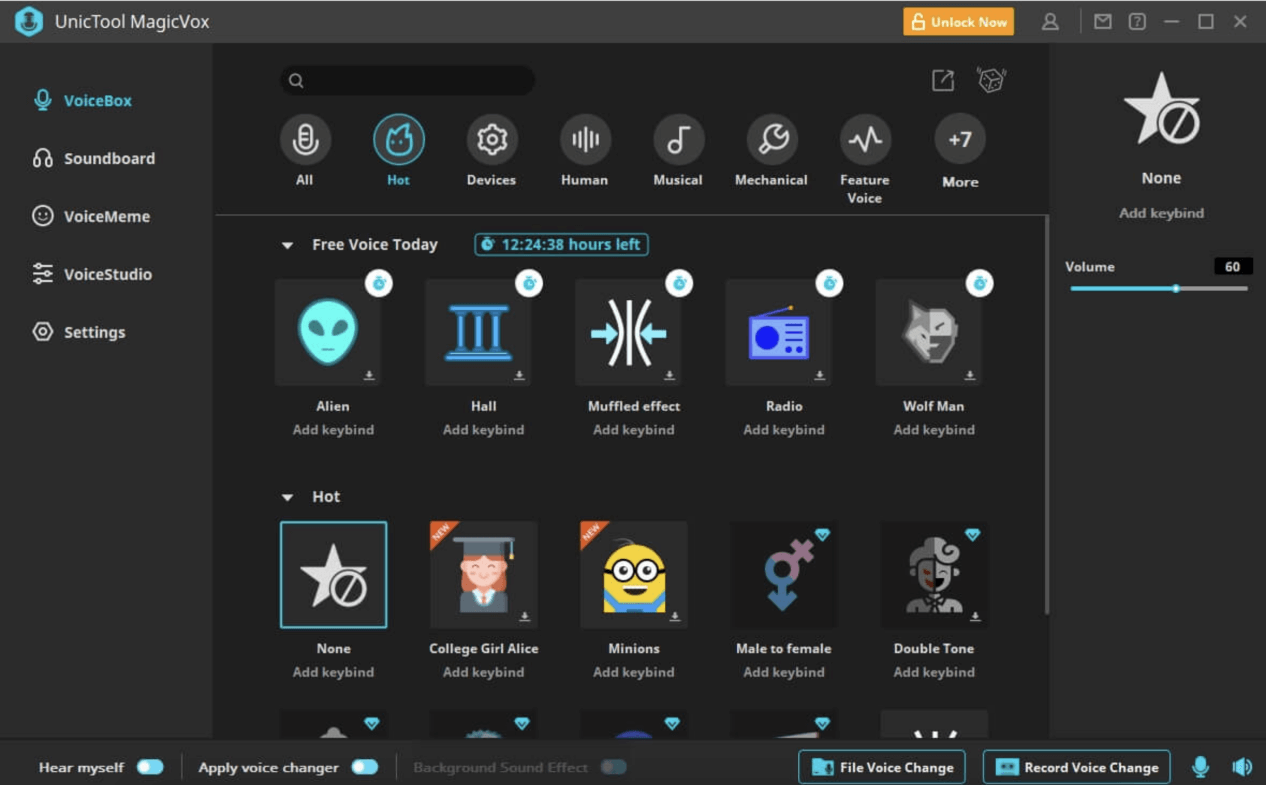 Pros
Massive voice library

VoiceStudio to customize your own voice

Intuitive user interface

Authentic voice simulation
Cons
Only available on Windows

Limited voices for free version

Some occasional glitches in voice feedback
3

Clownfish Voice Changer

Clownfish voice changer is one of the most famous gaming voice changer applications available on PC. It's best known as the voice changer used by the famous YouTuber Tiko. If you want to yourself to sound exactly like Tiko, then clownfish is the best choice you can have.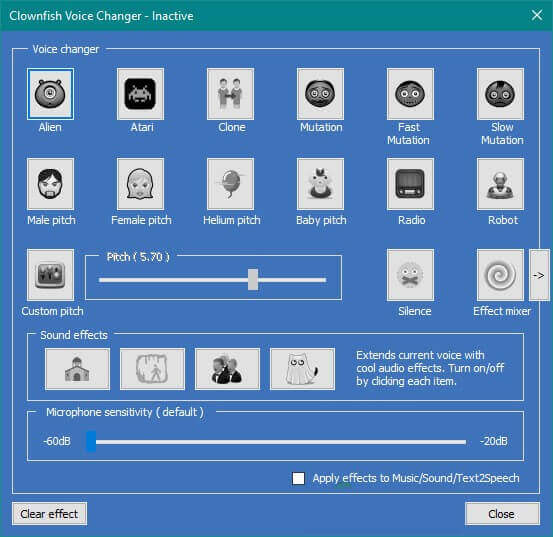 Pros
Stable voice change performance

A huge user base and community

Great for Tiko voice
Cons
Difficult to configure

Obscure user interface

Not being actively updated recently
4

Voicemod

As another gaming voice change app on Windows, Voicemod can be applied on not only variable games in the game streaming platforms, but also all kinds of online conferencing programs like zoom, Skype and a lot more.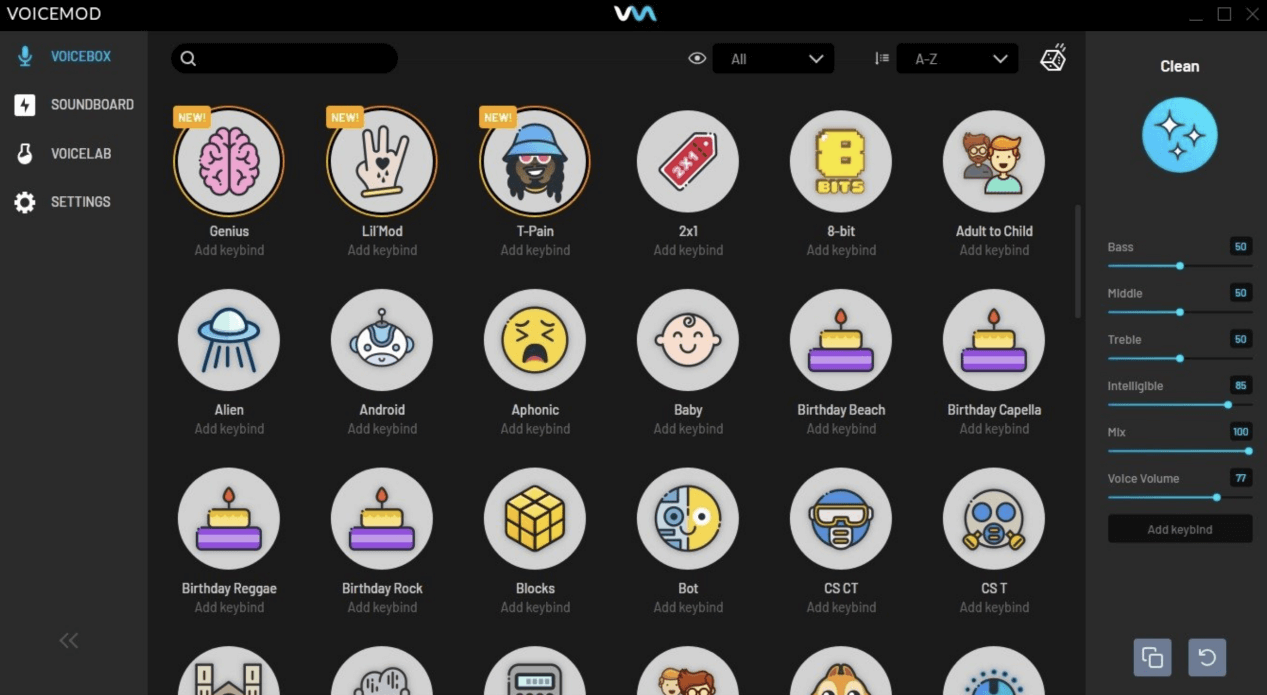 Pros
Extensions for Twitch streaming

AI voice packs

New voices every week
Cons
Bulky installation package

Unstable voice changing performance

Pricy subscription plans
5

NCH Voxal Voice Changer

NCH Voxal Voice Changer is one of the few applications that you can use to as a gaming voice changer on your Mac machine. Although it is developed many years ago, it is still effective if you want to change your voice without too many requirements.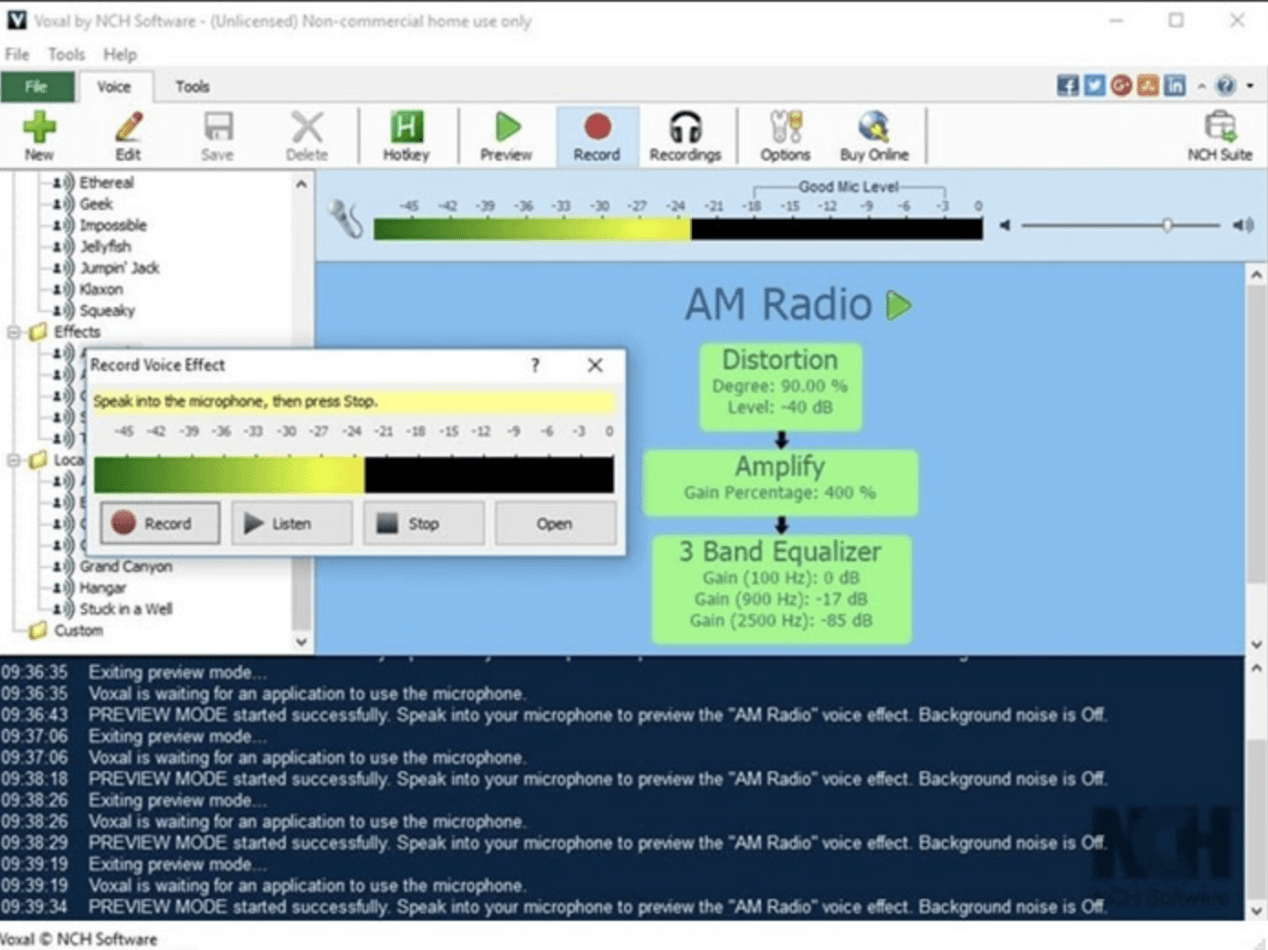 Pros
Available on Mac

Built-in sound editor

Graphic volume control
Cons
Complicated to use

Outdated user interface

Not updated for a long time
6

Magic Call

Unlike the gaming voice changer applications introduced above, this one is a game voice changer app targeting the phone call scenario. Meaning that you can change your voice when communicating with your gamer friends through and external channel like a phone call.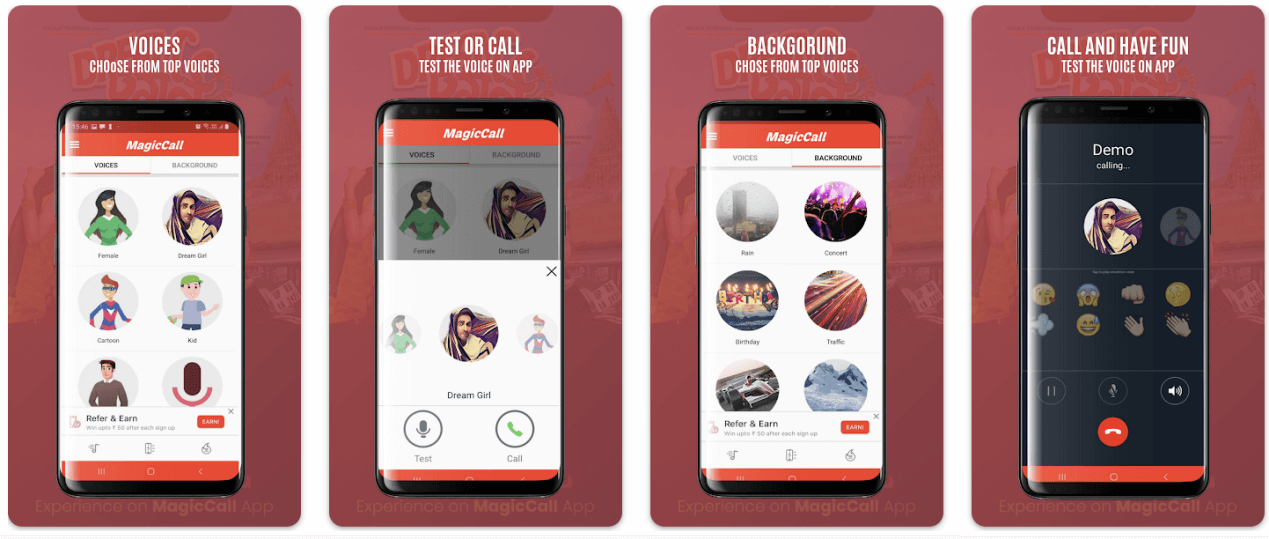 Pros
Available on mobile

Surrounding simulation supported

Compatible with phone calls
Cons
Only work on phone calls

Charges on call length

Limited voice filters
Conclusion
AI voice changer app is becoming more and more important in the gaming culture nowadays. Pick up a nice and solid gaming voice changer app can make your game experience much more fun.
Comparing all the best gaming voice changer apps, it's easy to see that WooTechy SoundBot can provide the best performance, and is the most worth trying one.