Have you ever tried how your friends react when you suddenly change your voice to a sexy female voice while chatting online, on the phone, or playing a game? This is not a difficult thing to do. All you need is a female voice changer. That's why I wrote this blog. Here, you can find the best tools for generating sexy female voices!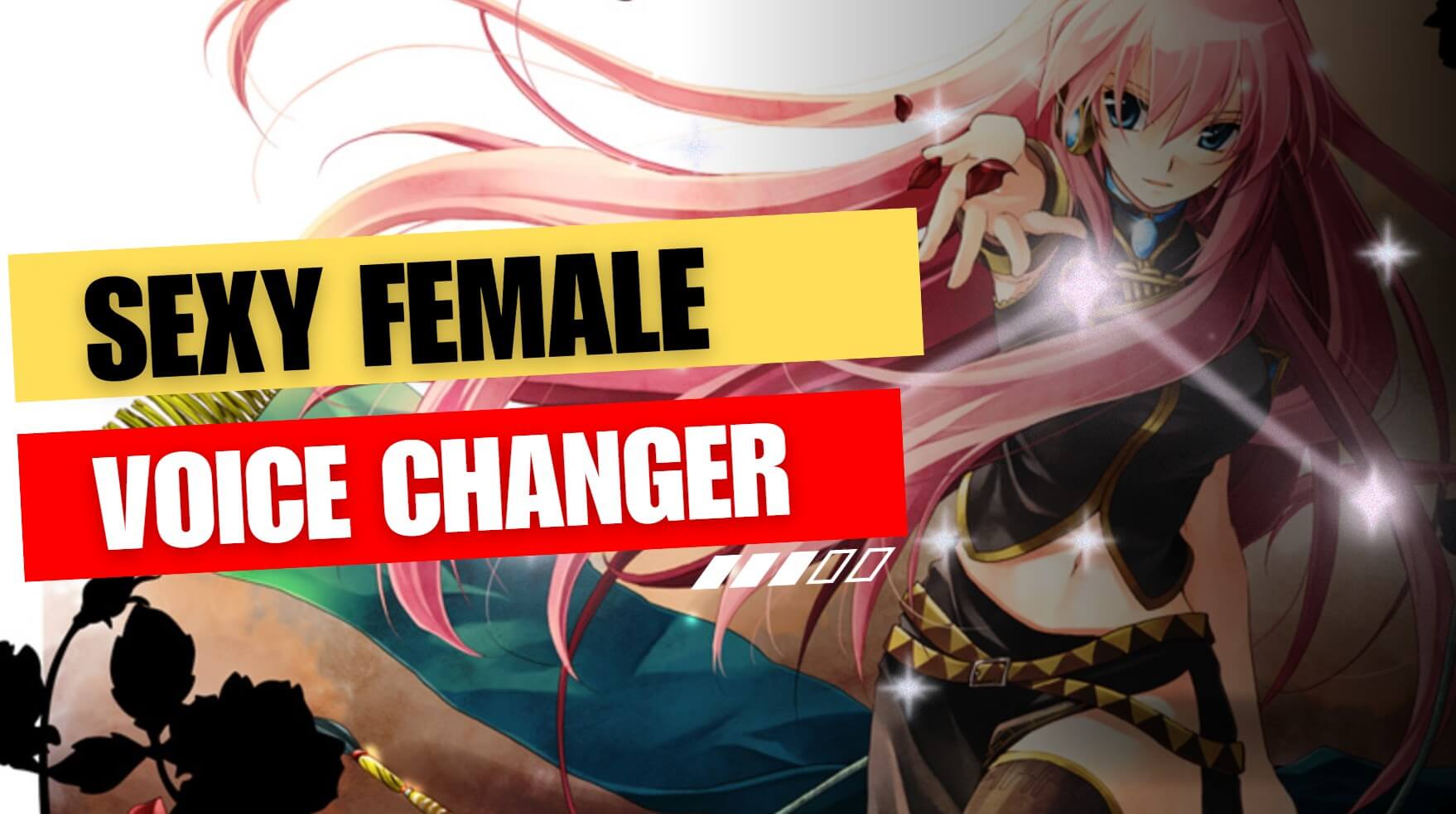 Part 1: The Best Sexy Female Voice Changer for Windows
A sexy female voice changer offers you the ability to modify your voice to make it sound like a female, regardless of your gender identity. When selecting a sexy voice changer, it's essential to evaluate the authenticity of the altered voice, its compatibility with other platforms, and its user experience. These factors play a crucial role in achieving the desired effect and ensuring a smooth and enjoyable interaction.
What is the Best Sexy Female Voice Changer
All things considered, I would highly recommend the Wootechy SoundBot! SoundBot is a real-time voice changer based on a PC that offers a vast array of voice filters and soundboard sound effects. With over 250 voice filters and 600 sound effects, you can transform your voice into a diverse range of sounds, including male, female, cartoon, celebrity, ghostface, and animal voices.
Compared to other voice changers, SoundBot offers different types of female voices, such as sexy female voices, cold female voices, college girl voices, raspy voices, and so on.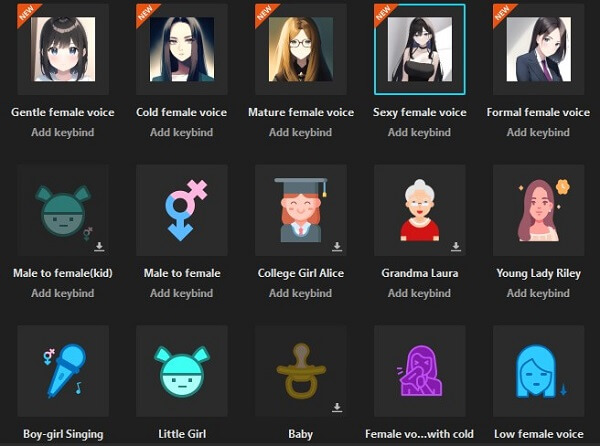 Additionally, SoundBot's compatibility with various platforms and scenarios sets it apart. It can be used in real-time in online chat applications such as Discord and Skype, conferencing platforms like Zoom, and even in games like Fortnite and PUBG, making it a popular choice for online gamers and streamers who want to mask their identity or add many fun to their interactions.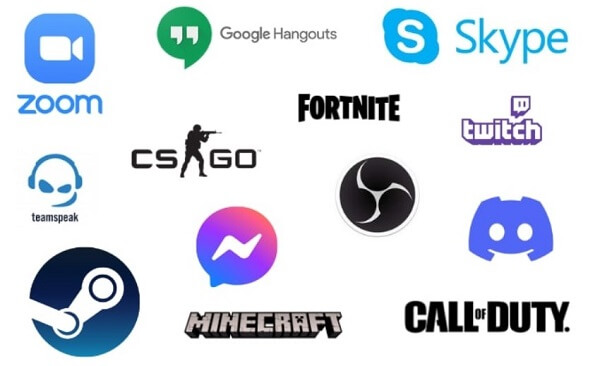 75.000.000+

Download

Change your voice in real-time as you speak, recording or upload an audio file.

Create your own custom voice filters using the voice studio.

Support setting up hotkeys for voice filter control.

Frequently updated with new sounds, including daily free sounds,

Freely export the audio files.

Empowered with AI simulation to make the sexy female voice more natural.
How to Generate a Sexy Female Voice
SoundBot features a friendly-to-use interface. You can change your sound to a sexy female voice within several steps.
Step 1: Download and install Wootechy SoundBot on your PC. Once done, open it.
Step 2: Now, you should be able to navigate to the settings and select your preferred output and input devices. It is suggested to set your headphones as the output device and select your real microphone as the input device.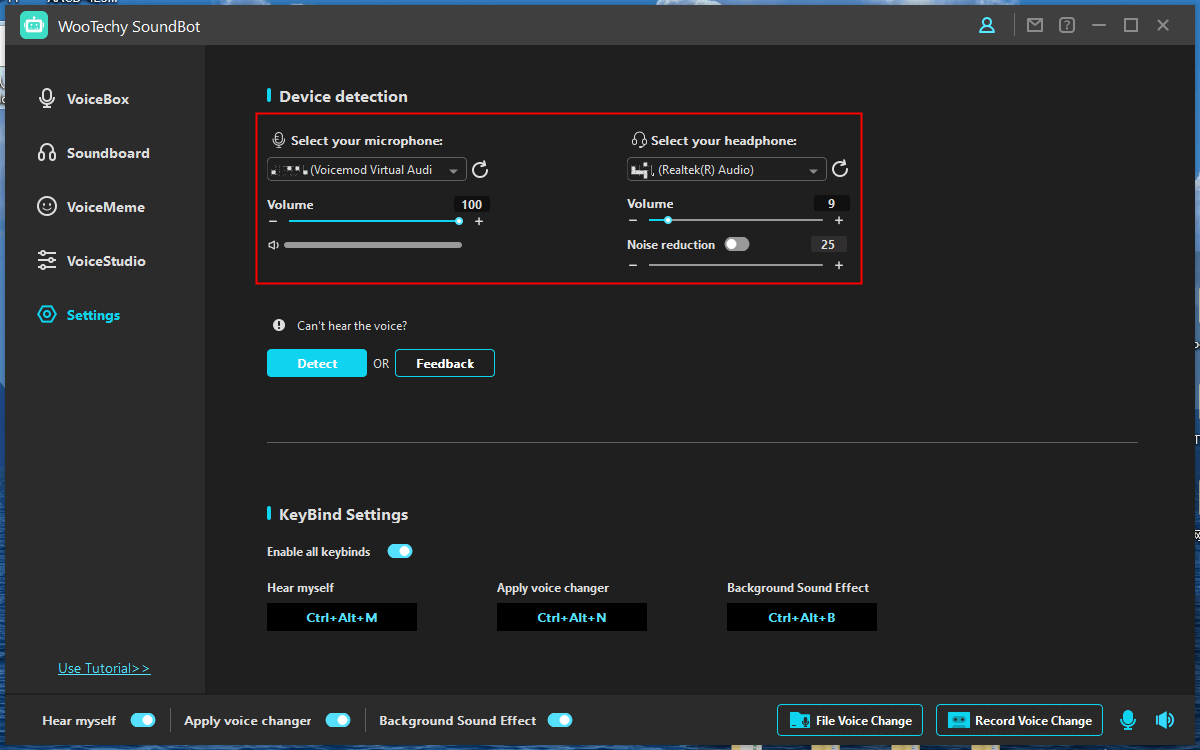 Step 3: The main interface will display many voice filters. Locate the "female" category in the voice filters section. Choose the "Sexy Female Voice." speaking into your microphone, and your voice will be transformed into the selected sexy female voice in real time.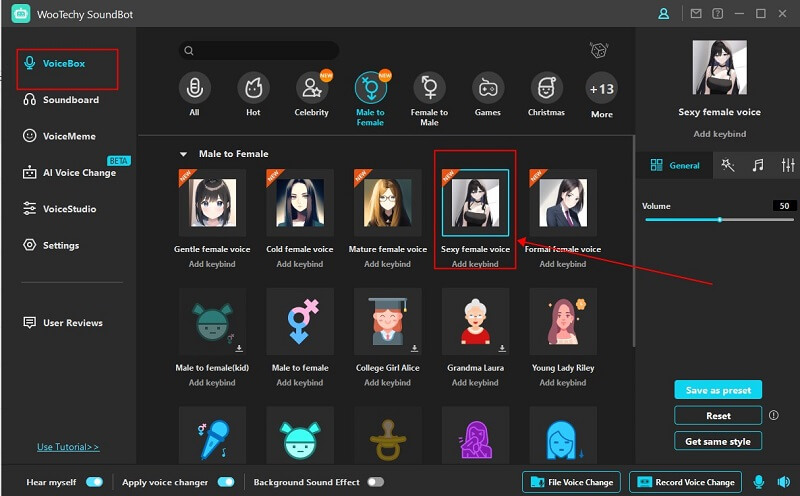 Step 4: SoundBot offers customization options to achieve the desired feminine vocal tone. In Voice Studio, you can further refine your voice by adjusting parameters like pitch and resonance. Experiment with these settings.
Before applying the voice change, you can preview the transformed sound by speaking into your microphone. Once satisfied, click the "Save Voice" button to apply the voice change in real time.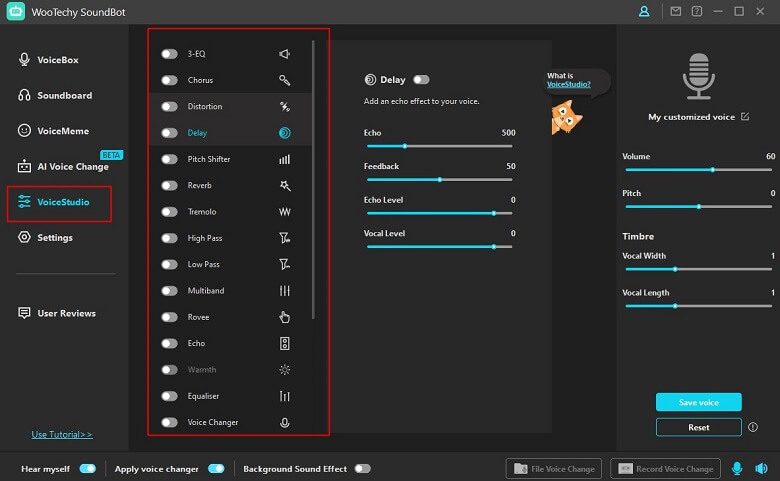 How to Use Sexy Female Voice on Various Platforms [Discord, Fortnite, PUGB, etc.]
As we mentioned earlier, SoundBot is compatible with a wide range of applications, including online chat platforms, video conferencing tools, and gaming software. To use a sexy female voice on these platforms, simply configure Wootechy SoundBot as the audio input device in the settings of your chosen platform, such as Discord, Skype, or your preferred gaming software. Once set, you can seamlessly apply the sexy female voice changer to your interactions and activities within these platforms.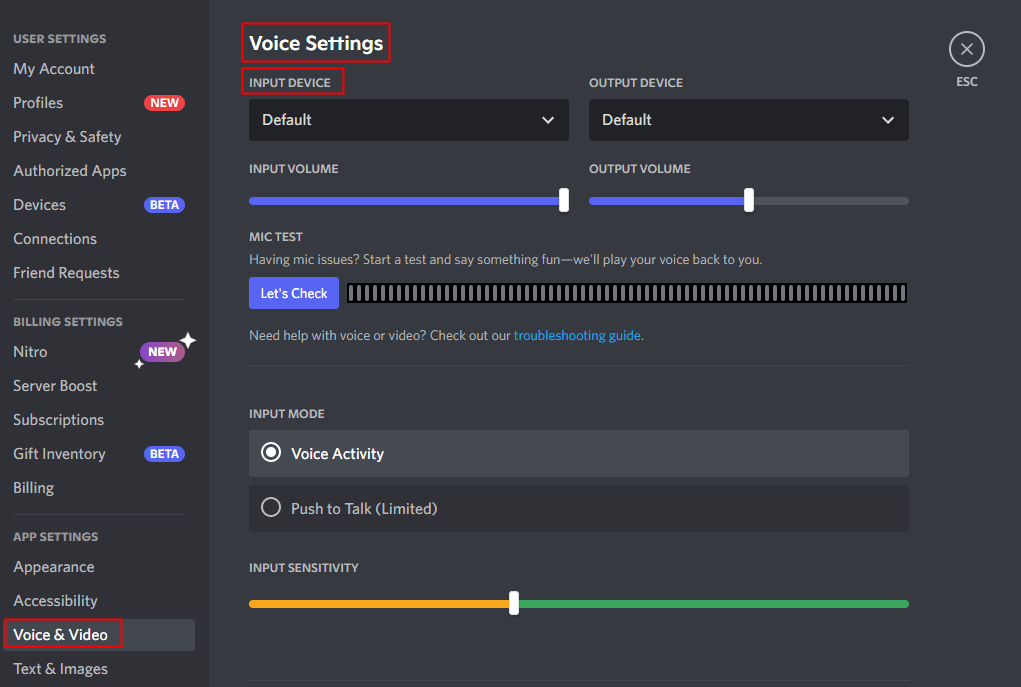 Part 2: The Best Sexy Female Voice Changer for Mac
For Mac users, you can consider Voxal Voice Changer.
Voxal Voice Changer, designed for MacOS, offers various female voice filters, ranging from young girl voices to mature woman voices. It also supports customizing the voice parameters. To use this tool to generate a sexy female voice, you can follow the below guides.
Step 1: Download and install Voxal on your computer. Lunch it and agree on the license terms. Set your Microphone devices.
Step 2: On the left side of the program interface, you will find folders containing distinct speech sound effect categories. Browse through the folders and specifically look for the category labelled "Female." example, selecting "Female 2." , speaking into your microphone will transform your voice to resemble that of a woman.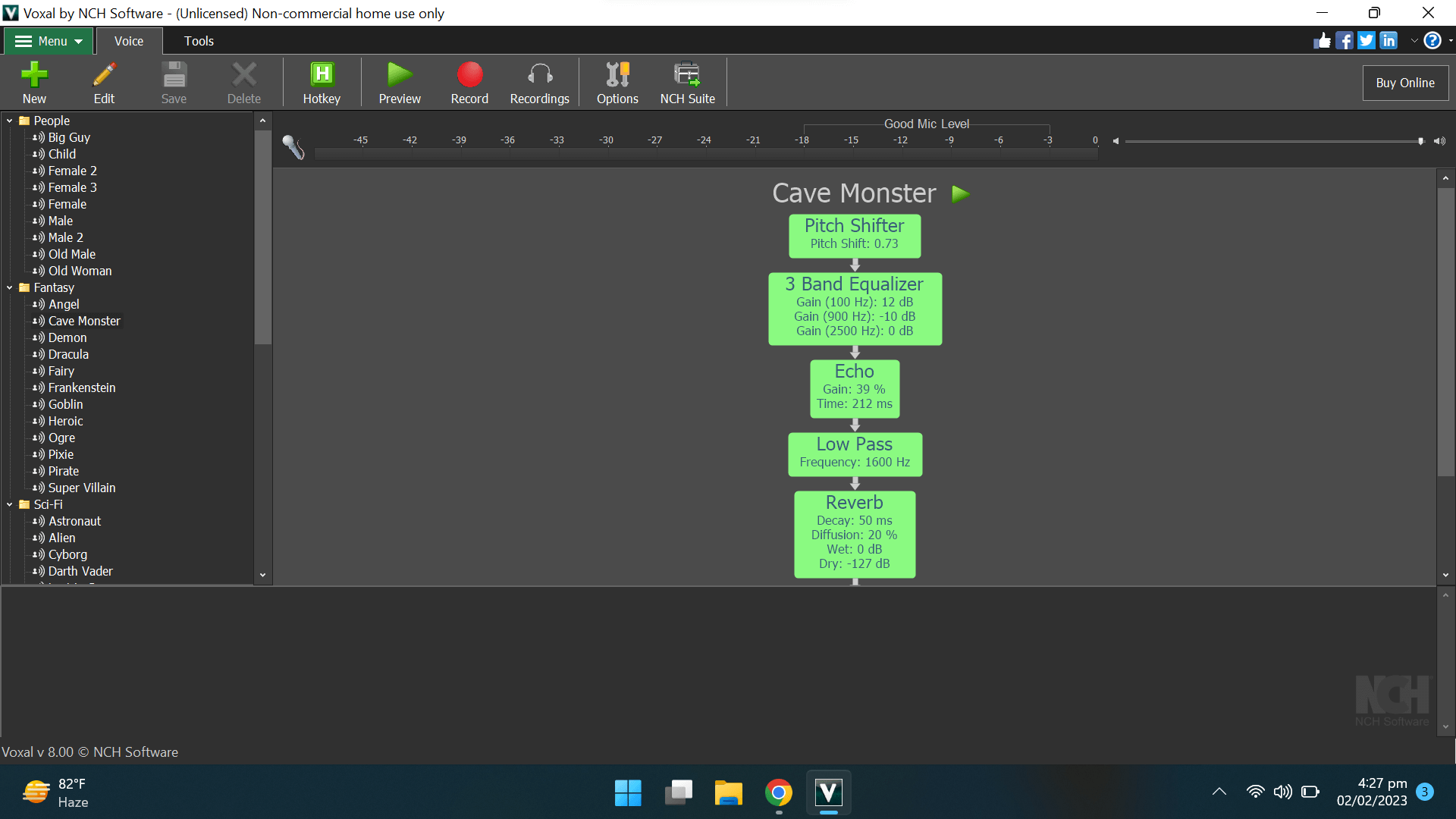 Step 3: Unlike SoundBot, Voxal Voice Changer does not support recording directly. However, you can process a file to do this.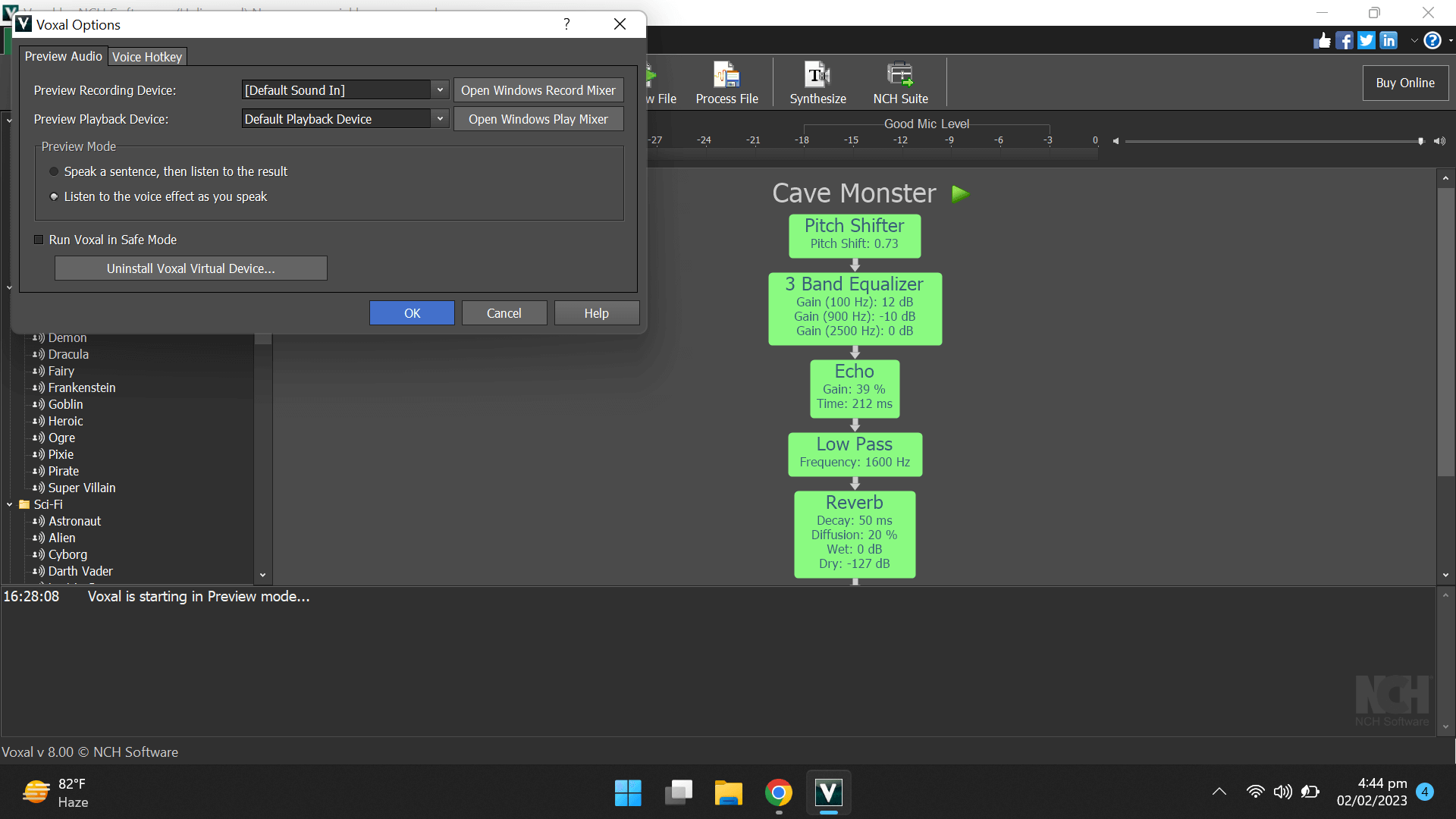 Part 3: The Sexy Female Voice Changer for iOS/Android Apps
Don't want to access the computer? Then you can try Voice Changer Women. However, it should be noted that the sexy female voice changer App is not as powerful as the PC, and the transformed sound is less realistic. Additionally, it is an option if you do not want to use a computer.
Voice Changer Women is available for both iOS and Android devices. If the focus is on transforming the voice to a female voice on a prank call. To use this tool, all you need to do is download it from the App Store. Then, record your voice and start to change.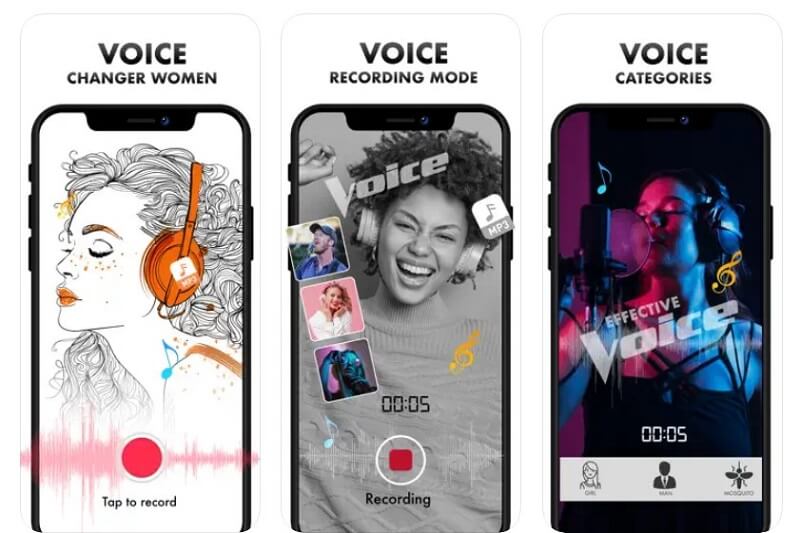 Conclusion:

With the right sexy female voice changer, you can easily transform your voice, adding more fun to your online interactions or creative projects. In terms of performance, Wootechy SoundBot would be the best sexy female voice changer. Download it for free, and use the sexy female voice on your favourite online platforms!