Roblox might take you into a different world where you can enjoy a number of games without any problems and reservations. You can communicate with the other players in the game.
In order to use the voice communication option, you can find a voice changer for Roblox that helps you alter your voice and make it sound like anything you want. You can select different sounds for your voice in various games of the universe and create a different voice identity in the universe of Roblox.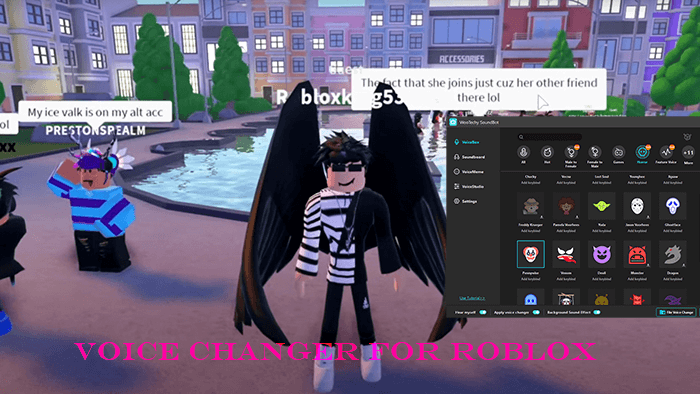 Part 1. Is Roblox Voice Chat Only for 13+?
The chat feature in Roblox allows you to establish communication with your fellow players just like in the real world. You can chat with the users using the text on your keyboard, or you can enable the voice chat option.
However, when you try to turn on the option from Settings > Privacy to voice chat with your friends, an age verification pop-up makes sure that you are above the age of 13. If you pass the age verification, you can start having voice chats. Furthermore, Roblox voice changer allows you to alter your voice according to your preference.
Part 2. The Best Voice Changer for Roblox
There are various voice changers for Roblox that you can find and use easily. However, the best Roblox voice changer is the WooTechy SoundBot. It is especially useful for real-time AI voice changing in various games including Roblox, Valorant, Fortnite, PUBG, etc.
Moreover, SoundBot also has the VoiceStudio function that you can use it to customise your own voice by adjusting a wide range of parameters. There are more voice filters on the way, check out more features of this powerful voice changer.
SoundBot – The Best Voice Changer for Gaming
75.000.000+
Downloads
125+ Voice Filters: Allows you to change your voice over a range of different options ranging from male to female voices to games voices.

400+ Sound Effects and 200+ Voice Memes: Allows you to trolling your friends during the gaming process with various audio effects.

Easy to Use: With several steps to set up, you can change your voice in game platforms. You can also assign keybinds to the voices and effects, in this way, you can use them with a simple press whenever you want.

High-quality Voice Output: With the noise reduction feature, SoundBot promises you the best voice-changing.
1. How to Change Voice on Roblox Voice Chat
Voice changer for Roblox is not a complex procedure, and you have to follow a few simple steps to have access to the AI Roblox voice changer – WooTechy SoundBot.
First of all, you have to download the SoundBot voice changer software on your computer. Run the installation and wait for it to complete.
Allow the use of your microphone and headphone on the software. Configure the devices as the input and output tools respectively.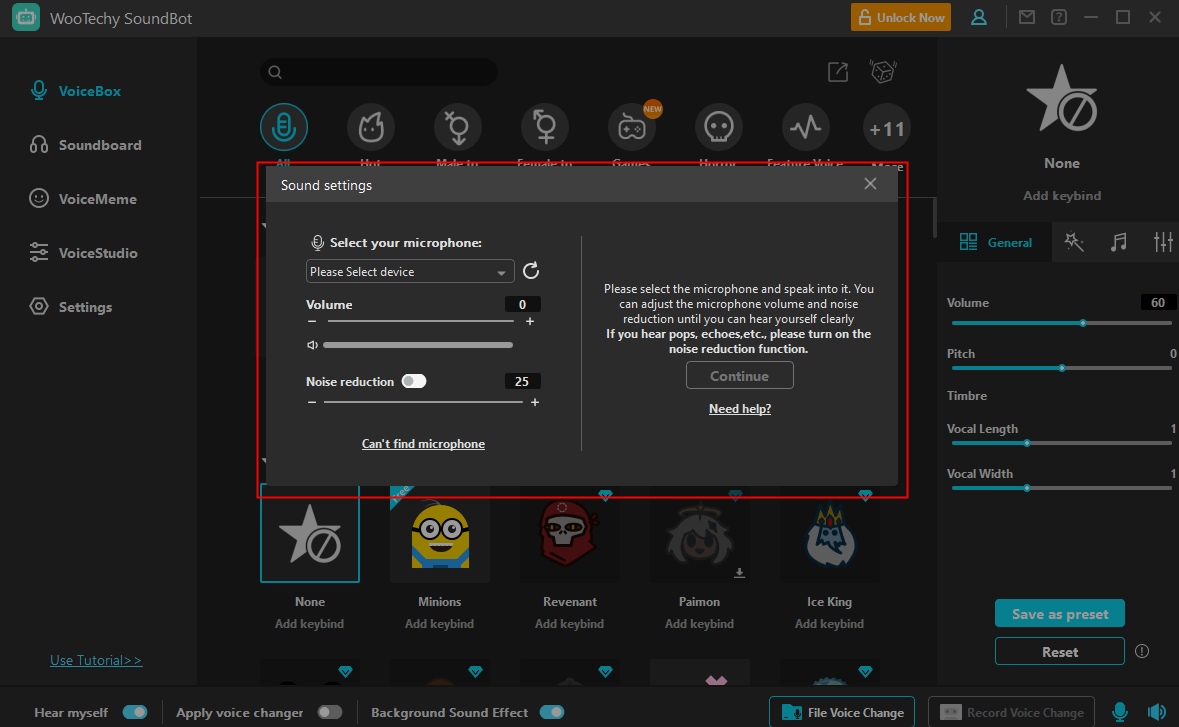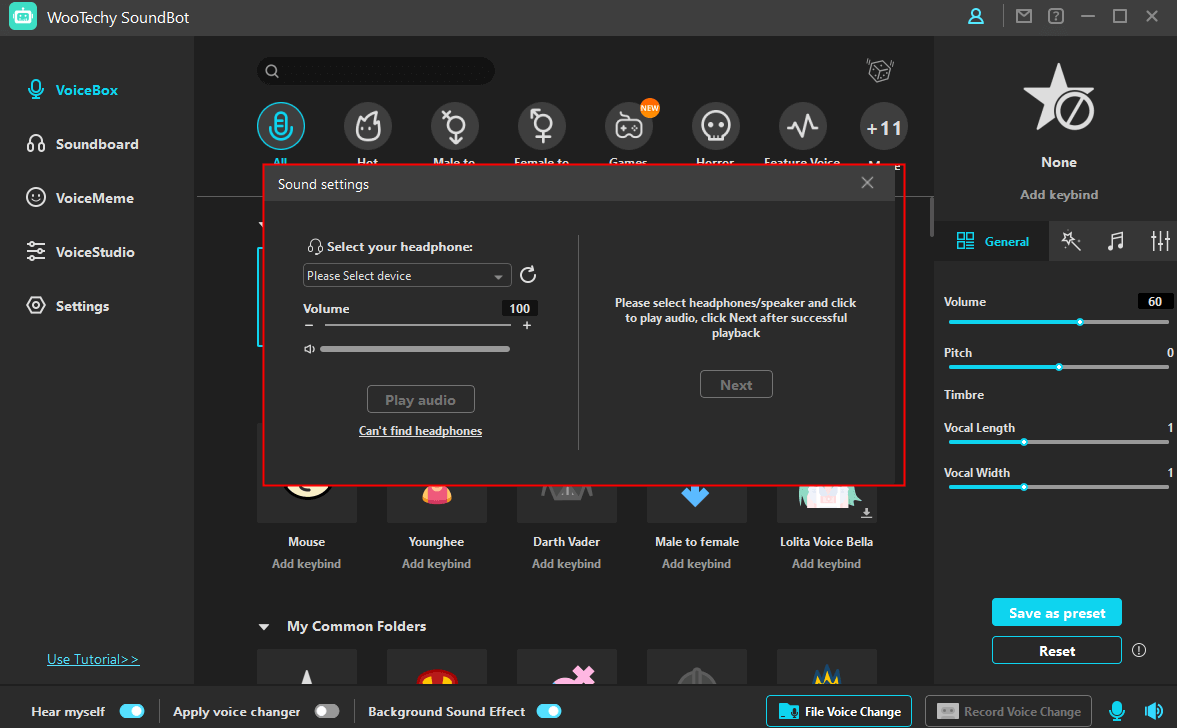 Go back to Roblox's Settings and change the default input device to Voice Changer Virtual Audio Device in order to access the Roblox voice changer.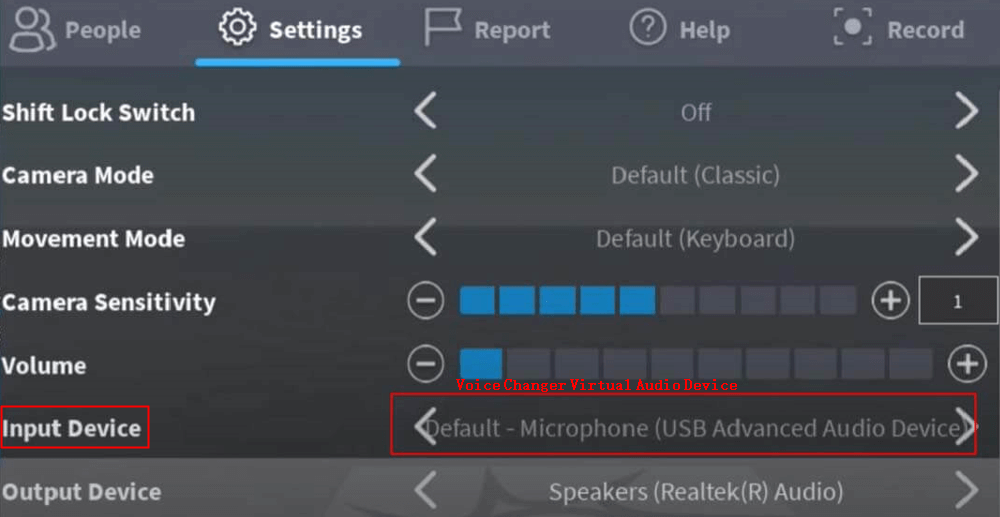 Select any voice filter that you prefer from VoiceBox, and you can enjoy the immerse gaming experience in Roblox now.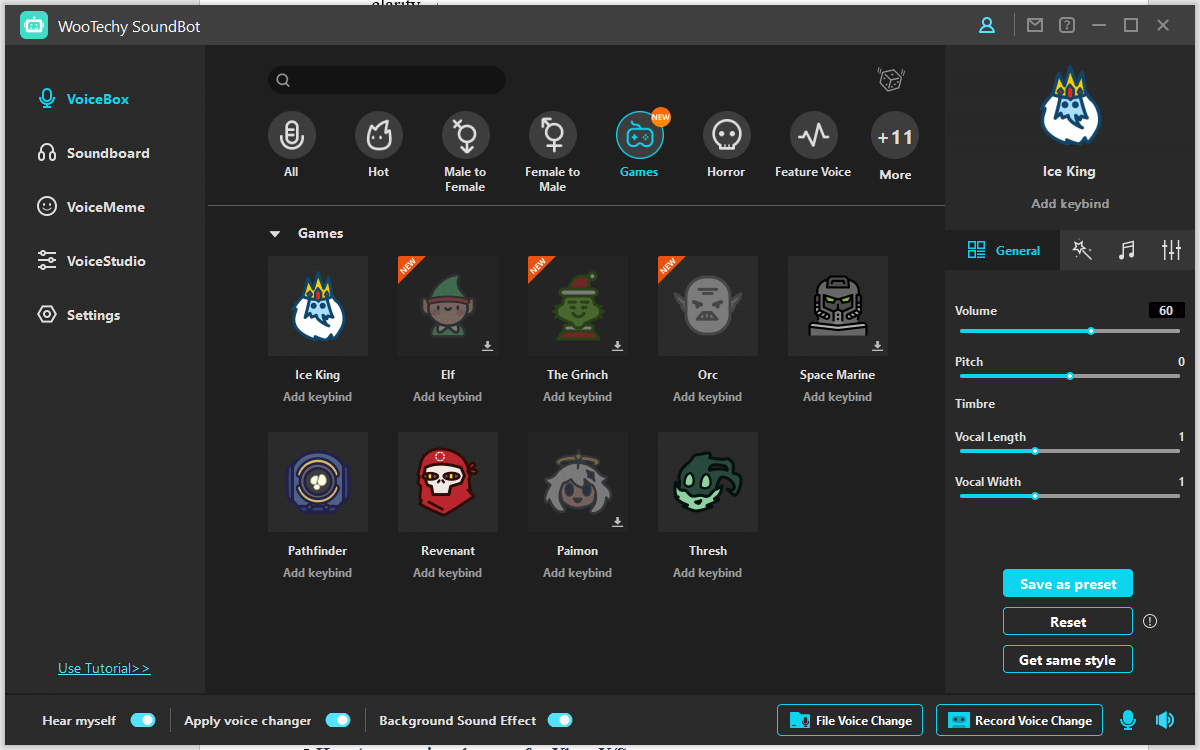 2. The Soundboard for Roblox
The soundboard from WooTechy SoundBot includes all the various sounds such as Horror, Music, Game, Atmosphere, and more that you can use for the game. Any WAV and MP3 files can be played on the Roblox and heard by your participants in the game.
Use the soundboard of WooTechy SoundBot to play sounds in the voice chat. You can also assign keyboard shortcuts to play them without interrupting your game.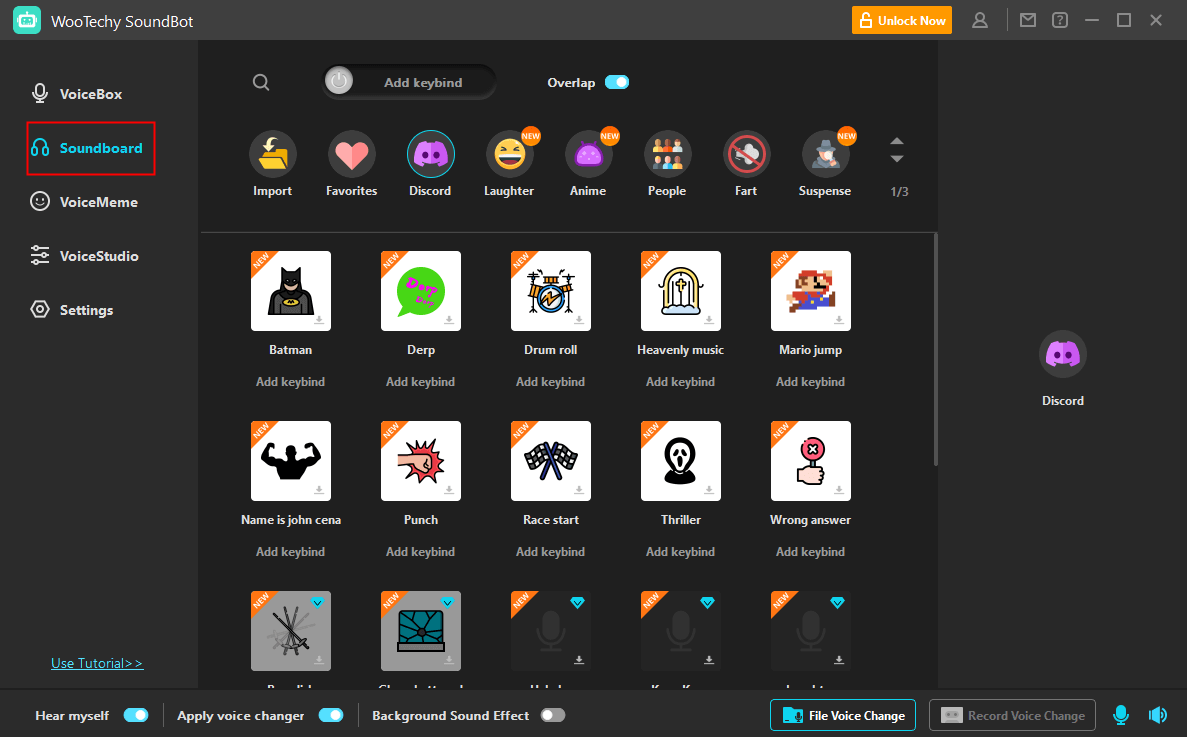 Part 3. Other Voice Changers for Roblox
There are a number of different Roblox voice changers on the internet with unique features. You can use any of them as the voice changer for Roblox.
This is one of the most popular AI voice changers as it offers a variety of features to make you well-acquainted with it as the Roblox voice changer. Many content creators and youtubers use this voice changer to make their content interesting. Some of its features include:
it has the autotune feature which allows you to listen to the music while enjoying your game.
There is no distortion or lagging in this Roblox voice changer, and use it as a real time voice changer.
It also supports other online platforms for conferencing for example, Skype, Zoom etc.
Roblox players can add background music and choose any voice filter from the widely stocked up library to alter their voices.

Cons
You have to buy a rather expensive installation packages and subscription plans to use it.

There is no stability in the performance of the for the voice changing feature.
This is an extremely simple to use voice changer for Roblox because it's compatible with a number of games. You can change your voice whenever you want, even while you are playing the game.
This Roblox Voice changer has several audio effects and filters that allow you to change your voice over a range of different options.
It has amazing control for the volume with the graphic voices.
You can edit your sounds with the built-in editor.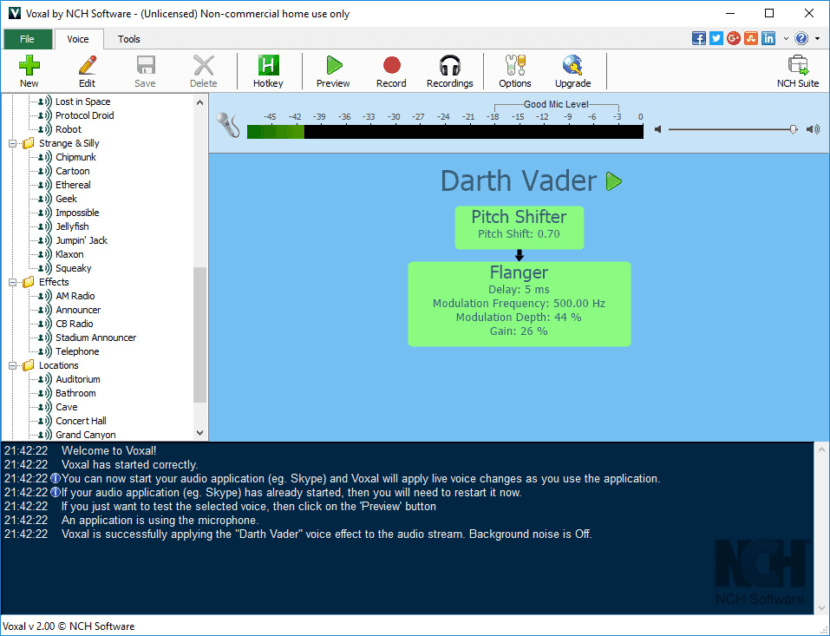 Cons
It is more complex.

The interface has not been updated for a while, making it outdated.
Conclusion
Voice changers for Roblox have become an entertaining activity for the players as they can have a fantastical identity in the universe of the game. WooTechy SoundBot allow them to not only alter their voices but also communicate with their friends using background music that adds to the thrill of the game. Download it and have a fun.