Being a Star Wars fan, you have often wanted to be the most powerful Jedi or at least sound like Darth Vader at least once in your life. And why wouldn't you? His voice is one of the most popular in cinema history. Also, it'd be fun to prank your friends with that voice. But is there a way to change your voice with darth vader voice changer? Yes, there is.
Install WooTechy Soundbot on your device and change your voice to Darth Vader and many other popular AI voice filters instantly to have fun while talking to your friends and family over voice calls online on platforms, including Discord, Twitch, Skype, Zoom, and more.
Let us walk you through all you can do to sound like Darth Vader and voice-changing software that supports your devices. You can have all the fun with Darth Vader voice filters and much more.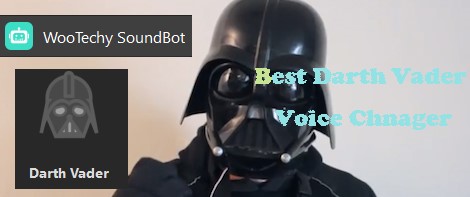 Part 1. Can You Change Your Voice to Sound Like Darth Vader?
Darth Vader voice changers are available all over the Internet. Many applications let you filter your voice. You can instantly sound like Darth Vader by adding the filter to both your smartphone and PC. WooTechy SoundBot provides one of the best voice filters, letting you easily change your voice.
SoundBot – The Perfect Darth Vader Voice Changer
75.000.000+
Downloads
You can get access to over 120+ sound filters you can use for fun, including Darth Vader, Giant, Kylo Ren and other voices.

You can import MP3/WAV/OGG audio files or record your voice in real-time and further change them to Darth Vader voice.

Change your voice in real-time in various programs and games such as Fortnite, PUBG, Second Life, CS: GO, etc.

Has 400 + sound effects in the Soundboard and the VoiceStudio of SoundBot allows voice editing and pitch changing to get the desired sound effects like Darth Vader.
WooTechy SoundBot is the best Darth Vader voice changing for PC, which allows you to be who you want. It also offers 5 free voices every day.
Another added feature that you can use when using WooTechy Soundbot Darth Vader voice changer is that you can assign it to a hotkey. Anytime you wish to use the voice filter, the hotkey can instantly toggle it, letting you have all the fun on calls over Discord, Twitch, Skype, Zoom, and more.
Part 2. How Do You Make Darth Vader Voice Effect?
WooTechy Soundbot is very easy to use. It is well known for its user-friendly features and real-time AI voice-changing options. Once you have WooTechy Soundbot installed, you can easily use it to darth vader voice changer filter and speak. All you need are your headphones, yes! There's no need for a darth vader helmet with a voice changer.
Here is a step-to-step instruction on how you can use WooTechy Soundbot and change to Darth Vader voice.
Step 1 Download WooTechy Soundbot to your Windows PC. Now set up the installation file on your device. Once you are done installing the application, plug in your microphone or headphones.
Step 2 Open the WooTechy Soundbot application and run it. You will now see a menu pop up on your main screen. You will be asked to choose the input and output on your device.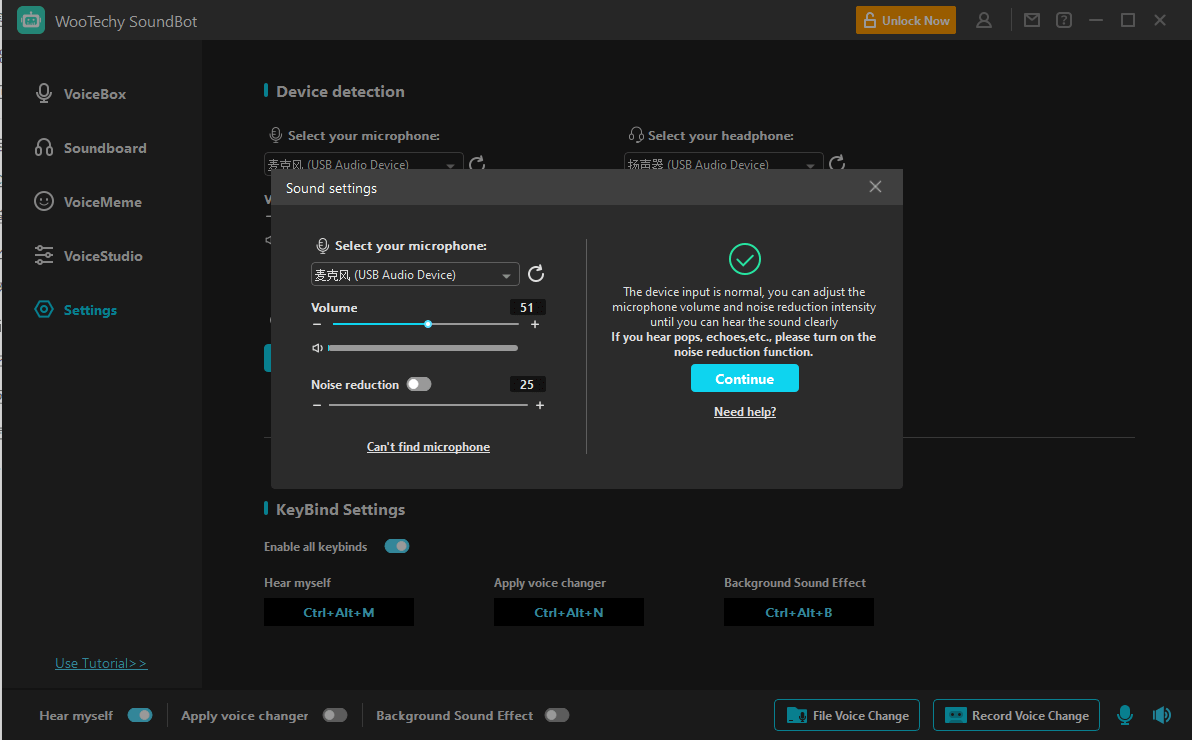 Set this up or your microphone will not pick up your voice recordings. Now, set the microphone as the input on your device. Next, select the headphones or speakers as your output device so you can hear what you are recording.
Step 3 Now head over to the side menu. Click on the VoiceBox tab. You will see all the different voice presets over here. Go over all the voice effects and locate Darth Vader. Speak into your microphone and your voice will be automatically changed to Darth Vader.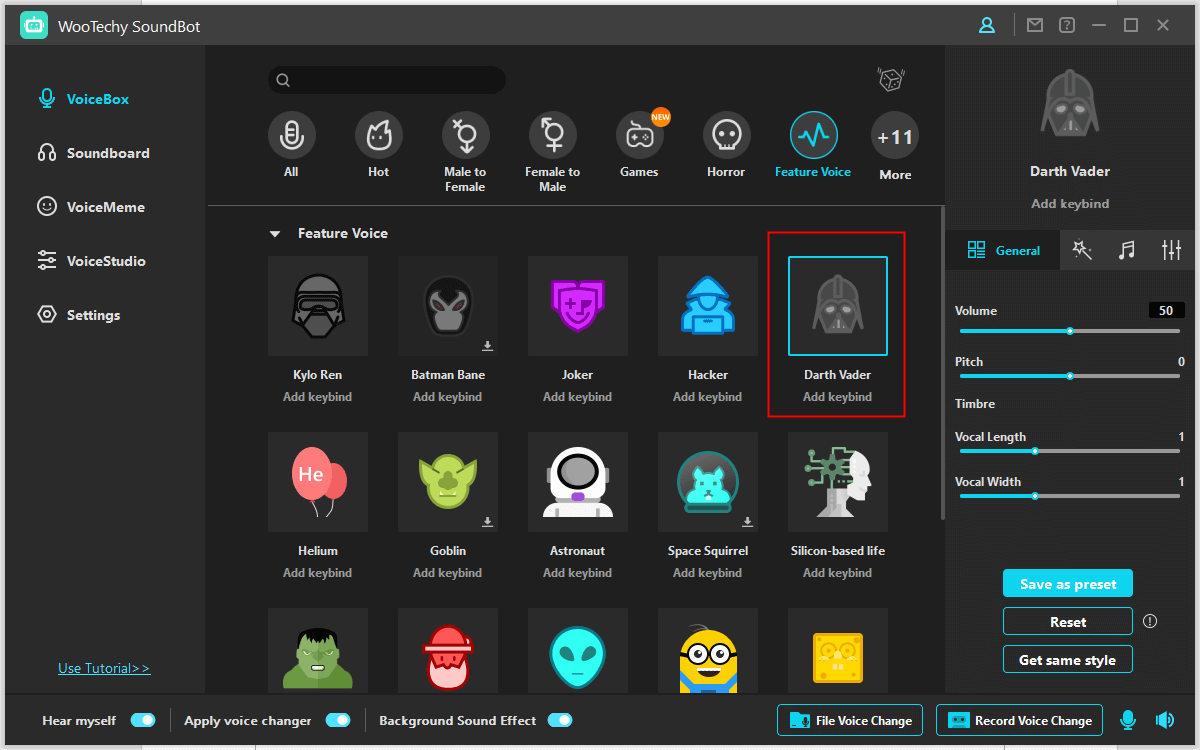 SoundBot can be also used to change your voice to Darth Vader in various programs, for example, Discord. To change your voice to Darth Vader in Discord:
Download,install and launch SoundBot n your computer. Open Discord and click the user settings icon at the bottom.
Choose Voice&Video and set INPUT DEVICE as Microphone (Voice Changer Virtual Audio Device).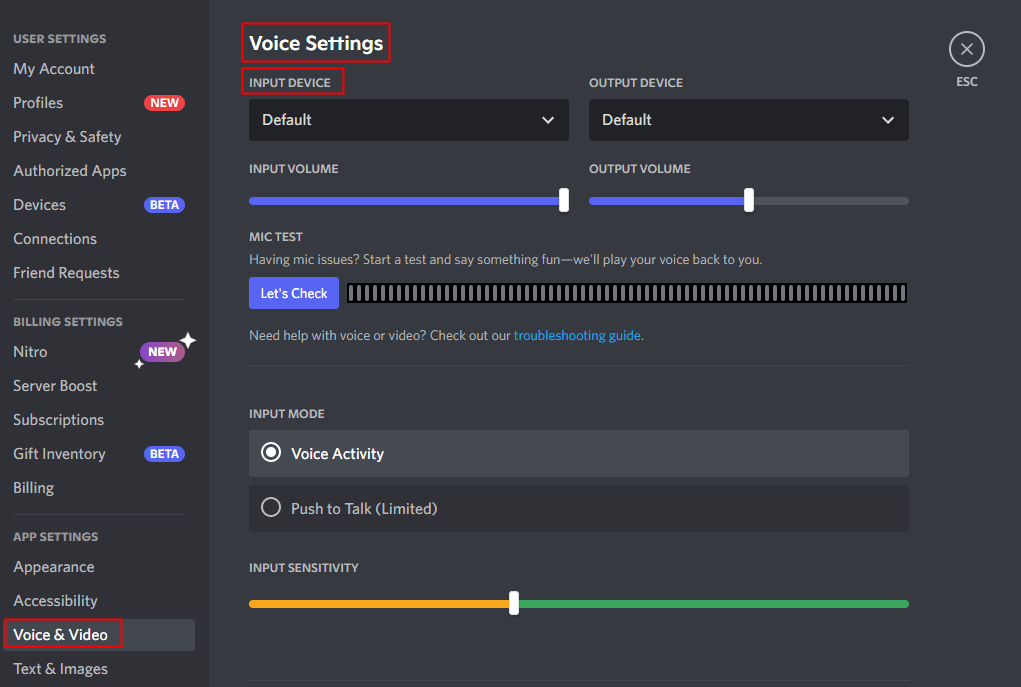 Speak into your microphone and your voice is changed to Darth Vader.
Part 3. Darth Vader Voice Changer Apps on Mobile Phones
Now that you know how you can change your voice to Darth Vader on PC using WooTechy Soundbot, there are also other applications available that you can use on your phone or tab to change your voice to Darth Vader.
1.  iMyFone MagicMic
Simply download the application from your Google Play or AppStore. The installation will begin automatically. iMyFone MagicMic for Android and iOS lets you use around 8 voice filters including Darth Vader. The process to use your voice effects is similar.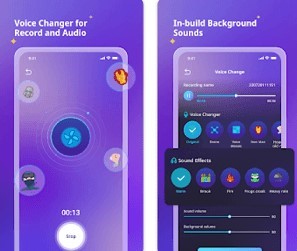 Enter the app and select the input and output of your device. Download the Darth Vader voice file, the application will run in the background. Use the voice-over on all your voice calls. The Voice Emulator will automatically run in your games or other applications.
2. Voicemod Clips
Voicemod Clips is another voice effect application you can use to change your voice to Darth Vader. It can be used on any device for its ease of use. But it cannot change your voice to Darth Vader in real-time.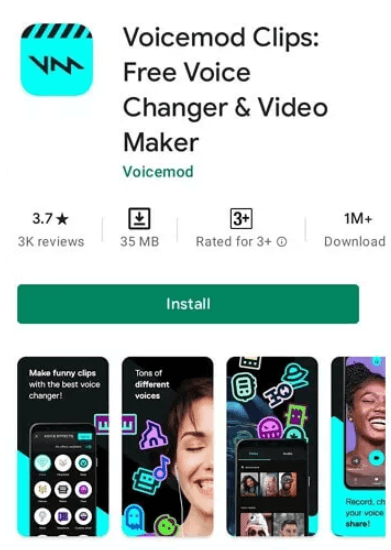 Download Voicemod Clips from Google Play or AppStore. Run the application. Click the audio option and speak in microphone. Add the sound effects that you'd like to change your voice.
3. Vader Breath
Vader Breath is an application made to mimic the voice of Darth Vader alone. Unlike other applications, you will not be able to use any other voice effects on this one. The Vader Breath application is only available on Google Play so if you are using an Apple device you can't access Vader Breath.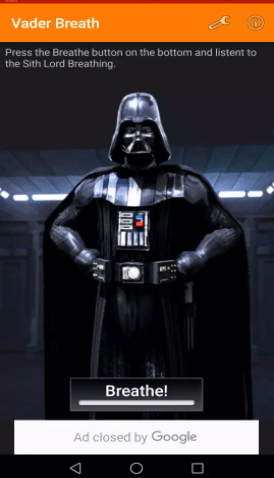 There are two different breaths to choose from, you cannot speak into the application, and have it spoken like Darth Vader; however, the breath of Darth Vader is still creepy enough to prank your friends and have a good laugh.
Conclusion
To use Darth Vader voice changer on your computer, install WooTechy Soundbot and have the voice effect applied to all your gaming platforms and many more. SoundBot has Darth Vader voice and can change your voice in real-time. It is the dawn of AI sound era and allows you to express yourself through sound.