Being a fan of the Transformers, you must have wanted to sound like the Transformers when speaking to your friends online, while on call, or gaming. But, did you know you can sound like a Megatron Transformers using a voice changer? This is how.
Install WooTechy SoundBot to alter your voice to the Megatron Transformers voice effect to have fun while you stream online on platforms, including Discord, Twitch, and more. You will sound like a transformer with just a click using the Megatron voice changer!
Part 1. About Megatron Transformers
Transformers was a mythical series based on a group of robots disguised as automated vehicles called the Transformers. The series was developed by Hasbro and Takara Tomy, toy-selling companies in America and Japan.
The famous Transformers series consisted of many characters that are well-known to pop culture and Megatron was the cruel leader of the antagonist robot group called the Decepticons. The goal of Megatron was to overpower all living beings with supreme authority.
Megatron is seen transforming into many vehicles such as tanks, spaceships, a plane, etc. And a playable character in mini-action games.
Part 2. How to Use Megatron Voice Changer?
Change your voice to sound like the Megatron Transformers in no time. You can do so by using voice filters that are available online for free. WooTechy SoundBot has the voice effects that are easy to use and work in real time.
You will also be able to record yourself and dub your voice using WooTechy SoundBot to have Megatron voice. SoundBot lets you effortlessly alter your voice, giving you access to over 125 voice filters for you to use. Use these filters while streaming online or even over voice calls with your friends for fun.
SoundBot – Megatron Voice Changer on PC
75.000.000+
Downloads
Allows you to sound like almost any popular character, including Megatron Transformers, Stormtrooper, Iron Man and more with the best sound quality.

Change your voice to Megatron voice in all programs and games such as Discord, Zoom, Skype, Fortnite, Valorant, PUBG, etc.

The Megatron voice changer can be used for various scenarios like entertaining prank, real-time communication, gang up in games, live video and the like.

Has other 400+ sound effects and 200+ voice memes to add up fun to the Megatron voice.
Here is how you can step up WooTechy SoundBot so you can voice Megatron on your PC:
Step 1
You will have to head over to the official website of WooTechy SoundBot. Now locate the download option and click for the download to begin on your desktop. There are many users who can opt to use WooTechy SoundBot filters.
Choose the best plan that fits your use of voice filters. The download will automatically start, install it later on to your desktop.
You will now be asked to fill in all your social media verifications such as discord, Google, etc. Follow all instructions to complete the installation of WooTechy SoundBot on your PC.
Step 2
Now that you have the application set up, it is time to set up your audio outputs. Plug in your microphone for the system to detect it. You should now run and open the WooTechy SoundBot application.
There will be a pop-up menu on the screen. Navigate to select your input and output devices on your PC. Set the microphone as input and your speakers or headphone as output to hear yourself while using the Megatron voice changer.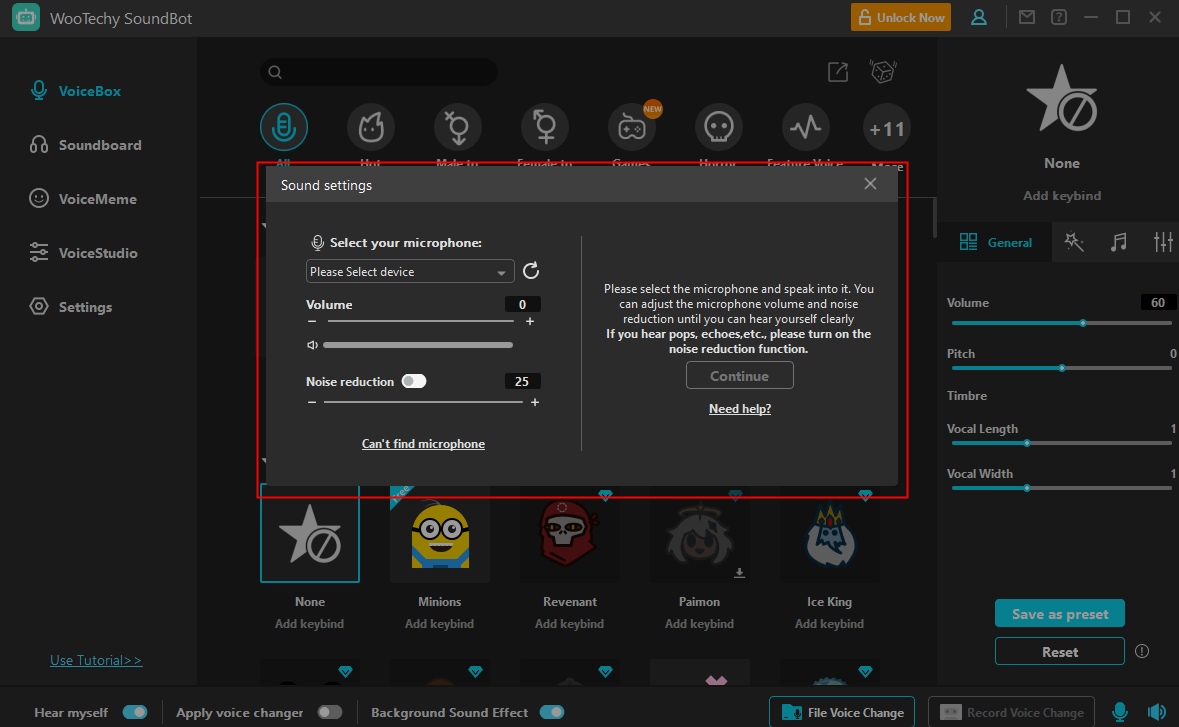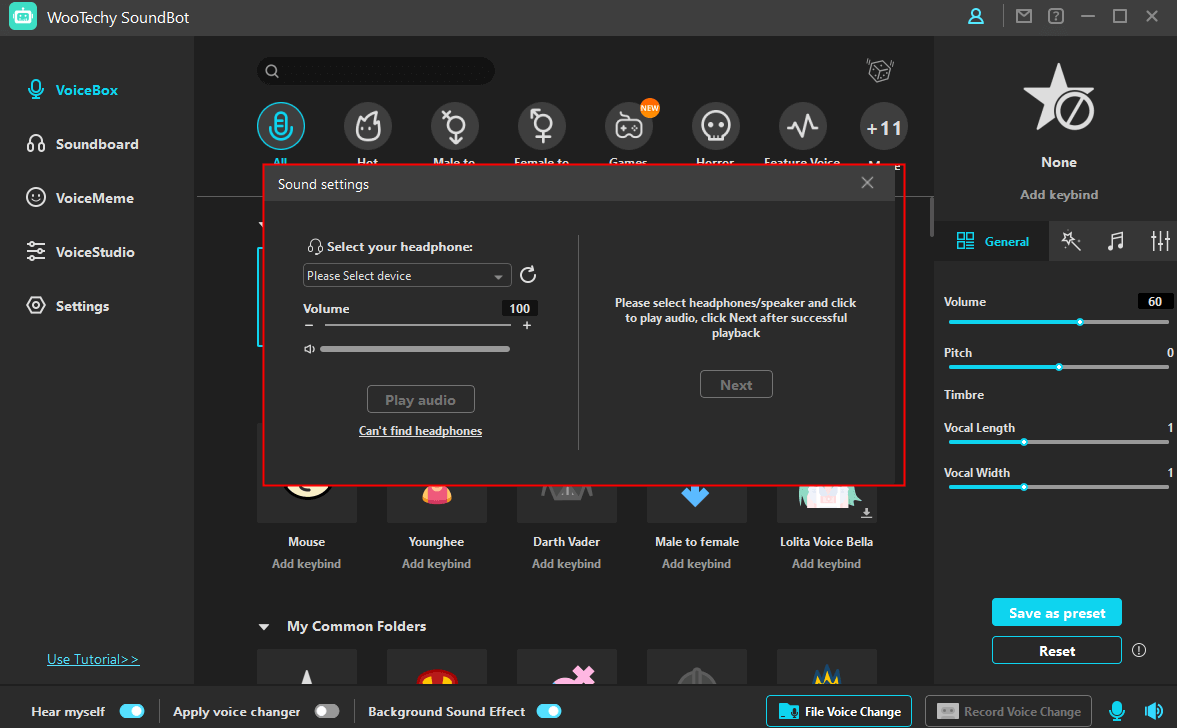 Do not skip this part or your microphone will not pick up voice signals.
Step 3
On your side menu, you will find a VoiceBox. You can access all the 125+ voice filters including Megatron Transformers voice, available for you to use.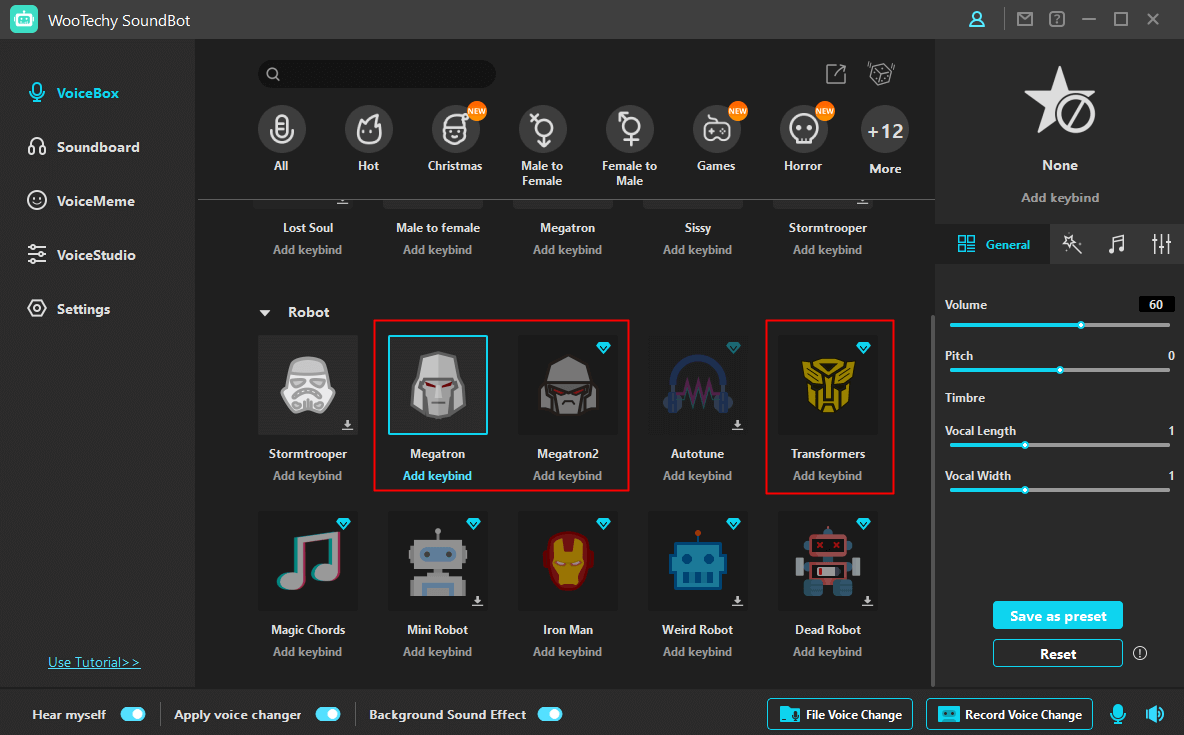 Select all your volume levels accordingly and set noise reduction on your background. Click on the microphone icon now to speak in real-time and become Megatron voice.
You can now easily change your voice and speak like Megatron. These voice filters can be used to record yourself when attending voice calls or streaming video games.
Now that you have WooTechy set up to use Megatron's voice, you should know the filter is also usable while on discord. Let us find out how.
Part 3. How to Use Megatron Voice Changer for Discord or Gaming?
You can add a Megatron Transformers voice changer to your Discord and Twitch as well. You will be able to easily alter your voice while streaming games or talking to your friends on discord. Make sure you have discord installed to be able to use it on PC.
Simply navigate to the User Settings which can be found on the bottom left of the main window and go to voice and video mode. Select Voice Changer Virtual Audio Device as your input device and you are ready to go!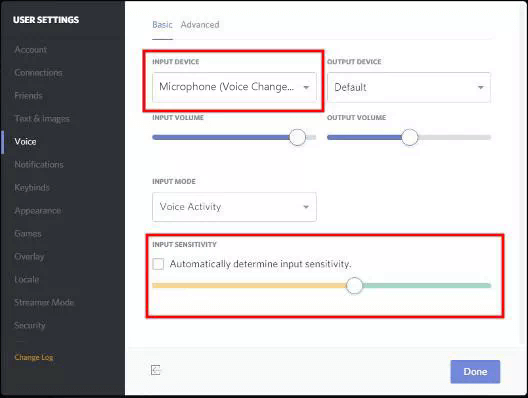 To change your voice to Megatron voice in gaming platforms, similarly go to your game's voice settings and set Voice Changer Virtual Audio Device as input device while make sure SoundBot is running in the background. In this way, your voice is changed to Megatron voice during the whole gaming process.
Conclusion
To use the Megatron Transformers voice changer, simply install WooTechy SoundBot on your PC. The voice filters in SoundBot are easy to use and work in real time. You will also be able to record yourself and dub your voice. You can also add these voice effects to your Discord server and other programs. Just download it and give it a try!