You must have heard of PlayerUnkown's Battlegrounds (PUBG). It is one of the most popular gaming series, with over 32 million daily active players. The PUBG Mobile has been downloaded over a billion times, and the game is now the most-played video game of all time. The combat mobile game primarily gives pleasure to players with a gleeful gaming experience. Furthermore, it has been widely considered a revolutionary invention, especially for boosting the Indian gaming community before its ban.
There are different game modes on the game to compete alone or as a team of two or four. But if you want to stay unknown in the game, especially to prevent your voice from being recognized, you should follow through with this article. We will show you how to use the PUBG voice changer.
Part 1. How Do I Change My Voice on PUBG?
If you want to change your voice on PUBG and keep your voice from being unrecognized, you should use our voice changer app for PUBG. WooTechy SoundBot is a universal AI voice changer app that will help you hide your audio identity on PUBG.
Hiding your voice makes for an intriguing experience with the same or different partners during the video game. For example, you can use WooTechy SoundBot to sound like a female player if you are a male or vice versa.
SoundBot – The Best PUBG Voice Changer
75.000.000+
Downloads
Has 125+ voice filters such as Space Marine, Batman, Kylo Ren, Darth Vader, etc. and more voices are on the way.

Has 400+ sound effects and 200+ voice memes including game background effects and in-game audio effects that you can use to trolling your colleagues.

Change voice in real time in various programs and games like PUBG, Fortnite, Valorant, Crossfire, PS4 and more.

Allow users to add keybind to all voice effects so that whenever you want to use them during the game, you just press the keyboard set previously.
There are several other customization and voice effect features on the app. For instance, you can create an entirely new voice for your live session on PUBG. Being user-friendly, it provides 5 free voices for your free trial, and is very easy to set up and install.
SoundBot is 100% secure, not invading any of your private information. If you are interested in using it, here are the steps to follow.
Step 1 Download and install SoundBot on your PC. Launch the app and pick your preferred input and output devices. They should be your microphone and headphone respectively.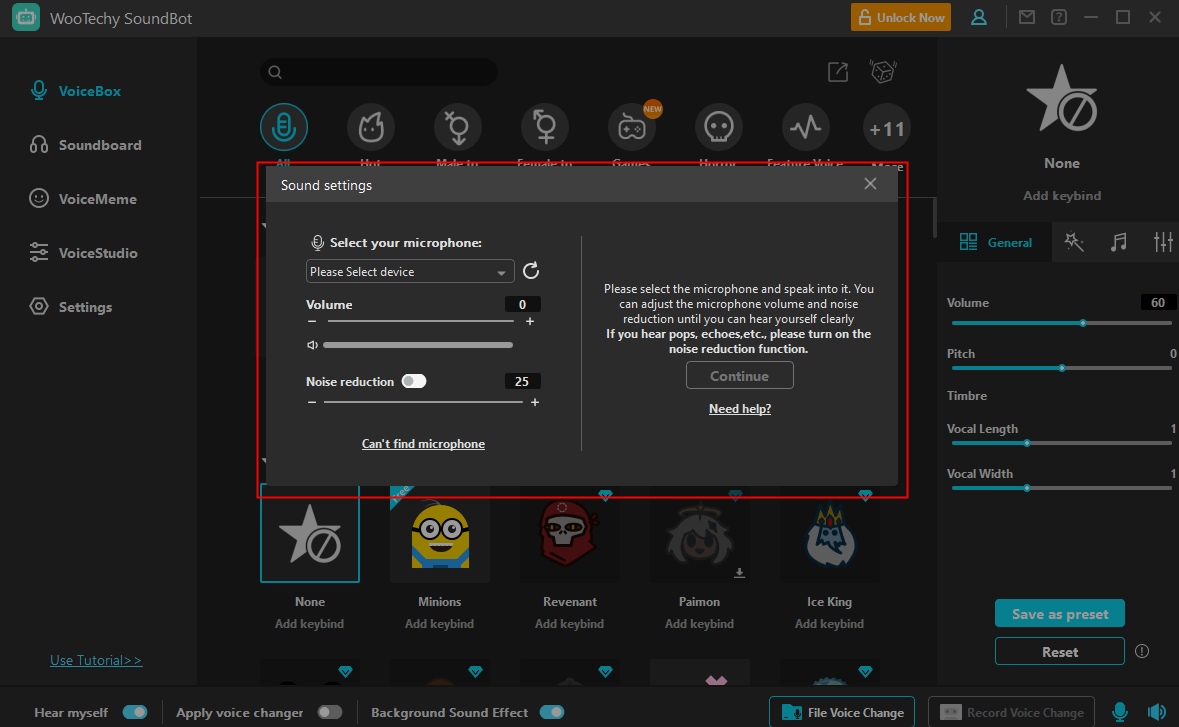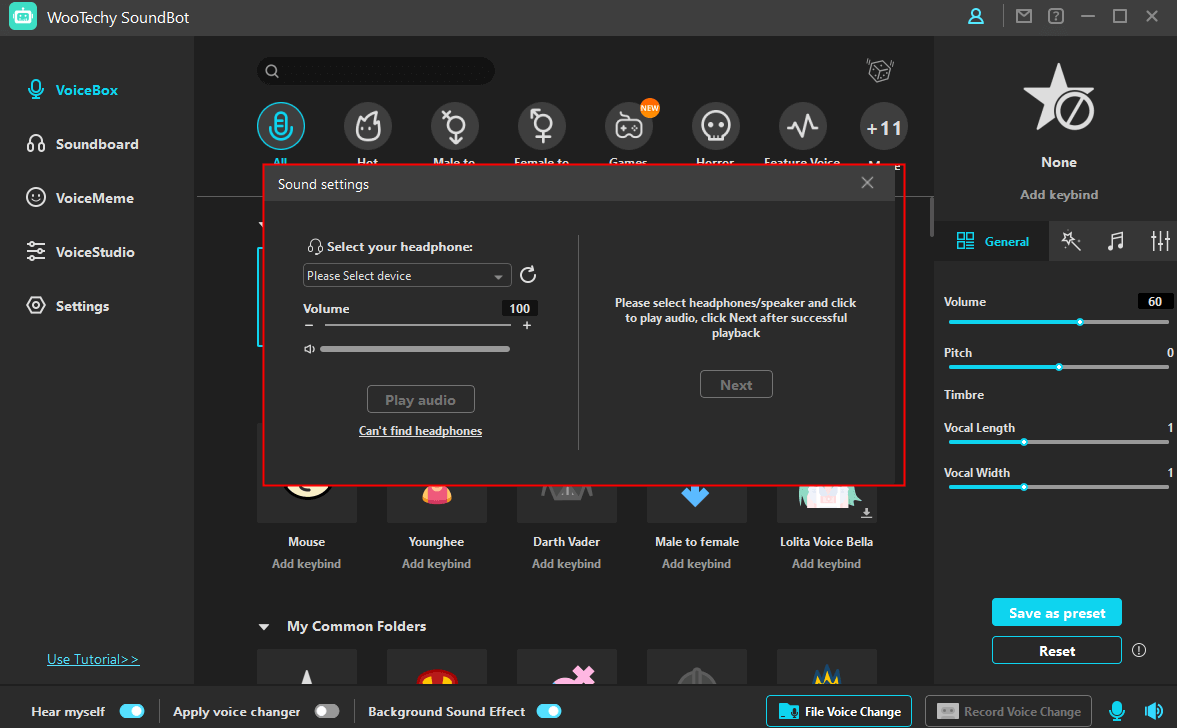 Step 2 On the SoundBot program, ensure that the Hear myself, Apply voice changer and Background Sound Effect toggles at the bottom are all switched on. Now choose your favorite voice from the VoiceBox tab.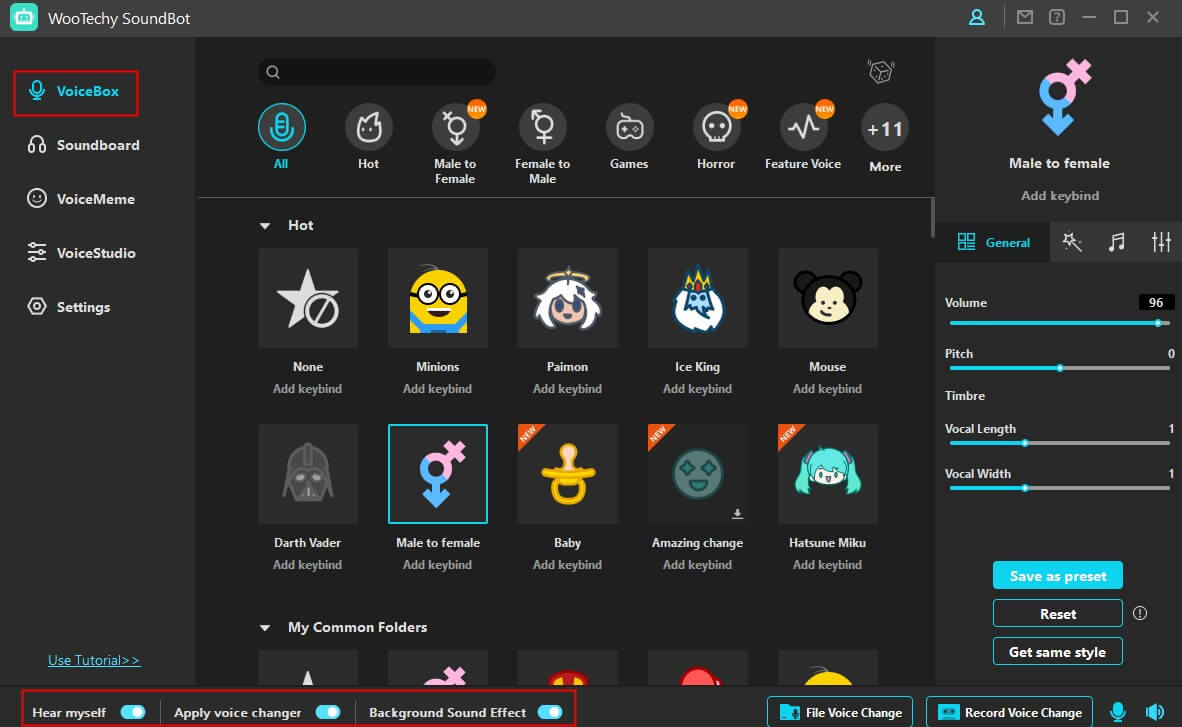 Step 3 Then open PUBG and head to Steam Settings. Pick Voice Changer Virtual Audio Device (WDM) as your audio input option from Voice or In-Game Voice tab.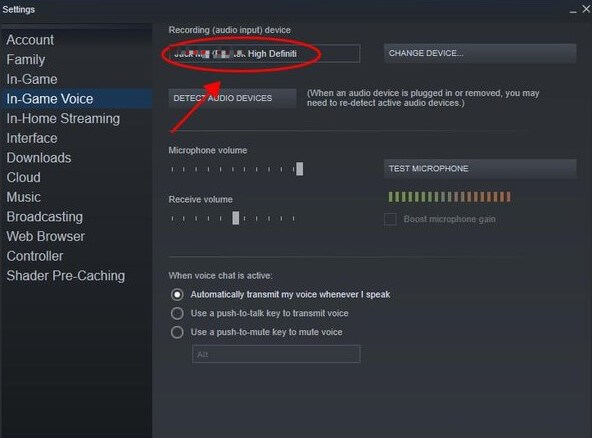 Now you can speak into your microphone and your voice will be changed during playing PUBG.
Part 2. Voice Changer for PUBG Mobile
The PUBG mobile is an incredible video game for iOS and Android users. It has six characters with varying abilities that you can use during the game. These characters are Emilia, Victor, Sara, Anna, and Andy. Another exceptional feature of PUBG mobile is that you can change a character's voice. This section will show you how to use the voice changer for PUBG mobile.
1. Change Character's Voice in PUBG Mobile
You can change a character's voice on PUBG mobile, but you will not be able to maintain the changed voice if you change the character in between the game. Hence, you must maintain a character if you have changed its voice throughout the game. Here are the steps to use the voice changer for PUBG mobile.
Open the game inventory from the menu or bottom bar.
Pick a character you want to use using the character selection menu.
Open the Character Workshop. Open the equipment box. Click on the microphone or voice message icon.
Set the change message tab by picking the three voice command categories. (Tactics, Movement, and Discussion.)
Confirm the changes by clicking on Change at the bottom of the screen.
You can change the voice command messages if you want. Complete the process by clicking the OK button at the bottom of the screen.
2. Use VoiceFX for PUBG
Aside from the general voice-changing feature on PUBG mobile, you can use a mobile dedicated voice changer. It helps you to change the character's voice while playing the video game. A good solution for this is the VoiceFX app. You may even like this feature better because it is free.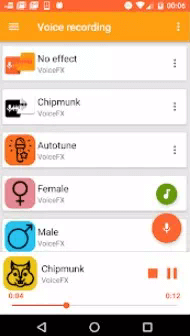 Download and install the VoiceFX app. Launch the application.
Open the app settings by clicking on the hamburger icon at the top of the screen.
Click on the Live Voice Playback. Check through the available sound effects and choose one.
Open the PUBG game app and start using the new voice.
Part 3. FAQ -- Can You Use Voicemod in PUBG?
Yes, you can use Voicemod in PUBG. You can use Voicemod as a PUBG AI voice changer or add some sound effects during the game. The sound effect can create a surprise for your opponents during the game. Here is how to use the voice changer app for PUBG.

Download and set up the app for your PC.
Open the communication program you use for online games like Discord, Stream, etc.
Pick Voicemod Virtual Audio Device as your input option.
Choose the voice you want to use. Launch the PUBG and start using the new voice.
Conclusion
Since its launch in 2017, PUBG has fast risen to become a household name. It has all the features to create an exciting experience for every gamer. However, you can even make your experience on the video game better. You can hide your identity or prank your opponents with the best PUBG voice changer – WooTechy SoundBot, which can change your voice in the game to be whoever you want and add up more fun by using the PUBG soundboard. Just get it and change your voice in real time to enjoy epic moments with your friends.