Are you ready to add a touch of fun and creativity to your Discord experience? Imagine being able to change your voice from male to female, unleashing endless possibilities for gaming, pranks, or content creation. With the best girl voice changer for Discord, you can do just that!
One of the most popular voice changers is Wootechy SoundBot, loved by many Discord users for its wide range of high-quality voices. Many Discord users claim that this is the best voice changer for Discord in 2023. It is believed that whether you want to sound like a girl, a robot, or even an anime character, SoundBot has got you covered. Is this real? Today we will provide the most honest review, and provide the most informative tips for Discord voice changing. Keep reading.
Part 1: Why Do People Use Girl Voice Changer on Discord?
First, let me learn about why so many people are looking for this kind of female voice changer for Discord. We have done some research and have come up with the following results.
As we all know, Discord is a versatile communication platform that allows users to connect through voice calls, video calls, and text messaging. With over 350 million registered users worldwide, it provides a space for communities, gamers, and friends to interact, share media, and build relationships. Here is the Kicker, users use the platform mainly to communicate and participate in community activities. Then, the main reasons for the change of voice in Discord are as follows.
Experiment with various voice filters and effects, such as high-pitched voices, spooky voices, gender-swapping filters, robotic voices, and more.
Modify their voice to make it harder for others to recognize or identify them.
Adopt different voices to create a more immersive atmosphere within the game.
Streamers, content creators, and role-playing enthusiasts on Discord embody different personalities to attract their audience.
Surprise their friends by changing their voices to sound like a girl, famous characters, animals, or even completely different individuals.
Part 2: The Best Girl Voice Changer for Discord in 2023
Regarding the previous question, is the Wootechy SoundBot the best girl voice changer for Discord in 2023? We think so after we tested it!
Wootechy SoundBot is an AI-powered voice changer based on PC that allows users to change their voices in real time and apply various voice filters and effects. It offers a wide range of voice filters, including a girl voice filter, which allows users to modify their voices to sound like girls.
Unlike other voice changers, SoundBot has compatibility with different programs and games, including Discord, PUBG, Fortnite, Skype, and more. This makes it a versatile tool for Discord users to change their voice when communicating or live streaming.
Some Features of SoundBot Girl Voice Changer for Discord
75.000.000+
Downloads
Change voice in real-time without any lag.

Fully comparable with the Discord platform and many other various scenarios.

Rich variety of girls' voices such as College Girls' Voices, Little Girl, Raspy Female and so on.

600+ voice effects are available.

250+ voice filters to change voice: Cartoon, Celebrity, Horror Voice, Film roles, female to male or vice, etc...

Update new voice every week, including the free voice.

Support changing voice by uploading audio files also.

Provides voice customization options with VoiceStudio.
How to Use the Girl Voice Changer for Discord
Step 1: Download SoundBot on your Windows. Launch it and set up the input and output devices. Choose your headphones as the output device and your real microphone as the input device.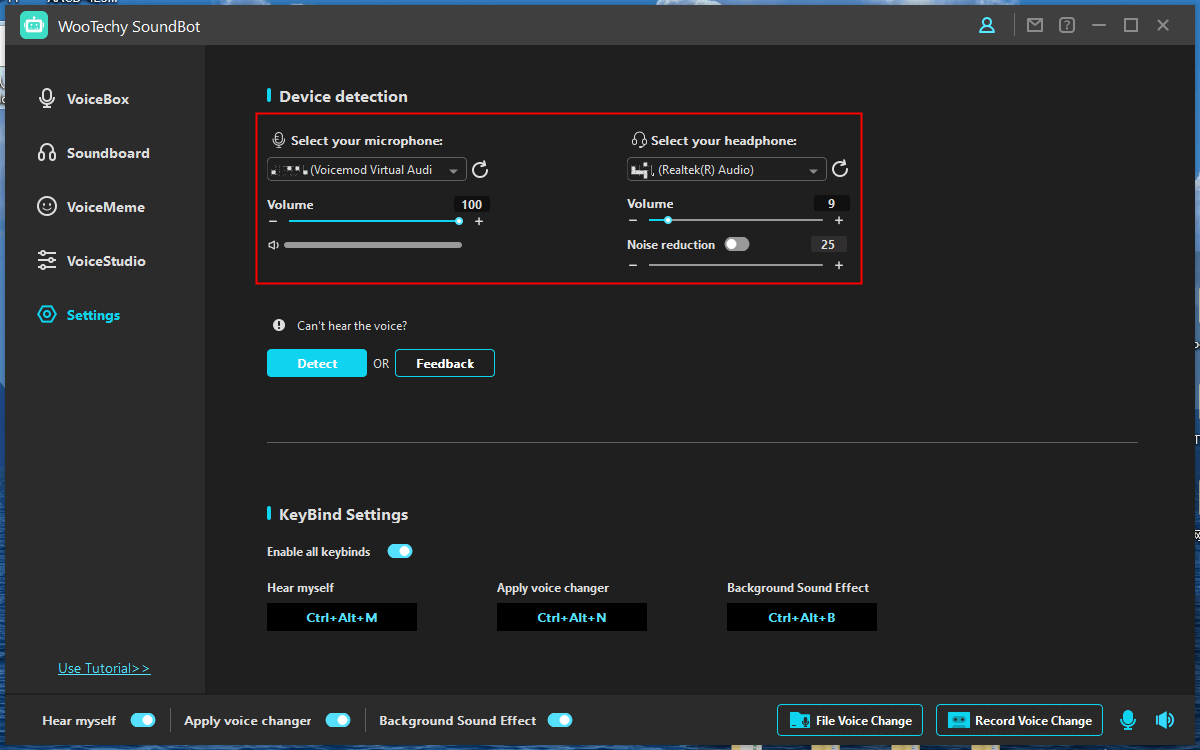 Step 2: Open Discord and navigate to the Voice Settings. Under the Input Device option, choose "Microphone (Voice Changer Virtual Audio Device (WDM))."
This selection enables real-time girl voice changing within Discord. Other users will be able to hear your modified voice.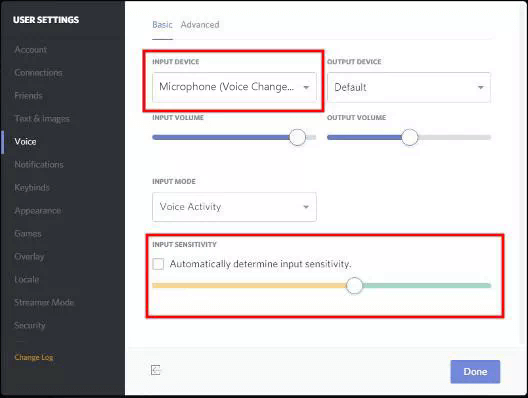 Step 3: On the girl voice soundboard, you can find various types of Girl Voice Filters on the catalogue of Male to female. You can click on each voice filter in SoundBot and speak into your microphone to hear how your voice changes with each effect.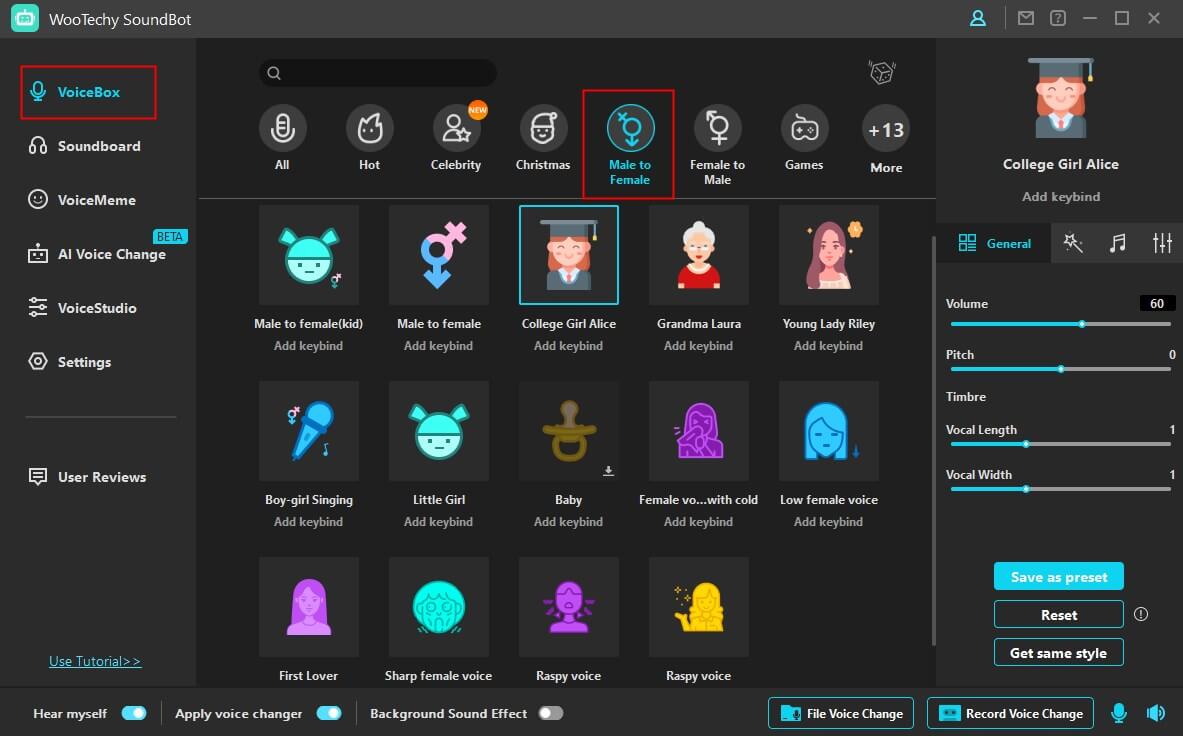 Now, you can speak on Discord. And you will find your voice is changing in real time. If you want to have some custom adjustments to get close to a certain effect, you can make it on the Voicestudio freely.
Frequent Questions for Using Voice Changer for Discord
1

How do I use SoundBoard for Discord?

Ensure you are using the Discord desktop app. Mobile APP is not available.

Join the voice channel where you want the sounds to be played. If Soundboard is enabled, you should see a music icon at the bottom left corner of the screen. You can also click on the Soundboard icon while connected to a voice channel to activate SoundBoard on the Discord server.

Click on the icon to open the Soundboard. Hover over a sound and click the Play button to play it. The sound will be heard by all participants in the voice channel.
2

Why Discord server doesn't have SoundBoard

The reason Discord servers don't have a built-in Soundboard feature is that it is currently an experimental feature and is only available to a limited number of communities.
3

Is there a mobile voice changer for Discord?

Yes, there are several mobile voice changer apps available for Discord like RoboVox Voice Changer (Android). However, we have found that most voice changers on mobile phones are unstable and the changed voice is very unrealistic.
Conclusion
After thorough research and consideration, we recommend Wootechy SoundBot as the best girl voice changer for Discord. It is perfectly comparable with various programs and games, such as Fortnite, Valorant, PUBG, CF, LOL, and of course, Discord.
Whether you're engaging in real-time communication, live streaming, or simply having fun with your friends, It provides a diverse selection of girl voices and other types of voices to choose from. Download SoundBot for free today on your PC and let your voice take on a whole new dimension of fun and excitement.