Do you want to change your voice into a scream voice or ghostface to have fun while gaming online or doing something else? If so, you need to use the right scream voice changer that does the job effortlessly with smooth results.
While there's an extensive collection of scream voice changers online, we have reviewed and detailed the top 6 in this article.
Keep reading to find out what these top 6 AI scream voice changers entail.
| Product | Supporting OS | Voice filters | Main feature |
| --- | --- | --- | --- |
| | Windows | 125+ (include daily free voices) | Change voice into different sounds in real-time |
| | Web-based | 5+ | Change voice into different sounds online |
| | Mac&Windows | 3 | Free version provides basic voice editing including voice change |
| | Android | 8+ | Voice recorder and editor |
| | Windows Pc | Daily free voices | Real-time voice changer |
| | iOS | 20+ | Voice recorder and editor |
Part 1. What Is the Best Ghostface Voice Changer?
You'd certainly want to use a scream voice changer that's best in terms of features and usability. If so, then WooTechy SoundBot is your ultimate choice. Its multitude of voice changer filters and sound effects makes it one of the most comprehensive AI voice changers.
Its real time AI voice changer makes it useful for online gamers and content creators. WooTechy SoundBot can change voice of pre-recorded audio files as well as real time voice recordings.
Key Features of SoundBot
75.000.000+
Downloads
It offers real-time AI voice change functionality powered by advanced technology that ensure smooth output.

It offers over 125+ voice filters and 400+ sound effects including ghostface, ghost and more.

It can be used directly for real-time voice changing in online chatting apps and games such as Discord, Zoom, Fortnite, Xbox, etc.

You can import .mp3 and .wav audio files, and further change the files voice.
Video Guide for the Ghostface (Scream) Voice Changer
Pros
User-friendly interface.

Converts voice faster than other apps.
Cons
Only offers 5 free voices each day.
How do you make a Ghostface voice in WooTechy SoundBot?
The process to make a Ghostface voice in WooTechy SoundBot is simple and easy. Using WooTechy SoundBot, you can change your sound recording voice as well as real-time.  You can do so by following the below steps:
Step 1 Launch the voice changer
Assuming you've WooTechy SoundBot downloaded and installed on your computer, launch the app.
Step 2 Set input and output device
After launching, select your input microphone device and output headphone device. You can change your voice in real-time or import pre-recorded sounds.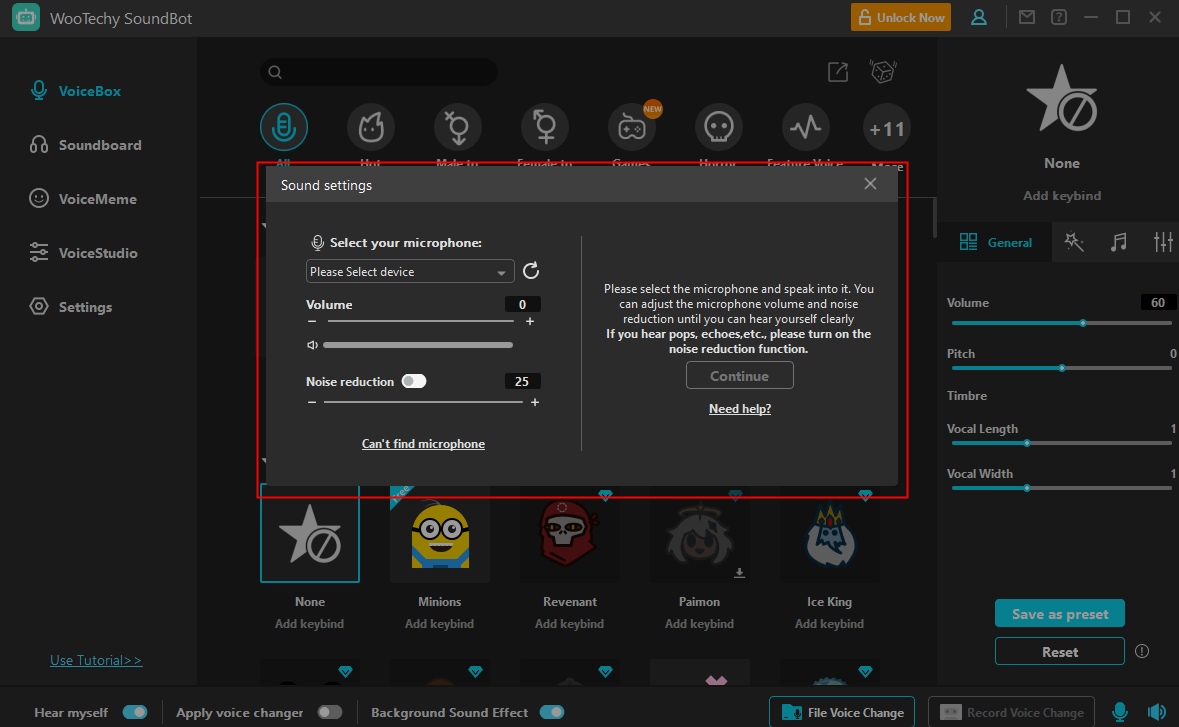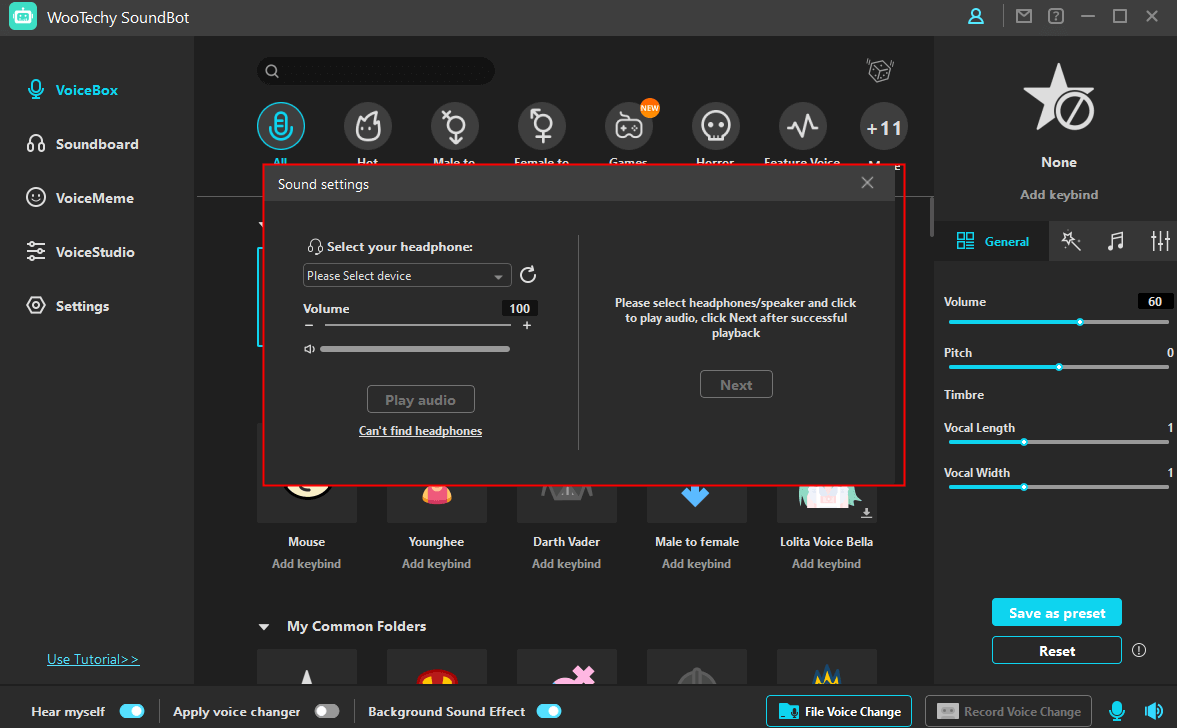 Step 3 Select a scream sound effect
Now, explore different voices from VoiceBox and select one of the spooky effects to change your voice to a ghostface or scream.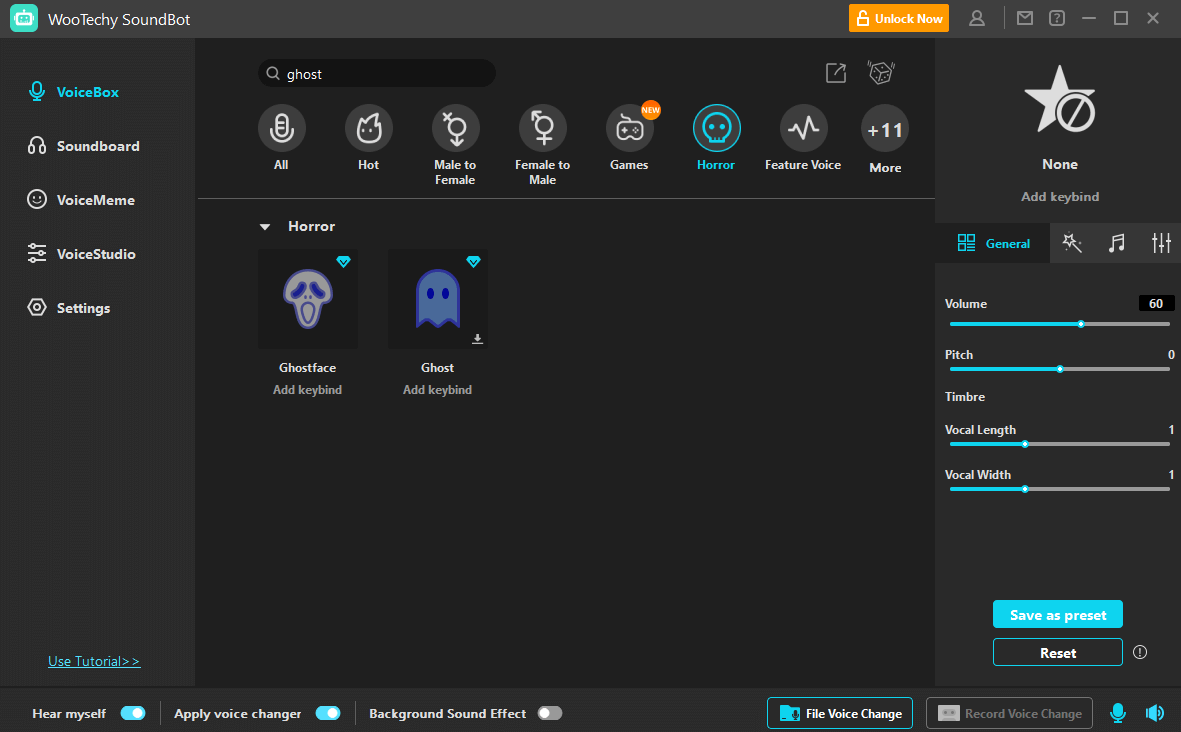 Part 2. Other Pupular Scream Voice Apps
Yes, there are many voice changer apps that let you change your voice into a scream voice.
1. LingoJam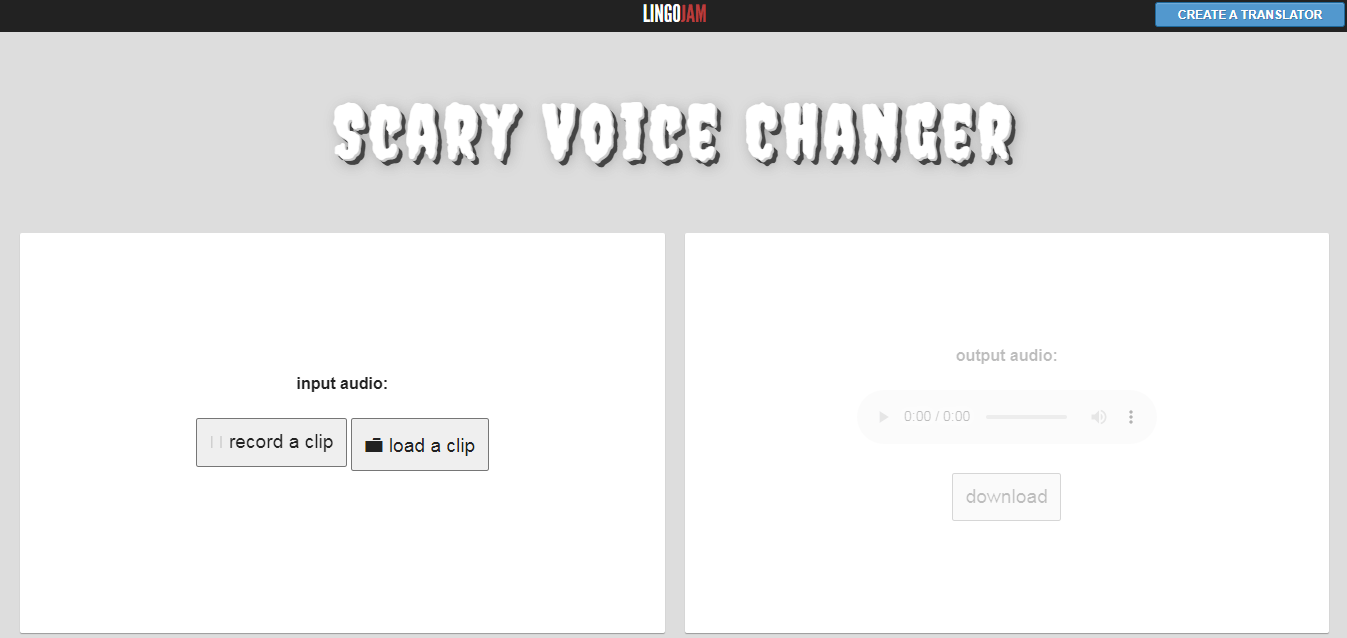 If you're looking for a scream voice changer online app, LingoJam offers  a dedicated online tool to change yout original voice to screams and spooky voices. You can do so by selecting the scream filter coupled with voice pitch adjustment.
You can either upload the sound recorder or record your voice to change it to scream sound. It offers two input methods. LingoJam is one of the best scream voice changers by offering a fast conversion.
Key Features
It supports the browse file option as well as voice recording.
You can change the voice of video files too.
It allows for pitch adjustments.
Apart from voice change, you can alter playback speed too.
Pros
Simple interface with clear navigation.

Fastest conversion for any scary voice changer.
Cons
Provides output file in .wav format only.
2. MorphVOX Voice Changer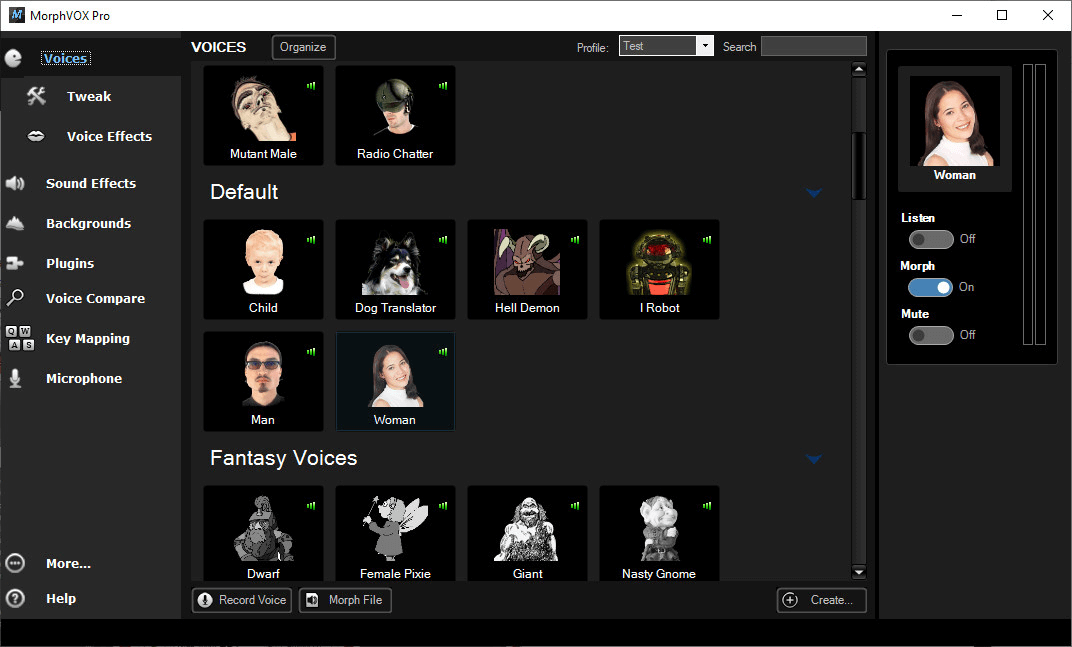 MorphVOX voice changer by Screaming Bee is a versatile scream voice changer. There are two versions of this software;  MorphVOX Jr, which is a free version, and MorphVOX Pro.
MorphVOX voice changers change your voice in real-time and allow you to edit as well. If you use its free version, you are limited to two different voice filters only. However, its pro version offers a generous collection of voice filters. 
Key features
It provides high-quality voice change technology.
It has many built-in sound effects as well as downloadable packs.
You can integrate it easily with online games and chat programs.
You can add background sound while you talk.
It's equipped with Ultra-quiet background cancellation.
Pros
MorphVOX Jr is optimized for online gaming.

Free to download and use.

Offers audio bundles to download separately.
Cons
Free version is limited to 3 voice mods only.

Ghost voices are available in Pro version.
3. Scary Voice Changer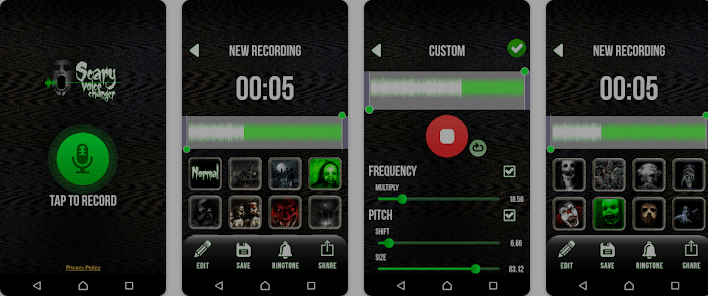 If you are looking for a scream voice changer explicitly made for turning your voice into screams of all kinds, then try scary voice changer. It's an Android app that you can download on your smartphone and change your voice into spooky screams.
Its interface complements its functionality as you'll see ghostface and dark interface across the app.
Key features
It offers several scream voices since it's a purpose-made scream voice changer.
It lets you record your voice and change it into screams.
You can create a custom voice by changing frequency and pitch.
You can edit your sound recording.
It offers monstrous ringtones for your phone.
Pros
Allows to change the pitch of your voice

Easy to use.
Cons
Doesn't change voice in real-time.
4. Scary Voice Changer and Recorder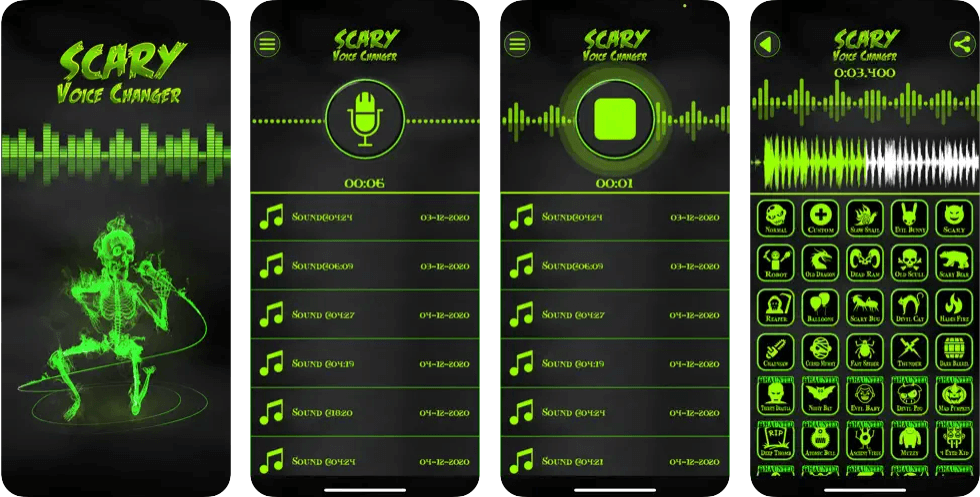 Are you an iOS user? If so, then you need this scary voice changer and recorder. It's an easy to use free scream voice changer with an extensive collection of spooky sound effects.
Whether you want to change your voice into a spooky animal sound or ghost voice, you can do it with this app.
Key features
It offers the most generous collection of spooky screams and frightening voices.
You can import as well as share recordings on Discord.
You can modify the speed and pitch of your voice.
Pros
Easy to use with a user-friendly interface.

Allows you to rename and listen to recordings.
Cons
Shows ads, which's understandable since it's a free app.
5. Voicemod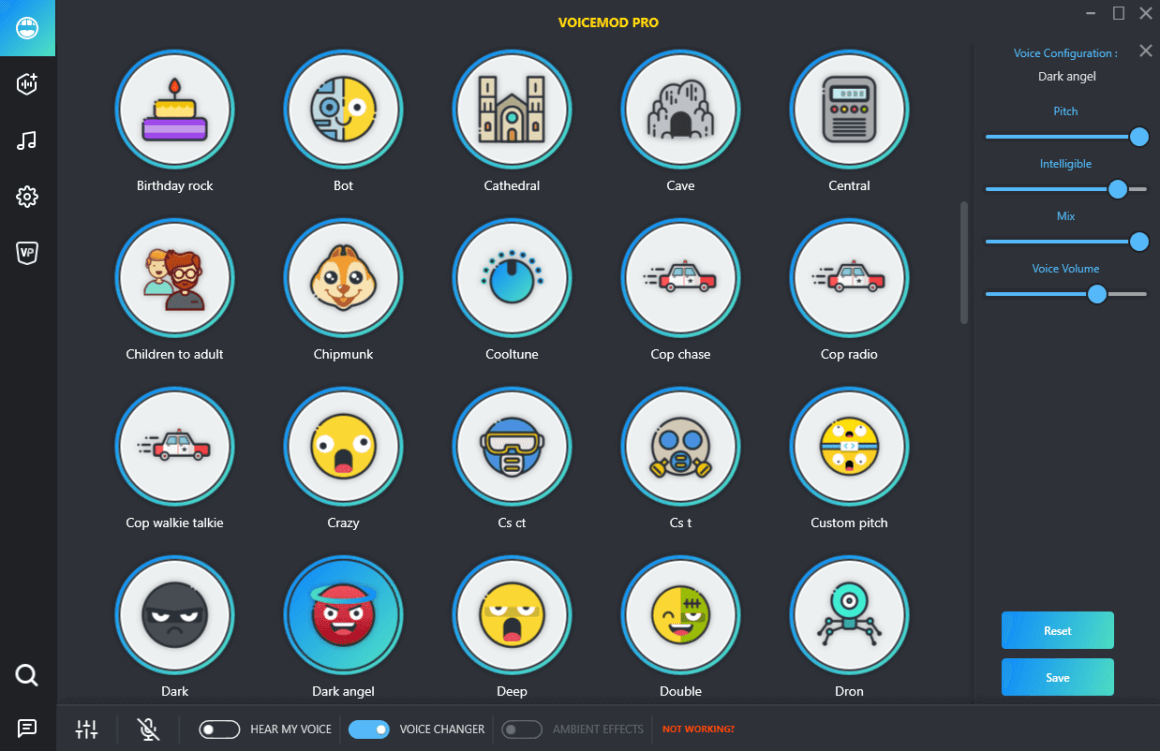 Conversing with your online gaming partners is more fun when you do it in an exciting voice such as scream. Voicemod is one of the best ghostface voice changers when it comes to gaming use.
Its popularity comes from its distinctive interface, which is nothing like most scream voice changers. Besides excellent functionality, it has an appealing and modern interface.
Thanks to its self-explanatory navigation, users can easily change voice using Voicemod. You can use it on your computer if you have Windows 7 or any latest version.
Key Features
It has multiple voice filters to choose from that can make your voice sound entirely different.
If you use its Pro version, you can create custom voice.
Its voice mods can be configured by changing pitch.
It can change your voice in real-time.
Pros
User-friendly interface with aesthetically pleasing design.

Forever free accessibility for basic version.
Cons
Wrap up
Scream voice changer app can add a lot of fun to your content. You can use them to make prank calls or simply to conceal your original voice while playing games online. The top 6 scream voice changer apps reviewed in this article can be used online or on smartphones and PCs.
Among them, WooTechy SoundBot is the best real-time AI voice changer software, which directly offers the scream/ghost voice filter and you can also use it in various platforms. Just download it and give it a try!