Voice changer apps have become increasingly popular in recent times. If you are a streamer, or just looking to prank your friends in a discord server, a good voice changer tool is what you need.
There are lots of demon voice changer apps available. But WooTechy SoundBot packs so many unique features and some more which makes it one of the best, if not the best in the market. However, there are more. And we talk about the best of them in this article. So, keep on reading to find the best demon voice changer that is suitable for you.
Part 1. The Best Demon Voice Changer On PC
If you are looking for the best demon voice changer, you should look no further than WooTechy SoundBot. This amazing app can easily transform your voice into a powerful and frightening sound from the darkest depths of hell.
You'll be able to sound like a true demon or devil in no time. WooTechy SoundBot also offers a variety of sound effects to choose from. Whether you're looking for a creepy-sounding voice, a menacing tone, or a voice that's out of this world, SoundBot has you covered.
You can easily customize your sound to create the perfect demonic or devilish sound. Let's take a look at some of its key features: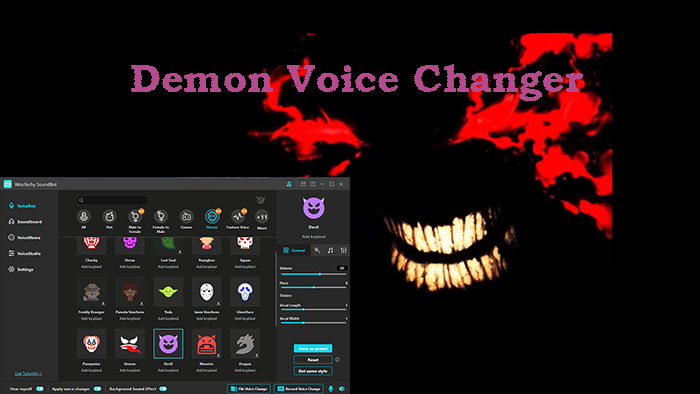 A Library of Voices and Sounds
With the WooTechy SoundBot, you have the freedom to be the voice of anything you want. It has more than 125 voice filters, 400+ built-in sound effects and 200+ voice memes to double the fun. No matter who you want to become, WooTechy SoundBot can help you do it.
WooTechy SoundBot has the feature to export your voice in your preferred format, WAV or MP3. You can use this app for making videos and voice overs. You can also input audio files in various formats like mp3, WAV, and OGG to apply voice changing.
Use Sound Effects in Different Programs
This feature is a godsend for gamers who want a little bit of a meme. In-game voice changers aren't anything new, but WooTechy SoundBot has taken it to a whole new level. No matter where you communicate with your fellow gamers, in-game voice, or discord, WooTechy SoundBot has got you covered.
You can use WooTechy SoundBot for natural voice changing in discord and games like CS: GO, PUBG, Fortnite, Overwatch, Warcraft, League of Legends, etc. Not only that, SoundBot supports many other programs like Streamlabs, Skype, Twitch, etc.
Simple to Use
WooTechy SoundBot is very simple to use and that's what makes it great. You won't have to sail the ocean to enjoy the amazing features of WooTechy SoundBot.
You can change your voice with WooTechy SoundBot in three simple steps. Just download and install the app, select the input and output device and apply the voice, it's that simple!
How to Use WooTechy SoundBot for A Demon Voice?
Using WooTechy SoundBot to change your voice is a cakewalk, still, we thought a detailed guide would be very much beneficial.
If you want no trouble using the best devil voice changer, follow this step-by-step guide to find out how to use WooTechy SoundBot to change to demon voice:
Step 1: Download and Launch WooTechy SoundBot.
First, you'll need to download and install the software from the official website. Once the download and installation are complete, launch the program.
The good thing about WooTechy SoundBot is that it has a free trial version. Although many voice changes require a premium subscription, you can still try a few good ones.
Step 2: Choose the Output and Input Device
Once the software is launched, you'll need to choose the input and output devices. This will allow you to use a microphone and headphone to record and playback your voice.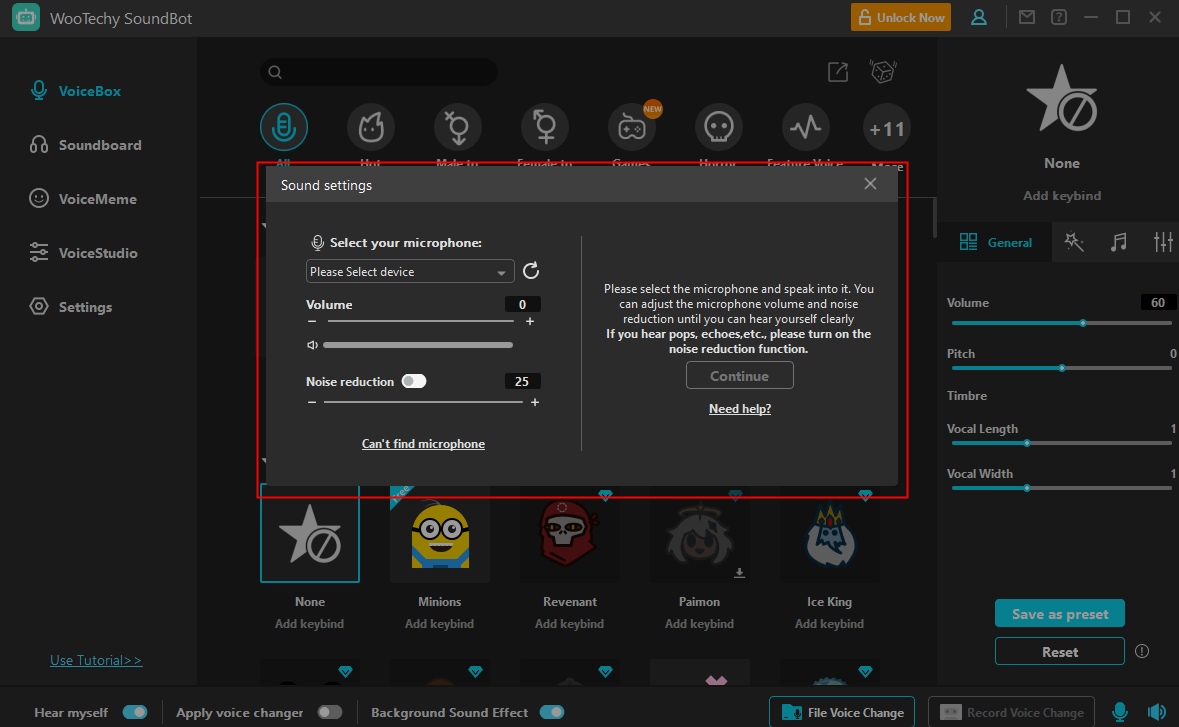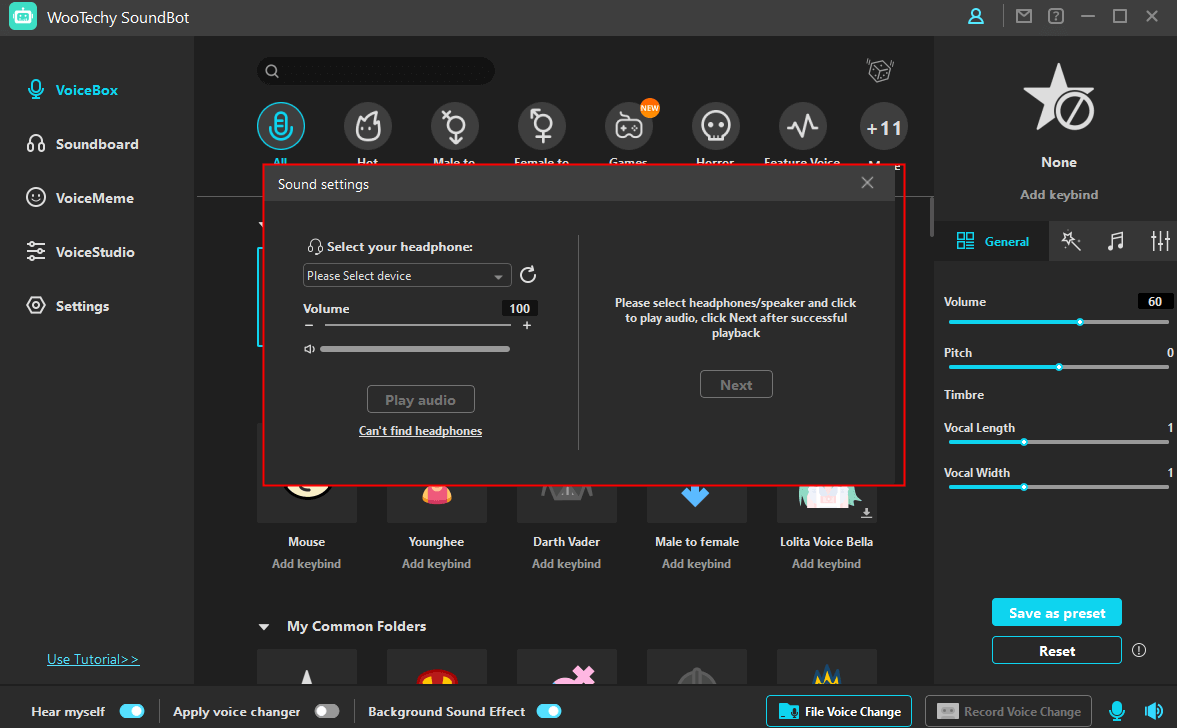 After you've selected the desired device, click "X" icon.
Step 3: Apply the Voice-changing Filters
Now you're ready to use the voices of WooTechy SoundBot. Toggle on Apply voice changer and hear myself. Go to the VoiceBox tab to view all the voices.
You can choose from a variety of demonic voices, such as a devil, a demon, Freddy Krueger, Jason Voorhees, and more. Then speak into your microphone and enjoy the changing.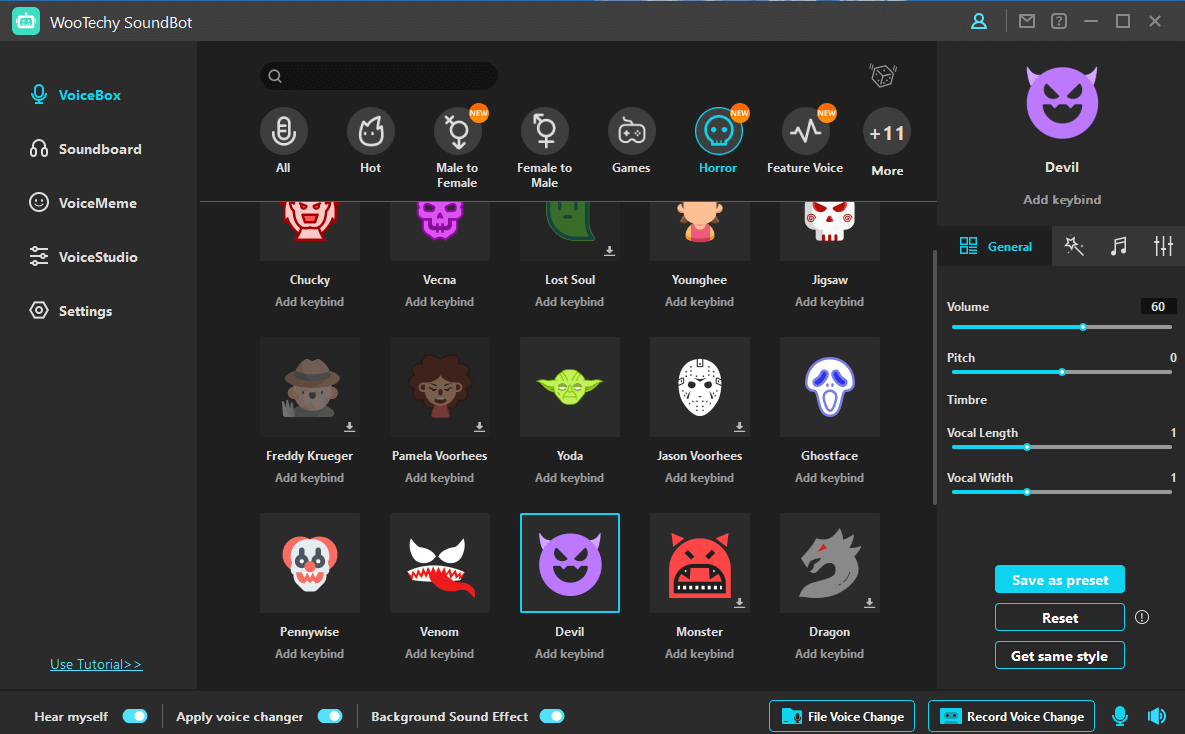 Step 4: Change Your Voice in Different Platforms
Once you've selected the desired effect, you may want to change your voice on different platforms, such as Discord, Skype, twitch, other game platforms, etc. Just change your desired patform's audio input setting to Voice Changer Virtual Audio Device and ensure SoundBot is running in the background. In this way, you can change your voice in programs and games in real-time.
That's all there is to it! By following these steps, you can easily use WooTechy SoundBot to change your voice to a demonic one. Now you'll be able to take your voice acting and streaming to the next level.
Part 2. Demon Voice Changers Online
Downloading and installing an app may feel arduous to some. That's why the popularity of online apps is increasing day by day.If you want to change your voice to a demon voice and are looking for an online tool, Voice Changer.io and Lingojam scary voice changer are two of the best in the business.
1. Voice Changer.io
Voice Changer.io is an amazing and powerful voice-changing platform that offers a variety of voice-changing effects and features. It's a great way to have a bit of fun with your voice, whether you're playing a prank on a friend or creating a voice-over for a video.
At Voice Changer.io, you can modify your voice in a few different ways. To start, you can choose from a range of different voices, including demon voices. You can also change the pitch and tone of your voice, making it sound higher or lower.

Using voicechanger.io is incredibly simple. Here are some simple steps to effectively use Voice Changer.io to change voice to demon:
Step 1:  log on to voicechange.io.
Step 2:  you will see three options; upload audio, use microphone or generate speech from text. These terms are pretty self-explanatory, so select what you need.
Step 3:  after uploading the clip, you will be asked to select any effect from below. There are plenty of options like alien, demon, snake etc.
Step 4:  in the next window, you will have the ouput audio. You can either play or download the clip in WAV format.
2. Lingojam Scary Voice Changer
Lingojam's Scary Voice Changer is unique voice-changing software that will transform your ordinary voice into something truly spooky. Using advanced audio distortion technology, the Lingojam Scary Voice Changer will make your voice sound like it's coming from beyond the grave.
Whether you are looking to make your horror story sound even scarier or scare a friend over the phone, Lingojam has you covered. The best part about using the Lingojam Scary Voice Changer is that it is incredibly easy to use.
Since it's an online tool, there is no hassles like downloading and installing. You just need an internet connection to enjoy the benefits of this amazing tool. Here are the simple steps to use Lingojam Scary Voice Changer for a demon voice: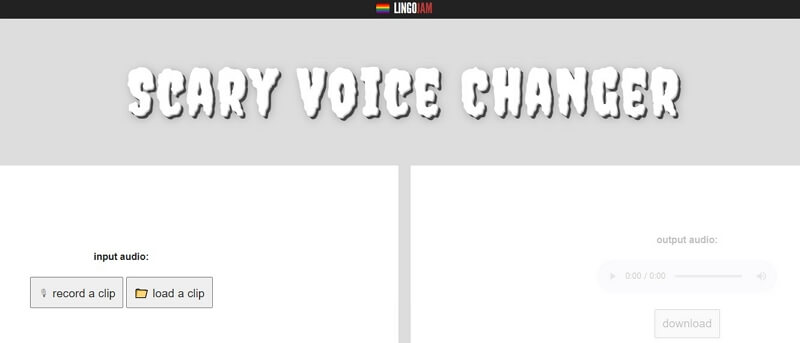 Step 1:  Log on to lingojam scary voice changer.
Step 2:  If you want to upload a prerecorded clip, select load a clip. if you want to directly record your voice, select record a clip. For recording a clip, you will have to allow microphone permission.
Step 3:  After uploading or recording audio clip, you will see the output audio on the right hand side of your screen. You can play the audio by click on the play button, you can also download by clicking the Download button below.
Part 3. Demon Voice Changers On Mobile
There are plenty of mobile apps to change your voice to something unearthly. Here's a brief description of the Demon Voice Changer app and Scary Voice Changer app:
1. Demon Voice Changer App
Demon voice changer is one of the best mobile apps for demon voice change. It has so many features and sound effects like snake hissing noise, ogre, demon, male to female, female to male, etc.
No matter your purpose, whether you want to scare your friends or use it for any other purpose, you can rely on the Demon Voice Changer. This app has two modes that lets you sound like monsters like fictional movies. You can record your voice or anyone else's directly into the app with your microphone and turn it into a devilish voice.
Demon voice changer also has a feature that lets you change the pitch of your recordings. You can save the demon voice on your device or share with your friends directly. The app is only 3 megabytes so you won't have to worry about device space.

One downside of this app is that it doesn't let you upload prerecorded clips. Here are the steps on how to use the Demon Voice Changer:
Step 1:  Download the Demon Voice Changer app from Google Play Store.
Step 2:  Launch the app. You will see a record button on your screen. Press the record button and record your voice.
Step 3:  Select demon voice 1 or demon voice 2 as your effect. There is also a demon voice 3 options, but it's locked and the app will ask you to see some ads to unlock it.
Step 4:  Play the audio. You can save the audio clip by clicking the floppy disk icon from the top right corner of your screen.
2. Scary Voice Changer App
Scary Voice Changer works amazingly to change your voice to something so frightening that will scare even the bravest souls. Besides the demon voice, it has a ton of other scary voices like dragon, bear, old skull, dead ram, mummy, etc. And on top of that you can also make customer scary voices as well. This App allows you to select from a wide selection of scary voices.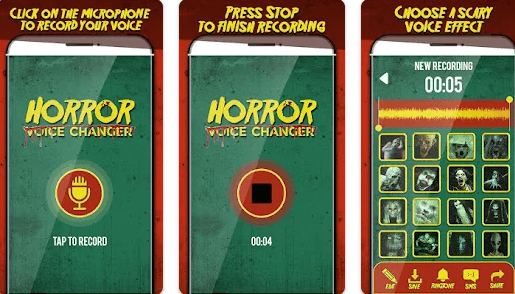 This voice changing app has an easy-to-use UI as well as revolutionary sound effects for producing a terrifying voice. Here are the steps to change your voice using the Scary Voice Changer app:
Step 1:  Download the app from Google Play Store.
Step 2:  Launch the app and press the tap to record button on the screen. Record your voice.
Step 3:  On the next screen, select any of desired effects. The clip will start to play automatically.
Step 4:  You can also edit, save, set as ringtone or share with friends by selecting these options from the bottom of the screen.
Conclusion
There was a time when voice changer apps were scarce, but not anymore. There are so many demon voice changer apps like WooTechy SoundBot and the ones we talked about in this write-up. So, you can always find a solution for your needs.
Among so many apps, WooTechy SoundBot has a ton more features than many others. Also, it has a plethora of sound effects. Even the trial version gives you way more options than many other free apps of this kind.
Besides voice effects, SoundBot has a very significant feature which is allowing the user to use voice effects in other voice chat apps. This is why we recommend using it for any of your purposes, be that a business meeting, gaming or just messing with your friends. Download the software on your computer and enjoy the voice changing.