Online multiplayer games such as Fortnite have become a trend in the last couple of years. With Fortnite, your goal is to be the last man standing in the game or get the best score out of all your teammates. Like most multiplayer games, Fortnite requires communicating with your teammates while facing the enemy.
Most people usually prefer not to use their real voice in these games. In this case, you have to use an appropriate voice changer for Fortnite. In this article, we will share the best Fortnite voice changer options that you can use in your next gaming session in Fortnite. Without any further ado, let's check them out now!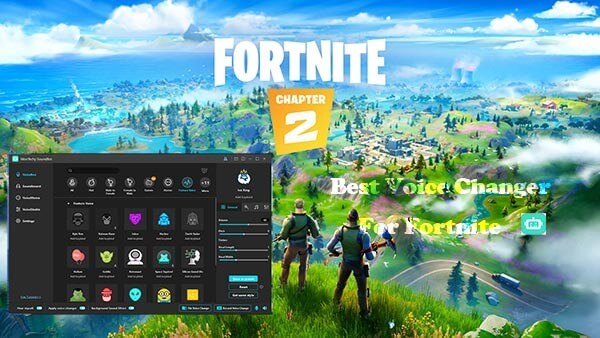 Part 1. Are Voice Changers Allowed on?
Like most online multiplayer games, Fortnite also allows players to use AI voice changers if they wish. This allows everyone to sound in the way they wish to without any limitations. One of the most reliable voice changers you can use in Fortnite and any other multiplayer games is WooTechy SoundBot. It can link your microphone and the Fortnite audio input, therefore changing your voice in real-time when you are in your character.
SoundBot – Real-Time Voice Changer for Games
75.000.000+
Downloads
Comes with over 125+ voice-changing AI voice filters such as robot and alien that you can use to disguise yourself.

Developed by professional teams, it has another 400+ sound effects and 200+ voice memes.

Change your voice in real-time in various programs and games like Fortnite, Valorant, LOL, CS:GO, Discord, Zoom, etc.

With its VoiceStudio function, you can customize your own voice with different audio effects.
Available on Windows computer, it offers 5 free voices daily. And it has a perfect soundboard for games including Fortnite, to name a few, game intro, game over, space marine, etc.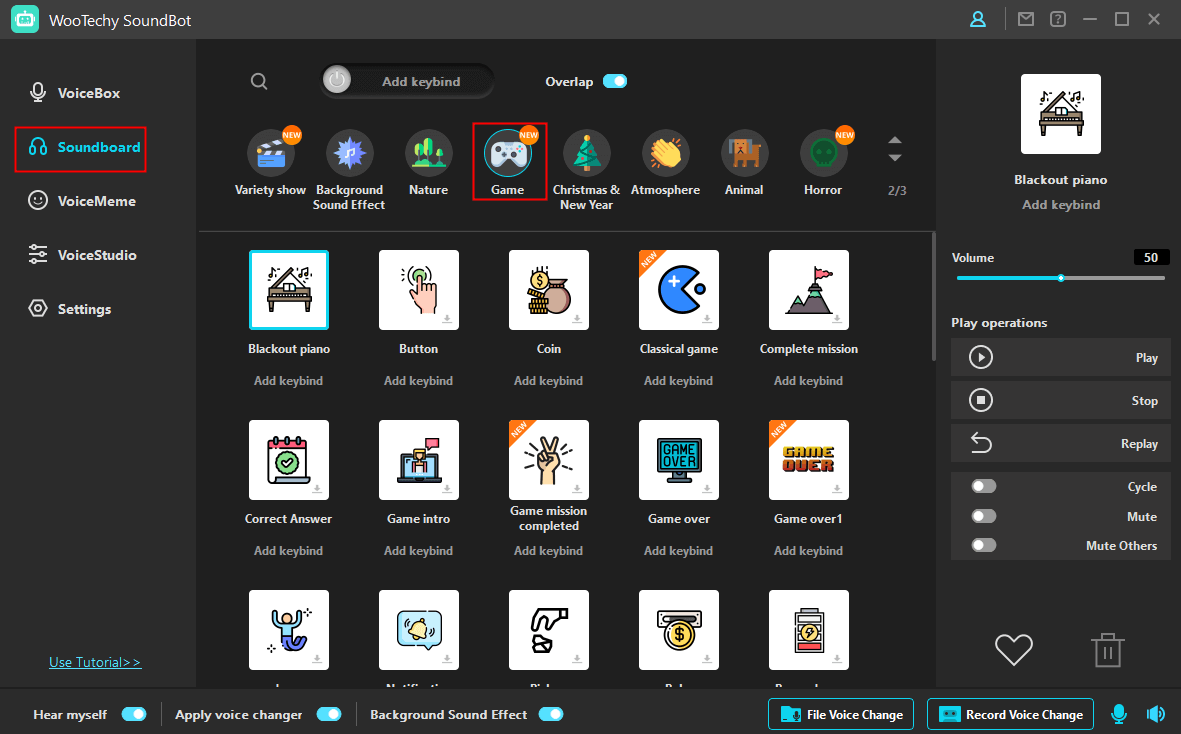 Part 2. How Do You Get a Voice Changer in Fortnite?
As we shared in the previous section, WooTechy SoundBot is one of the best Fortnite voice changers options that you should if you want to get the best Fortnite experience. Currently, WooTechy SoundBot is only available for Windows. So, you will need a Windows PC, running Windows 7 or newer.
Steps for changing your voice in Fortnite using WooTechy SoundBot
Download and install WooTechy SoundBot on your Windows machine. When the installation is done, launch the app, set up your input and output devices.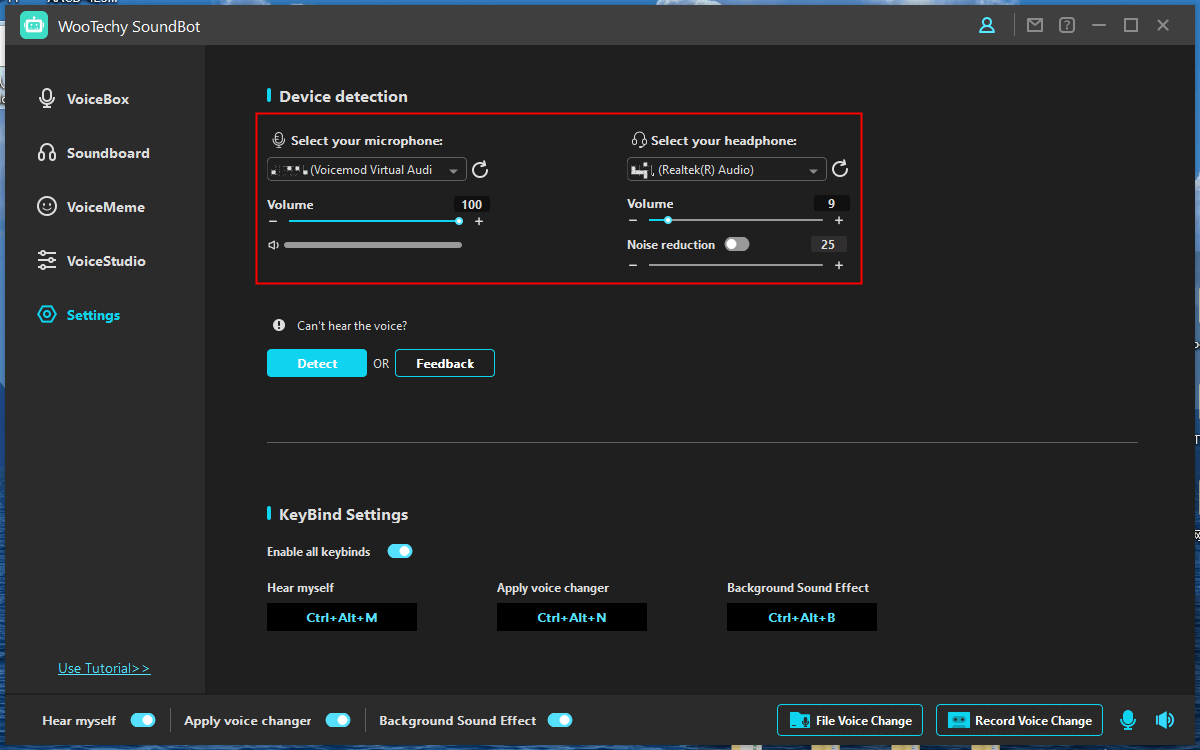 Visit the Epic games store and download Fortnite and install it on your machine. After installing it, you will have to make a few changes to settings to enable the game to receive sound input from another source (WooTechy SoundBot) instead of the default setting that automatically enables your PC mic as the input sound source.
To make these changes, open Fortnite and go to Settings > Audio > Voice Chat>Voice Chat Input Device and select the Microphone. From the microphone options, select Voice Changer Virtual Audio Device as your microphone.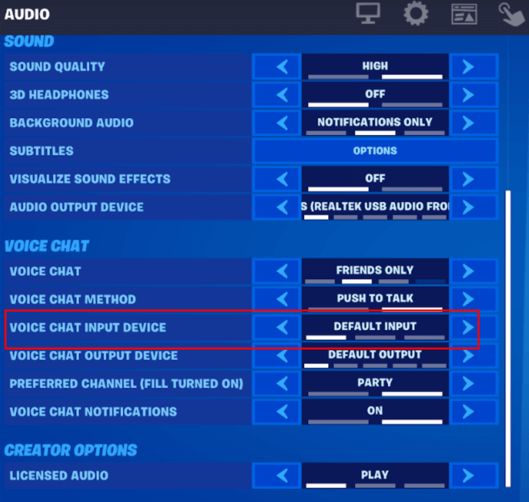 Making this change means all the sound received by Fortnite will be coming from SoundBot and not your PC's mic.
Select the voice effect you want to apply to your voice from the hundreds that WooTechy SoundBot comes with. To add a voice effect of your choice, launch the WooTechy SoundBot app and select VoiceBox from the app's main menu. Click on any of these voice filters to apply it immediately.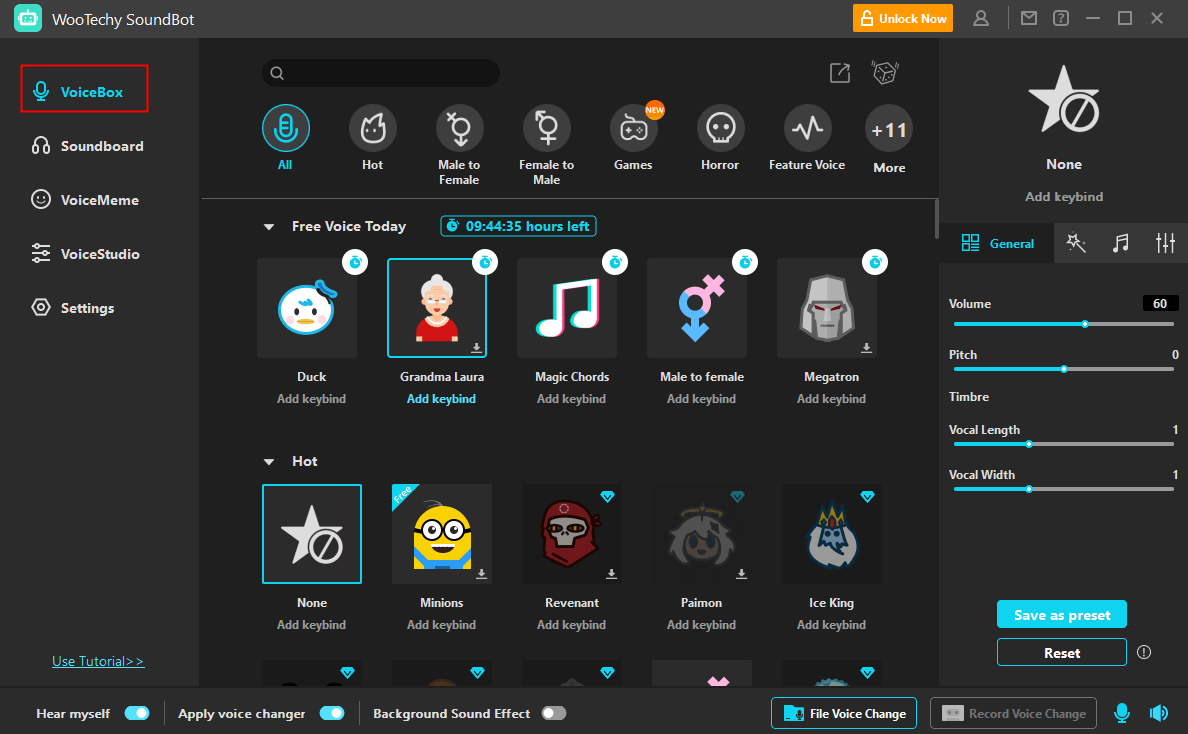 After making the above configurations, you will now communicate with teammates in real-time using any fake voice of choice.
Part 3. Other Voice Changers for Fortnite
Besides WooTechy SoundBot, there are several other Fortnite voice changer options that you can try out. Below are some examples.
1. MorphVOX Voice Changer
This Fortnite voice changer can also convert your voice into anything you want. It is available for macOS and Windows. MorphVOX offers only the lifetime plan that costs $39.95. It also has a free version with 3 voice filters that you could try out before buying the full version.
To change voice in Fortnite with MorphVox voice changer: Set this app up and open it up. Click Settings > Audio and change the microphone to Screaming Bee Audio. Then run Fortnite and apply the voice effects.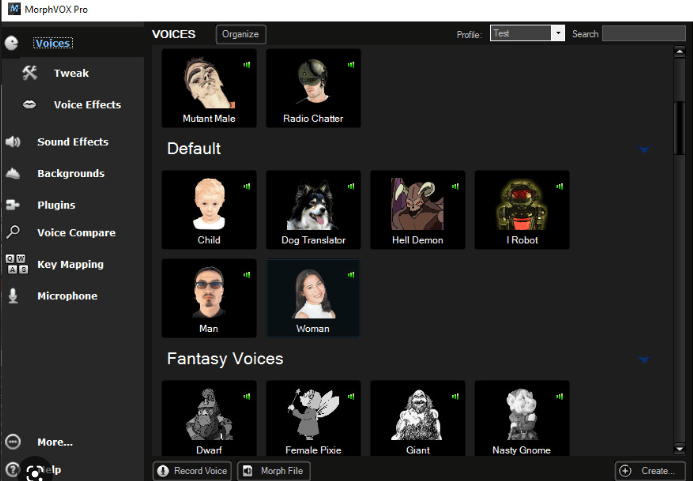 2. Clownfish Voice Changer
Clownfish is another system-level voice-changing app. Once you install and configure it on your machine, all apps that get audio input from your computer's mic will now have the option of getting the audio input from Clownfish's virtual microphone.
However, it has limited features (voice effects in particular) when compared to WooTechy SoundBot and several other mainstream voice changers.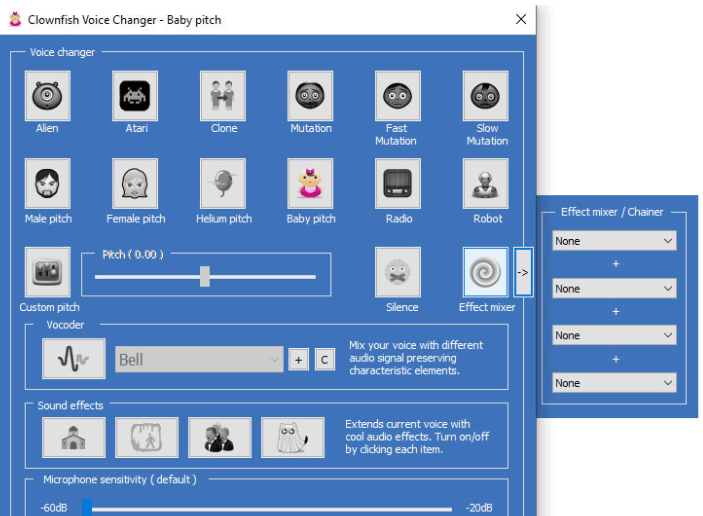 3. Voicemod Voice Changer for Fortnite
Voicemod is also a reliable voice changer for Fortnite. It has 60+ voices for the game like Cop, Cave, Alien, Baby and the like. Voicemod can also let you join your Fortnite group with funny sound effects.
To use Voicemod voice changer in Fortnite, install and open the app, turn on the Voice Changer button. Then go to Fortnite and set the microphone as Voicemod Virtual Audio Device. Finally you can choose available AI voices and make fun in the game.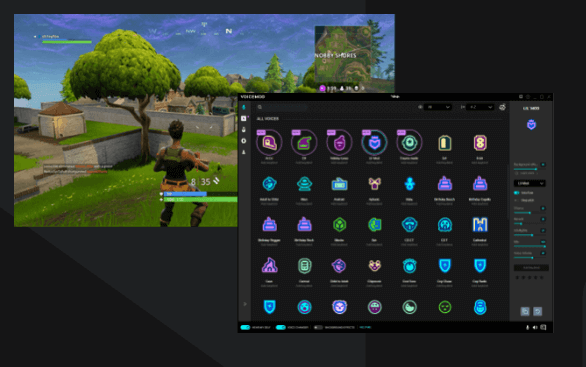 Conclusion
Those are some of the voice changers you can use to tweak your voice in Fortnite. Overall, WooTechy SoundBot is the best option. It comes with hundreds of voice effects and full customer support throughout your subscription period. Download and install WooTechy SoundBot to start changing your Fortnite voice in your next gaming session.