The world's obsession with robots is no secret to anyone. Popular movies like Terminators, Transformers, iRobot and many others are proof that the idea of robots going rogue is a true fear for the human race. 
Don't you find the expression and emotionless voice of a robot creepy? The idea of a lifeless figure having a voice and thoughts behind it can really be scary for most.
Good news is you can use this fear to your advantage and scare the hell out of your friends. Yes, you read it correctly; you can change your voice robotic using some amazing voice changer softwares.
Read on to know about some of the best robot voice changers and how to use them.
Part 1. Popular Robot Voices
Some robot voices recognized by people worldwide are of famous movie characters like Optimus Prime voice from Transformers, JARVIS robot voice from Iron Man in the Avenger series, C-3PO voice from Star Wars, Starship computer voice from Trek or WALL-E the robot. Such characters are voiced by actors and modified through robot filters. Some of these famous robot voices are
Male robot voice: Male voice, high quality, neutral accent
Female robot voice: Female voice, high quality, neutral accent
Synthesized robot voice: high-pitched, low-quality speech synthesizer used
These filters very impressively alter the voices and give a unique experience. But first, how is it even possible to change voices?
Part 2. Can You Change Your Voice into a Robot?
Every living being has a natural tone and pitch of voice that can be altered through tools that have inbuilt codes to modify sounds as they are recorded or received. Many a software exist for the sole purpose of changing voices for fun gadgets and games.
So yes! These voice changing programs like WooTechy SoundBot can change your voice into alien, spooky monster, ghost as well as robot voices. Let's take a look at how most of these work.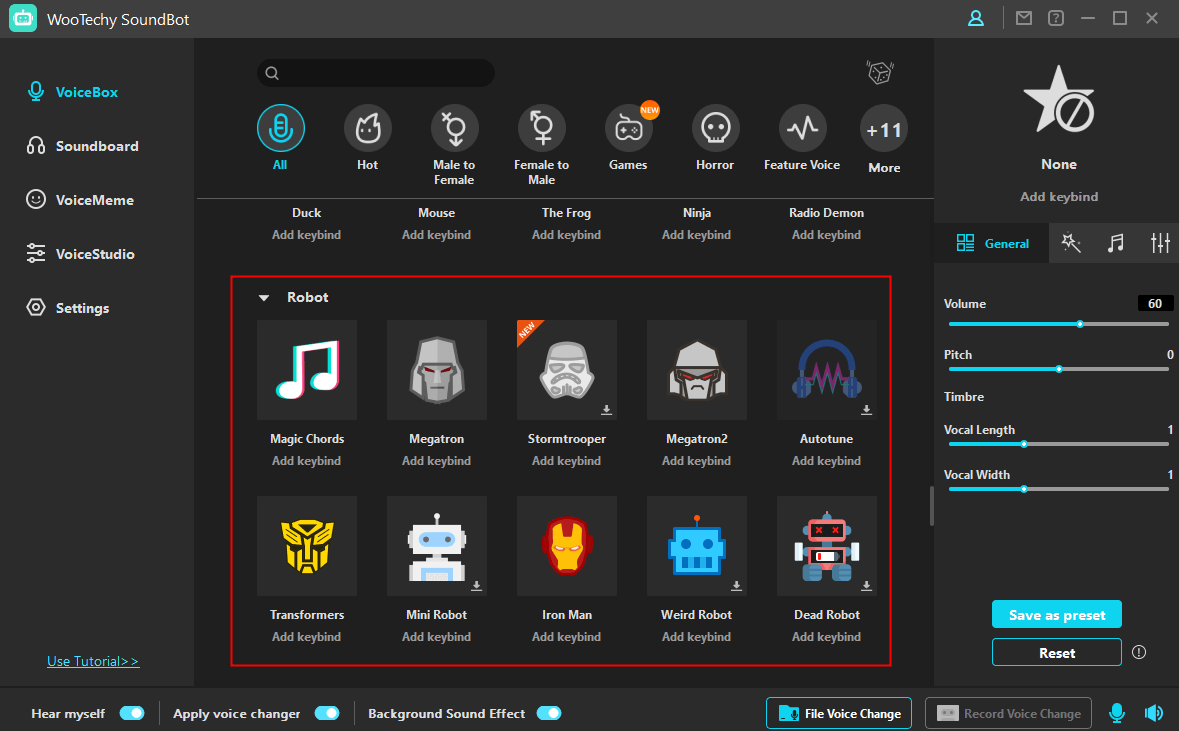 Part 3. How Can I Make My Voice Change into a Robot
Download a voice changer app, choose a sound effect ("robot" in this case) and record your voice. The app will modify the voice using different filters and the resulting voice will be your words but in a robotic voice over.
WooTechy SoundBot is one such app with a number of really cool features including the robot voice filter. 
Key Features of SoundBot:
75.000.000+
Downloads
Soundboard variety: The app comes with 125+ voice filters including robot and 400+ sound effects.

Customisation: Besides the available filter options, you can still use other advanced editing options to customise your own voice pitch and tone.

All-round use: The voices and sounds options from SoundBot can be used directly for live streaming, various games, and other apps.

Audio files voice changing: Apart from changing your voice in real-time, you can also import.mp3, .ogg and .wav audio files or record your voice and further change them to robot voice.
Steps to change your voice into a robot with SoundBot:
Download and install the application on your computer. Set up the app by choosing your microphone and headphone as the input and output devices respectively.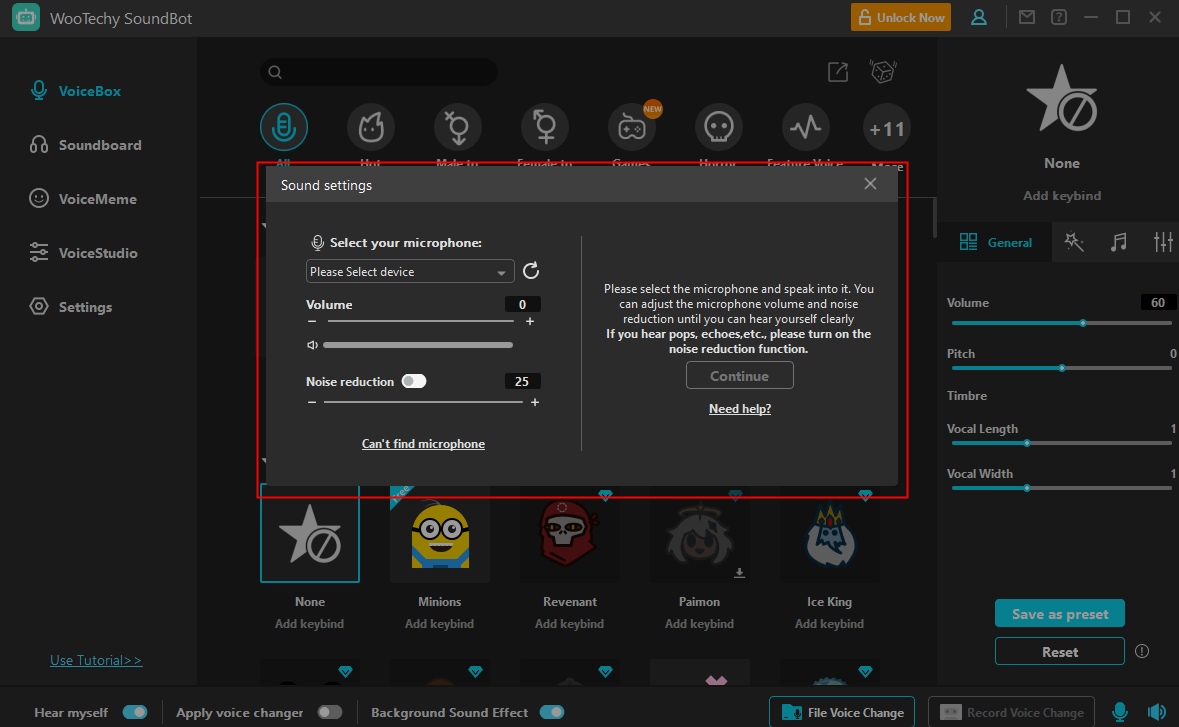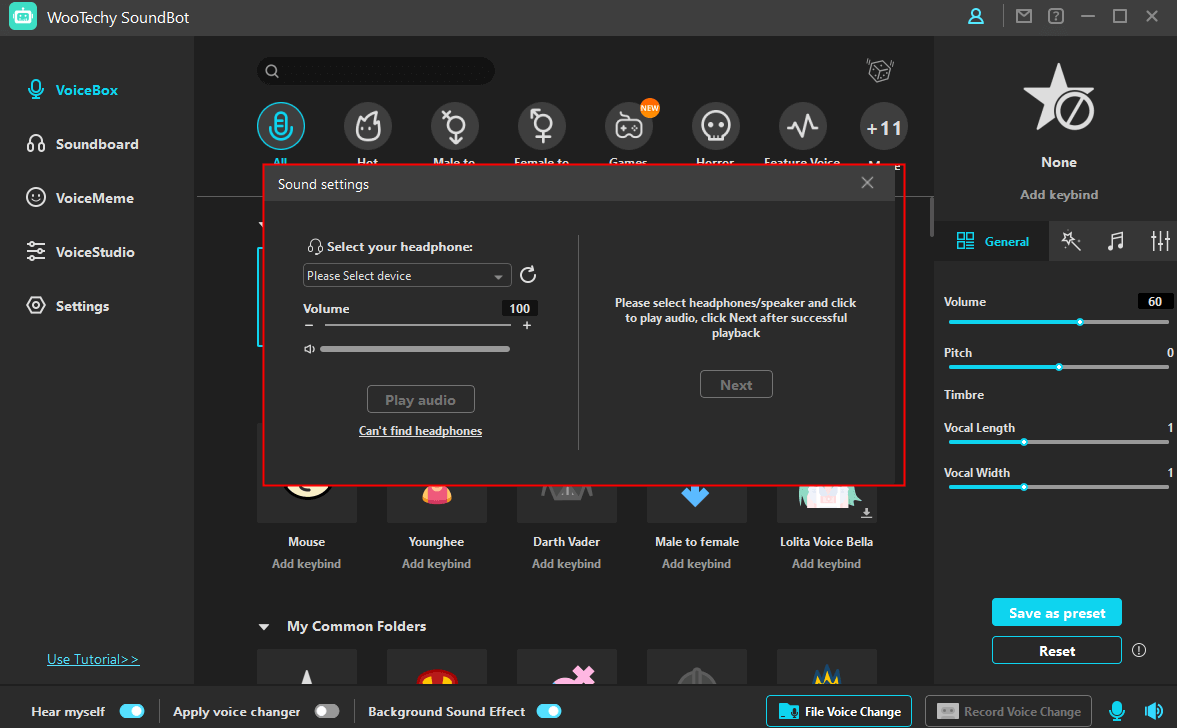 Select the voice filters from the VoiceBox according to your choice of filters (in this case robot voice).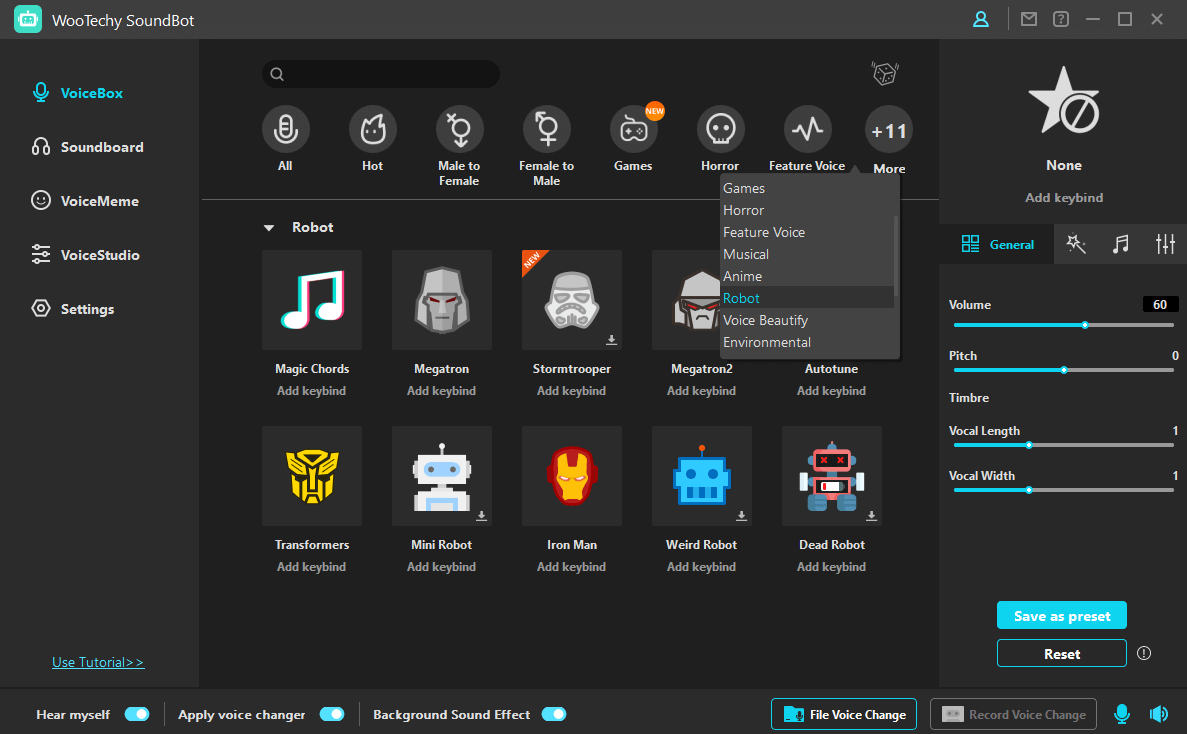 Speak into the microphone and you will find that your voice is changed to the robot. You can also record and edit audio in real-time as well as edit pre-recorded audios.
Want to add an element of fun to your Discord streams? You can use WooTechy SoundBot to change your voice in platforms like Discord as well as online video-game. Here's how:
Steps to change voice to robot in Discord:
Open Discord and click on the settings icon at the bottom. Choose Voice & Video tab on the user settings window.
Select Microphone (Voice Changer Virtual Audio Device) from the INPUT DEVICE tab. Switch Automatically determine input sensitivity toggle off.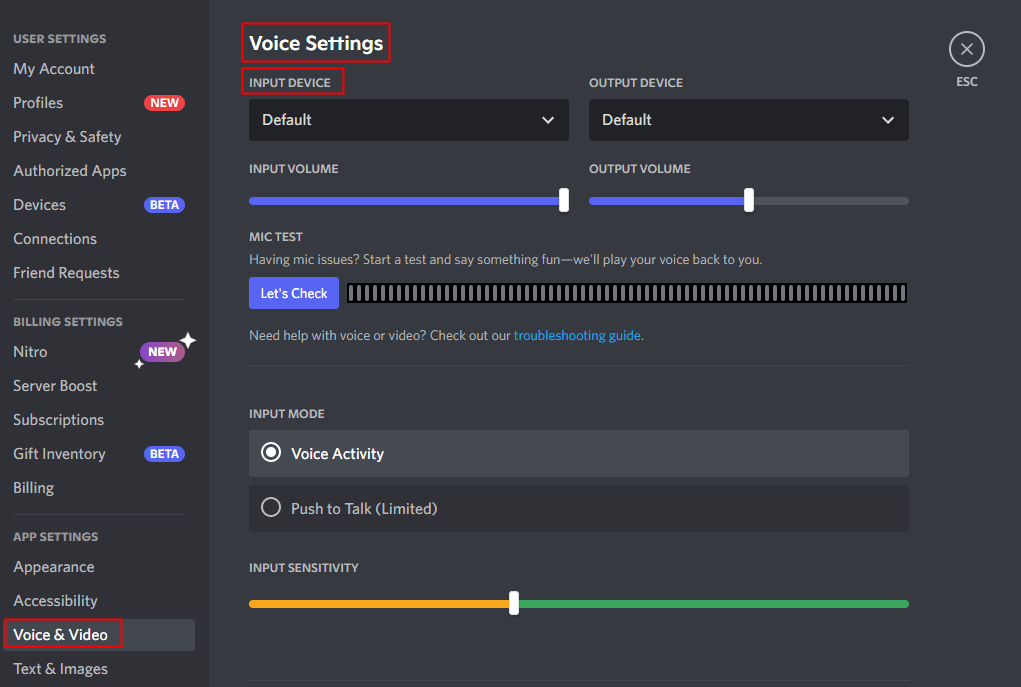 Choose the robot filters from WooTechy SoundBot and speak into your microphone. Now you can chat with your friends in Discord interestingly.
Part 4: Robot Voice Changer Online -- LingoJam
LingoJam is another great option to change your voice to robot. The best part is that you don't have to download it as an app and hence it doesn't take up any space in your device!
LingoJam is a web-based application and has a number of different audio filters; as well as options to alter pitch of the sound. While mostly used for scare and fun, the makers claim this tool can also be helpful in some forms of voice therapy.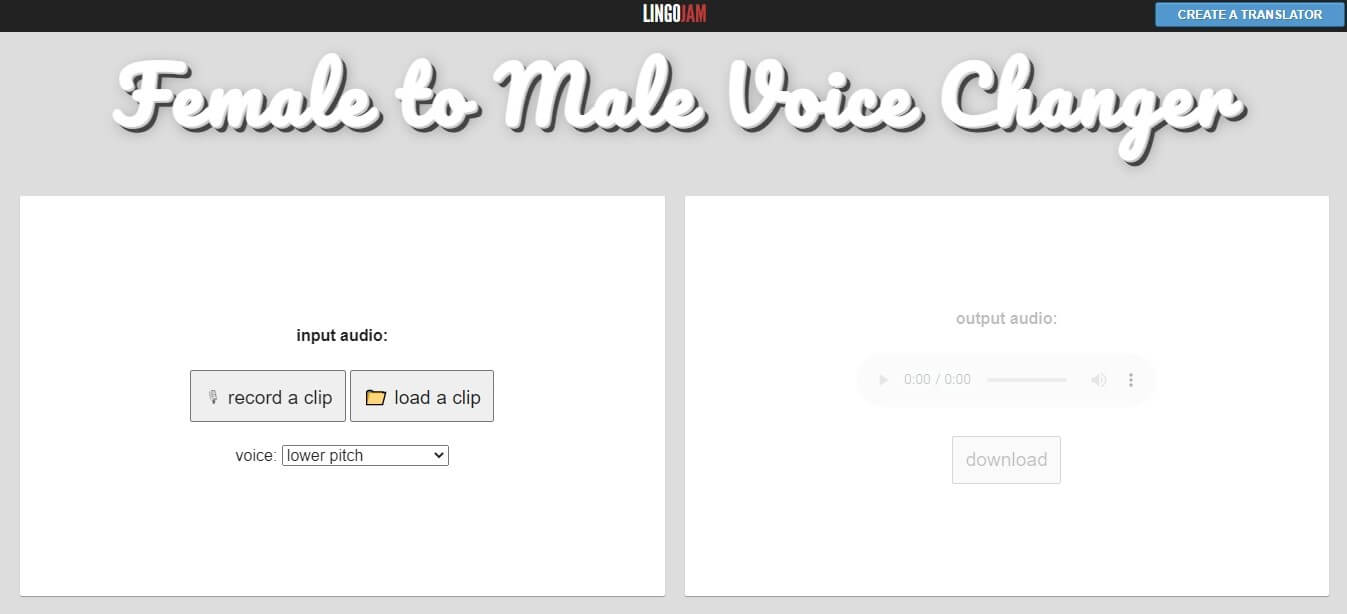 Steps to get robot voice with LingoJam:
Go to the LingoJam website and you will land on its web use interface. You can either record online or upload audio files from your device.
The interface has the option of different available filters to select from. Choose one of these sound effects to apply to your voice and record.
You can now download your filtered audio file (in this case robot voice)
Cons
Very basic user interface with less advanced options.

Limited voice filters and sound effects.

No customised editing options available.
Part 5. Robot Voice Changer for Androids
Are you an Android user who wants to prank friends in an outdoors setting? We know just the app for your device and it's only a download away. This tool is specially designed for Android users. The application allows you to save the edited audio in-app as well as download it to use as a ringtone etc.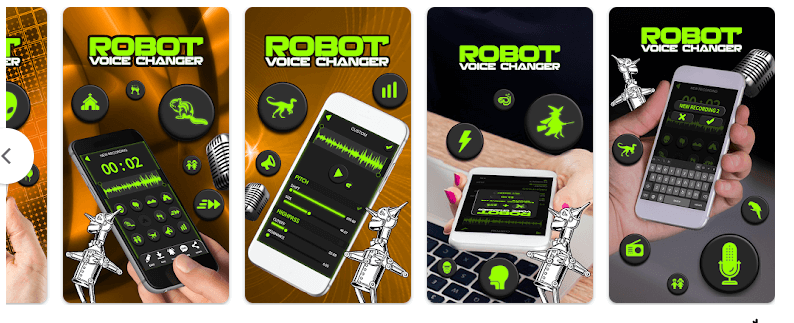 Steps to get robot voice with Robot Voice Changer for Android:
Download the app from playstore. Press the "record" button and say your 'magic words'
You can then choose to edit your voice pitch etc or choose a filter.
You can now play your edited audio; filtered as robot or alien etc.
Cons
Conclusion
Robot villains have been popular in cinematic history since the beginning. The eerie feeling of an AI tool talking and acting like humans, and the chances of it being rouge is definitely creepy.
This article discusses some of the top robot voice changer apps. Among those, WooTechy SoundBot is the best option, which directly offers you the robot voice filter and change to it with several clicks.