The Xbox console from Microsoft is the second most popular gaming console after Sony's Play station. If you play online games on your Xbox console, you certainly know that there are times when you are supposed to communicate with the players on your team or opponents depending on the kind of game you are playing. However, if you don't want to use your real voice, you can use an Xbox voice changer to create a custom voice of your choice.
In this article, we will share how you can create a custom voice in real time whenever you are playing online games involving communication. We will discuss the procedure for the Xbox One and the Xbox series X/S because they are not the same.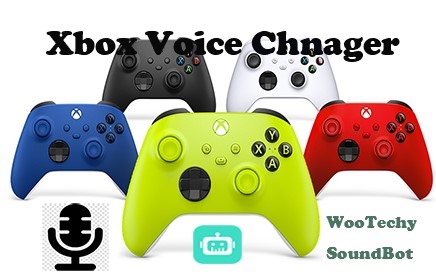 Part 1. Can I Get a Voice Changer on Xbox?
Yes, there are several AI voice changers that you can use to fake your voice on Xbox. However, not all voice changers in the market are reliable. If you searching for a reliable voice changer to fake your voice in real-time as you play the games, WooTechy SoundBot is the best alternative.
WooTechy SoundBot comes with hundreds of AI voice filters that you can apply to your voice to make it sound different in your Xbox games. SoundBot is developed to change voice in real-time in various games such as Xbox, Fortnite, Crossfire, CS:GO, LOL and more to level up your gaming.
SoundBot – Xbox Voice Changer
75.000.000+
Downloads
125+ voice filters: SoundBot comes with over 125 voice filters like male to female, female to male, ghost, joker, hacker, etc. that you can apply to change your voice when playing your Xbox games.

Soundboard for Xbox: has 400+ sound effects to use when playing on Xbox ranging from horror to anime kinds.

Various scenarios supported: SoundBot voice changer software can be used for gang up in games, entertaining prank, real-time communication, live video, etc.

200+ voice memes: SoundBot has particular meme section for games, for example, uh oh, thanks for playing, screaming, get a gun, best player, blood begets blood and more.
SoundBot also has the VoiceStudio feature that allows to customize your own voice by adjusting the pitch and applying other audio effects in your games.
Part 2. How to Use Voice Changer for Xbox One & Xbox Series X/S
The procedure for changing voice effects on the Xbox series X/S and the Xbox One is not the same. In this section, we will take you through all the steps you will go through to change your Xbox's voice on the Xbox Series X/S and the Xbox one.
How to use voice changer for Xbox one:
Download and install WooTechy SoundBot on your Windows machine. Launch the app when the installation is complete.
Choose the input and output devices (mic and headphone). You can click on Settings from the left menu bar of the app. You will see the drop-down that allows you to either choose your computer's mic and headphone. You can also enable Noise reduction and adjust the volume of the sound coming from the mic to improve clarity.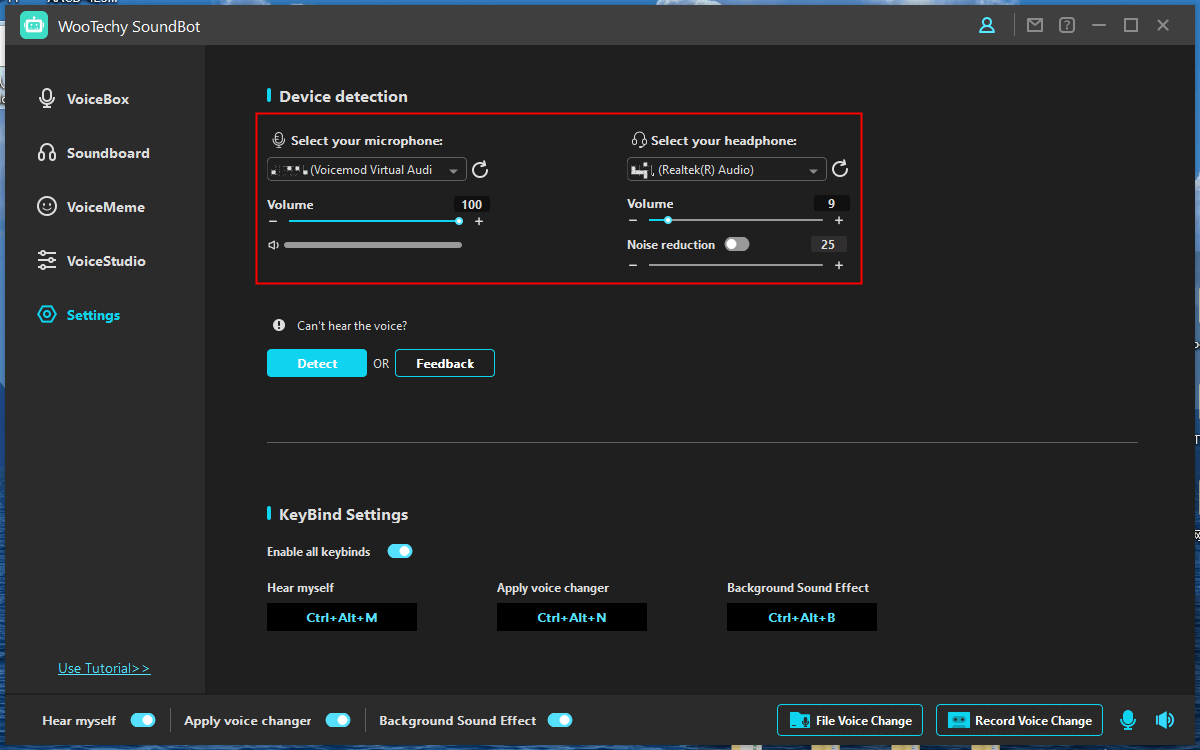 Next, choose the voice filter of your choice by clicking the VoiceBox from the left menu bar.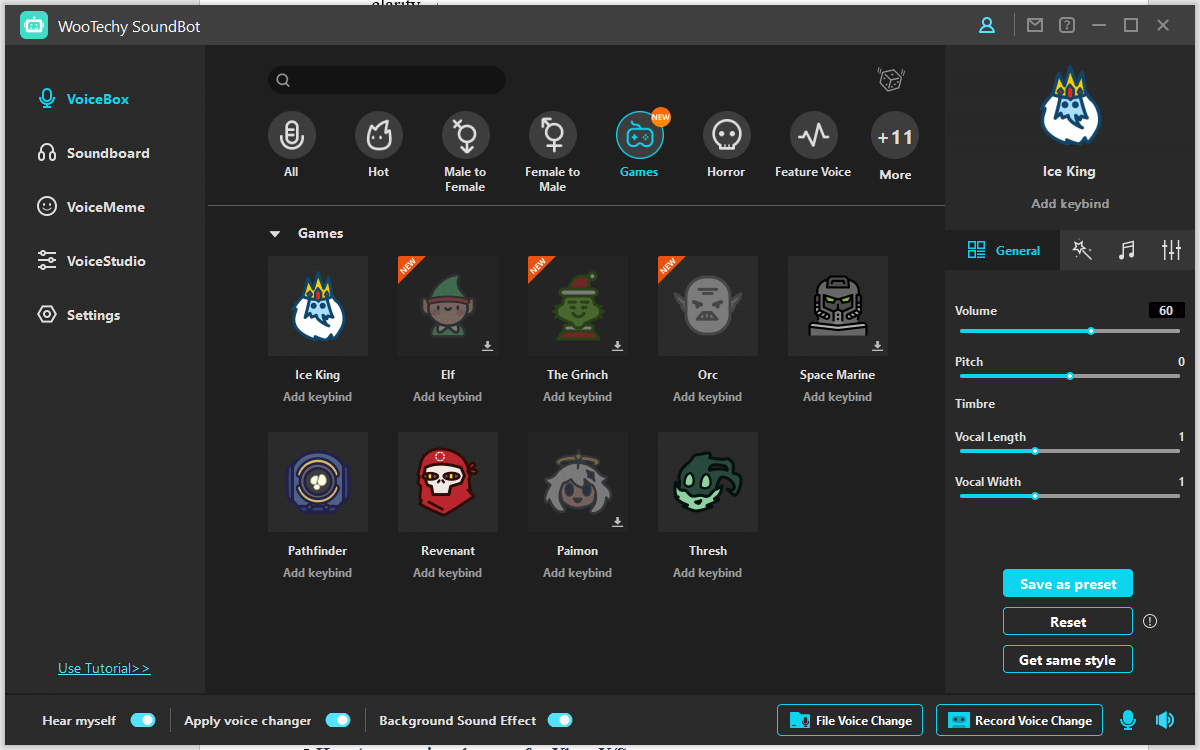 You should now download Xbox Console Companion for PC from the Microsoft store on your computer.
Turn on your Xbox and within the Xbox Console Companion app, select Xbox One and then connect the Xbox to your computer.
Within the Xbox Console Companion app, choose Voice Changer Virtual Device (WooTechy SoundBot) as the audio input source. From now on, your Xbox will be using the voice coming from the voice changer whenever there is a need to communicate during games.
How to use voice changer for Xbox X/S:
Download and install WooTechy SoundBot voice changer for Xbox.
You should now download the Xbox Game Streaming app to your Windows PC. This app allows you to stream games from the Xbox to your computer.
Open the Xbox game streaming app and navigate to its Settings section. Click on the Voice and Video option to change the microphone (audio source). You should now select the input as the Voice Changer Virtual Device, so all sound getting into this app will be coming from WooTechy SoundBot.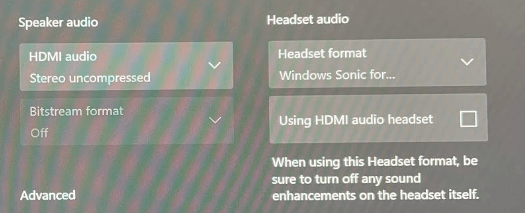 Once you are done with the above configurations, open WooTechy SoundBot and select the voice effect of your choice to get started faking your voice on Xbox X/S.
Part 3. FAQs
1. How Do You Get Voicemod on Xbox?
To get Voicemod on Xbox you first of all need to connect your console to the PC and also install the Xbox Console companion app or the Xbox Game Streaming depending on the version of Xbox you have. You should then install Voicemod on your pc and configure the Xbox app to use the Voicemod Virtual Audio Device as the audio input device.
2. Can You Autotune Your Voice on Xbox?
Yes, you can autotune your voice on Xbox by using any of the voice effects in WooTechy SoundBot. Particularly, SoundBot has the Autotune voice filter that you can apply to your Xbox games.
Conclusion
We have covered the detailed procedures for using WooTechy SoundBot Xbox voice changer for Xbox One and Series X/S. To avoid being confused in the process, make sure you use the procedure that matches your Xbox model. The good news is both procedures are simple if you follow them step by step.
So, get started faking your voice on Xbox Series X and Xbox One by using this AI voice changer for Xbox download free and available on all Windows PCs.