Zoom is a popular, secure video teleconferencing platform that works for all human communication needs. The need to use Zoom has skyrocketed in the last few decades for students, workers, business owners, CEO, and employees that use it to hold conferences and meeting classes.
In a bid to add diversity to your Zoom video calls with classmates and colleagues, you can try using a voice changer in zoom. Are you finding it hard to change your voice via Zoom? Have you ever used any voice changer for Zoom?
If you are looking to get the best voice changer for Zoom online, then you're at the right place. Read this article till the end and find out the voice of the hanger for zoom.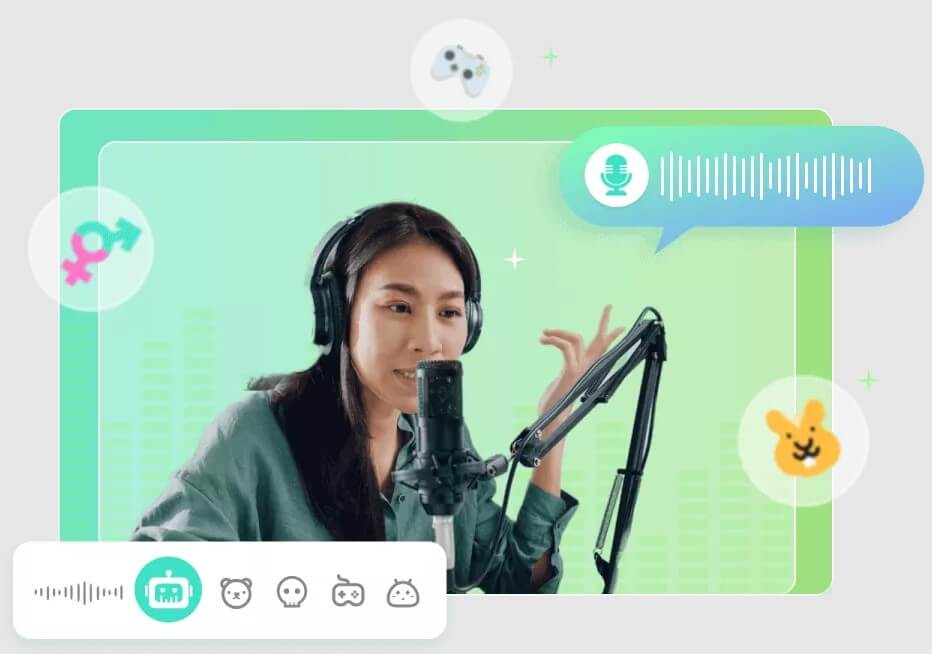 Part 1: Does Zoom Have A Voice Filter?
Zoom utilizes sound suppression and echoes cancellation to improve the quality. Zoom doesn't have a voice filter but an audio filter feature that enables users to improve the sound. By default, the Zoom client will utilize echo cancellation and noise suppression to improve the audio quality received by your microphone.
Still, these audio filters can interfere with situations that warrant the full range of audio captured by the microphone.
However, users can disable these audio filters and improve their sample rates to improve their in-meeting sound quality. This may include healthcare professionals making a medical diagnosis based on sound, or musicians with their instruments, capturing high-quality audio for podcasts.
Part 2: How Can I Make My Voice Sound Better on Zoom?
If you struggle with making your voice sound better on zoom, you can enable the echo cancellation feature or pay for a pro version. However, if you can afford the pro version, you can make use of a voice changer to make your voice sound better on zoom.
This article will cover a lot about zoom voice changer softwares with its pros and cons. Here are the best zoom voice changers.
1

WooTechy SoundBot

If you need to make your voice better on zoom, you must try a brilliant voice changer for Zoom: WooTechy SoundBot offers a real-time filter that can produce your desired sound. It is simple to set up as it doesn't require a technical process. You can export your original sound recordings to different sounds.

You can change your voice to vairous effects, such as male to female and vice verse, make your voice sound like Minions, ghostface, monster and so on.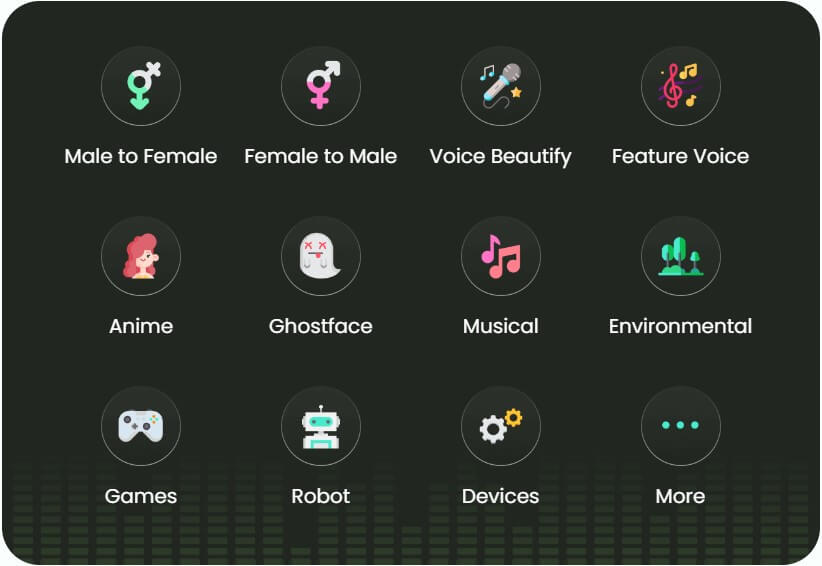 Pros of Excellent WooTechy SoundBot -- Best Voice Changer for Zoom
It is free to use and daily free voice is supported

It works on streaming and gaming apps.

Access to over 500+ voice filters and voice effects.

Can alternatively serve as a voice recorder.

You can get real-time voice smoothly.
Cons of WooTechy SoundBot
Compatible only with windows.
How to change your voice with the WooTechy SoundBot for your voice changing on Zoom:
Step 1 Download and launch up WooTechy SoundBot on your PC.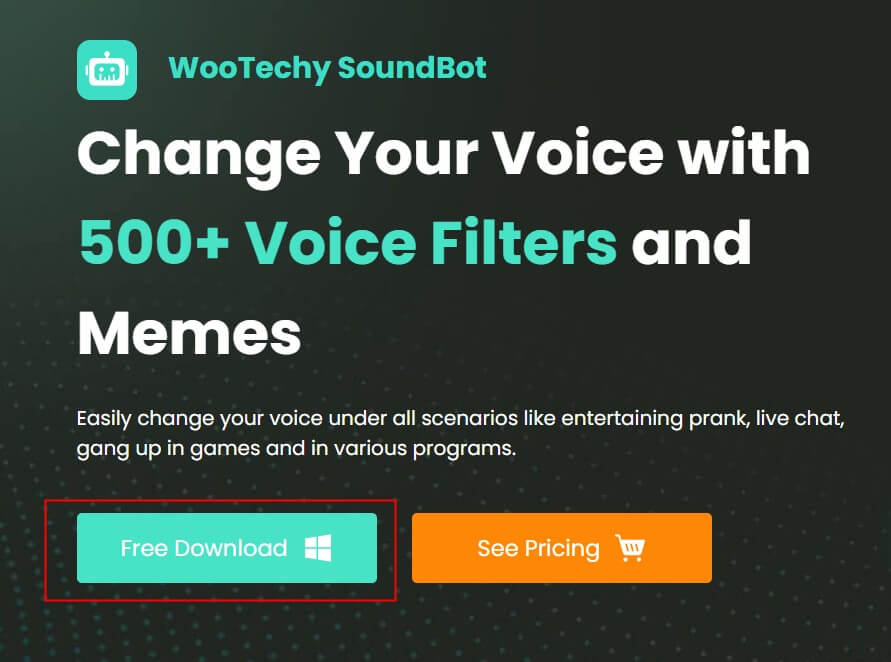 Step 2 Choose your Headphones as the output device, and make your Real Microphone as the input device. You will be promoted after all the sound setup is complete.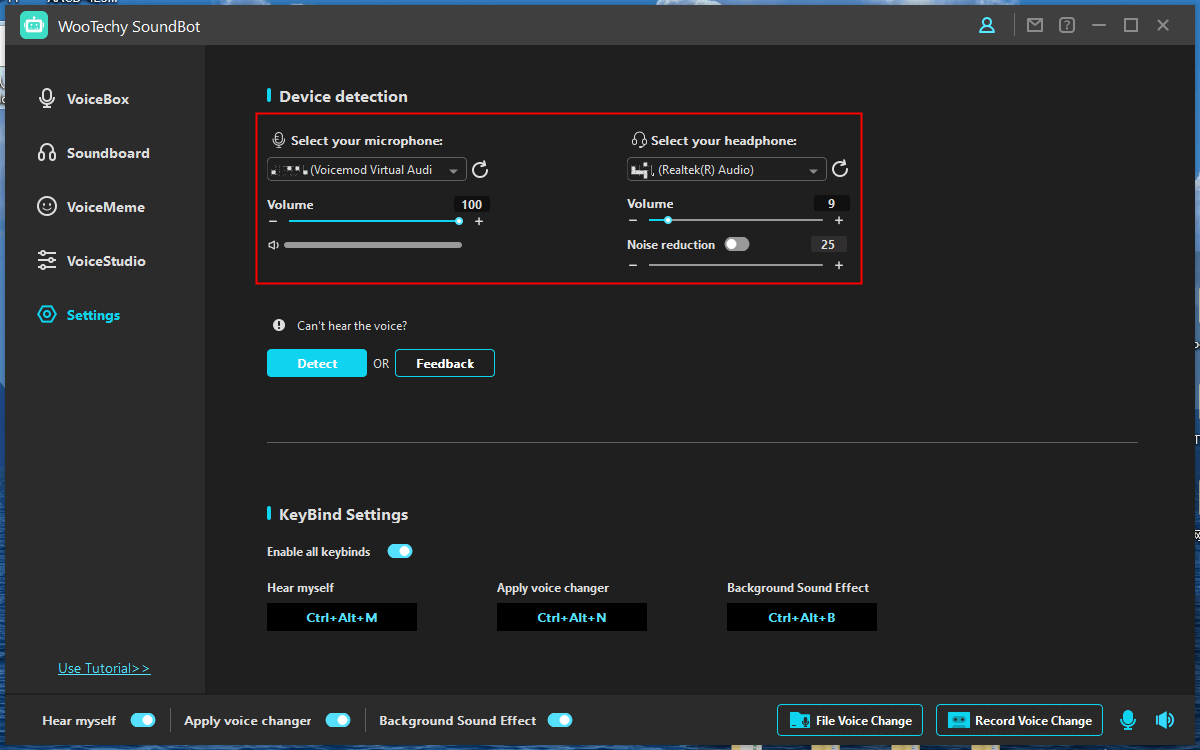 Step 3 Pick up which voice-changing effect you like from the VoiceBox. Then you can start recording your voice. By the way you are allowed to change the effects during the recording. Just enjoy it!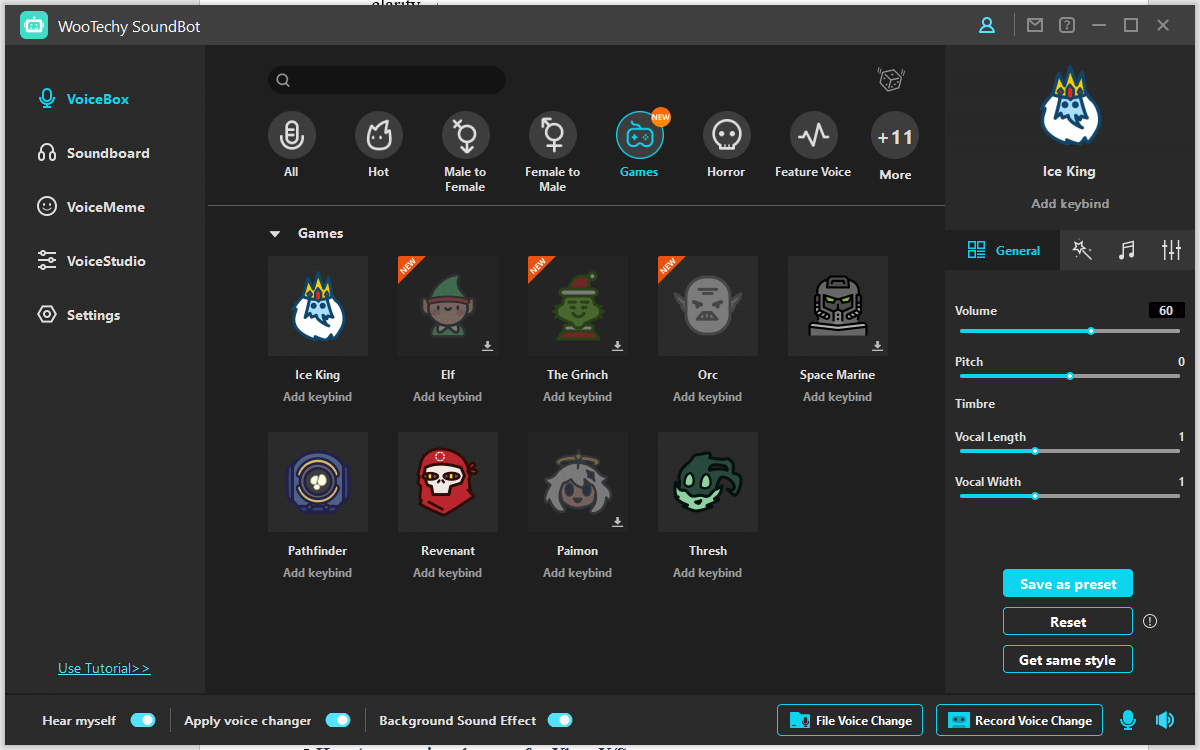 After you finishing experiencing WooTechy SoundBot, you will find it a pretty magical voice changer, which can give you great joy and fun.
2

Unictool MagicVox

Is it there another voice changer in zoom? UnicTool MagicVox is one of the easiest voice changers for zoom. If you and your friends/colleagues are looking for a way to make a team meeting full of pure fun, you need the Unictool MagicVox.

Users can choose from existing different voices, including that of Animals, celebrities and prominent individuals.
Pros
Easy to use user interface.

Features centered on users

Varieties of built-in voice effects.
Cons
Limited features in the free version.

Complex operations.
3

Clownfish Voice Changer

Clownfisher voice manager is also an available voice changer for zoom that is accessible for free. This voice changer for Zoom software has always gotten positive reviews for existing users. The best thing is that most celebrities use this voice changer in zoom to alter their voice.
Pros
Completely free .

Require zero technical knowledge.

Varieties of built-in voice effects.
Cons
Limited voice filter.

Many experts thought it was subpar because it is completely free for use.
4

Voicemod

Voicemod is known for its popularity and its quality voice-changing effects. It is one of the best available voice changers for Zoom, where you can change your voice with a click.
Pros
Easy and convenient for users .

Start working immediately.

Compatible with other games and apps.
Cons
Limited access to voice filters in the free version.

Limited option for girl's voice.
5

NCH Voxaal Voice Changer

NCH Voxaal voice changer is an excellent zoom voice changer that allows users to change their voice. It is designed specifically to help users change their voice for anonymity on the internet. It is used to create voice-overs for conferences, seminars or meetings.
Pros
User friendly.

Less complicated user interface .

Multiple voice effects.
Cons
Limited access to the free version

Some apps restart after launching.
6

Magic Call

Magic call, owned by BNG mobile, is a zoom voice changer that permits you to change your voice in a call with a click. You can choose from the numerous types of voices available, such as dream girl and cartoon girl. You can also add effect to background sounds such as earthquake, rain, snow, train or vehicle noise.
Pros
No need for registration.

No need for registration
Cons
Poor user interface

It requires a fast and stable connection.
Doesn't have google verification All the voice changer for zoom that you found in this article has a different specification, compatibility, price, voice board, voice meme and rate. In the table below, you can read more about their distinguishing features for thes voice changers for Zoom:
| License Type | Number of Devices Supported | VoiceBox | VoiceBoard | VoiceMeme | Rate |
| --- | --- | --- | --- | --- | --- |
| WooTechy SoundBot | Diffierent soundBoard for free | Available | Available | Available | 9.5 |
| Unictool MagicVox | Prices differ based on the plan | Available | Available | Available | 8.6 |
| Clownfish | Limited free soundboard | Available | Available | | 9 |
| Voicemod | Price differs based on plans | Available | Available | Available | 8 |
| NCH Voxaal voice changer | Price differs based on the plan | Available | Available | Available | 6.9 |
| Magic Call | Free but limited types of soundboard | | | Available | 7 |
Conclusion
To avoid getting caught while trying to prank your colleagues, friends, family member, teammate and classmates, make use of the voice changer in zoom. Save yourself the stress of trying out a new voice every time.
Make use of WooTechy SoundBot to save you the stress of practicing a new voice during a zoom meeting, SounBot definitely can be your excellent voice changer for Zoom.