Almost everyone cringes when they hear their own voice on record. Have you ever pondered over it? The reason is that the recorded voice compared with the actual reflects a high pitch sound in our minds.
Therefore, to make their voices sound deep, people use deep voice changer tools for discord and other online platforms to boost their impression.
Well, today will be a fantastic day for you as we will list some of the best AI deep voice changer online tools and explain their functioning.
Part 1. How Can I Change My Voice Deeper?
We all sound different, and each voice has its own distinct frequency and pitch. If you struggle with a thin and high-pitched voice, you might want it to sound deep. Frankly speaking, doing that without a surgical approach is almost impossible.
However, you can slightly alter it by carefully trying the following techniques.
Deep Breathing:
Our voice is produced when air comes in contact with vocal cords and makes them vibrate. So, in this exercise, you have to take a full, deep breath through your nose and then slowly exhale it while speaking.
This exercise involves the diaphragm, in addition to other respiratory muscles, and is called diaphragmatic breathing. Practicing this technique regularly can give you an alluring deep voice.
Yawning:
The other method worth trying is yawning. To produce a deeper and louder voice, the larynx needs to be larger. You can accomplish this by yawning, which expands the space in the back of your throat.
Blowing:
The National Center for Voice and Speech reported that blowing bubbles with straw relaxes and stretches the vocal folds. You surely won't want to miss out on this enjoyable technique to develop a deep voice.
Why exert so much energy trying to acquire a deep voice when you can achieve it with barely any?  There is a bundle of deep voice changer online apps in the market that can do the magic to your voice in a fraction of a second.
What's remarkable is that deep voice changer apps can be used for Discord, Skype, Twitch, and other platforms to apply various effects and obtain your desired voice. Let's explore some of the best voice changer tools out there in the section below.
Part 2. Best Deep Voice Changer Tools
There are tonne of deep voice changer tools available on the internet but are they really effective and up to the mark? Let's find out.
1. WooTechy SoundBot
WooTechy SoundBot is a mind-blowing voice changer app capable of effortlessly transforming your voice into an amusing and deep voice. In addition to the soundboard's customization options, SoundBot offers a studio and an editing panel that you can use to enhance your voice.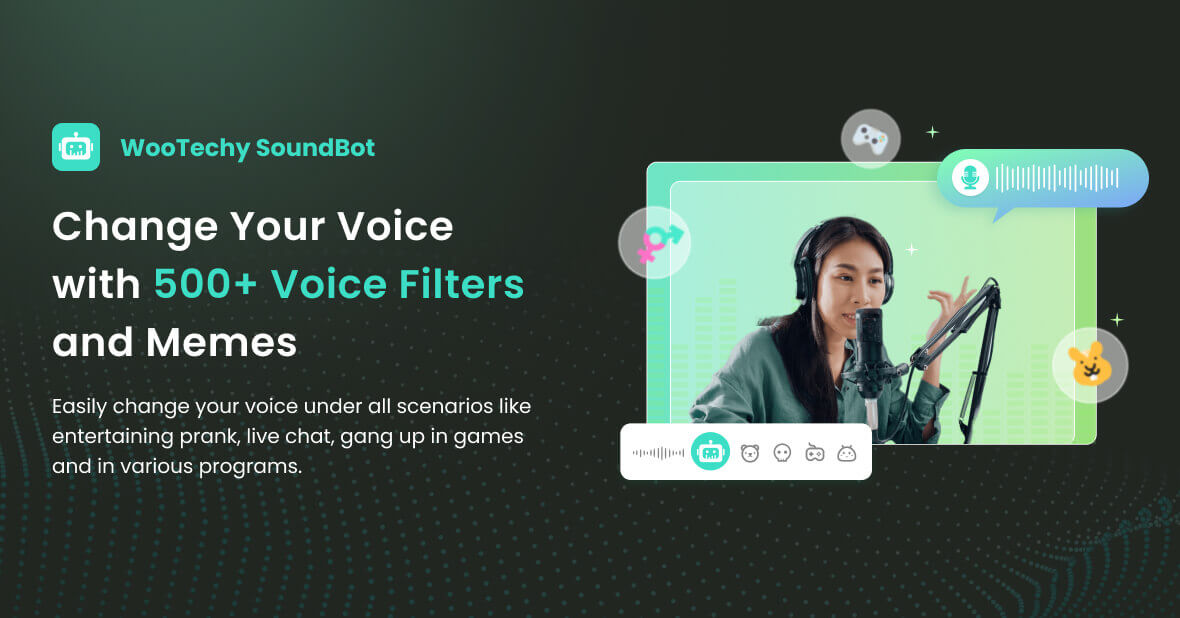 Key Features of SoundBot
75.000.000+
Downloads
Has more than 125+ AI voice filters in the VoiceBox including deep voice to make your voice deep directly.

You can use the deep voice changer for entertaining prank, live chat/video, gang up in games, voice over, sound customization, etc.

Supports recording your voice or importing audio/video files and further changing voices deeper.

Offers free voices each day, it can be also utilized in different games and programs such as Discord, Zoom, Fortnite, Valorant, and more.
Steps to make your voice deeper with SoundBot:
Download WooTechy SoundBot for Windows and install it on your pc. On the settings screen, select your microphone as input and headphones or speakers as output devices.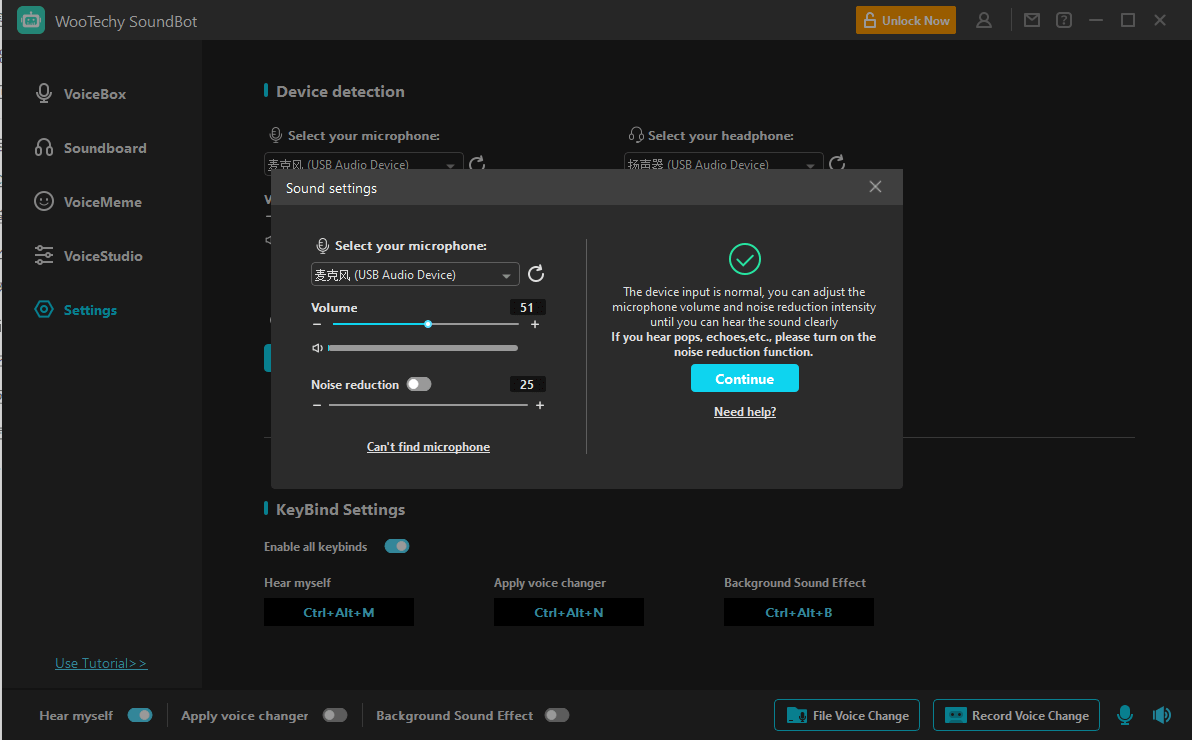 You're all prepared to experiment with several voice effects to determine which one suits you and gives you a deep voice.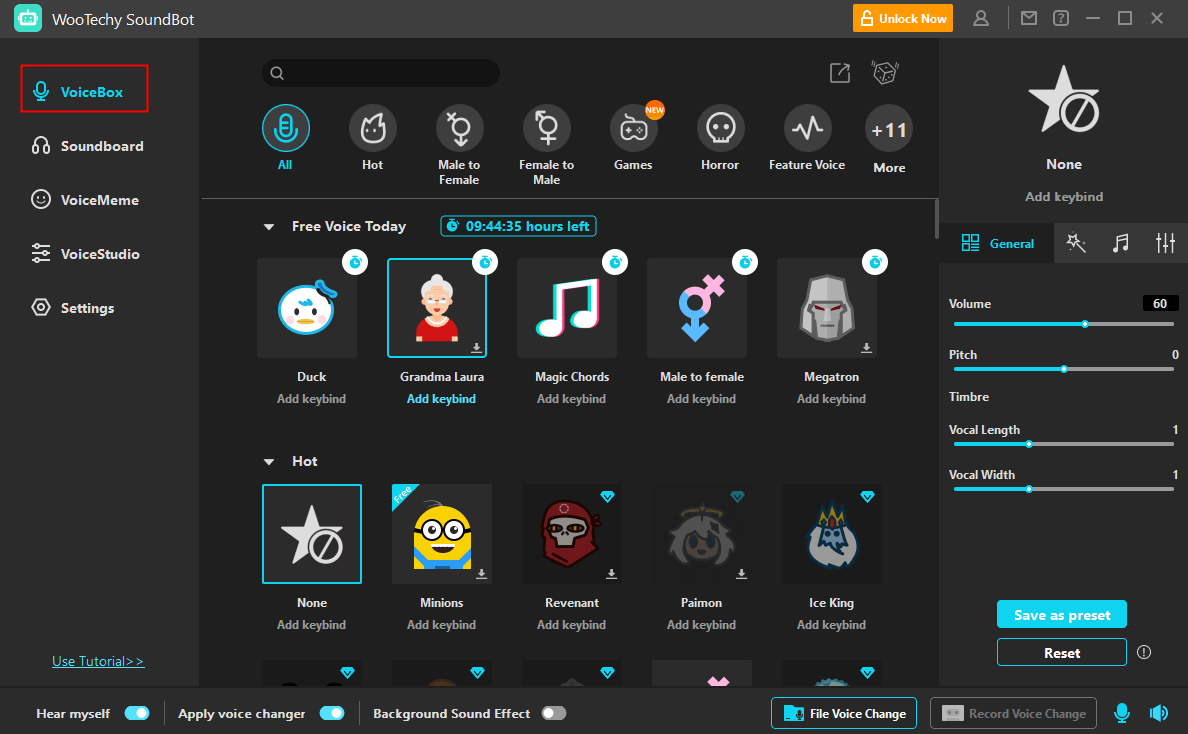 You can either use the effects on a voice that has already been recorded or in real-time while playing video games or live streaming on Discord.
Pros
User-friendly interface.

The sound effects seem realistic.

Editing features offer advanced customization.

Free five new sound effects every day.
Cons
Limited features in the free version. For premium features, you have to buy a quarterly/yearly/lifetime subscription with an affordable price.
2. Voicemod Deep Voice
Voicemod offers you the ability to change your voice into an entirely different one, such as an alien, a spirit, a stranger, etc., by leveraging the power of AI. Voicemod can be integrated into chats and games to allow you to change your voice instantly. With Voicemod, you can even make voice skins and avatars for metaverses.
Steps to use Voicemod Deep Voice:
First, Download the Voicemod app and get it installed on your pc. Set up your input device and turn on the Voice Changer button at the bottom of the window.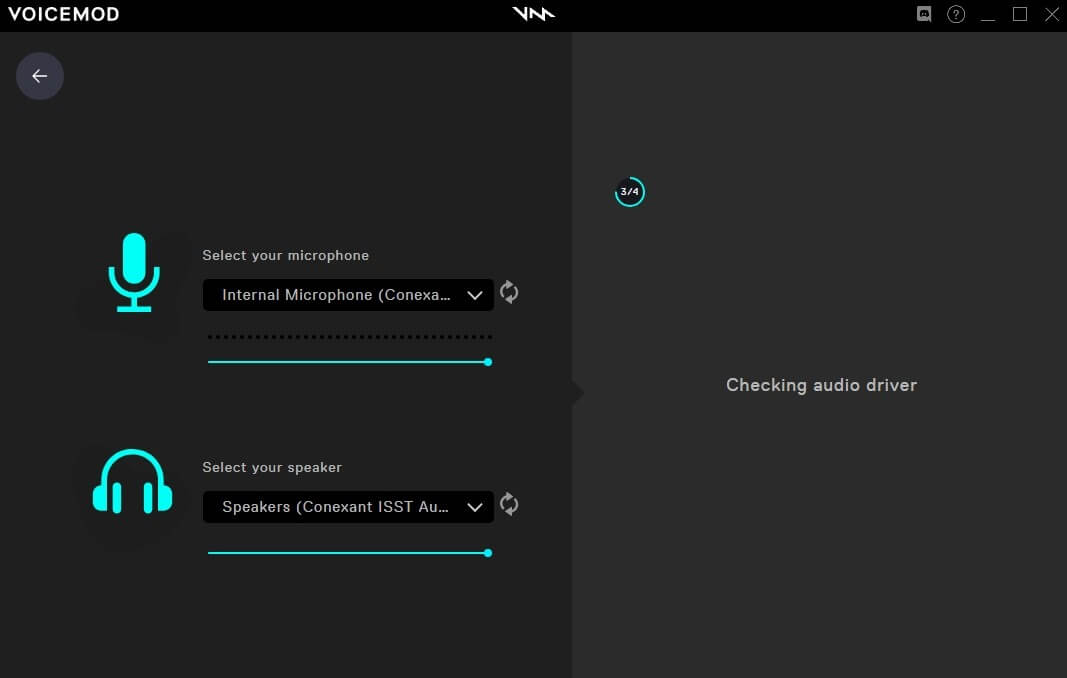 In the VOICEBOX menu, you will see the sound effects. Try some low-pitch effects to get deep voice output.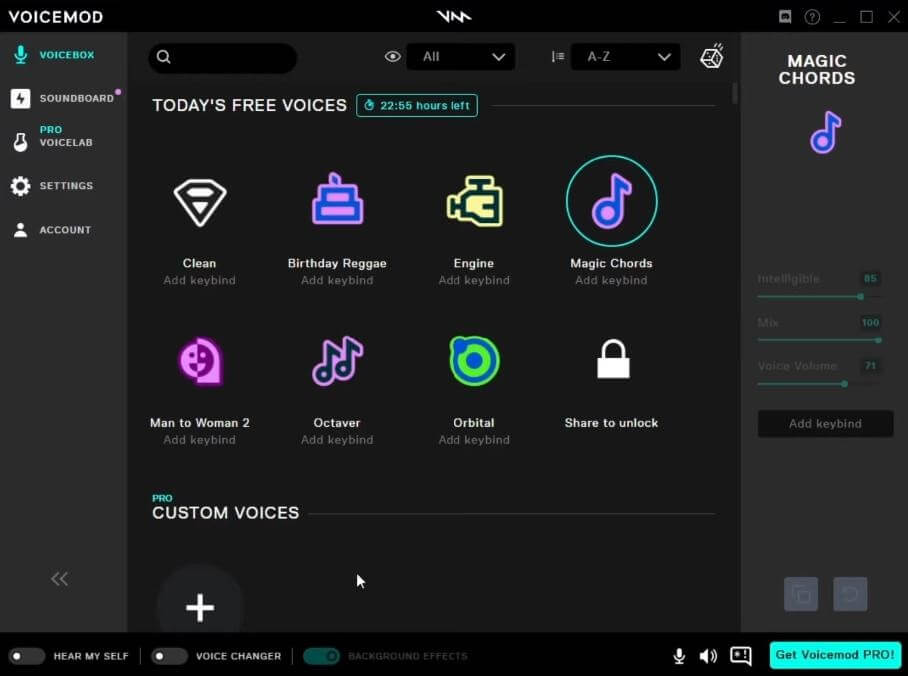 To apply the voice effects to any platform, make sure the "Microphone (Voicemod Virtual Audio Device)" is selected as the input device.
Cons
Unstable server, it crashes frequently.

Less voice filters than SoundBot.

It needs your accounts before downloading and it takes a long time to install the software.
3. Voicechanger.io
Voicechanger.io is a completely free AI voice-changing online tool containing about 50 sound effects. It's just a basic app that lets you test the provided effects on your voice for entertainment.
Go to Voicechanger.io. You will get three options: "upload audio", "generate speech from the text", and "use microphone" to get started.

After providing the voice source, select your preferred effect to hear your voice with that effect.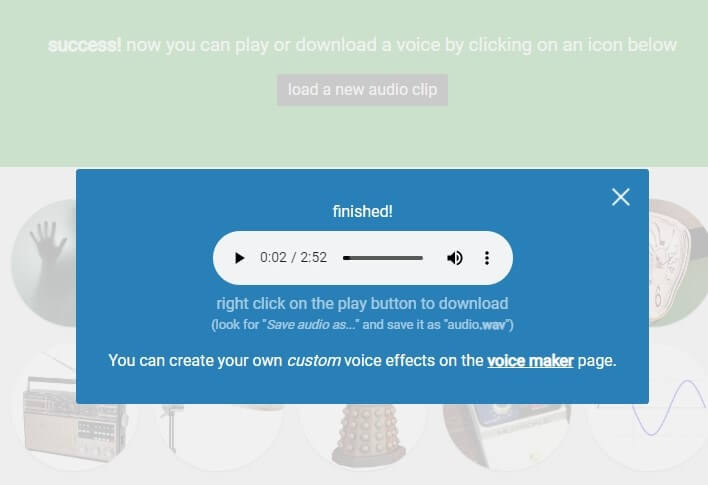 When you're done, click the three dots to download it.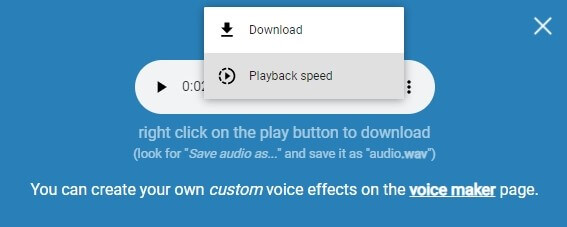 Cons
The interface is not so good.

Unable to change your voice to deep in real-time.
4. Lingojam
Lingojam voice changer is a web-based simple-to-use tool where you can not only apply sound effects but also adjust the pitch of your voice. Here is how it works.
Visit the Lingojam Voice changer site. Upload your audio or record directly on-site.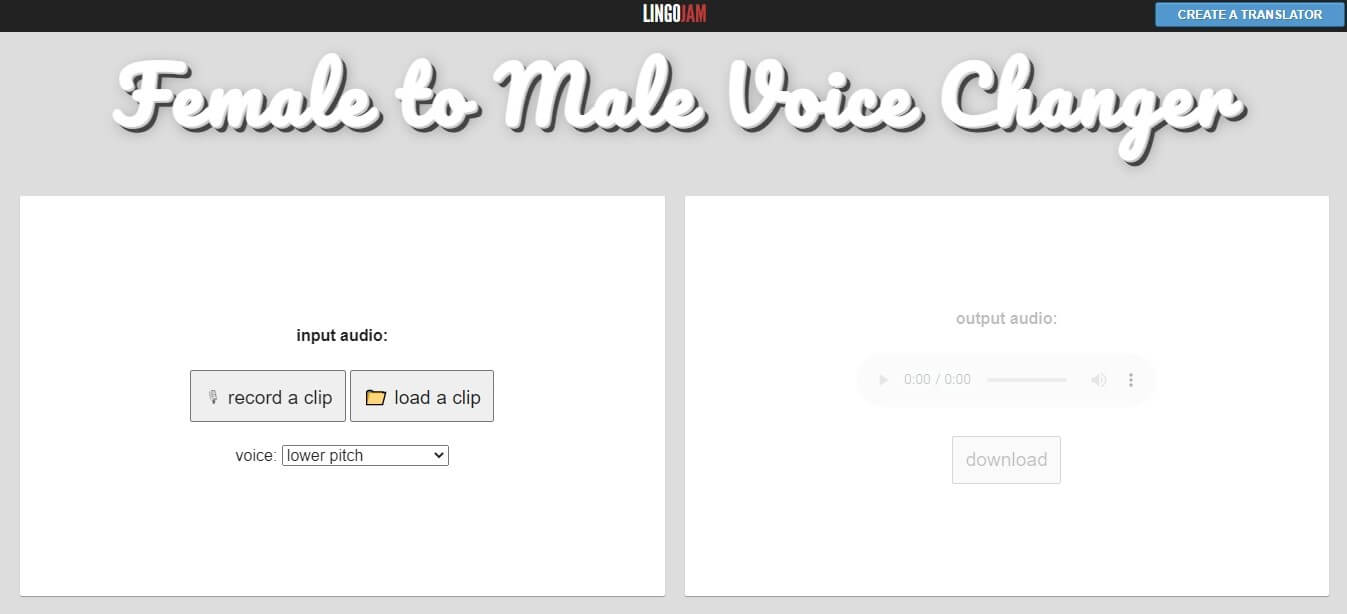 Select and apply one of the lower-pitch options to convert it to a deep voice. Download and enjoy.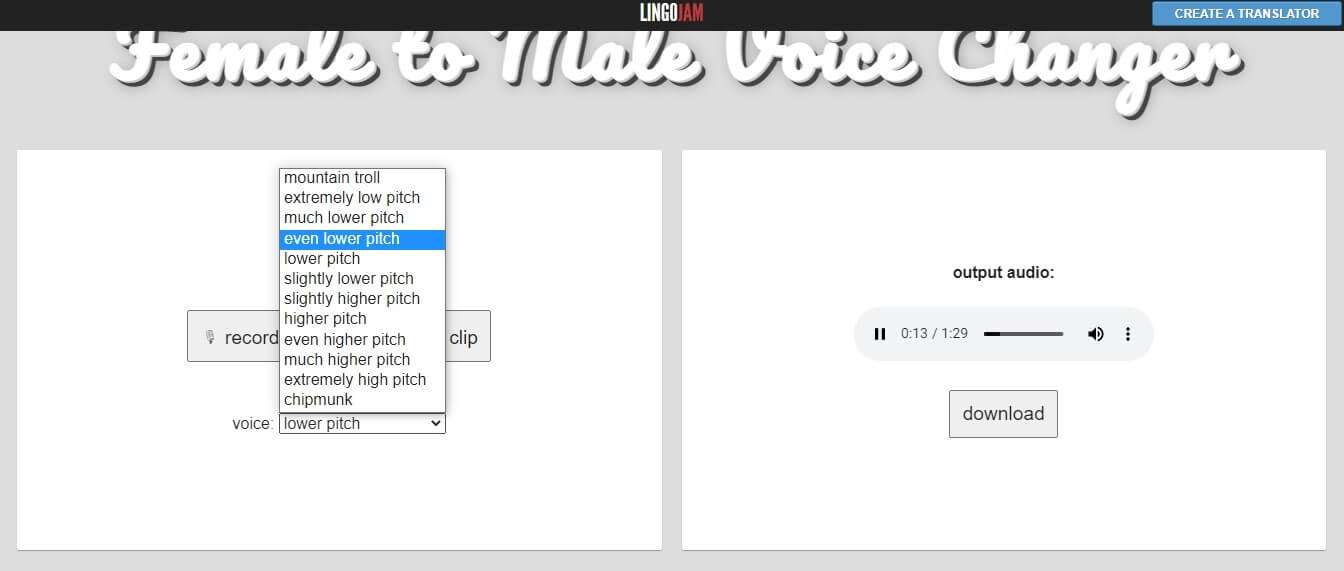 Cons
Limited sound effects.

No editing option is available.
5. Voice Changer Plus
Voice Changer Plus is a possible choice if you want to alter your voice directly from your iPhone. With the ability to save, share, and add additional effects, more than 50 sound effects and background sounds are available.
Install the Voice changer plus app from Apple Store. After starting, click the record button or import an already recorded voice clip.
Select the Lower voice filter to decrease the pitch and make a deep voice.
Click the Save button and export the audio from the list.
Cons
Only available for iPhone.

Limited sound effects.
6. Voice Changer with Effects:
Finally, an app that runs on Android and iPhone offers deep voice and dozens of other pre-built voice effects. You can apply the deep voice and other cool sound effects to your voice and share it with your mates to have some fun. However, it often shows ads while using the app.
Install the app from Playstore or Apple Store. After launching, tap to record the voice.
On the next screen, you will see a Deep voice effect, among others.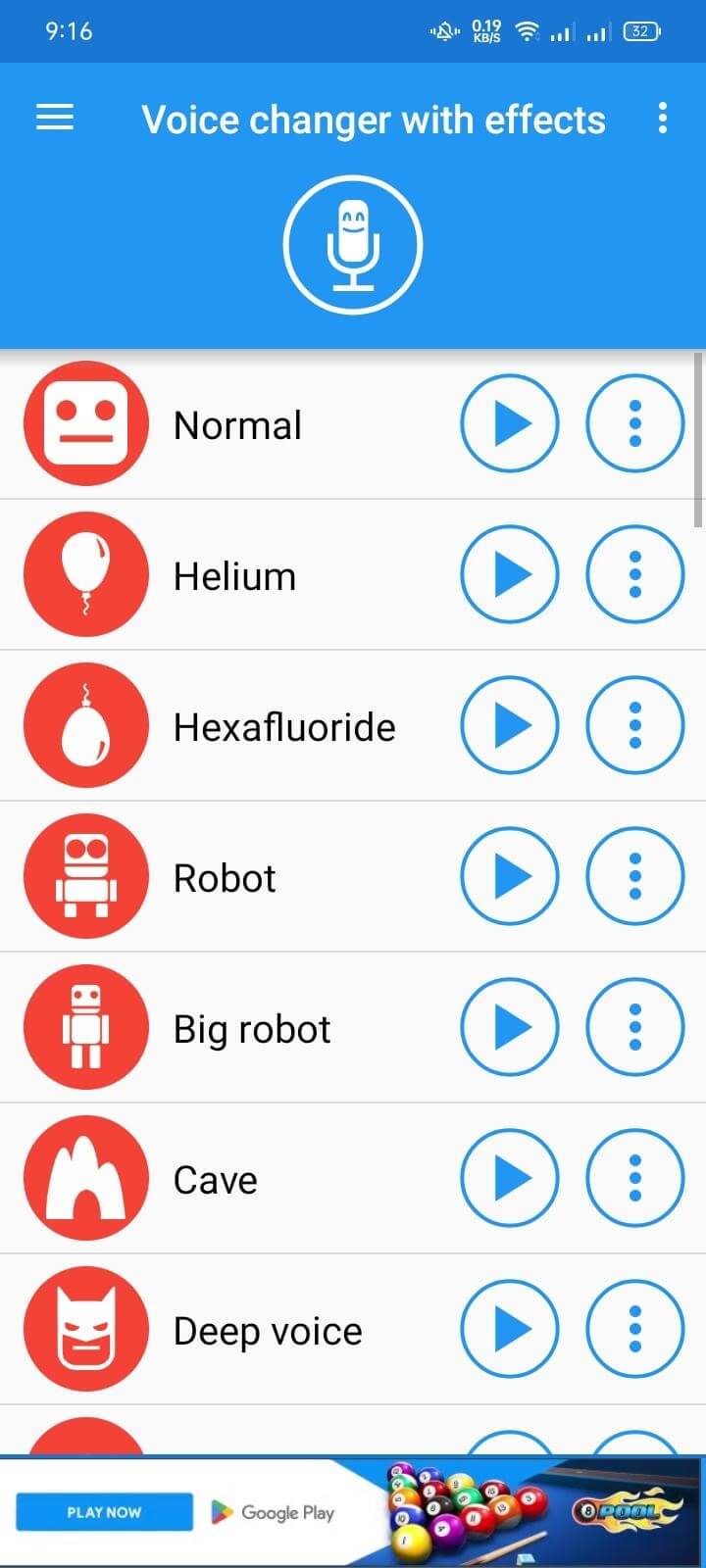 Tap the play button to hear the result and save it on your phone.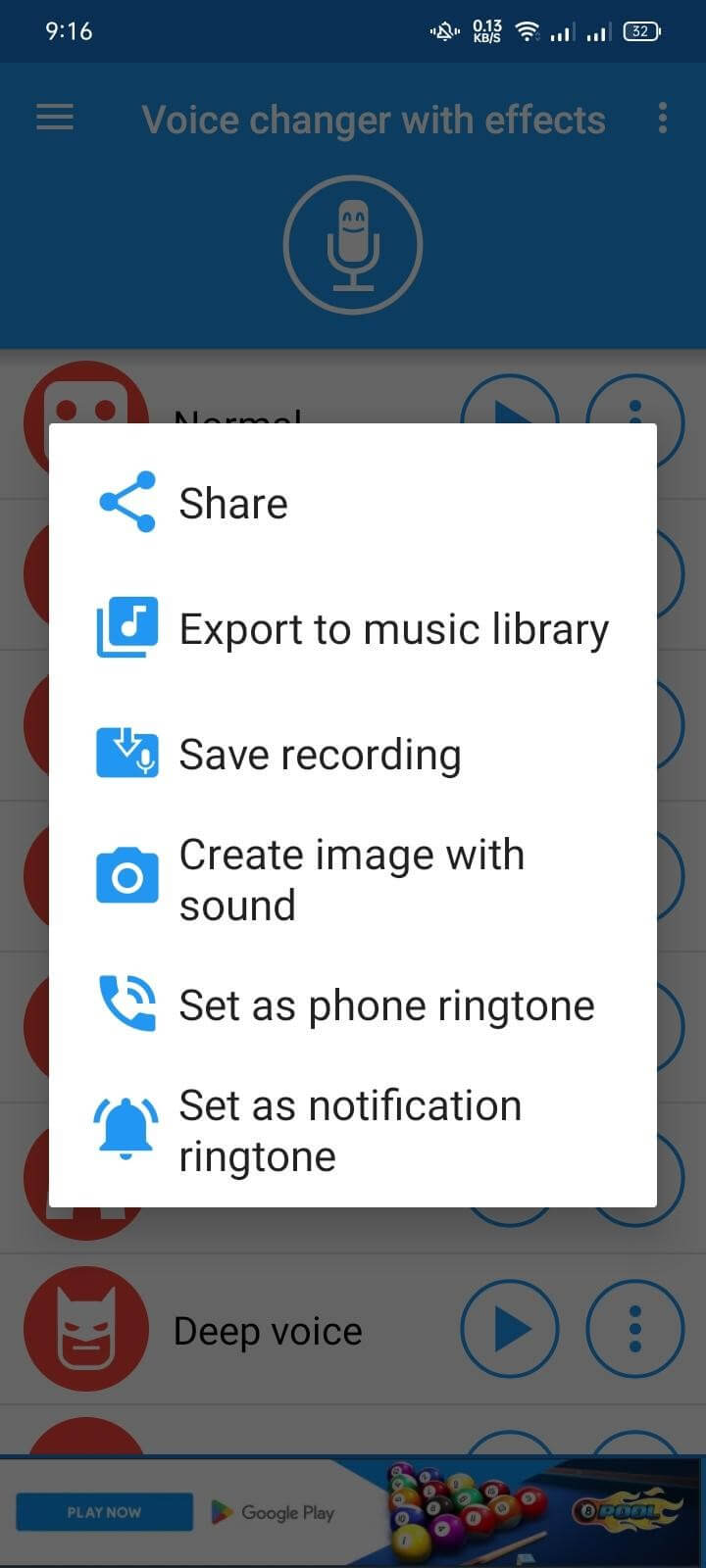 Cons
Shows ads while using the app.
Final Words
I hope you now have sufficient knowledge about making your voice deep, as we have discussed some exercises and tools. We have seen some of the best tools with their step-by-step guide. Pick WooTechy SoundBot deep voice changer app recommended and start using it right away with the fullest AI voice filters.