I'm sure you know that there has been an explosion of development in the field of artificial intelligence (AI) technology. Conventional AI such as ChatGPT, the computer version, and the AI voice generator, many things have made significant progress.
This technology is the future. I guess you've been reading too much about ChatGpt. In this article, I would like to discuss AI generated voice, digging deeper and looking into the top 5 AI Voice Generators in 2023 that offer AI voice generator services for free or at affordable prices and understand their technology and vision better.
Part 1: Overview of AI Voice Generator
AI voice generator technology is a specific area of AI voice technology that focuses on the generation of synthetic speech. One of the key advantages of AI voice generators is their ability to generate speech in multiple languages and accents. This has enormous potential for global communication, enabling machines to interact with users in their native language and dialect.
And an AI voice generator is a software program that can create human-like speech using machine learning algorithms. These systems use deep neural networks to analyze and learn from large amounts of audio data, such as human speech, and then generate new audio.
Part 2: The Top 5 AI Voice Generators in 2023
1. Wootechy SoundBot—Real-Time Voice Changer
Wootechy SoundBot is a real-time voice changer software that allows users to modify their voice during live conversations. With SoundBot, you can change your voice in real-time while using chat applications, streaming platforms, and even during online gaming sessions. The software comes equipped with a wide range of voice effects that can transform your voice to sound like a robot and a monster.
Moreover, the software is customizable, allowing you to save and customize your preferred voice effects for quick access.
75.000.000+
Downloads
Real-time voice changing: Modify your voice in real time during live voice calls or while recording audio files.

Wide range of voice effects: Supports a variety of voice effects, including male-to-female, female-to-male, robot, alien, echo, and more.

Advanced noise reduction and echo cancellation: Equipped with advanced noise reduction and echo cancellation features that improve voice clarity, ensuring that your voice sounds natural and clear during conversations.

Easy to use: Boasts a user-friendly interface, making it easy to operate even for non-technical users.

Compatible with multiple platforms: Compatible with popular voice chat and communication platforms, including Fortnite, PUBG, Discord, Skype, Twitch, and more.
The Steps to Generate AI Voice with SoundBot
Step 1: Download and install Wootechy SoundBot on your Windows computer.

Step 2: Launch the software and select the microphone input you want to use. This can be your computer's built-in microphone or an external microphone.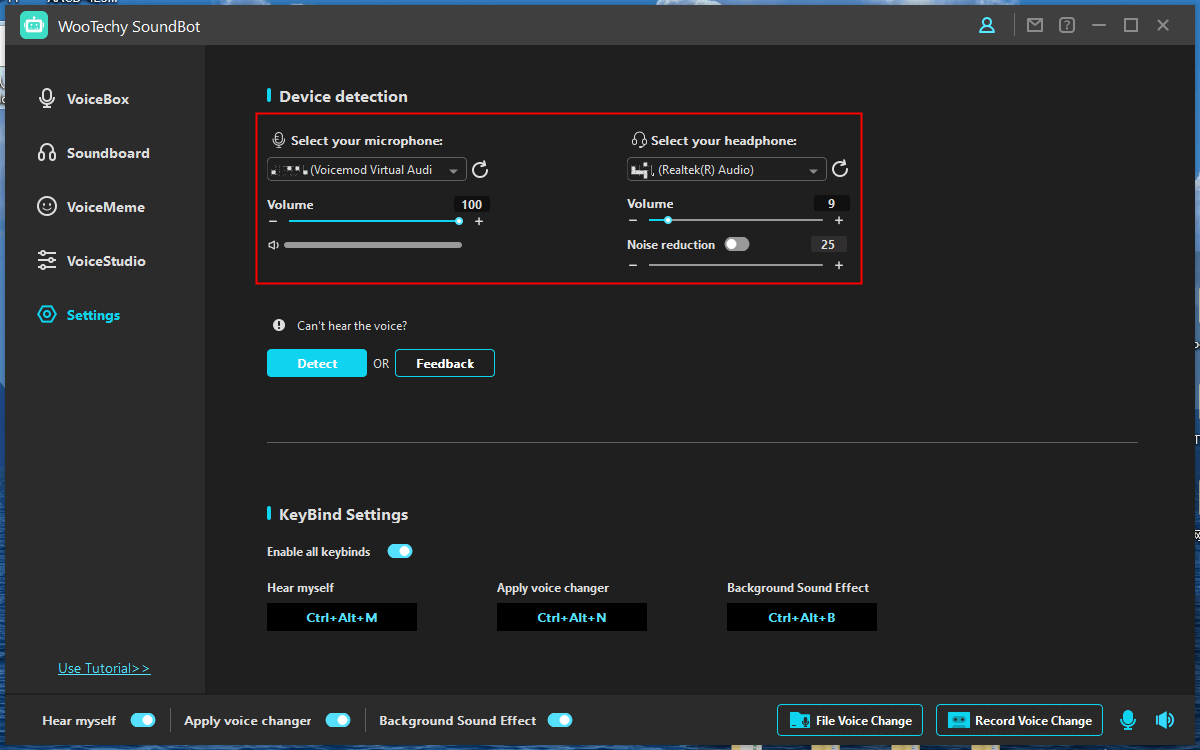 Step 3: Choose the voice effect you want to apply to your voice from the available options. You can select from a wide range of options, including robots, monsters, cartoons, and more.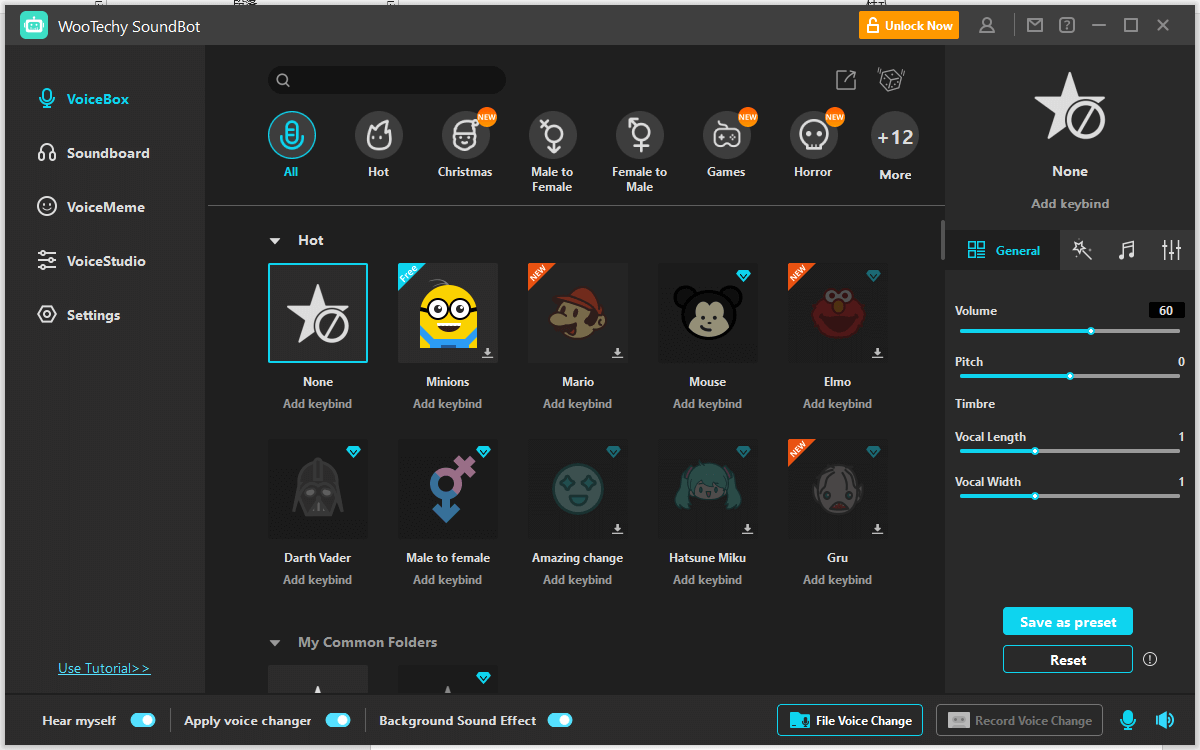 Step 4: Adjust the intensity of the voice effect using the slider provided.
Step 5: Once you're satisfied with the effect, click on the "Apply" button to apply it to your voice in real time.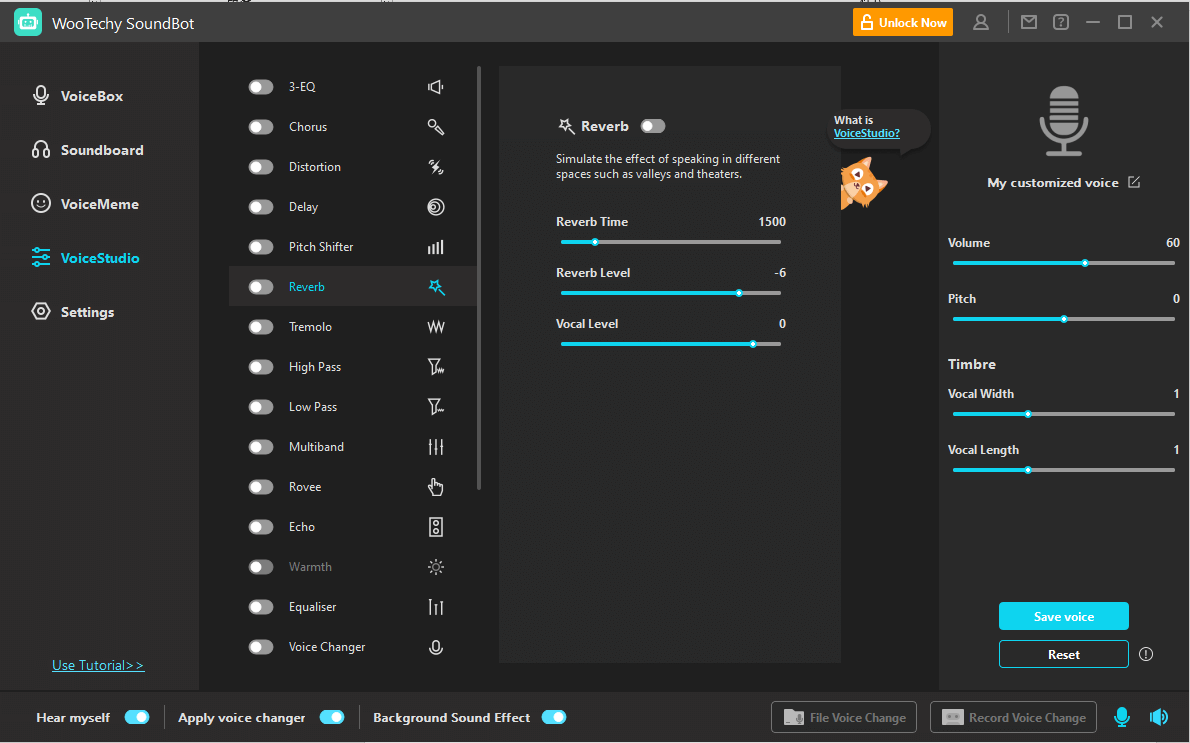 Step 6: Open your preferred chat application, streaming platform, or game and start using your modified voice.
2. Speechify--Text to Speech
Speechify is a text-to-speech software that converts any written content, such as articles, books, and PDFs, into an audio file that can be listened to on any device. The software uses advanced artificial intelligence algorithms to create natural-sounding voices that are easy to understand and follow.
With Speechify, you can save time and improve your productivity by listening to content on the go,without the need to read it. The software also supports a wide range of languages, accents, and voices, allowing you to choose the best option for your needs.
The Key Features of Speechify
Text-to-speech conversion: Convert any text-based content into an audio file, which can be listened to on any device.
Speed control: Adjust the speed of the speech output to match your preferred pace.
Save content: Save your converted content as an audio file, allowing you to listen to it on the go, even without an internet connection.
Accessibility features: Speechify is a great tool for people with visual impairments or reading difficulties as it provides an alternative way to consume content.
Steps to Convert Text to AI Speech
1. Download and install Speechify on your preferred device, such as your computer or smartphone.
2. Launch the app and sign in or create an account if necessary.
3. Copy the text that you want to convert to speech, or import it from another application or file using the options provided in the app.
4. Paste the text into the Speechify app or import it. Choose the voice that you want to use for the speech output. You can select from a range available in the app.
5. Adjust the speed of the speech output, using the controls provided in the app.
6. Click on the "Play" button to listen to the converted speech output.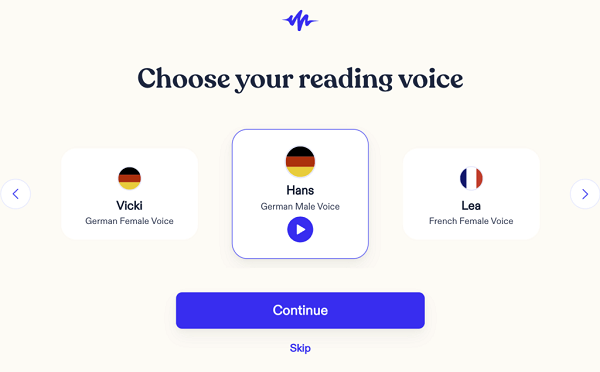 3. Eleven Labs-Text to Speech
Eleven Labs is a company that specializes in developing software solutions for businesses and individuals. One of their products is text-to-speech software that can convert written content into high-quality audio files. Their TTS technology uses cutting-edge deep learning algorithms to create highly accurate and realistic speech output.
Eleven Labs offers a wide range of products and services, including software development kits (SDKs), web services, and custom solutions. Their technology supports multiple languages and voices, allowing users to select the best option for their needs. They are the leading provider of text-to-speech technology and reliable choice of various businesses.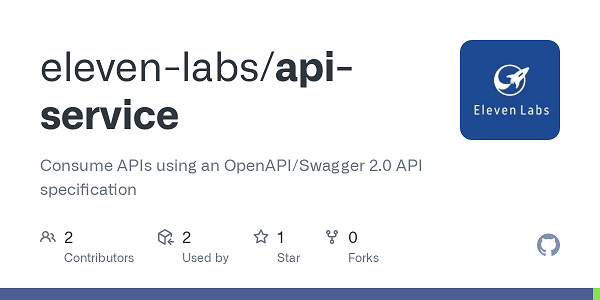 4. Altered--AI Voice Editor
Altered is an AI voice editor that uses advanced machine learning algorithms to modify and enhance recorded speech. The software can be used to create natural-sounding voiceovers, podcasts, and audio content with minimal editing required.
One of the key features of Altered is its ability to generate AI voices that sound natural and expressive. The software can create new voices by training its algorithms on existing voice samples, resulting in highly accurate and realistic speech output. Altered also provides a range of tools and features for editing and manipulating audio recordings.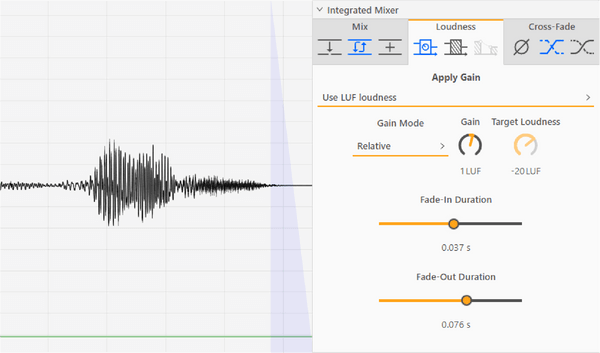 Murf.AI is a platform that provides intelligent automation solutions for businesses. It uses a combination of artificial intelligence, machine learning, and natural language processing technologies to automate routine tasks, improve workflows, and enhance the overall productivity of businesses.
This tool can be integrated with existing business systems and workflows, making it easier for organizations to automate their operations without disrupting their existing processes. One of the key benefits of Murf.AI is that it allows businesses to reduce costs and save time by automating repetitive tasks. This frees up employees to focus on more high-value tasks and improves overall efficiency.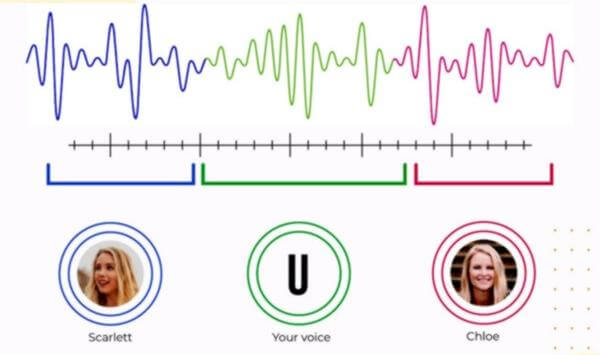 Conclusion
Each and every one of the above-mentioned software has its own distinctive feature, however, are still quite similar. On the other hand, Wootechy SoundBot is a great real-time voice AI generator with a wide range of features and economic price compared to others, which makes it stand out and absolutely different from all others, and makes it the best AI voice generator as it can be used live as well as recorded. Try it for a different kind of fun!