Have you ever wondered about changing your voice and pranking your friends while live streaming or playing a game?
If that's the case, there are a variety of real time voice changer software for PC, Mac, and gaming platforms that will allow you to hide your identity as you play and get the voice of a character.
Many people use a fake voice online for many reasons, including business, entertainment, and anonymity. For whatever reason, you must choose the most effective real time voice changer app.
In this article, we will review 7 best voice changer software. Let's get to it.
Part 1. What Is the Best Real-Time Voice Changer?
| Real time voice changer | Compatibility | Voice Filters | Real Time | Price | Free Trial |
| --- | --- | --- | --- | --- | --- |
| | Windows | 125+ | ✔ | $12.95 | ✔ |
| | Windows | 110+ | ✔ | $20 | ✔ |
| | Windows & Mac |  Limited | ✔ | $40 | ✔ |
| | Windows Vista | 14 | ✔ | Free | |
| | Windows & Mac | ✔ | ✔ | $12.99 | ✔ |
| | iOS & Android | 25 | ✔ | Vary with features | ✔ |
| | iOS, Mac & Android | 55 | ✔ | $1.99 | ✔ |
WooTechy SoundBot is the way to go if you make phone calls via computer and want to give your voice a unique flavor. It is a real-time voice changer software with 125+ voice filters available such as male, female, scary, anime, funny, etc.
A variety of voice modulator options allow you to modify the pitch, volume, and character of your uploaded audio files or newly recorded sounds.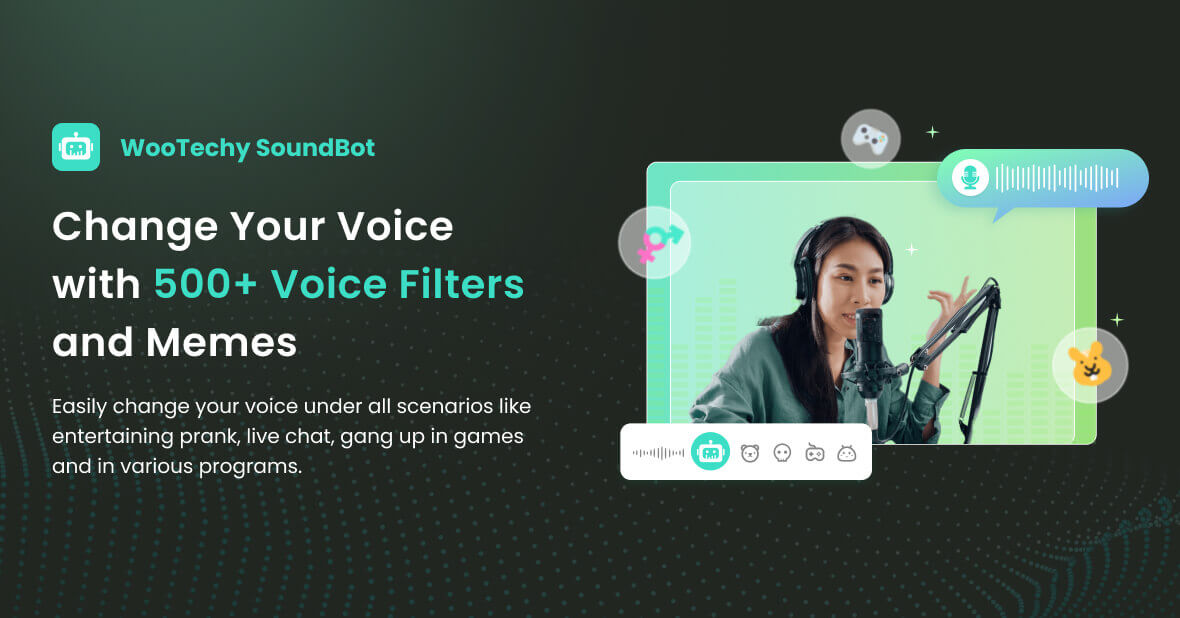 SoundBot – Real Time Voice Changer for PC
75.000.000+
Downloads
Change your voice in real time under various scenarios like entertaining prank, live chat, gang up in games.

Change your voice in various programs and games, to name a few, Discord, Zoom, Fortnite, PUBG, etc.

400+ sound effects and 200+ voice memes to double up the fun.

Support file voice change and record voice change.
Pros
With a user-friendly interface, it is the best for gamers, content creators and vtubers.

Numerous voice filters are available to be used in real-time.

You can make your own customized voice filters using this.

Offer daily 5 free voices and fast conversion.
Cons
Now only available for Windows.
If you're a gamer who streams online and wants to transform your voice into a feminine one, you may do so with the help of Voicemod. It is one of the most used voice-changing software because of its user-friendly interface.
Almost desktop game and communication software can benefit from Voicemod's real-time voice-changing and custom sound effects, including Discord, ZOOM, and more!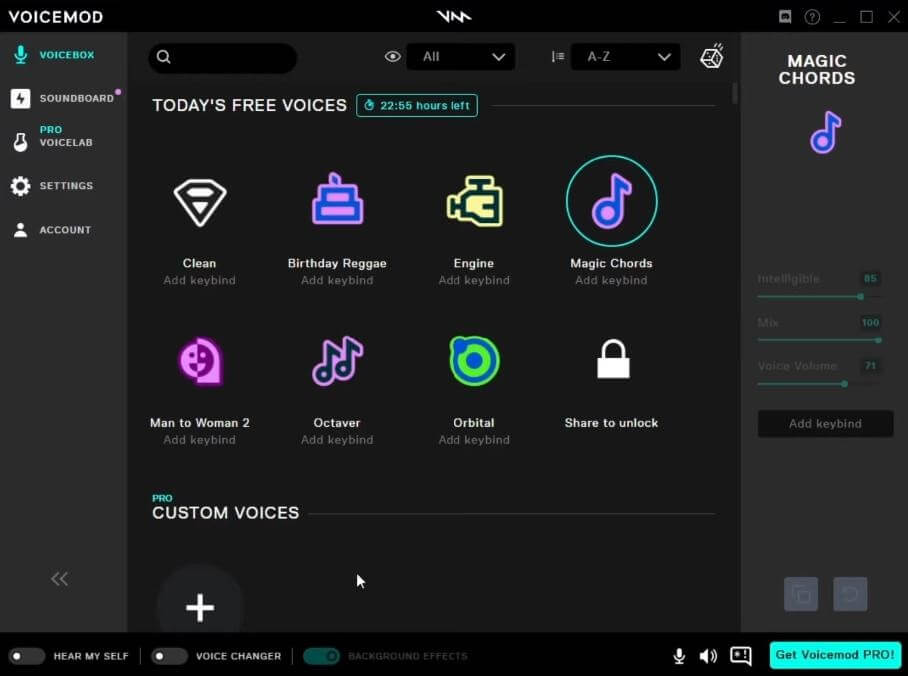 Pros
User-friendly and appealing Interface

Paid version allow you to create your own voice effects.

Real-time voice changing feature

Basic version is free forever.
Cons
Only has 110+ voice filters and the free version has limited features.

The software installation might take a longer time and the program often crashes during the operation.

Not available on Mac.
MorphVOX JR allows you to change the sound of your voice for online gaming, voice chat, and other activities requiring a microphone.
It is available in different price ranges, but MorvphVOX JR (Free) is limited to only three voice options that are male, female, and kid.
The sound parameters can be adjusted for pitch, timbre, and the generation of unique voice profiles. However, If you want to enjoy all the features of MorphVOX, then you have to upgrade to the pro version, which is paid.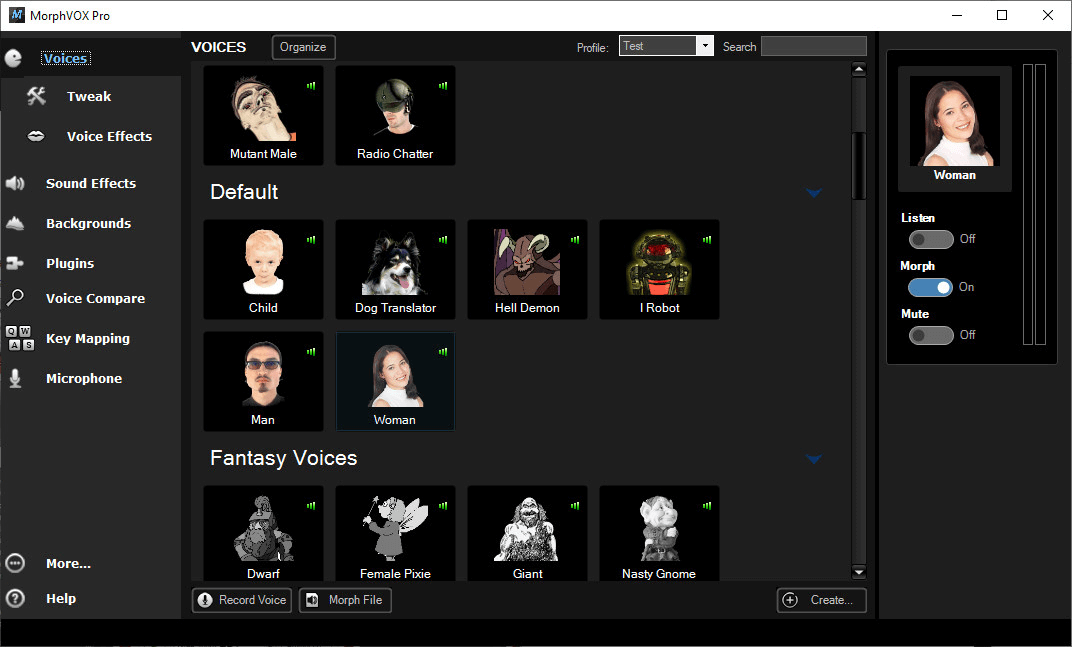 Pros
It offers ultra-quiet background cancellation.

It regularly upgrades its features.

Features like voice tuning and voice comparison analysis make this voice changer accurate.
Cons
The user interface is quite challenging.

The price is too high.
Clownfish Voice Changer is compatible with Windows and is one of the easiest way to change your voice. Every application that uses a microphone can be integrated with this voice changer, and it can modify your voice into different voices on Skype, Hangouts, Teamspeak, Discord, etc.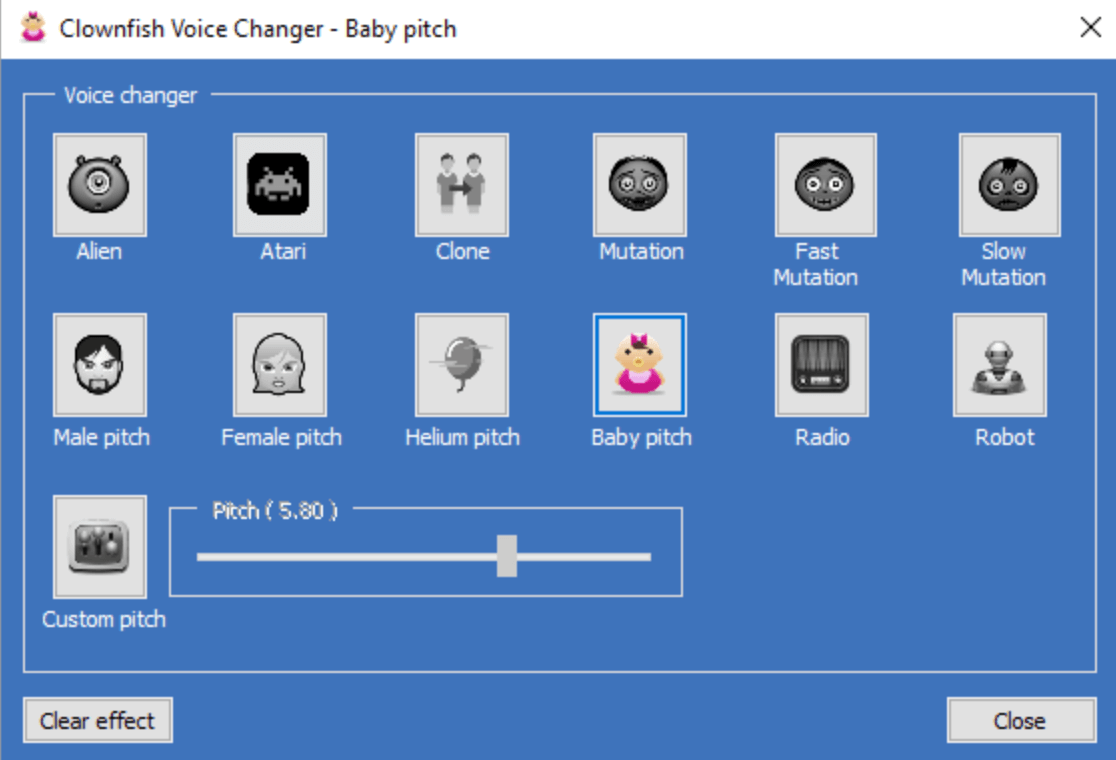 Pros
Available for free

Compatible with most VoIP apps.

Can convert text to speech
Cons
Voice filters are limited.

The user-interface is not friendly and it's hard for users to operate.
Voxal is a voice changer software that can modify, change or disguise your voice and is compatible with applications that use a microphone. Voxal can be used without modifying any of your other applications' settings or configurations because of its seamless compatibility.
You can begin experimenting with unique and entertaining new vocal distortions only a few minutes after installation. You can use the free version of Voxal for non-commercial use; no signup is required.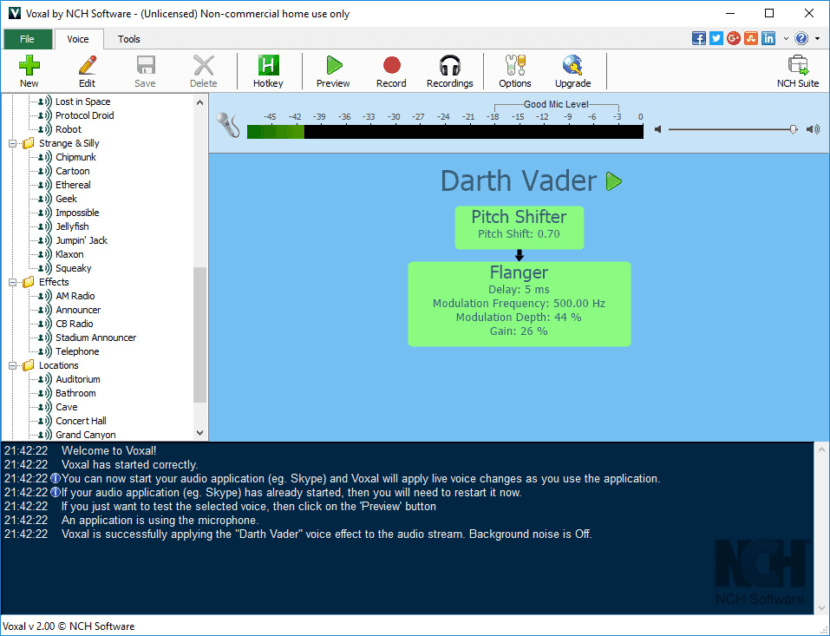 Pros
Low CPU usage.

Numerous Voice effects in the library.

Compatible with almost all applications.
Cons
Limited options in the free version.

Sometimes Voxal voice changer is not working.
You can instantly modify your voice with the help of the Live Voice Changer - Prankcall application. If you talk into the iOS device's microphone while using the app, your voice will be adjusted to the device's speaker output.
During your next conversation, try out some hilarious pranks on your friends using a male or female voice. You can also act like a tiger, a fox, a squirrel, etc. The user interface and downloading process are very simple and can be easily done by a layman.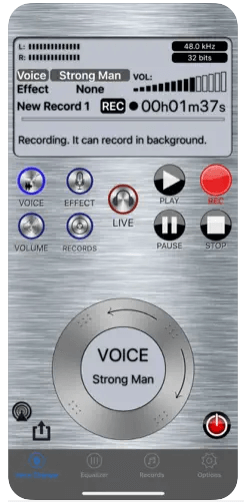 Pros
User-friendly interface.

Paid version offers voice recording options.

You can change the voice multiple times.
Cons
Limited options in the free version.
The Voice Changer Plus app will add some light entertainment to your recording and sharing experiences. The best part is this application is not limited to talking only. You can sing and record your voice and apply different voice effects to make it funny.
Using the Voice Changer Plus, you can select from 55 unique voice effects or background sounds. Conversations can be recorded and shared with others.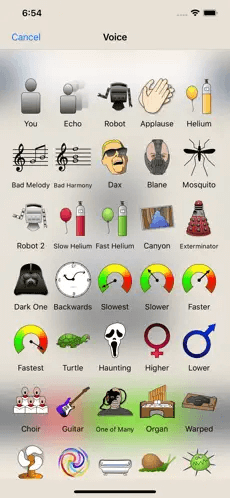 Pros
You can add effects to already saved recordings.

Offer 55 voice effects and background sounds.

Trim control option.

Free to save and share.
Cons
Part 2. How Do I Change My Voice in Real-Time?
Now that we have acquired sufficient understanding regarding the applications that change one's voice. Let's have a look at the way we can modify the voice in real-time using one of the above applications.
Step 1 The first step is downloading and installing the WooTechy SoundBot on your PC.
Step 2 Select output and input to use the voice changer by assigning your headphone as output and your microphone as input.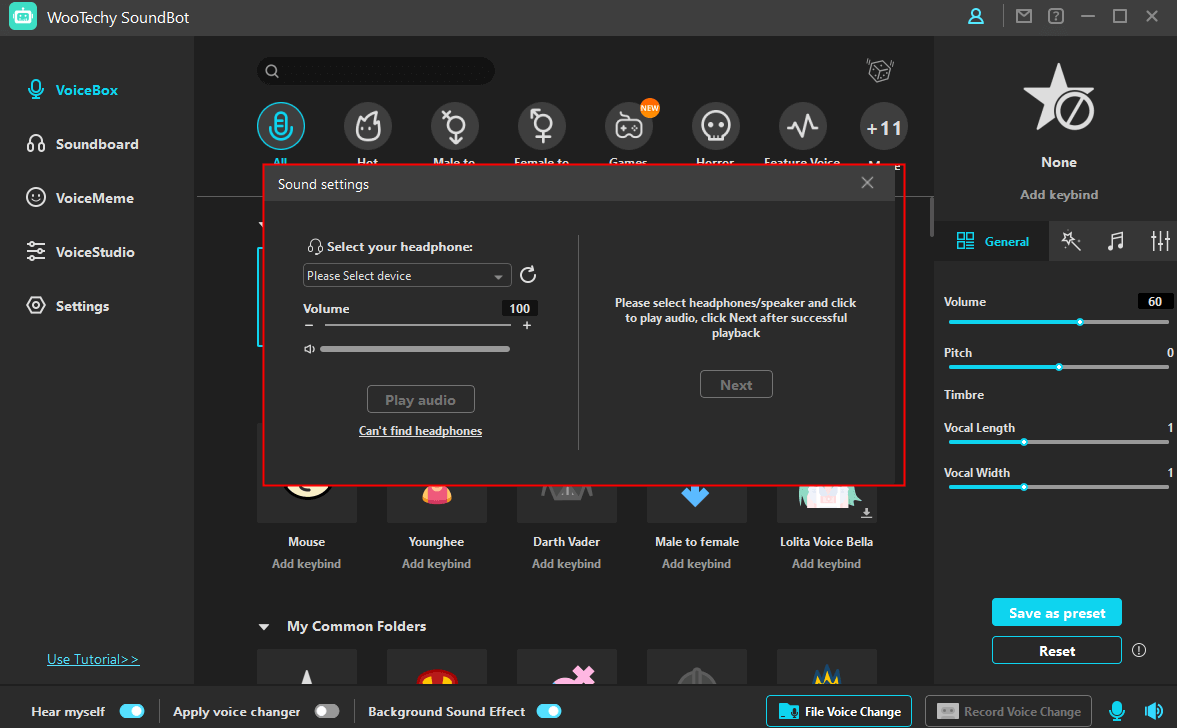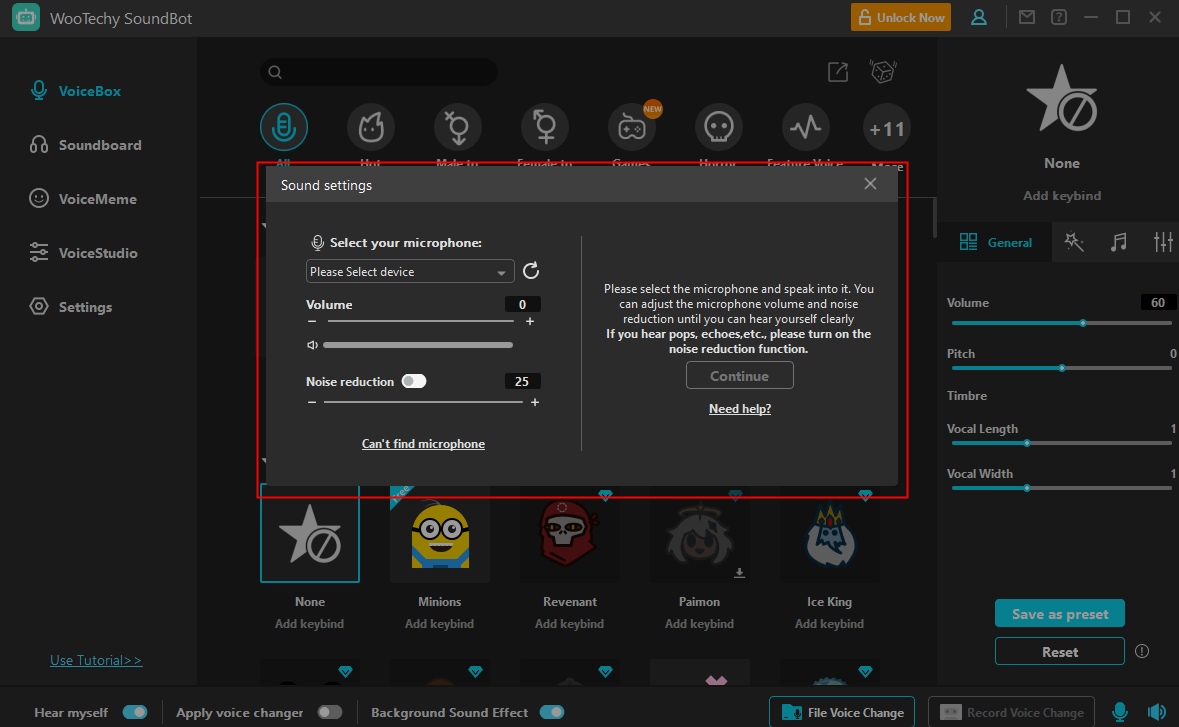 After setting the input and output, you will get a popup that says you have completed the setup.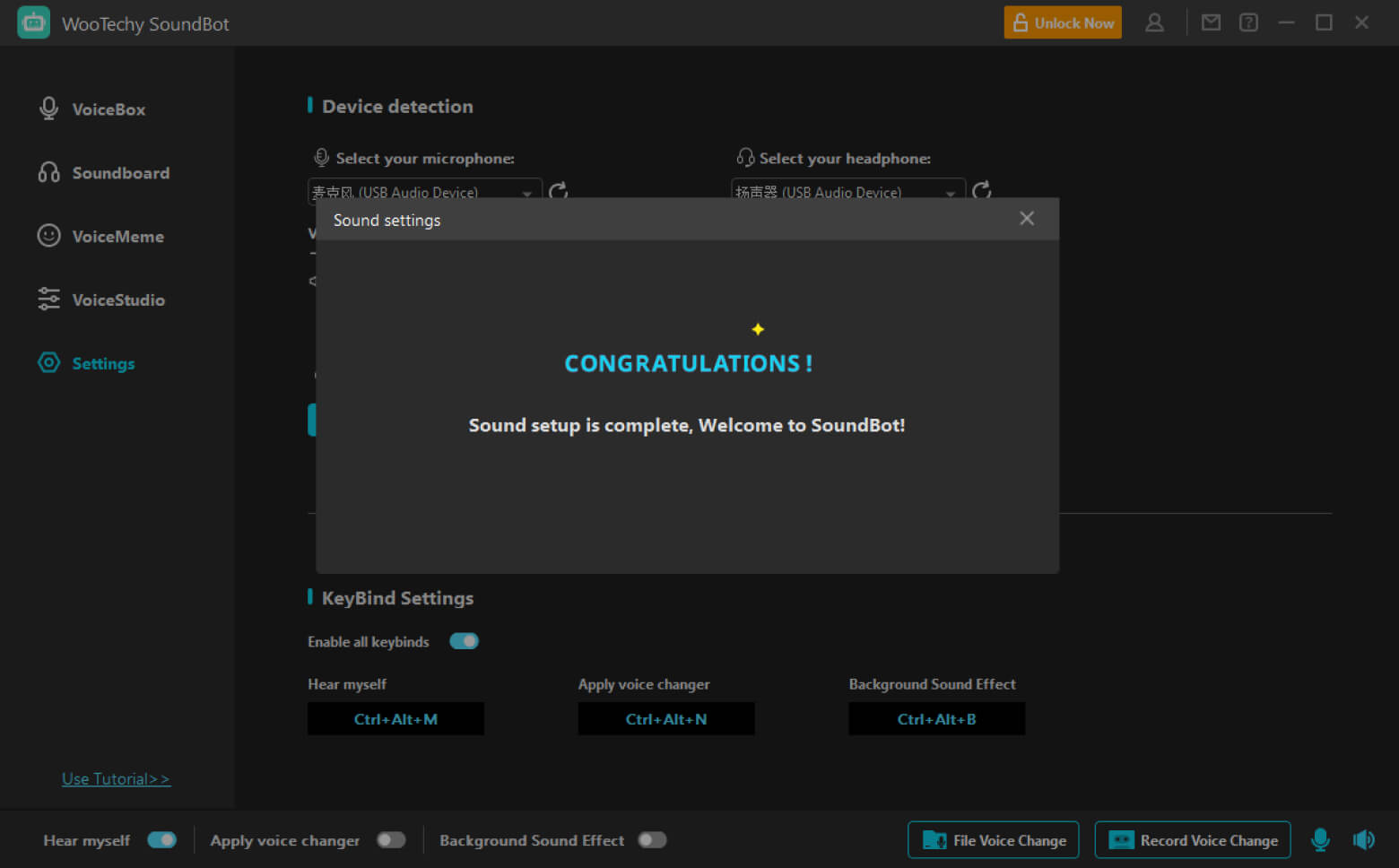 Step 3 Now you can check the voice-changing effects by clicking on different options available and speaking into the microphone to hear the changed voice.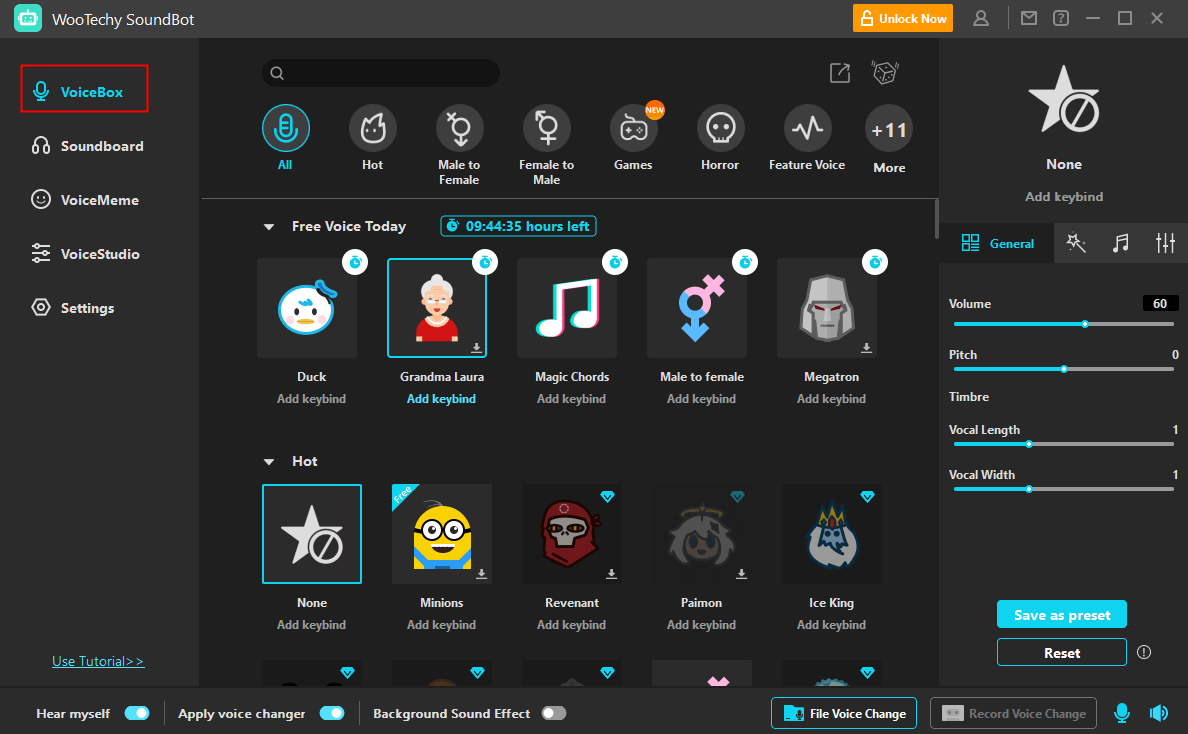 Step 4 You can use the SoundBot on different platforms for fun and entertainment. To integrate SoundBot with other apps, you must follow the given steps:
Open the Voice settings of the platform you want SoundBot to integrate.
Choose the Microphone (Voice Changer Virtual Audio Device (WDM)) in the input device. After that, you will have complete control over the real-time voice changes that can be made within the platform. Your voice modification will be audible to other users.
Conclusion
All these tools are of high quality, and you should have no trouble selecting the one that best meets your needs after considering the pros, cons, and compatibility factors. We recommend you use WooTechy SoundBot because it's the best choice for using the most common features, changing your voice from male to female. It is real-time and is compatible with many applications.