There are a variety of reasons to change voices. Whether playing games, podcasting, or games, VTubers want to double up the fun by changing their voices.
If you are a VTuber looking for some VTuber voice changer software, then you are at the right place. We have listed the five best voice changer software for you. Please stay with us; you will know the key features, straightforward steps to use the best five VTuber voice changer tools with numerous AI voices.
Let's dive deep into it!
Part 1. Top 5 VTuber Voice Changers
There are VTuber voice changers that allow you to hide your identity. Whether for businesses, playing games, or pranking your friend, you can use live voice changer software to get into character. We have listed the five best voice changers for VTubers.
WooTechy SoundBot is a real-time AI voice changer program for PC that allows you to change your voice from one character to another. Its user-friendly interface and customization options make it one of the best voice changers for Vtubers. You can also upload your audio files or record your voice and then apply voice changer effects.
SoundBot – The Best Voice Changer for VTubers
75.000.000+
Downloads
With 125+ voice filters, it can change your voice to anime, male-to-female or vice versa, Younghee, Robot, Scary, etc.

It changes your voice for various scenarios, like gaming, making a prank, or live chats, create YouTube videos and make voiceovers.

It has 300+ built-in sound-changing voice effects and more than 200 voice memes.

Able to change the voices of your characters in videos and games, like Discord, Valorant, Roblox, and more.
Steps to Create Vtuber Voice with SoundBot Voice Changer:
Step 1 Download, install and open WooTechy SoundBot on your PC. Now select your input and output devices. Choose your microphone input device and your headphones as an output device.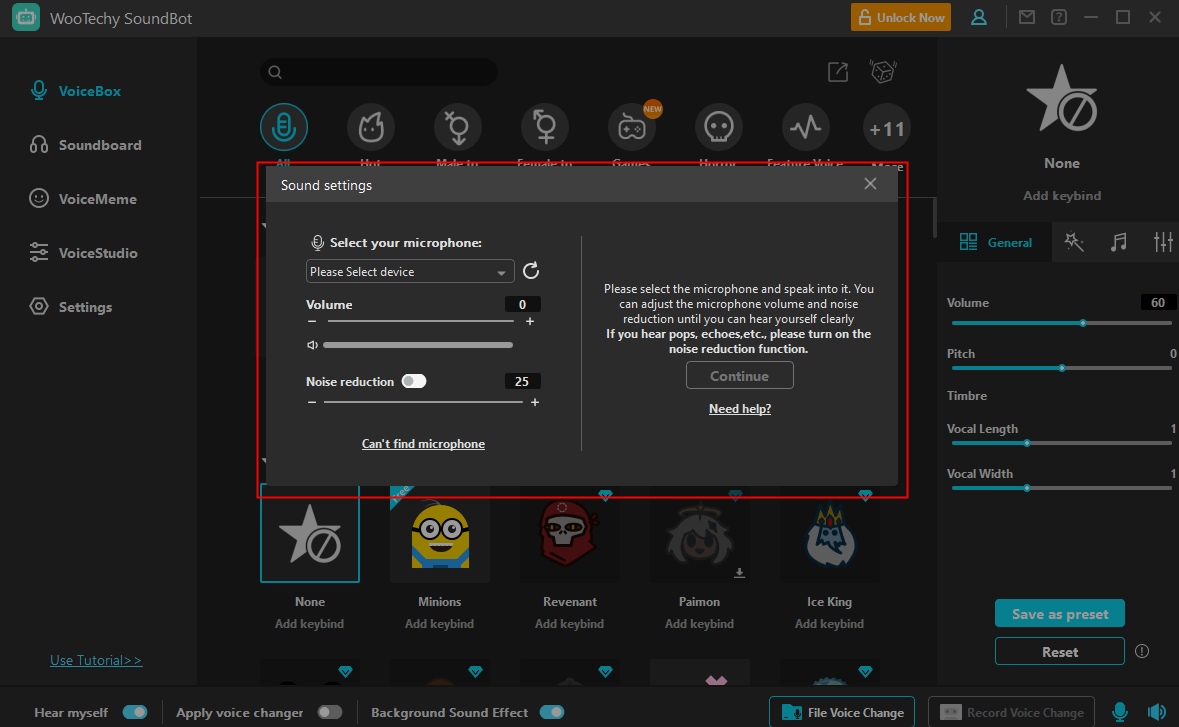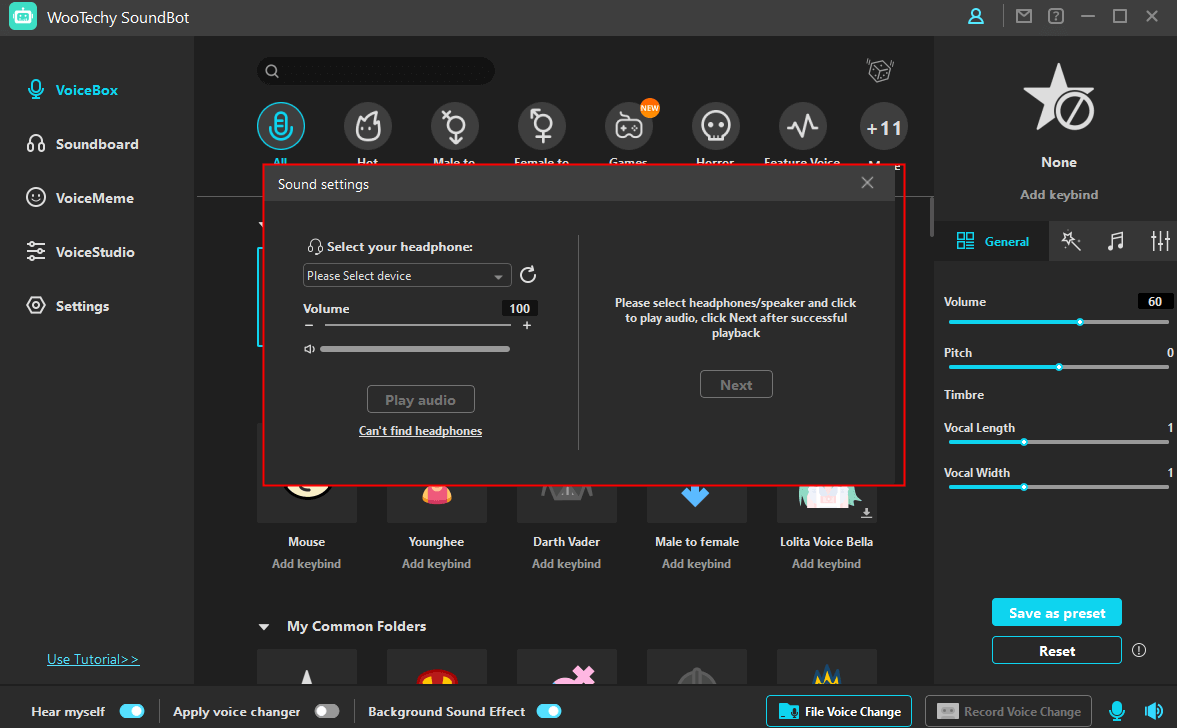 Step 2 Select your voice filter from the VoiceBox tab and then speak into the microphone. Select the one which suits you.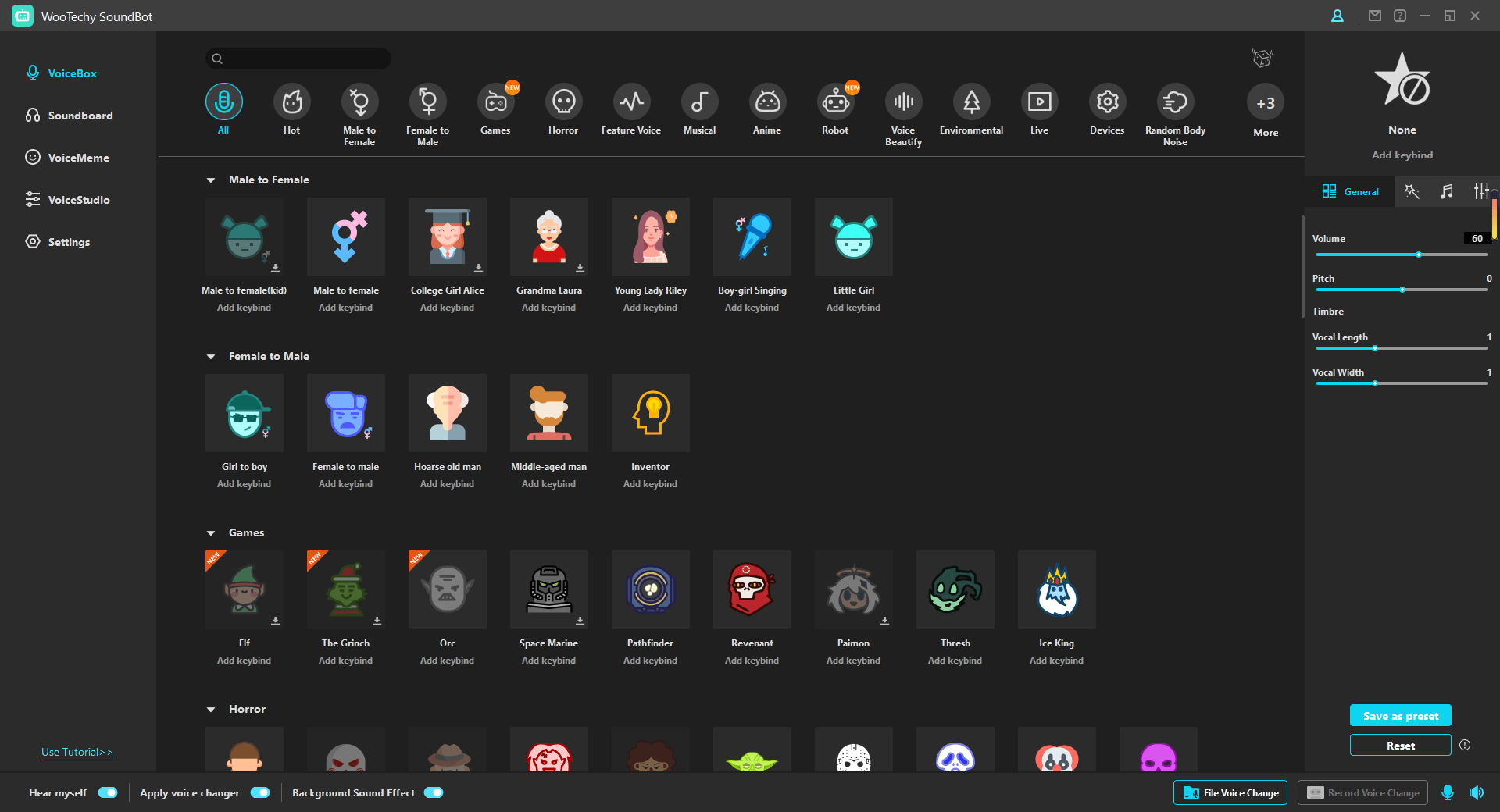 Step 3 To change your voice in your existing videos, you can choose the File Voice Change at the bottom of SoundBot and upload your videos or audio tracks to apply voice changing.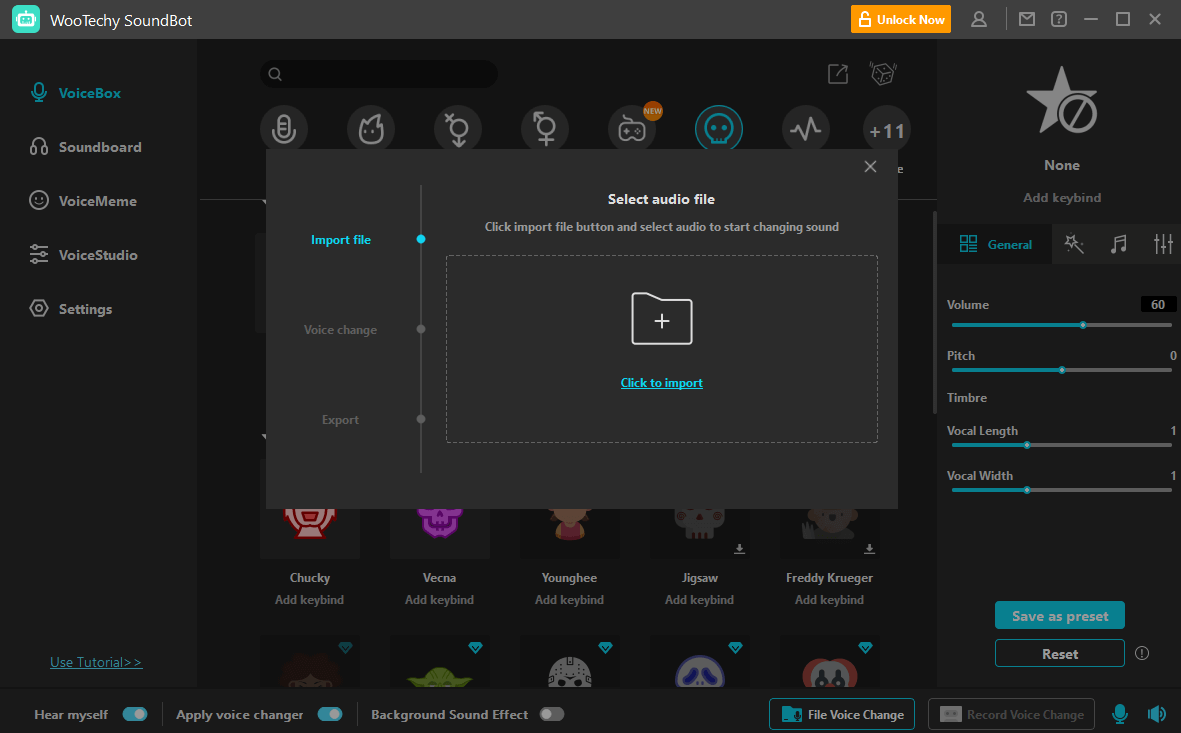 Tip
To change your voice in a program, open the platform and go to its
Voice Settings
. In the
Input Device
, choose the
Microphone (Voice Changer Virtual Audio Device (WDM)
. Now you can change the voice in that platform in real-time.
This voice-changing software is suitable for Vtubers who stream live. It changes your voice in real time. It provides preset voices to change your voice from one gender to another.
Its Synch Expert mode offers you a numerous cast of characters. Anime lovers would find this app helpful as it has voices of famous characters like Otomiiya Iroha, Crimmzoh, Rice Chan, etc... And it is possible to send your converted voice to live streaming platforms.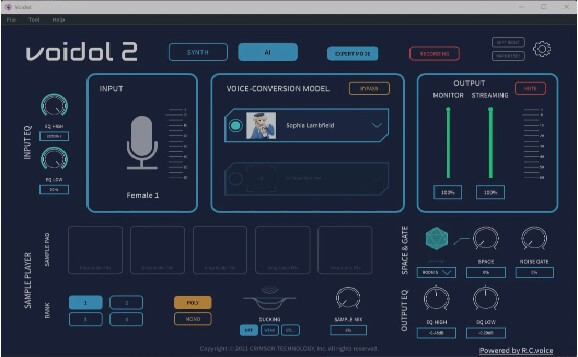 It offers Synch mode and AI mode, which is entertaining.

It provides a voice conversion model by which you can change your voice to anime characters.

It has a Ducking effect option by which you can control the volume of the input voice.

It provides you Space effect, which allows your voice to be more spacious.

You can use features such as "Whisper" and "Robot" to make it sound like one.
Steps to Use Voidol2 Voice Changer:
Install Voidol2 Voice Changer on your computer, and open it for operation. Open the Sound settings and select your Audio Input settings accordingly.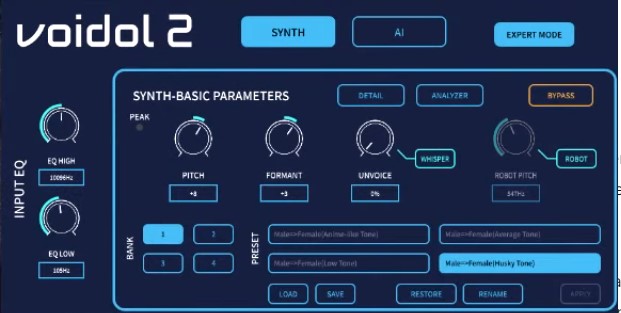 Now select the right audio input channel. You need to put the right one to change your voice.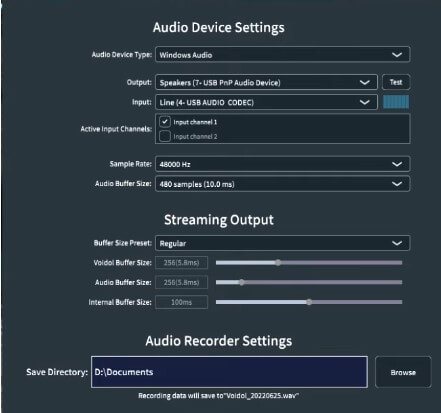 Now please select the Control Panel and make the necessary adjustments. You are ready to with Voidol.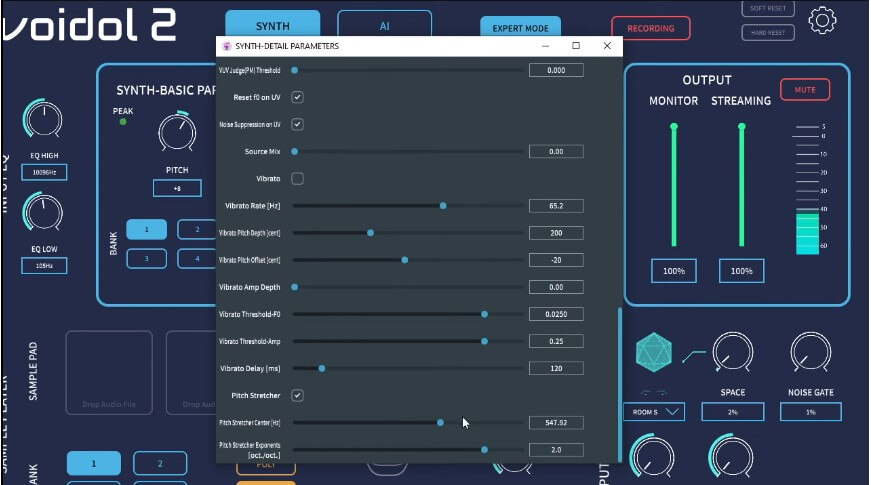 Cons
The results are inconsistent from session to session.

It offers high prices for additional voices.

It is challenging to use it in AI mode.
Voxal allows you to change and disguise your voice on microphone applications. This software changes your voice in a matter of seconds. You can change your voice to a girl, child, or devil. The best thing about this voice changer is that it helps you to keep your anonymity. In addition, you can keep settings the same for every application. Its settings are universal to all the applications and games that you use.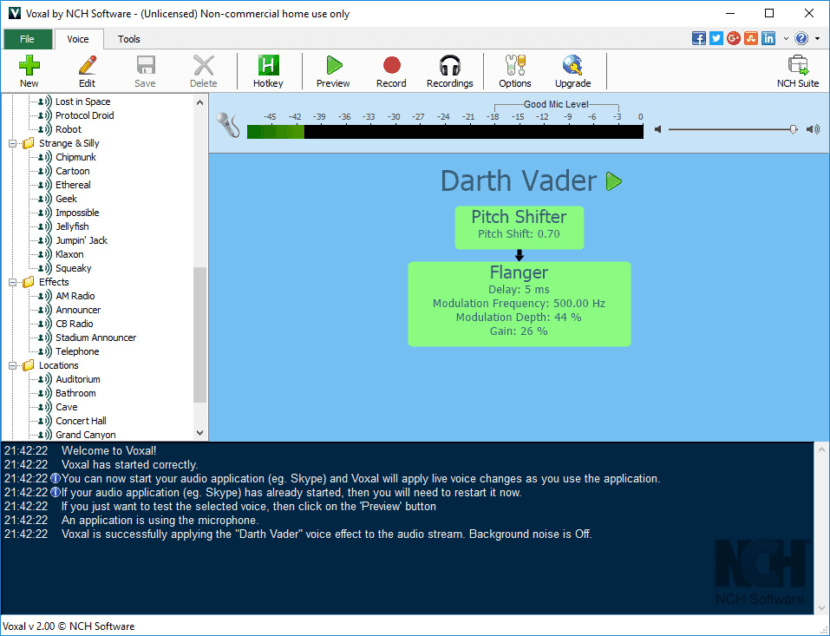 Choose from a variety of sound effects.

Universal settings for all applications and low CPU usage.

Apply effects in real-time and create custom voice effects.
Steps to Use Voxal Voice Changer:
Download the Voxal on your PC and open it. Select the voice effects that suit you the most.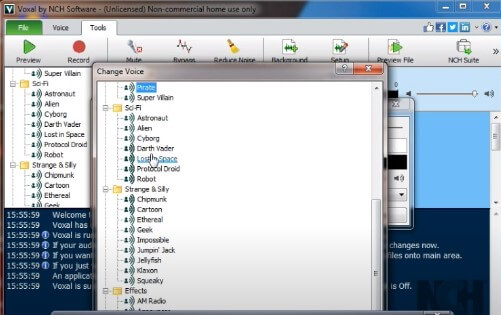 You can change your voice in real time. There is a Choices button in the top-right corner. Go there and choose it while playing games.
Now open the app in which on want to play your voice. Start using it immediately by speaking on the microphone.
Cons
Limited in-build voice and sound effects.

Old-fashioned interface.
Voicemod is free yet paid software and can be operated on Windows. Its easy-to-use interface makes it one of the best online AI voice-changing software. It allows support for many online games like PUBG and Minecraft. It also allows users to change their voice in real-time on social media platforms like Skype, Twitch, etc.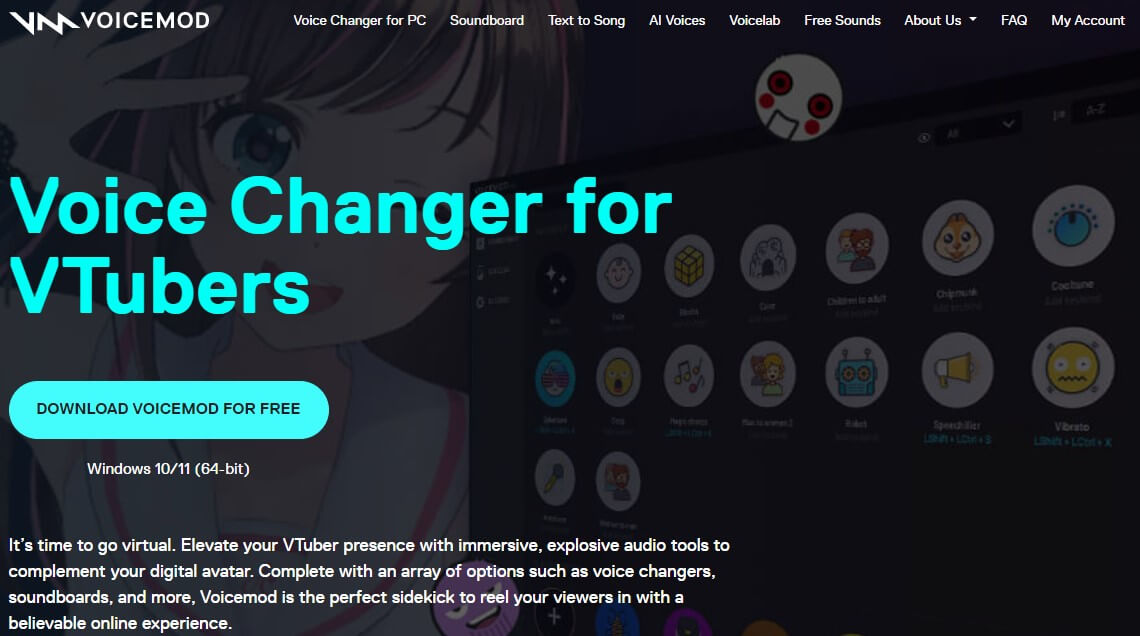 Automatically adds Microphone Input Device setting for Discord upon installation.

Live voice effect demos.

Compatible with all modern games and apps.
Steps to Use Voicemod Voice Changer:
Download Voicemod and install it. Go to the VoiceBox tab to choose your favorite filters.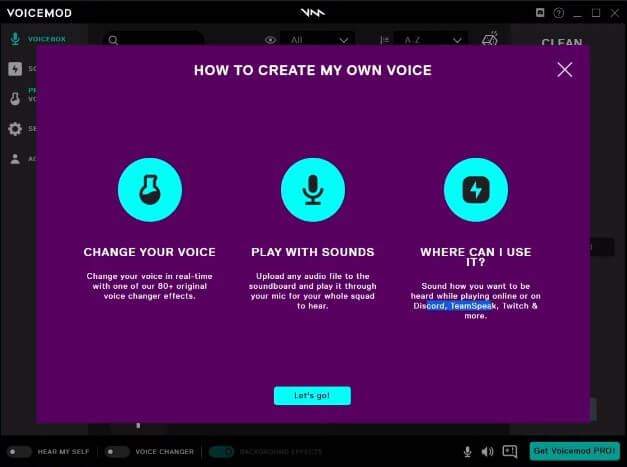 Now open the game or app and go to audio settings. Set Voicemod Virtual Audio Device as your input and put your headphones as your output.
Cons
It will force you to download many apps and games while using it.

It does not work with a poor internet server.

It needs an additional tool for recording.

It crashes often.
It is what you call a Skype Upgrade Voice Changer. This software is made specifically for online chatting. You can prank your friends and relatives in mid-conversation by changing voices in the software. There is a slide bar to change the pitch of your voice. You can also import recorded voices.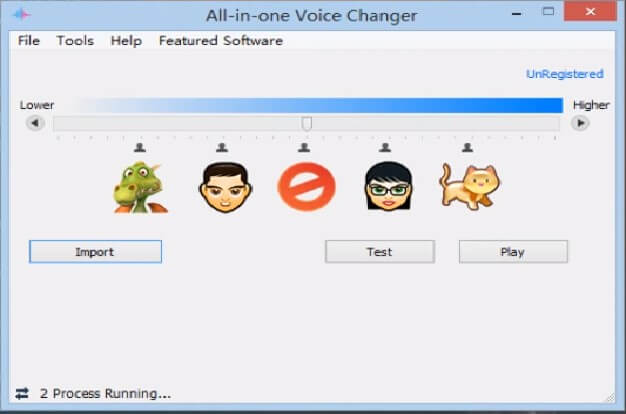 It has a prank-calling feature.

Allows you to check your voice before applying any filter.

Permits to add voices and videos to change their pitch.

This program can be linked to Skype, and the All-in-One voice changer can make altered voices.

It provides sound optimization.
Steps to Use All-in-One Voice Changer:
First, download and install it on your PC.
Move the slider to the left and right to choose your pitch. Select the Test button and speak into the microphone.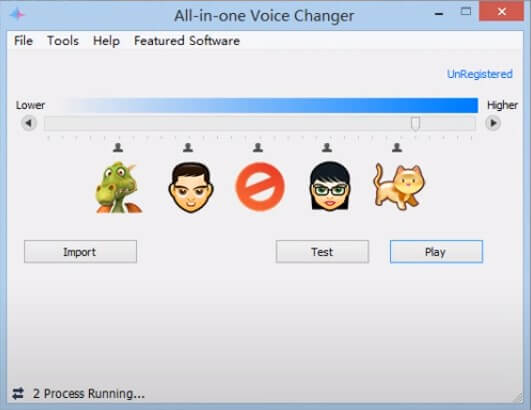 You have to link the app to Skype to make calls on messaging tools like Skype.
You can also import recorded voices and apply filters.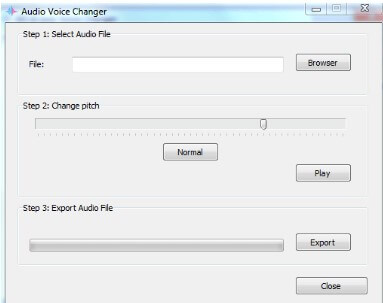 Cons
This software is not free.

In the free trial, only cat voice is available.

The license key is only valid for one PC.
Conclusion
If you are a VTuber or you record your voices, voice changer tools are a great help. This article covers the top five live voice changers for VTubers. It also helps gamers to keep their anonymity intact.
Among the 5 VTuber voice changers, WooTechy SoundBot stands out its sound quality and voice filters. Just download it and have a free trial.