While you might not be conversant with your voice type, your friends and family members can easily recognize you by your voice. People can have four main voice types: alto, tenor, soprano, or bass. However, several other categories can be coined from these four. Because your voice can be easily recognized, it may be difficult for you to prank people around you. Even worse, maybe you cannot make your voice sound different.
If you have a gaming partner that knows your voice, the person could easily avoid you upon hearing your voice. Hence, this article will show you the most acceptable auto tune voice changer available if you want a sound simulator for gaming or other purposes.
Part 1. Comparison of Top 4 Auto Tune Voice Changers
When picking an auto tune voice changer, there are several features to watch out for. This section has tabulated some features that distinguish the finest auto tune voice changer from other free autotune voice changers.
| Auto tune voice changer | Supported system | Operation | Keybinds | Custom Sound | Price |
| --- | --- | --- | --- | --- | --- |
| WooTechy SoundBot | Windows | Streaming | Yes | Yes | Free |
| Voicemod Autotune | Windows only | Streaming | Yes | Yes | Free |
| Clownfish Autotune | Windows only | Streaming | No | No | Free |
| Voice Changer.io | iOS | Online | No | No | Free |
Part 2. What Is the Best Autotune Voice Changer?
If you want to pick the best autotune voice changer, we recommend WooTechy SoundBot. It is a real-time AI voice changer that will produce any voice you desire. Apart from real-time effects, you can change the voice on your audio file. Our app allows you to import audio files in mp3 and wav format to change prerecorded voices.
Alternatively, the app can serve as your voice recorder. Hence, you will not need an extra app to record your voice or to upload your audio file format. Also, you can freely export your recording voice change audio and use it on any platform.
However, the features of WooTechy SoundBot work directly in different apps and websites. It works perfectly on live streaming and gaming apps including Xbox. Above all, it is very easy to set up our app and find the voice you want.
You can get voice memes, Ghostface, Anime, male, female, and deep voice, among others. You can take it a step further and create a new vocal identity for yourself by customizing your voice filter. If you are a program or podcast anchor, cartoon or anime director, gamer, vtuber, class instructor, etc., you can access over 125 voice filters and over 200 voice effects.
Some other features available on WooTechy SoundBot
Customize your soundboard for different devices.

You can even assign keybinds to control when sound effects should change.

Sound effects can be played in multiple playback methods, like overlap, mute, cycle, or replay.

We offer free voices each day and are constantly uploading new sound effects for you to use.
Part 3. How Can I Autotune My Voice?
There are two main methods of autotuning your voice on WooTechy SoundBot. You can change your voice in real-time or use sound effects. In this section, you will see how to use both methods. Also, it contains instructions on how to use the app with your favorite game and streaming app.
How to change voice in real-time
Visit our official website to download the app. Install and launch the version compatible with your device.
Set up the app by choosing your output and input devices. Pick a voice from the VoiceBox and further speak into your microphone. Your voice will be automatically changed into the one you chose.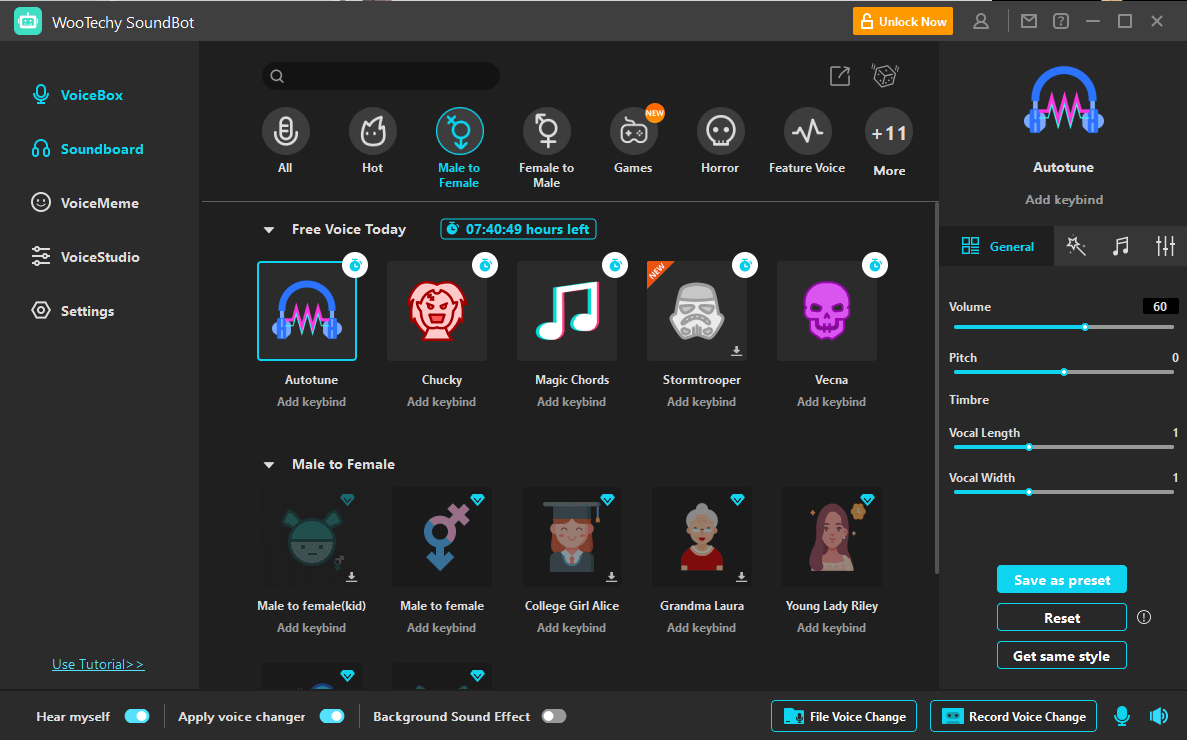 How to use sound effects
Install and launch the version compatible with your device. Click on the Soundboard menu on your screen.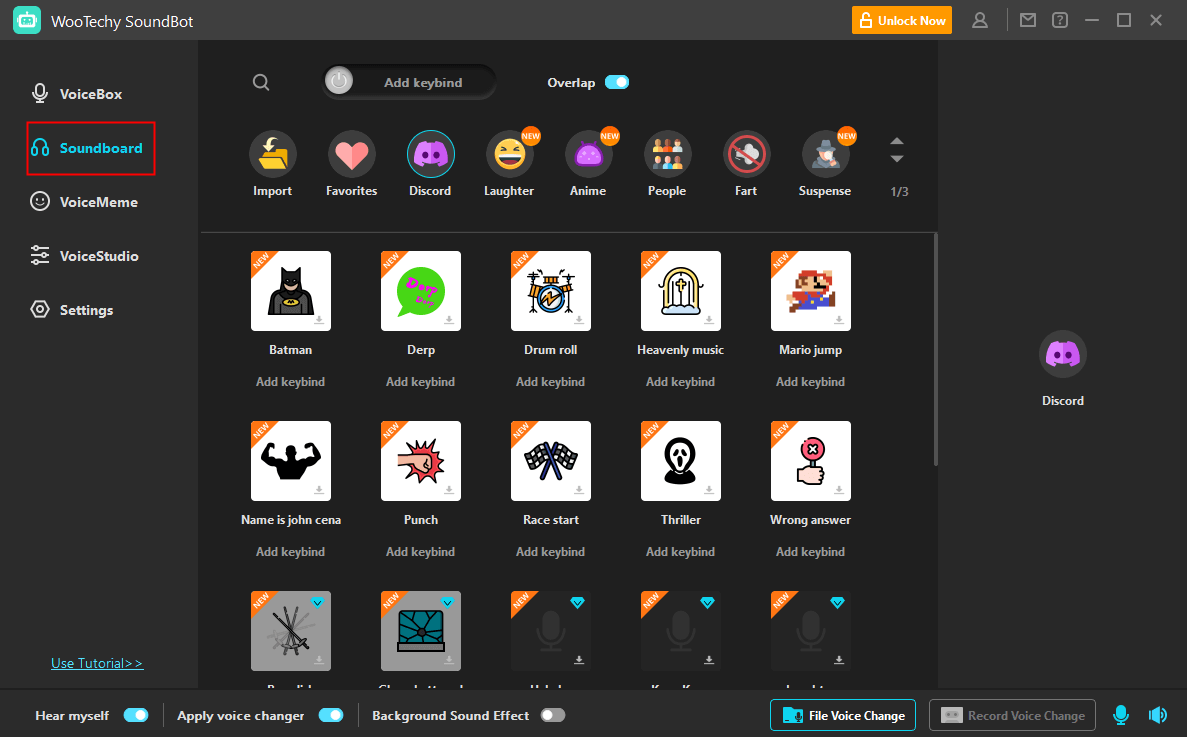 Pick the sound effects that fit your need or set them as keybinds for different keys and commands on your device.
How to use WooTechy SoundBot in Fortnite
Ensure that the WooTechy SoundBot is running on your device. Launch Fortnite Battle Royale.
Go to the Setting menu of your game. Click on Audio and select Voice Chat.
Among your Voice Chat Input Device option, choose the Microphone option, which indicates WooTechy SoundBot.
Pick the voice you want in WooTechy SoundBot and start playing your game with your preferred voice effect.
How to use WooTechy SoundBot in Zoom
Ensure that the WooTechy SoundBot is running on your device.
Launch the Zoom app on your device. Go to the Setting menu of the app.
Click on Audio and choose the Microphone option, which indicates WooTechy SoundBot in Test Mic dropdown options.
Part 4. Other Auto Tunes Voice Changers
Apart from WooTechy SoundBot, there are a couple of other online auto tune voice changers you can use. In this section, we have identified three of them for you.
1. Voicemod Autotune
This auto tune voice changer is made explicitly for gamers, vtubers, and other types of streamers. It works well with Gamecaster, TikTok Live Studio, Elgato Stream Deck, etc. It is a free software that can be used to change voices to prank partners, audiences, or friends.
For this purpose, Voicemod Autotune is made up of over 90 voices and effects. However, it works only on Windows. This is a significant challenge because gamers prefer PC with a more sophisticated OS. Furthermore, users complain of the app crashing during use.
Pros
Voice changing in real-time.

Works on several apps and games.

Voice skins and avatars are available.

You can add custom sounds.

New sound effects are added monthly.
Cons
Only compatible with Windows.

Cashes a lot.
2. Clownfish Autotune
On this app, you can change your voice by mixing it with several signals. There are a couple of chic audio effects and voice filters on the platform that you can add to your voice. However, Clownfish Autotune does not allow users to add a preferred voice effect. You can modify your voice on several platforms like Skype, Discord, TeamSpeak, etc.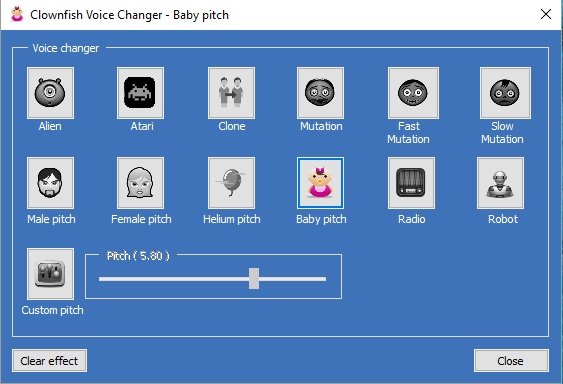 Pros
It has multiple plugins for different features.

Syncs well with online platforms.
Cons
It has limited sound effects.

Works only on Windows

You cannot add more voice effects..

Only custom pitch functions are available.
3. Voice Changer.io
This third option is the most basic auto tune voice changer discussed so far. There are about 51 voices you can pick from on Voice Changer.io. Additionally, there is an option for users to create a custom voice. The output from Voice Changer.io can serve several purposes, including pranking someone for Halloween or April Fool's Day.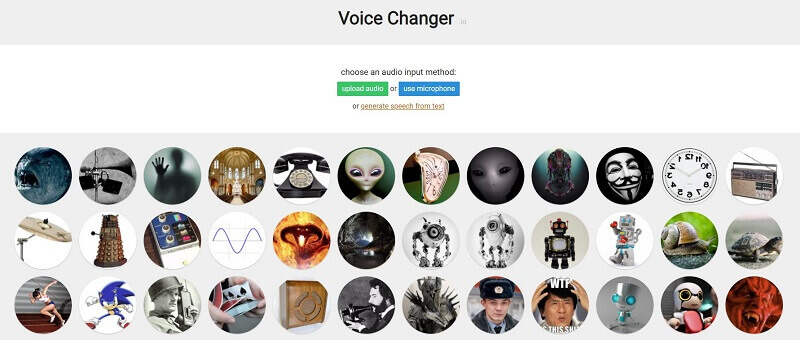 However, it is difficult to understand an audio output on this app if an echo effect is used on the audio. Hence, users need to talk slowly to use this effect or upload a speech with a slowly produced recording.
Pros
Cons
Has limited features.

Works only on iPhone.
Final Words
Instead of always getting caught trying to prank your colleagues at work, friends, and family members, you can use an auto tune voice changer. Even if you can make your voice sound different, WooTechy SoundBot saves you the stress of doing a voice that is not yours for the duration of a call or game.