It's entertaining to alter your voice when playing games, such as switching to VRChat. You may achieve this by using a competent voice changer for the VRChat application. Many individuals utilize the voice changer in VRChat to play practical jokes on their loved ones. Most people use voice changers to deceive others too.
The top 5 best VRChat voice changers are introduced in this article, along with instructions on how to alter your voice in VRChat. The voice changer for VRChat can easily transform a female voice into a male one and produce robot voices, cartoon characters, etc.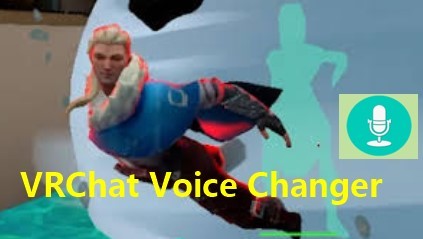 Part 1. Can You Change Your Voice in VRChat?
Of course, you can changer your voice in VRChat.
How you transform your voice into an anime character has been a common question. We'll walk you through the process of doing voice modulation in real time so that your voice sounds precisely the way you want it to. Let's start by explaining what VRChat is all about.
What is VRChat?
VRChat is a virtual reality social network that allows users to connect with other 3D figures, or avatars, that replicate their images. In the social game, users may explore different virtual worlds created by others who also utilize the platform.
Part 2. Best 5 VRChat Voice Changers You Should Know
If you wonder to changer your voice in VRChat, then using a great VRChat voice changer may be the smartest alternative to make it. The following lists top 5 VRChat voice changers to you, you can pick your preferred one to help you change your voice in VRChat.
1

WooTechy SoundBot -- Highly Recommend

 When it comes to VRChat Voice changer, the first one comes into my mind is WooTechy SoundBot. Since it's a pretty smart voice changer software. You are allowed to use it to change your voice to all styles voices you like, such as gaming voice changing, minions voice changing and so on.
Features of SoundBot: Your Best Choice to Change Voice in VRChat
75.000.000+
Downloads
Just a handful of the more than 100 speech filters available in SoundBot to change your voice. It includes Venom, Kylo Ren, Space Marine, and Vecna.

Our software enables real-time communication and content creation.

Online services that support SoundBot include Discord, Skype, Zoom, gaming chats, live broadcasts, and many more.

It works with all Windows system versions and offers file voice change support.
How to Use SoundBot to Change Your Voice on VRChat:
Step 1 Install and download SoundBot to your computer. If you are lucky enough, you can use it for free since this tool will release several free voice filters every day.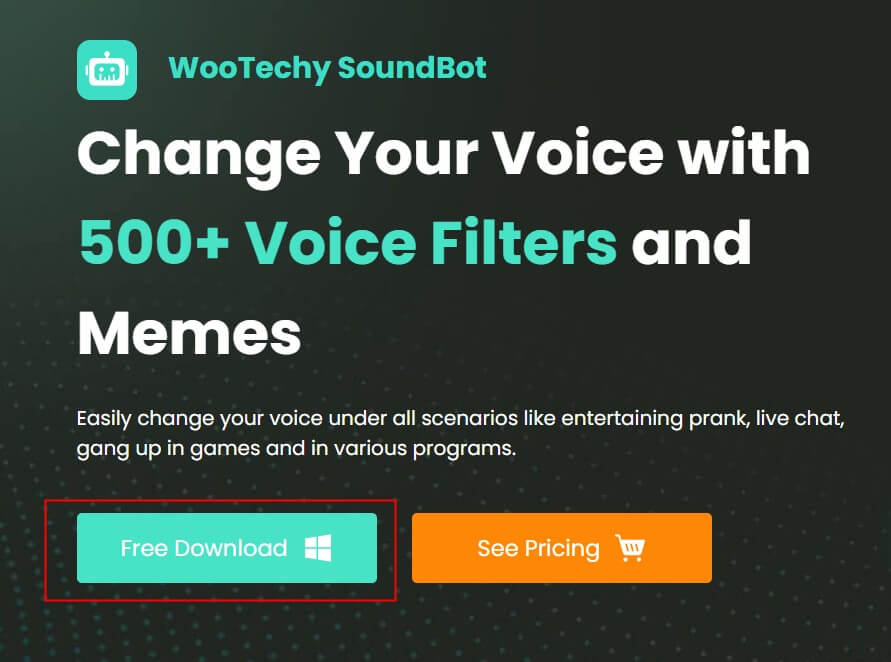 Step 2 Open the program and set the current input and output audio devices of the computer, as well as the corresponding volumes.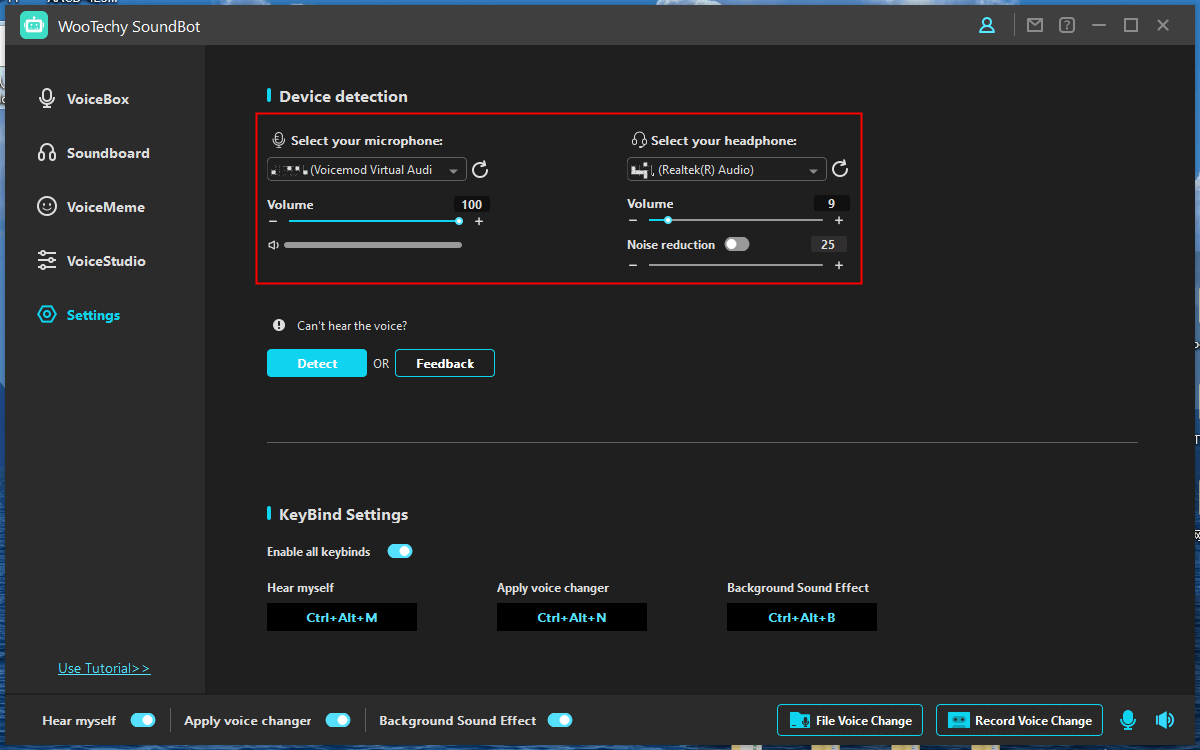 Step 3 After that, select the VR voice or any other voice from hundreds of voice filters, and then you should be able to convert your voice into a virtual one in real time.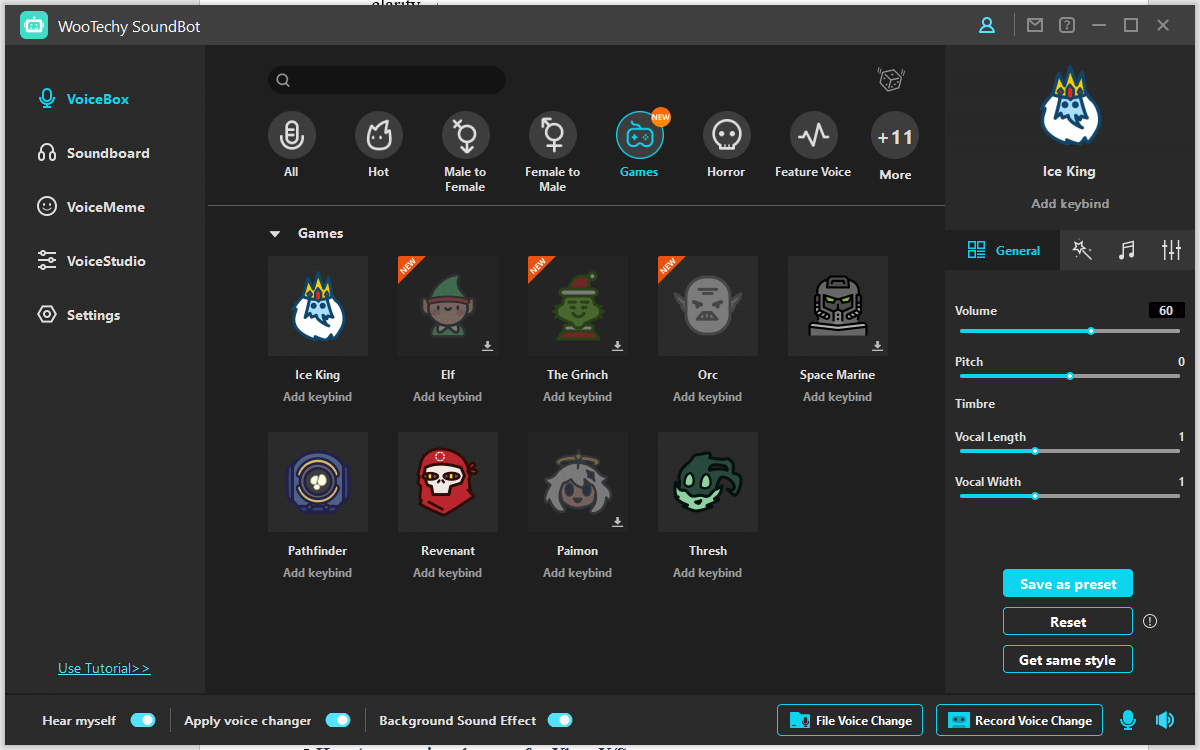 As you can see, there are various voice filters you choose to change your voice, so if you notice some beautiful and interesting voice filter and memes, you can also enjoy it with WooTechy SoundBot.
2

MagicVox

The free PUBG voice changer UnicTool MagicVox for Windows works without issues with your system sound devices. Any software, such as Steam, League of Legends, CS:GO, Skype, Twitch, Fortnite, and others, will allow you to record your altered voice in this manner.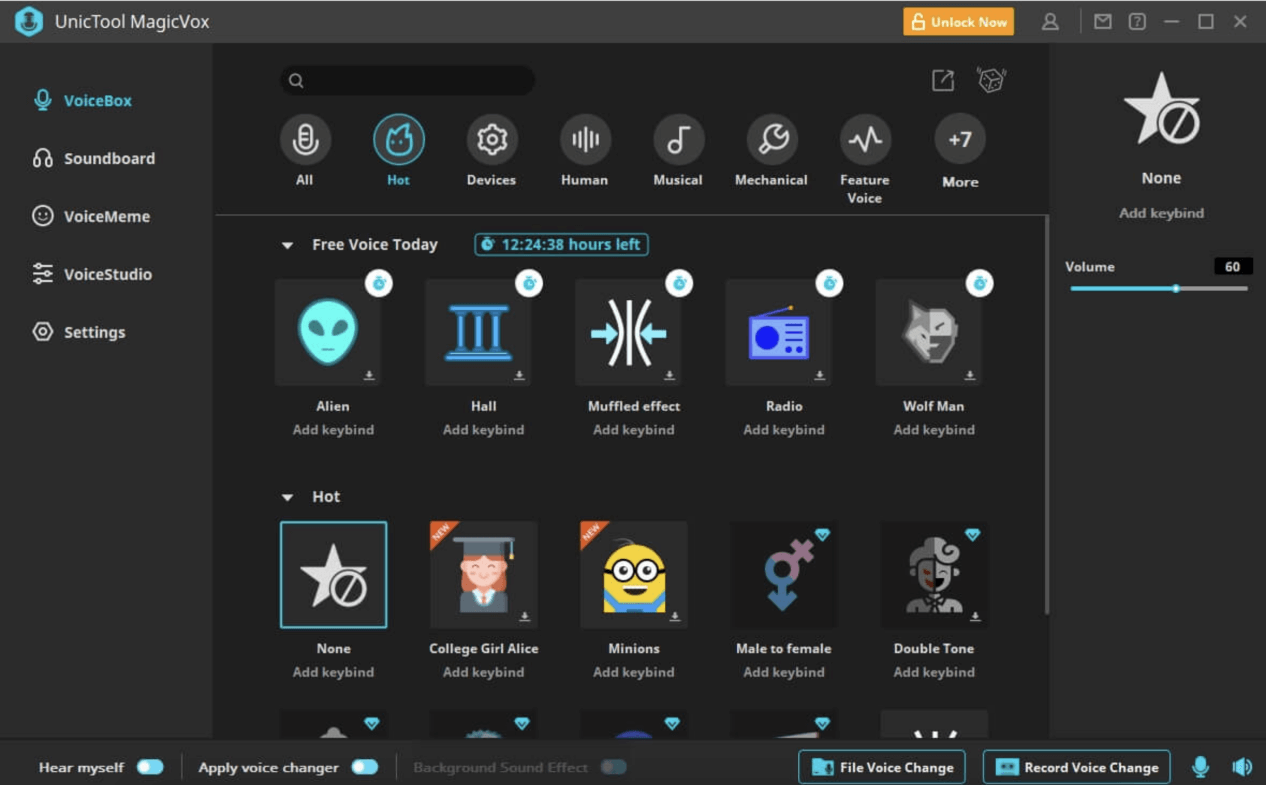 Pros
100+ filters and free voice filters every day.

Custom voice studio to make the VRChat sound you like.

Great compatibility for games.
Cons
You can only use it on Windows computer.

Voice studio needs a learning process.

Sometimes glitch in sound feedback.

There is no free filter to choose.
3

MagicMic

Now, you are aware of the top VRChat voice changer applications. However, we advise MagicMic if you require a thorough voice changer. It is compatible with several games, including PUBG, CrossFire, World of Warcraft, Second Life, Fortnite, CS:GO and live streaming and chatting systems.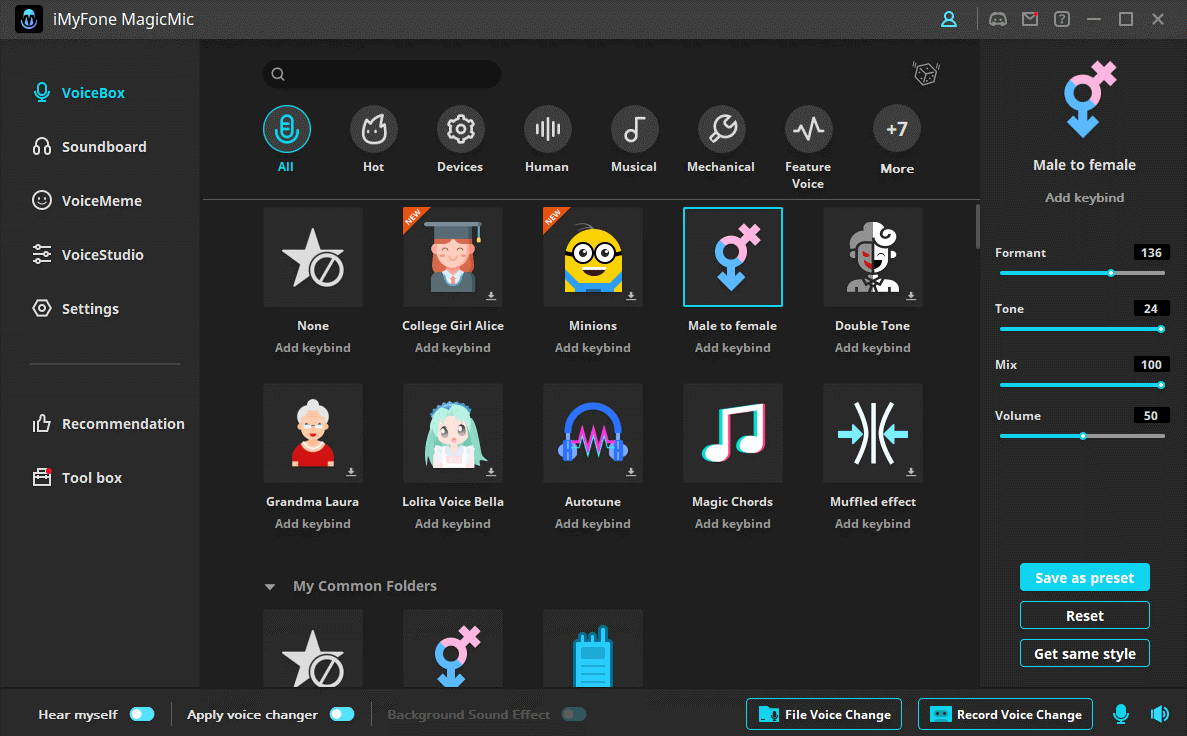 Pros
It is simple to use

It provides audio effects, such as background noise.
Cons
Good, although not the greatest for gaming

Much more expensive than WooTechy SoundBot VRChat voice changer.
4

Clownfish

Clownfish is a free voice changer that gives its consumers incredible services and can meet your needs if you're seeking a lively voice changer for VRChat. Using this intriguing voice changer, you may alter the voice of any application's audio.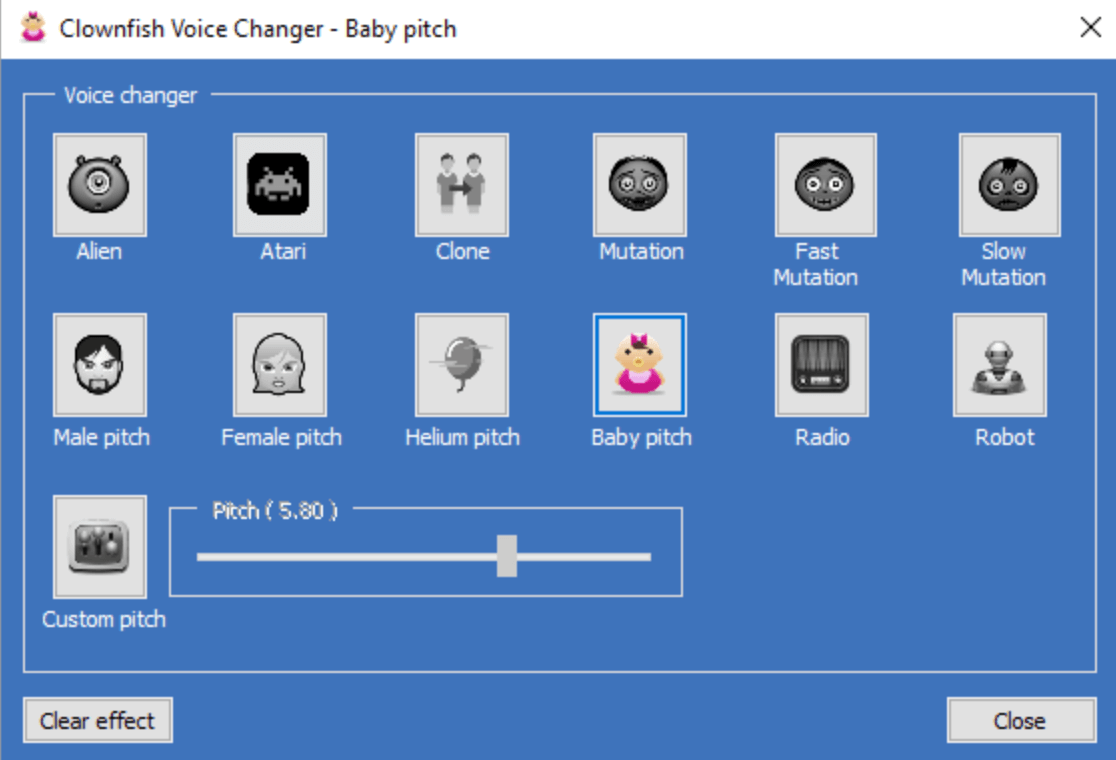 Pros
There are 14 different voices to choose from.

You may make jokes about your colleagues by changing how you speak.
Cons
A limited number of voice effects with various voice characteristics.

Limited voice filters

Complicated configuration process for advanced users
5

VoiceMod

With the help of the audio application VoiceMod, you may alter your voice when speaking to other people. This voice modulator program delivers several effects and enables real-time adjustments. Aside from being compatible with online gaming, it may be integrated with streaming apps.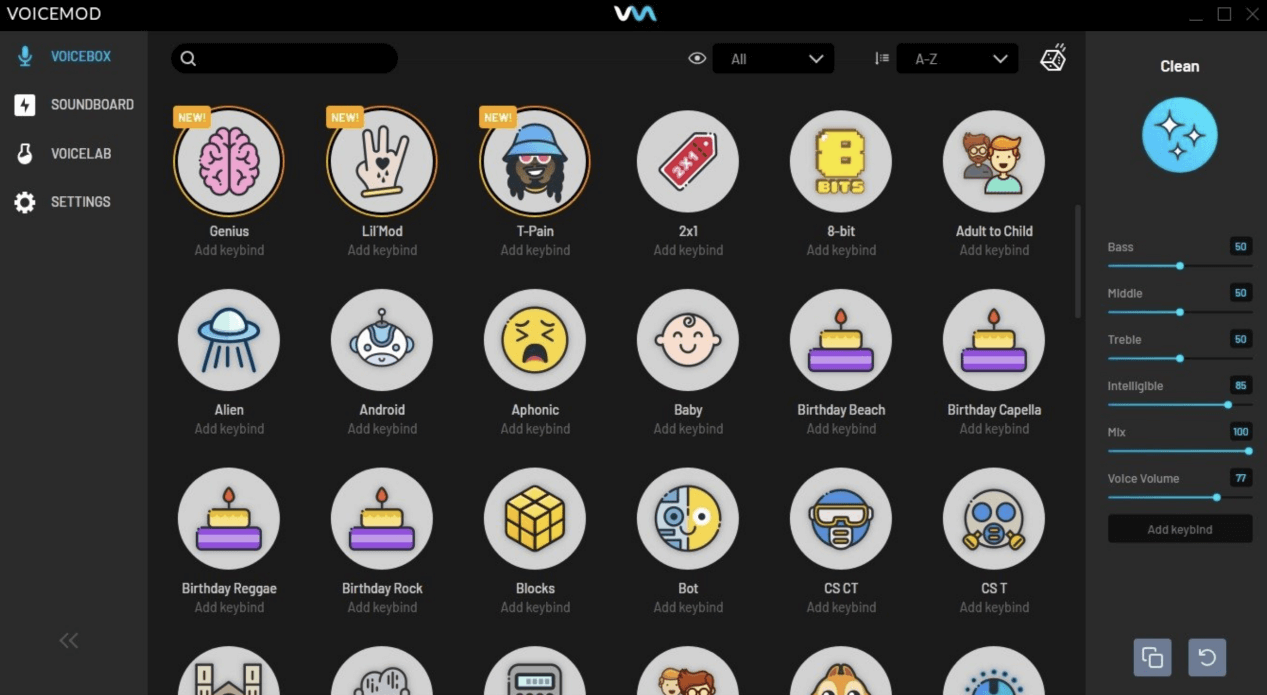 Pros
Cons
Filters and effects are inadequate

Pricy subscription plans

Advanced voice settings could be complex
Conclusion
The VRChat voice changer sometimes lets you and your friends have fun together. The value of a voice changer increases when VRChat is brought up for debate. On VRChat, the Voice Changer may be used for amusement.
We looked at five engaging VRChat voice changers that can improve your experience significantly—one of the most widespread pieces of free voice-changing software WooTechy SoundBot