With the fast development of entertaining short videos and film productions, virtual voices, or fake voices, has gained massive popularity on the Internet. Among all virtual voices, the funniest and most popular one is definitely the Minion voice.
Originally created by the movie Despicable Me and its excellent sequels, the Minion voice always give viewers a sense of funny and goofy character. That is also why it is the most suitable virtual voice for entertaining short videos or film productions.
If you are also wondering how to speak like a Minion voice, keep reading because in the following, we are going to talk about everything about Minion voices and the best Minion voice changer apps.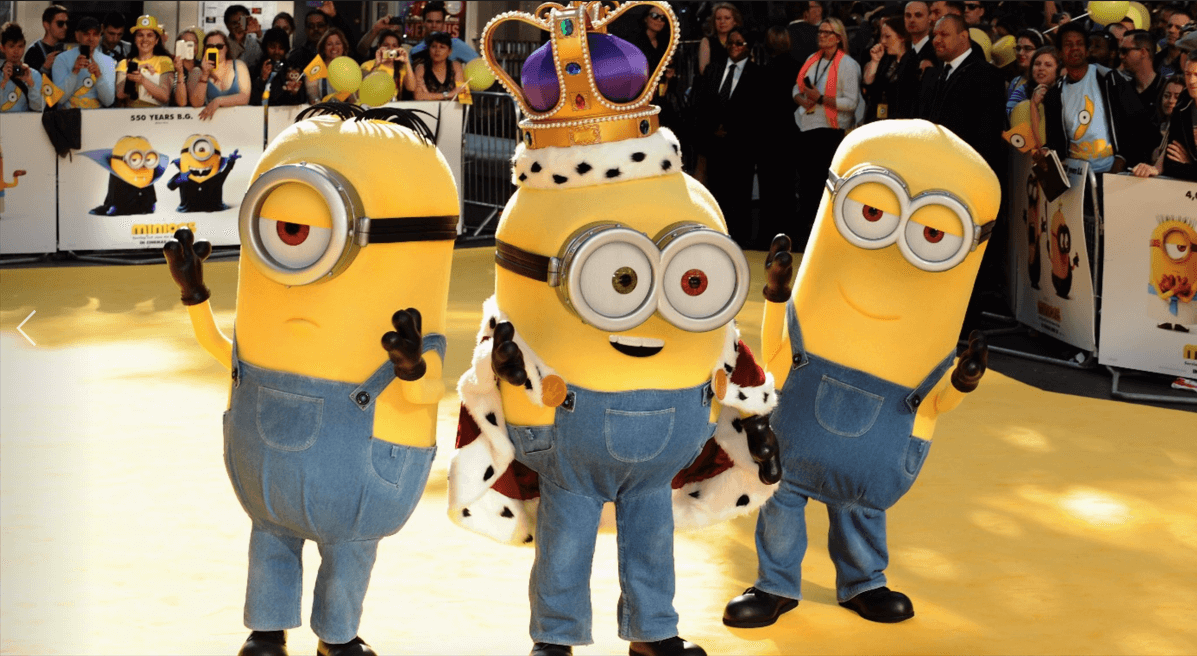 Part 1. Can I Make My Voice Sound Like Minion Voice?
Of course, you can make your voice like Minion voice.
Like all other virtual voices in movie productions, the Minion voice we perceive in the movie Despicable Me and its sequels are created by industrial audio manipulation software and synthesis. Such tool is only accessible in the professional movie production industry.
However, with the fast development of sound technologies, nowadays it is easy to find Minion voice changers that are so easy to use and also not expensive for anyone to sound like a Minion.
So, if you are wondering what are you can make your voice sound like Minions, the answer is definitely Yes. All you need to speak like me a Minion, is a solid Minion voice changer app.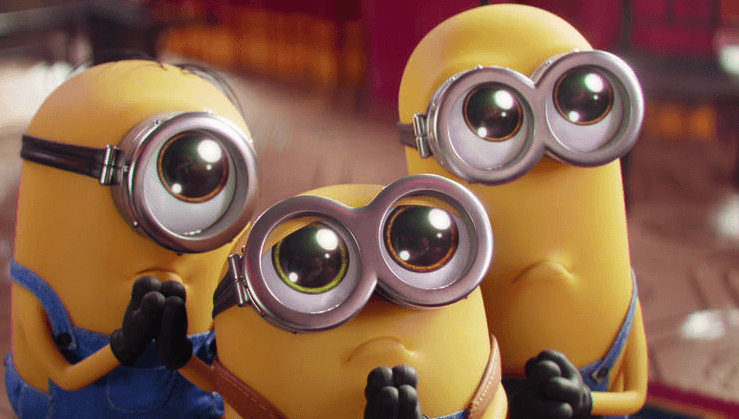 Part 2. Best Minion Voice Changers to Make Your Voice Sound Like Minions
Because you need a Minion voice changer app to make you sound like a Minion, it is quite important that you pick a good one If you seek a decent output Minion voice simulation.
After some research and review, we have picked several great Minion voice changer apps so you don't have to do it yourself. Have a look at our choices of best Minion voice changer apps before you start making your own voice sound like a Minion.
1

WooTechy SoundBot

when it comes to fantasy Minions voice changers, WooTechy SoundBot is definitely worthy to be at the top of the recommendation list. With an advanced AI voice processing technology and a massive voice filler library, SoundBot has been providing solid voice changing services for users all across the world for years.

It can be used as a Minion voice changer for gaming, conferencing, video creation and a lot more scenarios, such as Anonymous voice change, changing voice in games and so on.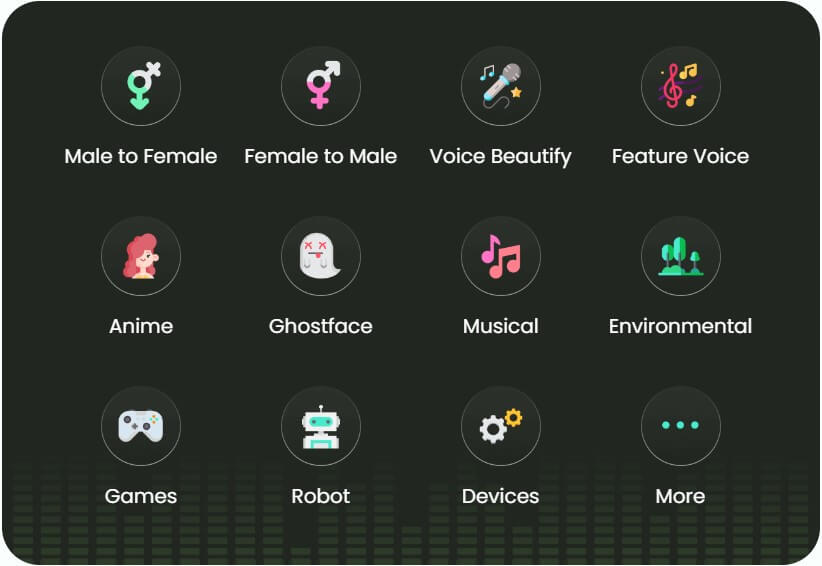 Shining Features of WooTechy SoundBot: Best Minions Voice Changer App
75.000.000+
Downloads
Massive voice library with 500+ filters and memes including Chipmunk.

Intuitive and modern user interface.

Great support for all games and online conferencing software.

Customizable key bind and one-click voice swap.

User-friendly interface supports you a great use experience.
One of its most excellent features is that WooTechy SoundBot is extremely intuitive and easy to use. The following is a simple guide showing you how to speak like a Minion voice with WooTechy SoundBot.
Step 1 Download WooTechy SoundBot from its official website and install it to your computer. The program has free voice filters every day so there is no need to worry about the pricing at the moment.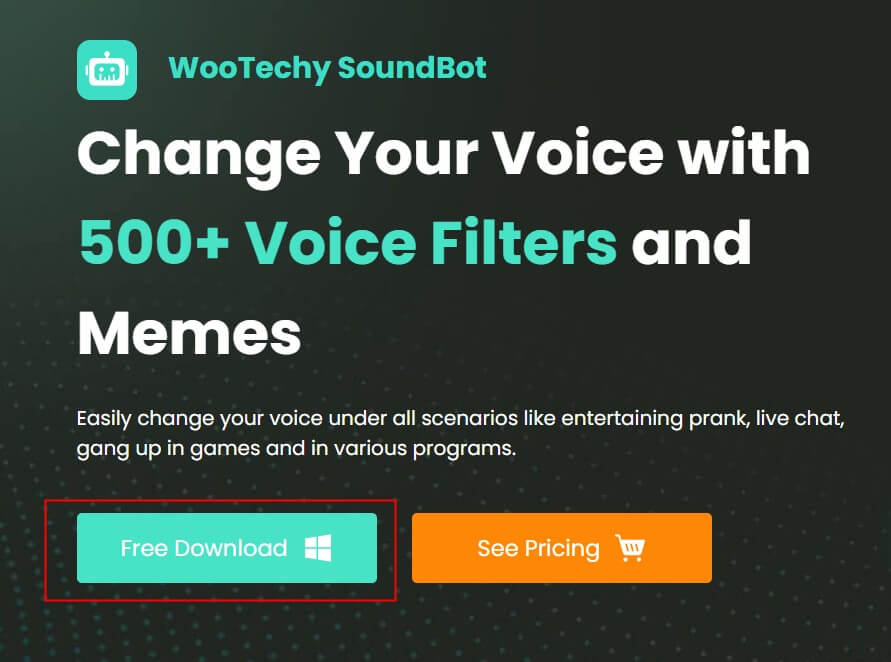 Step 2 Launch the program and configure the current input and output audio devices of your computer, as well as the corresponding volumes.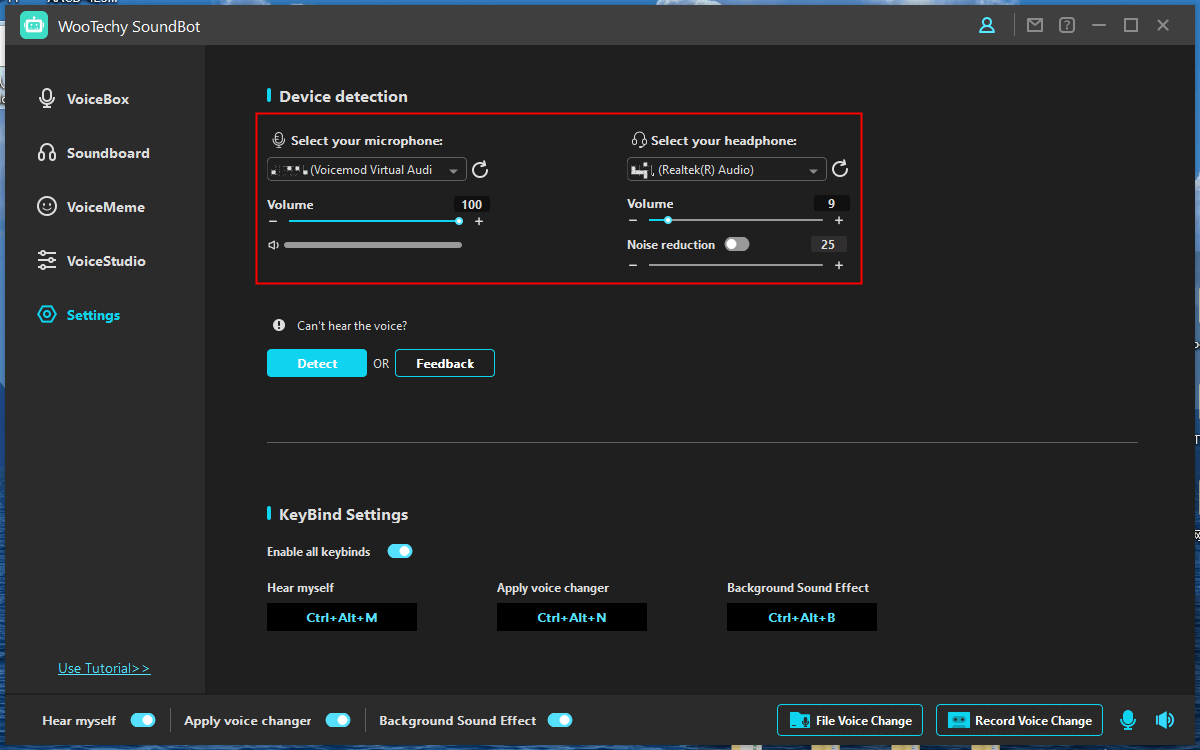 Step 3 After that, select the Minion voice or any other voice from hundreds of voice filters, and then you should be able to convert your voice into a virtual one in real time.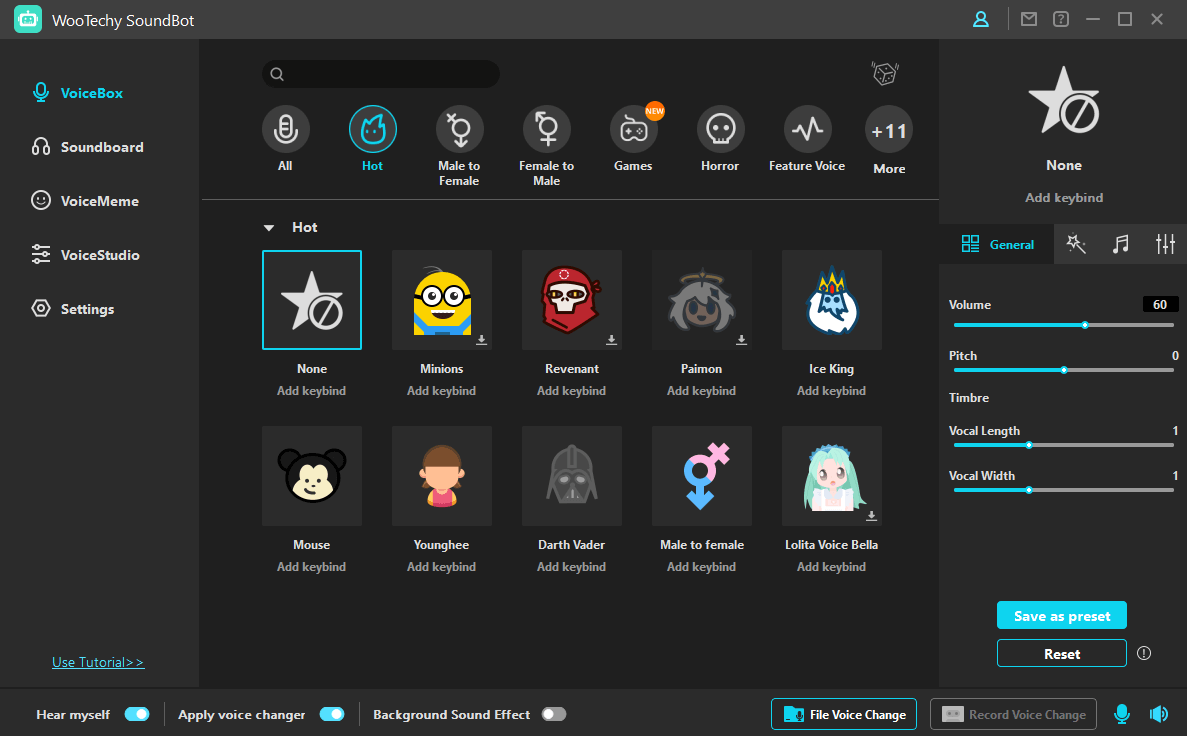 2

MagicVox

MagicVox is also a nice Minion voice changer app that can be utilized to make your voice sound like a Minion. It is mainly promoted as a gaming voice changer, but could also be a great Minion voice changer app with its great compatibilities and hundreds of interesting voice filters.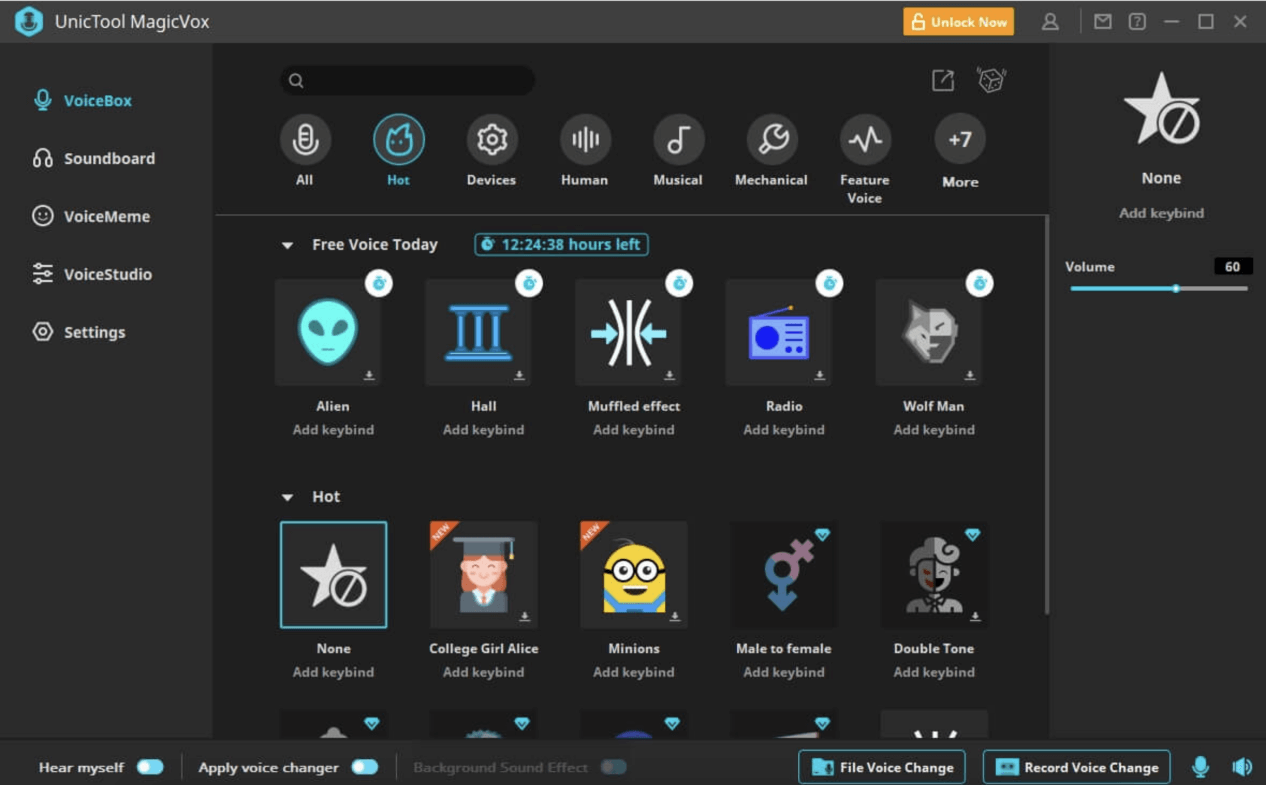 Pros
100+ filters and free voice filters everyday

Custom VoiceStudio to make any sound

Great compatibility for games
Cons
Only available on Windows

Need a long-term improvement process

Some feed back for the difficult use options
3

VoiceMod

VoiceMod is also a well-known AI Minion voice changer for the windows platform widely used for Minion voice, online conferencing and entertaining video making.

It does not have as many voice filters like the ones were introduced above, but the virtual voice result is quite decent, and the user interface is clean and beautiful.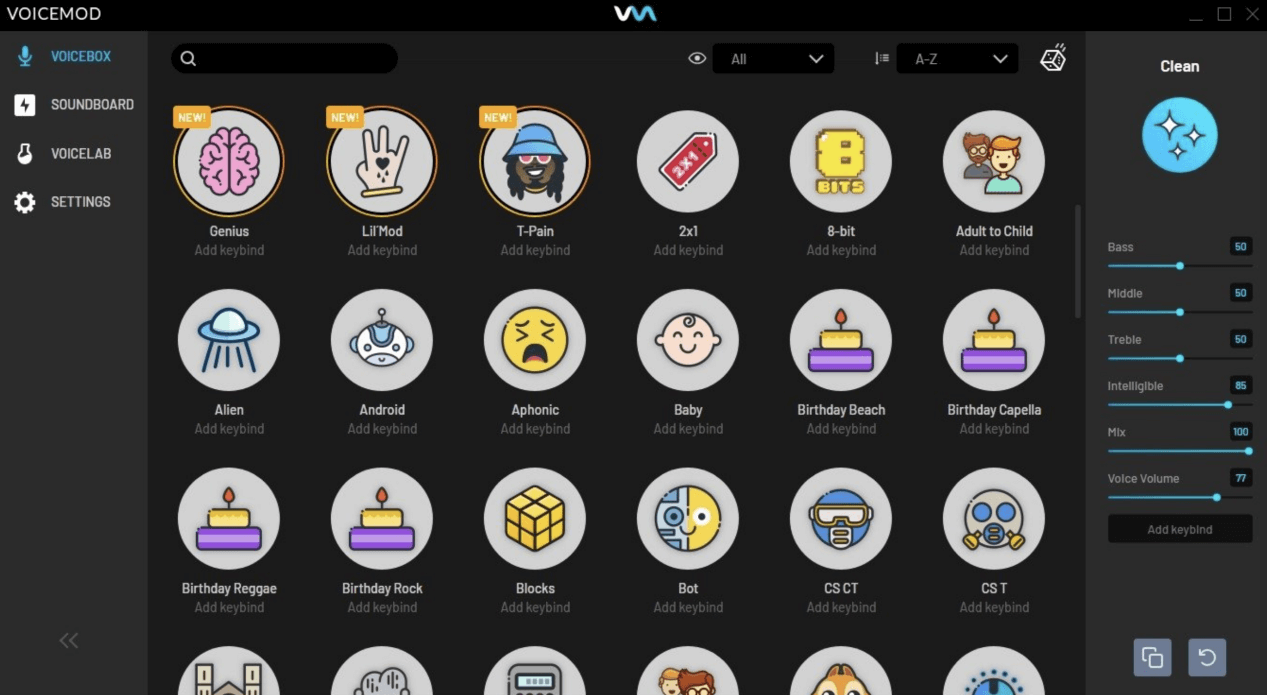 Pros
Great compatibility for games and online conferencing

Intuitive user interface

Implement of AI voice simulation
Cons
Lack of filters and effects

Pricy subscription plans

Advanced voice settings could be complex
4

AV Voice Changer Software Diamond

AV Voice Changer Software Diamond is a choice of balance when it comes to Minion voice changer. Not only does it have multiple voice filters and effects, it also has built-in tools that allows you to make your voice sound like Minions.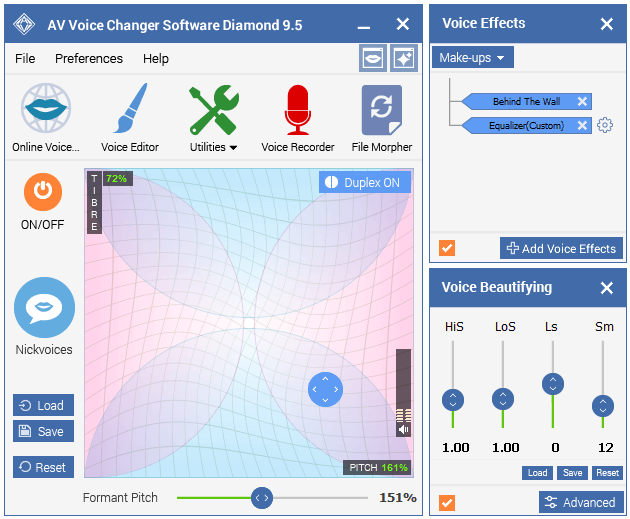 Pros
Advanced audio manipulation tools

Great audio processing workflow

Detailed waveform editor built-in
Cons
Complicated for beginners

Interface is obscure

No trending voice filters
5

Clownfish Voice Changer

Clownfish is known as the Minion voice changer app used to buy the famous YouTuber Tiko. With Clownfish, you can easily apply some of the funniest voice effects to your original voice, or simply acquire the same voice effect as Tiko does in his YouTube channel.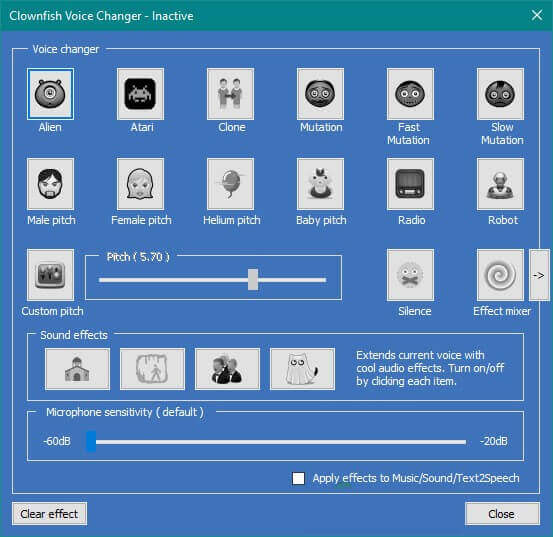 Pros
The official recommended voice changer by Tiko

Supports virtual studio, technology, plug-in

Supports various media in native music player and sound player
Cons
Lack of voice filters

No Minion voice in preset

Complicated configuration process for advanced users
Conclusion
As one of the most popular adopted virtual voices on the Internet, Minion voice can be easily stimulated by Minion voice changer apps. Today we introduced the best 5 Minion voice changers for you to choose from.
After reviewing and testing these programs by ourselves, it is pretty obvious that WooTechy SoundBot stands out in terms of voice filter counts, customization abilities, output qualities and a lot more aspects.
Download WooTechy SoundBot for free and try it out yourself, I'm sure you'll be impressed how good it is seen when simulating Minion voices.