It's officially the festive season! That means it's time to celebrate and spend quality time with loved ones. What's a better way to enjoy Christmas than playing games with friends and family? Why not try a Christmas voice changer to do a nice cosplay on the Elf voice you like?
Using an Elf voice changer can be a great idea. You can use it to make your voice sound like an Elf or any other characters' voices you like, such as Minions, SpongeBob and Witch, etc. Keep reading to find out about the best Christmas elf AI voice changers and how to use them to celebrate your Christmas Day with more joys and fun.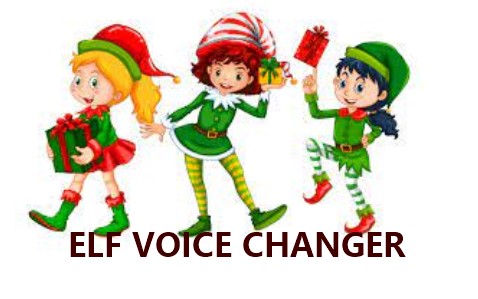 Part 1. Which Is Your Favourite Elf Voice
Before you get started with the computer bits, you need to choose your favourite elf voice! There are so many different elf voices out there! There's the cheeky-chappy, the quiet feminine elf, the youthful and fun elf, and the grumpy old one.
Choose your favourite elf voice based on what best represents your personality. You can also gather a group of friends and play with a couple of the voices on multiple devices!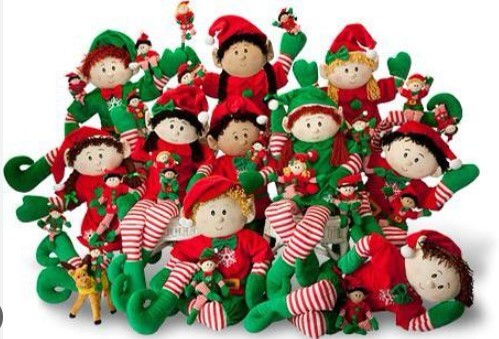 Part 2. How Can I Make My Voice Sound Like An Elf?
Since Elf is a pretty popular cartoon characters, there are many Elf voice changers emerging in the market, which attracts many user's eyes. The following will fully introduce top 3 Elf voice changers for you.
1

WooTechy Soundbot - Highly Recommended

We highly recommend the WooTechy SoundBot for the elf on the shelf voice changer. It really is the best real-time AI voice changer available on the market. The SoundBot is so much fun to use and it's really easy to install. There are over 125+ unique accents and voices on the WooTechy SoundBot.

You can use the SoundBot while you're on zoom, on live chat, or while you're gaming! You can even make a video using the AI voice-changing sound effects.
Why We Should Choose WooTechy SoundBot? Best Real-Time Elf Voice Changer!
75.000.000+
Downloads
Comes With Over 125 Voices and 400+ Sound Effects: Beside elf voices, you can also make gaming voice change, male to female voice change, scream voice change and more.

Free Voice SoundBoard: SoundBot will provide several popular and interesting voice filters each day. If you are lucky enough, you can use the Elf voice changer for free.

Real-time voice: The best thing about Soundbot is that you can change your voice in real time. You don't need to stop your game or shut-down your computer to change the voice effect.

Easy to Operate: Just a few simple steps are needed during the whole process, you can change your voice as an elf with more ease.

Wide Use: SoundBot can be widely used by users from all around the world without any OS limitation.
How to Use WooTechy SoundBot to Change Your Voice Sound Like An Elf:
Step 1 Click the free download icon to install SoundBot on your computer. Launch this tool on the PC.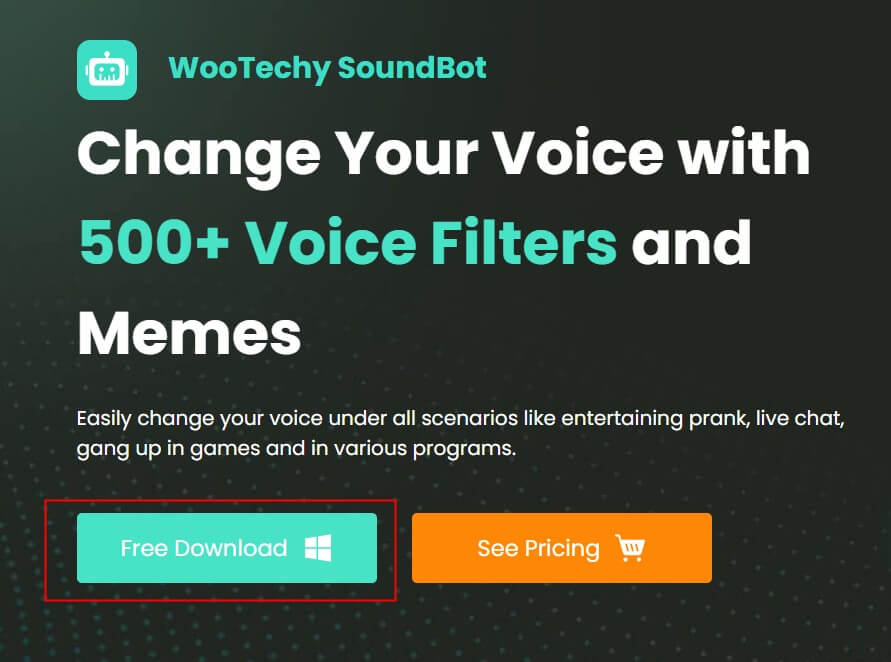 Step 2 Select input and output audio devices of the computer, make sure both them can work well.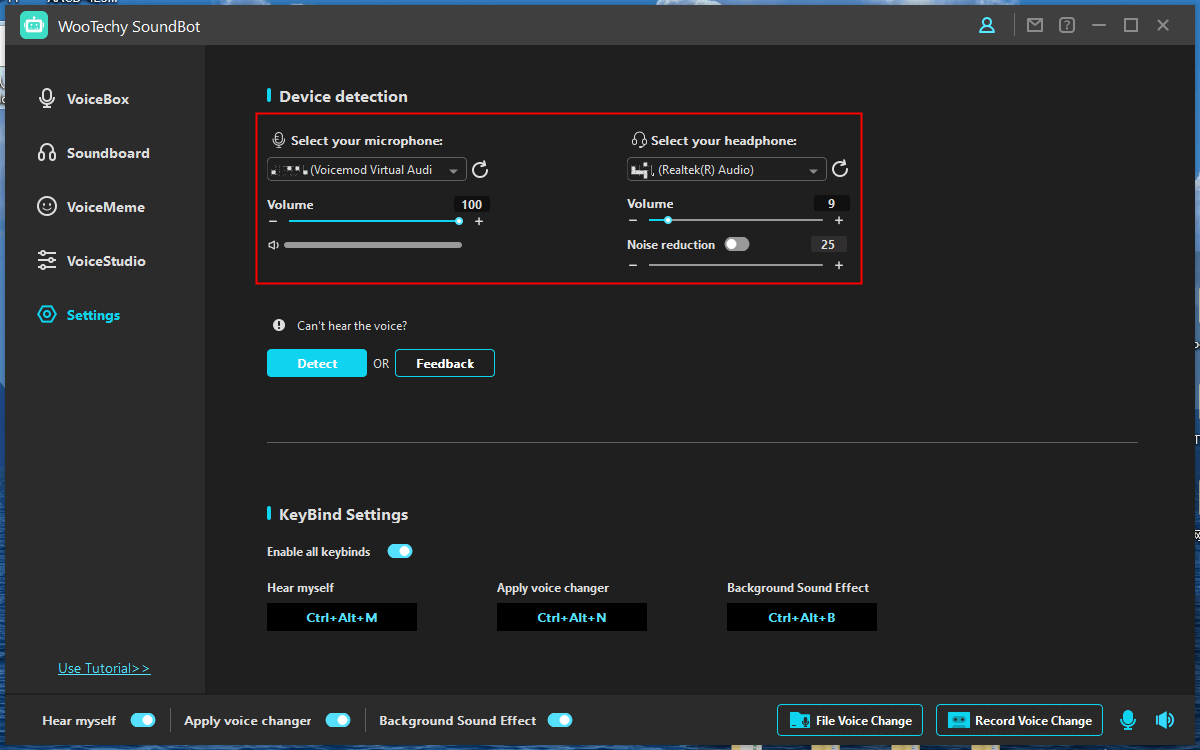 Step 3 After that, select the Elf voice from the voice effects showing on the SoundBoard column, and then you should be able to convert your voice into a virtual one in real time.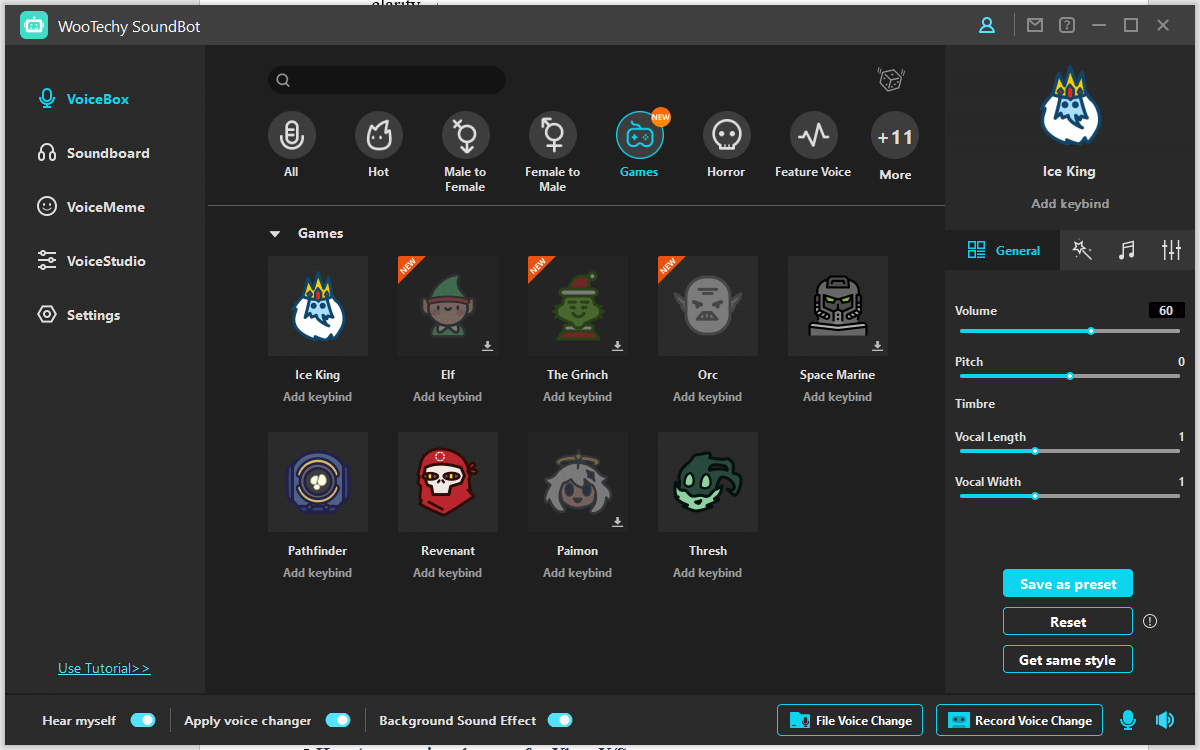 There is no time limitation, you can record your voice and changer it to Elf voice or any other voice effects you like directly with WooTechy SoundBot. This is a wonderful voice changer, just enjoy it!
Though we think WooTechy SoundBot is the most excellent Elf voice changer you can use. There are also other alternative elf voice changers you can use if you want. However, you need to think it twice before use these kinds of elf voice changers listed below.
2

Magicmic

Magicmic is also an available elf voice changer. This voice changer has about 100+ voice filters and memes. It can also be an option for you if you want a voice changer that is created specifically for gamers. However, there is no free voice filters and memes provided every day, you should pay for it if you want to use this voice changer no matter for which voice character.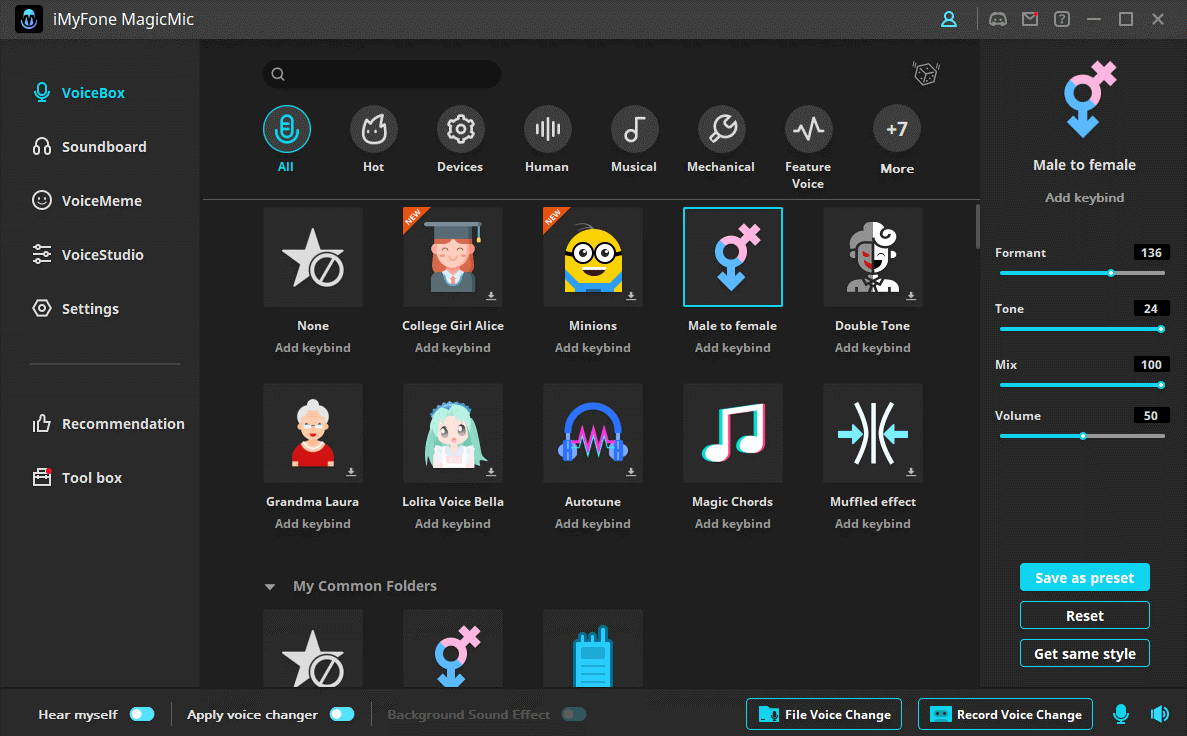 3

VoiceMod

VoiceMod is specifically designed for gamers. It's a voice changing software that is made for high-intensity video games. There are over 400 voice effects to choose from on VoiceMod. You can go from a Christmas elf to a robot in a split second. That's pretty impressive!

But like Magicmic, Voicemod also doesn't provide any free voice filters or memes. The operation steps is a little complex, which is unfriendly for newbie users.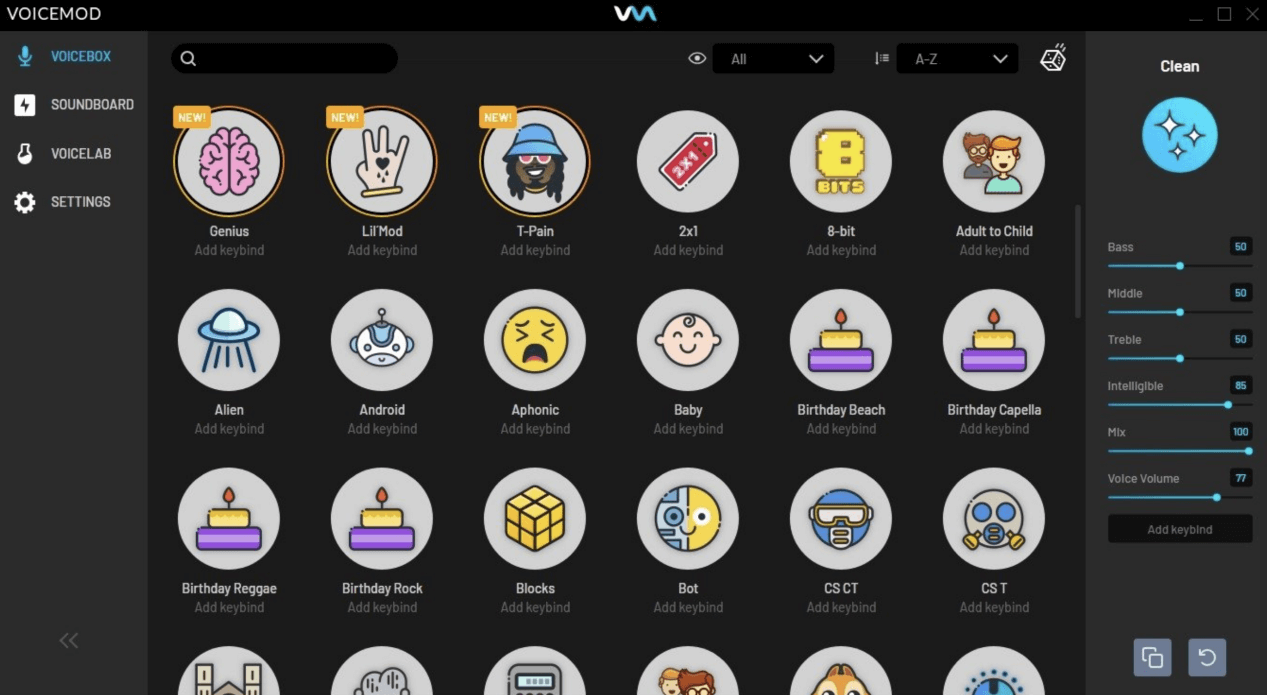 Conclusion
WooTechy SoundBot is the best elf voice changer available! WooTechy SoundBot is so easy to use. You can quickly and easily make an elf on the shelf voice changer on your computer. Your friends and family are going to love listening to you talk like a cheeky Christmas elf. It's really going to get everyone in the Christmas spirit!
We hope you've enjoyed reading about our favourite elf voice modulator. Make sure to let us know in the comments below how you like your new elf voice changer. We promise you'll have such a fun time gaming with the SoundBot software!