We hope you have a wonderful Christmas! Do you want to bring happiness to your Christmas? Yes, you can do this by using the fantastic Christmas sound effects. You only need software with a lot of Christmas sound effects.
WooTechy SoundBot is the best software available, with 400+ sound effects. More than 300 of them are built-in sound effects. You can add happiness to your Christmas by using the Christmas sounds available on WooTechy SoundBot. This real-time voice changer has impressive sound effects, including many Christmas and New Year sound effects. These sound effects make your Christmas unique, entertaining and joyful.
This article will teach us how to use WooTechy Soundbot as a Christmas Soundboard or Santa Soundboard. We will learn the use of Christmas sound effects available on WooTechy SoundBot.
Part 1. The Best Santa or Christmas Soundboard -- WooTechy SoundBot
The WooTechy SoundBot is a professional tool that comes with a variety of Christmas sounds and sound effects. It is fully functional and helps you celebrate your Christmas with its popular sounds. WooTechy SoundBot has amazing sound effects, including Christmas and New Year. These effects can add fun to your voice or event videos.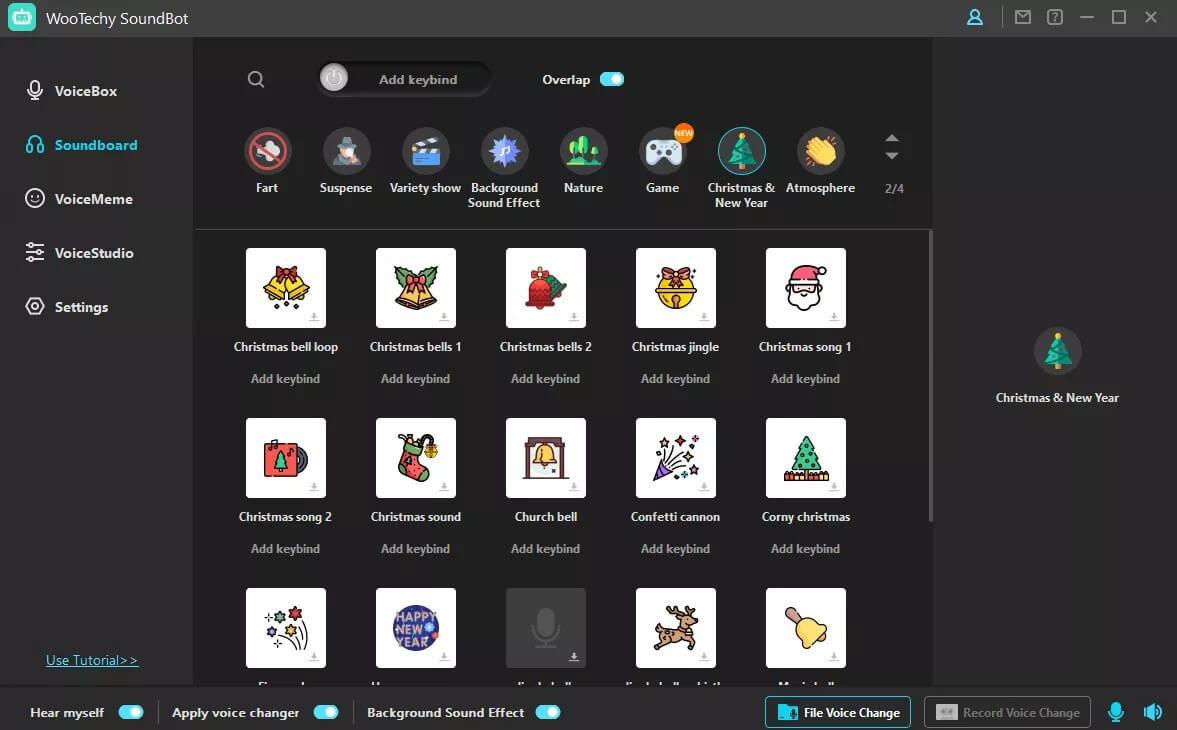 So, you can make use of it during the Christmas season. This Chrismas Soundboard is much popular for its wonderful features. Some of the features of Santa Soundboard are as follows:
SoundBot – Powerful Santa Soundboard with Full Christmas Sounds
75.000.000+
Downloads
Apart from changing your voice to Santa Claus, you can use various Christmas sound effects for entertaining prank, live chat, gang up in games and more.

Good for content creators as it supports uploading audio track or video files and then change the voice to Santa.

You can add 400+ sound effects and 200+ voice memes including Christmas sounds in different platforms and games like Discord, Zoom, Valorant, Fortnite, etc.

With the VoiceStudio feature, you can adjust differen parameters to create your own favorite audio effects.
It really is the best Santa Claus soundboard available on the market. This Christmas Soundboard is so much fun to use, and it's really easy to install. With these features, WooTechy SoundBot helps to make your Christmas a merry Christmas!
Now we will discuss which Christmas sounds SoundBot can offer and how you can enjoy your Christmas using them.
Part 2. Christmas Sounds That WooTechy SoundBot Can Offer
WooTechy SoundBot has more than 400 sound effects, including many Christmas sounds. These are discussed below:
1. Christmas Bells
People often think of Christmas bells as a sign of the holiday season. The New Year starts when bells ring. Most importantly, people ring them all through Christmas to let people know that the season has started.
WooTechy Soundbot offers a variety of Christmas bell sound effects that will make you laugh and smile this holiday season. Here are a few examples:
Christmas Bell Loop

Christmas Bells 1

Christmas Bells 2

Christmas Jingle

Church Bell

Magic Bell

Jingle Bells
2. Christmas Songs
First of all, listening to Christmas songs can make us happy. Christmas songs help us capture and express the joy, devotion, and awe-inspiring scenes of the nativity.
Many of us think of Christmas songs as reminders of our childhoods and happy times with gifts, traditions, and everything else that makes this time of year special.
WooTechy SoundBot provides an amazing list of Christmas songs. Some of these are as follows:
Christmas song 1

Christmas song 2

We wish you a merry Christmas

O come all ye faithful

Stoned for Christmas

Wonderful time
3. Other Christmas Sound Effects
This Christmas Soundboard has wonderful sound effects that are very popular during Christmas. Thousands of people use the app to bring joy and laughter to their Christmas.
I have discussed the sound effects of Christmas bells and Christmas songs above. WooTechy SoundBot has a long list of other popular Christmas sound effects that are just as good as the ones above. Here are a few examples:
Christmas sound

Confetti cannon

Corny Christmas

Fireworks

Jingle bells whistle

Music Box

Noise Christmas

Wonderful time
Besides these sound effects, there are many other Christmas sound effects available on the Christmas soundboard. You must install WooTechy to check out these sound effects.
Part 3. How to Use These Christmas Soundboards or Sounds
We have learned about the different Christmas sound effects available on SoundBot. Now the next question is how to use these amazing Christmas sounds. To do this, follow the steps mentioned below:
Step 1 Download and install WooTechy SoundBot. Launch the app on your computer.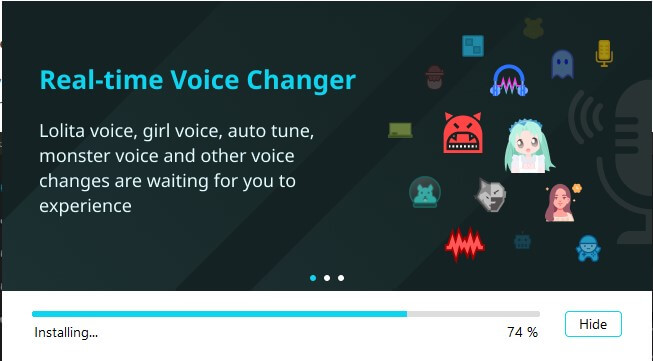 Step 2 You can set up this software by selecting your microphone and headphone as input and output devices.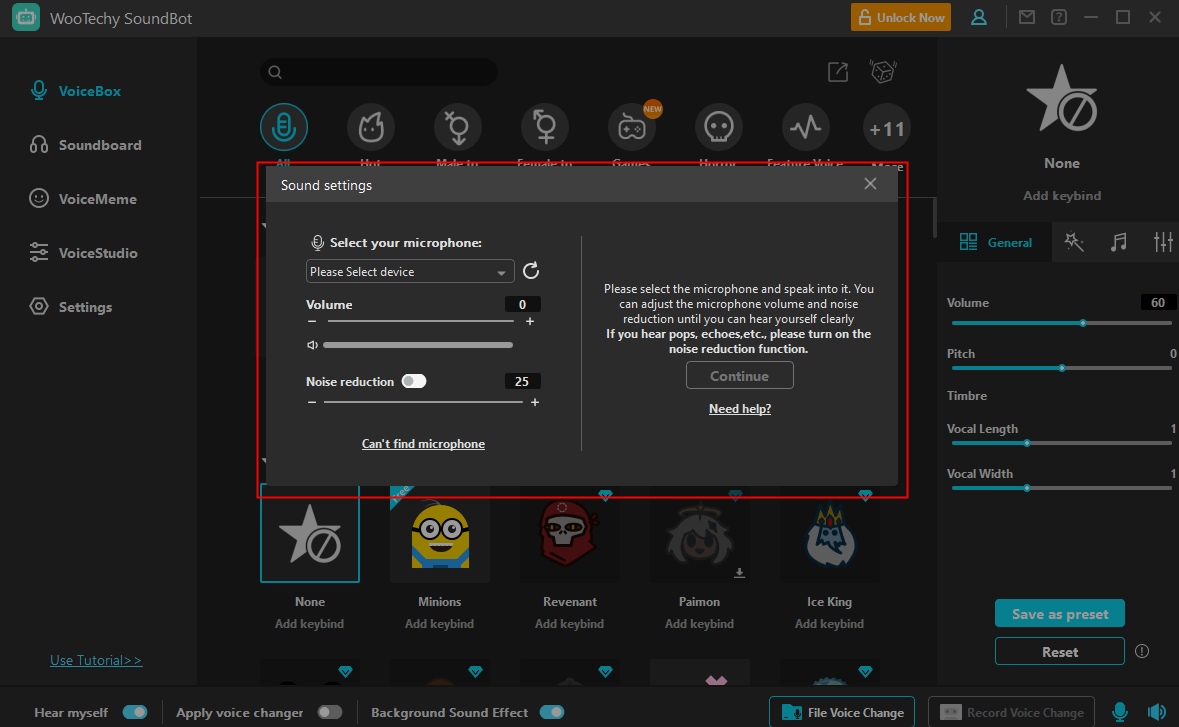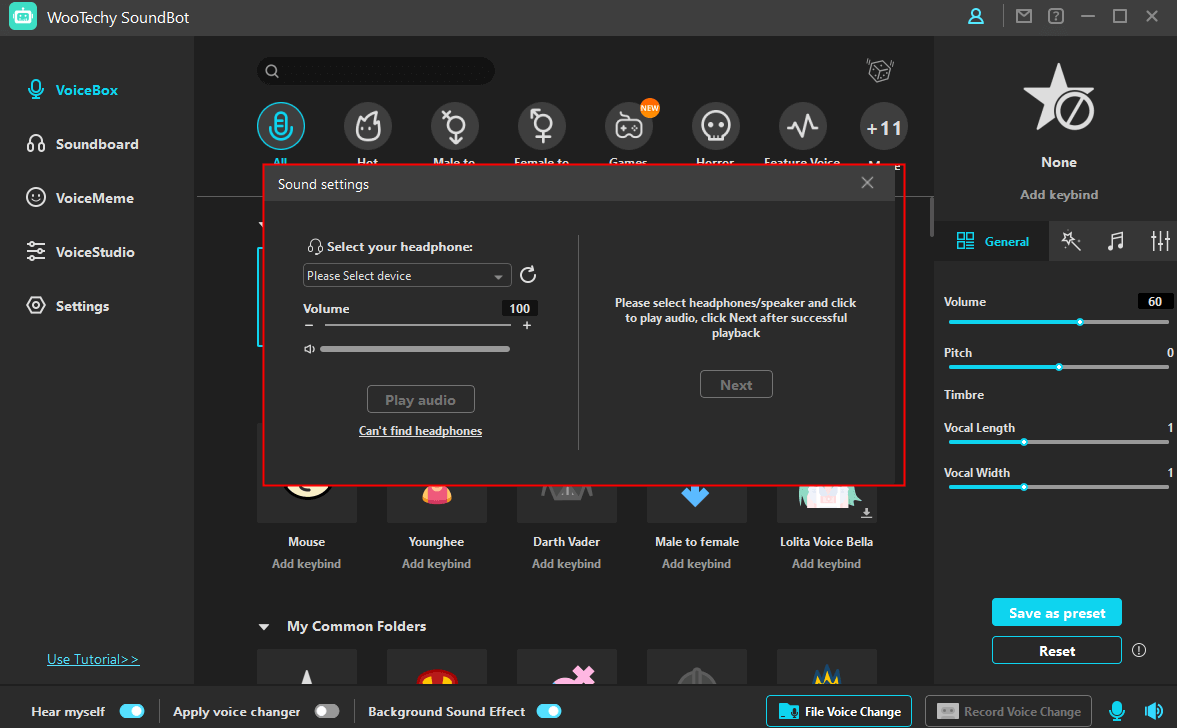 Step 3 Go to the Soundboard tab and select the Christmas & New Year section.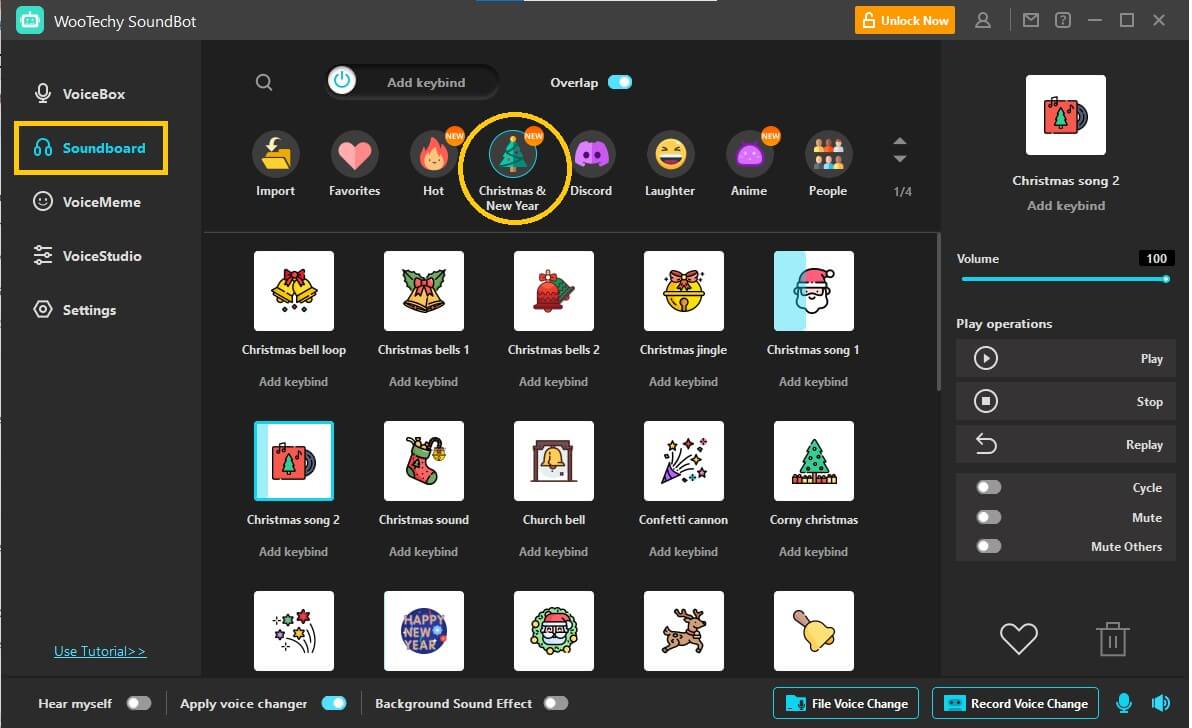 Step 4 You can also import other sounds files to add the Christmas soundboard.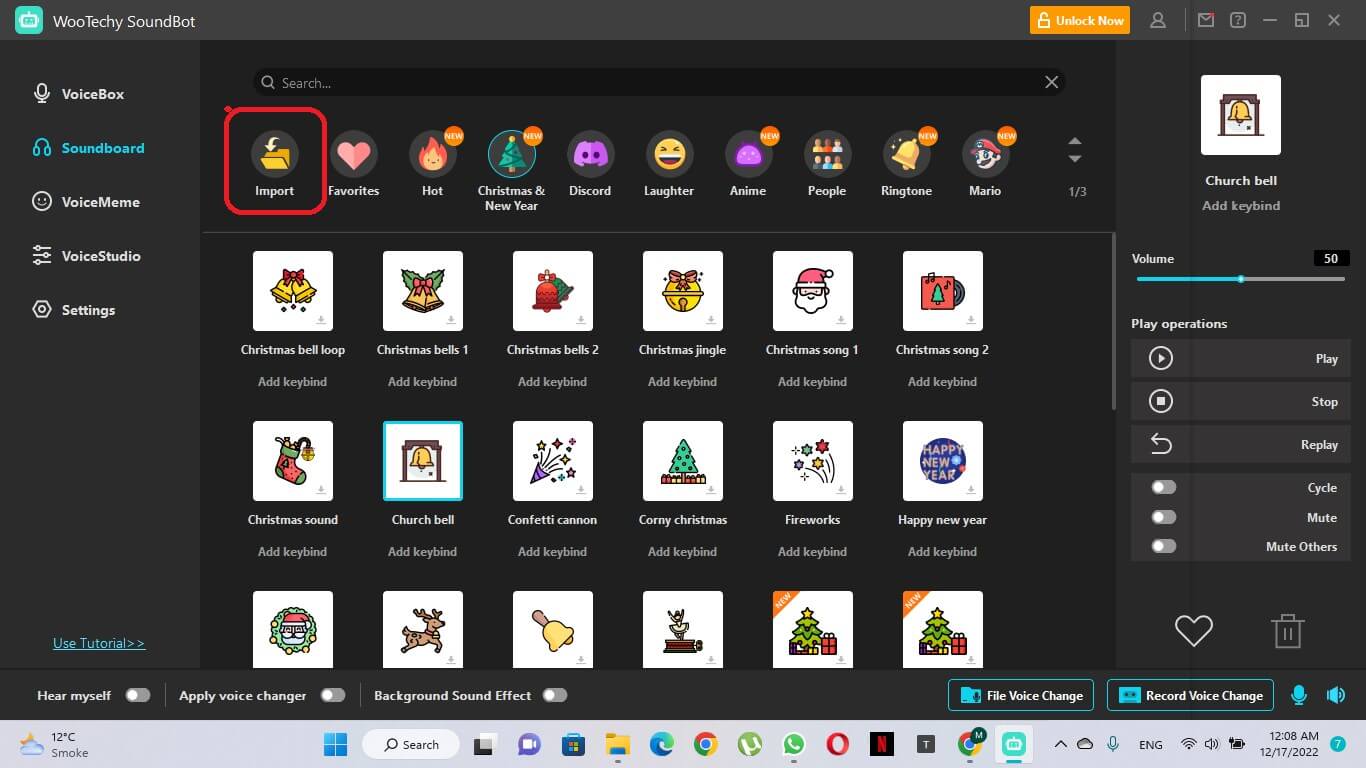 Step 5 Choose your favorite Christmas sounds and use them in your target platforms.
Conclusion
WooTechy SoundBot is the best app for all Christmas sound effects. This Christmas Soundboard is best to make your Christmas joyful, with plenty of Christmas sounds and sound effects. It's so easy to use and takes no time.
Make sure to give us feedback on how well these Christmas sound effects work for you in the comments section below. If you find this article helpful, share it with your friends. We assure you that you'll have an amazing time using the WooTechy SoundBot software as a Christmas soundboard!