Santa Claus is coming to town! Christmas is coming, and so is the felicitation that comes with that time of the year. One activity that characterizes the Christmas period is sharing and exchanging gifts. Apart from Santa coming to town with a bag full of gifts, you are probably thinking about what gift you would get your spouse, children, neighbors, relatives, and so on.
This coming Christmas season, you can make your party and gift more sumptuous with Santa Claus voice. You can do that by including a message with Santa voice for them. And you can replicate that deep, jovial Santa voice with voice changer apps. This article will show you how to do that and how to do Santa's trademark "ho ho ho!"
Video Guide: How to Change Voice to Santa Voice
Part 1. Can You Change Your Voice to Santa Claus?
Yes, you can change your voice to Santa Claus voice. All you need is a Santa voice generator that changes your voice to Santa Claus voice. WooTechy SoundBot is a professional voice changer tool that has different voices including Santa voice.

Although SoundBot is new to the market, it is 100% working and can change your voice to Santa voice in real-time. Moreover, it also supports voice changing for audio files or record voice.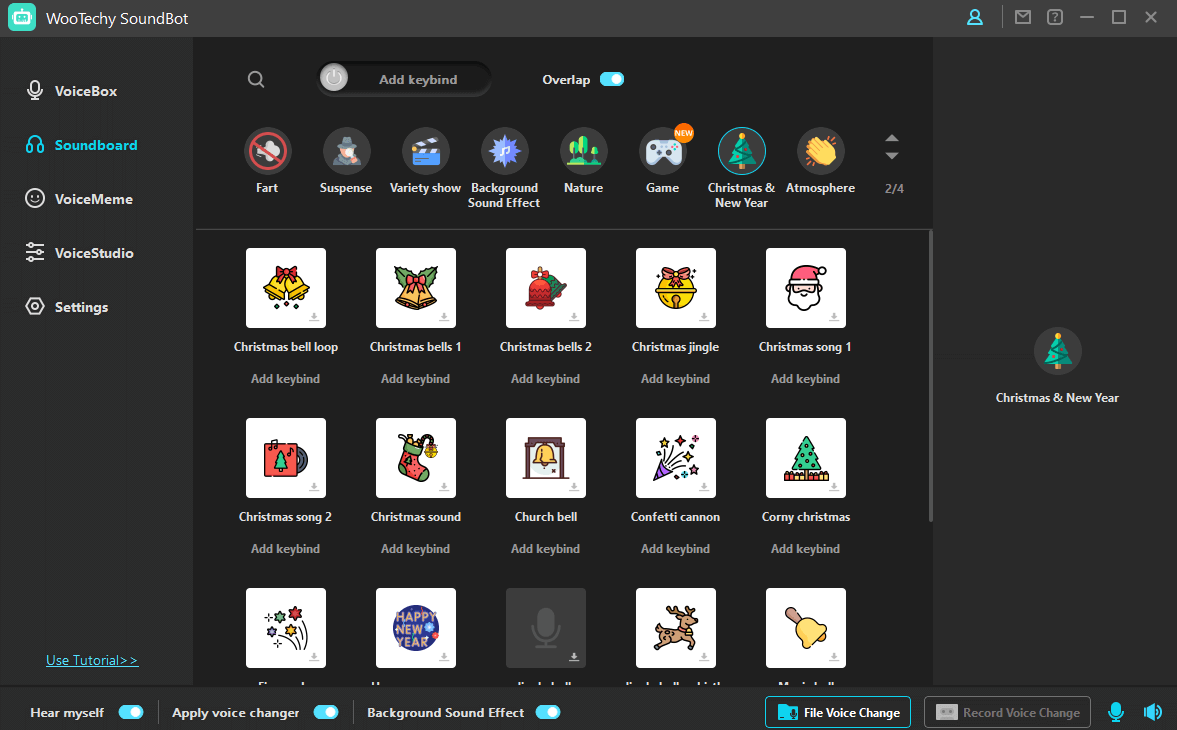 SoundBot – Santa Voice Generator
75.000.000+
Downloads
Santa Voice: Has 125+ voice filters including Santa Claus and change voice under different scenarios like entertaining prank and live chat.

Santa Sound Effects: Has 400+ sound effects like Christmas and New Year to heighten atmosphere in your voice or your festival videos.

Santa Voice in Games: Can change your voice to Santa voice in various programs and games such as Discord, Fortnite, PUBG, Valorant, etc.

Customize Own Santa Voice: The VoiceStudio feature of SoundBot is able to produce your own Santa Claus voice with many audio effetcs.
Here are the steps for using WooTechy SoundBot to change your voice to Santa voice:
Download and install the software on your computer. Launch the app and set it up by choosing your microphone and headphone as input and output devices respectively.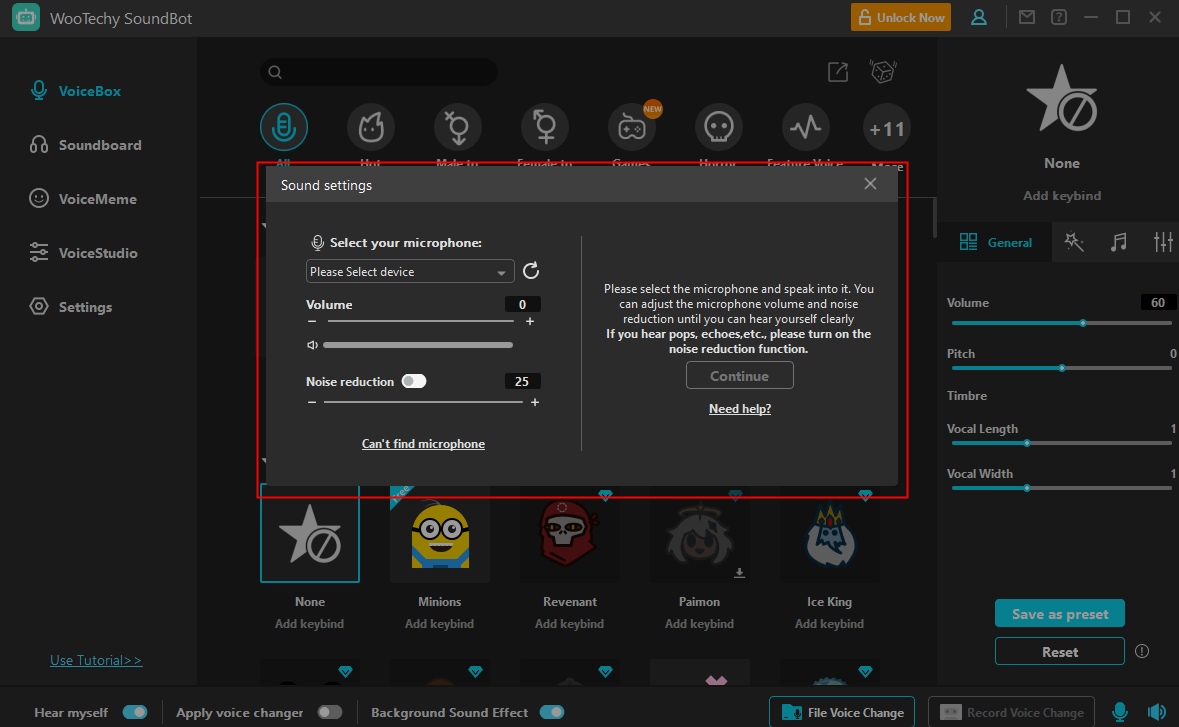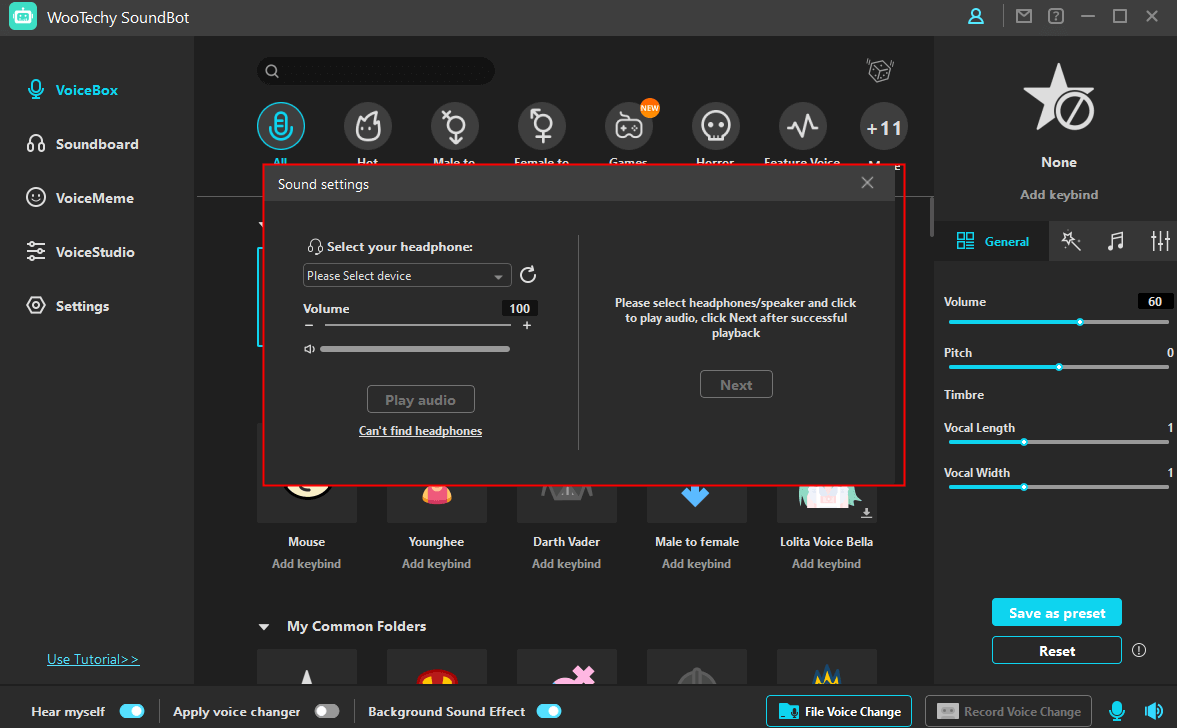 Go to the VoiceBox tab and Feature Voice section. Click the Santa Claus voice and speak into your microphone, you are a Santa Claus Now!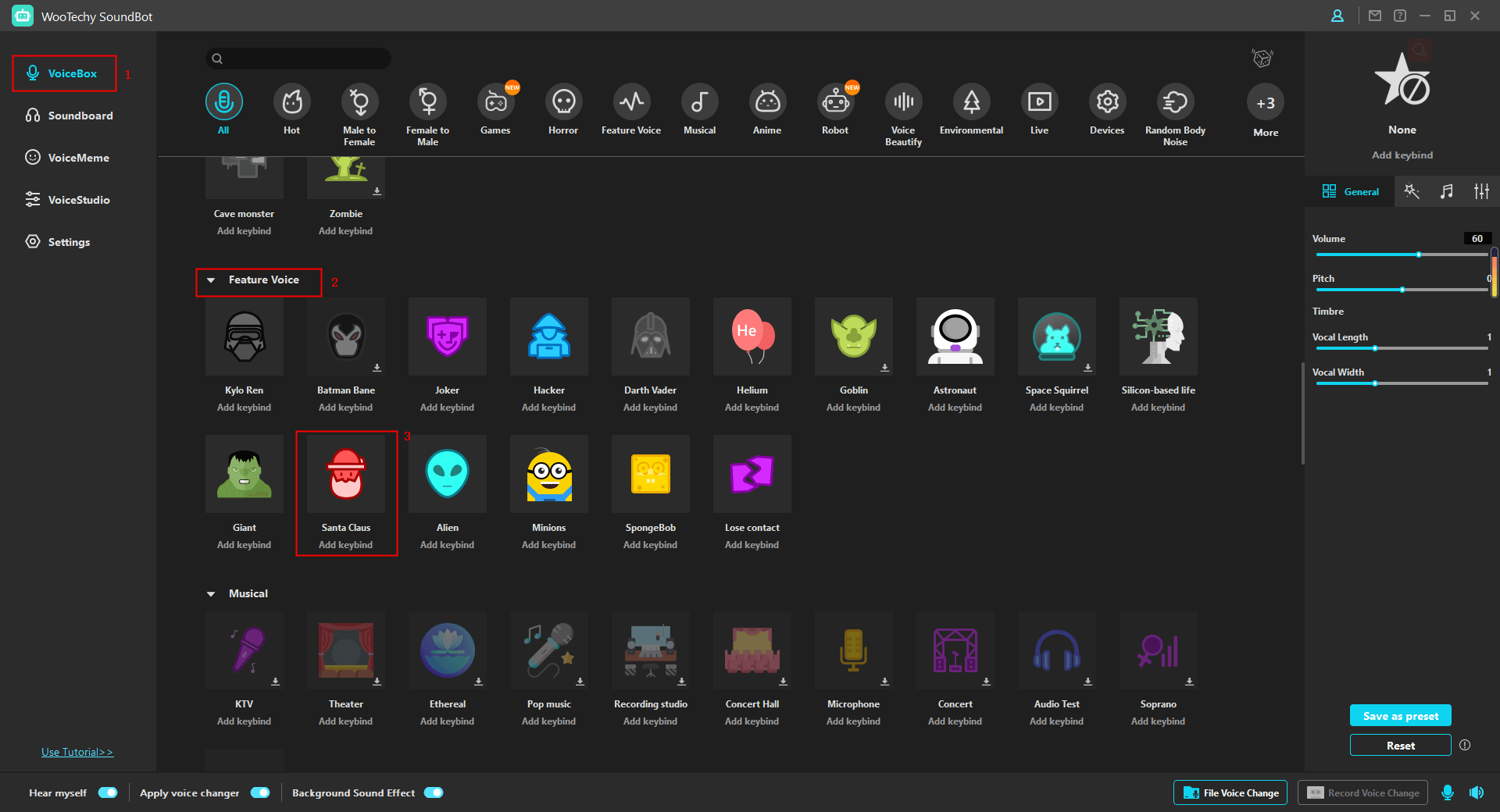 Use these steps to customize your Santa Claus voice on WooTechy SoundBot:
Launch the app and set it up by choosing your input and output devices. Navigate to the VoiceStudio feature.
Adjust the Reverb, Pitch settings until you get a preferred Santa Claus voice.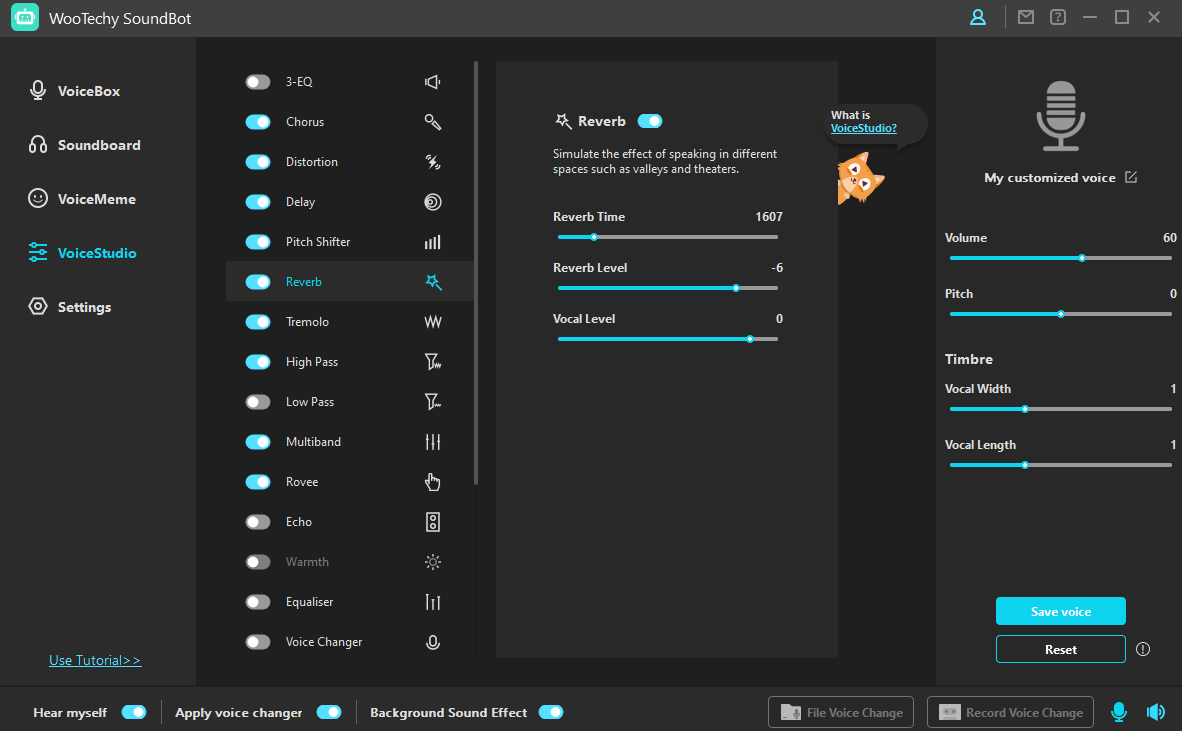 Part 2. How Do You Do a Santa Voice?
Here is the section where we will show you how to make your natural voice sound like Santa voice without hurting your throat or tongue. The first tip we will provide you is to avoid trying to sound like a Santa you saw at a hall or TV show, film, etc. Instead, be original by coming up with a voice that makes everyone smile as Santa does.
However, you still listen to how another Santa voice sounds. But when listening to them, try not to copy their voice. But you can get some inspiration on how your voice can sound like Santa Claus voice. Here are more tips for doing a Santa Voice.
Make your natural voice sound a bit deeper without going overboard.
Use your deepened voice to practice common Santa Claus sayings like "What is your name?" "Yes, I brought you some gifts." etc.
Work on your facial expression with a mirror as you practice those phrases with your deepened voice.
How to do the Santa Clause Chuckle "Ho ho ho!"
Laugh while saying "ho ho ho!" instead of just speaking it.
Put your hand right over your belly to check if the laugh and each Ho! are coming from inside your belly.
Work on your facial expression as you practice the Santa Clause "Ho ho ho!" laugh.
Part 3. Is There an App to Make Your Voice Sound Like Santa?
Yes, there are apps to make your voice sound like Santa on your mobile phones.
1. Message from Santa
This app allows you to change your voice message into Santa Voice. However, it allows for video and audio Santa messages to be created. Hence, you can use it to send your loved ones a Santa voice video or audio message during the Christmas season.
Even though the app is only available for Android phones, it has free Santa Claus voice templates that you can use.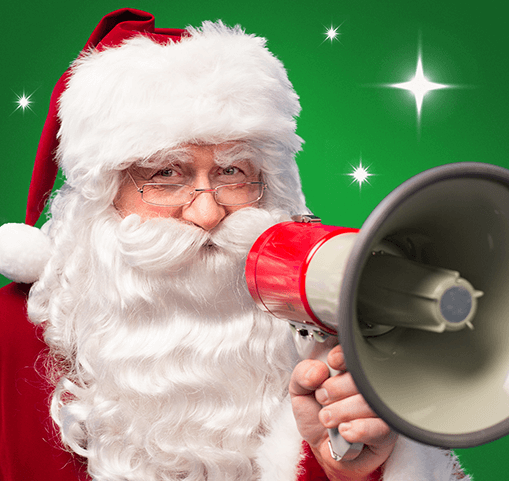 2. Santa Voice Changer
This APK lets users modify their voice to sound like Santa, Rudolph, Elf, and Grinch. Also, you can record your sound with the app using Father Christmas voice to compliment loved ones for the season. Hence, it is considered one of the best free audio recorders and sound editors for Santa voice.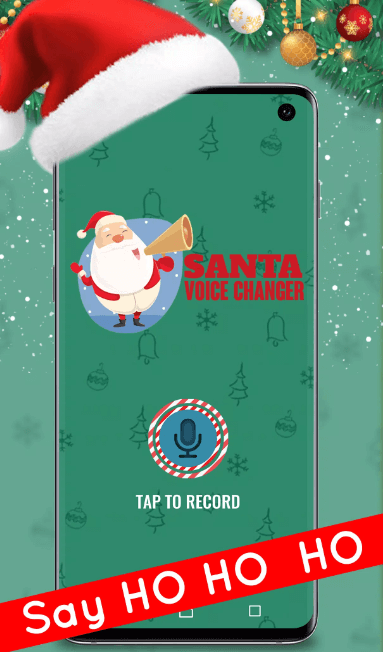 3. Christmas Voice Changer Pro
Christmas Voice Changer Pro is a modernized Santa voice generator. You can use it to bring happiness to your loved one by playing Santa pranks. It has an audio recorder, and sound modifier features to produce Santa voice in a few seconds. It is a free app on Apple's App Store that you can use to make amazing ringtones. Lastly, you can share your voice with friends using the app.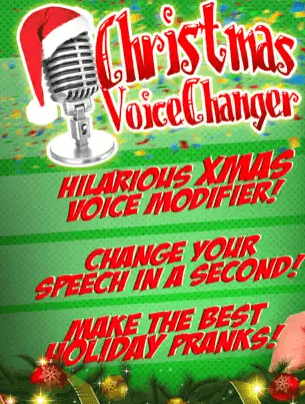 Conclusion
You can make this coming Xmas season the best that you and your loved ones have spent together. One of the ways to achieve a better celebration is to plan for Santa voice messages or videos as part of your gifts.
Hence, this article has included several options to get the best Santa voice generator. We recommend using our WooTechy SoundBot for this. It can change your voice to Santa voice in real-time and can change your audio track to Santa Claus in your videos.