A good voice is always appealing and exciting to the auditory sense of the listeners. Everybody must possess a good voice because speaking is a must skill for everyone.
Employees and employers need a good voice for the growth of their business or company. Naturally, some voices are bad, but they can be made better. You can communicate more effectively by improving your voice quality.
It's not surprising that you'd like to learn how to make your voice sound better, given that it's one of the most effective ways to attract attention from others. Interested in knowing how to make your voice sound better? Ensure to read this article to the end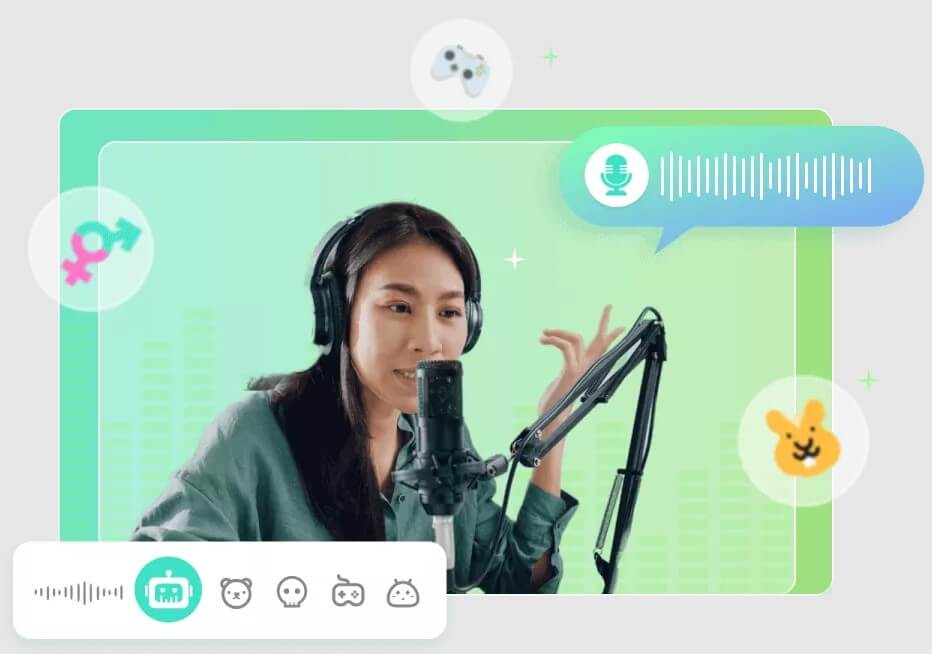 Part 1: Can I Change My Voice Naturally?
Although it is hard to change your voice permanently without medical help, there are a variety of exercises that you can do to talk with a deeper pitch, albeit how they are used will vary on the individual and their particular objectives.
However, you can modify your voice to a suitable degree by reading and going through the steps given below.
1. Speak Louder or More Slowly
Raise your voice when speaking so that people may hear you. Although this does not need you to shout, you must adjust the level of your voice in accordance with the situation. Talking slower, louder or faster depending on the speaker, helps to emphasize an argument and convey the feeling of passion and enthusiasm.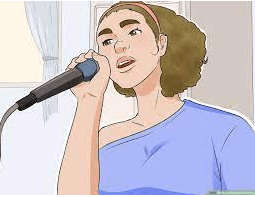 2. Do Breathing Exercises
Do breathing exercises by inhaling deeply so that your belly fills with air. Inhale for 5 seconds and exhale for another 5. Get used to breathing with this method daily and observe your tone.
Opening your mouth wider when you speak is good practice. Drop your jaw and enunciate your words lower in your mouth rather than producing them in your soft palate.
In summary, the above steps are very much related and feasible for youths or someone young. It is not easy for adults to follow the above-listed steps to change their voice, but as an adult or a youth, you can make use of a great voice changer to change your voice to what you want and to do so, I will advise you to read the next part carefully.
Part 2: How to Make Your Voice Sound Better Via Voice Changer
Whether you are an adult or not, if you are attracted to making your voice sound better to have a good voice by making use of a voice changer, any of the ones you will be reading below.
1

Use WooTechy SoundBot – Your Best Choice.

We advise starting with WooTechy SoundBot as an option. Using our high-end software, you may get all the tools you need to change your voice to sound, just like Venom. Additionally, you can alter the tone and inflection of your voice and create your own voice filters.
Shining Featuresof SoundBot 
75.000.000+
Downloads
Venom, Space Marine, Kylo Ren, and Vecna are just a few of more than 100 speech filters available in SoundBot that can alter your voice.

You can talk and make content with our app in real time.

SoundBot is available online, including Discord, Skype, Zoom, game conversations, live broadcasts, and many more.

In addition to supporting file voice change, it is compatible with all Windows system versions.
How To Alter Your Voice Using SoundBot
Step 1 Install and start WooTechy SoundBot. Then, obtain, set up, and launch WooTechy SoundBot. If you use it for the first time, please adhere to the setup instructions.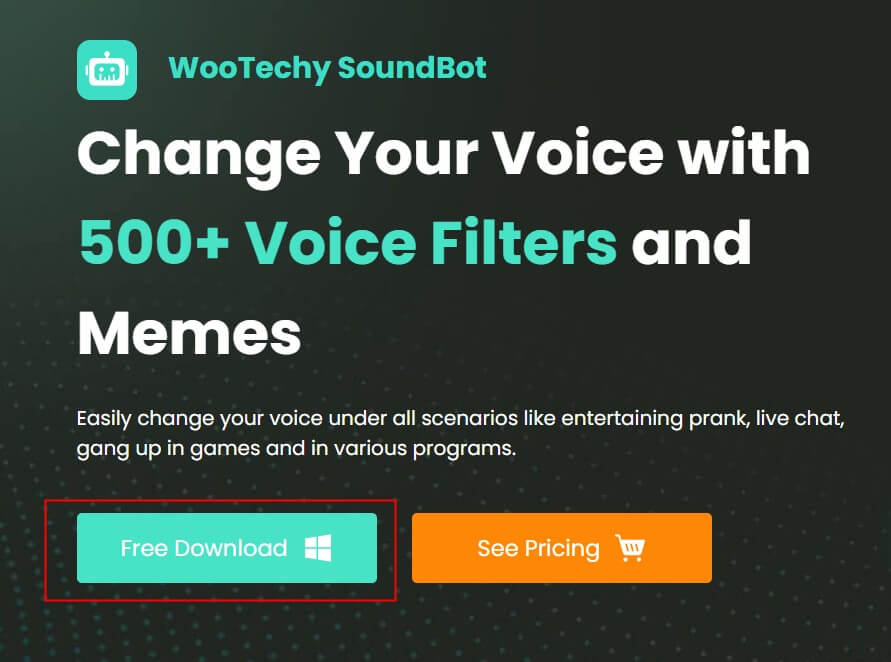 Step 2 You will be located to set up your audio devices. Just select the right input and output devices according to your computer setup and then adjust the corresponding volumes until you are comfortable with them.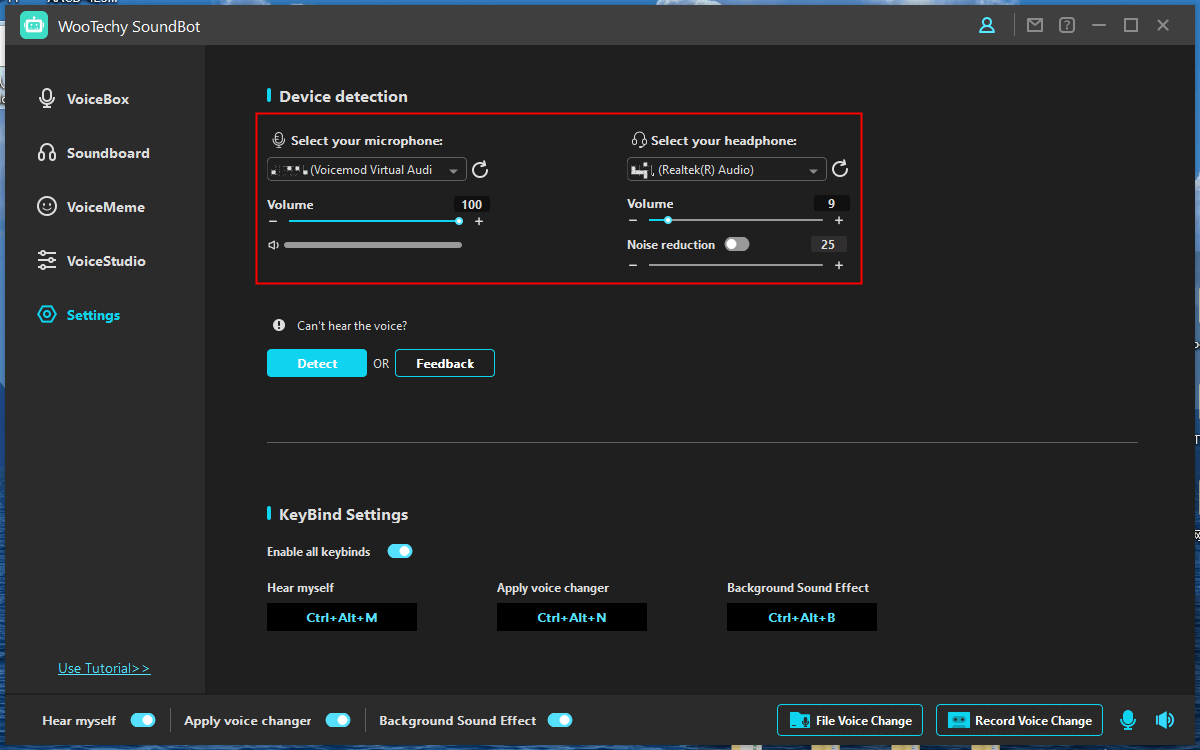 Step 3 Pick the voice effect you like, then you can start to record your voice. After the recording, you can export the file and listen to the your voice in different effect.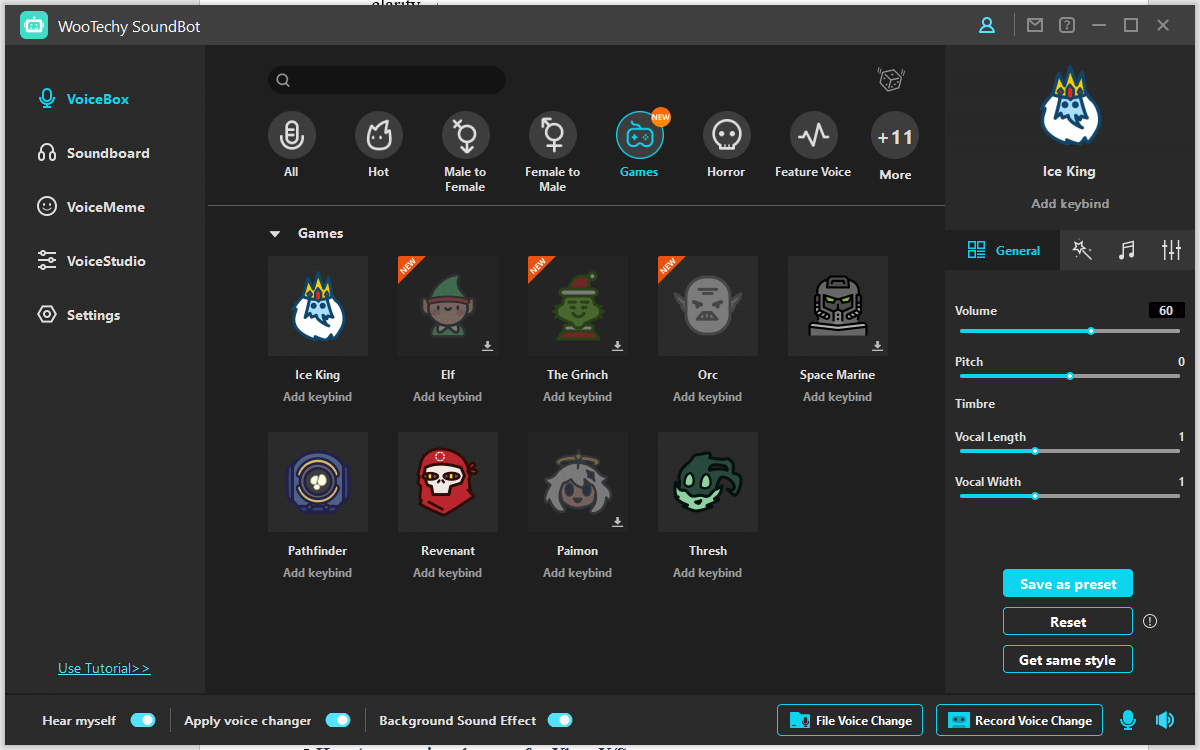 Change Your Voice Across Various Platforms
On several platforms, including Fortnite, PUBG, Discord, Skype, Twitch, and others, SoundBot can be used. Here is a step-by-step tutorial for using SoundBot on various platforms.
Go to the Voice Settings of the platform you wish to utilize SoundBot on.
Select the Microphone (Voice Changer Virtual Audio Device (WDM)) under Input Device. Following that, you are free to alter the platform's voice in real time. Other users can hear your voice change.
2

MagicVox UnicTool

UnicTool MagicVox is a free PUBG voice changer for Windows that seamlessly integrates with your system sound devices. You can record your modified voice in this way on all apps, including Steam, League of Legends, CS: GO, Skype, Twitch, Fortnite, and others.

To enhance the background of your speech, it has more than 200 voice effects and over 100 voice filters. Local WAV and MP3 files can even have voice filters added.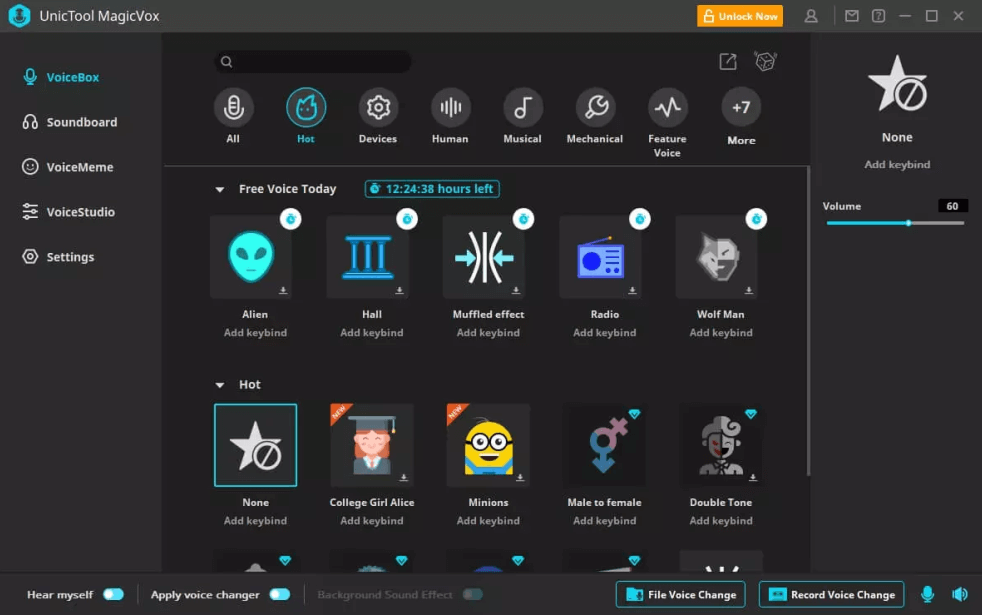 Pros
Excellent game, but not the best for gaming.

It enables you to voice-improve.
Cons
Excellent game, but not the best for gaming.

Complex use operation, which isn't friendly to newbies.
3

Clownfish Voice Changer

Possibly the most well-liked voice changer for desktops is this one for Valorant. With this simple, cost-free tool, you may morph your voice on Steam, Google Meet, Skype, Minecraft, and other desktop applications.

After installing it directly on your desktop microphone, you can use the system mic to apply voice effects to Valorant.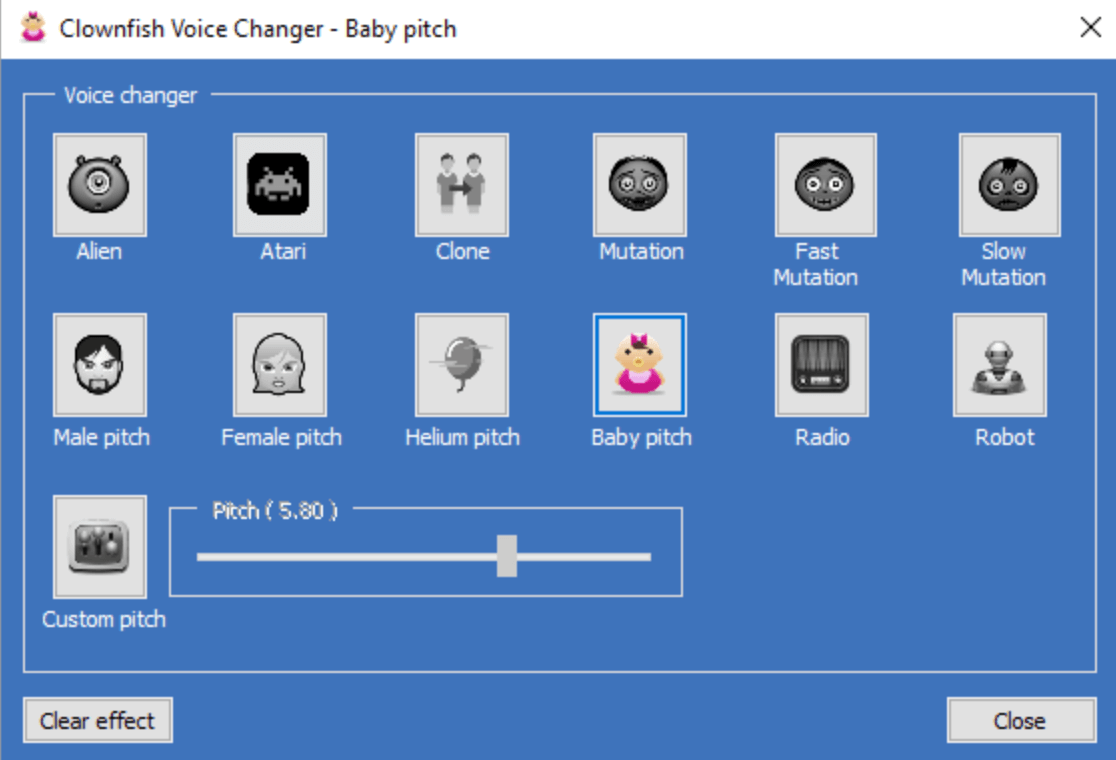 Pros
There are 14 distinct voices available.

By altering your voice, you can pull practical jokes on your friends.
Cons
A small selection of voice effects with different voice qualities.
4

Voicemod

Voicemod is another free voice changer for Valorant to use on macOS and Windows systems. This voice will allow you to apply a befitting voice to specific Valorant characters like agent Brimstone, Sage, Viper, Phoenix, and more.

It works by changing your voice in real-time through microphone narration.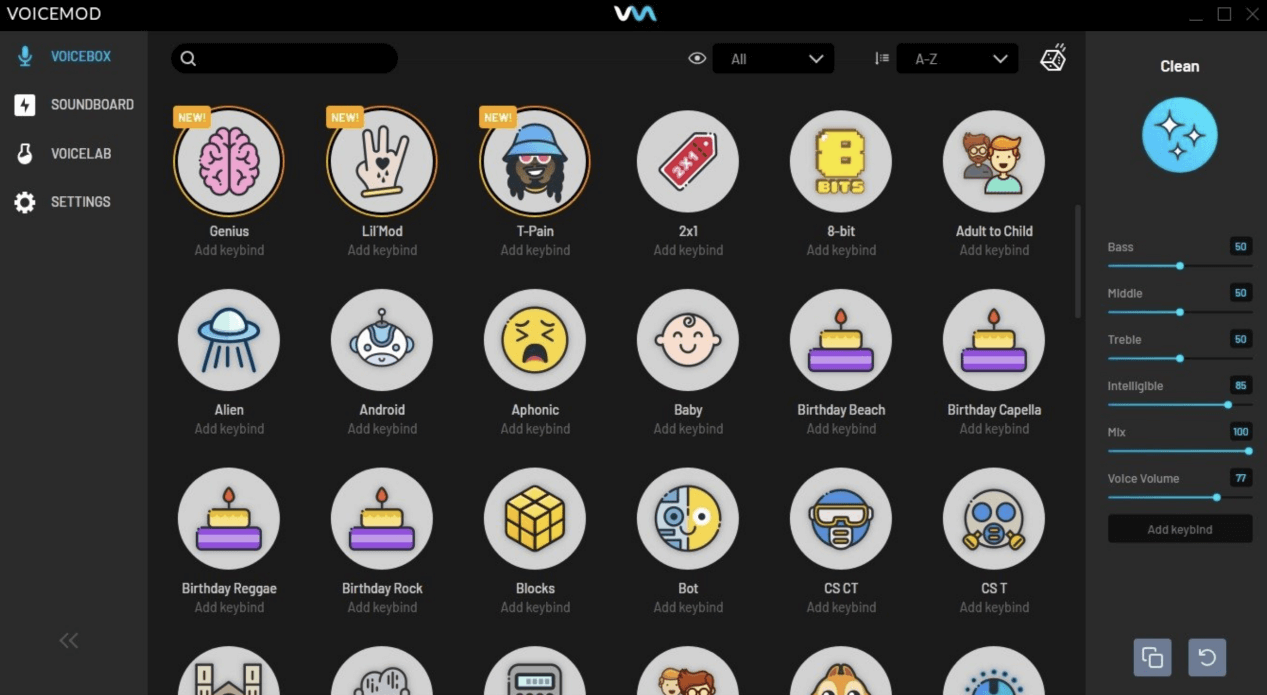 Pros
The voices you create are great

Professionally designed and simple to install
Cons
The free version blocks too many of the features.
Conclusion
All in all, you have learned how to make your voice sound better from this article. These applications are referred to as "voice changers" since they may transform your natural voice into a pleasant one. All of the apps have been tested, and the outcomes were positive.
However, based on our tests, WooTechy SoundBot, which has a variety of intriguing sounds and capabilities, is the finest voice changer for screams. It's time to try it.