The radio sound effect is broadly applied in various film or video productions. In fact, most of the radio affect you hear from these productions are not originally generated from a radio, but created by
radio voice changer
applications.
If you want to apply a radio voice in your own video or other form of sound artworks, keep on reading, because we are going to introduce the best voice changer for radio effect on desktop as well as mobile devices.
Part 1. How Do I Make My Voice Sound Like a Radio?
To make your voice sound like a radio, what you need is a voice changer application to modify your sound, and add a radio affect to it.
You can easily find various radio affect voice changer on the Internet. While most of them are pretty hard to configure, and it would take you a lot of time to make the sound you like, there is one application that really caught my eyes with its simplicity and powerful functionalities, and this application is called WooTechy SoundBot.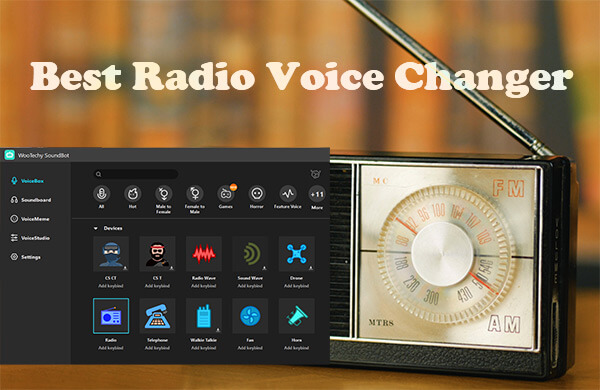 With more than 125+ voice filters, radio voice included, and 200+ voice memes, this application has been one of the most popular radio voice changers across the Internet in recent years. With its massive sound effect preset library, WooTechy SoundBot can not only be a radio demon voice changer, but also a voice changer for all kinds of social scenarios like gaming, streaming, online chatting and dating, video and film production, entertaining pranking and a lot more.
With its simple design and powerful voice changing technique, SoundBot is capable of being applied to various applications and games. That means with some simple configurations, you can change your voice on essentially every platform that you are currently using, including games like Fortnite. CS: GO, League of Legends, War of Warcraft or programs like Skype, Twitch, Zoom and many others.
In addition, it is also very easy to change your voice with this radio voice changer. Now, let me show you how to use WooTechy SoundBot and apply the voice changer radio effect to your own voice in only a couple of minutes.
Step 1 Download and install WooTechy SoundBot on your Windows computer. This program is free to use so don't worry about the pricing plans at this stage.
Step 2 At Launch, you will be guided to set up your voice devices. Make sure you select the right input and output devices and the corresponding volumes, then click Continue to proceed.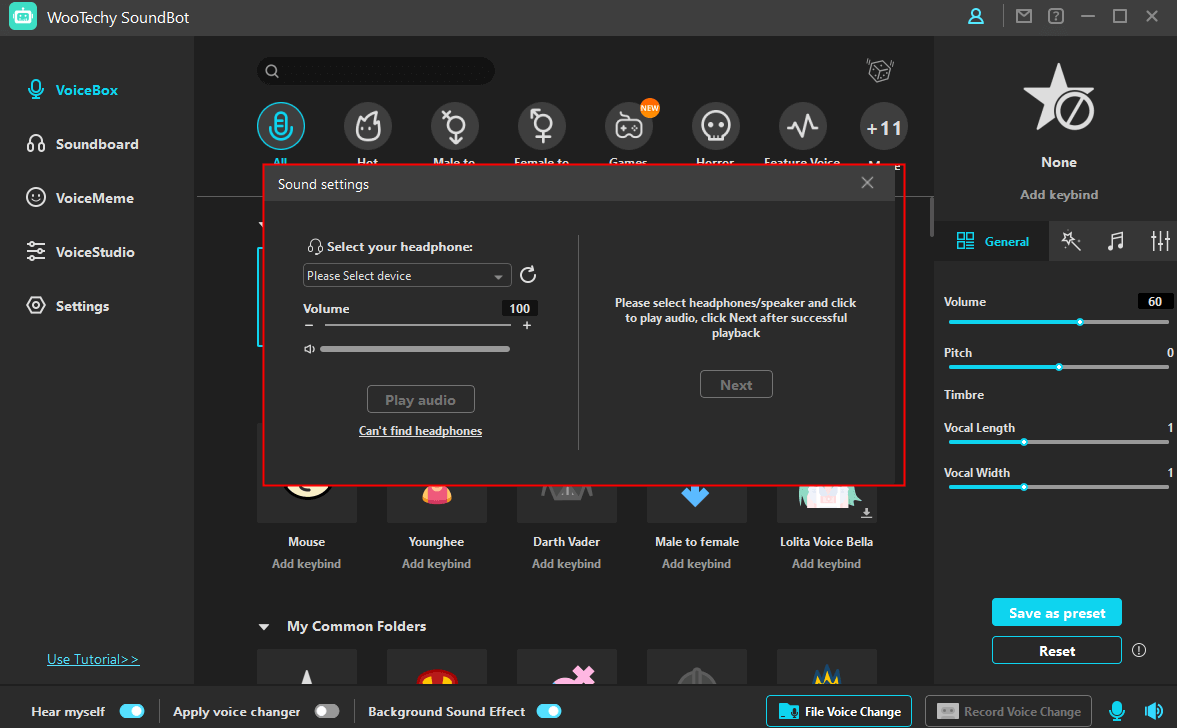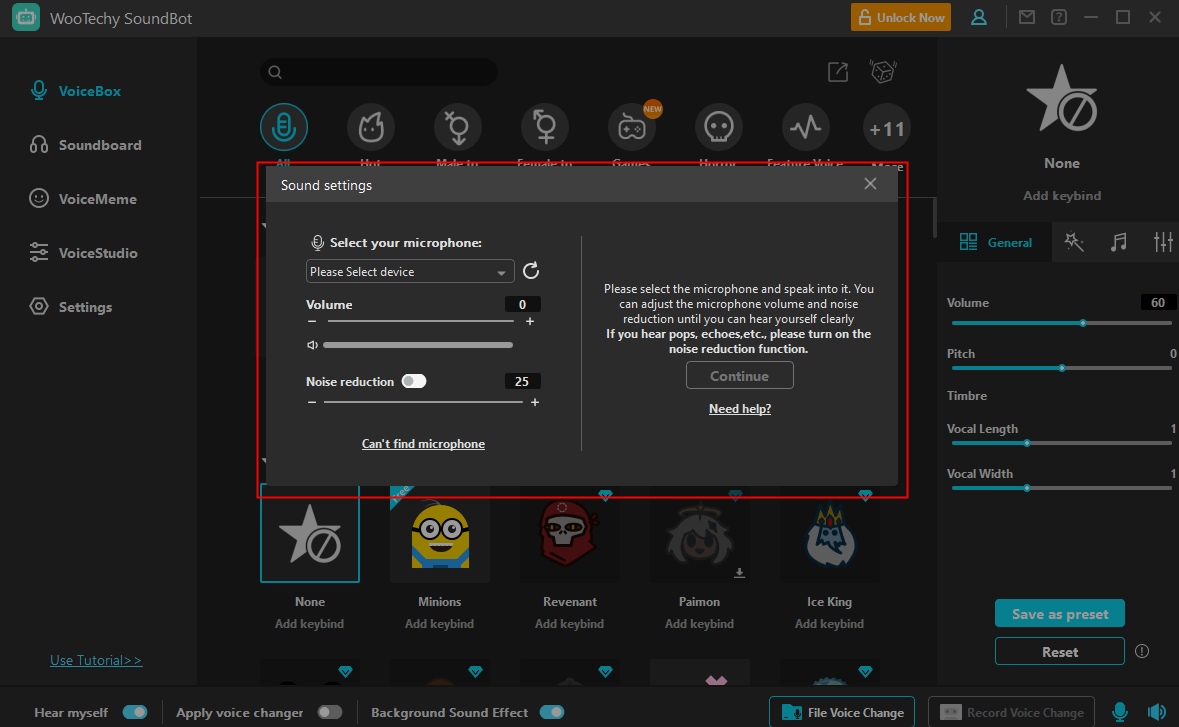 Step 3 Now you can select any preset voice to apply to your current sound. If you want a radio affect, just simply choose the radio voices from VoiceBox tab and it will be automatically applied to your voice input.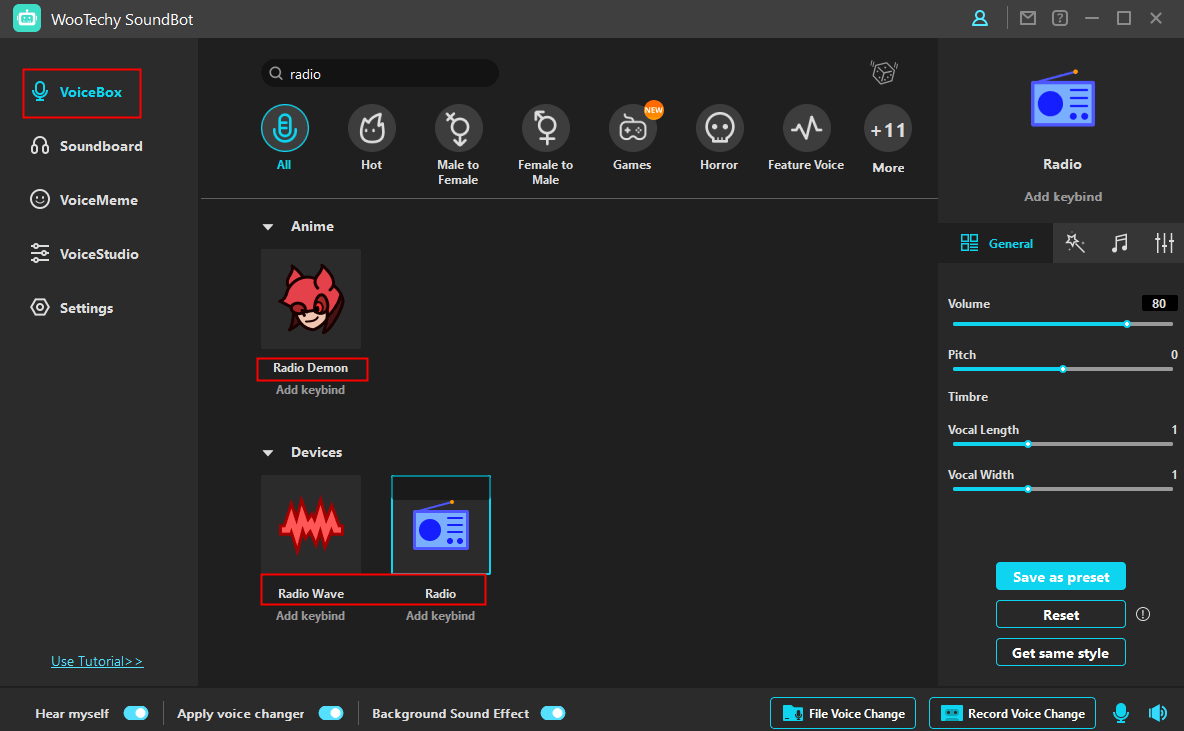 WooTechy SoundBot has great functionalities and a high usability. If you want to change your voice and apply a radio affect on it, then it could be the best radio voice changer that you can have on desktop.
However, if you don't need to apply your radio effect to any desktop applications and only want a simple app to change your voice on mobile, the following solutions might help you to apply a radio affect without using a computer.
Part 2. Other Radio Voice Changer Apps for Mobile
1. Voice Changer Plus
Voice Changer Plus is a free application available on both Google play and App Store which can also be used as a portable radio effect voice changer on your mobile device.
Voice Changer Plus provides 55 voice effects and background sounds for you to customize not only your sound, but also the virtual environment that you are in. You can not only use it to modify your sound live, but also open saved recordings and add multiple effects on them. In addition, it has a built-in trimming tool that allows you to freely, edit your voice file after applying voice modifiers.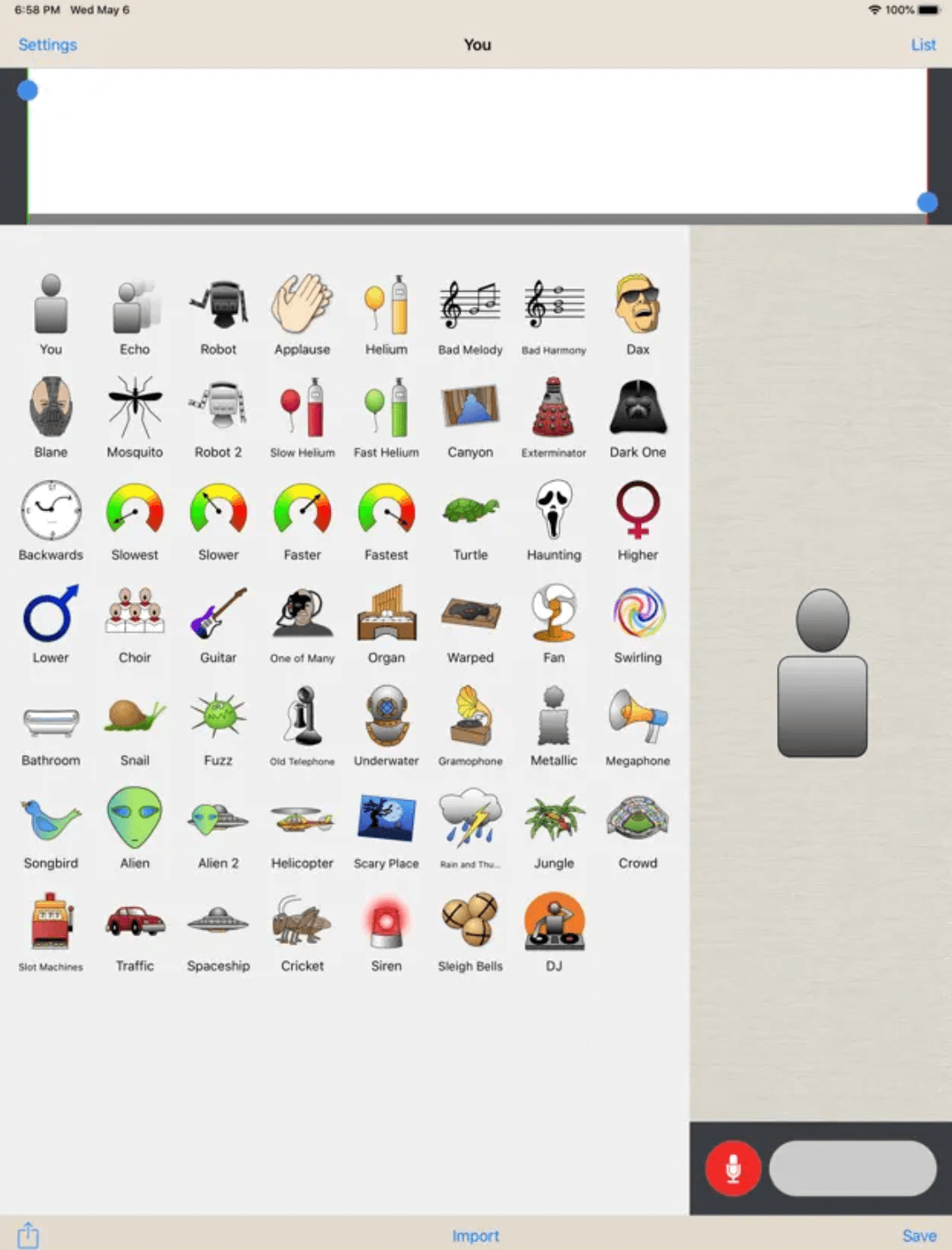 But this application also has all kinds of limitations. As a portable radio voice changer app, it is not easy to simulate a radio affect authentically. In addition to that, the flexibility and the usability of this app is not comparable to a desktop application like WooTechy SoundBot.
2. Voice Changer with Effects
Voice Changer with Effects is another effective mobile radio sound voice changer app that you can use on either your Android device or iOS device. With this application, you can have more than 40 effects like robot, giant, monster, alien, radio and more. The app supports sharing your recorded sound through WhatsApp or email, you can also save the recording to your device and share it through all other channels of your preference.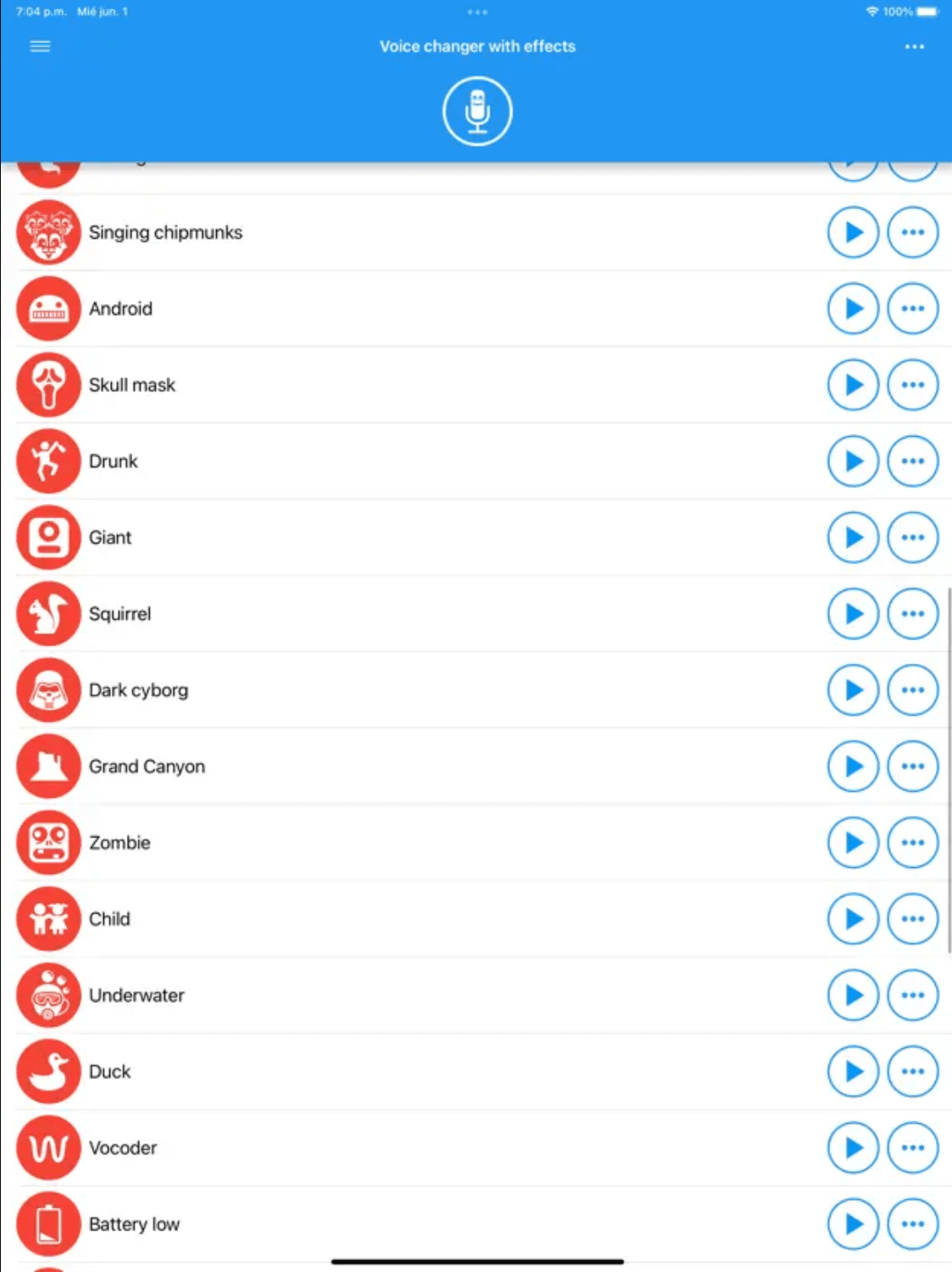 One of the most obvious downside of this application is that it has tons of ads. Also, the built-in voice preset is not enough for entertaining and video production purposes, as there are only 40 presets, which is far less than most desktop voice changers like WooTechy SoundBot.
Conclusion
Radio effect voice changer is widely used for video and film productions. With a radio effect, you can make your video or your audio recording really authentic and interesting. However, to achieve that result, what you need is a solid radio voice changer application at your disposal.
WooTechy SoundBot, with its strong voice changing functionality, massive audio preset library and the unique VoiceStudio function which allows you to make your own unique voice, really stands out among all video effective voice changer programs. With WooTechy SoundBot installed on your computer, having a radio voice effect can be as easy and enjoyable as a breeze.