"Imagine a world where your voice can transform into anything you desire. A world where you can sound like a Kid, a mischievous elf, a powerful robot, or even a friendly alien."
Get ready to embark on a thrilling audio adventure as we unveil the best 5 kid voice changers that will turn your voice into a child's. I have tested most of the Kids' voice changers in marketing and found some best tools for different devices. Whether you're looking for PC, Mac, Android, iOS, or online options, I've got you covered. Now, Let the transformation begin!
The Best 5 Kid Voice Changers in 2023
1. Wootechy SoundBot-The Best Kid Voice Changer for PC
The first one list in my best kid voice changer in 2023 is SoundBot, developed by Wootechy, the popular software provider. Wootechy SoundBot is a versatile tool that allows you to modify your sound and change it to a kids' or babies' voice, among other options. With the ability to export voice recordings in popular formats like mp3 and wav, it offers a convenient way to transform your audio files. Whether you want to create videos, make voiceovers, or simply experiment with different voice filters, SoundBot has got you covered. Moreover, this little kid voice changer utilizes AI technology to change your voice in real-time.
It provides a range of voice filters, including a game voice, kids voice, Cartoon voice, girl and man's voice, screaming Ghostface voice, and even a celebrity's voice, allowing you to customize your sounds according to your preferences. Give Wootechy SoundBot a try and unlock endless possibilities to change and enhance your audio experience.
The key features of Wootechy SoundBot Kid Voice Changer
75.000.000+
Downloads
Change voice in real-time, or modify pre-recorded audio files with the most authentic sound.

125+ voice filters and 400+ voice effects allow you to change your voice to different characters.

400+ voice memes available, as well as support editing voice memes.

Customize your voice according to your preferences and create unique audio experiences.

Comparable for most platforms such as Discord, Skype, and supporting go live with audio.
Pros
Easy to use.

Rich sound templates are available.

Updated daily with different free sounds.

High sound authenticity.
Cons
Required to download on PC.
The Steps to change your voice to like a Kid or Baby with Wootechy SoundBot:
Step 1: Download and install the SoundBot Programme on your PC.
Step 2: Run the program, and choose the input and output device to transfer the voice.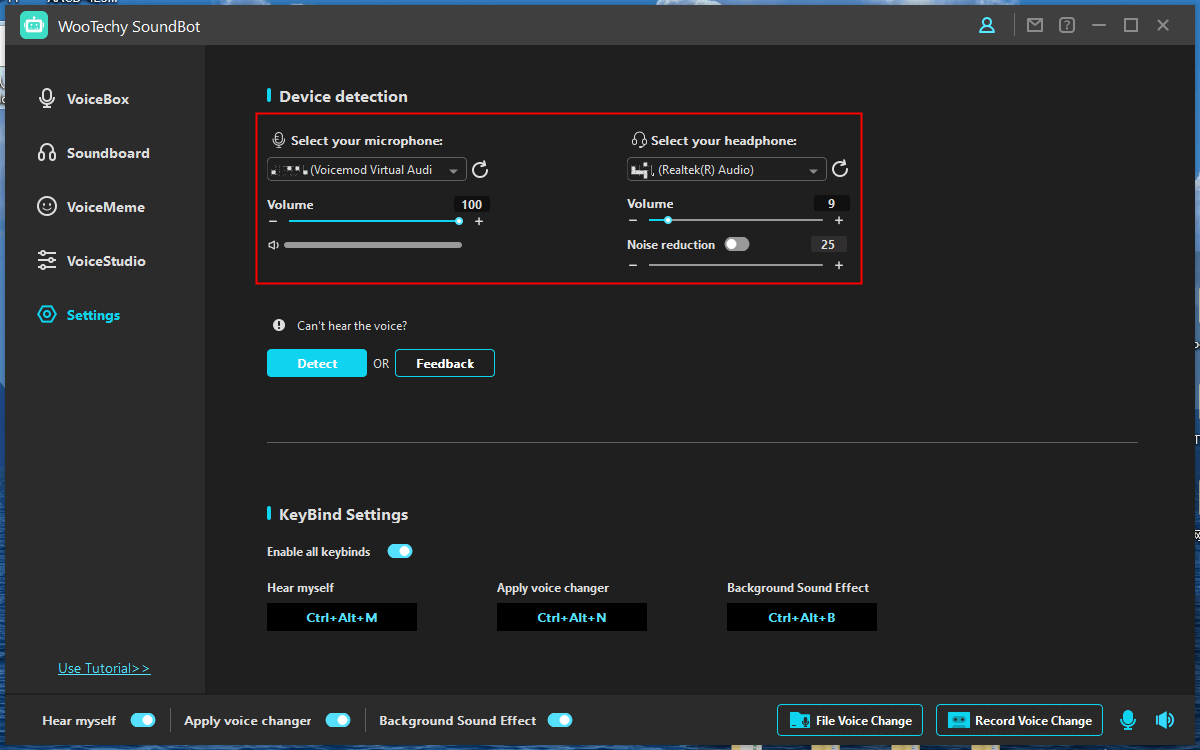 Step 3: Then, you should see an interface with many features in the left bar. Here you can change your voice to different characters.
To change your voice and make it sound like a little kid, locate the "little girl Voice" or "Baby Voice" option, select the desired voice filter and click "Get the same Style."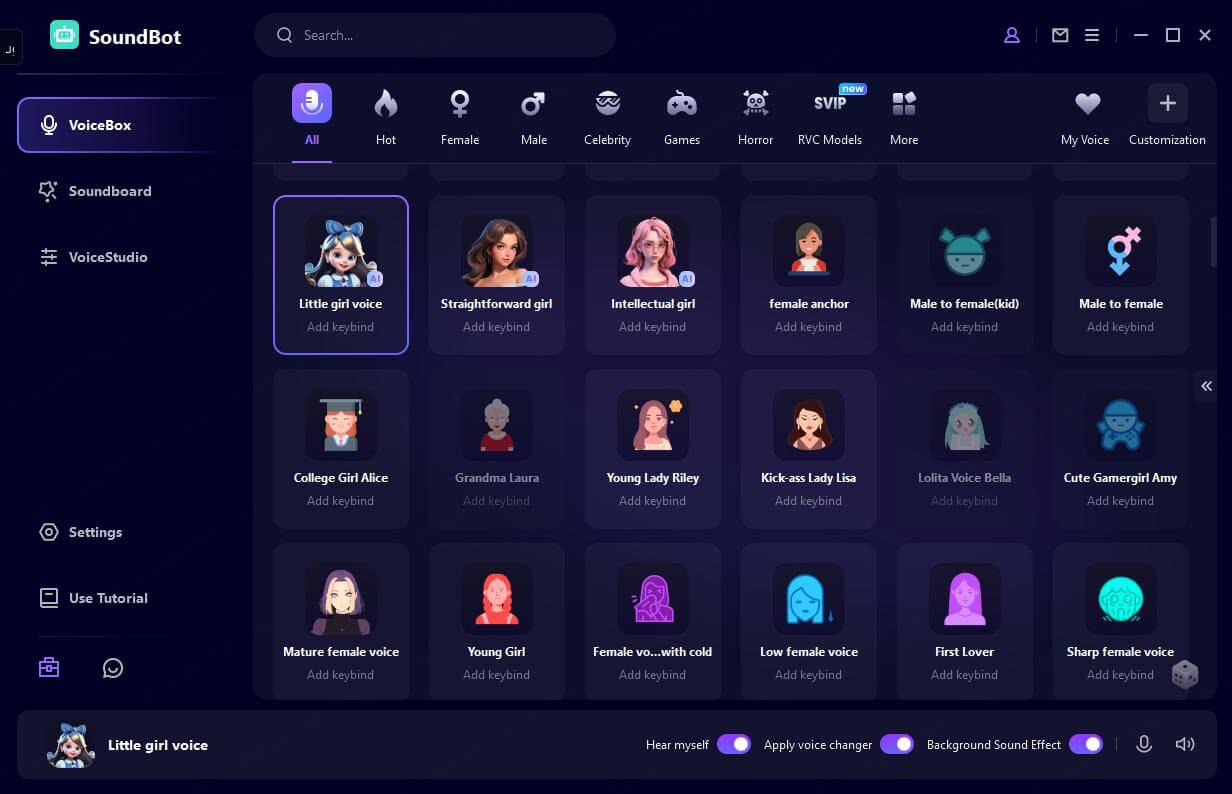 Step 4: After that, you are allowed to adjust the intensity or pitch of the voice filter if you want some customized option.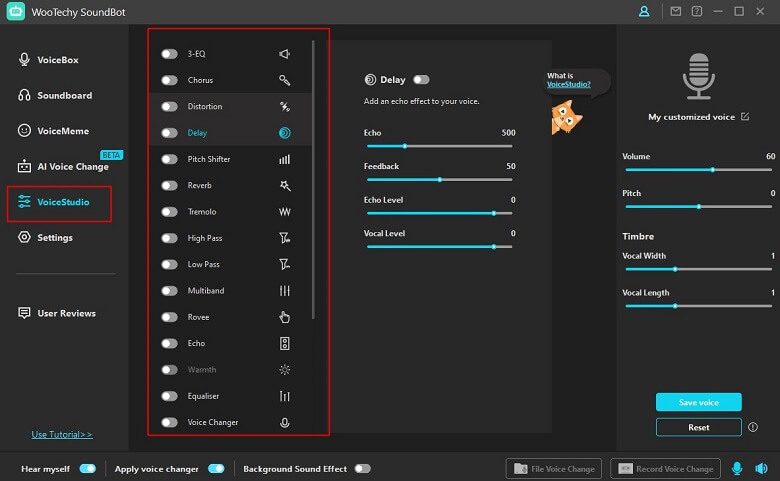 Now, the setting is done. You can speak to your Microphone and start to change your voice to like a little kid in real-time as well as export the transferred audio in your videos, voiceovers, or any other creative projects. Moreover, you can also upload pre-record audio files to modify.
By following these steps, you can leverage the capabilities of Wootechy SoundBot to change your voice and replicate the sound of a kid or baby. There are many other voice templates that can be explored. Now, get Wootechy SoundBot and have a try!
2. Voxal Voice Changer-Mac
Voxal Voice Changer for Mac, developed by NCH Software, is a powerful tool that allows users to modify their voices in real-time. With Voxal, users can alter the tone and volume of their voices, enabling them to create unique voice effects for games, music, and various platforms. This program is also available for changing your voice to sound like a child.
Pros
Can change voice in real time.

Support editing the audio file.

Supports background noise reduction.
Cons
Only 9 human voice effects are available.
Have to download on the computer.
The step procedure is a bit complicated.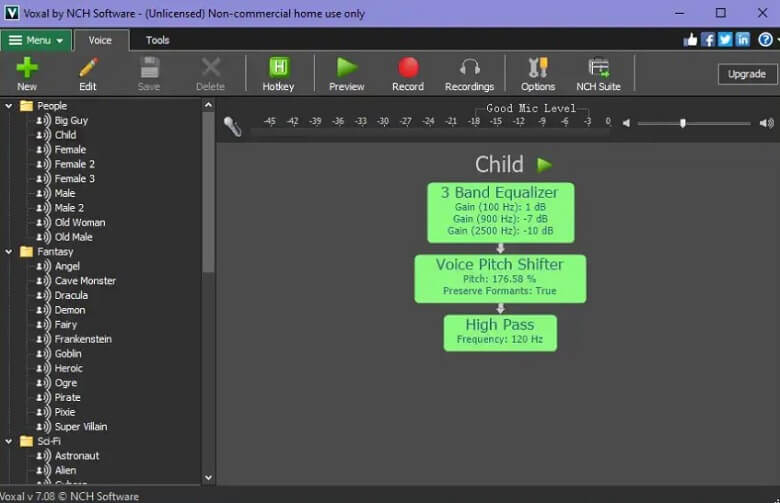 3. Voice Changer - Voice Effects-Android
"Voice Changer - Voice Effects" is a mobile app available on Google Play that allows users to modify their voice and add various effects to create unique and entertaining audio experiences. With this app, you can transform your voice into Kids' voice. It offers some basic voice filters and some premium voice templates, giving you the freedom to explore different sound transformations.
Whether you want to prank your friends, create fun voice messages, or enhance your gaming experience, "Voice Changer - Voice Effects" provides a user-friendly interface and a diverse collection of effects to bring your voice modifications to life.
Pros
A user-friendly interface.

Available for the mobile end.
Cons
Fewer voice templates.
Internal software advertising. At least 6 ads should be viewed for changing your voice to sound like a Kid.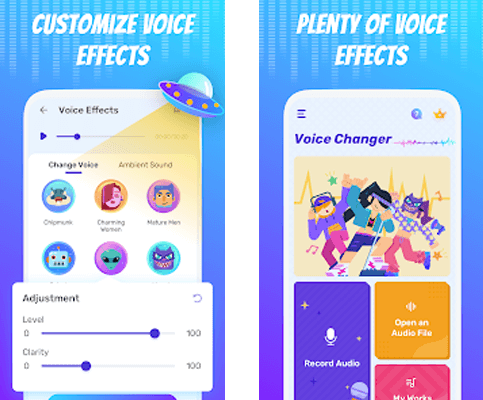 4. Voice Changer- iOS 11 or later
Voice Changer apps are available for the iOS system of iOS 11 or later version, which offers a fun and creative way to modify your voice on your iPhone or iPad. This app allows you to alter your voice in several templates, such as changing it into a kid, robot, alien, or other funny effects.
Pros
Support change voice instantly.

Available for the Mobile end.

No ads compared with the previous kid's voice changer.
Cons
An expensive subscription is required.
Only a few voice templates.
The transformed sound is slightly unrealistic.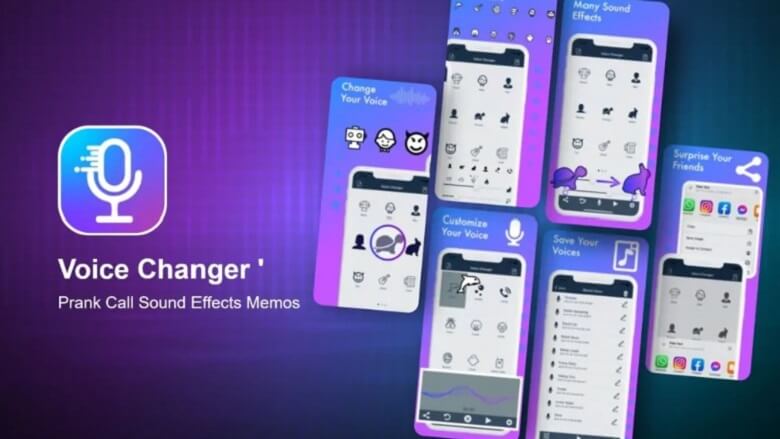 5. Topmediai-Online
Topmediai is an online website for AI tools. The services utilize artificial intelligence (AI) voices to deliver the audio output, aiming to provide an ultra-realistic and natural-sounding speech. With its text-to-speech features, you can easy to convert the texts to Kids' audio. For using this, all you need is to enter the text and convert it online, then, export the audio.
Pros
Applications are not to be required.

Various voice effects.
Cons
Not support changing voice in real-time.
The number of text is limited.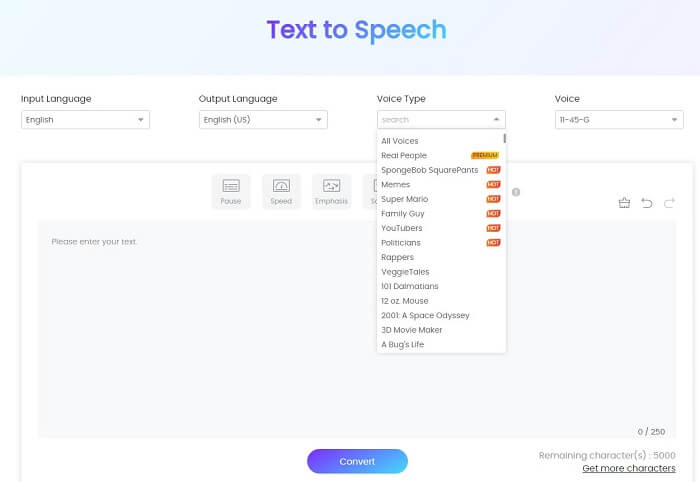 Conclusion
This is my review of the best kid voice changer for PC, Android, iOS and online. All of them have some pros and cons, and you can choose your preference to meet your needs. However, for the richness of the sound and the realism of the sound, I would recommend Wootechy SoundBot most after the testing. Its extensive selection of voice effects provides endless entertainment possibilities, while its compatibility across multiple platforms ensures accessibility for a wide range of devices.
In summary, for the best voice-changing experience, the Wootechy Soundbot stands out as the top choice for kids voice changer, offering an enjoyable and secure platform for their creative adventures. You can have a try for free and experience it.