Unveiling a world of captivating possibilities, the realm of artificial intelligence (AI) voice generation continues to evolve. While 15.ai Voice has gained recognition for its impressive capabilities, a plethora of alternatives await exploration. However, 15 AI voice is not availed now for some reasons.
In this article, we will dig deeper into the 15 AI voice as well as embark on an enticing journey to discover the best 15.ai voice alternatives that will leave you awe-inspired. Are you ready to embark on a journey beyond the 15.ai voice generator?
Part 1: What is 15 AI Voice?
15 AI Voice is an incredible text-to-speech tool that revolutionizes voice generation. With 15 AI Voices, you can convert any text into the captivating voices of your favorite characters from various media sources. Its remarkable features include high-fidelity audio output, real-time voice synthesis, and a wide range of character options to choose from. The tool utilizes deep neural networks trained on limited dialogue data to produce 44.1 kHz voices, making it a versatile and impressive voice cloning program.
Part 2: Why 15 AI Voice is Not Working?
15 AI Voice generator was one of the best text-to-speech voice generators before. Unfortunately, it is not working now and there are still reporting many errors today. However, there is no clear official response as to why or when it will resume. Check the user's review below.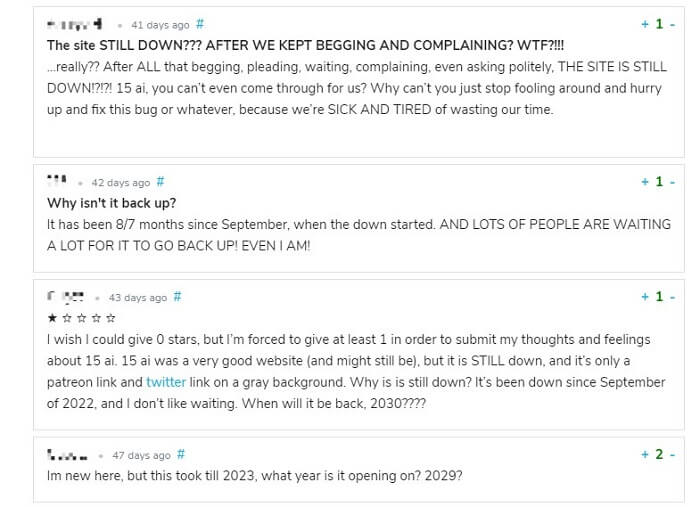 Part 3: The Best Alternatives for 15 AI Voice Generators
With its innovative capabilities, 15 AI Voice opens up a world of creative possibilities and immersive storytelling, making it a game-changer in the realm of voice synthesis. However, at the same time, many other very superior voice changer tools have emerged so that we can use other alternatives for 15 AI voice generator. And Wootechy SoundBot stands out from most all voice generators in the current market.
Wootechy SoundBot is a real-time voice changer software developed by WooTechy. It offers users the ability to modify their voices in real-time, allowing them to sound like a robot, chipmunk, or any other desired effect. With over 400 built-in sound effects and 200+ voice effects, SoundBot provides a versatile and fun experience for users to change their voices in various ways.
While it is primarily designed for entertainment purposes, it can also be used for enhancing voice recordings or adding unique voice effects to different applications and games. Users have left positive reviews for SoundBot, highlighting its usefulness and real-time voice-changing capabilities.
More Features of Wootechy SoundBot
SoundBot is designed with a user-friendly interface, making it easy for users to navigate and utilize its features. The software provides a step-by-step user guide for downloading, launching, and configuring the voice changer when you run the program. You can also check the guide below.
Step 1: Download and Launch SoundBot
Visit the official WooTechy website and download SoundBot software. Install the software on your computer and launch it.
Step 2: Select Output and Input Devices
In the SoundBot interface, choose the output device (e.g., headphones, speakers) and input device (e.g., microphone) that you want to use for the voice changer.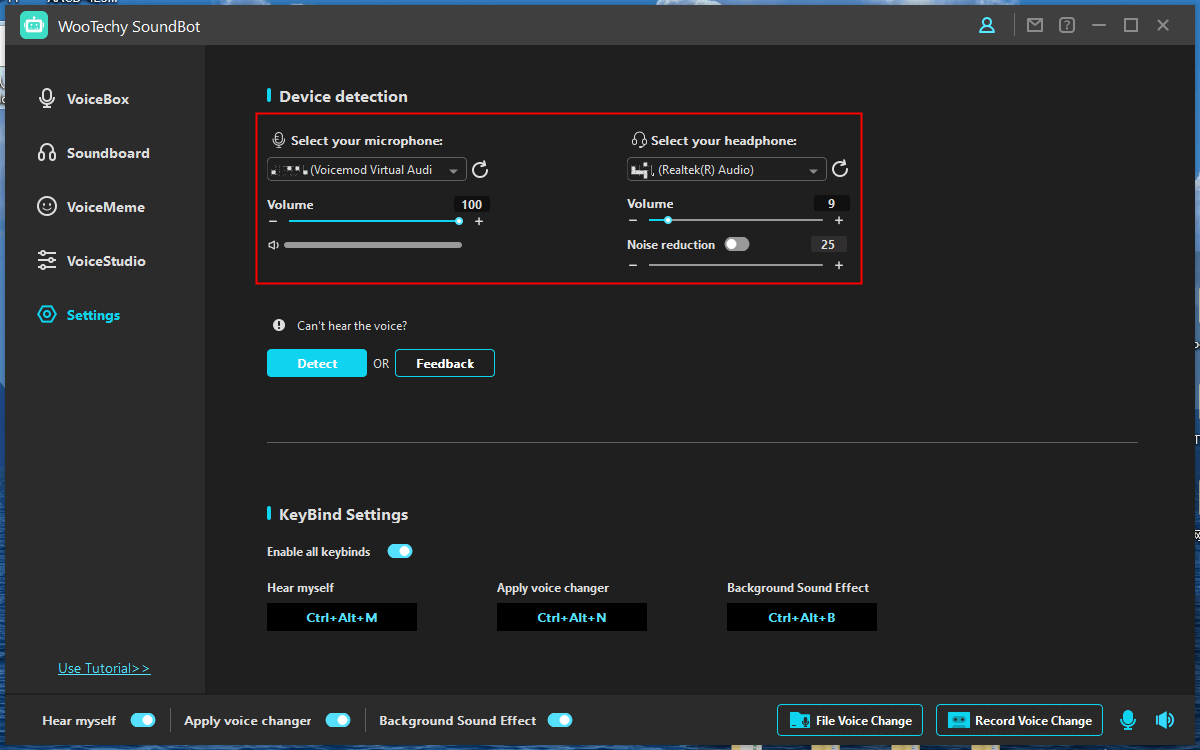 Step 3: Choose Voice Effects
SoundBot offers a wide range of voice effects to choose from. Browse through the available options and select the desired voice effect you want to apply to your voice.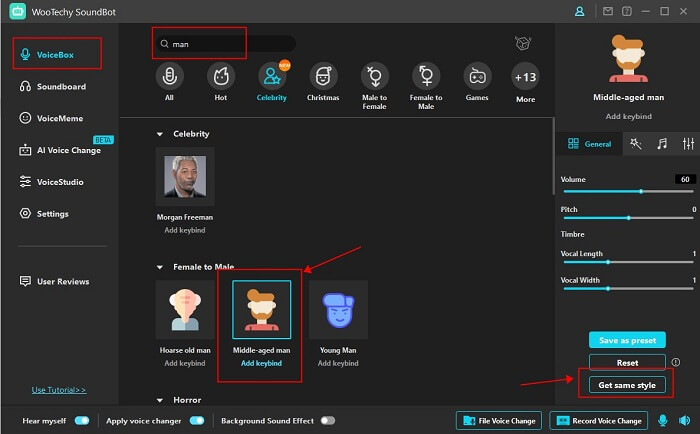 Step 4: Adjust Voice Parameters (Optional)
If desired, you can further customize your voice by adjusting parameters such as tone, pitch, and speed. This step allows you to fine-tune the voice effect according to your preferences.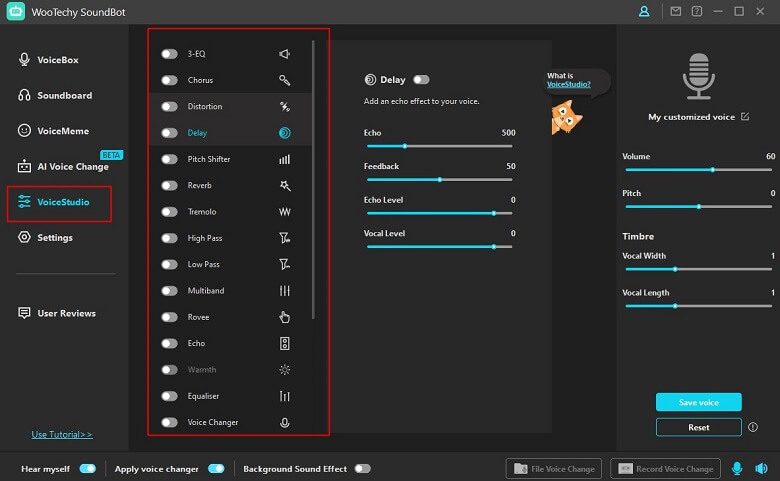 Once the integration is set up, you can start using SoundBot to change your voice in real-time during conversations, gaming sessions, or any other activity supported by the application you are using.
Part 4: Other Alternatives of 15 AI Voice
There is another alternative for the 15.ai voice generator--Topmedia.
TopMedia is a text-to-speech (TTS) tool designed to convert written text into natural-sounding speech. With TopMedia, users can easily transform their written content, such as articles, documents, or web pages, into audio format. The tool utilizes advanced algorithms and high-quality voice synthesis technology to produce lifelike and expressive speech. TopMedia offers various customizable features, including the choice of multiple voices and the ability to adjust parameters like speech rate, pitch, and volume. It provides a user-friendly interface that allows for easy text input and playback controls. Whether for accessibility purposes, content creation, or enhancing user experiences, TopMedia is a versatile and efficient solution for converting text into engaging audio.
The use of this software is equally simple. All you need is to visit the TopMedia website or platform where the TTS tool is available. Locate the text input area within the tool's interface. This is where you can enter or paste the text you want to convert into speech. Then, select different voices, and adjust speech rate, pitch, volume, and more. Explore the available options and adjust them according to your preferences.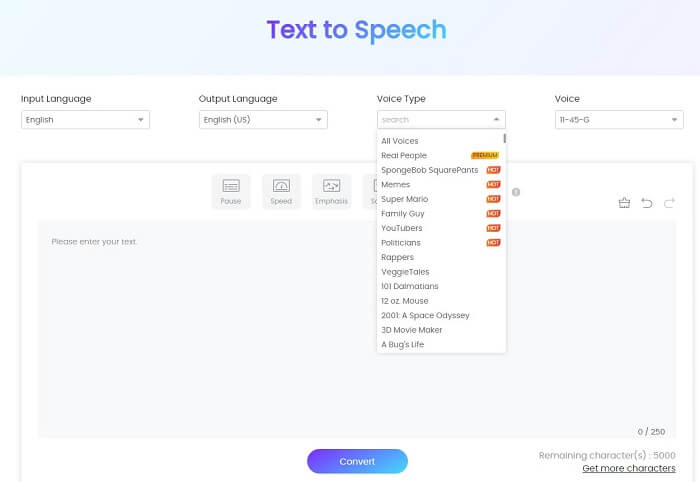 Conclusion
Even if 15.ai is no longer available, we have a very wide range of other excellent software that can be used for sound changes such as Wootechy SoundBot.
Wootechy SoundBot proves to be an exceptional alternative to 15.ai for voice-changing needs. With its real-time voice-changing capabilities and extensive library of 400+ in-built sound effects, SoundBot offers a fun and versatile platform for users to transform their voices.
Whether it's for podcasts, online gaming, or entertainment purposes, SoundBot provides an easy-to-use interface, allowing users to customize their voices and create unique voice filters. Additionally, the compatibility of SoundBot with various applications enhances its usability. Overall, Wootechy SoundBot stands out as a top choice for those seeking a reliable and feature-rich voice-changing solution.