Millions of enthusiasts for this title-winning Battle Royale game have been searching hacks and ways to play PUBG mobile on a PC, both on Windows and iOS dev. Can you play PUBG mobile on your computer using your phone? Absolutely! It's about time we transition to big screens and avoid the hassle of wearing put your thumbs on a small screen.
When playing Battle Royale games, nothing can match the HD/4K display and a PC's controls. Not even console controllers! But here, you will find the best way to play PUBG Mobile on PC WITH THE 4K RESOLUTION!
PUBG Mobile Overview - Tencent Games
Since its launch, PUBG Mobile this shooter game has been trending and reigning in the top gaming charts. With over 500 million downloads on the Google Play store, this AR game has attracted billions of users who have a thing for action shooter games. Since publishing, the game has harnessed a whooping 42 Million 4.3-star reviews from its players.
Unsurprisingly, most of these reviews and feedback are applause comments. PUBG mobile has custom maps and arenas where players airdrop to participate in organised events. You can play this Augmented Reality (AR) game online in single and multiplayer modes.
There are many users looking to cast the screen of this game to a big screen and share to others. Now check the various tips about how to display your PUBG mobile on a bigger screen.
How to Play PUBG Mobile on PC with Mirrorring App?
In case you haven't heard of it, Wootechy MirrorDisp is a popular screen-mirroring software for Android and IOS users who need to share their device's display on bigger screens. This app lets gamers cast their gaming experience from their phones with real-time live audio and play using the PC's mouse and keyboard. With this software, you can even record your gameplay on the PC's screen in real-time.
Don't be left out! Enjoy playing your favourite mobile games on big screens using MirrorDisp. It even allows you to cast movies and share files from your phone on your PC. You also can employ this app to take high-resolution screenshots and screen recordings.
Why Choose MirrorDisp to Screen PUBG Mobile to PC?
Supports Mirroring on Android and iOS devices in real-time.

Enjoy Keyboard and Mouse Controls to play mobile games.

Allows you to Livestream your mobile device's screen, in-app UI, and Audio to Steam, YouTube, Zoom etc...

Real-Time HD/4K Recordings and Screenshots.

Direct Android - PC file transfers.

Keyboard mapping is supported and you are allowed to customize the key controls & settings.
The Step Guide to Screen PUBG Mobile to PC
Step 1. The first step is installing the MirrorDisp app on your PC. After a successful .installation, launch the app and choose your mobile device's model (Android/iOS). Then choose a connection method, USB cable or Wi-Fi.
--For USB: If your device is Android, the USB connection method is only needed for the first connection. Later, you can connect using the WIFI. And need to open USB debugging. The iOS users, WiFi connection is also available in the first time.
--For WiFi: Make sure your PC and phone are connected to the same WiFi.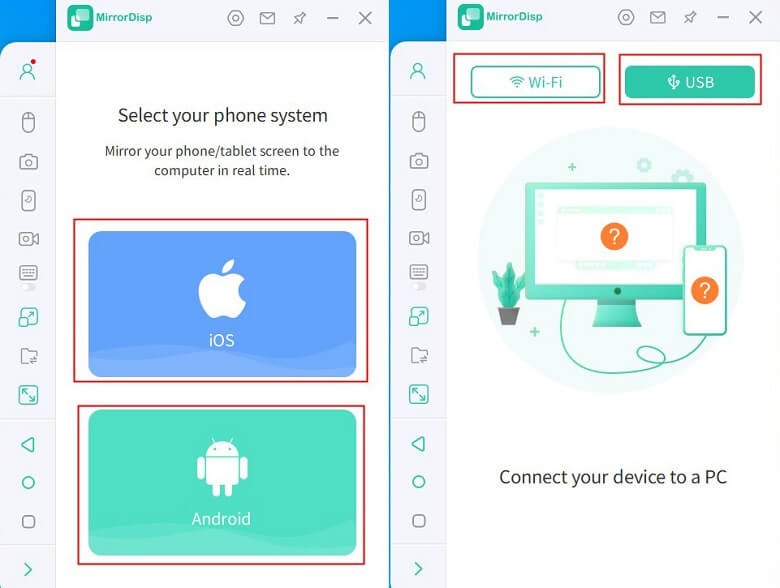 Step 2. For example, using your USB to finish the connection here. Connect your phone to the PC and accept the 'Allow Network Access' prompt.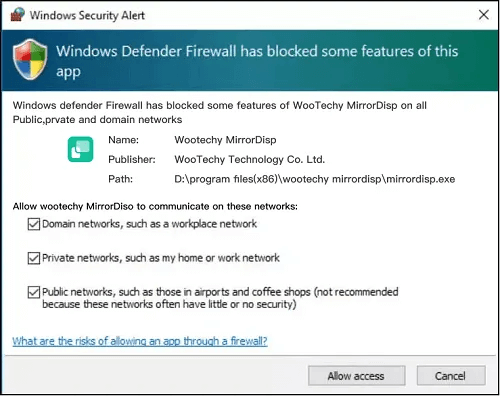 Step 3. Allow Device connection and add it to Trusted devices. MirrorDisp's mobile terminal will install on your phone immediately. Then choose the feature in the left bar.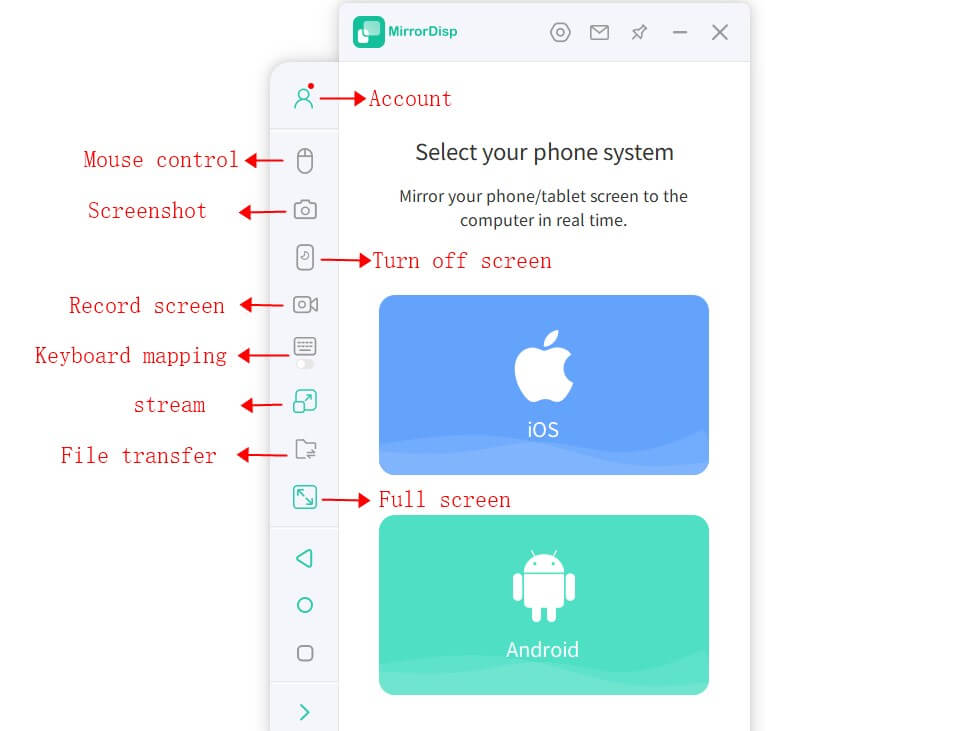 Step 4. Now that your phone has been mirrored to your PC, you can begin controlling your phone's display from the computer's screen.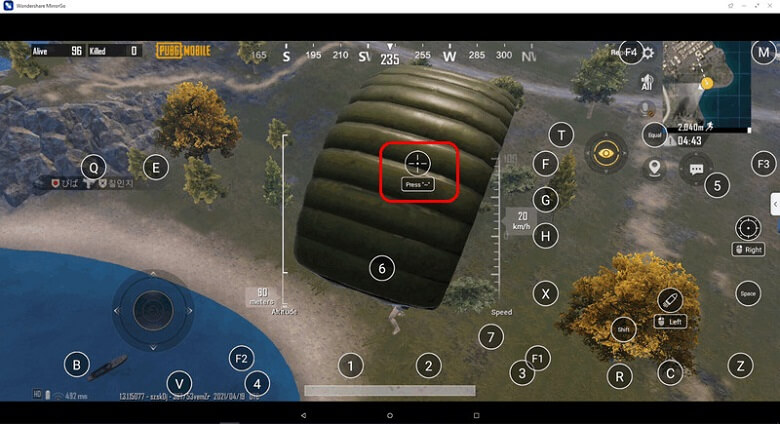 Another Way to Play PUBG Mobile on PC- with Emulator
Besides mirroring your Android screen to your PC, you can use a gaming emulator to enhance a remarkable PUBG mobile gaming experience on your computer's screen. The Bluestacks game emulator has been crowned one of the best gaming emulators. All you need to do is install the software on your PC and follow the steps below to play PUBG mobile on your PC.
Steps to Play PUBG Mobile on PC with Bluestacks Emulator
Step 1. Download this emulator from Bluestacks' official website, then install it on your PC.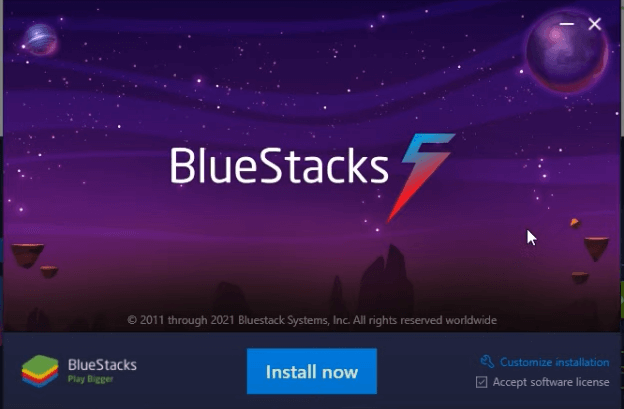 Step 2. You can Finish your GooglePlay account sign in or maybe do it later.
Step 3. Search for Tencent's PUBG on the top right side of Bluestacks UI.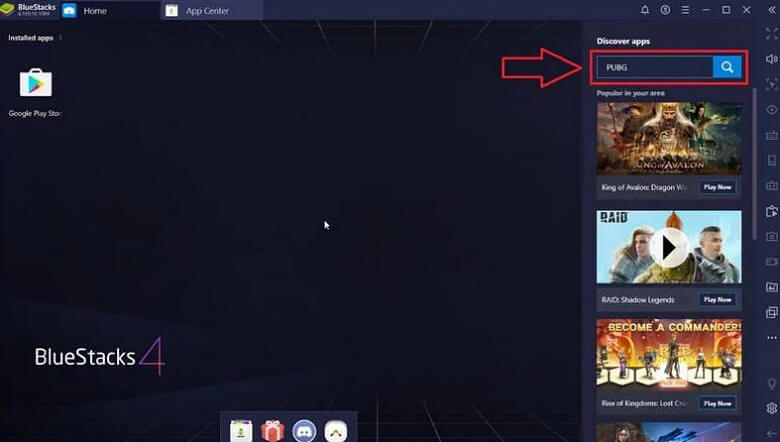 Step 4. Click on PUBG and Install it. To successfully install PUBG, you must complete your Google account Sign In.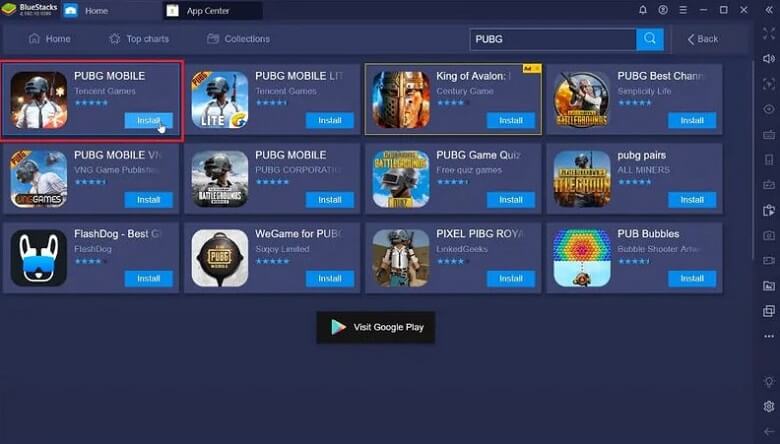 Step 5. Launch the PUBG app from your home screen and ENJOY the ultimate battlefield experience.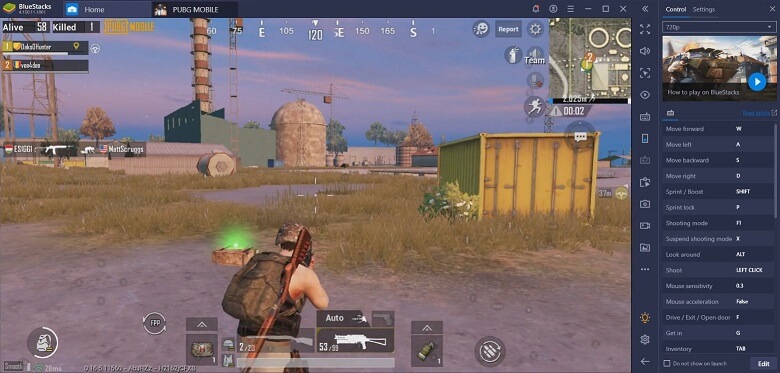 Well, you have learn how to play PUBG mobile on PC with Bluestacks now. But keep cautions that there is a few functionality bugs and delays that might cause a lagging experience. Try to use it with a good network. And If your device would be stuck, use the former method, screen mirroring with keyboard control, to avoid make it worse.
Tips to Play PUBG Mobile Game
1. Some Best Places to Land - PUBG Maps
If you're wondering about the best place to land on the PUBG map, I recommend you go for safety. We recommend you choose the SANHOK map, at Vista. On the top right corner of Sanhok, Vista is the least visited place on the PUBG map.
So if you're down for stealthy safe-play, you can land here, collect battle accessories and pick a sniping spot. Here, you can wait for your enemies and take them down silently, one after the other. The earlier you get there, the better!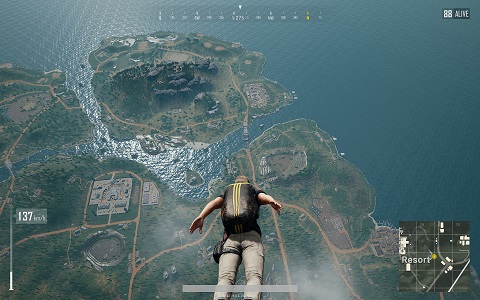 2. Change Your Voice in PUBG
PUBG has an in-built voice changer which players can use to customize their voices to mask their real voices. This feature is recommended for PUBG players who use their mic to chat during gameplay and streams with other players. But there are limitation for the voice effects. For this we recommend Soundbot.
With 125+ Voice filters, and 400+ built-in sound effects, Soundbot allows you to replay, cycle, overlap and even mute your audio clips in difference voice such as Donald Trump, Female to Male, or Cartoon ect... It also allows gamers to add key bindings for the sound effects without interrupting the original gaming audio.
3. 5 PUBG Shooting Tips
1.Improve your Recoil control when shooting to prevent missing shots, especially when in Auto mode. Avoid high-recoil guns if you have to.
2.Collect and use gun attachments on the battlefield. That is muzzles, scopes, magazines, sight & stock etc. Stay equipped to stay alive longer.
3.Make Headshots for easy kills to conserve your armour. Remember to improve your aiming game as time goes by.
4.Master Nerve control to stay calm and reign in close-range, high-intensity battles. It helps make the right decisions even when under pressure to NOT-GET-KILLED.
5.Use long-range 2x, 3x, 4x, 6x, and 8x scopes to make long-range kills. Inaccurate short-range scopes will give your location away during long-range encounters with enemies.
CONCLUSION
Before closing the curtains on this agenda, we hope you can now play PUBG Mobile on PC using your preferred method. Whatever screen mirroring with mouse controlling or the emulators, all of them are working well.
But if you wanna enjoy the high resolutions without delay, we recommend using Wootechy MirrorDisp to cast your phone screen to PC, or direct your PUBG phone from the PC with keystrokes or mouse.
Here's the moment you've been eagerly waiting for; grab your mouse and keyboard and begin ruling PUBG battlefields like the real veteran you are. ENJOY!