Do you want an app to watch live games that offer live streaming, on-demand replays, and news and analysis? Watching football matches or other live games on your smartphone has become a staple for gaming enthusiasts, providing a front-row seat to the action without being tethered to a TV. All this with just one App! That's why we've put together this list of the best 10 apps to watch live games, so you can always catch the action, no matter what sport you're into.
Part 1: The Best 10 Apps to Watch Live Games
This part aims to show you 10 options of Apps to watch live games. Almost all of them are available for Android and iOS. There are some apps that are free, and some that are paid but have a higher quality live streaming of events. Choose the app that best suits your own needs!
| Apps | Supported Platform | Price |
| --- | --- | --- |
| ESPN ScoreCenter | Android&iOS&Chromecast, | $9.99/month or $99.99/year |
| Live Football TV App | Android, iOS | Free |
| NFL+ | Android, iOS | $6.99/month or $69.99/year |
| Live Football Streaming | Android (APK) | Free |
| YipTV | Android,iOS, Chrome, Laptop, PC, Smart TVs | $6.50/month |
| CBS Sports | Android, iOS | Free |
| UKTVNOW | Android | Free |
| Fubo | Android, iOS | From$74.99 to $94.99 per month |
| Yacine TV | Android, iOS | Free |
| Live Scores | Android, iOS | Free/Paid for all features |
---
1

ESPN ScoreCenter

The ESPN ScoreCenter app stands as a one-stop shop for all things sports, staying up-to-date on the live scores, news, highlights and expert analysis for a variety of games, such as football, basketball, baseball, hockey, and more. The app also allows us to watch live games from ESPN's networks, as well as on-demand content such as ESPN+ originals and archived shows. ESPN ScoreCenter is free to download and use. While ESPN+ subscription costs $9.99 per month or $99.99 per year, it is a still popular option for watching NFL, NHL, MLB or other NCAA events.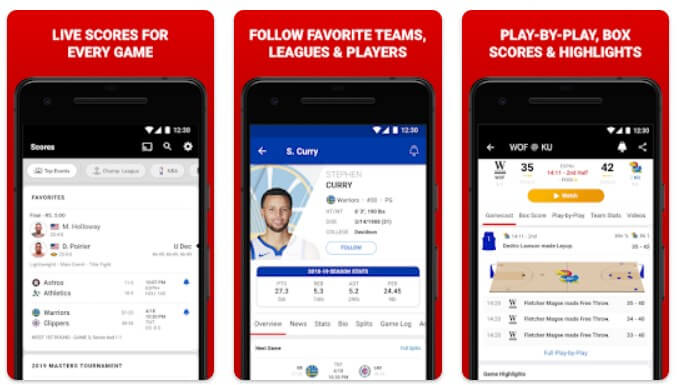 2

Live Football TV App

Want to watch football live games for free? Then, try the Live Football TV app! This app allows you to watch live football matches from all over the world, receive soccer goal alerts and stay updated on match-related news. Besides, It features a simple and user-friendly interface, making it easy to find and watch the matches you want. While it is notable for its free access with no sign-up required, it contains ads.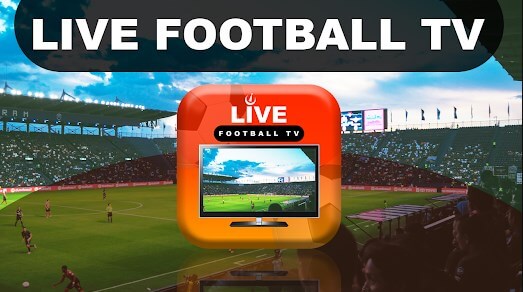 3

NFL+

NFL+ is the official streaming service of the National Football League (NFL ) that offers live and on-demand NFL content. It is available on the NFL app and website, as well as on connected devices such as Roku, Apple TV, and Amazon Fire TV. With plans starting at $6.99 per month and $69.99 per year, subscribers gain access to live games and stay connected with every touchdown and key play. (By the way, Live games are only available on mobile devices.)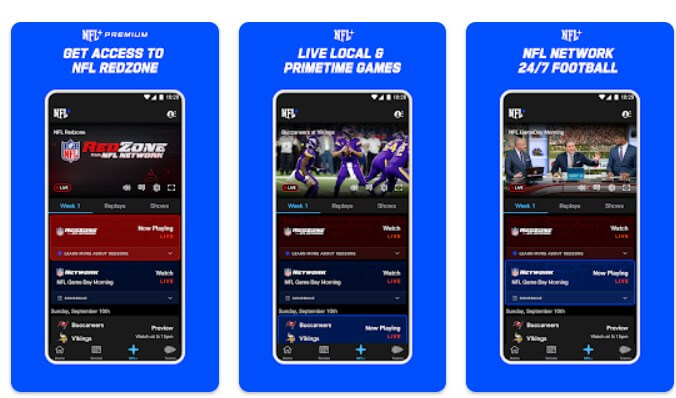 4

Live Football Streaming

Live Football Streaming is another free app to watch live games. This is a comprehensive football app that provides you with everything you need to know about the sport, including live scores, statistics, standings, line-ups, and events from all continents and leagues, including the Premier League and other major competitions. Importantly, you don't have to pay.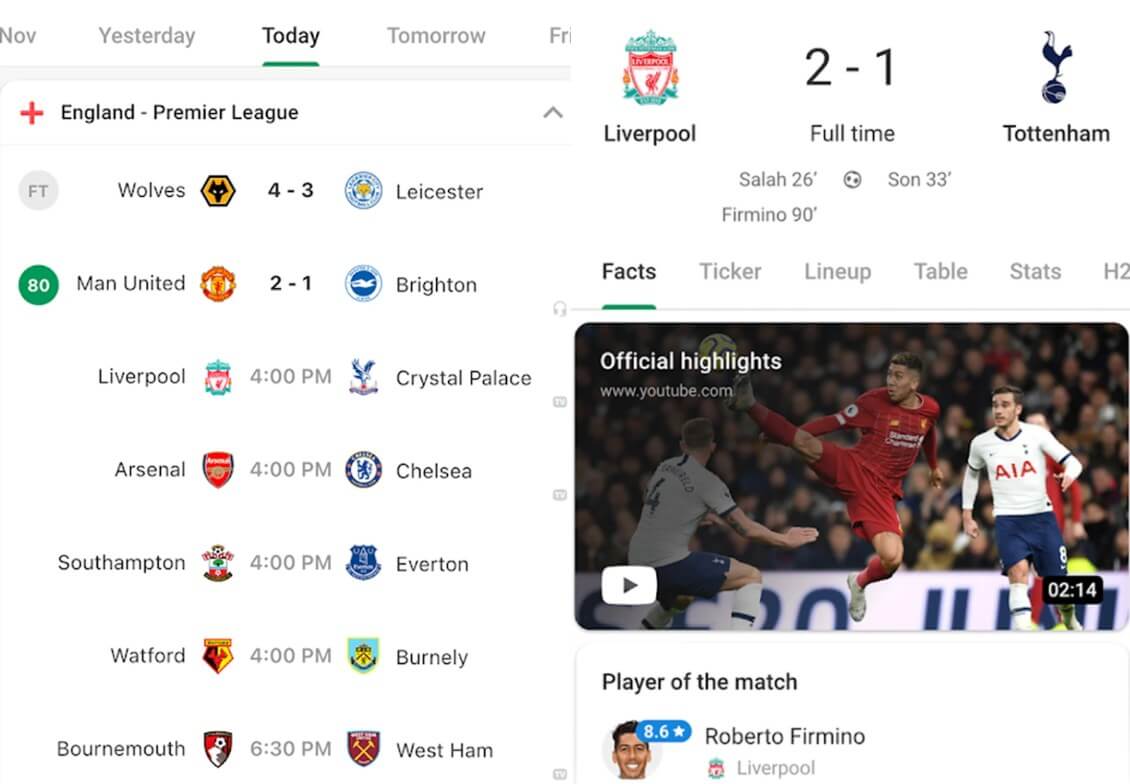 5

YipTV

YipTV is an IPTV service that specifically targets the Hispanic community, but it also offers a wide variety of English-language channels, including ESPN, NBC Sports, and Fox Sports. This service provides Live streaming of over 23,000 channels and an on-demand library of over 120,000 movies and TV shows. It is a popular choice for Spanish-speaking viewers. The plan is starting at $6.5 per month.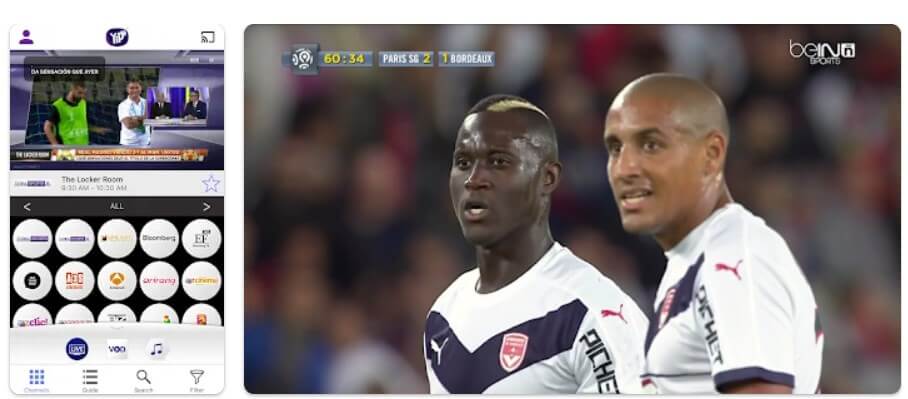 6

CBS Sports

CBS Sports, available on mobile devices, tablets, and connected TVs, is the free official app from CBS Sports, allowing you to watch live sports games from CBS, Paramount+, and CBS Sports Network, and providing a centralized hub for live scores, news, and schedules across many sports, including NFL football, MLB baseball, NBA basketball, NHL hockey, and college sports. If you are looking for an app to watch nba games live free, this is a good option. While please note that occasional pop-up ads will be encountered.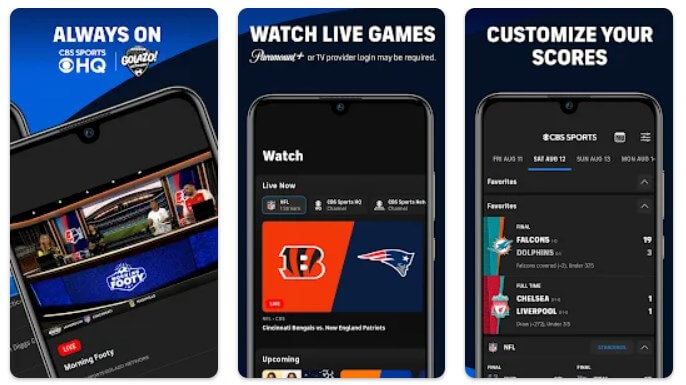 7

UKTVNOW

If you are in the UK, look the UKTVNOW. This free live TV streaming app offers over 200 live UK TV channels, including BBC One, BBC Two, ITV, Channel 4, and Channel 5. Besides, it provides many sports channels, including Sky Sports, BT Sport, and Eurosport. Compared to the previous apps, UKTVNOW is not focused on live games. But it is a great option for those who looking for live games for free.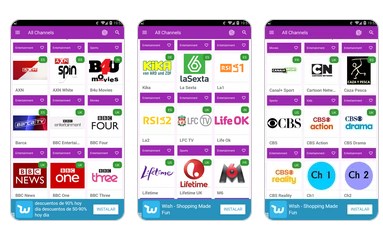 8

Fubo

Fubo can Live streaming of over 150 channels, depending on your location. It covers extensive sports, including NFL, MLB, NBA, NHL, and college sports, and offers Cloud DVR with up to 1,000 hours of storage. This app is more suitable for families. It supports Multi-stream for up to 3 devices at the same time. Up to 6 accounts are available for family sharing. Sure, it is more expensive. Here are the plans for your reference.

Fubo Pro: $74.99 per month

Fubo Elite: $84.99 per month

Fubo Ultimate: $94.99 per month

Fubo Latino: $64.99 per month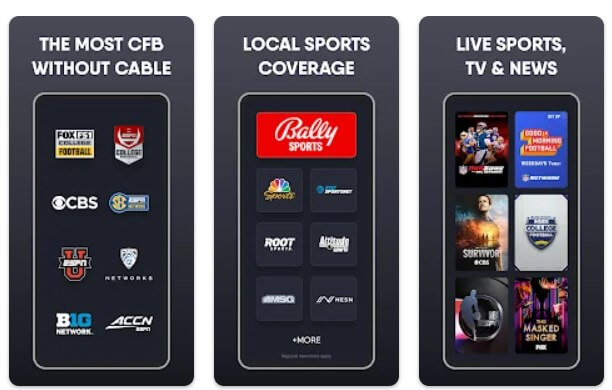 9

Yacine TV

Yacine TV is designed for watching live football and other sports matches, like European competitions, and international sports events. Also, it is free to use.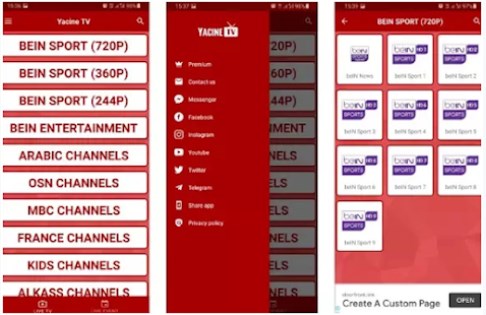 10

Live Scores

This app provides live scores, stats, and other crucial information from over 30 sports and 6000 competitions worldwide. It offers a robust free tier, while also coming with a premium version that unlocks additional powerful features.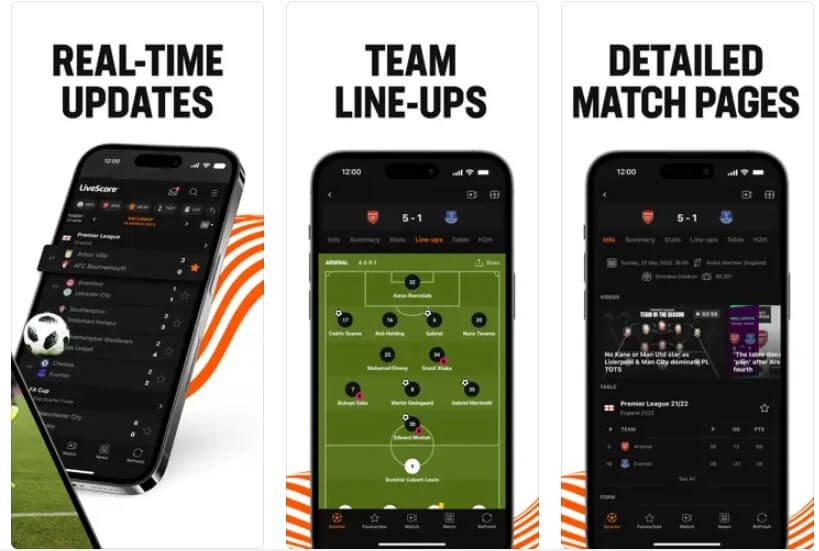 Part 2: How to Live to Stream Your Phone Screen to PC
Live streaming your phone screen to your PC can be a great way to share your live games with others, or enjoy a big screen. It's also a convenient way to record highlights of the live games for later playback.
To do that, the easiest way is to use Wootechy MirrorDisp. MirrorDisp is a screen mirroring and recording software that allows you to mirror your iOS and Android device screen on your computer. It is compatible with both Windows and macOS operating systems.
With that, you can share your screen with others when watching live games, record your device screen activities, and even control your device from your computer.
Here are some of the features of Wootechy MirrorDisp
Live steam phone to PC/Mac with audio in real time, without delay.

Record your phone screen activities in high quality, up to 60 FPS.

Control your phone from your computer using the keyboard and mouse.

Mirror multiple iOS/Android devices at the same time.

Annotate your screen while you are mirroring or recording it.

Supports both USB and wireless connection.

High-Quality Output.
Here are tutorials on how to screen live games from phone to PC/Mac
Step 1: Download and install Wootechy MirroDisp on your computer. Connect your iOS or Android device to your computer using a USB cable or Wi-Fi.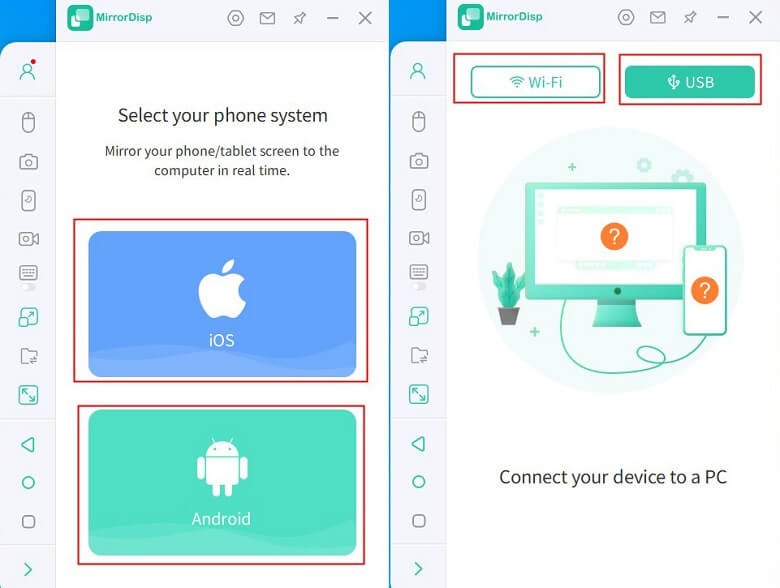 Step 2: For Android devices, enable USB debugging. For iOS devices, trust the computer.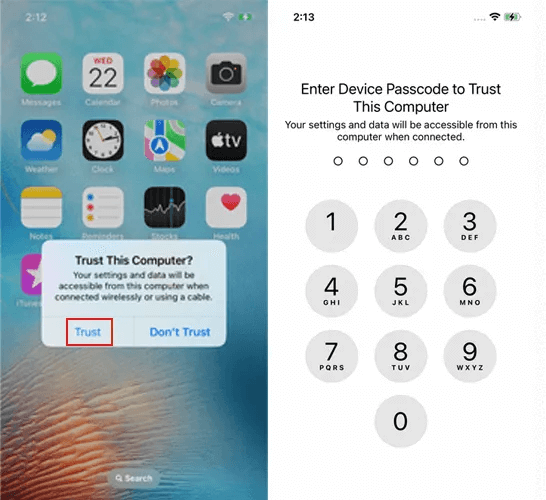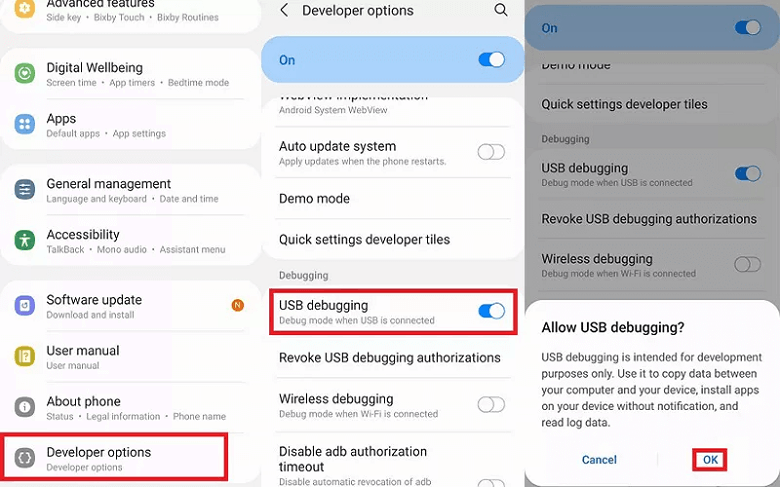 Step 3: Once done, the connection is established, and your football live games will be cast to your PC screen.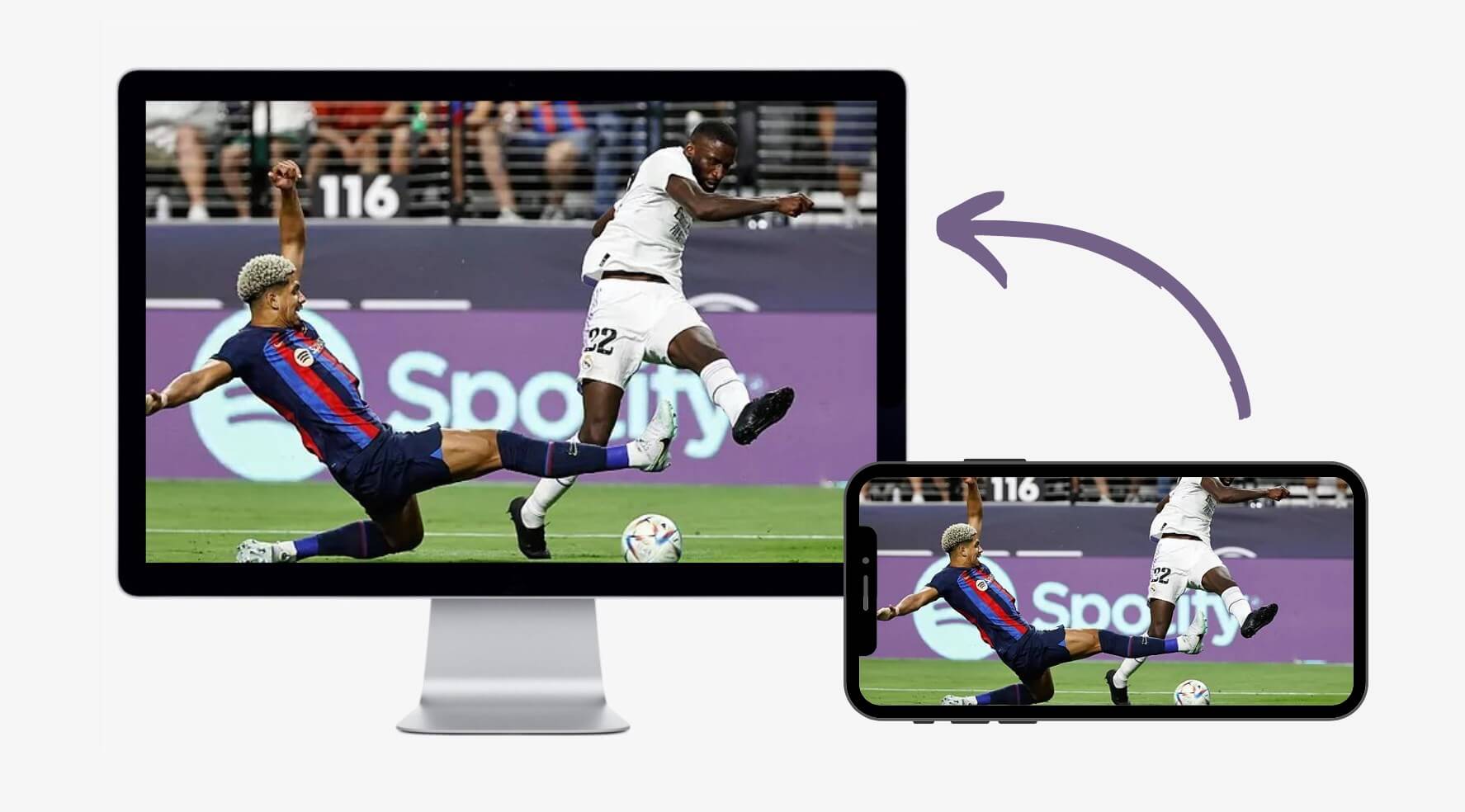 Step 4: (Optional) To control your phone from your PC, go to Settings > Bluetooth on your phone, and pair your phone to the cast-screen computer. Then, you can control using the mouse and keyboard, or use the MirrorDisp toolbar to control your phone screen, such as reply to messages, start and stop screen recording, take screenshots, and more.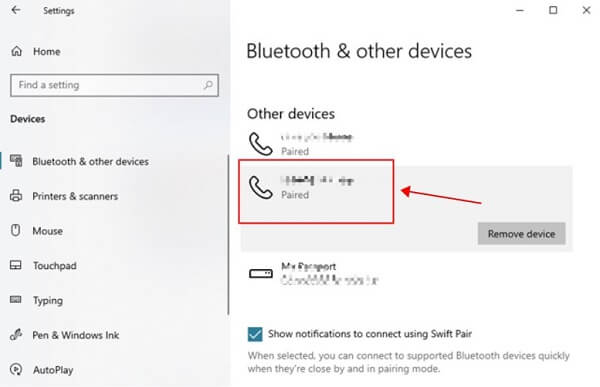 If you want to use other functions, click on the function bar on the left sidebar to switch between them.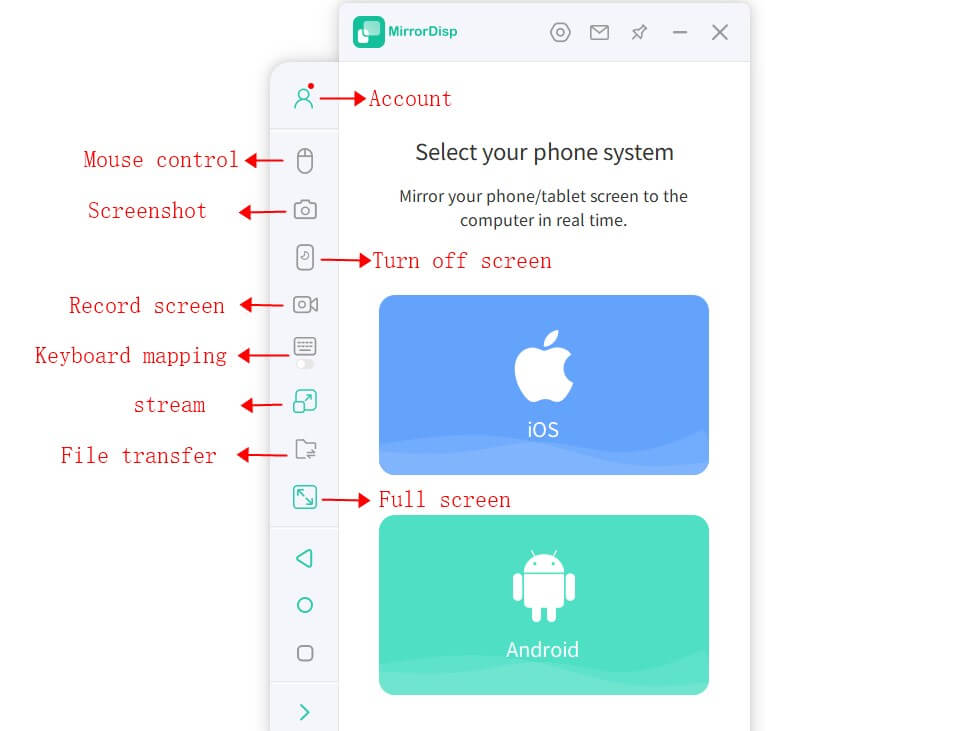 ---
Conclusion

In this article, we have concluded the 10 apps to watch football live games in real-time. Some of them come with a wide range of features and content, such as ESPN or CBS Sports. And if you are looking for an app that is specifically focused on football, then LiveScore or Live Football Tv App are good options. If you want to enjoy a bigger screen, there is also a great way.

Using MirrorDisp, you can easy to mirror football live games to your PC/Mac without delay, record the screen, annotate your screen, control your phone from your computer, and more. Download and install Wootechy MirrorDisp today and start casting live games on your PC! You won't be disappointed.