Live streaming has become increasingly popular over the years, with more and more people looking for ways to share their content with a wider audience. If you're looking to get started with live streaming, it's important to choose the right platform for your needs.
In this article, we'll be discussing the top 10 live streaming apps in 2023 that you can use to share your content with your audience. From video games to cooking, there's a live streaming app for almost every niche. Keep reading to find out which live streaming apps made our top 10 list.
But before we dive into the list, it's important to know how to stream on different devices.
Part 1: How to Stream on Phone, PC or from Phone to PC?
Overall, there are three ways to broadcast live. Live streaming directly on your mobile phone, directly on your computer, or live streaming your mobile phone screen on your computer. The latter is especially used for live mobile game screens or other mobile phone footage. Live streaming on a phone or PC is relatively simple, but the steps may vary depending on the platform you choose to use. For most cases, only need to enable live streaming on this platform.
However, if you wanna stream your phone on the PC, you need to connect your audio and video sources physically to your main live streaming setup, feed the content into your livestream station, or get the help of Live Streaming Aids. If you do not need to stream your phone to PC, skip to the next part and check the best live stream apps in 2023. Otherwise, check the below guide to live stream your phone screen.
How to stream Phone to PC in real-time?
For live stream phone screens to the PC, the simplest way is to use MirrorDisp from Wootechy. Wootechy MirrorDisp is a software tool that allows you to mirror your mobile device's screen to your computer, both Android and iOS. You can use it to control your phone from your PC, play mobile games on a larger screen with keyboard and mouse control, live stream your phone screen and audio to YouTube, Zoom, and other platforms, make real-time recordings, take screenshots, and transfer files from your PC to your phone.
To use Wootechy MirrorDisp to stream Phone to PC or Mac, follow these steps:
Step 1: Download Wootechy MirrorDisp on your PC or Mac from the official site or click the below bottoms.
Step 2: Launch Wootechy MirrorDisp on your PC and select your phone's operating system (Android or iOS). Then, connect your phone and PC to the same network. You can use either USB or Wi-Fi to establish the connection.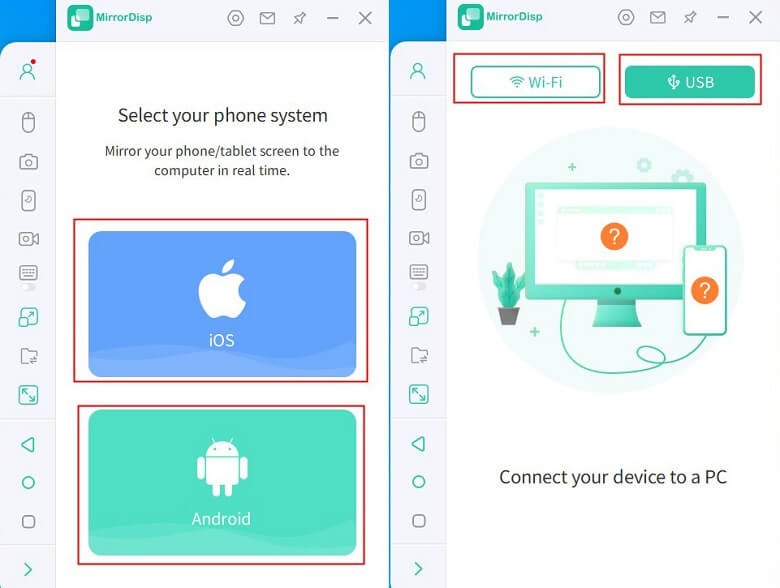 Step 3: Once your phone is connected to your PC, you can start mirroring your phone screen to your PC. You should see different features in the left bar. For a live stream with real-time audio and screen, choose "Stream".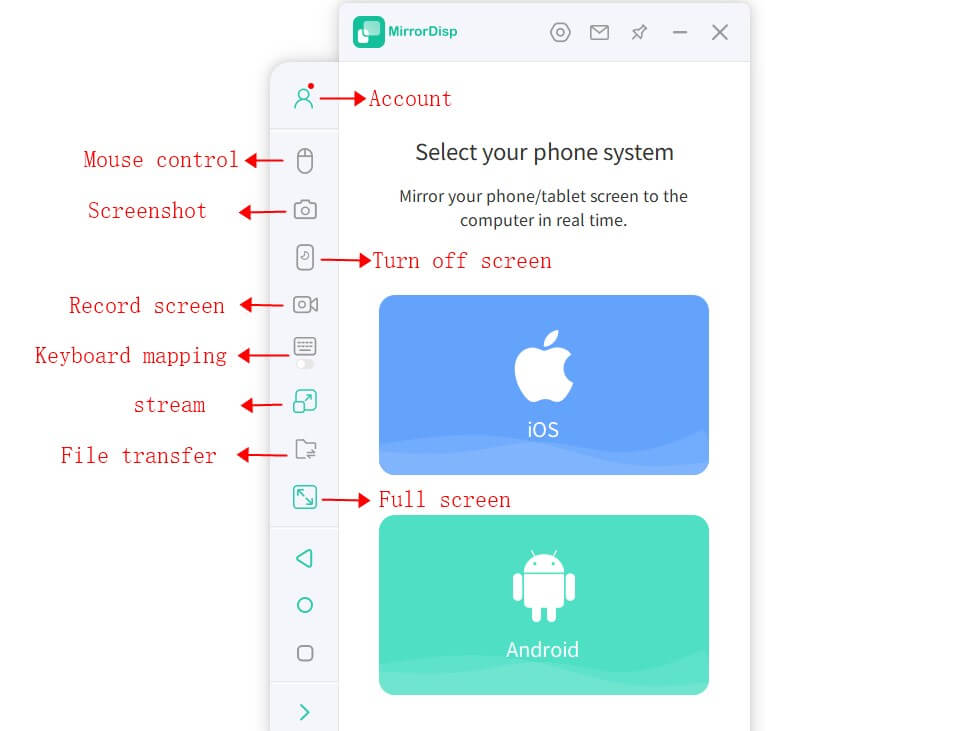 Step 4: Finish your MicroPhone setting and adjust it to satisfy your needs the most.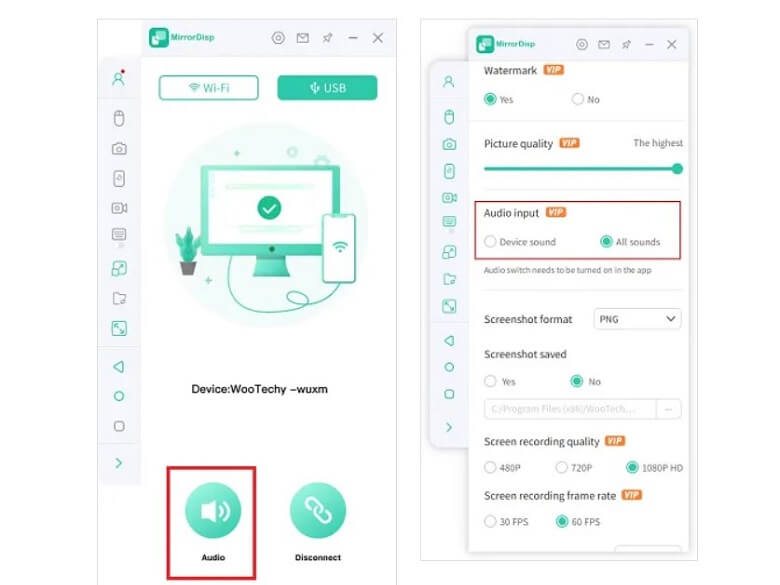 Step 5: Get your live streaming code on the live platforms and copy it.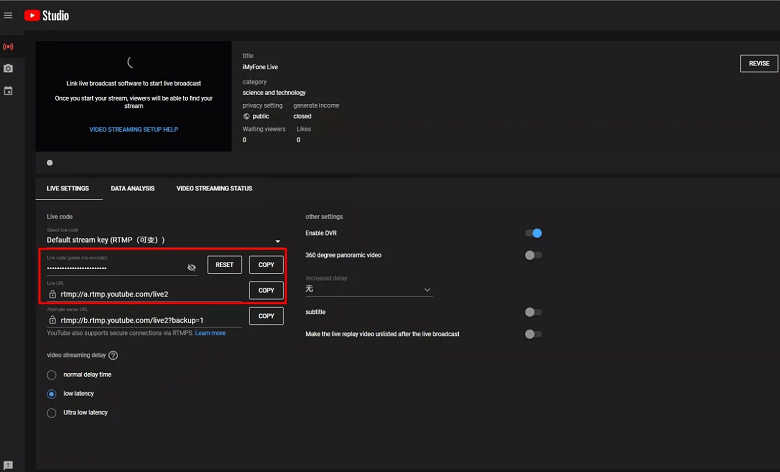 Step 6: Past the code to MirrorDisp. Once done, click "Start Streaming". Now, your phone's screen and audio will be live to your computer in real-time. Just start to enjoy your stream.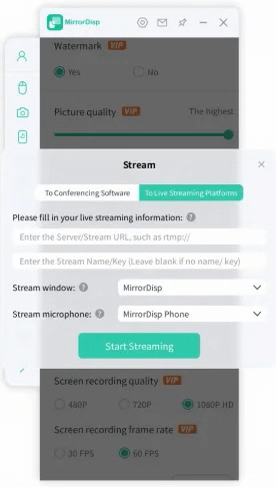 Part 2: The Best 10 Live Streaming Apps in 2023
1. YouTube Live
YouTube Live is a feature on the popular video platform that allows you to stream live content to your audience in real time. To live stream on YouTube, you need to enable live streaming, have no live streaming restrictions in the past 90 days, verify your channel, and then start your first live stream, which may take up to 24 hours.
It is worthy that the specificity of the keywords used in video descriptions is crucial for the algorithm to categorize and surface the content. With this feature, you can broadcast events, share your thoughts, and interact with the largest audience. In terms of viewership, this platform qualifies as one of the best live streaming apps.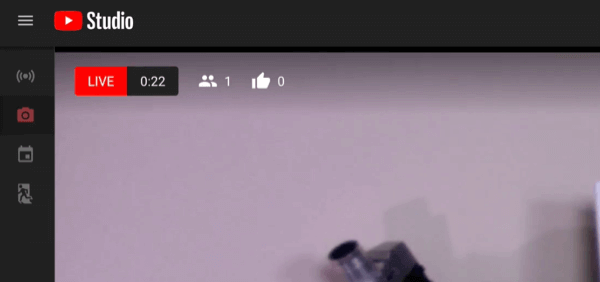 2. Panopto
Panopto is a versatile video content management tool that allows for recording, storing, and streaming of video files. It is commonly used in educational settings, as it enables both instructors and students to record and access video content for courses. Panopto offers features such as media library integration, cloud recording, and editing tools, which enhance the overall experience for users. Additionally, Panopto can be used in conjunction with other platforms, such as Zoom, to provide an even more comprehensive teaching and learning experience.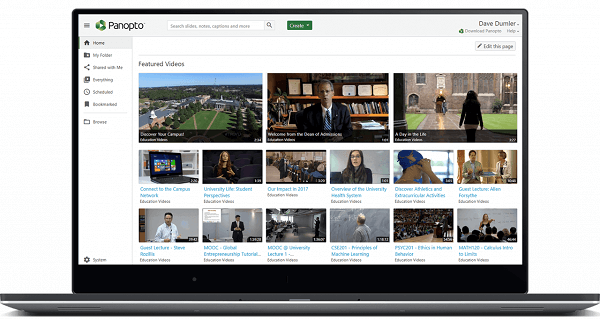 3. Vimeo
Vimeo Live Stream, as a professional live streaming service, offers high-quality and reliable streaming to users. With Vimeo Live, you can enjoy full HD 1080p and cloud transcoding, ensuring that their viewers can enjoy stunning videos across devices. The platform also offers stress-free live streaming, providing extra speedy support, stream reliability, powerful privacy, and customizable embeddable players.
VHowever, there is limited visibility due to its lower traffic compared to other video-sharing platforms, higher subscription costs for advanced features, and a smaller user base, which can make it more difficult to grow an audience.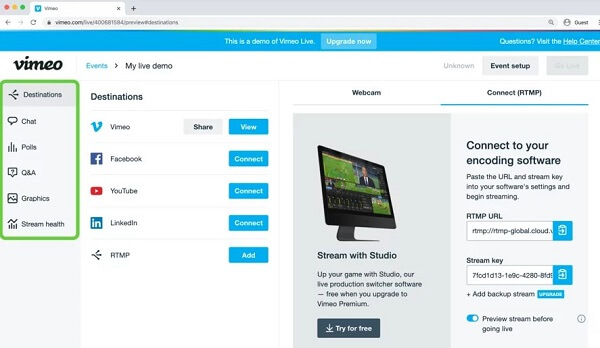 4. Switcher Studio
Switcher Studio is an iOS live stream app that allows users to capture live video from multiple cameras and edit videos in real-time while simultaneously streaming to multiple platforms such as Facebook, YouTube, LinkedIn, and Twitch. It offers three different plans, including a Studio plan for $49 per month, a Business plan for $69 per month, and a Merchant plan for $149 per month with a range of absolute features. Honestly, it may be a little expensive for small businesses or individuals, and its reliance on iOS devices limits its accessibility.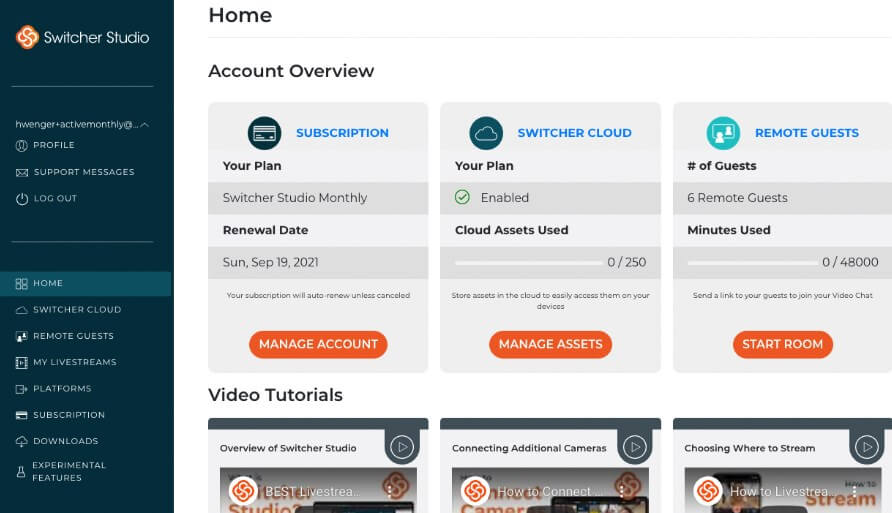 5. StreamYard
StreamYard can easily switch between multiple cameras and video sources, add visuals, slides, and videos to live streams, and record interviews and info sessions for external audiences. It also allows users to multistream to multiple platforms simultaneously, providing a wider reach for content creation.
For the drawbacks, when we tested it, we found that the audio quality can sometimes be inconsistent and that there can be issues with latency and buffering during live streams.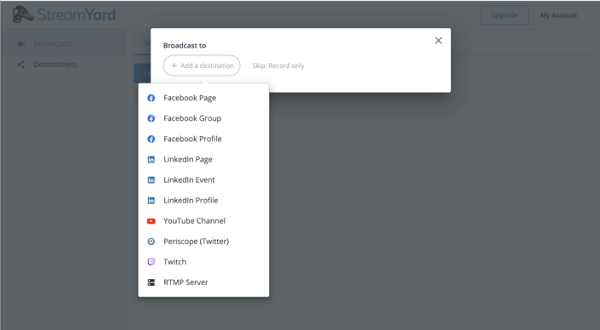 6. Discord
I guess all of you are familiar with Discord as it is a really popular platform for online communities, gamers, and professionals. It allows users to chat, voice call, and video call with others in real time. Discord also has a feature called "Go Live," which allows users to live stream their screen or camera to other members of a server. To live stream on Discord, you can follow simple steps, such as selecting the server and channel where you want to stream and making sure you have a good upload speed.
Whether you're a gamer looking to share your gameplay or a professional wanting to host a virtual event, Discord's live stream feature can be a useful tool for connecting with others in real time.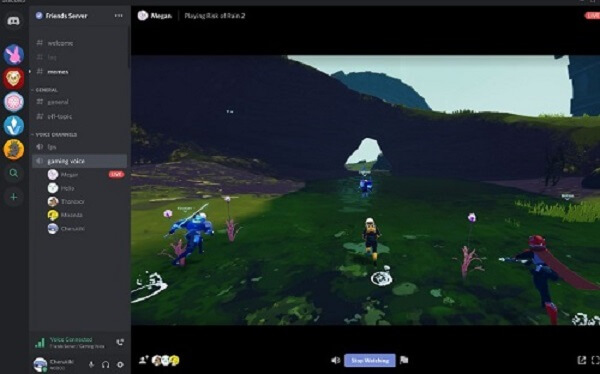 7. TikTok
TikTok also offers a "live" feature, where users can stream video content in real-time to their followers. To start a TikTok live stream, users must have at least 1,000 followers and 1,000 views on their posts in the past 30 days. Once these requirements are met, users can start a live stream by navigating to the "LIVE" option on the bottom navigation menu and choosing an image and title for their stream. TikTok live streams can be a great way to engage with followers and build an audience on the platform. Moreover, here you can reach a large numerous audience.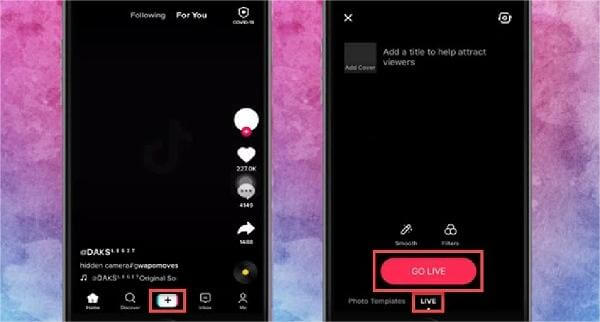 8. FaceBook
Facebook Live is one of the most classic platforms that enables users to start a live video broadcast and allows their friends and followers to watch and engage with the stream in real time. You can go live from their profile, pages, groups, or events, making it a versatile tool for different types of content creators. To start a Facebook Live stream, users can use either the Creator Studio app or the Facebook mobile app, where they can choose to either go live immediately or create a scheduled live event.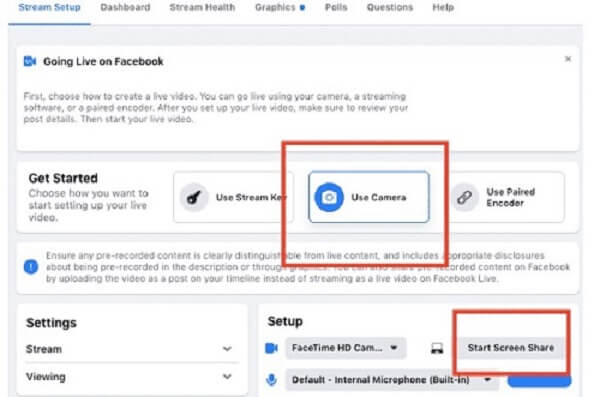 9. Instagram
Instagram Live is part of Instagram Stories, which has over 500 million daily active users and is displayed at the top of the Instagram feed. The feature provides an opportunity for users to engage with their audience, answer questions, and build a more direct line of communication with their followers. Instagram Live also allows users to share new content and experiences with their followers, creating a more authentic and personalized connection with their audience. Overall, Instagram Live is a popular tool for businesses, influencers, and individuals to connect with their followers and increase engagement on the platform.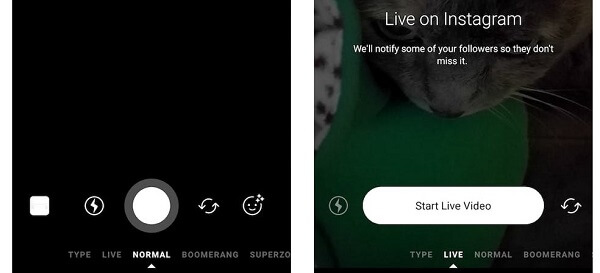 10. Uscreen
Uscreen is a prominent player in the VOD (Video on Demand) platform space, offering affordable pricing plans with access to marketing tools, multiple video monetization options, website themes, website editor video hosting functionality, and more for as low as $49. Customers praise Uscreen's great customer service, easy video creation, and support. However, some users have pointed out hidden costs, technical issues, and a bad user experience as downsides of the platform. Overall, Uscreen seems to be a good option for those looking for an affordable VOD platform with multiple features and good customer service.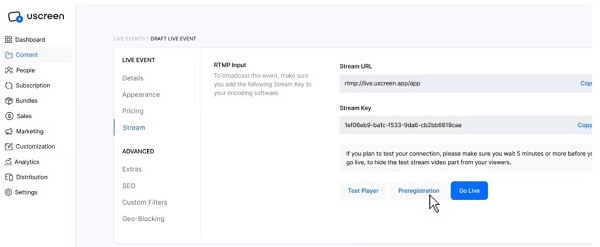 Wrap It Up
With the increasing demand for live streaming apps, it's crucial to choose the best ones that offer quality streaming and a user-friendly experience. Each of the 10 live stream apps listed above has its characteristics or pros and cons, so it is best to choose according to your needs.
And after confirming the live stream platforms, if you wanna live your phone to PC with the real-time audio and screen, you can use Wootechy MirrorDisp. That's it! Now, enjoy your live streaming!