If you are looking for the best Android emulation iOS programs, then this is the perfect article for you. Android OS is the most popular system used globally, with lots of applications and games available.
Emulation will enable iPhone users to enjoy lots of Android apps and games that may not be available to them due to compatibility issues. All you require to emulate Android on an iOS device is a competent emulator. This guide covers six of the best Android Emulators for iOS in 2023.
Part 1: What is an Android Emulator for iOS?
An Android emulator for iOS is a third-party tool that will enable you to run Android apps and games on your iOS device. It will give the user access to services such as Google Maps, Photos, and other Google Play Services. Emulators are easy to use with a variety to pick from due to their popularity.
Part 2: How to Run Android/iOS Apps on your Computer Without an Emulator
Firstly, Let's talk about how to Run Android or iOS Apps on the computer without emulators as there is a little difficulty to use Android emulator for iOS for the beginner. For this, one of the simplest way is get the help of Wootechy MirrorDisp. MirrorDisp is an application that allows you to mirror your iPhone or iPad to your PC screen lots of ease. This app is suitable for anyone looking to run iOS on their PC without using an emulator. The app is feature-rich and very easy to download and simple to use.
Features of Wootechy MirrorDisp:
Lag-free gaming with keyboard, mouse, and controller support.

You can use it to enjoy your iOS apps on a bigger PC screen.

MirrorDisp requires no jailbreaking to run and is very secure.

You can take high-quality screen captures using Wootechy MirrorDisp.

Direct file transfer from PC to your phone.

It also supports conferencing and live-streaming platforms.
Wootechy MirrorDips has a host of features that make it very reliable. The app is also easy to use. Follow these simple steps to use Wootechy MirrorDisp to run MirrorDisp on Your PC.
Step 1: Download for free and open the MirrorDisp software on your PC then choose iOS from the phone system options.
Step 2: Connect your phone and PC via USB and select Trust This Computer on your iPhone. You can mirror the iPhone & Android to PC with Wifi or USB.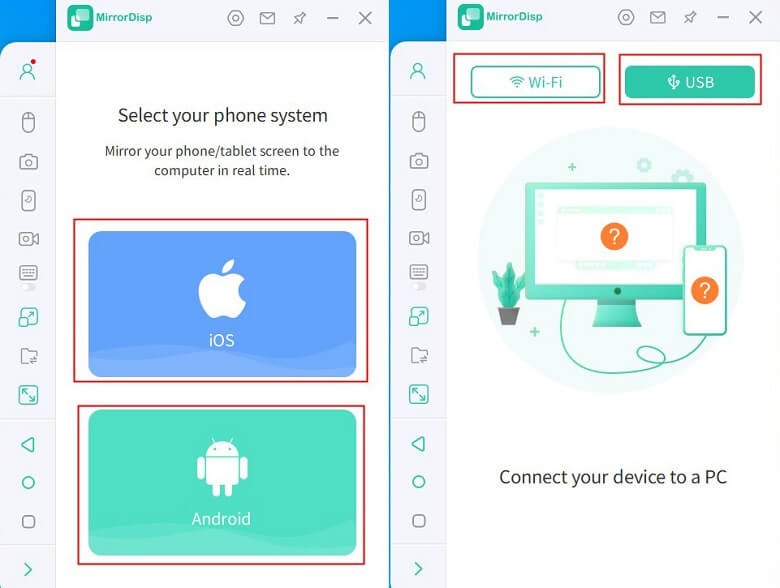 Step 3: Install the required drivers and reconnect for MirrorDisp to function properly.
Step 4: Now, You phone has been mirrored to your computer without emulator and you can enjoy the Features of MirrorDisp.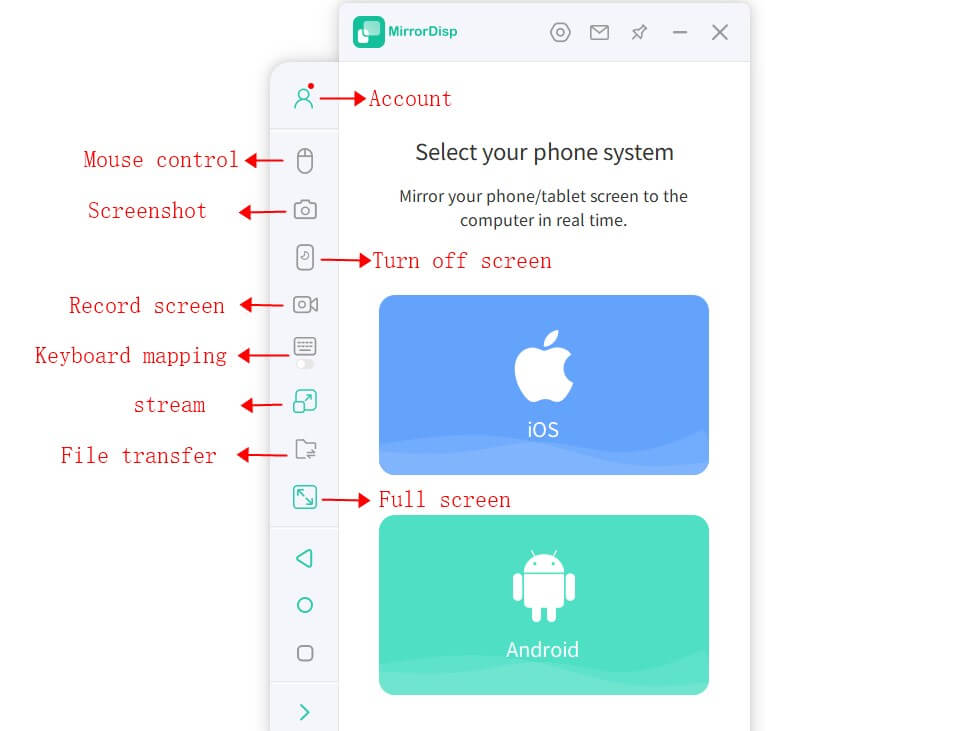 Tips
You will need to connect your device via Bluetooth from the settings on your iPhone if you wanna control from the side action bar on the PC screen.
Part 3: Best Android Emulators for iOS devices in 2023- Top 6
Now we'll go through the top 6 Android Emulator for iOS in 2023 with the tutorials, Pros and Cons. All of those are have been tested deeply and have proven to perform well.
iAndroid
iAndroid is a very popular Android emulation tool as it supports both iPhones and iPads. It has a host of amazing features such as customizable widgets on iOS devices running iOS 5 and above. The app doesn't also require jailbreaking as the app is from Cydia. The iAndroid app has become a key part of iOS due to its safety and stable performance.
Pros
Is relatively easy to use.

Is a good emulator and is very stable with very few bugs.

It does not require jailbreaking your iPhone or iPad.

Offers all Android features.
Cons
Can be slightly advanced for new users.

Is battery intensive.

Requires iOS 5 and above to run.
How to Use iAndroid Emulator?
Open Cydia on your iPad or iPhone then click on the Manage option at the bottom of the screen.
After three option packages, click on sources. All sources initially on Cydia will be displayed alphabetically.
Search the source from this link to download the Android emulator for iOS.
After adding the source successfully, click on the
source
to get a series of apps from the source mentioned above.
Search for the iAndroid app and install it. After installation, you can launch iAndroid from your app menu.
You can now start enjoying Android OS on your iPhone or iPad.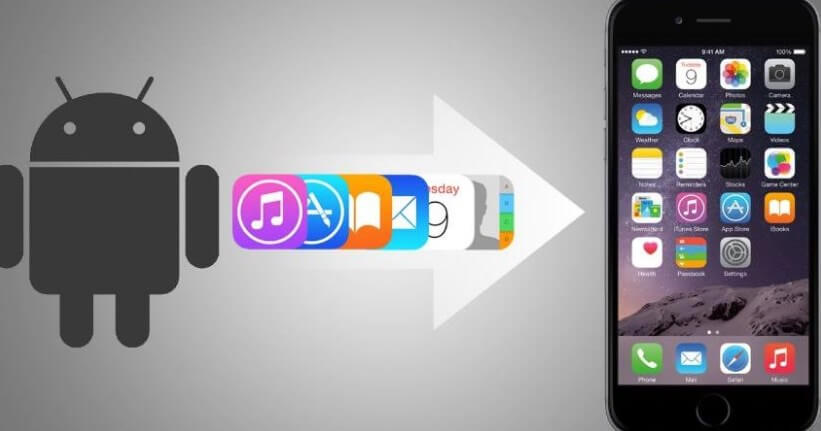 2. iNDS Emulator
This is another recommended emulator on our list. It is known for its optimization when playing mobile games on PC. iNDS emulator requires no jailbreaking to run, making it very secure. It was initially meant to be used on jailbroken devices only. However, recent updates have made the iNDS emulator usable on a regular iPhone or iPad. If you are a gamer, this emulator is highly recommended.
Pros
It supports all Nintendo DS games on iOS devices flawlessly.

Compatible with a variety of iOS devices.

Offers a smooth gameplay experience with a butter-smooth frame rate and resolution.

Supports many devices on iOS 13 or lower.

Nintendo games support, for example, play Pokemon Go on PC.
Cons
Drains your phone battery and overheats the device.

Beginners might be unfamiliar with the interface.

Poor experience due to the performance demands.
iNDS emulator is available from TweakBox, a third-party installer that mods apps and games as well as emulators for iOS. Follow these steps;
After opening TweakBox, click on Allow to enable the profile to download your device.
Launch the settings app and tap on the option available for downloaded files and tap the TweakBox profile.
Select install on the top-right corner of the page.
Open the TweakBox app after it is done installing, launch it, and search for iNDS.
Click on get then install the app to begin enjoying Android and Nintendo game emulation.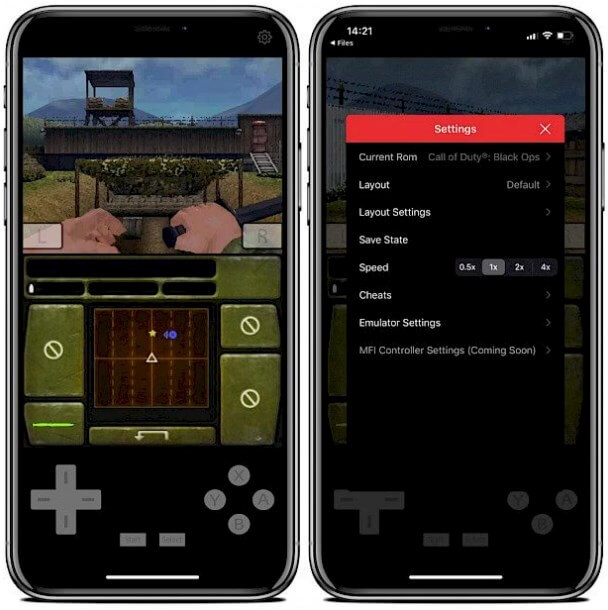 3. GBA4iOS
This is another top Android Emulator optimized for gamers with Nintendo support. This tool lets you enjoy your Android games as well as a bunch of console games on your iPhone. It gives the user flexibility to download ROM files from the Safari web browser and directly integrate them into the app. The GBA4iOS tool is also available for free and is a well-developed emulator.
Pros
Can be collected to Google Drive and other Google Play Services.

It is compatible with the Safari browser to download ROM files with much more ease.

It provides the best experience when emulating GameBoy Advance and other Nintendo Games.
Cons
Most users experience reduced quality of general Android services.

Underwhelming graphics.

Can't be directly downloaded from the store.

A bit glitchy and laggy when gaming at times.

Older devices might struggle.
How to use GBA4iOS?
Download the Emus4u app on your device and search for GBA4iOS on the search bar.
Install the download and start using the emulator.
Launch the GBA4iOS emulator app on your iPhone or iPad after downloading it.
Select the search box on the top-right side of the screen.
Choose your preferred game series option from the 11 available ones.
Download your chosen version and tap on save to download the Rom.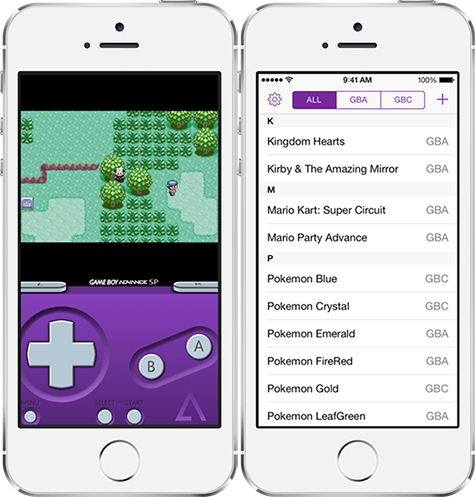 4. Appetize iOS Emulator
Appetize emulator is used for app testing and general app emulation. It is more stable and has a variety of premium features for more advanced users looking for a good emulator. It can emulate various operating systems and versions.
Pros
A very reliable and stable emulator.

Can emulate different systems and versions of iOS.

Rarely experiences bugs or crashes.
Cons
Expensive.

Hard for new users.
How to use Appetize?
Download Appetize and register or log in to your account if you have one.
Click on Upload to upload your Android/iOS files instantly to your account.
Ensure your app is in a format the app can recognize before uploading. The app should be in a zip or .tar.gz file.
Click on select file next and open the file window you require and open it.
Type your email to receive the generated links of your apps and wait for further email directions.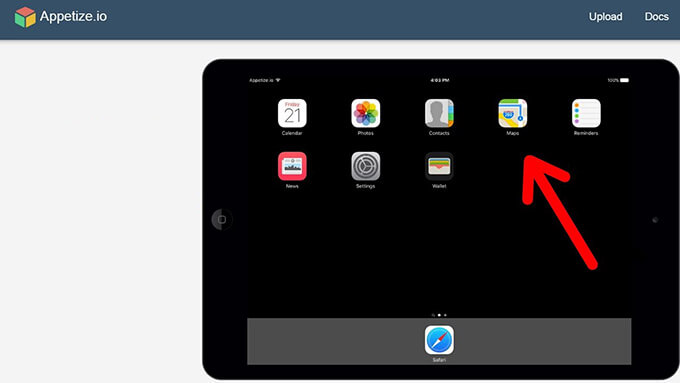 5. iEMU
iEMU is a good Android iOS emulator. It is recommended as it operates well, and has good customization options. It is a good iOS emulator that will allow its users to experience iOS in ways they couldn't before.
Pros
Offers a sense of the iOS system on Android devices.

Is free and easy to use.

Will give you access to iOS apps.

Doesn't need root access.
Cons
The app has ads which can be a little irritating.

Low-end devices will experience lagging.
How to Use iEMU?
Download and install the iEMU emulator.
Install and launch it to start emulating iOS.
Ensure you allow app installation from unknown sources.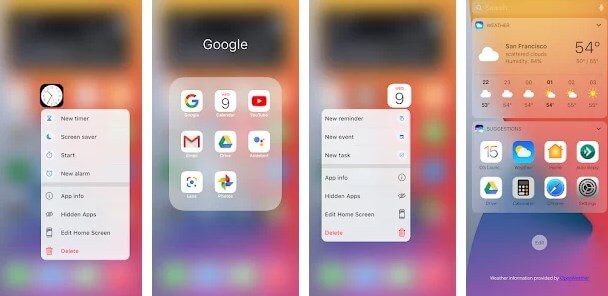 6. Cider
The Cider emulator requires little RAM to use. It is the final recommendation on our list of the best Android emulators for iOS in 2023. It is convenient and also delivers the iOS experience on your Android phone. It doesn't require any rooting or jailbreaking, making it relatively safer as well.
Pros
It is very stable.

Battery efficient.

Free and easy to use.
Cons
Low-end devices might struggle.

Some bugs are present.
How to Use Cider Emulator?
Download and install the Cider iOS emulator.
Launch the app to start downloading and running iOS apps on your Android device.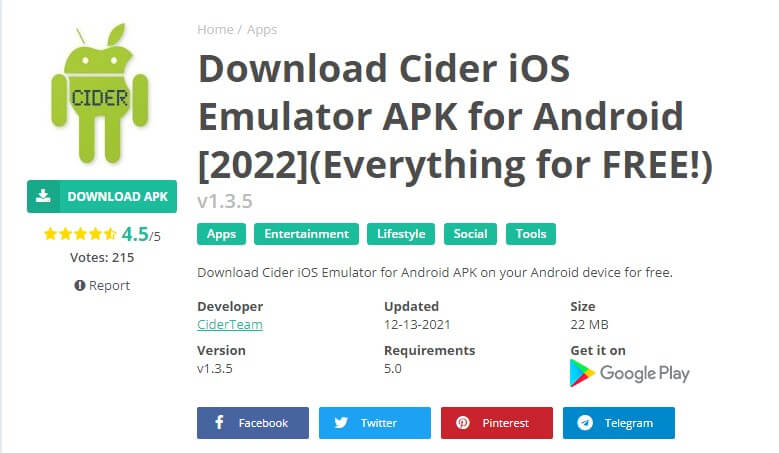 Conclusion
There is no shortage of emulators to choose from for emulating Android on iOS devices and vice versa. This article has selected the best emulators for you to use. If you have any questions about the Android emulate for iOS, feel free to comment below and let's dig it deeper.
Also, If you would like a new experience without using emulators, use Wootechy MirrorDisp for unrivaled results. HD gaming and screen recording are only one app away. Don't be left out!