If you own an iPhone and a Windows PC, it is good for you to know how to mirror iPhone to PC. Mirroring your iPhone to a PC allows you to display your iPhone's screen on your computer screen which is bigger, making it easier to share photos, videos, and other content with others, or to record your screen for tutorials or other purposes. This article will guide you through the process of mirroring your iPhone screen to your PC.
Part 1: How Mirroring iPhone to PC Works
Mirroring an iPhone to a PC involves using some applications that allows the computer to display a real-time view of the iPhone's screen. This is typically achieved using a wireless network connection, although a wired connection is also possible using a USB cable.
When you initiate the mirroring process on your iPhone and connect it to your PC, the application on your PC establishes a connection with your iPhone and captures the screen image in real-time. This image is then displayed on your PC, allowing you to see and interact with your iPhone's screen using your computer.
A good screen mirroring app typically provides additional features such as recording the screen, controlling the iPhone from your PC, or capturing screenshots such as Wootechy MirrorDisp, Reflector. Amount that, we recommend using Wootechy MirrorDisp for all your iPhone mirroring and screen recording options.
Part 2: How to Mirror iPhone/Android via Wi-Fi or USB [Wootechy MirrorDisp]
Wootechy MirrorDisp is not your ordinary screen mirroring tool. It has a variety of features that are to be covered in this guide along with the steps on how to use it. It is the most convenient screen mirroring tool for iOS or Android users available on the market. It is also very easy to use due to its user-friendly interface. The tool is also very safe, and doesn't require you to jailbreak your iPhone. It is guaranteed to fulfil all your screen mirroring and casting requirements. Get MirrorDisp to start enjoying the following features.
Features of Wootechy MirrorDisp:
Play your favourite mobile games on a bigger screen with higher resolutions and framerates without using an emulator.

Map various keys to your liking making it more efficient.

Livestream to other apps and record anytime with a high definition camera, up to 4k resolution.

>One click screen capture and recording. You may also save the screenshots and recorded videos to your computer and access them anytime easily without any watermarks.

Phone screen streaming with HD audio is supported.

Allows you to copy and paste screenshots across devices.

Support transferring file from your PC to phone.

Smoothly control the screen in real time.
These are some of the features of Wootechy MirrorDisp. It has several more to make it your all in one screen mirroring tool. Here are the steps to using MirrorDisp.
Step 1. Download Wootechy MirrorDisp in your Windows or Mac, then select iOS from the system page program.
Step 2. Connect your iPhone to PC.
There are two ways of mirroring your iPhone screen, connecting with PC or USB.
Connect with USB:
A: Connect the two devices via a USB cable and tap on trust this computer from your iPhone.
B: Install the necessary drivers and reconnect the app. Restart the connection after installing the drivers. Restart MirrorDisp for the drivers to function well.
C: For controlling iPhone from PC, pairing the iPhone with your computer's bluetooth.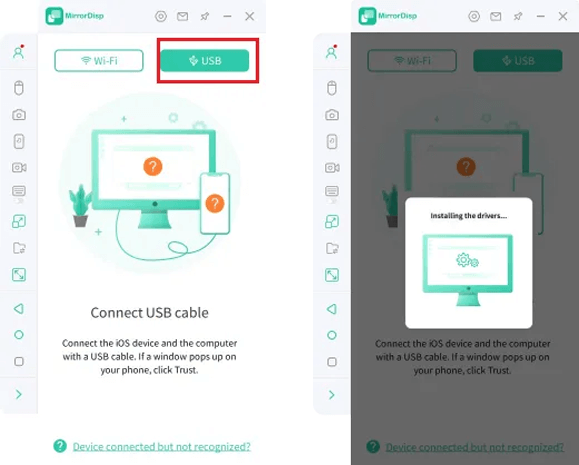 Connect with WIFI:
A: Select WiFi as the screen mirroring method. Proceed to connect your iPhone to the PC's hotspot.
B: Allowing network access on your PC. Check and authorise domain networks, private networks and public networks when the alert is shown from Windows Defender. Just click on "Allow Access".
C: On your iPhone, go to control centre > screen mirroring and choose MirrorDisp from the list of devices.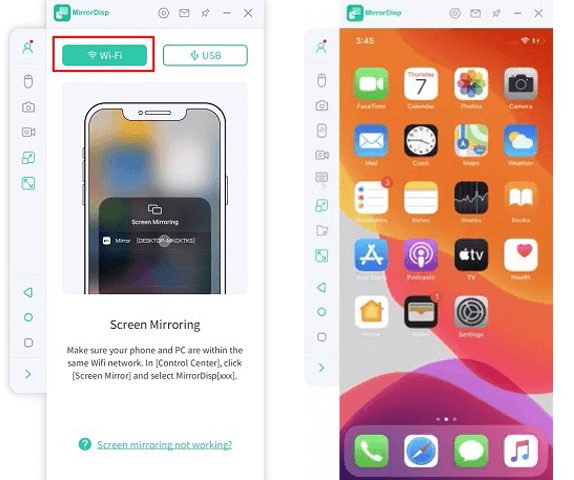 Step 3. Now, you can use the different features such as iPhone control, stream, file transfer and so on, just follow your preference.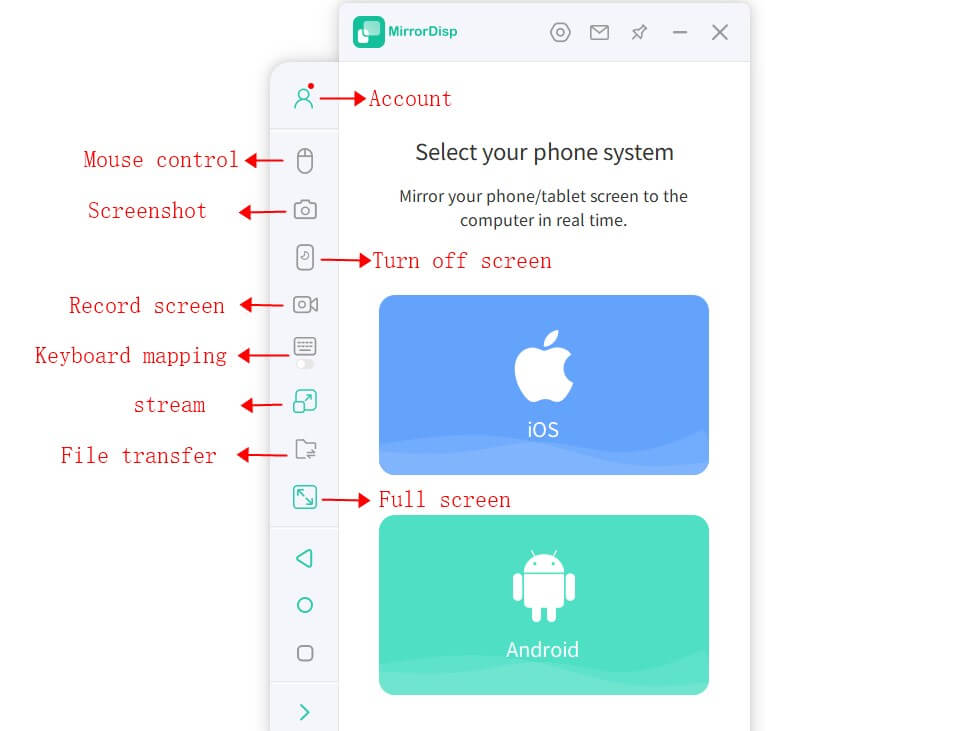 Part 3: How to Mirror your iPhone to your PC via Emulator [Smartface]
The Smartface emulator is an advanced emulator that can be tricky to use especially for beginners. It is available for free and is completely unlimited. To run Smartface emulator smoothly, you'll need to ensure you have iTunes installed and running on your computer.
Developers can also use Smartface as it is bug-free and can smoothly run apps from the store and other unknown sources. You can develop applications via Smartface emulator as well. The app also comes with a debugger to take care of any bugs. Furthermore, Smartface emulator is very versatile, thus supporting Android emulation.
Pros
Allows coding for developers.

Feature full and familiar.

Good FPS and resolution for games and other screen capture options.

User friendly interface that makes them very easy and convenient to use.

The best iOS emulators are better optimised and more compatible compared to real Apple devices.

Better graphics for games compared to ordinary iOS devices.
Cons
Security Vulnerabilities.

Legal Issues and potential bans on various apps.

Smaller battery life on your laptop or PC.

Reduced compatibility for some apps.
Steps to use Smartface to mirror iOS on Your Windows PC
After installing iTunes on your PC follow these steps to run iOS on your Windows PC.
Step 1. Launch your browser and open download Smartface emulator from this link.
Step 2. Search for the download the Smartface IDE section, insert your email address and submit it.
Step 3. Open your email with further instructions and verification.
You will be able to use your PC as an iPhone device. It is an efficient solution for gamers and anyone looking to use their iOS device on a bigger screen.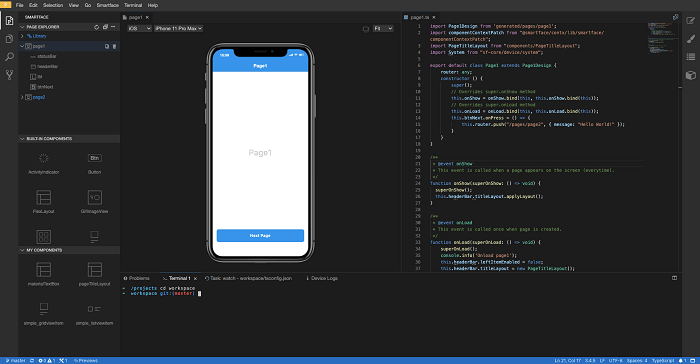 Part 4: Screen Mirroring iPhone to PC - FAQs
1. How to Mirror iPhone to PC without any third-party software?
It is not possible to mirror your iPhone to a PC without a software program. You will need to download a tool or an app to start mirroring your iPhone device on your Windows PC.
2. How to Mirror iPhone to Mac?
Wootechy MirrorDisp is the best app to use for mirroring your iPhone to your PC. Follow these steps to mirror your PC on your PC screen.
Launch Wootechy MirrorDisp on your PC and select "iOS" from the phone systems page on software.
Connect your devices using your USB cable. Select USB from the option, and connect your iPhone to the computer.
Ensure you tap on Trust this PC from your iPhone.
Install the necessary drivers and reconnect your iOS device for the app to work properly.
Pair your iPhone with the PC from settings. This will let you control your phone using the side action bar on your PC.
3. Can I mirror My iPhone to my PC for Free?
MirrorDisp lets you mirror the screen of your iOS devices, Android devices or tablet, Chromebook, PC or Mac to computers wirelessly and for free. Some premium features will require you to pay the subscription fee to access.
4. What's the difference between Screen mirroring and Screen Casting?
The difference between screen mirroring and casting is that mirroring is about sending what is being displayed on your computer screen to a TV projector via a cable or wireless connection. Casting simply means receiving online content through a digital media player to a TV, projector or monitor through wireless connections.
5. Can I Reverse Mirror My Windows to My iPhone?
Using third-party apps, you can reverse mirror your PC screen to your iPhone. Such apps include Apower, LetsView, and A-peaksoft.
TAKEAWAY
Mirroring your iOS device has never been difficult. There are a variety of apps to choose from, with MirrorDisp being our recommended choice. Better performance and screen resolution is one app away. Get Wootechy MirrorDisp to start enjoying high-quality screen mirroring on your iOS devices. The app has a host of features, is easy to use and requires no jailbreaking. Its advanced features also add to the safety component and overall convenience.