Mirroring your phone to your car screen can be a great way to enhance your driving experience. Not only can you access your favorite apps and media from the comfort of your car seat, but you can also stay hands-free and safe on the road.
However, the process of mirroring your phone to your car screen can seem daunting. In this article, we'll break down the steps for both Android and iOS devices to help you get started with mirroring phone to car screen.
Part 1: Benefits of Phone Screen Mirroring in Car
Phone screen mirroring is a feature that allows you to display your phone's screen on your car's infotainment system. This can be done using a variety of methods, including wired connections, wireless connections, and even third-party devices. Here's why so many people are looking to mirror their phones onto car screens.
Hands-free operation: By mirroring your phone to your car screen, you can use your phone without having to take your hands off the wheel, keeping you safe on the road.
Access to music and media: With mirroring, you can access your music library, podcasts, and streaming services right from your car's dashboard.
GPS navigation: Mirroring enables you to use your phone's GPS navigation system, allowing you to enjoy clear directions while you focus on driving.
App access: Mirroring lets you access your favorite apps, such as social media platforms and messaging apps, without having to reach for your phone.
Increased convenience: Mirroring saves you the hassle of fumbling with your phone while driving, making it a more convenient and safer option for using your phone while on the go.
Part 2: How to Mirror Android to Car Screen
Method 1: Android Auto Screen Mirror
If talking about ways to cast your phone to car screen, our first recommendation would definitely be Android Auto screen mirror. Android Auto is a popular screen mirror for car that focus on mirroring your Android phone's screen onto your car's system.
Importantly, It's compatible with most modern car systems and Android phone running Android 6.0 or higher. (Sure, in almost all Android mobile phones, the system has been upgraded to 6.0 after, so it can be applied almost, so it pretty much works for.)
If your have an Android phone, you can start the Android auto screen mirroring following the guides;
Step 1. Download the "Android Auto" app on your Android phone from Google Play. Connect your phone to the car using a cable.
Step 2. Press the Android Auto icon on your car's infotainment screen. Then, you will find you can now use the Android phone on your car's screen to access apps and make calls.
Step 3. If your car supports wireless Android Auto, enable Bluetooth pairing to mirror your Android phone wirelessly.
Tip: You can also trigger language control with "Hey Google".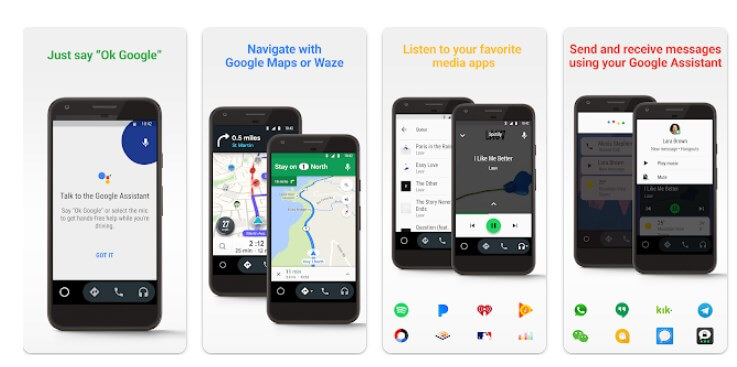 Method 2: MirrorLink
MirrorLink is a third-party app for screen mirroring Android devices to car displays. Like Android Aoto screen mirror, It lets you display your phone's content on a car screen and allows you to play audio through the car speakers.
Additionally, it has all the necessary features of a reliable app, including the ability to activate your blinkers.
Note:
Before using MirrorLink to mirror phone to car, make sure your car is compatible with it. It is not as compatible as Android auto screen mirror.
Anyway, here are the steps below to connect your Android device to your car using MirrorLink:
Step 1. Use a USB cable to connect your Android device to your car's stereo.
Step 2. On your Android, go to Connection Settings > MirrorLink, and tap MirrorLink.
Step 3. To start mirroring your device's screen, turn on the "Connect to car via USB" option on your device screen. This will display your Android device's screen on your car's display.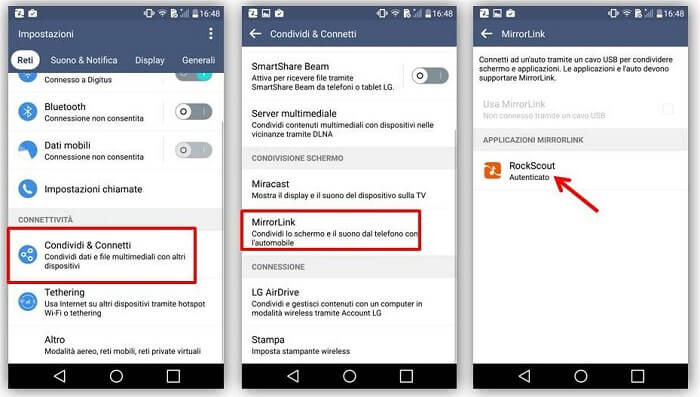 Method 3: Screen2Auto
Screen2Auto is another third-party app that allows you to mirror the screen of your Android smartphone to the car. To use Screen2Auto, you need to connect your Android to your car using a USB cable.Then, Open the Screen2Auto app and tap on the "Connect" button. Screen2Auto will then search for your car and connect to it.
Once Screen2Auto is connected, you will see your Android device's screen mirrored on your car's infotainment system. You can then use your car's touchscreen to control your Android device. Overall, the steps for using the above three tools are pretty similar.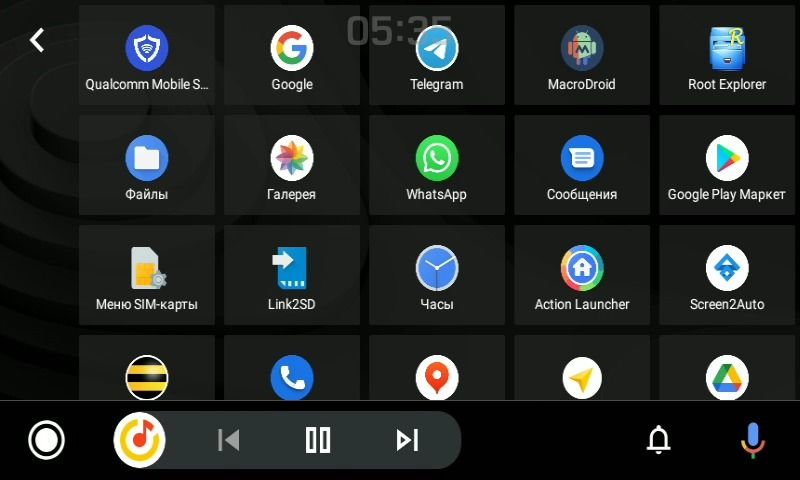 Extra Tip: How to Mirror Android and iPhone to PC
If you wanna mirror your Android/iPhone to PC, you need to look for other tools. And Wootechy Mirror Disp is one of the best screen mirror software for you. With MirrorDisp, you can easily mirror most Android/iOS screens to your PC, giving you the freedom to control the phone from a larger and more comfortable screen.
But that's not all. MirrorDisp allows you to play mobile games on your PC with a keyboard and mouse without any delays. Then you can enjoy your favorite mobile games with a bigger displays.
Features of Wootechy MirrorDisp:

Mirror and control most of Android/iOS screens to PC.

Play mobile games with keyboard and mouse support with keyboad mapping and audio.

Live stream your phone screen, audio and in-app display to popular platforms like YouTube, Zoom, etc.

Make real-time recordings and take high-definition screenshots of your phone.

Directly transfer files from your PC to Android phones.

Support multiple devices.
Steps to Mirror Your Android or iPhone to PC
Step 1. Install and launch WooTechy MirrorDisp on your computer and make sure both devices are on the same WiFi network. Select "Android" or "iPhone" from the program. Then, connect your phone to PC with WIFI or USB.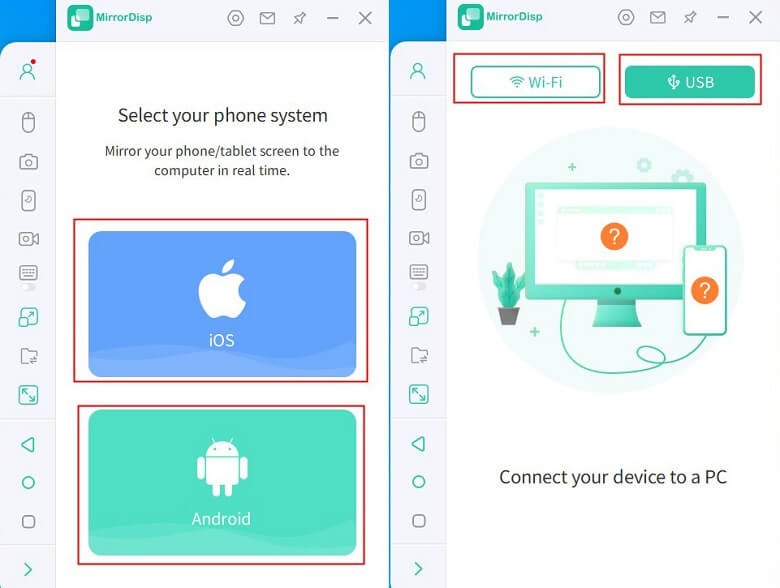 Step 2. Allow access by clicking "Allow" when prompted by Windows Defender Firewall.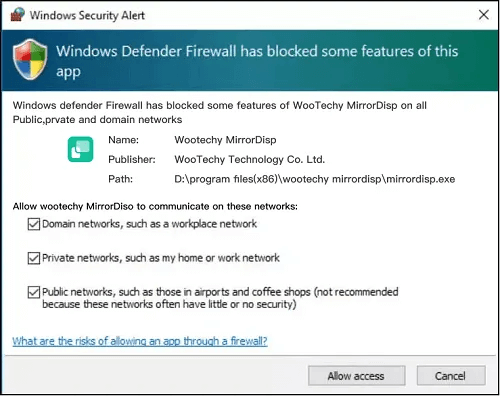 Step 3. Choose your device information and click "OK" to continue. If connecting for the first time with USB in Android, activate developer mode, and turn on USB debugging.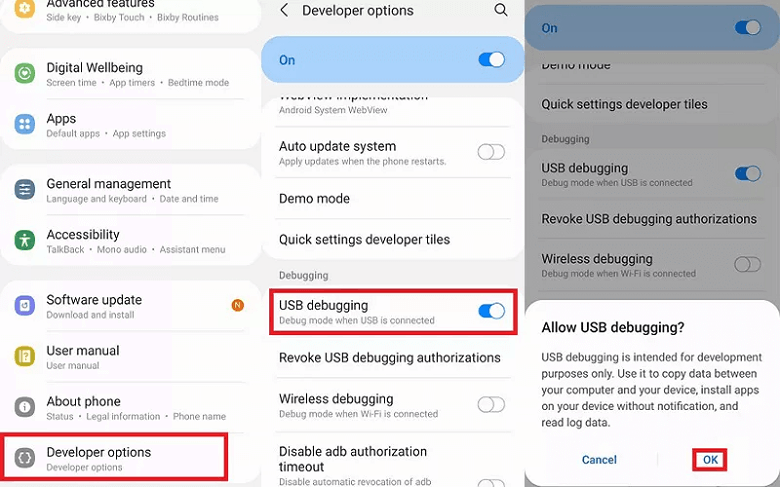 Step 4. Click "Turn on" when prompted for permission on MirrorDisp. A mobile terminal will be installed on your Android device.
Step 5. Successfully cast your Android phone screen to a computer and enjoy controlling mobile apps and games from a larger screen.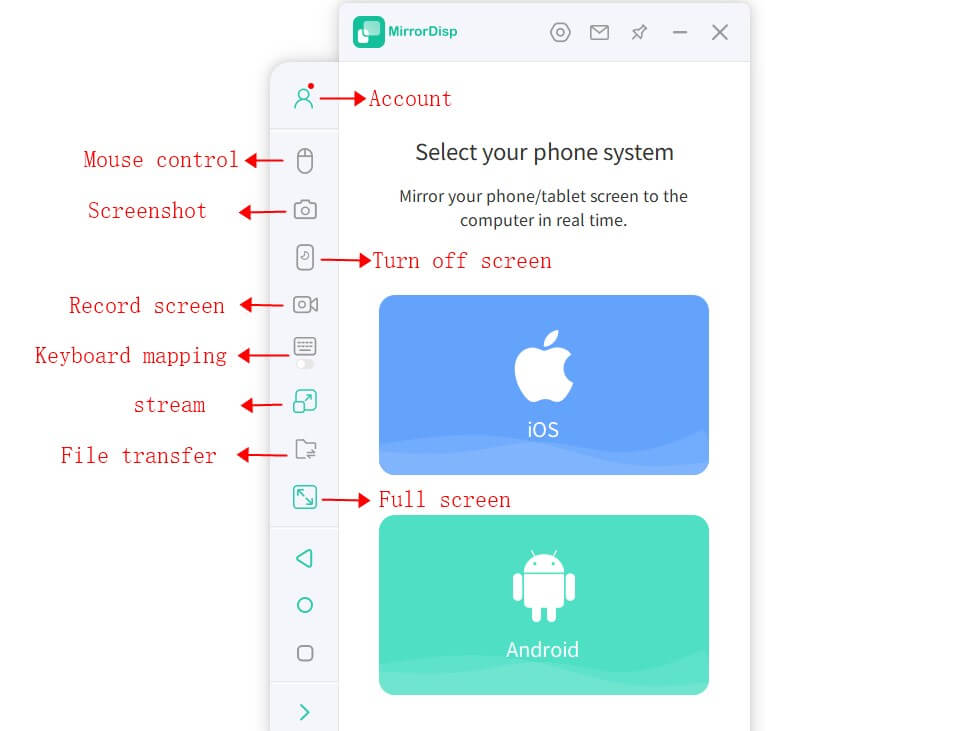 Part 3: How to Mirror iPhone to Car Screen
Method 1: Apple CarPlay
CarPlay is an app developed by Apple to allow you to mirror your iPhones to your car's display. By using CarPlay, you can effortlessly make calls or listen to music, and audiobooks, or navigate via Maps. Additionally, Siri is integrated into CarPlay, so you can access your phone using voice commands.
Bluetooth screen mirroring is supported in this way. Here's how you can use CarPlay to mirror your iPhone to your car screen:
Step 1. Ensure that your car and location support CarPlay and that you're using an iPhone 7 or a later model.
Step 2. For a wireless connection, enable Siri voice control by going to Settings > Siri and Search and turning it on.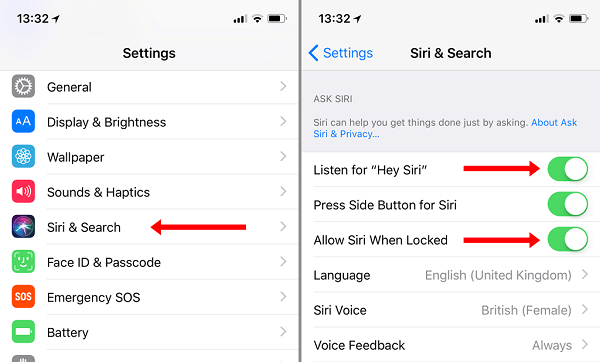 Step 3. To set up CarPlay for wireless CarPlay-compatible cars, press the voice control button on your steering wheel, or you can also pair your iPhone with your car using Bluetooth.
Step 4. Go to Settings > General > CarPlay on your iPhone and select your car to start mirroring your iPhone's screen to your car screen using CarPlay.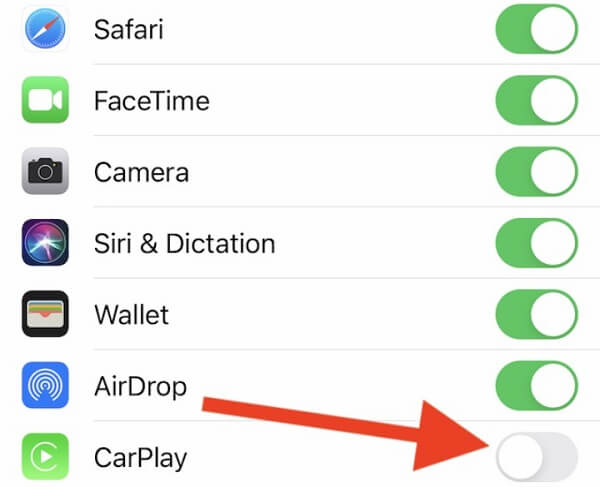 Tips: Control CarPlay with Siri
Controlling CarPlay with Siri is a great way to use your iPhone hands-free while driving. Here are some tips for using Siri with CarPlay:
To use Siri, long-press the voice control button or say, "Hey Siri." With iOS 17, there is no more "Hey Siri." "Siri" is ok.
You can ask Siri to make calls, send messages, or navigate to a location hands-free.
You can also ask Siri to play music or switch to a different app while using CarPlay.
Make sure to speak clearly and enunciate your words to get the best results from Siri.
Method 2: "EasyConnection"
To share your iPhone screen with your car's screen, you can use EasyConnection if you aren't using CarPlay.
EasyConnection acts as your driving assistant, helping you easily access what you need while driving. To connect your iPhone to the car screen and play music or any other file, follow these five steps:
Step 1. Tap "Apps" on the car screen and select "EasyConnection." Access your iPhone's WiFi and select "Change Hotspot."
Step 2. Turn on your iPhone's hotspot and connect the car screen to it.
Step 3. Go back to the "Apps" icon on the car screen and select "EasyConnection."
Step 4. Open your iPhone's "Control Center," choose "Screen Mirroring," and select "DC-Airplay" to mirror your iPhone screen to your car's screen.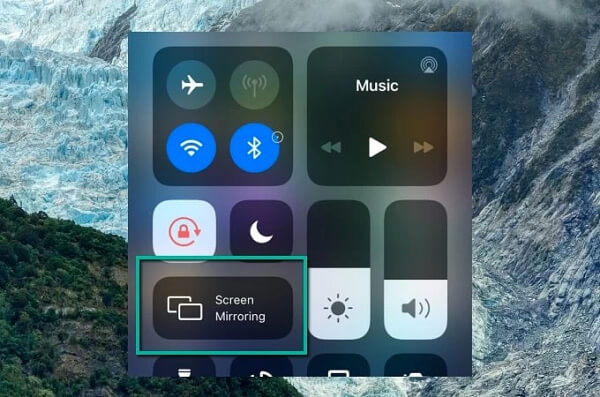 Conclusion
Mirroring your phone to your car screen can be a convenient and practical solution for navigating, streaming media, and controlling your favorite apps on the road. There are also many ways can be use to mirror phone to car screen, such as Android Auto screen mirror, Apple CarPlay, and aftermarket solutions like Bluetooth-enabled screen mirroring devices. Just choose the one that meet your needs best.
For mirroring screen to PC, then Wootechy MirrorDisp is a great choice. Try it if you need!
Wootechy MirrorDisp
Mirror screen Android/iPhone to PC in real time

Control Phone from PC with keyboard or mouse

Live stream screen

Transfer file from PC to Phone