Accidents happen, and if you find yourself with a shattered Android screen, you know how frustrating it can be to use your device. But fear not! There's a nifty solution that can save the day - Mirroring Android Broken Screen to your PC. In this article, we'll walk you through everything you need to know about Android broken screen mirroring to a PC, then, controlling the device even though the screen is broken.
Part 1. Viewing the Degree of the Android Broken Screen
Before learning how to mirror an Android broken screen to a PC, find out how damaged your Android screen is.
1. Screen Cracked, but Usable, Touch Functionality Available:
In this scenario, the screen is physically damaged, but the touch functionality is still working. One of the solutions for this degree of broken screen is screen mirroring. The concise step-by-step guide to mirroring broken screen Android to PC will be introduced in part 2.
2. creen Cracked, Usable, Touch Functionality Not Available:
For this degree of broken screen when the screen is damaged, and the touch functionality no longer works, those mirroring software with the function of controlling mobile phones can also be solved. Samsung SideSync is another way, specifically if you have a Samsung phone.
3. Black Screen, Touch Functionality Not Works:
In this case, with the help of software, it is no longer possible to fix it, you need to check in a shop to see if there is a possibility of a successful repair.
Part 2. The Best Solution to Mirror Android Broken Screen to PC
Wootechy MirrorDisp is a screen mirroring tool that enables users to mirror your broken screen Android to PC or Mac. It provides a user-friendly interface and allows fluent interaction between mobile devices and the computer. With MirrorDisp, you can enjoy viewing videos, playing mobile games, and in-app displays on a larger screen even though the screen is broken. Besides, you can access the broken Android with keyboard and mouse controls from the computer.
Advantages of Wootechy MirrorDisp:

Mirror phone screen to a PC/Mac wirelessly or via USB cable.

Free to control Android broken screen with keyboard and mouse.

Capture screenshots and record phone screen activities from PC.

Transfer and share files from Andriod phone to PC.

Supports various Android and iOS devices.

Stream phone screens with audio to conferencing software or live streaming platforms.
How to screen mirror a broken phone screen with Wootechy MirrorDisp? All it takes is a few simple steps.
Step 1: Download the Wootechy MirrorDisp on your PC or Mac. Run it.
Step 2: Connect your Android to the computer and select "Android" as the option for screen mirroring. Connect it with a USB cable. (For WiFi connection, ensure that both your Android phone and the computer are connected to the same WiFi network.)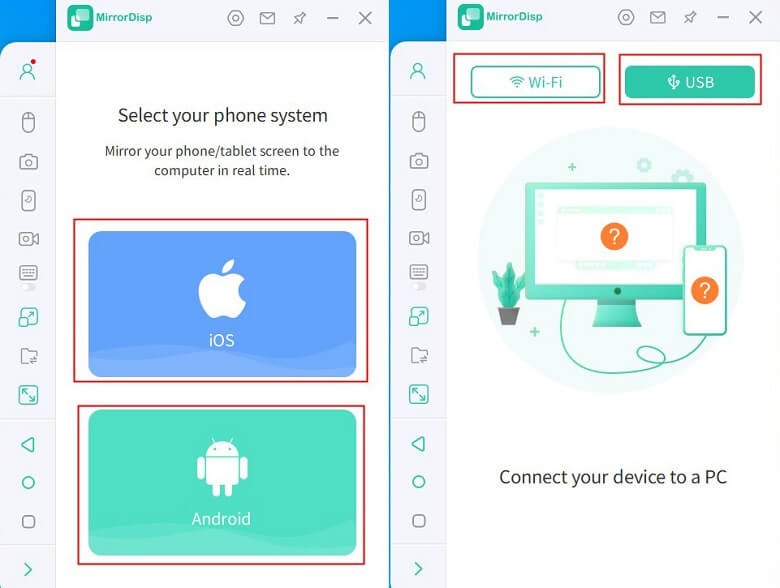 Step 3: For the first time connecting, enable USB Debugging by going to Settings>Developer Options>USB Debugging.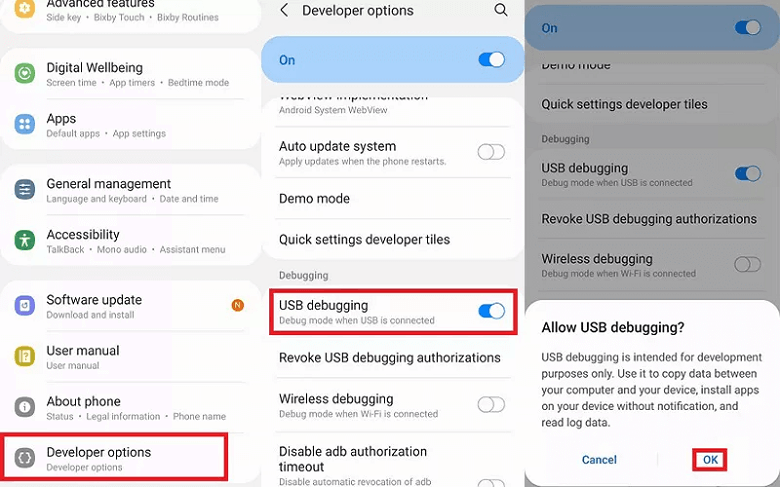 Step 4: Once connected, your Android phone's screen will now be mirrored on your computer. You can control your Android phone from your PC using the keyboard and mouse, play mobile games on a larger screen, and access various mobile applications from your computer.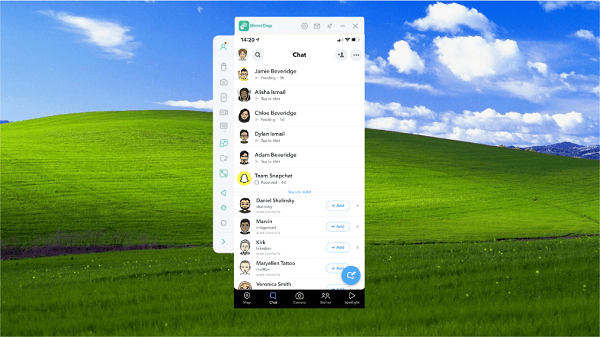 By following this, you can navigate or control your Android devices with a broken screen through a larger computer screen using a mouse and keyboard, ensuring continued usability even with a damaged display.
Extra Tip: Broken Android Data Extraction
If your phone is badly broken, then you need to be careful about backing up your data. It is recommended to transfer the Android phone files with a broken screen to your computer for backup via MirrorDisp's file transfer function. Simply click the left bar, choose the corresponding features and start the Android backup with a broken screen.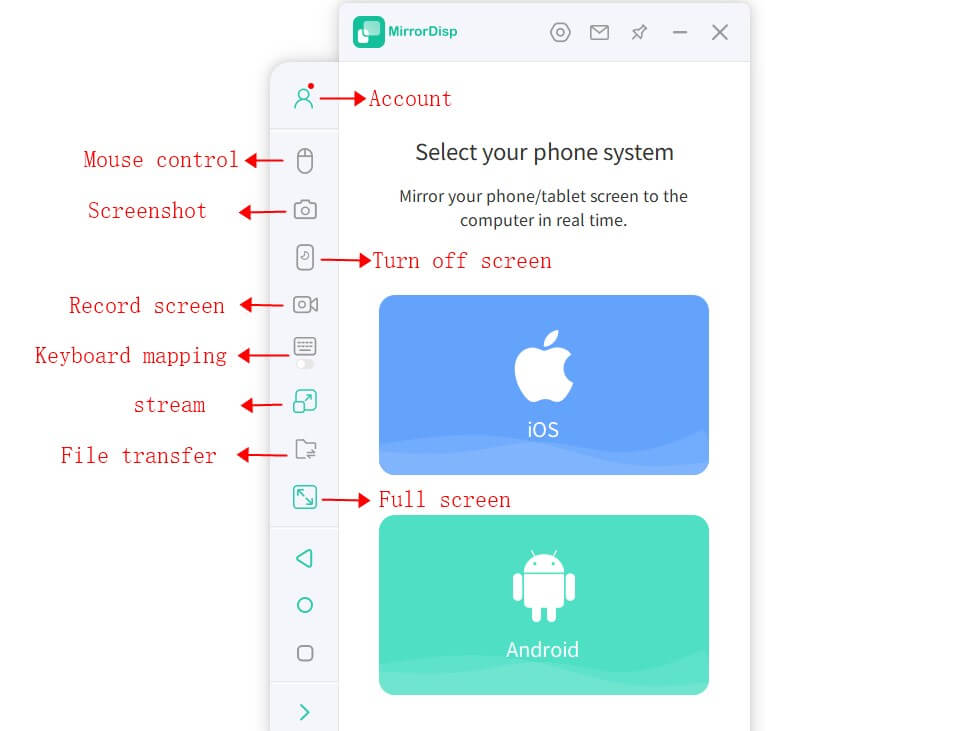 Part 3: Common Questions about Android Broken Screen Mirror to PC
Will screen mirroring affect the performance of the broken Android device?
Absolutely not. When you mirror the screen of a broken Android device to a PC, you are essentially displaying the contents of the phone on a larger screen without directly interacting with the phone itself.
Can I mirror the Broken Screen Android to a Mac instead of a PC?
Yes, you can. As mentioned above, MirrorDisp supports both Windows and macOS platforms.
Is it Possible to mirror broken screen Android to Android?
Yes, it is possible to mirror a broken screen Android to another Android device via some apps like Inkwire. It aims to allow friends or family to share screens with each other. However, it is only for screen sharing. If you wanna control the broken Android screen, you should get the help of the computer program.
Extra Tip: Android Broken Screen Data Recovery
The sudden loss of data could happen due to a broken Android device. For Android broken screen data recovery, many desktop-based programs work well like iSeeker for Android.
iSeeker for Android is an efficient data recovery tool designed to retrieve lost or deleted data from Android devices, including those with broken screens. With iSeeker, you can effortlessly recover a wide range of data types, such as WhatsApp messages, photos, videos, audio, text messages, contacts, call logs, and documents. Whether you've accidentally deleted important files or experienced a system crash, iSeeker is a reliable option.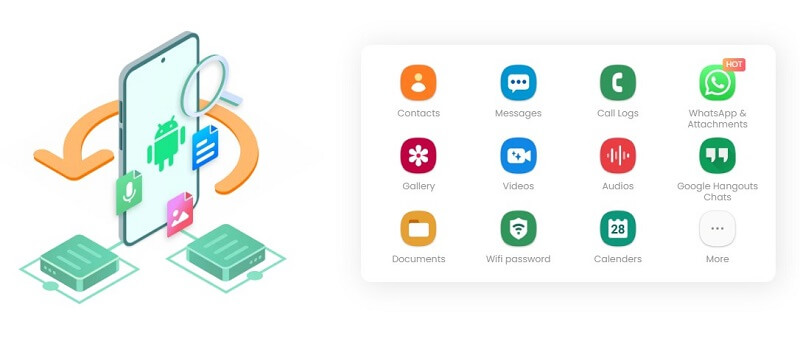 Conclusion
Anyway, no worries about the broken Android screen. Here we provide the best solution to mirror broken screen Android to PC or Mac by using WooTechy MirrorDisp. With its user-friendly interface and multiple features, you can easily control broken Android screens with a keyboard and mouse, reply to text messages from your PC, display videos, play mobile games on a PC, and even stream your phone's screen with audio to conferencing and live streaming platforms.