Fake GPS location can be used to spoof our real location and trick the Apps into thinking we are located in a different place. Thereby, we can protect privacy, stop from being tracked, access Geo-restricted content, or play AR Games without games. However, the question remains, can fake GPS locations be detected?
While many apps have implemented measures to detect fake GPS, some undetectable mock location apps claim that they can bypass these measures. Is it real? In this article, we will explore the effectiveness of these undetectable mock location apps and the possibility of detecting fake GPS.
Part 1: How to Detect Fake GPS Location?
1. Check for Rooted or Jailbroken Devices
Fake GPS apps can require rooting or jailbreaking a device to bypass location restrictions. Therefore, a rooted or jailbroken device can indicate the possibility of fake GPS usage. Checking the device's root status or jailbreak status can help identify potential fake GPS use.
2. Check Inconsistent data
Fake GPS apps can sometimes provide inconsistent GPS data that doesn't match the user's reported location. For instance, a user's GPS coordinates may not match their reported city or country. Checking for inconsistent data can help identify the possibility of fake GPS usage.
3. Verify location using other means
Using other means to verify a user's location can help confirm the accuracy of GPS data. For example, network data such as IP address and Wi-Fi connection information can provide additional information to confirm the user's location.
4. Use a GPS detection tool
GPS detection tools are software programs that can identify the use of fake GPS. These tools can analyze GPS data and determine whether the location is authentic or fake. Using a GPS detection tool can help confirm suspicious activity.
5. Enable HyperTrack: (For Android)
HyperTrack is a feature available in some Android devices that can track a user's location accurately. Enabling HyperTrack can help detect and prevent fake GPS usage.
HyperTrack provides accurate location data, making it difficult for users to fake their GPS location. By enabling HyperTrack, users can ensure that their location data is accurate and reliable. These may be enabled by developers using HyperTrack.enableMockLocations(boolean) for testing.
Part 2: How to Safely Fake Location without Being Detected? [Android/iPhone/iPad]
WooTechy iMoveGo is an undetectable mock location app that allows users to spoof their GPS location to any place on iOS and Android devices. Without needing Root ot Jailbreak, this fake location app is safe to use.
With iMoveGo, users can simulate the most realistic GPS movements with customized routes and speeds, and control their GPS using a joystick. One of the most significant advantages of iMoveGo is that it works with all location-based apps, and is available for simulating returns, loops, walking or jumping. This kind of realistic route simulation will make the app think you're actually walking.
iMoveGo:The Best Undetectable Mock Location App

75.000.000+

Download

Spoof GPS Location Instantly: iMoveGo enables users to change their GPS location to any place within a few clicks.

No Jailbreaking Required: iMoveGo works with all location-based apps without requiring jailbreaking, making it safe to use.

Simulate GPS Movement: Users can simulate GPS movements with customized routes and adjustable speeds, giving them complete control over their GPS location.

Virtual Joystick: A Joystick can be used control the GPS in 360 degrees.

Multi-Device Support: iMoveGo supports iPhone, iPad, iPod, Android devices, and is available for all Windows and popular macOS versions, ensuring that it can be used by a wide range of users.

Special Features: Such as PokeStop and Cooling timer for Pokemon Go players.

Support route saving and GPX import/export.
The Steps to Fake iPhone Location without being detected:
Step 1. Download iMoveGo on your computer and launch the program. Then, click "Get Started" and connect your iPhone to your desktop using Wi-Fi or a USB cable as prompted.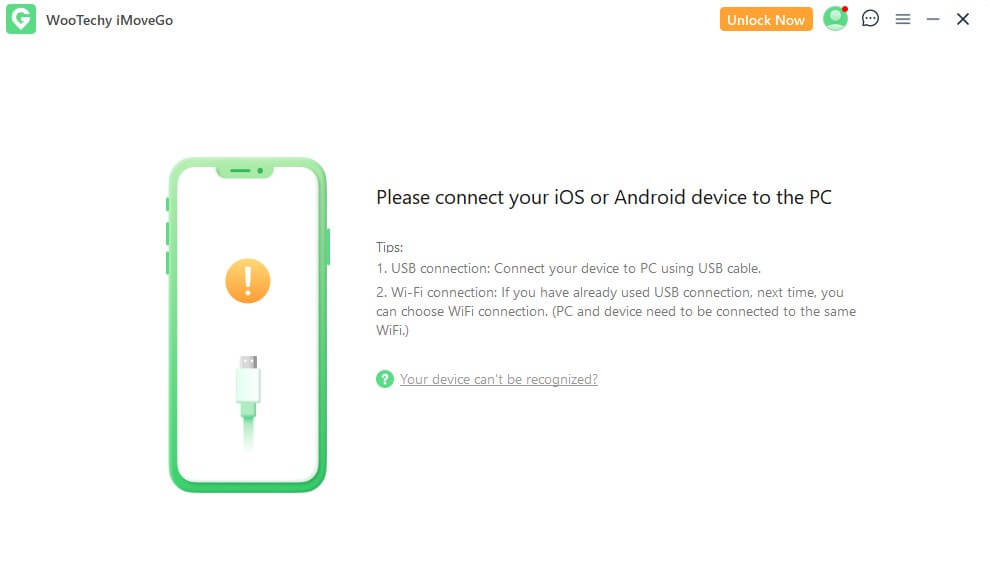 Step 2. Once connected, the program will load a map showing your current location. Choose "Teleport Mode" and enter the address or GPS coordinates of the location you want to spoof in the search bar. Then, click "Move" to change your location instantly. Or, choose Multi-Spot Mode to simulate movement and fake the GPS without being detected.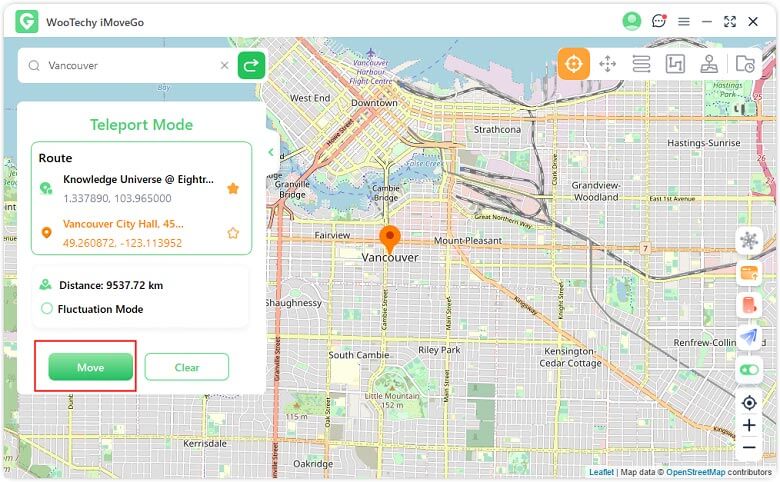 Step 3. If you are using iOS 16, you may need to enable developer mode. Simply follow the on-screen instructions to do so.
Step 4. To check your new location, open the Maps app on your phone. You should see your spoofed location displayed.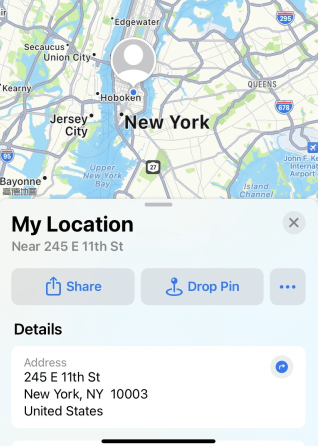 Fake Android Location without being detected:
Step 1. Download and install iMoveGo on your computer. Connect your Android device to your PC via USB or Wi-Fi. (Just the same as the above.)
Step 2. Open USB debugging on your Android device by following the guide provided by iMoveGo. Ensure that your Android's USB connection mode is set to Media Transfer Protocol. Click "Allow USB debugging" on your Android device when prompted.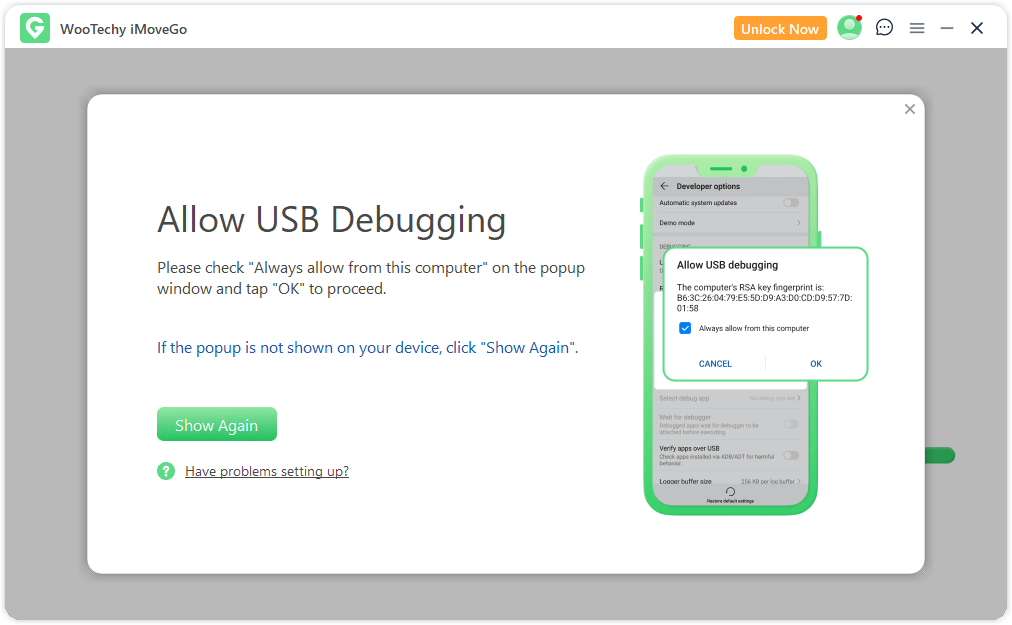 Step 3. Choose what type of scenarios you would like to used for, Social Mode or Gaming Mode.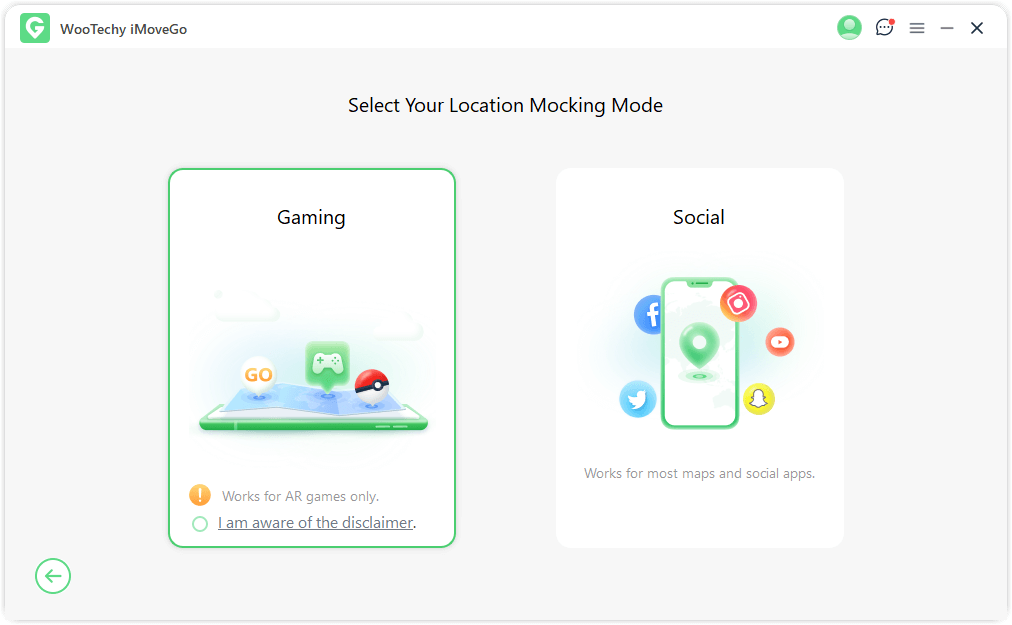 Step 4. Use the iMoveGo map to select a location by clicking on the different Mode located in the top-right corner. You can enter the name of a city or place you desire. Additionally, you can customize a route to move along and adjust the speed freely.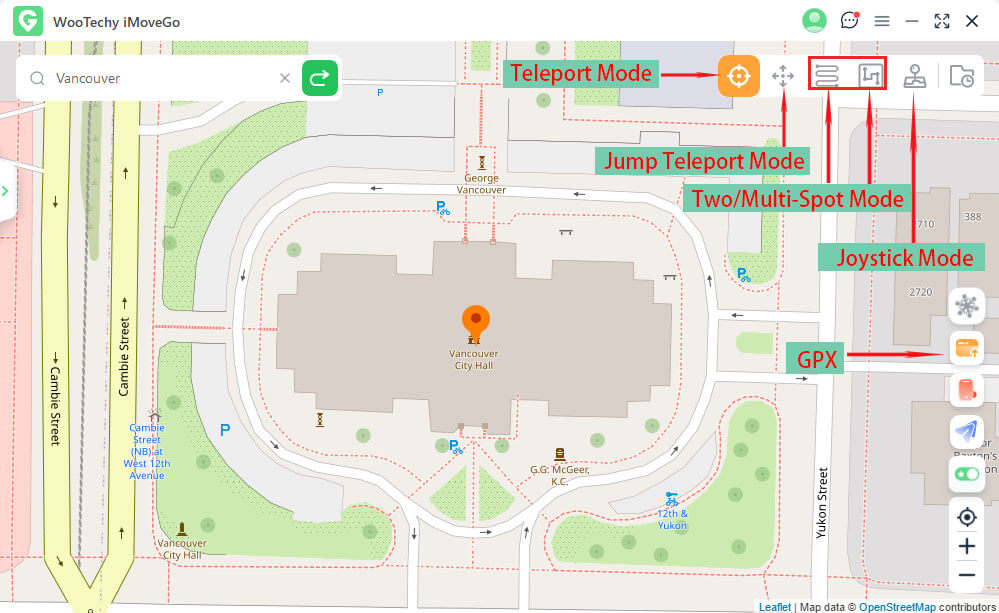 Step 5. Click the "Move" button and select the first icon located in the upper right corner. Your GPS joystick location will now appear from the selected area and not from your actual home.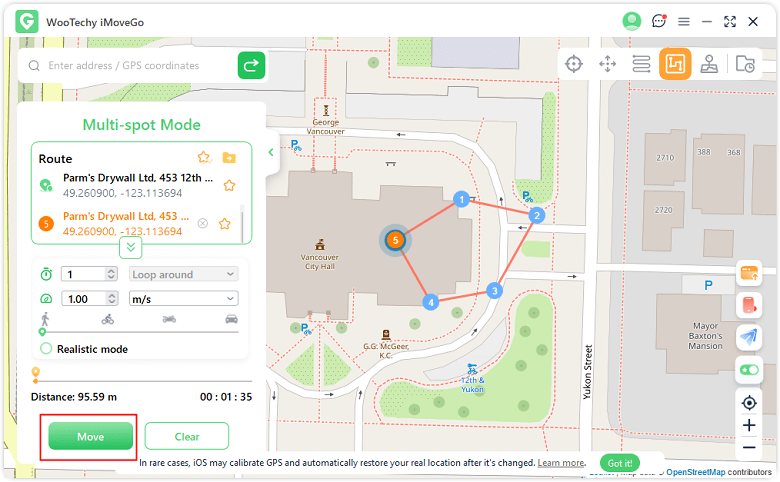 Part 3: How to Safely Fake Location on PC [Possibility to Be Dtected]
1. Using VPN
To safely fake your location on PC, you can use a VPN (Virtual Private Network). A VPN allows you to route your internet connection through a remote server, which can be located in a different country.
This makes it appear as though your PC is located in a different place than your actual physical location. However, some location-based apps and services can detect the use of VPNs, so it is not foolproof.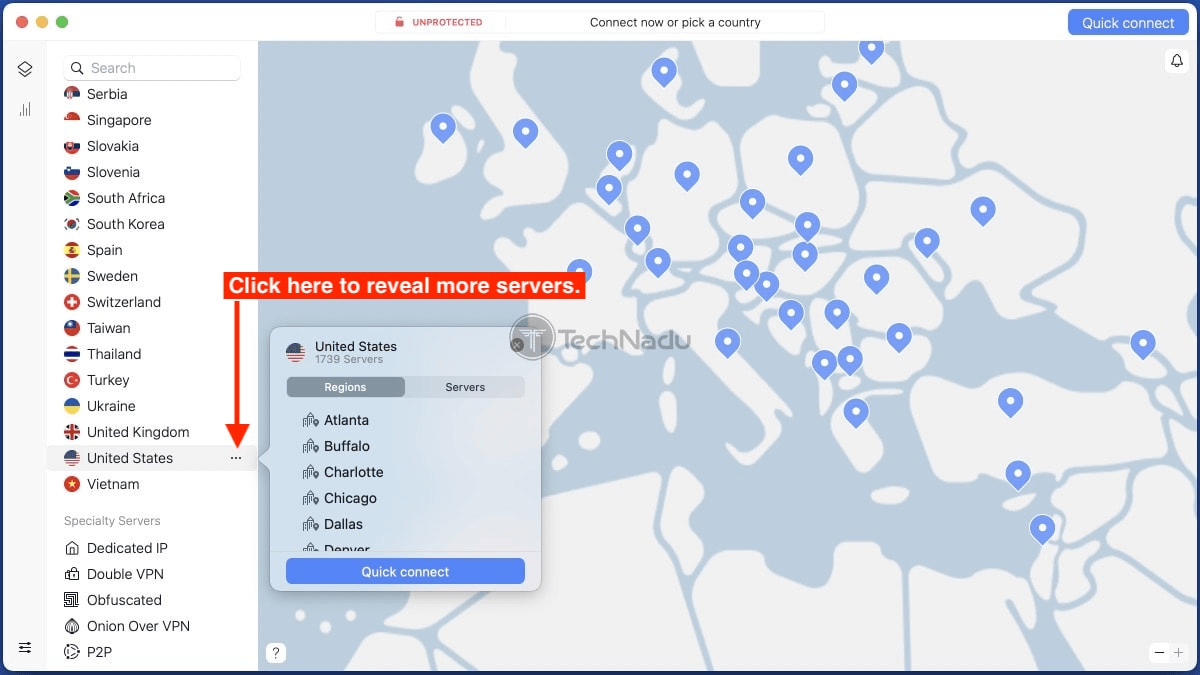 2. Using Android Emulator-For Game
An Android emulator allows you to run Android applications on your PC. You can use an Android emulator to fake your location for games that use GPS, such as Pokemon Go.
To fake your location using an Android emulator, follow these steps:
Step 1. Download and install an Android emulator, such as BlueStacks or NoxPlayer, on your PC.
Step 2. Open the emulator and log in to your Google account.
Step 3. Download a location spoofing app, such as Fake GPS location, from the Google Play Store within the emulator.
Step 4. Open the location spoofing app and set your desired location.
Step 5. Launch the game, such as Pokemon Go, within the emulator.
Step 6. The game will now use the fake location set in the location spoofing app.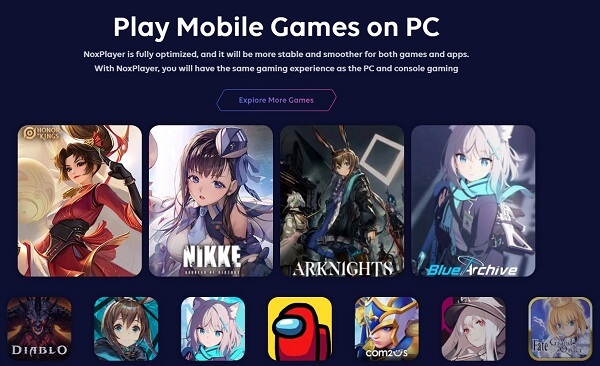 Part 4: People Also Asked about "Detect Fake GPS Location"
1. Can someone track your actual IP location?
Yes, It is possible. Your IP address is a unique identifier assigned to your device. If anyone who knows your IP Address, he can determine your approximate location.
2. Does airplane mode hide my location?
Airplane mode disables cellular, Wi-Fi, and Bluetooth networks, but it does not disable GPS. This means that apps that use GPS, such as mapping apps and location-sharing apps, can still track your location even when airplane mode is enabled.
3. How do I stop apps from detecting mock locations?
To stop apps from detecting mock locations, you can try using a location spoofing app like iMoveGo that has a "Real Route Simulation" and can be used to pause your location on a spot, making it difficult to be detected.
4. How to bypass mock location detection?
You can bypass mock location detection by rooting or jailbreaking your device to disable mock location detection. However, it is highly not recommended.. All we can do is reduce the probability of detection.
5. Why Is My Location Wrong on My iPhone?
There are several reasons why your location may be wrong on your iPhone, such as poor GPS signal, incorrect location settings, or outdated software. You can try turning off and on your location services, updating your software, or resetting your network settings to fix the issue.
Conclusion
It is possible to detect fake GPS locations, but there are ways to minimize the chances of detection. One such way is by using iMoveGo, an undetectable mock location app that allows users to change their location on iOS and Android devices without jailbreaking or rooting.