With the recent updates made to iOS, the latest and effective way to spoof GPS location on iPhone has become a popular search. Some people want to explore more places on apps like Pokémon GO so they can maximize their in-game performance.
Others want to manually adjust their location on dating apps and share virtual locations on messaging apps. There are also some people looking for a way to hide location on Find My Phone. Whatever your needs, you probably want to avoid jailbreaking your phone as well. Let's see how you can easily spoof location on your iPhone, including iOS 16.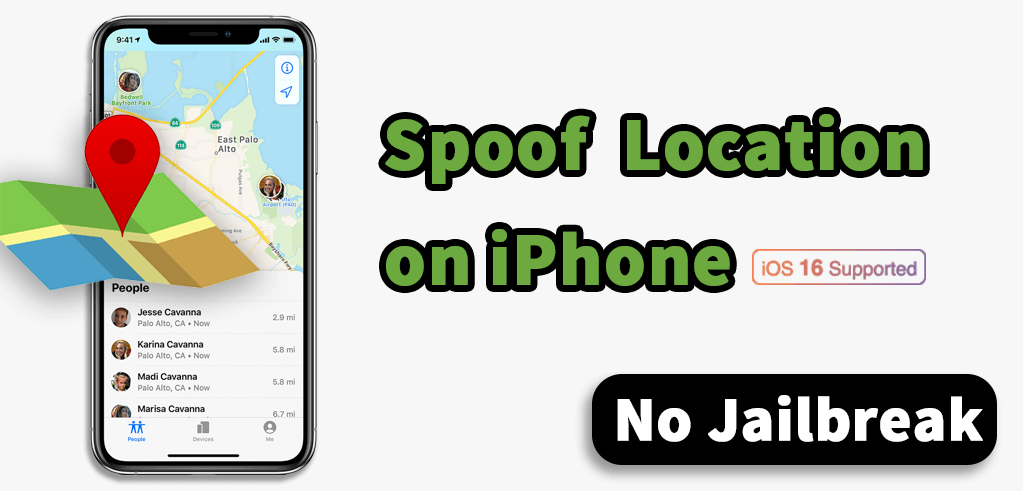 Part 1. Can I Spoof Location on iPhone iOS 16/15?
Yes! Right now, the best way to spoof your location on an iPhone with iOS 16/15 installed is by using a desktop app. Simply set your desired location on the desktop app and then connect your iPhone to change its location.
Video Guide on iPhone Location Spoofer (including the latest iOS16/15):
Common Reasons for Changing iPhone Location Without Jailbreaking
For Privacy: With apps like Find My, Life360 or Google Maps, families and friends can view your location even if your phone is switched off or on Airplane mode. And with iMessage's location tracker, contacts will receive a notification if you stop sharing your location with them.
For Games: For some AR games like Pokémon GO, you need to travel far away to advance in the game. Then best way is to spoof GPS location. As we all know, they are many ways can be used to spoofing Pokemon Go iPhone, for example, tweaked Pokemon Go. But always keep keep in mind that Jailbreaking is not a wise choice.
For Social App: Sometimes, you might just want to prank your friends with a fake location on Snapchat, WhatsApp or simply pretending you are on a trip. Or there are cases that apps like Tumblr or Grindr GPS not working.
For LDR couples: they might want to give their boyfriend/girlfriend a surprise. The the best way to guarantee the success of this surprise is using a fake location.
Next, let's look at all the effective options for spoofing your iPhone location in 2023.
Part 2. Spoof Location on iPhone Without Jailbreaking
The best way to spoof your location on iPhone or manually set your location when iPhone shows wrong location is by using a computer app instead of jailbreaking. Jailbreaking exposes your phone to all sorts of new security risks. Not to mention, jailbreaking won't work on newer versions of iOS like the recent iOS 16 updates.
Method 1: iPhone Location Spoofer iMoveGo [iOS 16 & 15 included]
The first spoofing app for iphone we tested was WooTechy iMoveGo. Spoofing your GPS location is extremely simple when you use this tool. Simply connect your iPhone to a computer and switches the GPS completely so that all your apps will think you are in the new location. It only took several clicks to complete the process.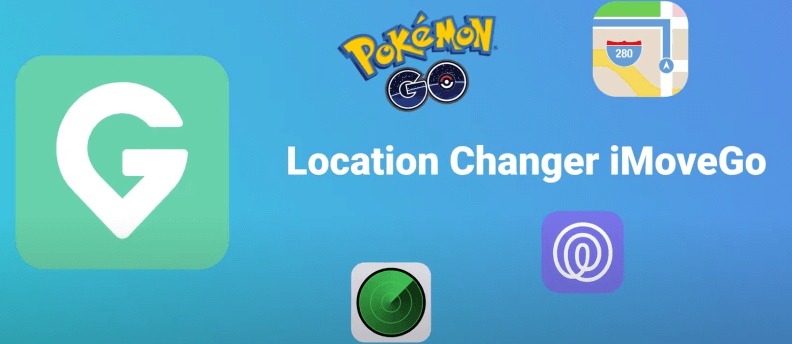 Key Features of iMoveGo
75.000.000+
Downloads
Teleport your location to anywhere in the world.

Simulate GPS movement with a customized speed.

Joystick is supported to control the direction freely.

Works well on all location-based apps, such as Snapchat, Find My and even Pokémon GO.

Spoof location on up to 10 devices at one time.

Compatible with both iOS and Android devices. (Including iPod/iPad)

Free trial is available for every user.
How to Spoof Location on iPhone? Easily Follow the 3 steps:
Step 1: Download WooTechy iMoveGo onto your PC. Click Get Started and connect your iPhone to your desktop through WIFI or a USB cable as prompted.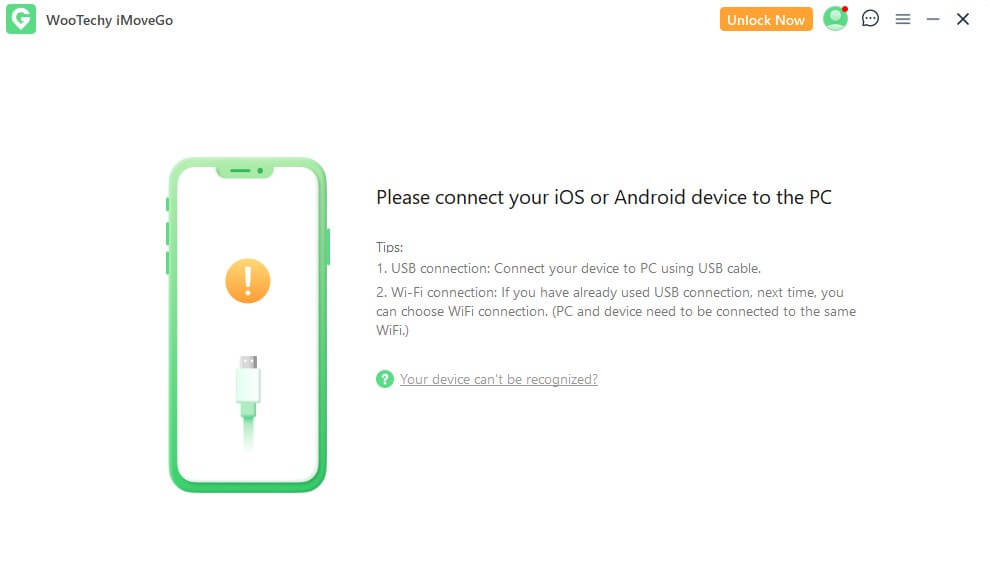 Step 2: Now, you'll see a map load with your current location shown. Enter any address or GPS coordinates in the search bar. You can also directly select a spot in the map. Click Move to change your location.
(iOS 16 users will be prompted to enable developer mode, simply follow the easy steps on your screen.)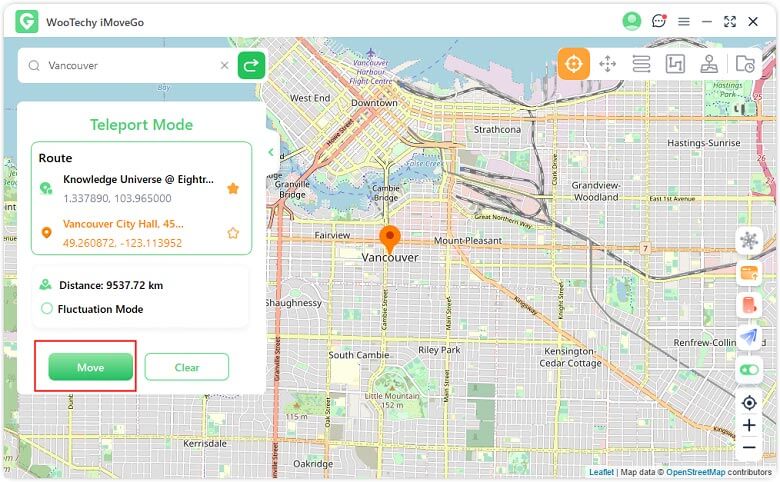 Now, open Maps on your phone to check your new location. You're ready to use this new location on all your apps.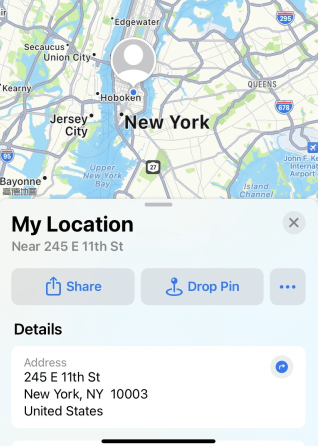 If you want to simulate GPS movement for Pokémon GO or Live Location Sharing (such as Snapchat, WhatsApp, Find My), switch to the Multi-spot/2-spot mode.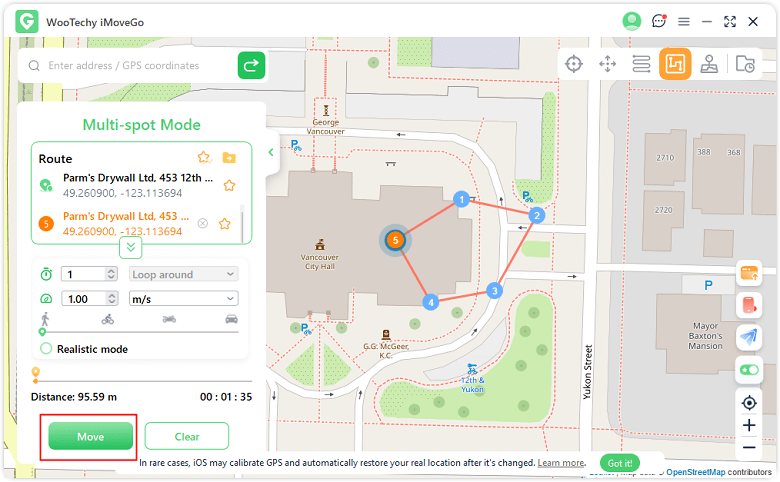 To get a feel for how iMoveGo works, start you
free trial
right now to change your location on all your iPhone apps.
Method 2: iTools Virtual Location [iOS 15 Only]
To spoof location on your iPhone, there is an alternative called iTools Virtual Location. iTools is a toolkit that includes many features, one of these features is faking iphone GPS location without jailbreak .
Unfortunately, you must purchase the entire toolkit just to get access to the virtual location feature. It is a little bit uneconomic. You can test the app on your computer by downloading it for free first.

Once you plug your phone in, the app opens with a page displaying all its features.
Select "Virtual Location" and wait for the map to load.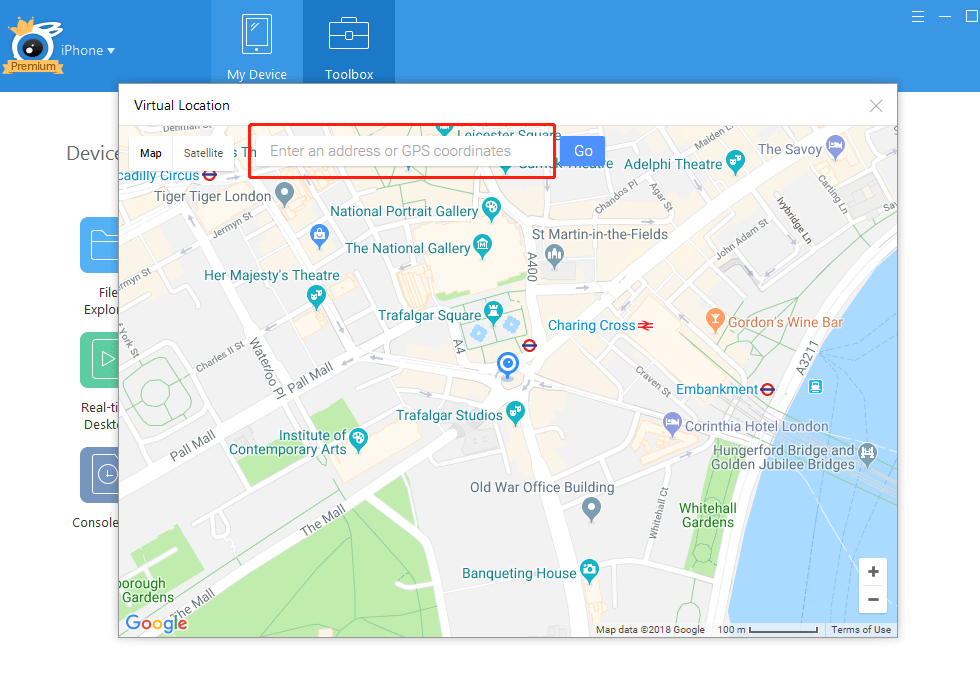 This is where some users begin to have trouble. Many find that the map will fail to load. To resolve this error, iTools advises you to switch from Google Maps to Mapbox.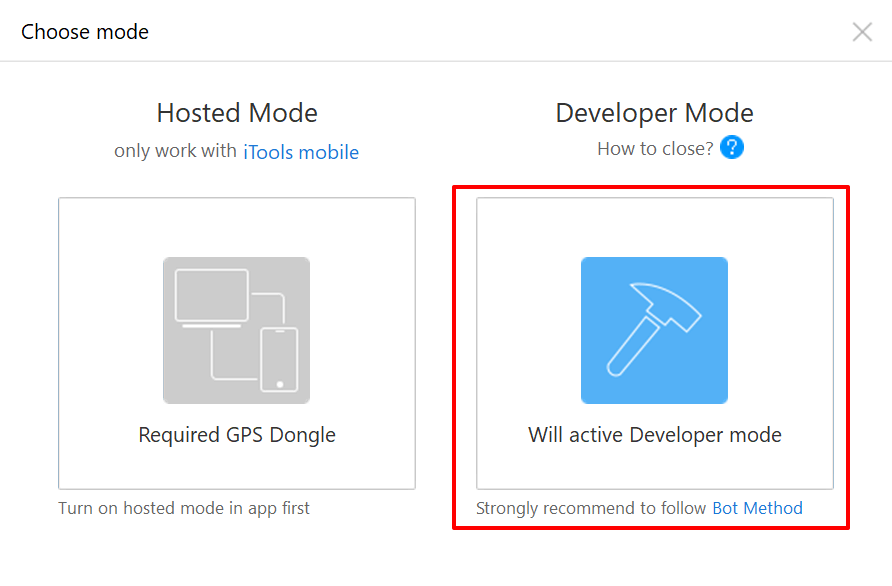 Cons of iTools Virtual Location
There is no GPS Joystick. You cannot simulate GPS movement.

You must purchase the entire toolkit to use the any single feature.

Users often get stuck/ report crashes when going into the Developer mode.

Takes up too much storage. It might cause lag with the 300 MB package.
Part 3. Spoof Location on iPhone by Jailbreaking [iOS 14]
As a last resort, you might also decide to set fake GPS coordinates on your iPhone by jailbreaking it. Unfortunately, the latest versions of iOS don't allow you to jailbreak. You'll need to use an older phone with iOS 14 or earlier.
In general, jailbreaking is not recommended for iPhone location spoofing due to the security concerns that arise from it. Plus, you won't be able to get support for your phone as easily as if it were not jailbroken.
If you do decide to jailbreak your phone, we can mention a couple of location changer apps available on the Cydia app store for jailbroken phones.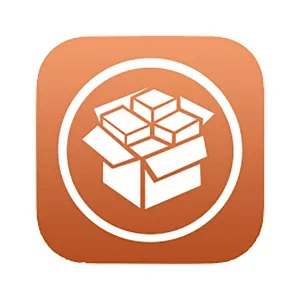 Firstly, Location Handle, one of the popular location faker for iphone in Cydia, helps you tweak your phone's GPS location with four modes: Normal, Offset, Automatic and Manual. You can only enter coordinates, but it does allow you to save your favorite locations. Note that this app is very outdated, it's only available for iOS 9.3.3 at the latest. Use at your own risk.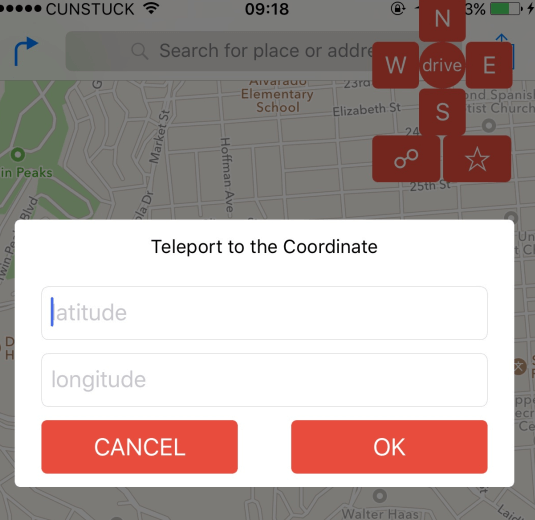 Secondly, akLocationX is an even older app for jailbroken iPhones. It only works for iOS 6 or 7 meaning that it's suitable for iPhone 5 or earlier. Just like Location Handle, it can't move your GPS location dynamically like the desktop tools we mentioned earlier.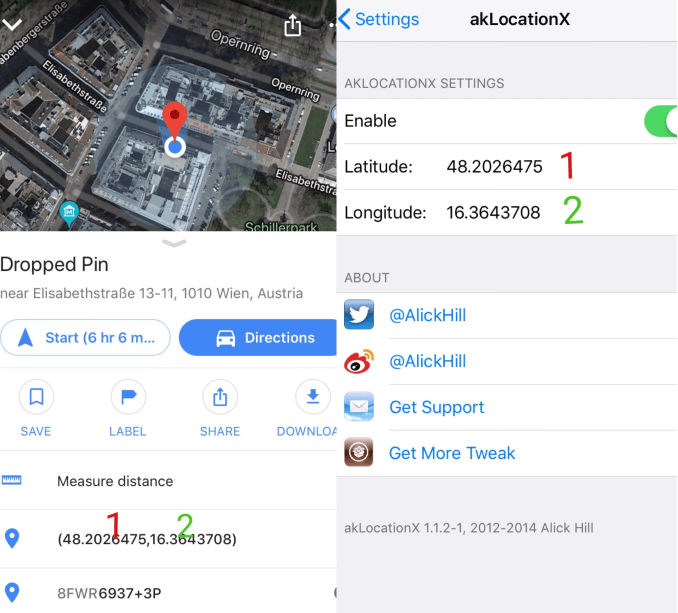 FAQs About GPS Spoofing
Will You Get Banned for Using Fake Gps on Pokémon GO?
Pokémon GO encourages you to walk around outside in order to catch more Pokémon. Through spoofing, you can fake your location and move around the digital work from the comfort of your favorite seat in the living room. Unfortunately, Niantic will occasionally run checks to ensure you are not faking your location.
The best way to avoid these checks and getting banned is to only use reliable, professional software to fake GPS on Pokémon GO for iOS or Android. Utilizing iMoveGo with cool down rule is an excellent way to avoid soft ban.
Unlike any tweaked app or Pokémon GO hack only spoof location on the game, iMoveGo will completely change your phone's setting, which Niantic will not detect. In addition, iMoveGo doesn't require your phone to be rooted or jailbroken, both of which are indicators to Niantic that you may be spoofing your location.
Is GPS Spoofing Illegal?
Spoofing your location is not considered as illegal in the majority of the countries, as the geo-spoofing tools generally work on the principle of accessing geo-restricted content instead of accessing copyrighted content. However, if you're intended to spoof somebody's device or planning a GPS spoofing attack, then it is an offense, and law enforcement agencies can take serious actions if you get caught.
Can I Change My GPS Location on Android?
Yes. You can easily change your GPS location on an Android device. There are many ways in which you can perform this action. The Play Store has many applications that can help you with spoofing your location. Moreover, there are third-party desktop applications as well that can change your GPS location with just a click. Both types of tools are effective and work seamlessly. However, the selection of tools is highly crucial as it can lead you to spam as well. Make sure to select the correct tools.
Go to this post for the most effective tools that you can find to change your location on Android.
Do All VPNs Let You GPS-Spoof?
No, most of the VPNs available these days claim to geo-spoof your location but they can actually just change your IP address. This is the reason many users can't spoof Pokémon GO with VPNs and target a specific audience on TikTok. As we have already discussed in the article that changing GPS location is completely different from hiding an IP address, you need to use a reliable GPS Spoofer to change your real-life geographical location.
How to Hide Your Location on iPhone
If you use apps that can access your location with consent, they can track you down even if you don't use the app. Read the post below for all the effective tricks and tips on hiding location iPhone.
The Best Way to Fake GPS iOS
From the options provided, it's obvious that WooTechy iMoveGo is the best GPS Spoofer for iPhone and iOS 16 if you don't want to use VPN or jailbreak your iPhone. The app made it clear exactly how to change your location, and it works perfectly with any app on your iPhone.
Best of all, it provides useful features to help you simulate GPS movement from one place to another. All you need to do is connect your iPhone to set a new location.
Why not download iMoveGo and enjoy the free trial today!