Even as we slowly come out of the pandemic era and open our doors to the outside world once again, many Pokémon GO players will want to hang on to the ability to play in Pokémon GO hack joystick mode. This allows anyone who wants to explore the digital world without leaving their home to use a joystick feature for moving around their trainer.
The good news is that getting a Pokémon GO joystick iOS or Android solution does not take as much work as you may think. We have put together some amazing answers to using your mobile device and enjoying everything Pokémon GO has to offer while using a joystick instead of physically moving around.
Best Pokémon GO Joystick iOS & Android 2022 [Safest]
The original intent of Pokémon GO was to encourage players to get outside into the fresh air. That is not always the best solution for those that cannot or do not want to leave their homes. That is why we suggest downloading the powerful Location Changer iMoveGo from WooTechy.
This simple tool allows you to play Pokémon GO from anywhere in the world without needing to jailbreak your device. You get to explore, raid, catch, and more using a joystick feature that simulates actual movement within the game framework. Any location-based application you use after installing iMoveGo will think that you are based in whatever area you designate on your map screen.
This powerful piece of software works for both Pokémon GO joystick Android solutions and iOS systems as well. And iMoveGo is the only spoofer that works on the original Pokémon GO app, which means you don't need to download any tweaked apps on your phone.
Pokémon GO Joystick iOS & Android Video Guide:
Key Features of iMoveGo
Teleport your location to any place with just 1 simple click.

Simulate GPS movement for your Pokémon GO avatar along customized routes.

Won't be detectd by Niantic.

Works well on all location-based apps, such as Find My and Snapchat.

Free trial is available for every user.
Cons
You have to use a PC to install and use iMoveGo location changer.
Install WooTechy iMoveGo. Connect your phone to your computer/Mac using a cable.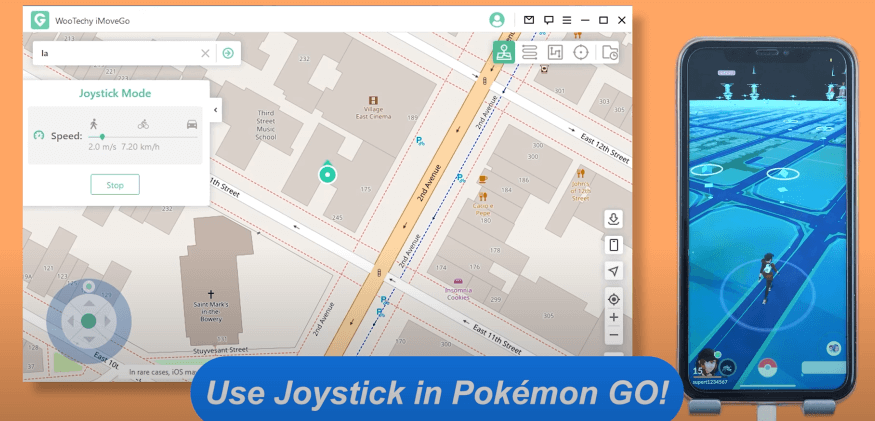 Select the first option - Joystick mode. Enter any places you desire in the search bar or select a location on the map-like interface.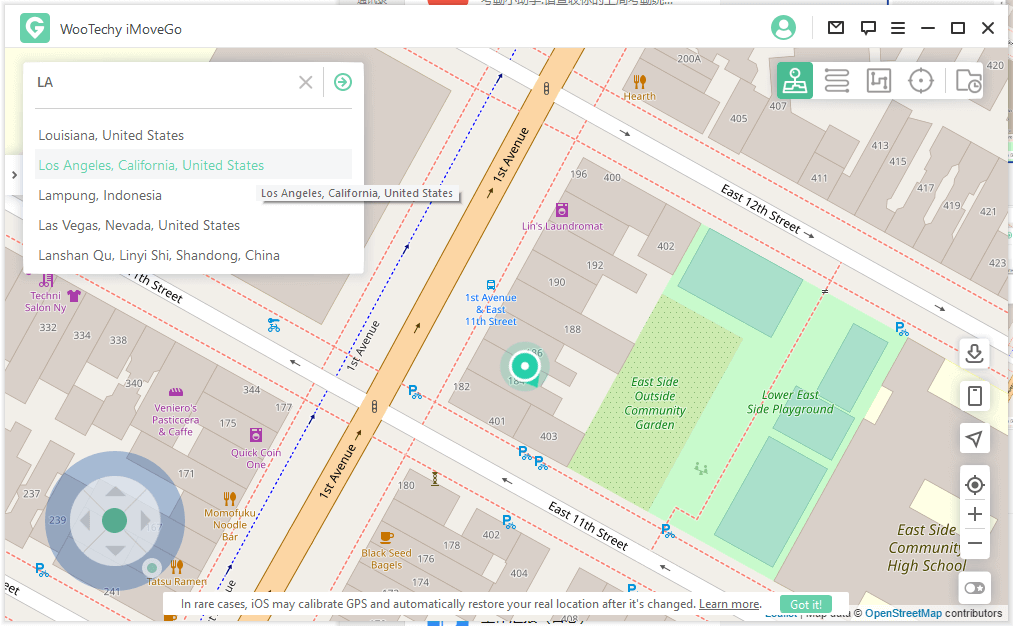 Click on Move and you will start walking in your new location instantly. Now, you can move around the digital world using your keyboard.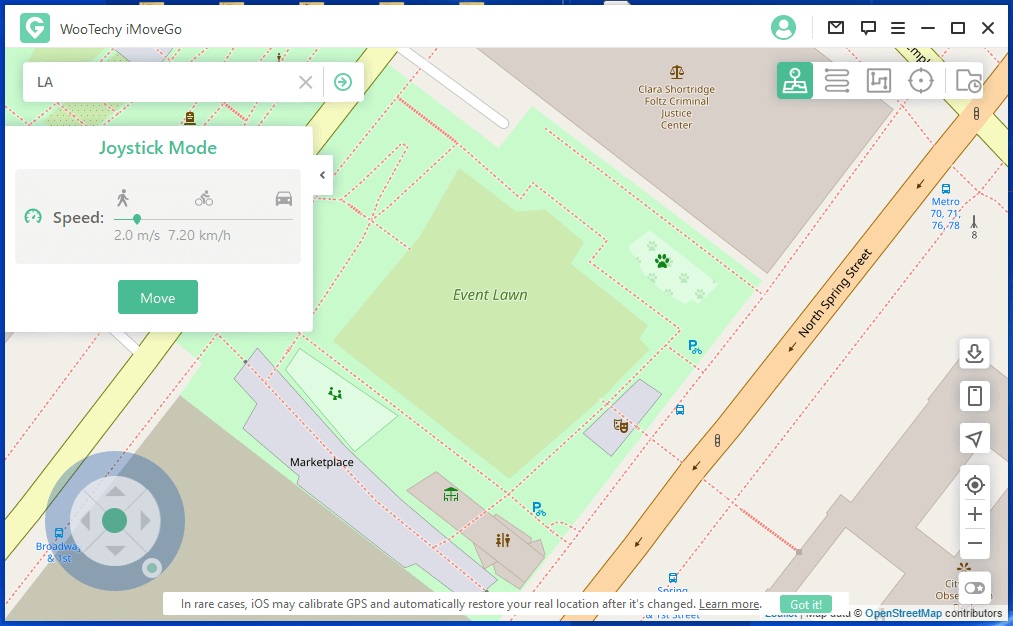 With iMoveGo, you can even create a customized route by selecting Multi-spot mode or Two-spot mode. Download iMoveGo and explore more features by yourself today!
Pokémon GO Joystick Alternatives
All the alternative solutions require steps to download a hacked version of Pokémon GO app on your device and change up your mobile device's settings. To avoid a permanent ban, don't use your main account on these apps. Follow along our instructions to learn more.
1. iPogo Pokémon GO - iOS
iPogo is having some decent success as a Pokémon GO hack joystick solution. If you can get past the complicated process of installing the application on your mobile device, then you should be all set to play. The problem is making it through the steps. For iOS, you have to use a secondary sideload utility called Sideloadly. This is an alternative way of getting around your phone's native OS. Otherwise, you will need to jailbreak your iPhone.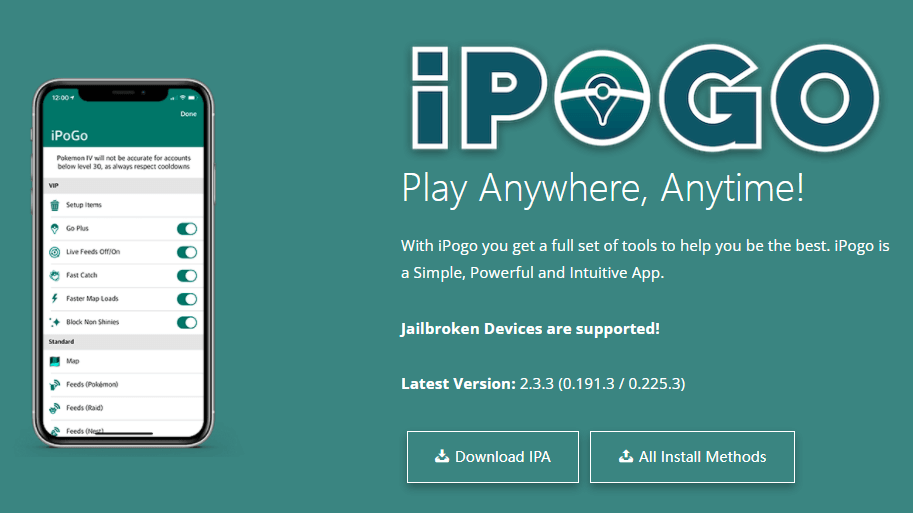 To install iPogo with Sideloadly:
Step 1. Download the iPogo IPA for iOS, iTunes for Windows (Macs will have it already), and Sideloadly.
Step 2. Plug in your device to your computer via a USB cable.
Step 3. Enter your AppleID then drag the iPogo IPA onto Sideloadly.
Step 4. Click Start and Enter your AppleID Password.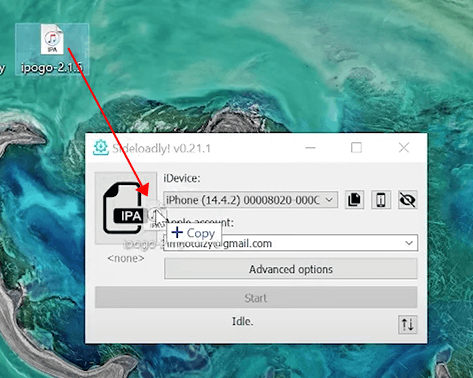 Step 5. Finish installation. Go to Settings>General>Device Management and opt to trust the installer.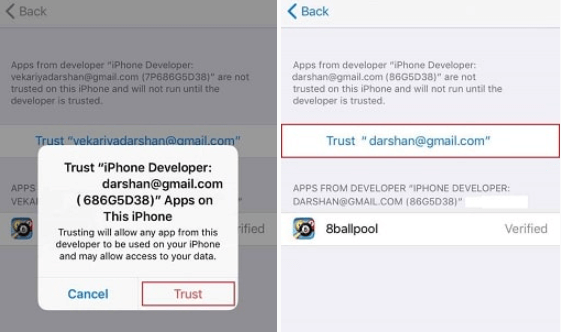 For Androids, there is a Beta launch for non-rooted accounts, but it is not working as of yet. You can give root access, but that is known to not be as secure against Niantic's extensive protection features.
Cons
Only changes in-game location. The background device settings still say you are in your physical location where you are sitting and that makes it easier to detect by Niantic.

Many users report getting banned within the first month of app use because of Niantic picking up on the spoofing software.

You may have to reinstall the app on a weekly basis to avoid detection as the app is prone to frequent crashing due to software conflicts.

A computer is required for the full installation process which can be a little complicated if you are not an advanced user.
2. TutuApp Pokémon GO - iOS
The TutuApp ecosystem is probably one of the most popular third-party installers for both Android and iOS. While the games and features may be attractive, you may have some troubles when installing Pokémon GO joystick iOS solutions.
You are installing a hacked version of the Pokémon game app with Tutu, not a different system application that changes your phone settings from the root like with other third-pary apps like iMoveGo. That means you will get a ton of great features but be significantly more detectable to Niantic's servers.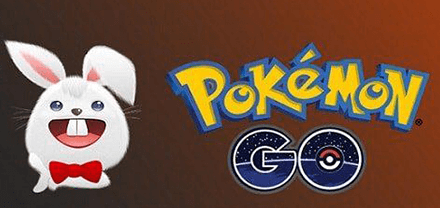 To install TutuApp:
Step 1. Download the TutuApp onto your device and install it.
Step 2. Open the Tutu App and launch the App Drawer.
Step 3. Search for Pokémon GO and then tap on the Green button that says download.
Step 4. Follow the provided on-screen directions.
Step 5. Launch the hacked Pokémon GO game app from your home screen.
Cons
Some reports by users of potential malware inside the APK package that could lead to leaks or possible malicious activity with your device.

Easily detectable by Niantic's servers because it is a standalone app that does not change your internal phone GPS settings.

Some of the information is in Chinese, which most US players do not read or speak making it hard to select advanced options or get a full in-game experience.
3. AppValley Pokémon GO - iOS
The great thing about AppValley is that it also offers an entire ecosystem besides a Pokémon GO Joystick iOS solution. You can find many streaming apps, games, productivity features, and more. This includes downloading a hacked version of Pokémon GO that uses a joystick.
Install AppValley for iOS:
Step 1. Visit Appvalley install page and tap on a prfile link.
Step 2. Tap Allow on the new page and then Install.
Step 3. Tap Install Profile when your Settings app opens.
Step 4. Type in your passcode and Safari will open.
Step 5. Tap on Install AppValley then Install.
Step 6. Settings will open then tap on Install>Next>Done.
Step 7. Launch AppValley and search for Pokémon GO, then install.

Step 8. Launch the game app from your home screen.
You do not need to jailbreak your iPhone for AppValley, and there are unofficial tweaks that you can use while inside the app environment. However, like Tutu, you are easier to detect because you are using a hijacked version of Pokémon GO instead of the actual game, but with a different system in the backend of your phone's settings.
Cons
Easy to detect by Niantic's new security and spoofing algorithm.

Requires installing third-party apps that may be dangerous with malware.
4. GPS Joystick by the App Ninjas - Android
App Ninjas put out a Pokémon GO joystick Android solution that is supposed to let you explore the world while utilizing a joystick-like feature. It does get you up and working, but between the ads and limitations, you may find the entire process frustrating quickly.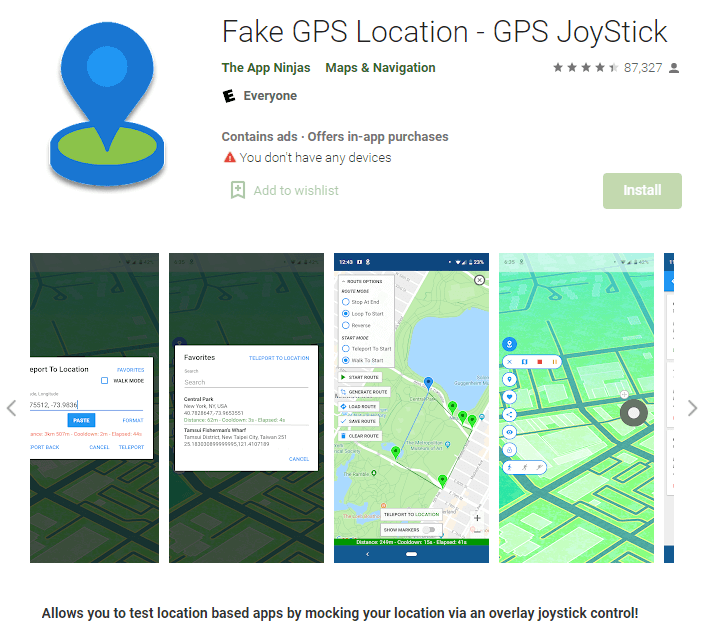 To install:
Step 1. Make sure you are running Google Play Services app of 12.6.85 or lower. Otherwise, move to the next two steps.
Step 2. Disable Play Store Auto-Updates by opening the Google Play Store app. Touch the hamburger icon, swipe up, choose settings, then hit the first option Do not auto-update apps under General>Auto-update apps.
Step 3. Download the older version of Google Play Services from here.
Step 4. Disable Find My Device under Settings>Security & Location. Do the same for Google Play Services.
Step 5. Install the downloaded version of Google Play services and restart phone.
Step 6. Go to Developer Options and set GPS Joystick as the Mock Locations app.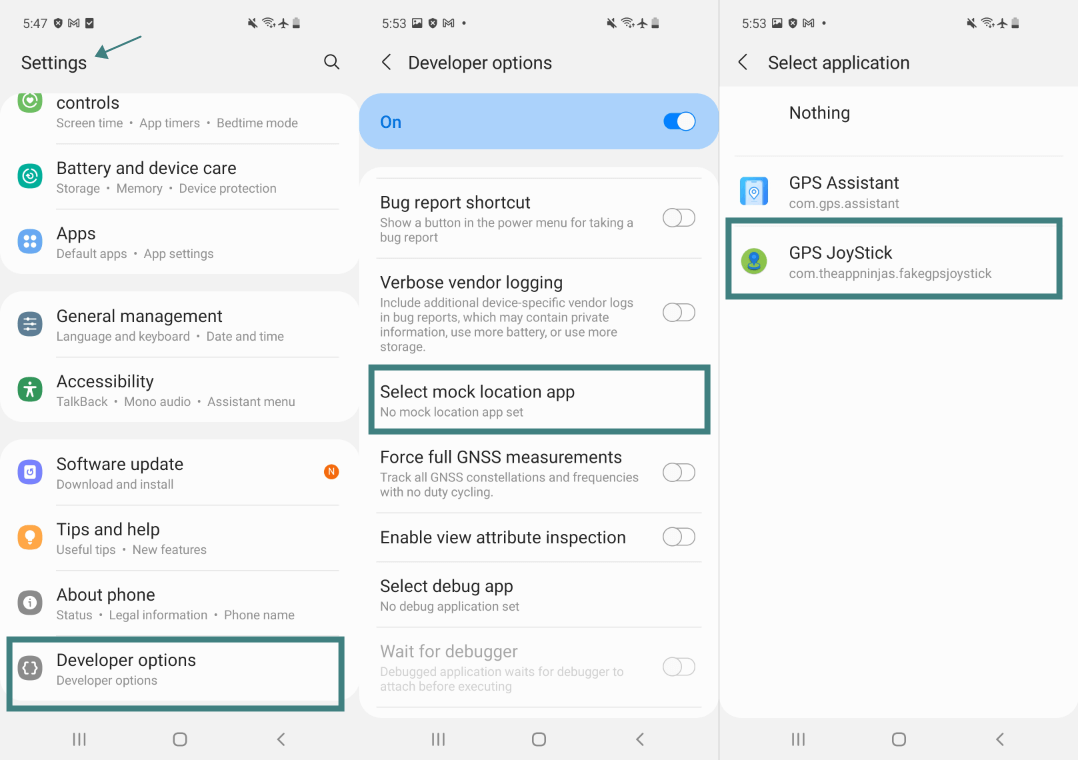 Many users are reporting frequent bugs with the joystick working efficiently. If you do follow the FAQs to the "T," you may get the app to work, but it is not as secure as other options and could lead to a soft ban on your trainer account.
Cons
Many limitations including having to select locations based on longitude and latitude instead of just searching for the city or location you want by name.

Needs root access to your phone in some cases if you have an older version of Google Play Services..

Intrusive ads with annoying sounds that get in the way of playing Pokemon Go or using any other location based service.

Does not always work for some users error 12 codes that result in lack of Joystick capabilities or entire app crashing.
Risks About Pokémon GO Joystick iOS & Android [Must Read]
Using any form of spoofing or hacked joystick feature in Pokémon GO does come with some risks. Software like iMoveGo from WooTechy is the best at minimizing these risks, but it is important to know what could possibly happen to your trainer account.
When you install a Pokémon GO joystick iOS or other Android features for spoofing, you are getting around the location settings of gameplay. Niantic uses a three strike system and soft banning that includes:
Strike 1: Warning - not able to encounter rare Pokémon in the wild and possibly excluded from receiving new EX Raid Passes. Lasts for about 7 days.
Strike 2: Suspension - lose access to your Pokémon GO account for approximately 30 days.
Strike 3: Termination - your account is permanently banned.
Soft bans stop your ability to conduct most in-game actions like catching Pokémon, joining battles, completing tasks, and more. They last anywhere from 5 minutes to 2 hours depending on where you teleported to and from.
Conclusion
Pokémon GO is a fantastic game to enjoy. Every new month it seems like there are exciting features, events, and special Pokémon being released by Niantic. The best way to take advantage of all of these features is to utilize a Pokémon GO hack joystick solution. We strongly encourage you to use iMoveGo location changer from WooTechy as your choice. This has the least amount of risk and allows you excellent speed control over your in-game movement.
Simply?click on the Download Now. There is a free version you can test out to see if you like the software!