Tired of walking around to catch Pokemon or explore items? Wish you could just sit back and relax while still playing Pokemon Go? If so, Pokemon Go Joystick is your perfect solution.
A Pokemon Go controller of joystick allows you to freely control your character's movement without having to physically walk. This means you can catch Pokemon, spin Pokestops, and battle Gyms without ever leaving your couch. You can play Pokémon Go normally no matter what the weather is like outside! In this article, we will show you how to get the best Pokemon Go joystick on iOS and Android, as well as the video and text guide.
Part 1: Can I Still Use Joystick to Play Pokémon GO without Moving in 2023?
Yes. As Pokemon Go is a totally location-based games, the best way to enjoy every aspect of playing Pokémon GO without moving is using a GPS spoofing application. There are many tools can do this. However, not all of them supports joystick's features. You have to choose those Pokemon Go spoofers with a Joystick Controller.This will confuse the mobile game to think you are in a location somewhere in the world without physically being there.
Considering the safety of your Pokemon GO account and your device availability (as not every Pokemon Go Joystick is available for iOS 16), we have tested various apps that in-built Pokemon Joystick which works both of Android and iOS, and choose the one below as your first choice.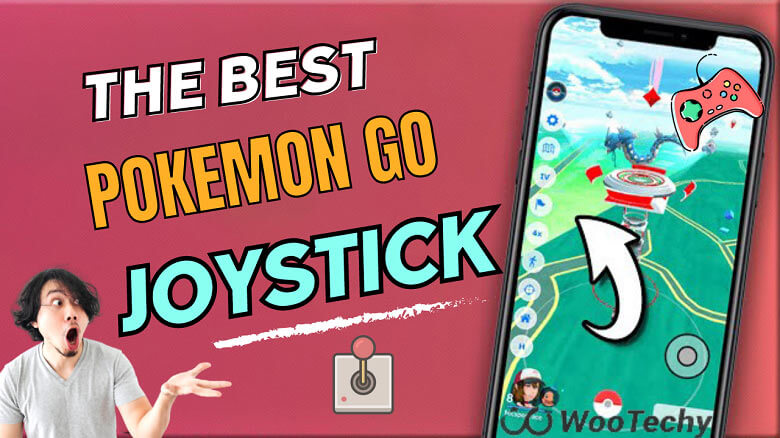 Part 2: Safest Pokémon GO Joystick in 2023 [iOS & Android]
After the testing, It's highly recommended to use Wootechy iMoveGo, an excellent computer tool, to achieve spoofing your location on Pokémon GO with GPS joystick. This software can make you appear from anywhere you want to be while protecting your actual physical location.
An Overview of iMoveGo location changer with Pokemon Go Joystick
iMoveGo is a professional GPS location spoofer that allows you to control your GPS movement with a joystick. With its built-in 360-degree Joystick controller, you can play Pokemon Go and explore more spots without having to physically walk around.
iMoveGo is compatible with both iOS and Android devices, and it is very easy to use. Plus, it helps you spoof Pokemon Go safely with a wide range of functions, such as teleporting in Pokemon Go, and simulating your tracks. Importantly, it fully supports the official Pokemon Go App without needing to jailbreak or download a tweaked App. Overall, it is a great way to use a joystick for Pokemon Go to hatch more eggs, catch more Pokemon, and level up faster.
75.000.000+

Download

Simulate GPS movement for your Pokémon GO avatar along customized routes and speed.

Control the virtual location in 360-degrees with the Pokemon Go Joystick.

Instantly teleport your GPS Location to any place in the world safely.

Work well on all location-based apps, such as Pokémon GO, Snapchat and Find My.

Provide Pokestop Map to explore.

Cooling timer works well when teleport in Pokemon Go to avoid soft ban.

Supports up to 10 devices at the same time, and the simultaneous connections of both iOS and Android.

Free trial is available for every user.
Download the software and start your free trial right now to test out if it can work for you perfectly.
iMoveGo is compatible with Androids, iPhone, iPad and iPod (including the latest iOS 16 and Android 13). Below are the guide on how to get a joystick in Pokemon Go on Android and iOS.
Video Guide on Pokémon GPS Joytsick:
Text Guide on Pokémon GO GPS joystick for iOS and Android:
1. Usage of Pokemon GO iOS joystick
Step 1. Download and install iMoveGo onto your computer (Windows or Mac). Then connect your phone to your computer through a USB cable or WIFI connection as prompted.
For iOS 16 users: Follow the on-screen guide to enable Developer Mode on your phone easily. If the option doesn't show up in settings, simply wait for a few seconds.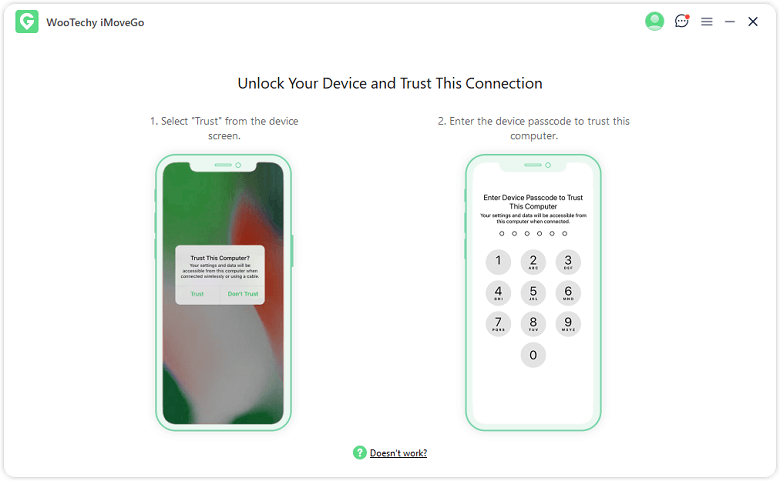 Step 2. To use a Pokemon Go Joystick on iOS device, select the Joystick button on the upper right corner as below. You can control your location and freely explore new spots with the W, A, S, and D keys, or Down, Left and right on your keyboard.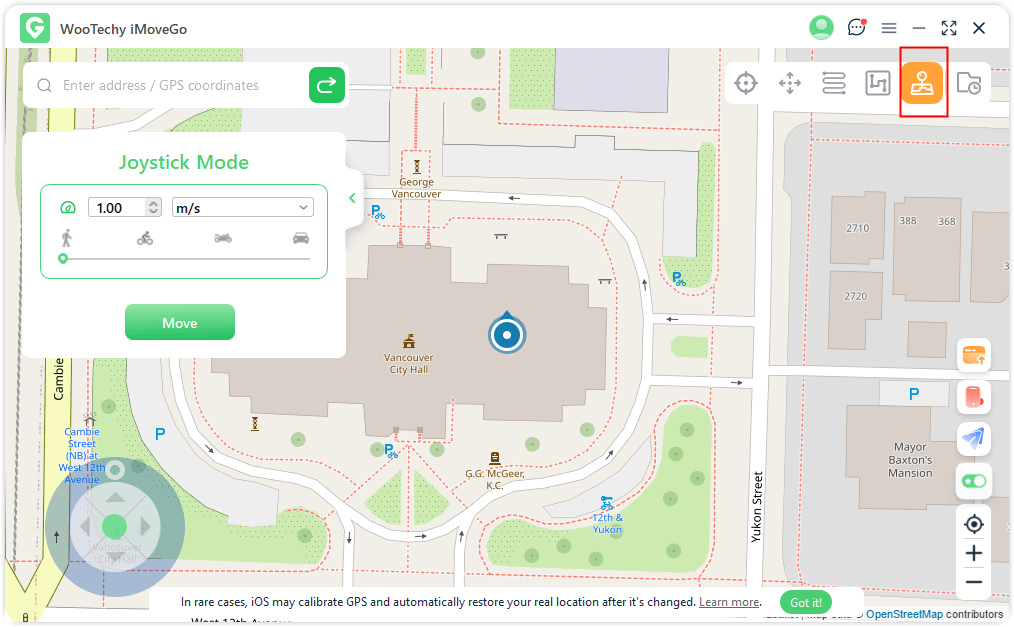 Step 3. To teleport in Pokemon Go instanyly, choose the Teleport Mode in the right corner. Click on the map to select a location or enter any place you desire in the search bar. Click the Move button and you are good to go.
Tips for choosing location mode

Joystick Mode: Play the game with Pokemon Go Joystick.

Teleport Mode: Change your Pokemon Go location to anywhere.

Jump Teleport Mode: Allows you to pre-plan multiple spots, jumping and moving one after another.

Two/Multi-Spot Mode: Simulate Pokemon Go GPS between 2 or unlimited spots.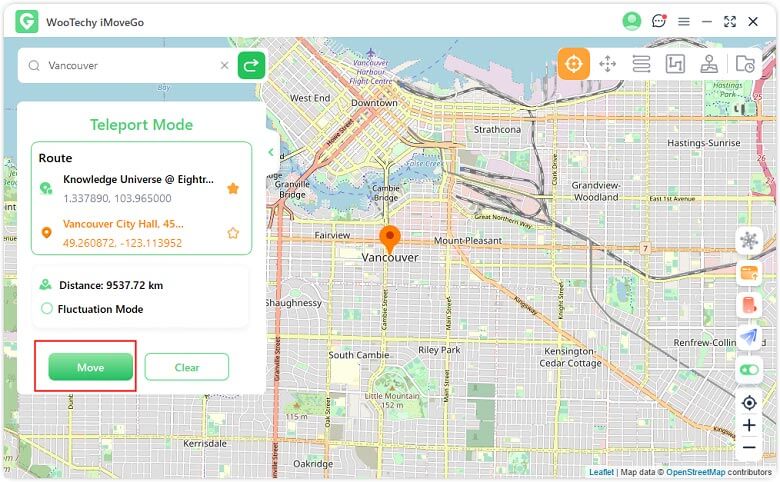 Hot Features:
Still don't know where to find the PokéStops & Gyms? Select the
folder
and choose a region offered in the list, then click on "Go Here", you will see
a large number of PokéStops and Gyms
marked on the map.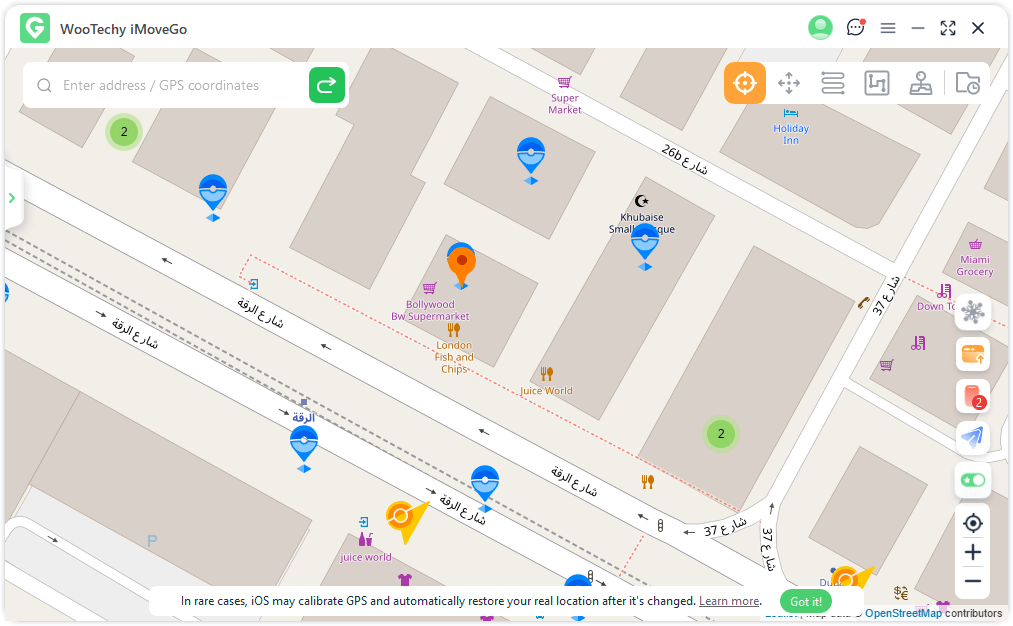 Now, you can use the joystick controller to fully control your movement or click on Move for auto-walk. Start your free trial and enjoy your gameplay right now!
2. Usage of Pokemon GO Android joystick
Step 1. Install and launch iMoveGo on your computer and then click on Get Started. Make sure you have connected your Android via a USB cable to your computer. It is the same as the iOS steps mentioned above.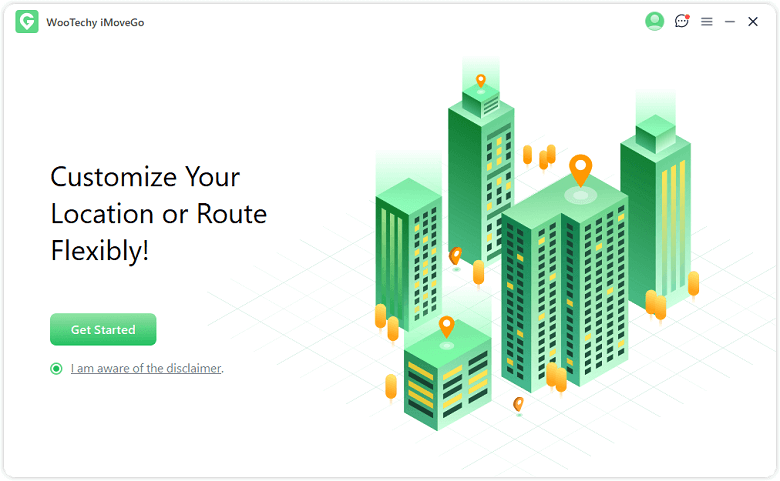 Step 2. Follow the on-screen instructions to Allow USB debugging on your Android. Then, select the Gaming mode from the two modes available, and you're all set.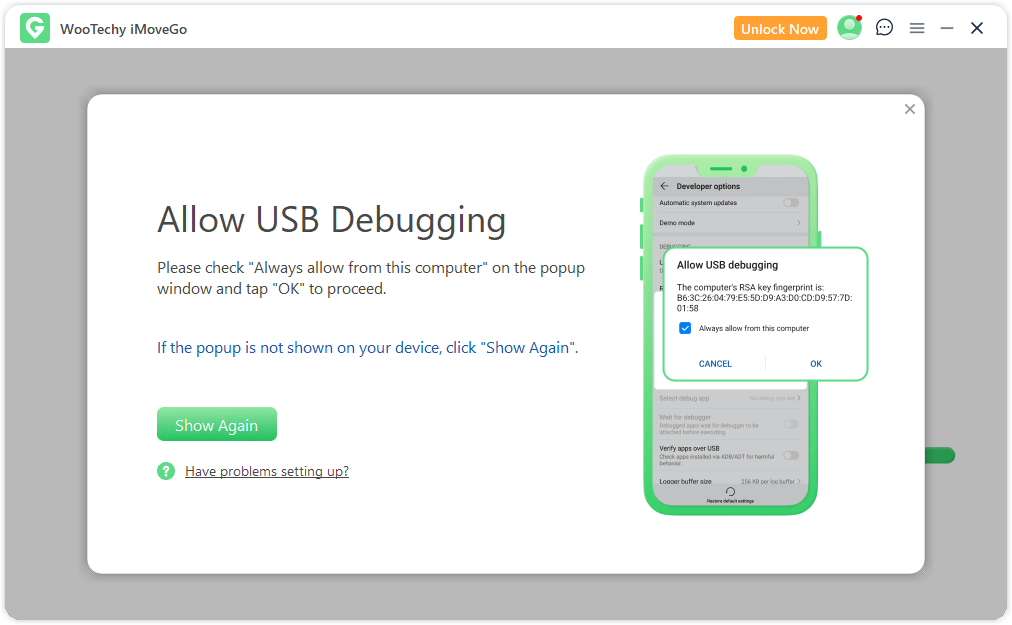 Step 3. Now, the steps will be the same as those about iOS. You can create a customized route with Multi-spot Mode or Two-spot Mode. Or, if you want to use the Pokemon Go Joystick, choose the Joystick Mode to fully control your movement with your keyboard.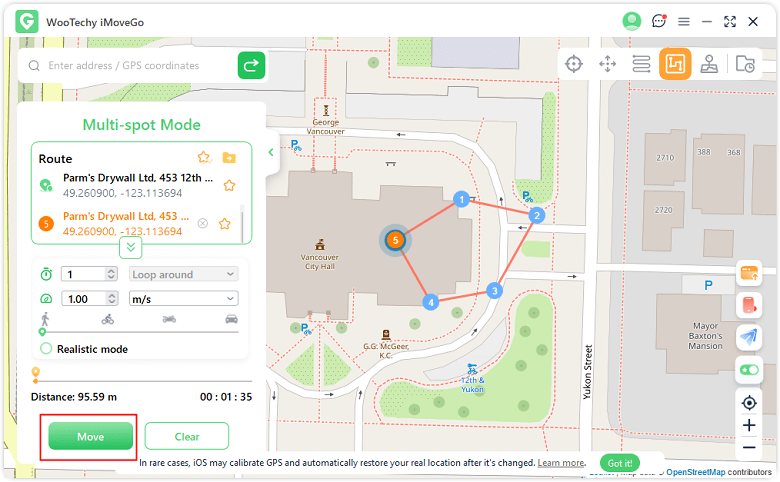 Now, you can enjoy the Pokémon GO GPS joystick to move freely!
Part 3: Other Tips About Pokémon GO GPS Joystick
1. Where Are the Best Places to Spoof with Pokémon GO GPS Joystick?
With pokemon Go Joystick, now we can teleport to any where in the world and walk around there! Here we selected some places with coordinates for you. And a page below!
Larissa, Greece - Coordinates: 39.641204,22.412975
Aotea Square, Auckland, New Zealand - Coordinates: -36.9024092617, 174.807806966
Parc Cordelles, Barcelona, Spain - Coordinates: 41.496293, 2.133689
Buyukpark, Izmir, Turkey - Coordinates: 38.462894, 27.216275
Porto Alegre, Brazil - Coordinates: -30.031016, -51.234585
Paralibros-Poza Rica, Veracruz, Mexico - Coordinates: 20.530899, -97.460390
Shibuya, Tokyo - Coordinates: 35.6595, 139.7005
Pier 39, San Francisco - Coordinates: 37.8087°, 122.4098
Learn more the best pokémon GO locations and coordinates
If you are going to use a GPS joystick in Pokémon GO, then follow the soft ban cooldown rules. There is a simple table that explains how long you need to wait before taking an in-game action in Pokémon GO after you have traveled a certain distance. That looks like this:
| Total Distance | Waiting Period | Total Distance | Waiting Period |
| --- | --- | --- | --- |
| 1 km | 1 minute | 125 km | 33 minutes |
| 2 km | 1 minutes | 150 km | 36 minutes |
| 4 km | 2 minutes | 180 km | 39 minutes |
| 10 km | 8 minutes | 200 km | 42 minutes |
| 15 km | 11 minutes | 300 km | 50 minutes |
| 20 km | 13 minutes | 400 km | 56 minutes |
| 25 km | 15minutes | 500 km | 64 minutes |
| 30 km | 18 minutes | 600 km | 72 minutes |
| 40 km | 22 minutes | 700 km | 80 minutes |
| 45 km | 23 minutes | 800 km | 86 minutes |
| 60 km | 25 minutes | 1000 km | 100 minutes |
| 80 km | 27 minutes | 1250 km | 118 minutes |
| 100 km | 30 minutes | 1266+ km | 120+ minutes |
3. Will You Get Banned for Pokémon GO GPS Joystick?
Pokémon GO encourages you to walk around outside in order to catch more Pokémon. Through spoofing, you can fake your location and move around the digital work from the comfort of your favorite seat in the living room. Unfortunately, Niantic will occasionally run checks to ensure you are not faking your location.
The best way to avoid these checks and getting banned is to only use reliable Pokemon Go Joystick tool. Unlike any tweaked app or Pokémon GO hack only spoof location on the game, iMoveGo will completely change your phone's setting, which Niantic will not detect. In addition, iMoveGo doesn't require your phone to be rooted or jailbroken, both of which are indicators to Niantic that you may be spoofing your location.
Conclusion
Pokémon GO is a great way to enjoy the outdoors, stay in shape, and have fun playing a highly visual and engaging mobile game. However, this can be convenient for people who don't have time to go out and play the game, or who live in areas where there are few Pokemon to catch.
Luckily, with the iMoveGo Pokemon Go joystick, you can hatch eggs and collect items more efficiently. Besides, you can quickly move around the map to find Pokestops and Pokemon, without having to worry about getting lost.
Download for free on your Win or Mac, and get the advanced Pokemon GO Joytisck right now to explore the game freely!