Are you a Pokémon GO player who wants to catch more Pokémon and spin more PokéStops without having to constantly look at your phone? If so, you need a Pokémon GO auto catcher!
Pokémon GO auto catchers are devices that automatically catch Pokémon and spin PokéStops for you. This means that you can play Pokémon GO while you're doing other things, like walking, biking, or even driving.
There are many different Pokémon GO auto catchers on the market, but some of the most popular include the Go-tcha, the Poké Ball Plus, and the Brook Auto Catch Lightning.
If you're looking for the best Pokémon GO auto catcher for your needs, be sure to read our article. In this guide, we review the most popular Pokémon GO auto catchers and help you choose the right one for you.
Part 1: An overview of Pokemon Go Auto Catchers
A Pokemon catcher is a mobile electronic device made for the Pokemon GO app. It can connect to your mobile devices via Bluetooth connection. Auto-catchers usually come in O-shaped body designs.
They are utterly efficient and can be used remotely. An auto-catcher has an in-built battery and LCD. These devices are capable of performing various functions related to catching Pokemon during gameplay on the Pokemon Go app. Most of them are user-friendly to accommodate both Gurus and Newbies. So if you haven't used one before, no need to worry about a 'first time'.
Part 2: The Top 7 Pokemon Go Auto Catchers
We Pokemon Go players have a wide variety of Auto catchers to choose from. They all work well but vary in functionality levels. We've however hand-picked the best of the best, and listed the recommended auto-catchers for Pokemon Go you should consider. Let's delve into it.
1. Go-tcha Classic
This is one of the most popular Pokemon Go auto catcher among players. Go-tcha has a variety of features such as screen animated alerts, and haptic feedback. These features notify you whenever Pokemon and Pokestops are captured or any nearby items have been collected.
Advantages of Go-tcha
Battery life indicator.
Animated graphics.
Auto-catch mode.
Magnetic USB charging.
Collect Pokestop items.
Gen I-VI Pokémon Catch.
Vibration Alerts.
Step to Connect and Use Gotcha Classic
Step 1: Open the Pokemon Go app and touch the main menu. Touch settings and select "Pokemon Go Plus"
Step 2: Press the button on your Go-tcha Classic to make it discoverable through the Pokemon Go App then choose "Pokemon Go Plus" under available devices to connect.
Step 3: Turn on the auto-catch feature and the Go-tcha will vibrate and animate the screen to indicate a successful or unsuccessful catch. It will also vibrate and animate the screen when items are successfully or unsuccessfully collected at a Pokestop.
Note: Before you begin using the Pokemon Go auto catcher app, please make sure the app is up-to-date to enhance and enjoy the latest firmware.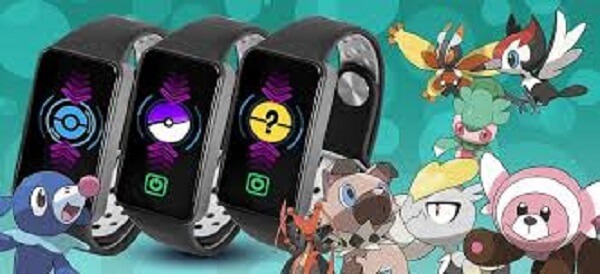 2. 247 Catcher
This Pokemon Go auto-catcher is available on Amazon. It is also feature-rich with a more complete, and compelling design. The 247 Catcher can catch Pokemon in about 6.5 seconds and is highly portable. You will however need an iPhone 7 or above running iOS 12 or an Android 7.0 device with at least 4GB of RAM.
Advantages of 247 Catcher
Lets you automatically spin Pokestops without worrying about running out of Pokeballs.
Alerts for the auto-catch, Pokestops as well as Pokemon captured. The LED indicator light and vibration sounds will notify the user.
Charges for about 2 hours and offers about 120 hours of usage time, for added efficiency.
To use the 247 catcher, simply plug in the cable with the word "RAID" up and the catcher will automatically do the rest for you.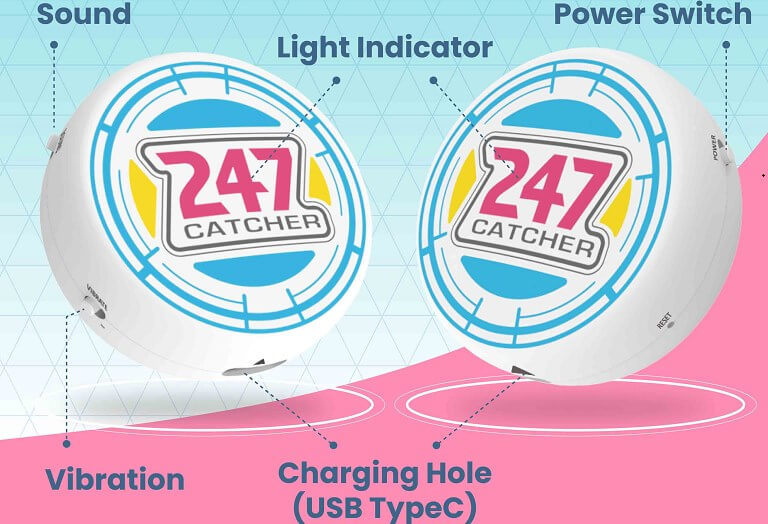 3. Dual Catchmon
Dual catchmon is one of the best energy efficient Pokemon Go auto catchers that Pokemon Go players should consider. This catcher is here to take away the hassle of having to recharge your auto-catcher endlessly. It catches Pokemon and spins Pokestops automatically.
Moreover, it has a flash to indicate Pokemon showing up, caught or missed, and supplies acquired without opening the Pokemon Go app. Catchmon Go only requires Bluetooth without you having to install any other additional apps.
Advantages of Dual Catchmon
It uses 2 AAA alkaline batteries to provide 600 hours on Standby.
Lets you choose notifications on your way through LED blinds, beeping, and haptic feedback.
Has a One-Touch Device Re-connection feature.
Easy Portability.
Dual catchmon is compatible with iPhone 7s and Android 7.0 devices and is safe to use.
Steps to Connect and Use Dual Catchmon.
Step 1: Insert the 2 AAA alkaline batteries and turn on your phone's Bluetooth.
Step 2: Open Pokemon Go and choose your Pokeball, then select settings and click on Pokemon Go Plus.
Step 3: Scroll down to "Available Devices". Press the button on MEGACOM dual catchmon and one of the Pokeballs in the "Available Devices" will make the flashlight signal in the middle.
Step 4: Click the Pokeball which is flashing in the middle and pair MEGACOM Dual Catchmon to your smartphone.
You can now start enjoying your auto-catcher for Pokemon Go on your Android or iOS mobile device, and get a quick catch.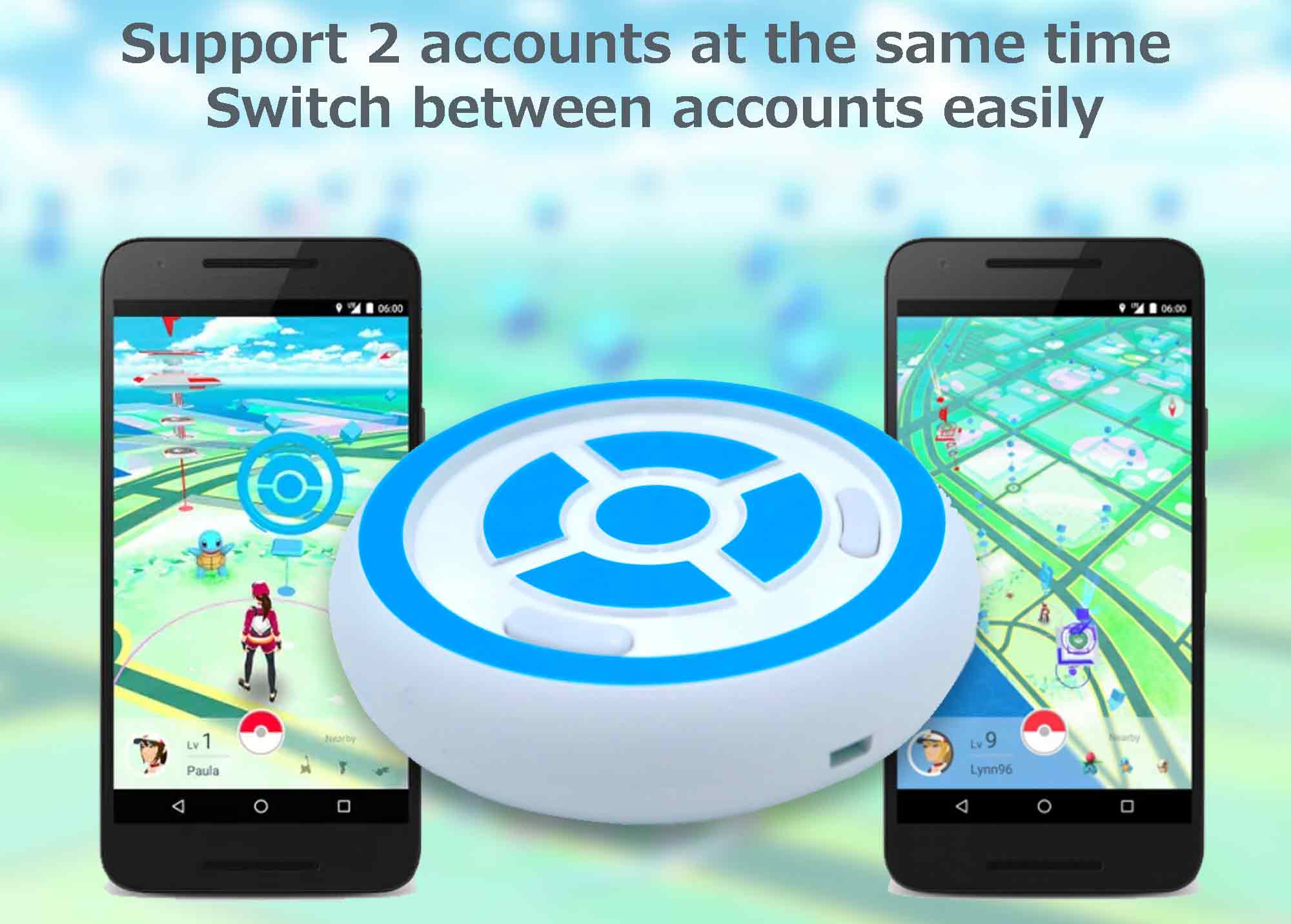 4. Pokeball Plus
This auto catcher for Pokemon can light up, vibrate and make sound alerts to notify the player about any new developments. Connecting this app to the Pokemon Go app will make it light up and vibrate whenever near Pokemon or Pokestops.
Advantages of Pokeball Plus
220mAh non-removable battery
3 hours charging time
Vibration and sound alerts
All you need to do to start using Pokeball Plus is to connect it to your phone via Bluetooth using a few clicks. Your Pokeball Plus will vibrate and light up when near Pokemon.
A simple button press will let you throw a virtual Pokeball and the varying LED patterns will let you know if you either caught the Pokemon or missed it.
As long as your Pokemon Go app is connected to your smartphone and the Pokemon Go app, it will hatch eggs, get candy for your buddy Pokemon, and record your steps.

5. Brook Auto Catch Lightning
This is another top auto-catcher on our list. It is feature-rich and very reliable for Pokemon Go players. It will help you catch Pokemon without even checking your device.
Advantages of Brook Auto Catch
It is water-resistant and dustproof.
Has a multicolor LED screen.
70mAh battery with 1h charge time and up to 24 h battery and 72h standby battery life.
Compatible with iPhone 5 and up and Android 4.4 devices and up with a minimum of 2GB RAM.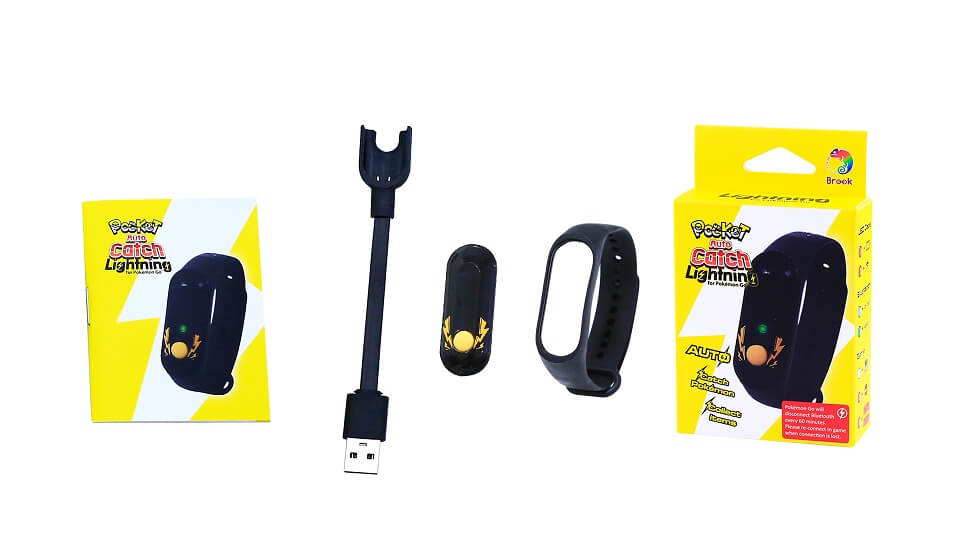 6. Pocket Egg Auto-Catch
Pocket Egg Auto-Catch is not like other auto-catchers on this list. It has a host of unique features and is relatively much easier to use. Here are some outstanding features of this auto-catcher for Pokemon Go:
Advantages of Pocket Egg Auto-Catch
It can automatically capture Pokemon and collect items from Pokestops.
Is compatible with iOS 9.0 or Android 7.0 and above.
It can reconnect to the game via Bluetooth when pressing the Go Plus icon in the game to reconnect.
It has a wireless range of 20m.
It can be set to capture Pokemon only.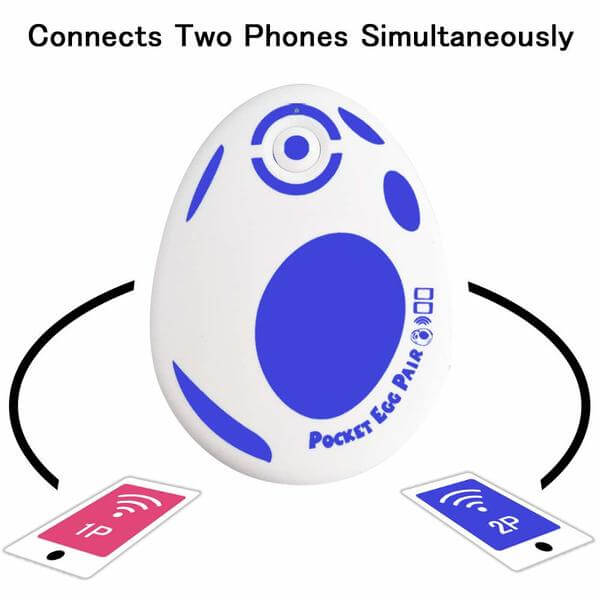 7. Nintendo Pokemon Go Plus
Know as the safest and the best Pokemon Go auto catcher, Pokemon Go plus connects to your iPhone or Android smartphone to provide an easy way to catch Pokemon and collect items with just a single click. You can also utilize it in collecting Pokeballs, eggs, and other items without having to keep an eye on your phone.
Steps to use Pokemon Go Plus--the best auto catcher for Pokemon.
Step 1: When you are close to a Pokestop, the Pokemon Go plus vibrates and the light flashes blue.
Step 2: Pressing the button on the Pokemon Go Plus will acquire items from the Pokestop.
Step 3: The items are shown on the smartphone's screen and the Pokemon Go Plus will vibrate and its light shines differently.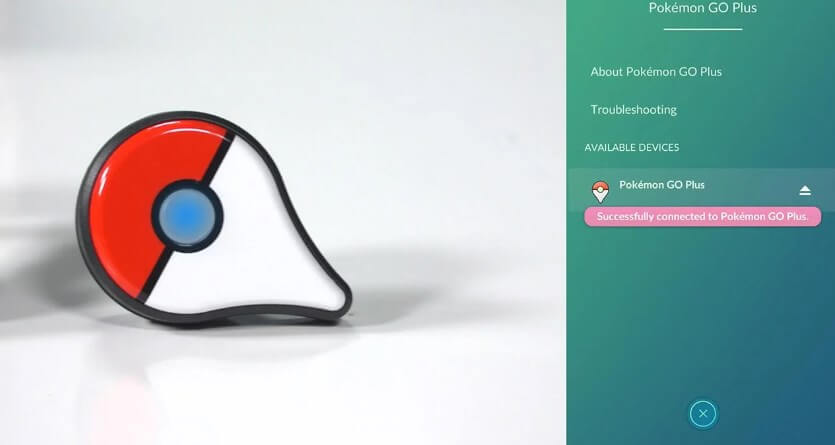 Any Pokémon or items caught or missed while the phone was in sleep-mode will be recorded. This data can be found in the activity log in Pokemon Go.
Part 3: How to Catch Pokemon that are Not Near You?
Pokemon Go is a game that is heavily dependent on your device's GPS signal. Capturing distant pokemon can be achieved using WooTechy iMoveGo, a software for simulating virtual locations.
iMoveGo is an exclusive GPS location spoofer that enables you to trick the game's trackers into assuming that you are in a specific location. It has a number of features that are adapted for e-gamers who need GPS modifications; especially Pokemon Go enthusiasts.This software keeps your activity private to protect you from online trackers, and data mining.
Key Features of iMoveGO Pokémon Catcher
75.000.000+
Downloads
It is compatible with all location-based apps. No need to jailbreak your device.

Naturally simulates realistic GPS movement at custom routes and speeds.

Unmatched Flexibility using a 360° joystick to control the direction of your GPS movement.

Versatile thus compatible with several mobile device models i.e. both iOS & Android.

It is also available for all Windows and MacOs PCs, supporting up to 10 devices simultaneously.

Up, Down, Left and Right Keyboard Controls or W, A, S & D Keys for 360° movement even on your PC.

An Auto-Save feature for Historical Records.

Assures you 100% Privacy and Protection from Online Tracking & Data Mining.
The Steps to catch Pokemon Without Moving using WooTechy iMoveGo
Step 1. Download and launch iMoveGo on your PC or Mac.
Step 2. Connect your iOS device to the computer using your USB cable. Unlock your device and click on "Trust" then insert your password to finish the setup. After connecting using a USB for the first time, you will now be able to connect your phone to the PC via wifi henceforth.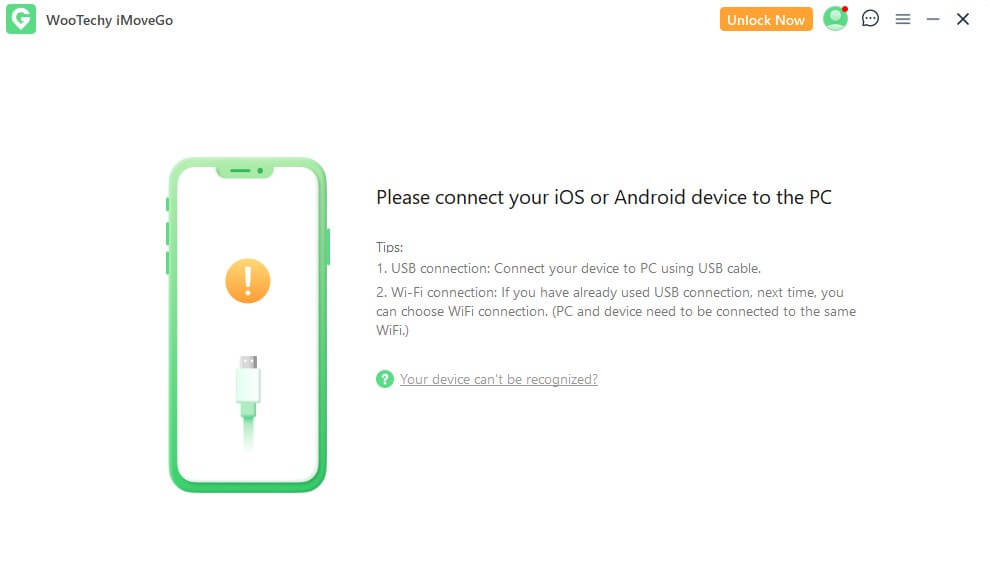 Step 3. Once connected, you should see a map with your current location, as well as 5 location modes in the top-right-corner.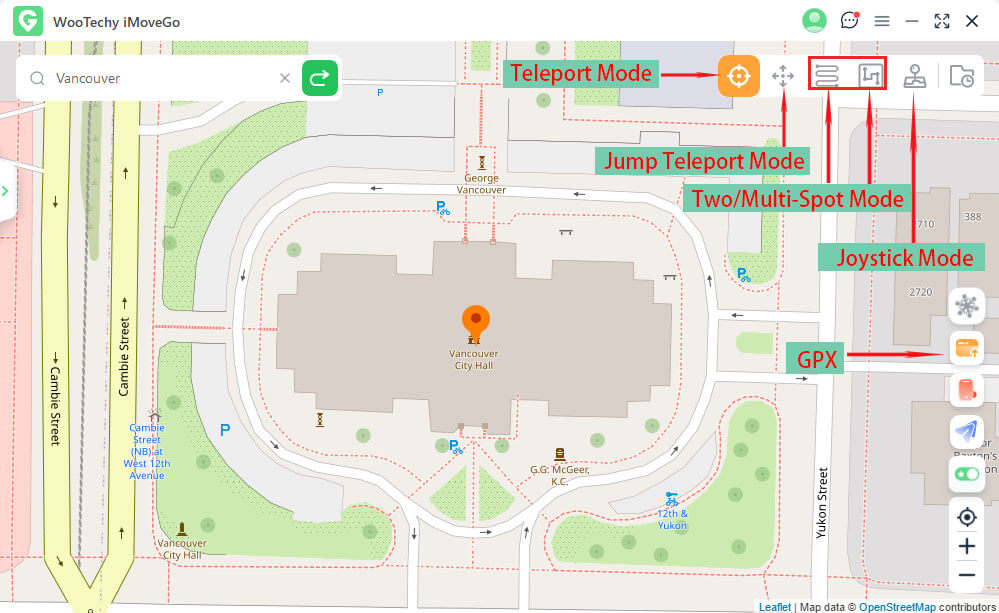 Step 4. Select teleport mode and choose the desired location. After you have selected it, click on "move". With this, you can teleport in Pokemon Go to anywhere and catch those Pokemon that not near you.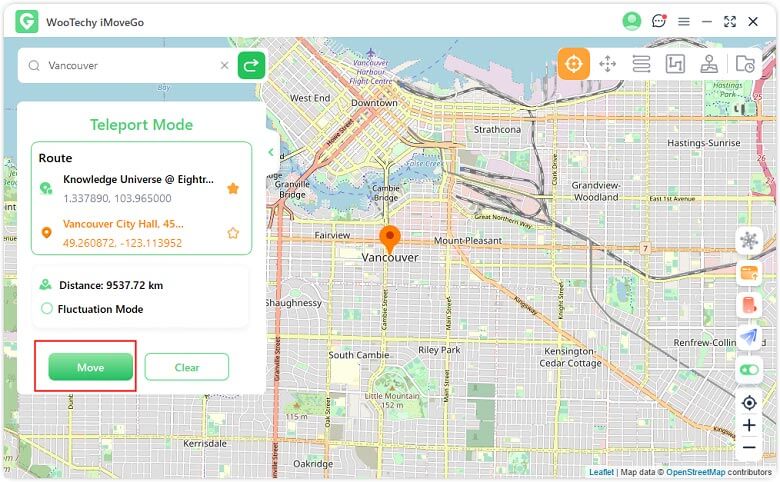 Step 5. For simulating movement in Pokemon Go, you can choose Jump Teleport Mode, or Multi-Spot Mode in iMoveGo. In this case, you can custom your route so that let Pokemon Go think your are walking.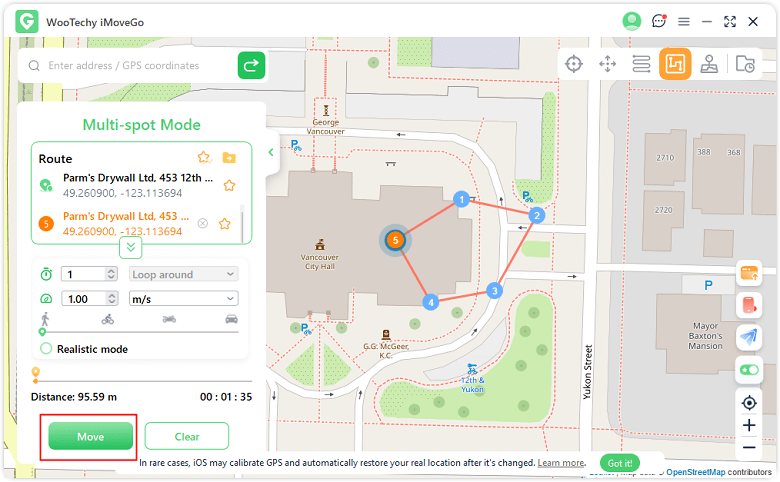 That's how to catch pokemon that are far away from you, using Wootechy iMoveGo.
Conclusion
These are seven of the best Pokemon Go Auto Catcher. These auto-catchers have made the game more interesting and playable as people do not have to be on their phones all day to play Pokemon Go.
However, iMoveGo has proven to outshine most softwares due to its next-level functionality and efficiency. The use of iMoveGo as a location spoofer can also be beneficial to the players as it will ensure you're safe from location-based security systems.