Pokémon GO is an excellent augmented reality game designed to get trainers out in the world. While that may work for some who enjoy physical activity, others may not wish to leave home to play because of weather, physical ailments, or simply because the couch is nice and comfy. That is why we have put together a quick guide to using autowalk Pokémon GO iOS tricks. Well, keep reading and learn about the tips of Pokemon Go auto walk.
Is it Possible to Autowalk in Pokemon GO on iPhone?
Yes, there are ways to use other apps on your iPhone or "tweaks" that allow you to engage a Pokémon GO auto walker iOS feature. Unfortunately, most of these apps require jailbreaking your iPhone. That is when you change the operating system control away from the native Apple OS and use a free-form operating system with app stores like Cydia to install tweaks.
Is There a Way to Auto Walk in Pokémon GO iOS Without Jailbreaking?
Yes! There are apps that use location-changing software to get around GPS tracking Pokémon GO. These auto walker Pokémon GO iOS fixes allow you to capture Pokémon, use PokeStops, hatch eggs, visit Gyms, and even trade Pokemon out of max distance, all without leaving home.
This is a good option because a lot of players do not want to deal with the hassle of jailbreaking an iPhone. Besides removing you from the native Apple app store, it also breaks your warranty. That makes is much harder to get a repair in case something terrible happens to your phone while setting up a jailbroken fix for auto walk Pokémon GO iOS features.
Cons of Jailbreaking
There is a change that you can not get any future Apple software updates.

Risks of bricking your own iPhone. This means rendering the device completely unrecoverable.

Jailbreaking will void Apple's phone and Apple care warranty.

Easily to be attacked by malware and virus.
How to Set Pokémon GO Auto Walk iOS [No Jailbreak!]
The best solution to auto walk Pokémon GO iOS is to use a computer application iMoveGo from WooTechy. This excellent feature-heavy software does not require you to jailbreak your device.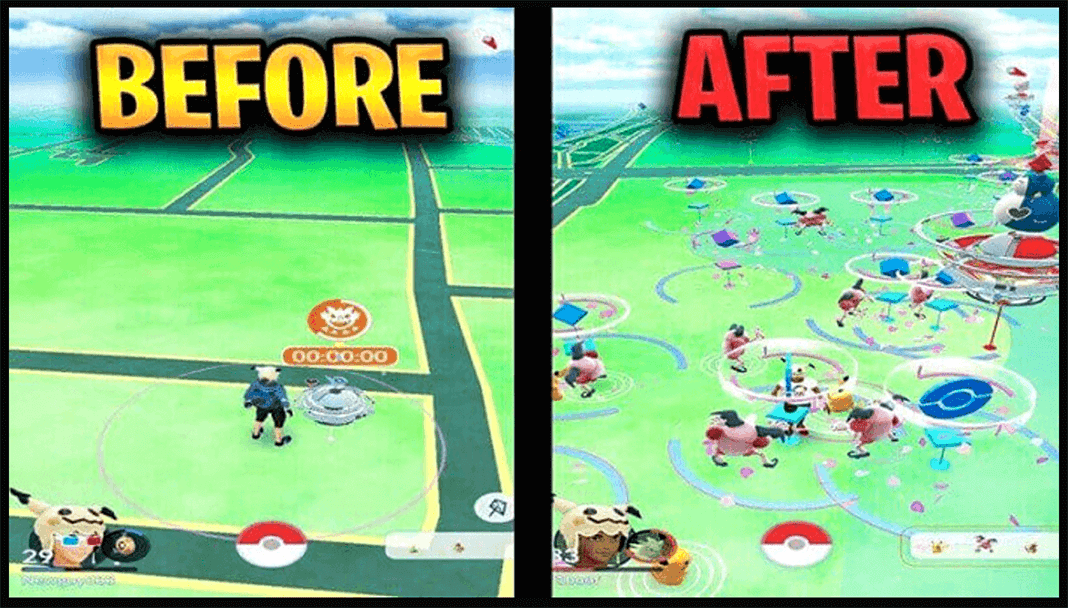 It has many options for setting predetermined routes at real-time walking speeds so you can make the most of your trainer using Pokémon GO iOS auto walk. iMoveGo works both for iOS and for Android and is a safe and reliable way to change our location in Pokémon GO. With this tool, you will get the best Pokemon more easily than others.
Key Features of iMoveGo
Teleport your location to anywhere in the world within 1 click.

Simulate GPS movement for your Pokémon GO along customized routes.

Won't be detectd by Niantic if you follow the coodown rules.

Works well on all location-based apps, such as Find My and Snapchat.

Cooling time reminder based on your walking distance.

Free trial is available for every user.
Pokémon GO Auto-Walk iOS Video Guide:
Step 1: Click on Download Now and install iMoveGo onto your computer. Then, launch the app and connect your device to the computer via a USB cable/WIFI.
Step 2: Now, enter the address/coordinates or search the global map for a location you wish to appear from with the Teleport mode.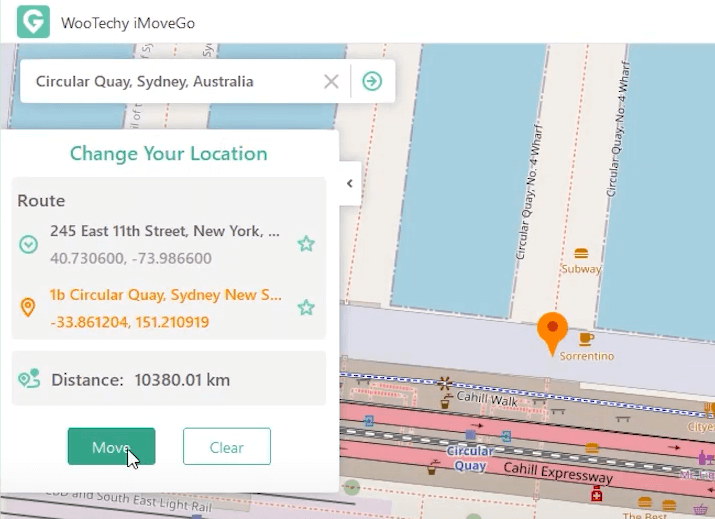 Step 3. Select the Multi-spot (or 2-spot) mode and create a route by clicking on the map. Next, click on Move. Now, you have enabled the auto-walk in Pokemon GO.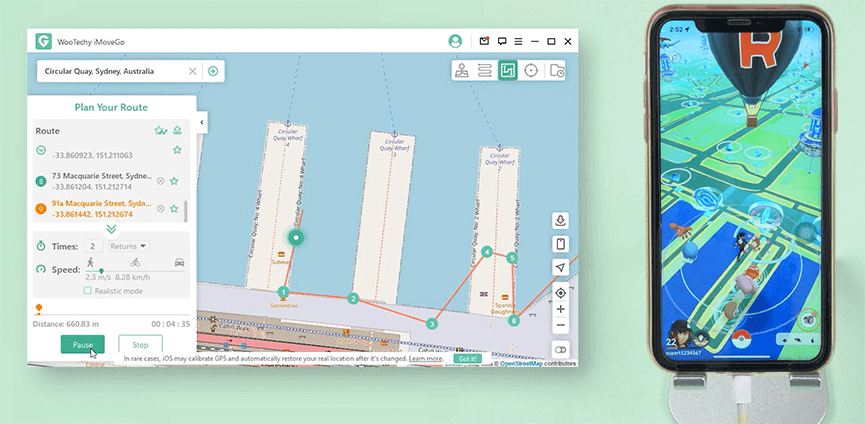 Using iMoveGo location changer redefines your location settings not only in your game location, but also on your entire phone. This way, you will not be detected while you explore.
Other Features of iMoveGo
Collect Spots and Routes: Click on the Star icon to collect your favourite spots and routes. And you can even check the historical record.
GPS Joystick: You can engage the custom joystick feature in iMoveGo that allows you complete 360-degree control of your account.
Circle Route: Under Multi-spot mode, you can draw a loop and the program will automatically ask if you need to create a circle route.
Realistic Mode: Enabled the Realistic Mode, and then moving speed will randomly vary in the upper or lower 30% of selected speed range.
Support 5 iOS Devices: Supports changing GPS location of 5 different iOS devices at the same time.
............
Risks About Pokémon GO Auto Walk [Must Read]
You need to take care while teleporting or increasing your auto walking speeds. Niantic is doing its best to cut down on any Pokémon GO hacks, and they will issue disciplinary actions. This could be anything from a soft ban of a couple of hours to a complete account shut down.
Luckily iMoveGo location changer from WooTechy has been tested robustly and is the best way to explore Pokémon GO without having to move. We strongly encourage you to stick to walking speed only and follow the soft ban cool down periods as below if you decide to teleport. Also, there is an in-built cooling time reminder in Wootechy iMoveGo, which will protect you from being banned when auto walking in Pokemon Go.
| Total Distance | Waiting Period | Total Distance | Waiting Period |
| --- | --- | --- | --- |
| 1 km | 1 minute | 125 km | 33 minutes |
| 2 km | 1 minutes | 150 km | 36 minutes |
| 4 km | 2 minutes | 180 km | 39 minutes |
| 10 km | 8 minutes | 200 km | 42 minutes |
| 15 km | 11 minutes | 300 km | 50 minutes |
| 20 km | 13 minutes | 400 km | 56 minutes |
| 25 km | 15minutes | 500 km | 64 minutes |
| 30 km | 18 minutes | 600 km | 72 minutes |
| 40 km | 22 minutes | 700 km | 80 minutes |
| 45 km | 23 minutes | 800 km | 86 minutes |
| 60 km | 25 minutes | 1000 km | 100 minutes |
| 80 km | 27 minutes | 1250 km | 118 minutes |
| 100 km | 30 minutes | 1266+ km | 120+ minutes |
Bonus: What is the Best Pokemon Go auto catcher app?
We have discussed the Pokemon Go auto walk. And how about the Pokemon Go auto catcher? Here we strongly recommend Pokemon Go Plus. Pokémon GO Plus is a small wearable device developed by Nintendo official (Pokemon Go's company)and totally safe to use. The device connects to a smartphone via Bluetooth and allows players to catch Pokémon and collect items without having to constantly check their phone.
The device vibrates and flashes its LED light to alert players of nearby Pokémon and PokéStops. With the press of a button, players can attempt to catch the Pokémon or collect items from the PokéStop. The device also tracks distance traveled, which is important for hatching eggs and earning candy for Pokémon.
Overall, Pokémon GO Plus is a convenient and fun accessory for Pokémon GO players who looking for Pokemon Go auto catcher and stay engaged with the game while on the go.
Conclusion
Using Pokémon GO auto walk iOS features is an excellent way to increase your training level, capture more Pokémon, pick up helpful items, hatch eggs, and more! While plenty of apps may seem like they work, they often involve jailbreaking your iPhone or cannot get past Niantic's security detection. Your best option is to download a free trial of iMoveGo location changer from WooTechy and try that option to enjoy auto walking in Pokémon GO.