Pokémon GO is the most popular location-based game, which requires trainers walking on the streets to catch and hatch Pokémon. However, players might not have enough time or energy to spend the whole day walking around. That's why so many players use Pokémon GO location spoofer to enhance the gameplay.
Note that location spoofing does come with the risk of getting your account banned. Luckily, this post will help you choose the most secure Pokémon GO spoofer Android & iOS, so you can roam freely and capture the legendary Pokémons.
Whether you're looking for Pokemon Go spoofing on Android or iOS, you'll find the best answer here. Read on!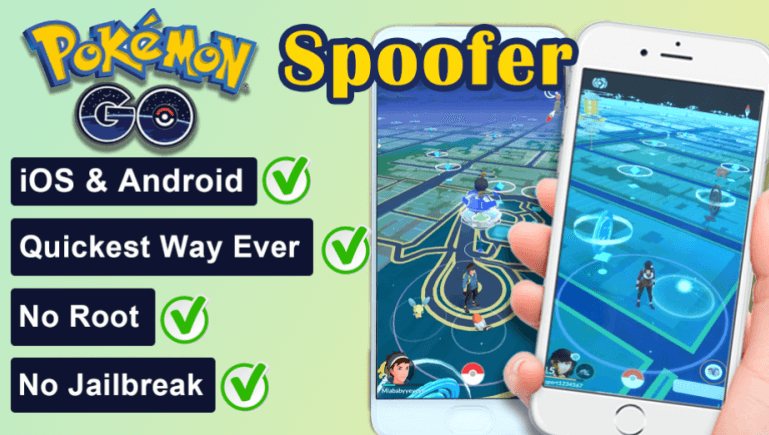 Top 3 Pokémon GO Spoofers for Android or iOS
A few words before choosing pokemon go gps spoofer Android and iOS:
You can spoof your location in Pokémon GO on Android by using a location changer app. However, these apps have diverse requirements. Some apps might require you to use a rooted phone, which means you need to have privileged access to your Android device. Whatever the case, when it comes to location spoofing apps, you should prioritize simplicity and ease of use.
As we have shared Defit for Pokemon Go before, we will discuss another 3 different Pokémon GO Spoofing apps: iMoveGo, PGSharp, and Smali Patcher. As you can see in the table below, there are several different aspects you should consider.
| Pokémon GO Spoofer | Compatibility | Operating Time | Requires Root | Secure |
| --- | --- | --- | --- | --- |
| iMoveGo | iOS & Android | 3 minutes | No | Yes |
| PGSharp | Android | 30 minutes | No | No |
| Smali Patcher | Android | Not Sure | Yes | Not Sure |
1. Pokémon GO Spoofer iMoveGo [Both Android and iOS ]
iMoveGo is a GPS spoofing app that operates from your desktop to change your GPS location on any device. It's also the only secure location spoofing method working on the official Pokémon GO app while also being usable for the latest versions of Android and iOS.
Android 13 and iOS 16 perfectly supported now!
Key Features of iMoveGo
75.000.000+
Downloads
Teleport your GPS location to anywhere in the world.

Simulate GPS movement on Pokémon GO without being detected.

Cooling time reminder is available.

Fully support Pokemon Go Joystick.

Works well on all location-based apps, such as Find My and Snapchat.

Compatible with both iOS and Android devices. (Including iPod/iPad)

Free trial is available for every user.
Pokémon GO Spoofer iOS & Android Video Guide:
Pokémon GO Spoofing Android Guide:
Step 1: Download the software on your Windows or Mac. Connect your device to your computer through USB Cable or WIFI Connection. Once connected, select your device from the list.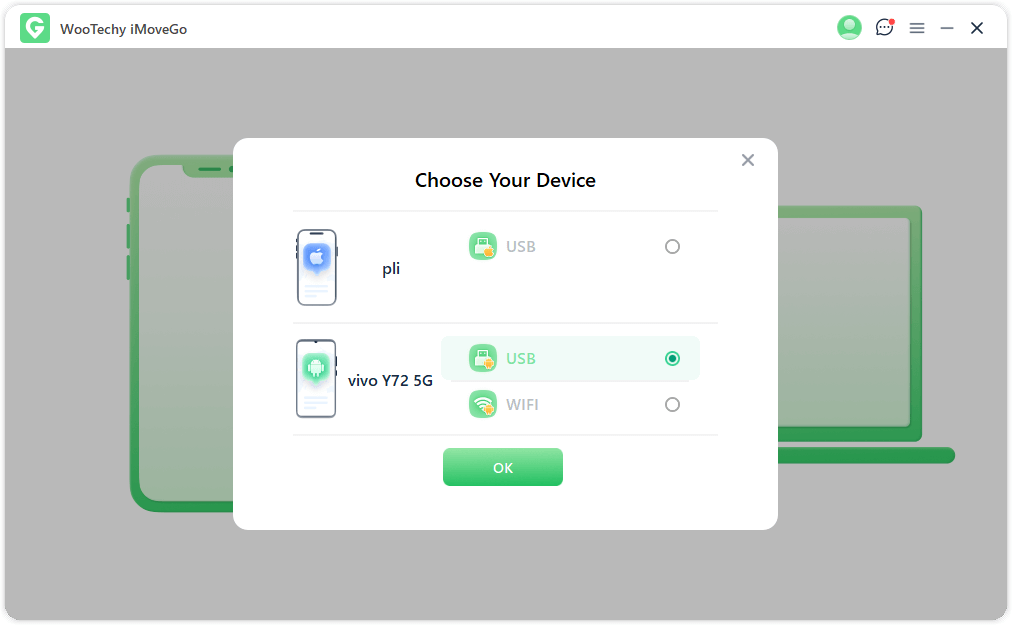 Step 2: If you're an iPhone user, skip to the step 4 directly. If you're an Android user, follow the on-screen guide to enable USB debugging.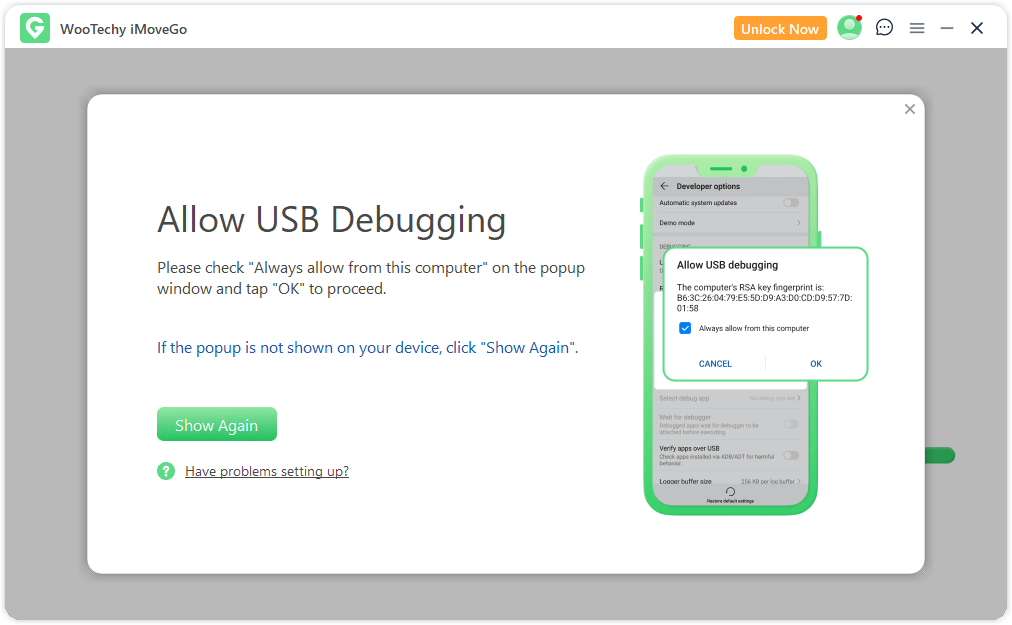 Step 3: Then, to spoof Pokemon Go Android, select Gaming Mode for Pokémon GO. (Use Social Mode for other apps like Snapchat)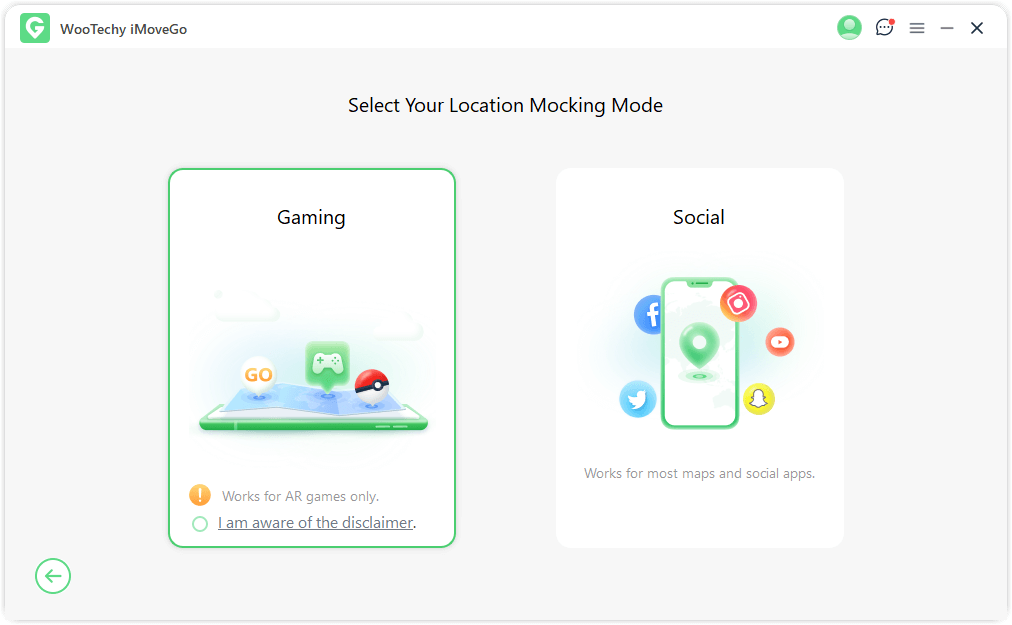 Step 4: Next, a map will load. To set a fixed fake location, select Teleport Mode. Then, go to the search bar in the upper-left corner and type in any destination in the world, you can try using GPS coordinates as well. Click "Move" to confirm the new location.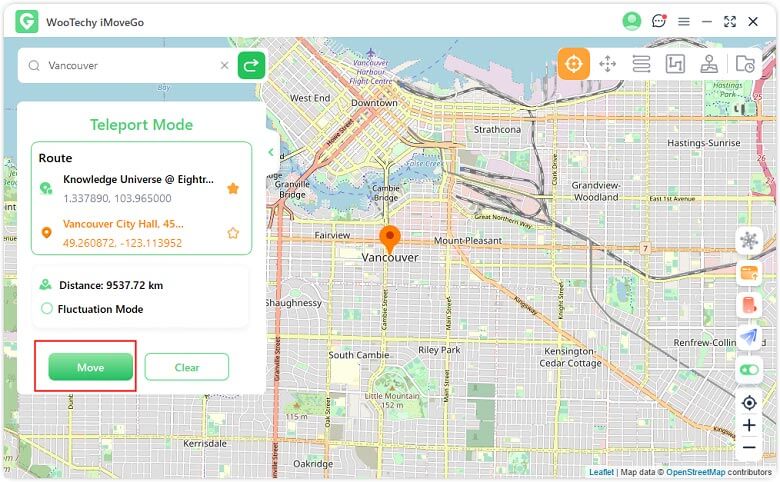 Start Moving!
Now you have sucessfully teleported to your desired destination, and you can start your movement by selecting the first option - GPS Joystick. To control your movement, use your keyboard to move with ease or you can create a customized route by using 2-spot mode or multi-spot mode.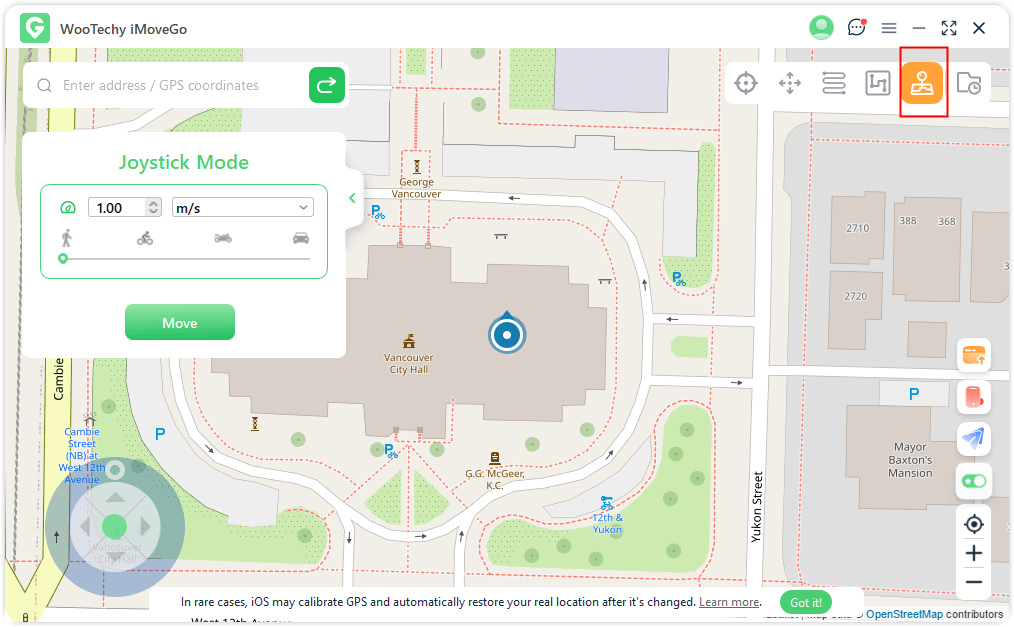 Our Verdict
To spoof your location on Pokémon GO, there is no better tool to help you collect Pokémon safely than iMoveGo. You won't need to root your phone in any capacity to get the full features of this tool. It connects with any iOS or Android device to let you play securely on the official Pokémon GO app, not a tweaked version.
2. Pokémon GO Hack PGSharp [Android]
PGSharp is another Pokémon GO spoofing Android app that you install as an APK package on your phone. While PGSharp provides various features in addition to location spoofing, using them will make it a bit risky.
If you want to test PGSharp out, you should use an alternative account to avoid getting your main account banned. PGSharp only allows you to log in using Facebook, not Google.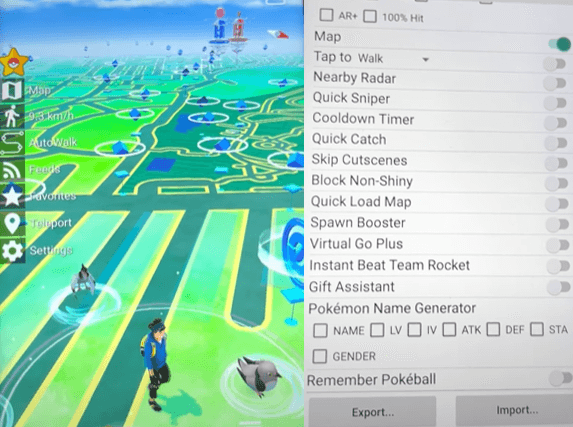 Before using this spoofed Pokemon Go, note that you must first have the original Pokémon GO deleted. Then, follow the steps below to install PGSharp.
Step 1. Go to the official PGSharp website and download the app.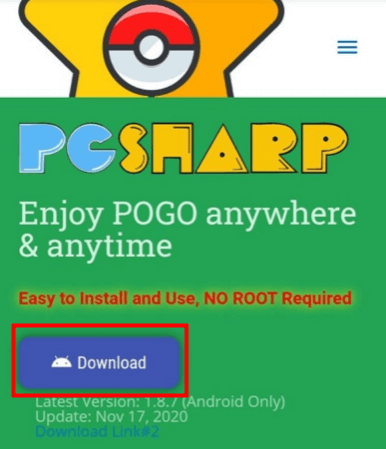 Step 2. Locate the Beta Key for the program by visiting the PGSharp official website, scrolling to the Sign Up Now button and getting a free trial. You'll also need to create a password for logging in.
Step 3. Copy and paste your credentials from your PTC Pokémon GO account and the Beta Key you got after signing up for a free trial from PGSharp.

Step 4. Now, the program is ready to be used on your Android device.
If the free trial is out-of-stock when you are trying to confirm the $0.00 payment, the servers are either down or under maintenance. Just wait a few minutes, and you'll probably be okay to try again.

Pros and Cons of Using PGSharp
Pros
Spoof your GPS location on Android

Various other Pokemon Go hack features

Mobile app
Cons
Risks getting banned on your main account.

Occasional server outages prevent you from logging on

Sometimes requires a questionable activation key.

Only for Android devices.
3. Smali Patcher for Pokémon GO [Requires Root]
For tech-savvy users, Smali Patcher can help you spoof your location on Pokémon GO, though it might take a lot of time and effort. In this case, Smali Patcher requires you to have a rooted Android device meaning you need to have full privileged access to make modifications.
How to spoof pokemon go android with Smali Patcher?
First, enable Developer mode by Tap the Build number 7 times under the Software infomation. Then, turn on USB debugging in the Developer settings on your device.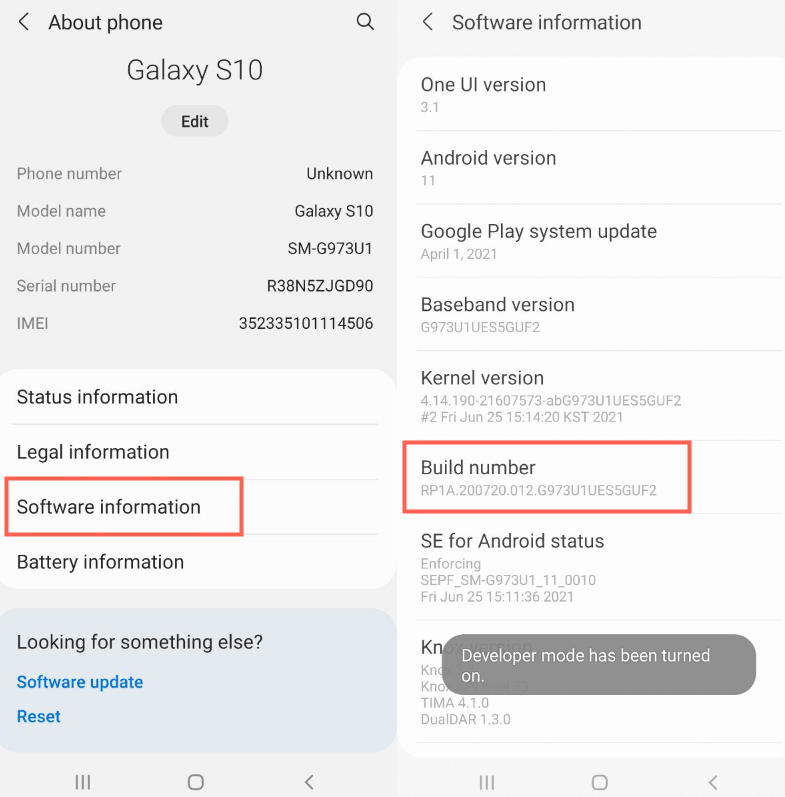 Next, download Smali Patcher from the community. Then, connect your device to your desktop, which must have at least 3GB of RAM. You might also get a notification telling you to authorize USB connections on your phone.
Now, run "SmaliPatcher.exe" on your computer. At this point, you must look through the patches to see which ones you want.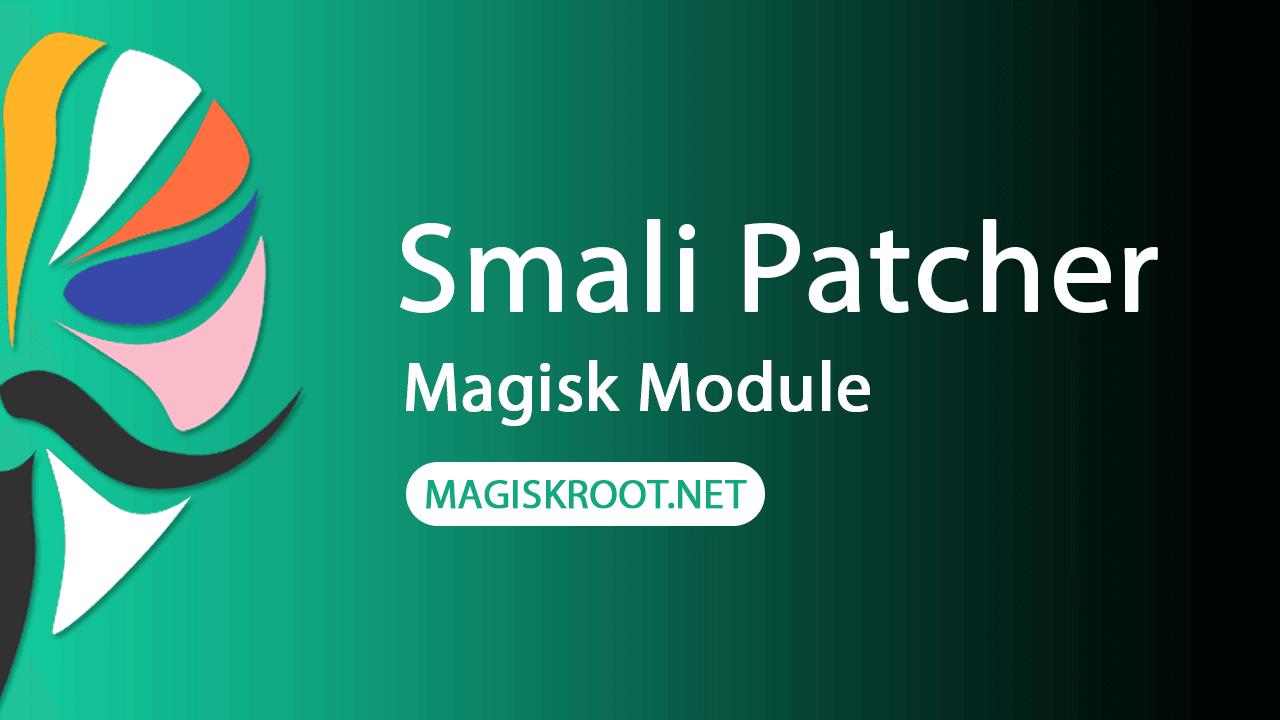 For Pokémon GO, you should select the "Mock Locations" patch. Once you're ready, hit ADB Patch to begin the process of downloading the patches to your phone.
Afterward, a Magisk module will be created. From there, you can install the Magisk module and enable the Smali Patcher module in Magisk.
In general, this solution is rather difficult to implement. It's recommended that only an advanced user with much patience try this method out.
Tip 1: Avoid Getting Banned When Using a Pokémon GO Spoofer on Android
As you already know, Niantic only encourages outdoor gameplay. Therefore, Pokémon GO spoofing apps should take the following 5 precautions to avoid getting your account banned and losing all your in-game progress. Note that:
1. You are limited to 100 Mons and 1000 pokestops per day, with a 3500 pokestop limit per rolling week. We know you want to collect as much as you can, but don't go too crazy.
2. Respect the in-game cooldown times, for example, leave 2 hours in between sniping.
3. Modified iOS devices are liable to get banned.
4. Ensure that your altitude and speed on your GPS spoofer are reasonable. Pokémon GO will get suspicious if you're 2,000 feet in the air, or traveling 2,000 miles per hour!
5. When you go out to catch Pokémon, don't spoof any ridiculously complicated routes. The temptation might exist, but usually, it's unnecessary to cross continents in a single day.
Tip2: Cooldown Rule for Any Pokémon GO Spoofing Apps
To avoid getting soft banned, it highly recommended to follow the cooldown rule while using any Pokémon GO spoofing app.
Soft ban means when you teleport there will always be a peroid that's let's you not catch any Pokémon nor spin poke stops or participate in raids, which takes up to a maximum of 2 hours for it to be released.
For Example, if I catch Pokémon in the US, a minute ago and teleport to somewhere like Tokyo, I would have to wait 2 hours to catch Pokémon there or I can just go back to where I came from and go back to catching. However, if I haven't caught a Pokémon or spin poke stops etc or any activity involving getting rewards, in the last 2 hours in the US and teleport to Tokyo , I can catch Pokémon there.
| Total Distance | Waiting Period | Total Distance | Waiting Period |
| --- | --- | --- | --- |
| 1 km | 1 minute | 125 km | 33 minutes |
| 2 km | 1 minutes | 150 km | 36 minutes |
| 4 km | 2 minutes | 180 km | 39 minutes |
| 10 km | 8 minutes | 200 km | 42 minutes |
| 15 km | 11 minutes | 300 km | 50 minutes |
| 20 km | 13 minutes | 400 km | 56 minutes |
| 25 km | 15minutes | 500 km | 64 minutes |
| 30 km | 18 minutes | 600 km | 72 minutes |
| 40 km | 22 minutes | 700 km | 80 minutes |
| 45 km | 23 minutes | 800 km | 86 minutes |
| 60 km | 25 minutes | 1000 km | 100 minutes |
| 80 km | 27 minutes | 1250 km | 118 minutes |
| 100 km | 30 minutes | 1266+ km | 120+ minutes |
The Best Way to Spoof Your Location in Pokémon GO
Unlike other methods have many limitations or require expertise, our recommended choice is iMoveGo. This best Pokemon Go GPS spoofer offers the easiest solution so you can quickly collect Pokémon without getting banned. Simply plug your device in and start moving around at your own pace without any interference.
Download Pokémon GO Spoofer iMoveGo right now! Enjoy the free trial and test its features. Don't miss out on legendary Pokémon!