Have you ever imagined playing Pokemon Go using Joystick while sitting on your sofa without Walking? Have you ever wanted to catch a Pokémon far away from you but found it difficult to move around?
If you are a Pokémon Go player looking for a joystick, then it's definitely your lucky day. This illustration for Pokemon enthusiasts will guide you through using the safest, and smartest Pokemon Go joystick currently available.
Part 1: How to get a joystick in Pokémon Go?
A joystick is a useful tool for Pokémon Go users that allows them to move freely in the game world without having to physically move. With a joystick, player can navigate their characters in the game, catch Pokemon, and battle at gyms.
Unlike Switch Game, Pokemon Go does not support physical Joystick. What we can do is use a virtual Joystick. Adding that Pokemon Go is a game based on locations, the best way that we can use Pokemon Go Joystick is getting the help of some Pokemon Go location spoofer with Joystick features, altering the GPS location of your phone, tricking the game into thinking that you are somewhere else.
We have tested some popular and well-performed location spoofers with Pokemon Go Joystick feature. Keep reading.
Part 2: Pokémon Go Joystick for iOS and Android
Wootechy iMoveGo has various modes that allow you to simulate GPS movement freely, and more realistically. One of the available modes is the joystick mode 360° which allows players to move their GPS in any direction.
This location changer available for all the device and version including the latest iOS 16 and Android 13 without Jailbreak and Root. What attracted most of Pokemon Go players is it's functionality such as Joystick, teleport, GPS movement simulation, speed customize. Let's go through the comprehensive process of using iMoveGo's joystick mode for Pokémon Go.
Features of Wootechy iMoveGo
1. Joystick Mode
Joystick mode allows users to move their GPS locations in any direction 360°, and move backward or forward by clicking the direction buttons. It's the first option on the dashboard in the upper right corner of your screen.
2. Circle Route
In this mode, the initial and final GPS positions are usually so near each other. A notification pops up automatically, prompting you to create a circle route. Select 'yes' to start a circle route and connect both points.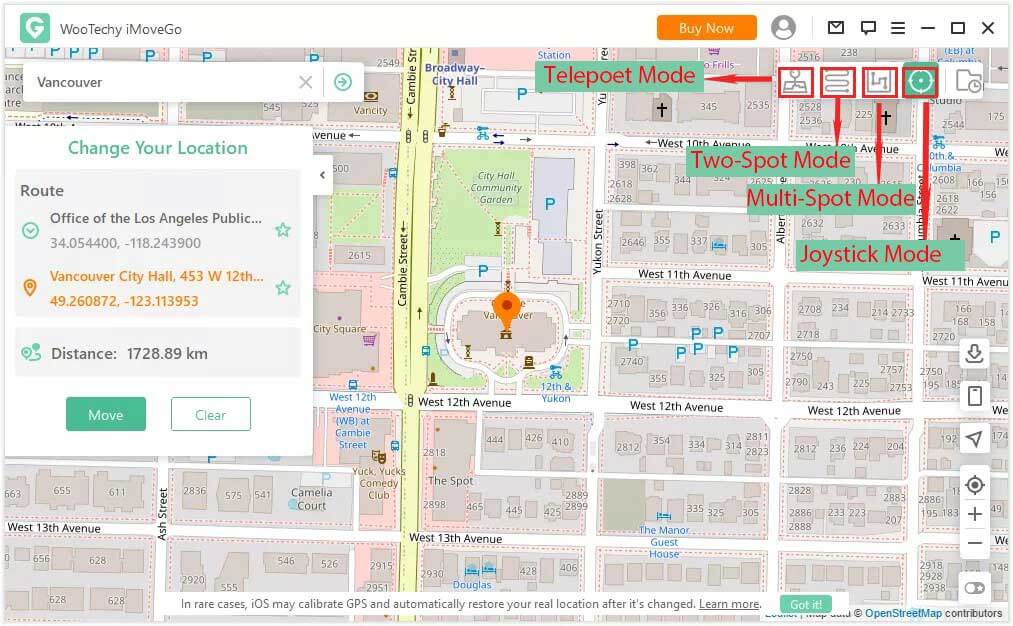 3. Realistic Mode
This mode applies to the 'Two-spot' and 'multi-spot' modes. In this mode, the movement speed randomly fluctuates between the upper and lower 30% of the preset range. Remember, the movement speed varies every 5 seconds.
4. Returns or Loops
Returns or Loops apply when you're using the 'Two-spot' or 'Multi-spot' modes to simulate GPS movement. If the number of movements is more than one, the user can choose to have the device move in a loop or move back and forth along the particular route.
5. Fluctuation Mode
The virtual GPS location fluctuates back and forth within 5m of the location, thus reducing warnings from other apps on location changes.
Other Features of iMoveGo
History records
Import/export GPX file
Supports up to 10 iOS devices at once
Cooling timer
Follow these steps to start using iMoveGo for your Pokémon Go GPS spoofing needs:
Step 1: To get started, you'll need to install iMoveGo on your PC. After the installation is complete, click on 'Get Started'.
Step 2: Connect your device via a USB cable and unlock it using your passcode. Click on 'Trust' and enter your password to complete the initialization process.
Tip
You will be able to connect via Wi-Fi for future connections after the first time. The mobile device and PC will however need to be connected to the same Wi-Fi network.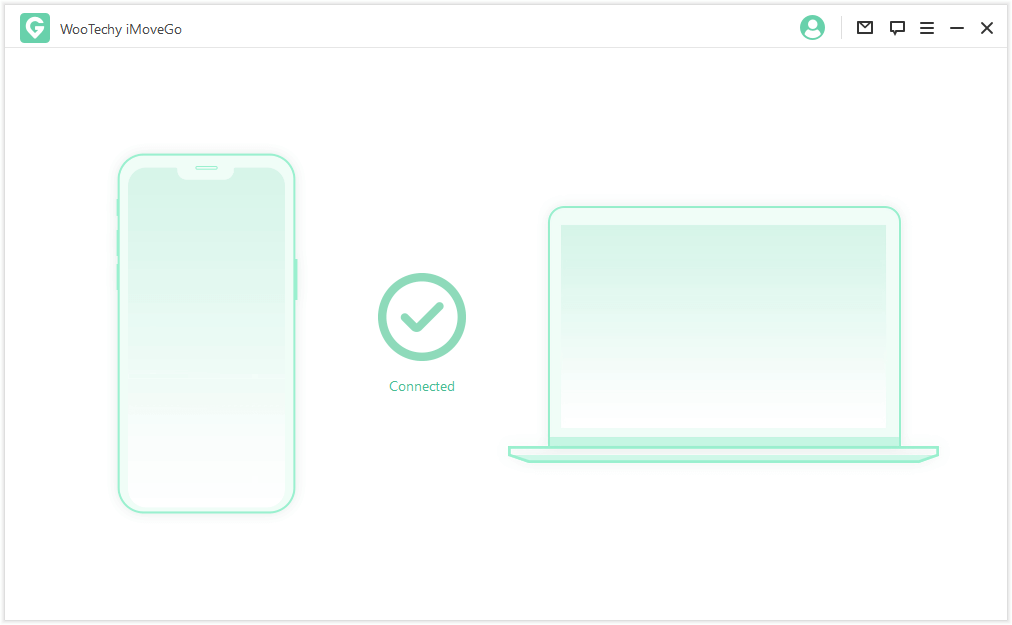 Step 3: For Android, choose "Gaming", for iOS users, skip directly to the Step 4.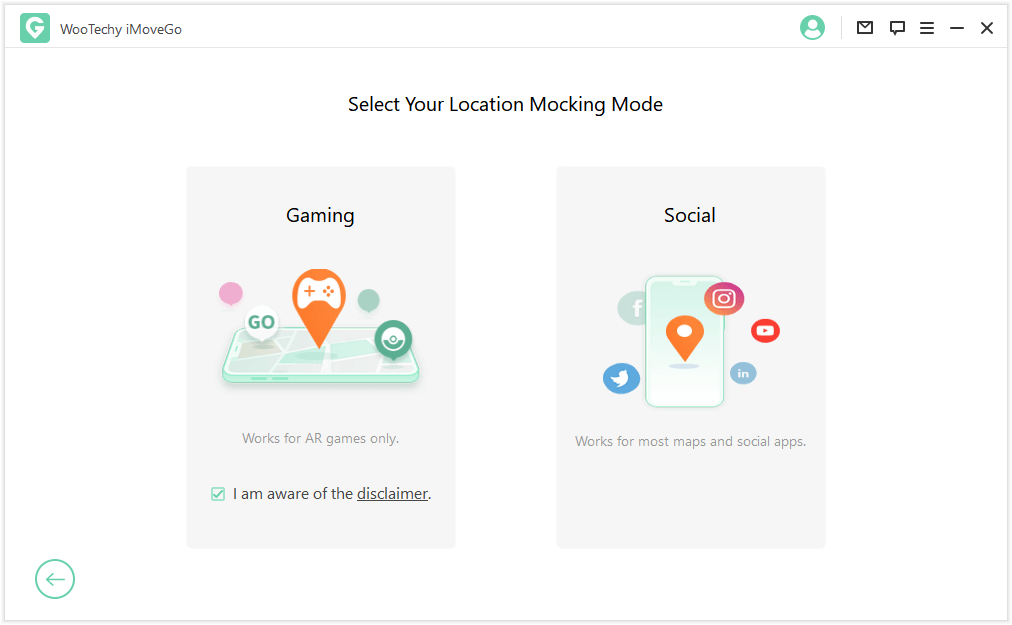 Step 4: Once you've gained access, load the virtual map and find your current location. Choose joystick mode and begin spoofing your location in Pokemon Go.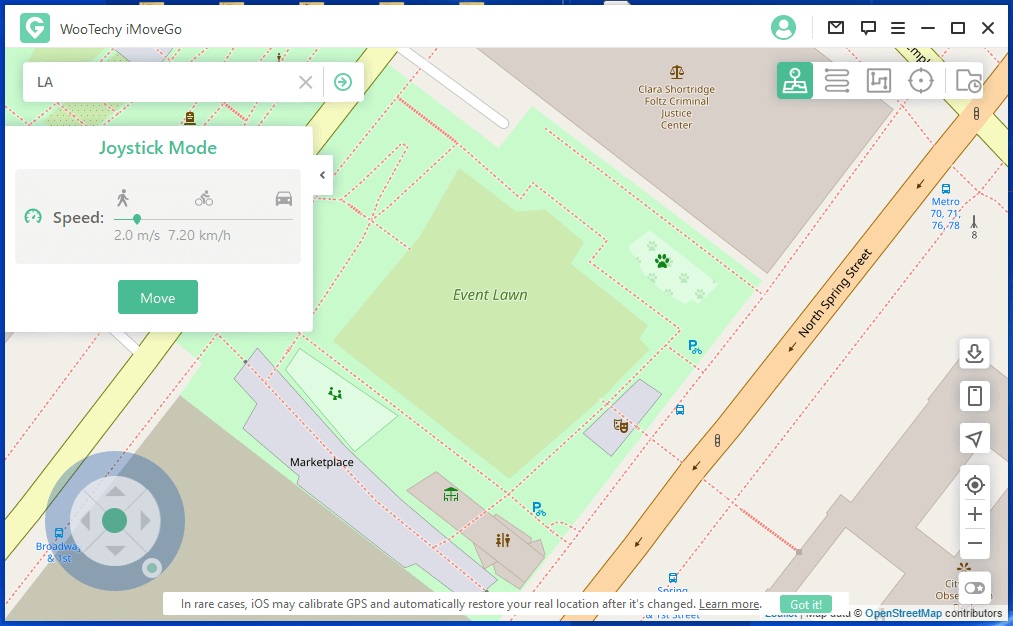 Part 3: Pokémon Go Joystick iOS-Go Spoofer
Go Spoofer is an GPS spoofer for Pokémon Go users dedicated to iOS devices. The app has a host of features such as feed radar, antiban, teleporter, and many more convenient tools which make playing Pokémon Go more enjoyable. The Go Spoofer enables players to directly teleport to any coordinates, literally anywhere in the world. The app's joystick and other features are accessible in Pokémon Go through an overlay.
But, one of its potential risks is that it is a tweaked App. Usually, we do not recommend for this. Anyway, we provide the steps for choose.
Step 1: On iOS device, go to Settings then click General.
Step 2: Select 'Background app refresh' and ensure it is ON for both data and Wi-Fi connections.
Step 3: Android users will need to ensure that their battery saver is off.
Step 4: Open your browser and go to a site known as UFO tweak to download Go Spoofer.
After downloading the app, restart your device and start enjoying Go Spoofer's magic.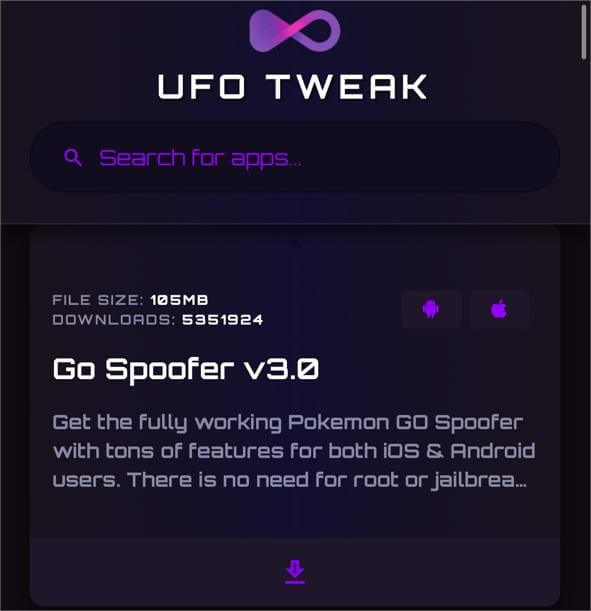 Part 4: Pokémon Go Joystick Android
Fake GPS location and joystick app is another location spoofer for Android users. It can be downloaded easily from the Google Play Store.
The app is a good location spoofer but its functionality is a bit limited compared to iMoveGo's. It gets the job done but still puts the user at risk of a shadowban from Admin. It is also filled with ads, thus dampening the experience. Anyway, it is also a choice.
Follow these steps to use Fake GPS location and joystick app.
Step 1: Download the app from Google Play Store and install it to start spoofing your location.
Step 2: After the app is installed, grant the app all required permissions. Beware, the app requires location permissions.
Step 3: You will be prompted to select the app as the mock location app from developer options.
Step 4: Open developer options and go to the mock location app setting.
Step 5: Select it and choose the Fake GPS location app.
You can now begin simulating your Pokémon Go location freely.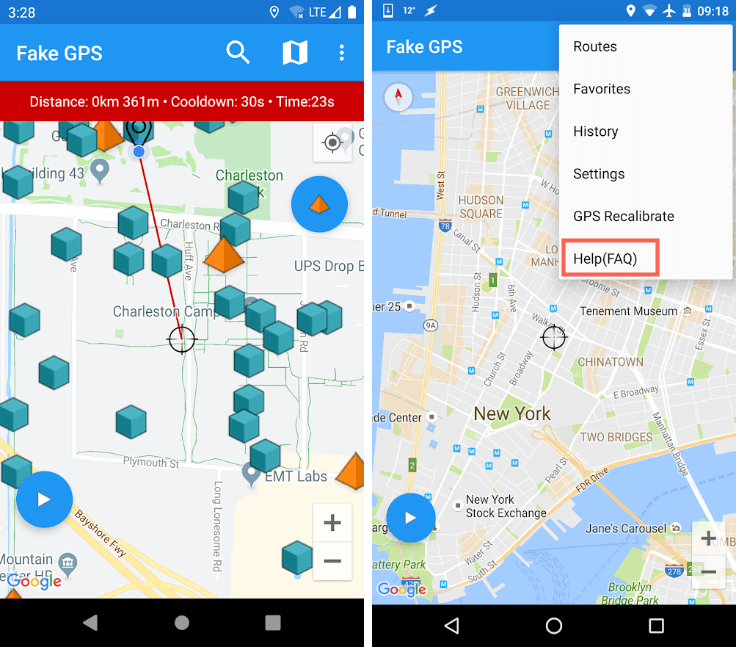 CONCLUSION
Before we wrap it up, we believe you've eventually found a solution to your Pokemon problem. This article has been a complete guide on using a joystick for Pokémon Go, and the best option to go for. While there are several alternatives, we have found that iMoveGo is the best Pokemon Go joystick app.
iMoveGo doesn't require any jailbreaking and supports almost all devices. It also has a great deal of flexibility, allowing you to simulate motion in various methods while keeping it natural to avoid penalties. iMoveGo is a highly recommended joystick tool if you want to freely simulate your location and get away with it.