How do you walk in Pokemon Go? Keep going out and walking, right? However, sometimes you may not be able to walk around, but you still want to play the game. This is where knowing how to make Pokemon Go think you are walking comes in handy.
Fortunately, Pokemon Go players have found ways to play the game without having to cover large distances physically. In this blog, we will present the best Pokemon Go walking Cheats for those who haven't the time and energy to walk. And provide the step-by-step guide to trick Pokemon Go safely.
Part 1: Pokemon Go Walking Cheat without Jailbreaking
The Best way to make Pokemon Go think you are walking is to use a GPS location spoofer that supports the Pokemon Go moving hack. There are several GPS location changers but we recommend using WooTechy iMoveGo.
As a reliable Pokemon Go walking hack, iMoveGo allows you to teleport in Pokemon Go to anywhere, as well as helps you to simulate GPS movement safely to avoid shadowbans. Importantly, it works on the official Pokemon Go without needing to download some modified Pokemon Go Apps. Besides, with both Android and iOS devices supported, it has become one of the most popular tool for plays to trick Pokémon Go.
Features of Wootechy iMoveGo Pokemon Go Walking Hack
iMoveGo has a variety of features that will allow you to spoof your location with more flexibility than ever seen before.
75.000.000+
Downloads
Change your location to any coordinates in an instant for all location-based apps.

Simulate Pokemon Go movement with unlimited spots and customized speed.

Pause and restart spoofing anytime.

Built in a Pokemon Go joystick to move your GPS with great flexibility.

Supports up to 10 devices simultaneously.

Works on both Windows and Mac.

Supports simulating cycle, jumping, returns or loops.

Not requires to Jailbreak. 100% safe and reliable.
How to set up iMoveGo to spoof your location in Pokemon Go
iMoveGo is very easy to set up and use. This article will guide you through the steps of installing iMoveGo for Pokemon Go and other location-based apps. Here are the steps to follow:
Step 1. Install and launch iMoveGo on your Windows or Mac. Then, click "Get Started."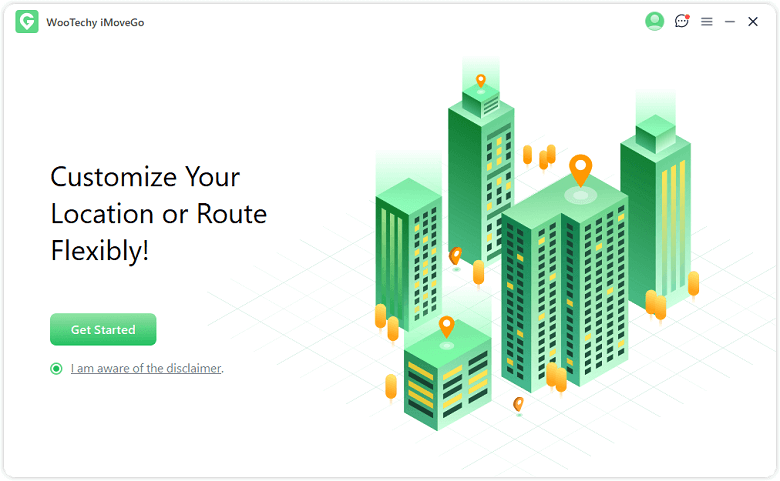 Step 2. Connect your iOS or Android device to the PC via a USB cable. For iOS users, unlock your device, and click 'Trust' when prompted. Enter the device password to move on. You will be able to connect via wifi after the first connection. Just ensure the device is on the same wifi as the PC.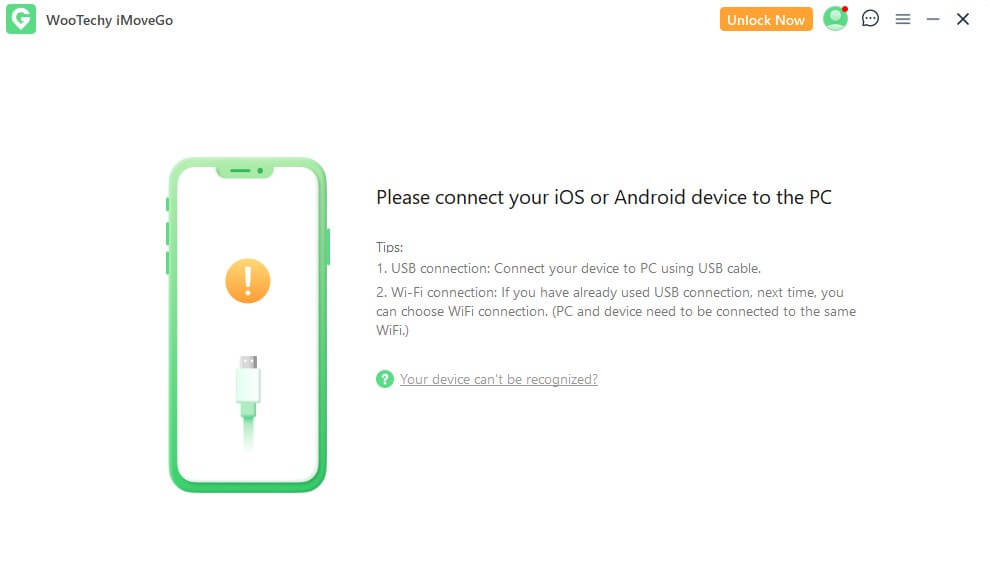 Step 3. Wait a second for the map to load. There are 5 modes to choose from to start spoofing your location. If you wanna make Pokemon Go think you are walking, choose Jump Teleport Mode, Two-Spot Mode or Multi-Spot Mode.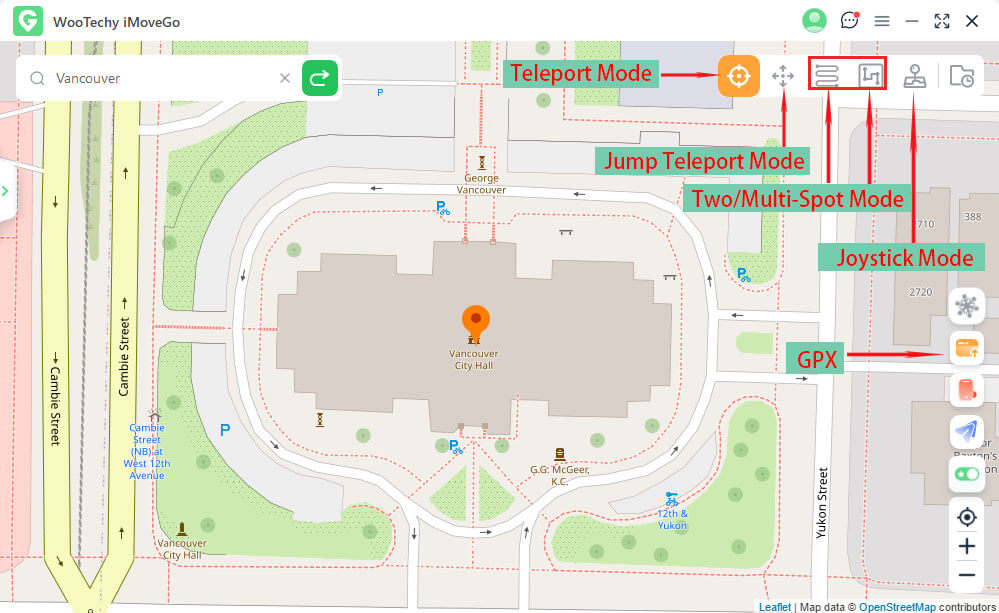 You can choose various spot and preferred speed to customize the Pokemon Go route, supporting entering address, Pokemon Go coordinates or selecting directly on the map. Once done, click on "move" to begin simulating GPS movement.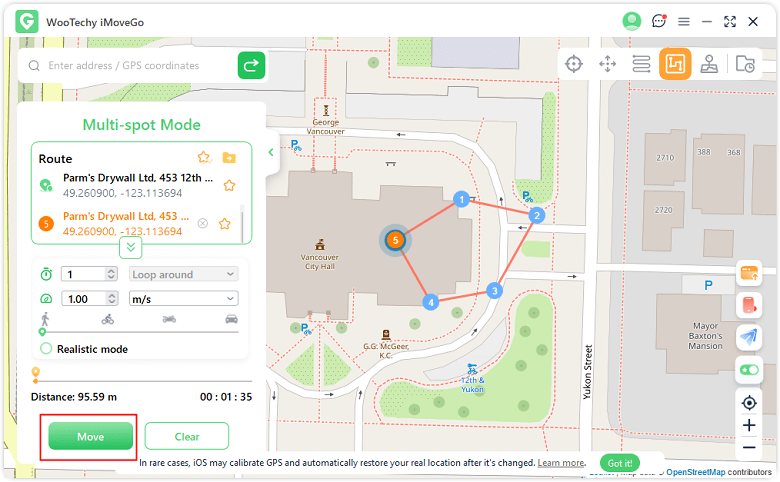 Step 4. To teleport to anywhere in Pokemon Go, choose Teleport Mode, enter the best place to play Pokemon Go that you think, click "Move" and your location will be changed instantly.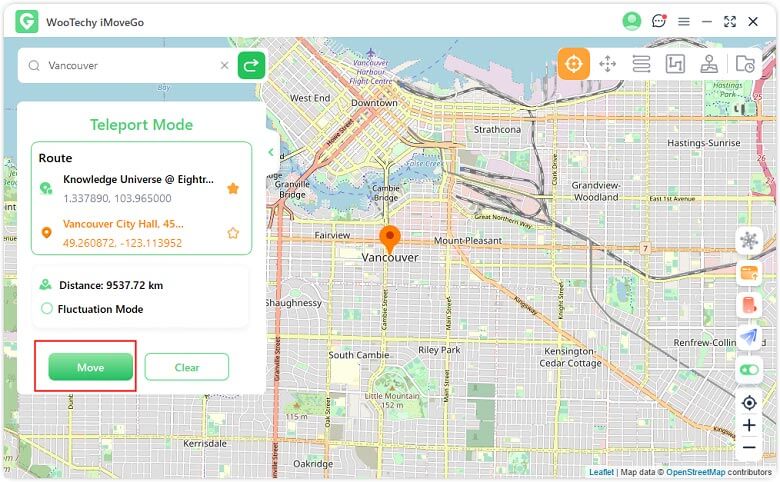 Other Tips for Walking in Pokemon Go with iMoveGo:
Joystick mode gives you absolute control over your GPS movement. You can change your GPS location in any direction and move around freely. You can click on move to simply move in a particular direction automatically. You can also customize the movement speed to simulate walking in Pokemon Go.
To return to your original location, you will have to restart your device.
Overall, iMoveGo can be regarded as a Pokemon Go walker, tricking Pokemon Go think your are walking without your physical moving, enhancing your gaming experience.
Part 2: Pokemon Go Walking Cheat for Jailbroken iPhone Users
If your iPhone is Jailbroken, a tweaked Pokemon Go will be another great choice. Pokemon Go Anywhere is a tweak available on the Cydia store that enables players to play Pokemon Go without moving and avoid bans. Here are the steps.
Before starting, you will need to install the following apps first:
Pokémon Go
Fly GPS APK
Pokemon Go anywhere Cydia tweak
iOS 7+
iDevices above the iPhone 5

After you have installed these, the steps are pretty simple. Just add the hacking tweak source to Cydia. Following the steps:
Download and install the Pokemon Go++ and Fly Gps apps available on the Google Play Store.
Go to device settings and unlock your developer options.
Find the mock locations settings from the developer options and choose Fly Gps Apk.
Set your GPS accuracy mode to High Accuracy Mode and return to the home screen.
Open the Fly GPS app and select a particular location at the start of the game.
Hold it on the chosen location for some seconds after it displays the options menu.
Select GPS Service and set the joystick location mode to Pokemon.
Launch the Pokemon Go App and start playing without moving.
Part 3: Tips to reduce walking in Pokémon Go
Your location shouldn't limit you from enjoying Pokémon Go. Some players might be unable to move for some reasons. Here are some tips to reduce your walk time in Pokémon Go.
Incense and Lure modules
Guess you've known Pokemon Go incense trick. These can help a Pokémon Go player who doesn't come from a big city with many Pokéstops. Incense will spawn you lots of Pokémon but you may miss some as they may despawn too quickly. Pokémon spawned by incense are aggressive in general and more likely to flee.
Lure modules have different flavors, bringing with them a better and more specific range of Pokémon. They are also required for several evolutions, for example, Goodra and Magnezone.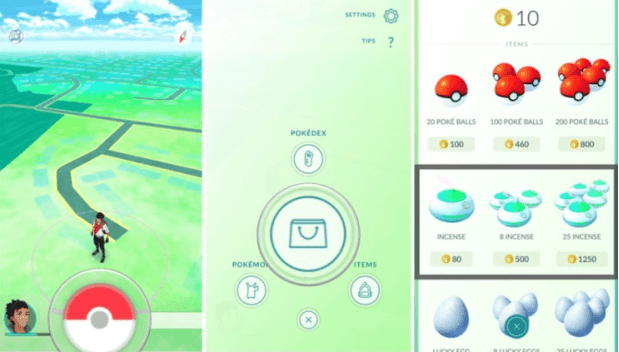 Make good use of free time to auto-catch Pokémon Go plus
Auto-catchers will catch Pokémon for you. Most auto-catchers including the official Pokémon Go Plus and Pokéball Plus devices can spin Pokéstops and collect items. These devices are portable and have gained massive popularity among the Pokémon Go community. The auto-catcher will play the game for you while you carry out your real-life activities.
Conclude the Tips for Pokemon Go Tricking
We have discussed the different ways to make Pokemon Go think you are walking. If you are looking for a way to hatch Eggs without having to walk or you just want to explore different locations in Pokemon Go, then using iMoveGo location spoofer. Besides, combining iMoveGo with the above discussed tips in part 3 will boost your catch rate. Don't be left out! Try it now and get the new Pokemon Go gameplay!