Are you looking to level up your Pokemon Go game without spending real money? Look no further than Pokemon Go promo codes! These codes are regularly released by Niantic, the game's developer, and can give players free in-game items like Pokeballs, potions, and even rare Pokemon encounters.
But how to get a valid Pokemon Go promo code, and how to redeem it on Android and iOS devices? Don't miss out on these limited-time offers, check out the available Pokemon GO promo codes in 2023 and start earning rewards today!
I. Where to Find Pokemon Go Promo Codes
Pokemon Go promo codes are special codes that can be redeemed for in-game rewards, such as Pokeballs, potions, and avatar clothing. They are usually released by Niantic, the developers of Pokemon Go, as part of events, collaborations, or to celebrate milestones.
To get a Pokemon Go promo code, players can follow the official social media accounts of the game or other related companies, sign up for newsletters, attend events, or participate in special promotions. You can also favorite this blog and we will also collect and share the latest promo codes.
II. Types of Pokemon Go Promo Codes Rewards
Pokemon Go Promo Codes rewards come in different types. There are three types of Pokemon Go Promo Codes:
Limited-time Promo Codes: These are short strings of characters that have an expiration date. They are only valid for a specific period and must be redeemed before their expiration date.
Unlimited Promo Codes: These are promo codes that do not have an expiration date. They can be redeemed by any number of players.
Limited-Use Promo Codes: These are promo codes that can only be redeemed by a specific number of players. Once the maximum number of players has redeemed the code, it becomes invalid.
III. How to Redeem Pokemon Go Promo Codes on Android and iOS?
To redeem promo codes on Android in Pokémon Go, follow these simple steps:
Open the Pokémon Go app on your Android device.
Tap the Pokeball menu on the main map screen.
Select the "Shop" option.
Scroll down to the bottom of the Shop screen to find an entry field.
Enter the promo code in the entry field.
Tap "Redeem."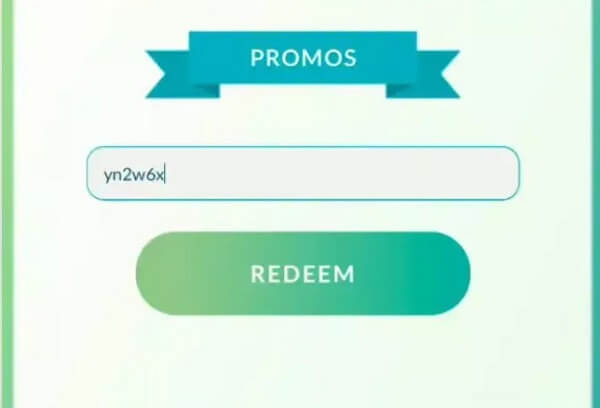 If the promo code is valid and not expired, the reward associated with it will be added to your account.
Note that in-app offer code redemption is currently only available on Android devices. If you use an iOS device, you'll need to use the website linked in to redeem your promo code. The Steps are here:
Sign in to the Niantic Official website for offer redemption by Google, Facebook, or Niantic Kids.
Note: Pokemon Trainer Club credential is not available for login. If you prefer to use it, you can link it with your Google or Facebook account.
After successful login, you should use the same login credentials as usual. After tapping on the promo code entry field, enter the code and wait for a message confirming that the items have been added to your inventory and that the code is valid.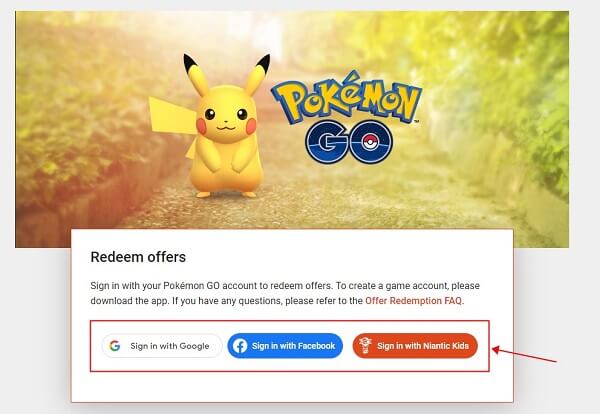 IV. The Latest Pokemon Go Promo Codes in 2023
Check the active pokemon go promo codes here:
| Pokemon Go | Promo Codes |
| --- | --- |
| LRQEV2VZ59UDA | 2P3N6WKW |
| DYEZ7HBXCRUZ6EP | H7APT5ZTLM45GZV |
| 8E2OFJYC | 6ZXTNRFY |
| 747266742933 | 53HHNL3RTLXMPYFP |
| 2P3N6WKW | MDWC4SNGUFXS2SW9 |
The above codes may be redeemed by others if you haven't got a head start. There are also many players are looking for the Pokemon Go promo codes that don't expire. Unfortunately, it is "None" unless you use the Pokemon Go cheat codes. However, Pokemon Go cheat codes are not released by Niantic official and sometimes it is not 100% working. Anywhere, here provide some Pokemon Go cheat codes for your reference.
| Pokemon Go | Cheat Codes |
| --- | --- |
| E0000B24 000000C8 | 000101B0 000101B1 |
| 000101B4 000101B5 | 000101CC 000101CD |
| D2000000 00000000 | 03E70095 03E70096 ( L + R to activate) |
| B0000004 00000000 | B21C4D28 00000000 (Press L + R to activate) |
| 00000f4c 03e70001 | 03E700AF 03E700B0 ( L + R to activate) |
V. Limitations and Expiration of Pokemon Go Promo Code
Firstly, promo codes expire fairly quickly, and Niantic does not always announce when new codes are released, so players may miss out on some of them. Some promo codes may have specific expiration dates, while others may be unlimited or limited by the number of people who redeem them.
In addition, there are limitations on how promo codes can be redeemed. To redeem a code, players must use a parent account with "Sponsored Content" enabled. Also, players can only redeem a code on the account it was sent to and cannot use a code on a different account.
Therefore, players should be aware of these limitations and expiration rules when trying to redeem Pokemon Go promo codes.
Bonus: How to Get Pokemon Go Rewards without Walking?
Sometimes, you may not have the free time to walk around the world of Pokémon. Looking to score some Pokemon Go rewards without having to go for a walk? You're in luck! Simply with Wootechy iMoveGo, you can earn rewards in the game without even leaving your couch. From referral programs to Adventure Sync rewards and more, make it easier to rack up coins and other bonuses. Check the features of iMoveGo.
75.000.000+
Downloads
One-Click to teleport to anywhere in Pokemon Go with high accuracy (No more than 100 m error.)

Support simulating GPS movement with your customized Pokemon Go routes and speed.

Pokemon Go Joystick is available.

Provides real-time updates on your location.

Control multiple Pokemon Go accounts at the same time.

Available for both Android and iOS devices without requiring Jailbreak and Root.

Works on all the location-based apps such as AR games, social media, Find My etc...
iMoveGo has a wide range of functions allowing you to level up and catch more Pokemon more efficiently but features a user-friendly interface that makes it easy to navigate and use, even for beginners. Follow the steps here.
Step 1: Download and install Wootechy iMoveGo on your computer for free. It is available whether your computer is Windows or Mac. Once done, run iMoveGo and click "Get started."
Step 2: Use a USB cable to connect your mobile device to your computer. WiFi is also available. But the first time, USB is required.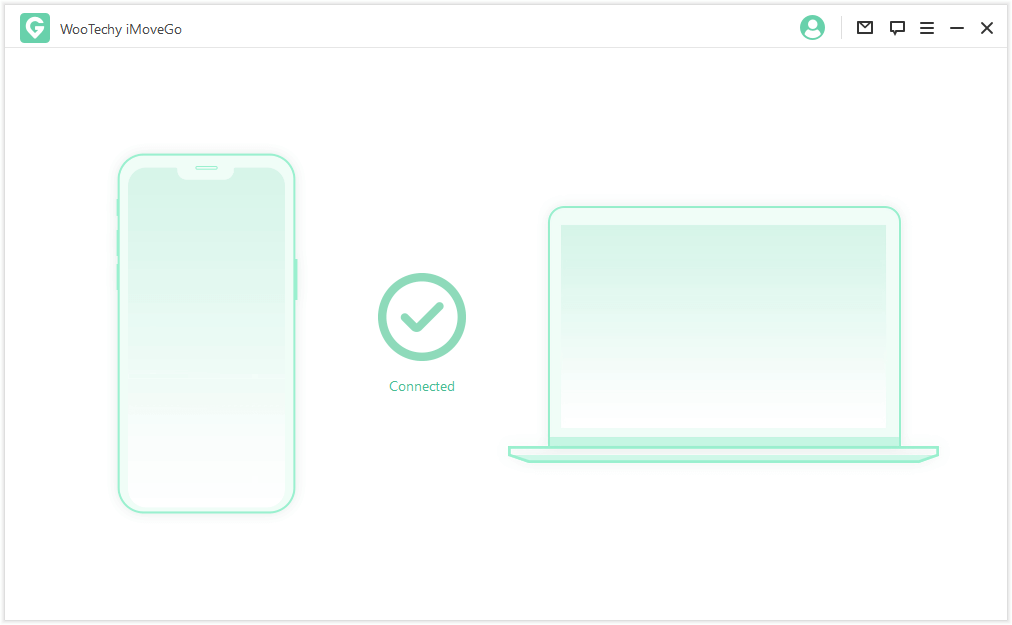 Step 3: Once connected, you should see a map of your current location. Now, check the 4 modes in the top right corner and choose one that suits you best: Teleport Mode, Two-Spot Mode, Multi-Spot Mode and Joystick Mode.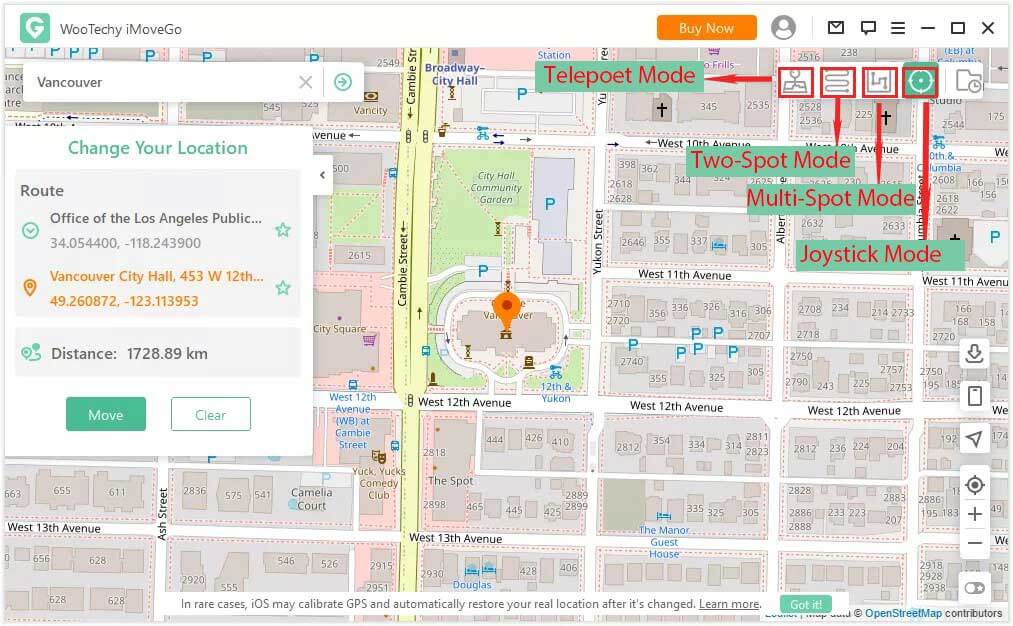 Step 4: Then, simply enter the desired location in the search bar or select a location from the map. (You can also check the best place to spoof Pokemon Go with coordinates here.) After that, click the "Move" button to change your device's location.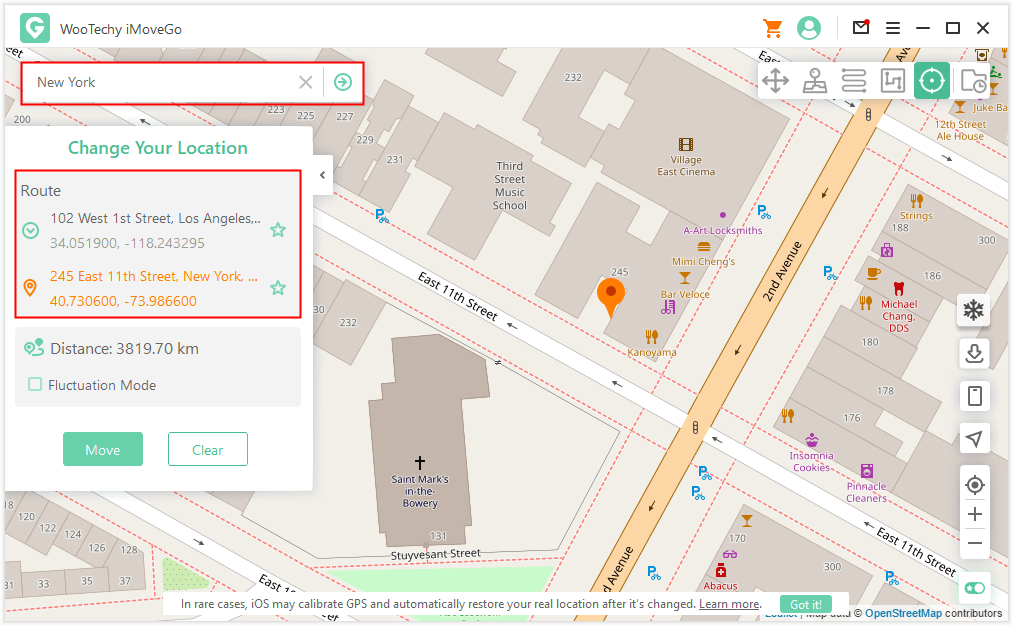 Now, launch Pokemon Go on your mobile device. Your device should now be located in the selected location, allowing you to catch Pokemon and access Pokestops in that area.
Conclusion
Pokemon Go promo codes offer players the opportunity to receive free items and bonuses within the game. However, It's important to note that promo codes have expiration dates and may be limited to certain regions or events. Therefore, it's essential to stay up-to-date with the latest codes through official sources, such as the Pokemon Go official website and social media accounts, to take advantage of these free rewards.
But even if you miss these codes, don't be discouraged. Make use of the Wootechy iMoveGo to get more rewards and catch more Pokemon even though they are not near you or not available in your area. So grab your phone, open the app, and let's get started!