There is a lot of competition in the digital world for a reliable GPS spoofer for mobile phones. Consumers want a way to move around games like Pokémon Go or enjoy social media apps where they can safely appear in one location without ever having to leave the comfort of their home.
While the competition is fierce to supply a product for this demand, the latest innovation from WooTechy is promising to be a leader in this industry. We thought we would take a moment and do an in-depth, honest, and accurate WooTechy iMoveGo review so you can better understand how this incredible tool can help your game, social media, and location-featured app use.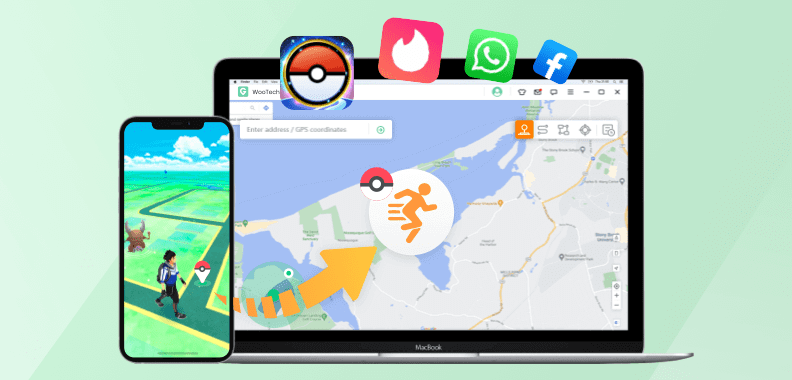 Main Features of WooTechy iMoveGo
WooTechy's iMoveGo is a bespoke location spoofing tool that allows you to play AR games and other apps as if you were moving in real time without physically taking a step. This versatile system does not require jailbreaking or root access to your device and effectively tricks companies like Niantic of your accurate location. That includes features like:
WooTechy's iMoveGo is one of the best location spoofing tool that allows you to change your phone's location to anywhere in the world. This can be useful for a variety of purposes, such as playing AR games like Pokemon Go and other apps as if you were moving in real time without physically taking a step, bypassing geo-restricted content, or protecting your privacy.
This versatile system does not require jailbreaking or root access to your device and effectively tricks companies like Niantic of your accurate location. That includes features like:
Key Features of iMoveGo
75.000.000+
Downloads
Teleport your location to anywhere in the world with one-click.

Simulate GPS movement with a customized speed.

Works well on all location-based apps, such as Snapchat, Pokémon GO, and Find My.

Spoof location on up to 10 devices at one time.

Built in special features for Pokemon players such as PokeStop Maps and Cooling Timer.

Works with both iOS and Android devices, including the latest iOS 16.

Can be downloaded on both Windows and Mac.

Free trial is available for every user.
How to Spoof Pokemon Go on iPhone & Android with a joystick
FAQs About WooTechy iMoveGo [Free? Reliable? Compatible?]
Unfortunately, because of the intense competition for reliable GPS spoofing technology, there have been rumors about the capabilities of iMoveGo. Let's answer questions about the incredible features of this software so you can learn more about how it will benefit your game and social media play.
1 - Is WooTechy iMoveGo Free?
A free download version allows you to experience the details of the software, but it has limited usage. This includes the chance to Teleport up to 5 times and use the in-game joystick for 1 hour.
In addition, there is a trick where you can use the joystick to teleport and stop the countdown after you clock on the Move button so you can teleport more times.
2 - Is WooTechy iMoveGo safe and reliable on iOS 15/16?
Yes! The latest version of iMoveGo features usability for iOS15/15.6 and supports the current iOS 16 Beta version in developer mode. You can also learn more about how to take advantage of iOS 16 with iMoveGo.
It also works with Android, but it is better equipped for iOS,as evidenced by these Reddit users.

3 - Is WooTechy iMoveGo safe for POGO?
Absolutely! In fact, that is why iMoveGo was first developed, to fulfill the need of AR gaming users to enjoy playing from anywhere they want. However, like every other GPS spoofer on the market, there is always the risk of Niantic updating its servers, and you getting a soft ban.
Your best bet is to follow the rules of "cooldown" after teleporting so you can avoid a soft ban. For example, if you catch Pokémon in the US and then teleport to Tokyo, Japan, you should wait a couple of hours for the Pokémon servers to catch up, so you do not get any soft ban in gameplay.
4. How to Use iMoveGo - A Brief Guide
As part of our WooTechy iMoveGo review, we wanted to be sure and feature the easy-to-follow instructions for using the software. The developers did a fantastic job of making it simple and quick to spoof your location. Before that, please download iMoveGo on your Windows or Mac.
Step 1: Launch iMoveGo on your computer. Connect your device via USB cable/WIFI connection. You may have to authorize access on your computer. (Trust this computer)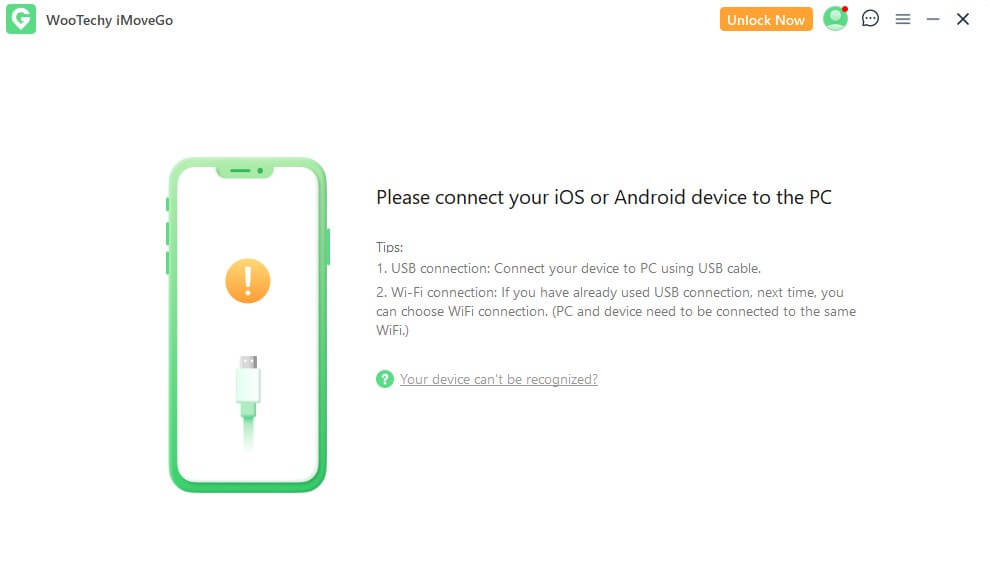 Step 2: Now, you'll see a map load with your current location shown. There are 5 modes for location changing in iMoveGo.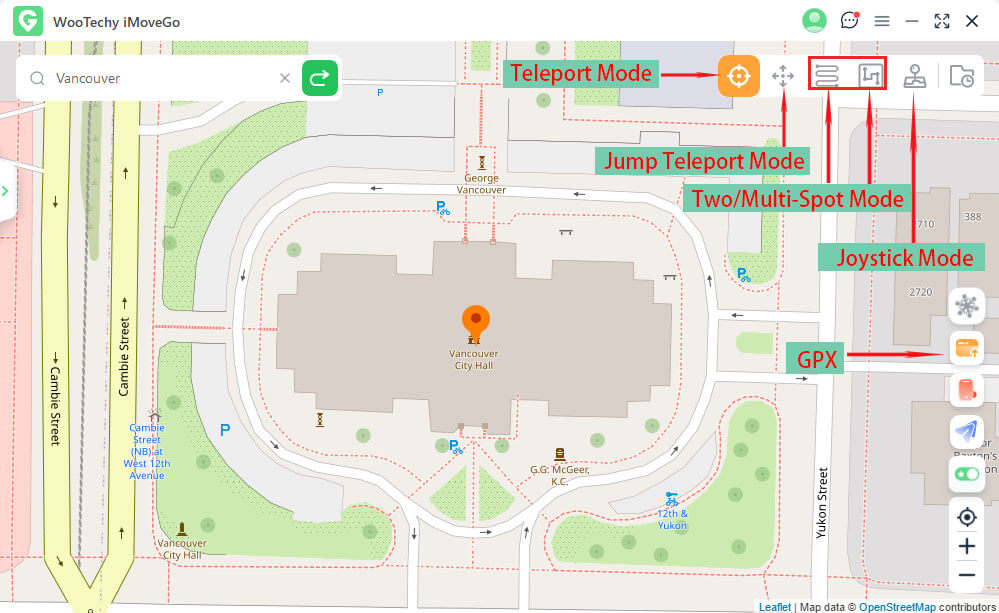 Step 3:Select your desired location via Teleport Mode and click on Move.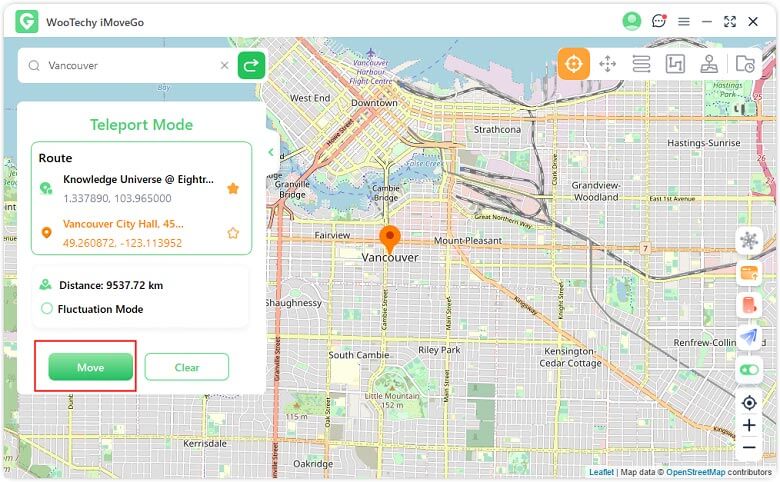 Step 4: Now, open Maps on your phone to check your new location. You're ready to use this new location on all your apps.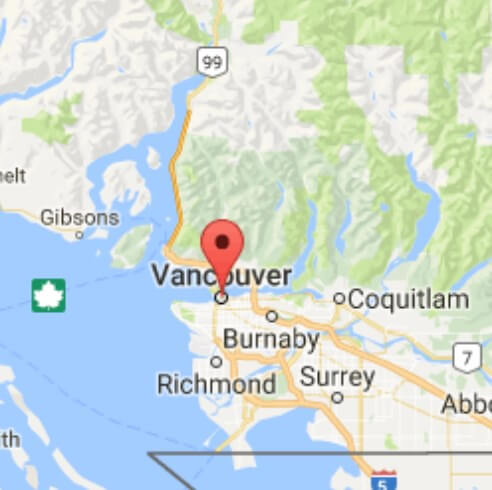 Tip: If you want to simulate GPS movement for apps like Pokemon GO, switch to the Jump Teleport Mode/Multi-spot/2-spot mode/Joystick mode.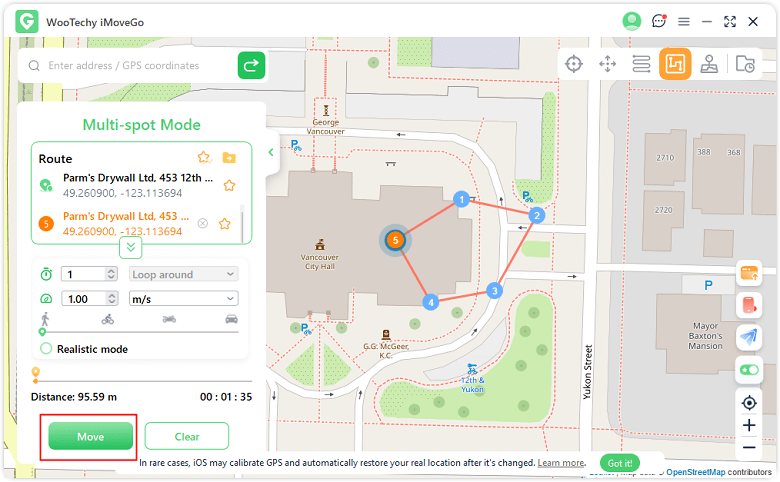 That's it! In only a few short steps, you can explore the rare Pokémon of Australia while sipping coffee at a café in California, USA.
Reviews from Competitors, Leading IT Experts & Users
With iMoveGo being so revolutionary for the market because of its reliability and easy-to-follow instructions, we wanted to include a fair assessment of what others are saying about the fantastic software.
1 - A Review from AnyTo Team
AnyTo is a competitor to WooTechy with similar software and features for consumers to enjoy. While there is always a drive to do better than the competition, this company did a fair and honest review of iMoveGo that is professional. We suggest checking that out for more details.
2 - Rumors from A
Competitor
Unfortunately, the pressure of competition can sometimes lead to accidental rumors. In the case of iToolab, we thought we would address a few of the inaccuracies in their review.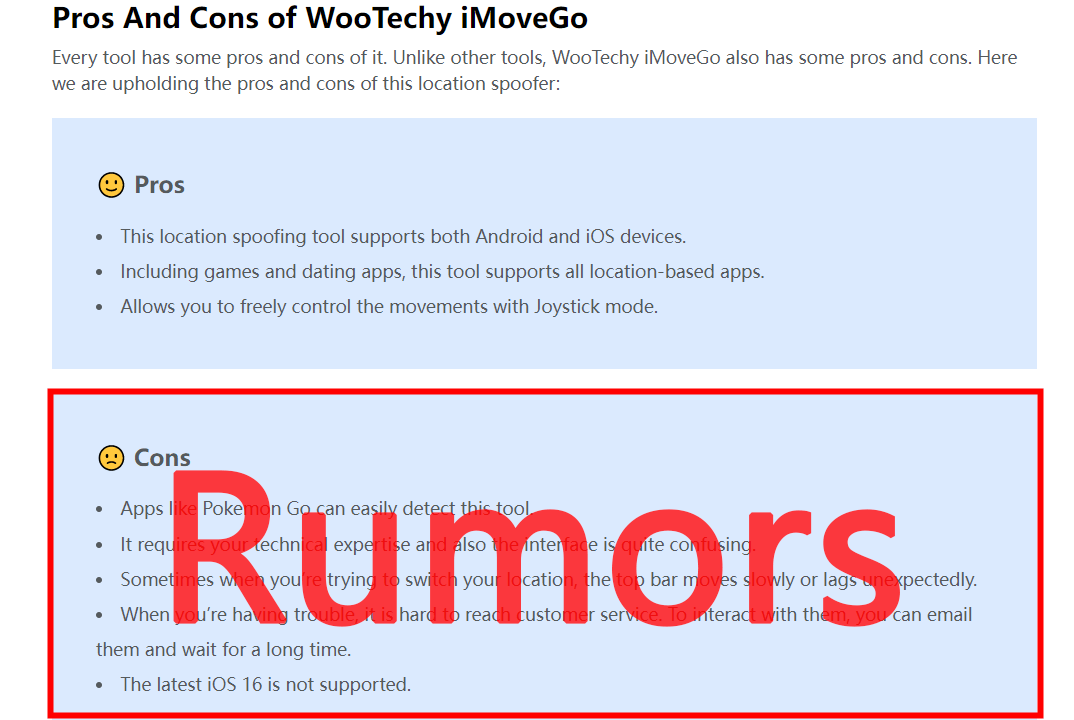 Fact:
Secure: To date, iMoveGo has not received any reports of detection from POGO from the thousands of users, and players enjoying the many features of iMoveGo. This tells us that it works safely and reliably as long as cooldown rules are followed.

Easy to use: To install and use iMoveGo, you can follow a 3-step process as we outlined earlier in this article.

Free trial: WooTechy suggests trying the free trial version of iMoveGo before purchasing a premium version. That gives people the chance to test it out on their own.

Support Team: WooTechy features one of the industry's most responsive support teams. You can leave any questions or concerns HERE and receive a response ASAP. Even on WooTechy's YouTube channel, you can see frequent responses to user comments to ensure the quality of service.

iOS 16 Supported: As of this writing, iMoveGo does support iOS 16 Beta versions as long as the user is in development mode. That is a claim not too many competitors can make yet.
3 - iMoveGo is trusted by IT Experts & YouTubers Worldwide
If you would prefer some outside opinions beyond our WooTechy iMoveGo review, you should check out many of the experts in information technology and current gamers on YouTube that have tested and approved this software. These are not paid promotions, but regular users giving fair and accurate reviews of the software.
Tecmundo - "Download a simple and easy-to-use location modifier such as WooTechy's iMoveGo."
El Grupo Informatico - "From now on, when you want to have a fake location on your iPhone, WooTechy iMoveGo will help you to have it in a few steps."
Showmetech - "The platform is easy to use and gives you more freedom to enjoy location-based apps – games and apps – allowing you to explore in a unique way."
Tamindir - "With just one program, you can change your location without going out, and you can use fake location and location-based applications such as Pokémon Go."
YouTube EK1 Gaming - How to Spoof Pokemon Go on iPhone & Android with a joystick
And more!
4 - iMoveGo is Trusted by Thousands of Users
Of course, the best reviews to read are from the users themselves. These are everyday people that want to get the fantastic benefits of using iMoveGo for gaming, social media, dating apps, and more.
There are an overwhelming number of 5-star reviews on Trustpilot demonstrating the unique capabilities and features of iMoveGo for you to explore. These include:
"Excellent tech support. I didn't read the website info that only signed downgrades were possible. However, I was given a 50% refund anyway. Very good business model. Thank you."
"Great program and even better-paid options! Customer service is quick to get back to you about any issues, which made the whole user experience 10X better!"
"I got the iMoveGo Lifetime plan and accidentally purchased an extra month. Emailed their support, and it was resolved quickly. Thanks to Belinda!"
"Nothing but compliments to the app I use from you guys (imovego) and also to Alexia, who was frigging amazing to deal with. My problem was solved in less than 12 hours."
Most importantly, you can see active responses on this review sight from the exceptional support team, ensuring they did everything possible to help customers.
About WooTechy - The Company
For years the developer and support team at WooTechy have been creating incredible apps that solve many of the tech problems users experience from their favorite software, apps, and devices. This app development team aims to craft beneficial programs and apps that help users and not spread rumors or try to profit off false advertising.
While there are some in the industry that has chosen to instead spread vicious rumors and falsehoods, we can only prefer to focus on the good of our products and continue to let the excellent customer support, high-quality reviews, and industry expert nods of approval do the talking for our hard work. The best response we can have to rumors is that we continue to have thousands of users all over the globe more than happy with the incredible service and products they receive from WooTechy.
Final Thoughts
We hope this WooTechy iMoveGo in-depth and honest review has provided you with all the answers to the GPS spoofing capabilities of this software. Of course, you can always download a free trial version of iMoveGo to experience how it works and if you will enjoy the easy-to-use features.
If you have questions, comments, or reviews of iMoveGo, please feel free to check out our comment section below, our YouTube channel, or send a note to our professional and responsive support team. Thank you for choosing WooTechy!
Give iMoveGo a try and see if it is right for u!