If you use social apps like WhatsApp every day, you might feel like privacy is hard to come by. One way to get privacy on WhatsApp is to use a location faker to simulate a different live location from your actual one. Given that 80% of mobile phone users agree that their phone makes them fatigued, you should jump at any opportunity to hide from the crowd. Luckily, if you're looking for how to send a fake live location on WhatsApp, you have a few options.

Part 1. Can You Fake Your Live Location on WhatsApp?
Yes, you can fake your live location on WhatsApp. Let's look at a couple of typical ways you might fake your location. Firstly, WhatsApp allows you to share any fixed location at any time. Simply head to WhatsApp and open any chat. Hit the "+" icon beside the chat bar and click on "location".
The only problem? It won't show that this location is your current location.
While sharing the fixed location, you might have noticed that WhatsApp also gives you the option of sharing your live / current location instead of searching for an address. However, this will only let you share the location your phone's GPS indicates you're currently at. Therefore, you will need a location changer app to fool your GPS into thinking you're at a location different from your real one.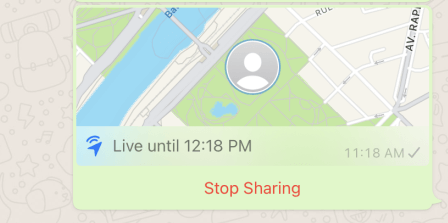 Part 2. How to Send Fake Live Location on WhatsApp?
To help you fake your live location on WhatsApp, we researched three different solutions for your mobile device. Read on to find out which one is best for you.
Method 1: iMoveGo – Best For All Devices
The first location faker we tried was iMoveGo. From the start, we liked this solution because you can use it for multiple devices at once, regardless of whether they are iOS or Android.
Video guide on how to send fake live location on WhatsApp with iMoveGo:
Step 1: Download
Go here to install the software on your desktop. It might take 3 minutes.
On your desktop, the app will prompt you to start. Click Get started on the app and plug your device into your desktop. Now, the software will recognize the device you plugged in.
Note: After you connect your phone to the computer via USB cable successfully for the first time, you can connect via Wi-Fi next time.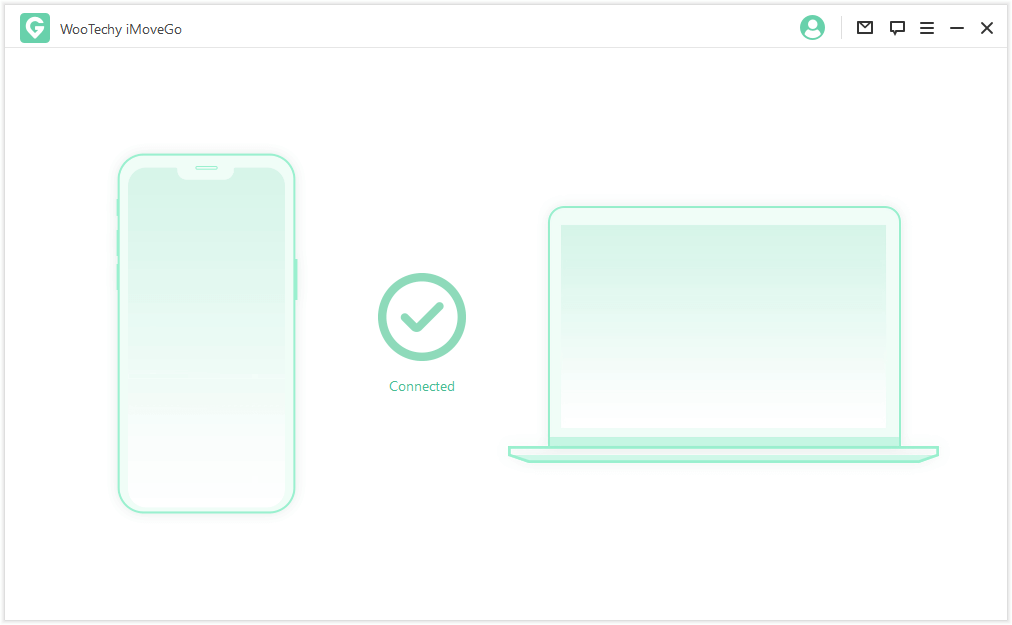 Step 2: Set Fake Location
With your device connected, a map will load indicating your current location. You can enter a location in the search bar on the top left. Enter any address or GPS coordinates you desire.

As an example, let's pretend that we're at the Eiffel Tower in Paris. You could look up the address ahead of time, or you could simply type in the location you want and select it.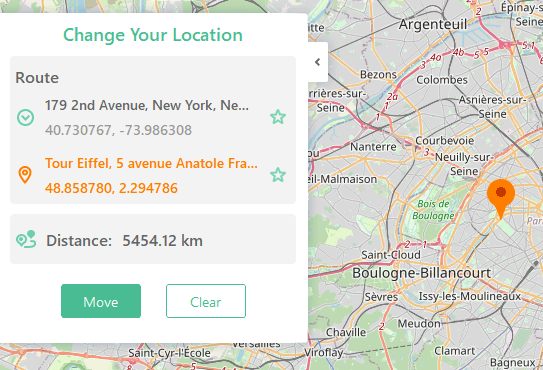 Once you've identified your desired fake location, the software will prompt you to change your location. Before you change locations, make sure you check the device you connected to your desktop to make sure you aren't currently sharing your live location on any apps.
Now that you're ready, simply click move and – voilà your GPS has changed your position to the fake location. Note that the software automatically gave you the coordinates, those would have been just as easy to use.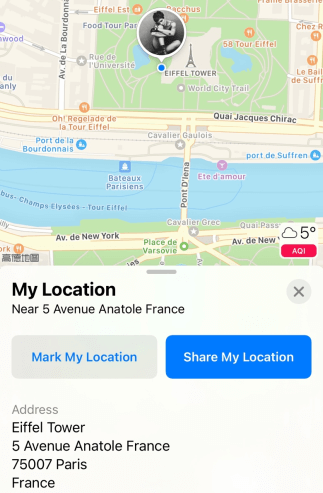 Step 3: Share Your Fake Location
You can test the settings by opening up WhatsApp Maps.

You have a new fake location, now it's time to share it with the world. No one will be the wiser! All you need to do is share your live location like normal. Open the device that you connected to your desktop and head over to WhatsApp. Open a chat, and click the "+" icon, select "location" and then click to share your live location. You can share this location for any amount of time you wish.
Our Verdict
This software was astonishingly easy to use. All we had to do was download the software, connect our device, and select the location we wanted. Sharing the fake location on WhatsApp was just as easy as sharing a real one. Best of all, this process would work no matter what type of device you use, since the location changer runs off your desktop. Moreover, the fact you can download this software on your desktop means there is no risk of it being removed from the Google Play store on Android or the App Store on iOS.
Test the software for free right now, find out how easy it is to fake your location on WhatsApp.
Method 2: App-fake GPS by Lexas – Android devices
App-fake GPS is a location-faker app for Android devices made by Lexas. Currently, it is only available on the Google Play store.
Step 1: Download
With your Android device, go to the Google Play store and download the app. After a few moments, the app should be ready to open.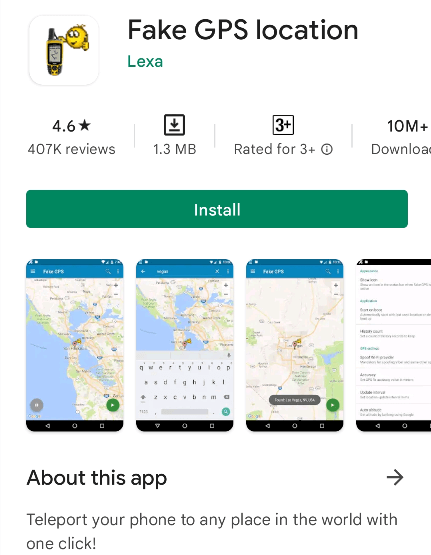 Step 2: Set fake location
Open the app and click the search bar on the top. Type in your desired location, the app will automatically navigate there on the map. It might not be clear at first, but once you've identified the location you want to fake, click the green button in the bottom right-hand corner to move to your new location.
To ensure that this works with all the apps on your device, you also need to go to the app's settings and select "Spoof Wi-Fi Provider".
Step 3: Share your fake location
Theoretically, your device's GPS should now be set to the new live location. Open WhatsApp and share your live location in a chat the same way you would normally.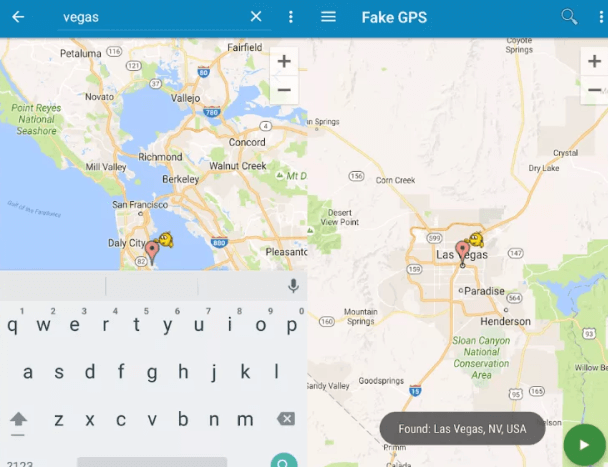 Our Verdict
While some people might have had success with this app, many find it hard to configure. You might find that the app works in the beginning, but it doesn't work as well for repeated uses. Some people found that they needed to go back and update their location every few minutes. Others found that the app was altogether unusable.
It's also unfortunate that this app doesn't work for iOS, so you can only use it on your Android device. Unlike iMoveGo, you also need to manually fake your location individually for each device instead of selecting a location on your desktop and plugging in multiple devices.
After you're finished using the app, it's a challenge to change your location back to the original one. They tell you to download and configure another app and wait a day or two for your proper location to return. Only use this app after understanding the risks of location faker software.
Method 3: Location Faker – iOS devices
The full name of this software on the App Store is Change My Location FREE – Location Faker. While the name is quite the mouthful, it's also misleading because it only allows you to create a screenshot even if you pay for it.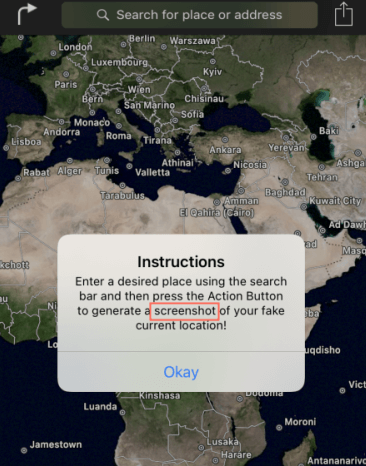 Step 1: With your iOS device, head to the App Store and search for "Location Faker". Click the version that is called "Change my location FREE" and download.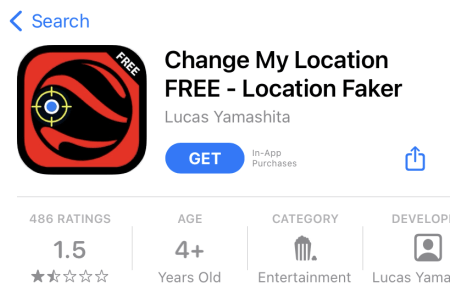 Step 2: Once the app is ready, open it, and select a location. Right away, you'll notice that the app prompts you with ads every 5 seconds, even while you're zooming in on a particular area. You can also try searching for a specific location with the search bar at the top. Either way, the constant ad interruptions are annoying.
Despite the "FREE" label, this app forces you to pay when you try to share the new location you selected. Not to mention, this app doesn't modify your live GPS location. Rather, it simply shares a different location from your current one to whichever app you choose. This means that the app is no better than sharing a fixed location on WhatsApp, even if you pay.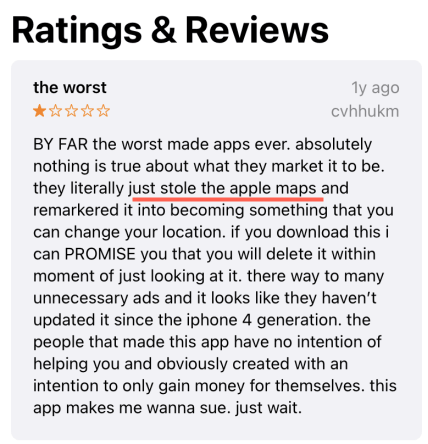 Our Verdict
According to our research, if you want to use iOS app to send fake GPS on WhatsApp, you have to jailbreak your phone and search "Fake Location" on Cydia. While it appears that there are few options on the App Store for location faking apps, we would not recommend that you use this app. Judging from the reviews, nobody else recommends it either. Also, we don't recommend you to jailbreak the iPhone just for a location changer as it will permanently change your phone's settings.
Conclusion: The Best Way to Fake Your Live Location on WhatsApp
After reviewing all the options, the best way to spoof your current location on WhatsApp is to use iMoveGo. The other options we discussed have significant problems. While they only work on a single device on a single operating system, sometimes, they don't work at all. Meanwhile, iMoveGo allows you to set a different live location on multiple devices at once. It works exactly as if you're currently in the location you're pretending to be. Whether you're trying to prank your friends, or you just want a break from them, choose iMoveGo to fake your live location.
Key Features of iMoveGo
75.000.000+
Downloads
Teleport your GPS location to anywhere in the world.

Simulate GPS your movement with a customized speed.

Works well on a full range of location-based apps, such as Pokémon GO, Tinder and Life360.

Spoof location on up to 5 devices at one time.

Compatible with both iOS and Android devices. (Including iOS 16)

Free trial is available for every user.