Find My iPhone is an excellent addition to the iOS ecosystem that enables you to locate a phone that may have been misplaced or lost accidentally. It helps track down any device someone may have stolen and allows parents to see where their kids are located using GPS technology and network connectivity.
While that is helpful to maintain control over your devices, it isn't that great when you want to remain anonymous and get a breath of fresh air away from people tracking you. That is why learning how to freeze location on Find My iPhone is a great idea. You get the freedom you want without someone watching over your shoulder.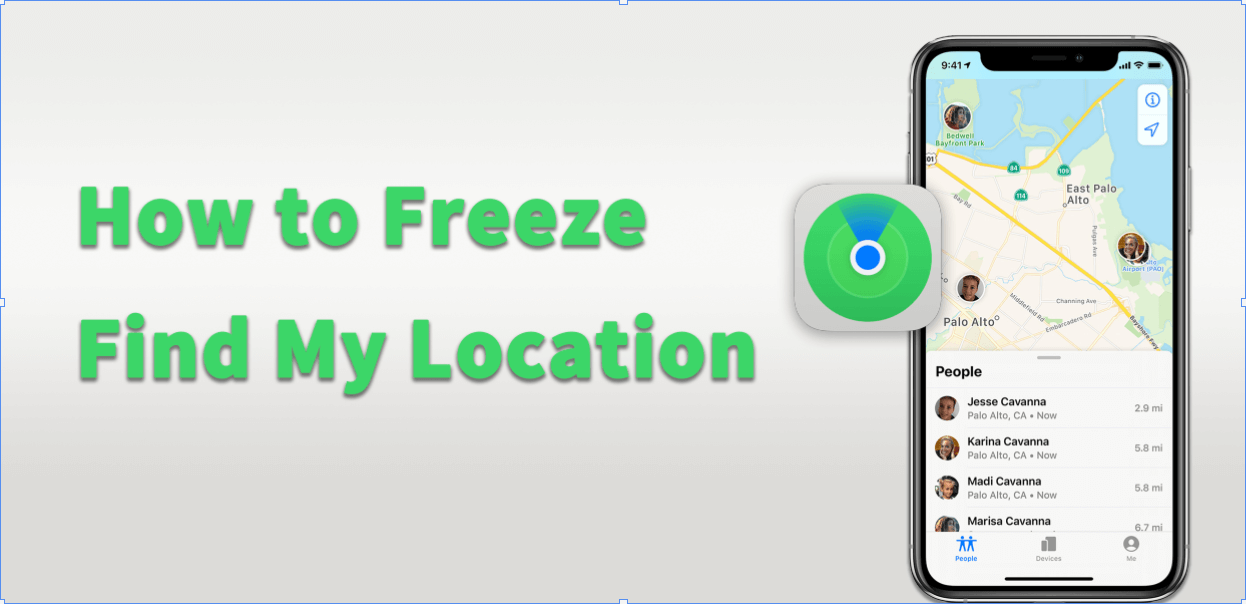 Can I Pause My Location on Find My iPhone?
Yes, it actually takes very little to pause your location information on Find My iPhone. Remember that this feature requires you to be connected to a WiFi or cellular network and to have location services enabled. If you disable those services, then people will only be able to see your last known location when that feature is still turned on.
You do have to keep in mind that sometimes, this will alert people that you are not connected, which may make it look like you are trying to hide.
If want to fix your location and avoid being noticed from families or friends, read on!
How Do You Pause Your Location on Find My iPhone Without Them Knowing?
There are really only a couple of ways to learn how to freeze location on Find My Friends without alerting anyone that you have disabled services. The first is to use a powerful third-party software application. The second requires you to jailbreak your device. Let's go over both quickly.

1 - Fix Your Location to Anywhere by using iMoveGo
The innovative developers at WooTechy created a powerful piece of software called iMoveGo that allows you to change your digital GPS location to anywhere in the world without requiring you to physically move at all.
This easy-to-use solution allows you to make it appear like you are at your home, library, school, work, or other public location while you actually sneak away for a spa day or to visit a friend others wouldn't approve.
Key Features of iMoveGo
75.000.000+
Downloads
Teleport your location to anywhere in the world.

Simulates real GPS movement and speed, including creating normal routes around town.

Works well on all location-based apps, such as Snapchat, Find My and even Pokémon GO.

Spoof location on up to 10 devices at one time.

Compatible with both iOS and Android devices. (Including iPod/iPad)

100% secure - Doesn't require risking your iPhone through jailbreaking. 
[Video Guide] Easily Fix/Spoof Location on Find My(including the latest iOS15/16):
How to use iMoveGo:
Step 1: Launch iMoveGo on your computer. Connect your device via USB cable. You may have to authorize access on your computer.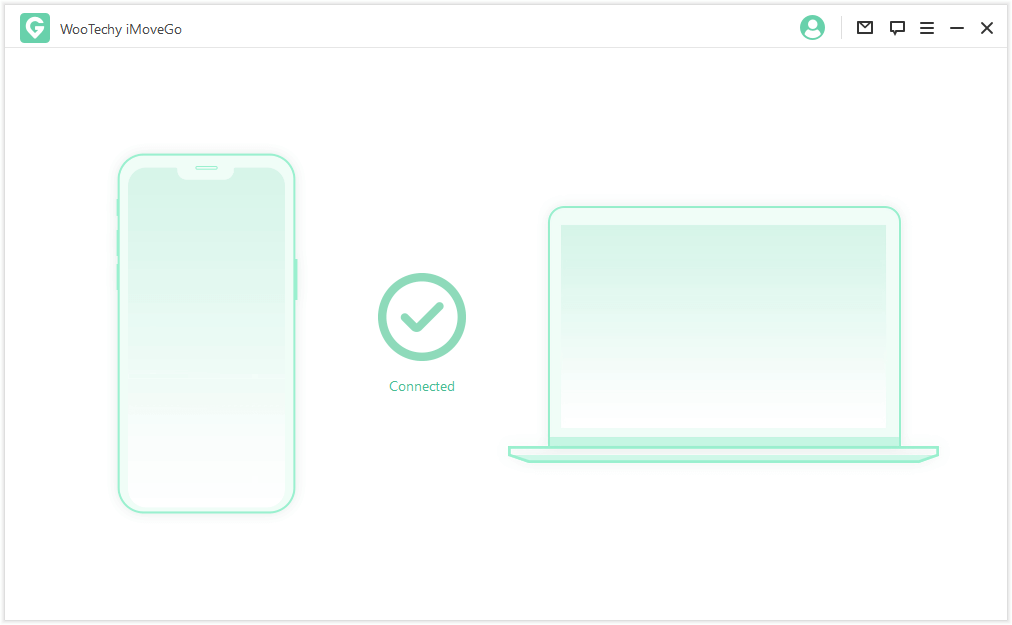 Step 2: Select your desired location via Teleport Mode and click on Move.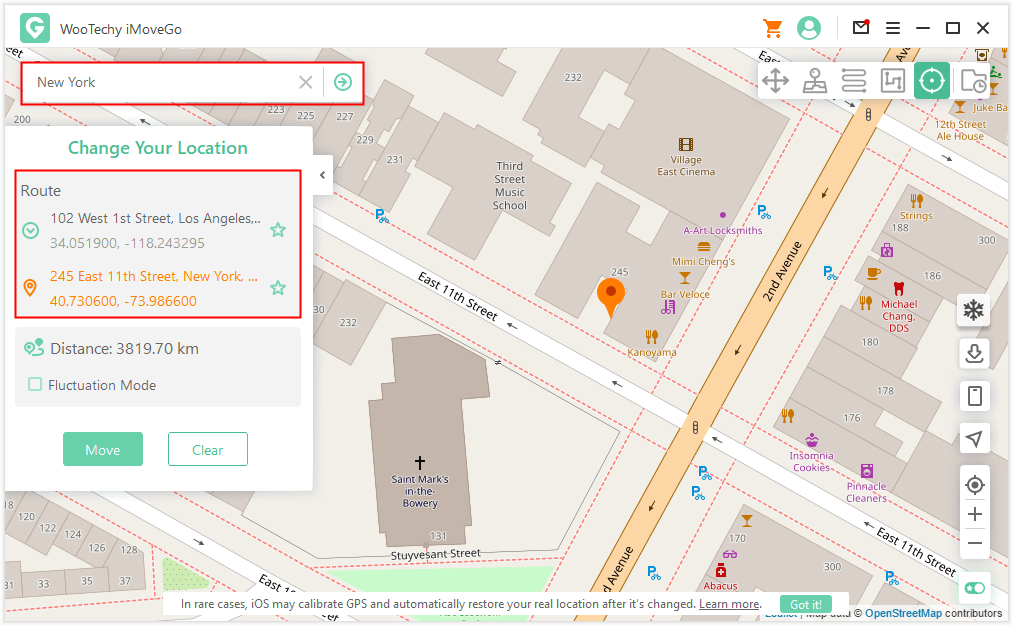 Now, open Maps on your phone to check your new location. You're ready to use this new location on all your apps.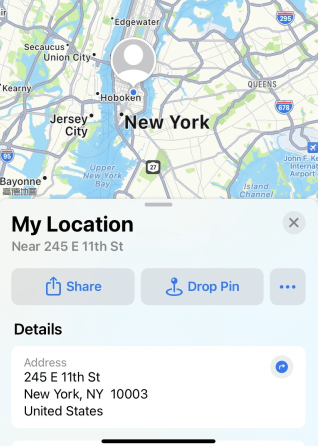 If you want to simulate GPS movement on your phone, switch to the Multi-spot/2-spot mode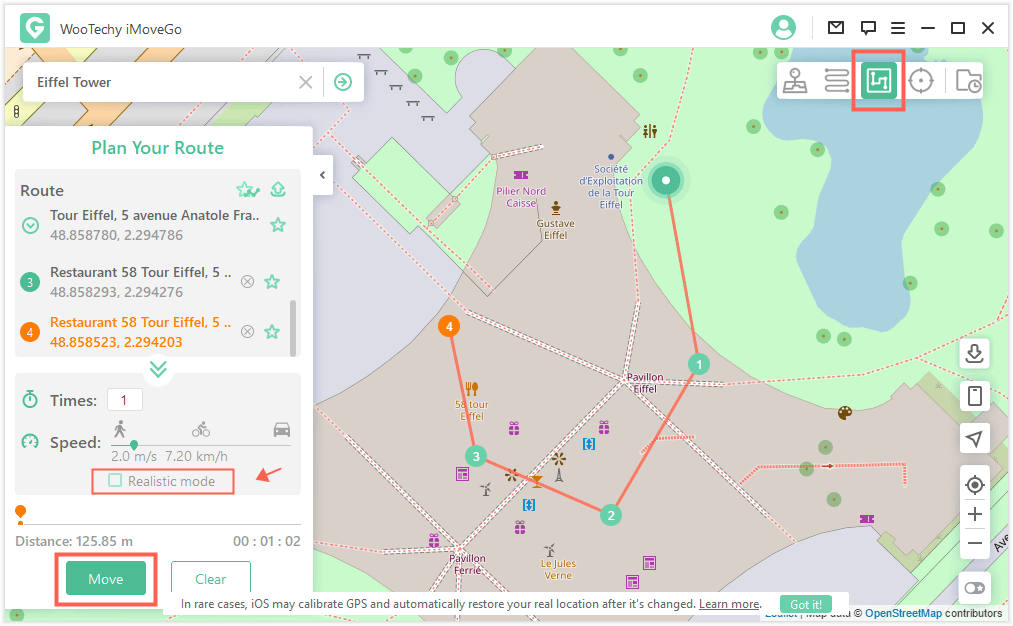 To get a feel for how iMoveGo works, start you
free trial
right now to change your location on all your iPhone apps.
2 - Jailbreaking Your iPhone [iOS 14 Only]
How to freeze your location on Find My iPhone is also possible by jailbreaking your device. This effectively removes your phone from the Apple ecosystem and can be risky to your hardware, software, and private files.
Once you go through the jailbreaking process, you can download any open-sourced app off the Apple Store to fake your location. These tend to not be as reliable or safe as iMoveGo, but will get the job done.
Click here to choose a tweak for changing location on jailbroken iPhone. Note that the jailbreaking method only works on iOS 14 and ealier. (https://idisqus.com/best-location-tweaks-ios-14/)
Other Tricks You Can Try to Freeze Location on Find My iPhone
Luckily, there are a few other tricks that are possible when learning how to freeze location on Find My iPhone. Each has its own advantages and disadvantages, but it may be all you need to keep your GPS location hidden from those that want to track your every movement.
1 - Use this iPad as My Location
If you have another Apple device lying around, you can change your location data to that device by logging into your account. This replaces your regular iPhone's location data with the new device you can leave in a safe location your friends and family won't suspect.
Grab iPad and open Settings.
Tap on Profile and turn on Share my Location.
Open on Find My app, then select Me icon.
Select the option for Use this iPad as my location.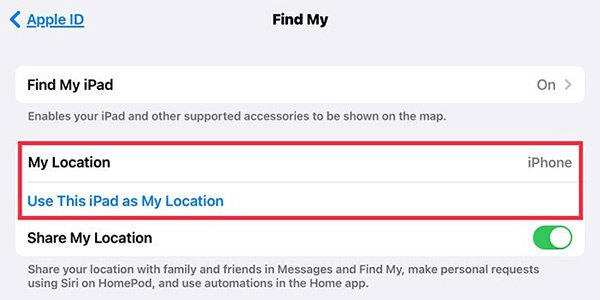 2 - Enable Airplane Mode
Airplane mode removes network and device access from your iPhone. You use this normally when traveling by air to switch off WiFi, Bluetooth, and cellular data with a single touch of the screen. While it will hide your location data, it will also mean you cannot use your iPhone for anything requiring internet access.
Open Settings or Control Center.
Touch the airplane icon to enable Airplane Mode.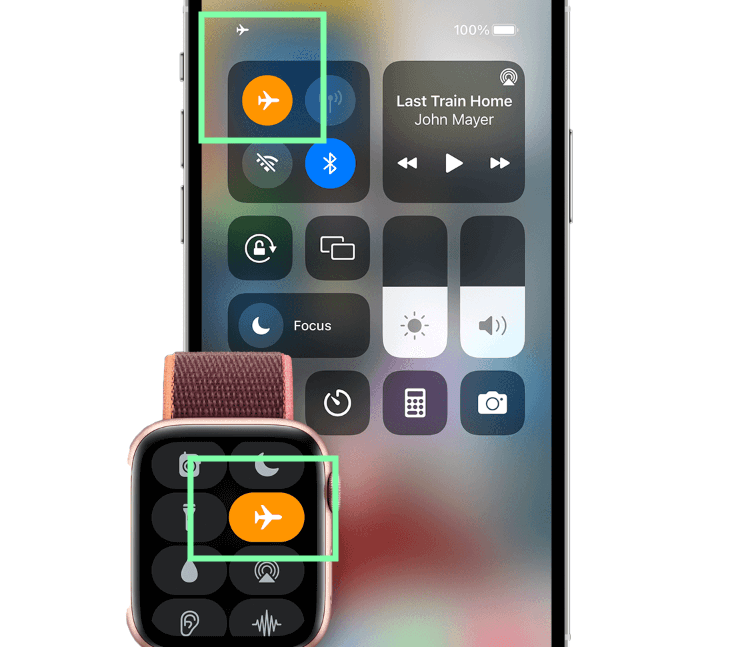 3 - Turn Off iOS Device Location
If you want to learn how to freeze location on Find My Friends while still having internet access, you will need to disable sharing your location data. This will stop anyone from tracking where you are and will only show them your last known connection when you were online.
Open Settings, Tap on the profile name, and select Find My.
Under Share My Location, select the toggle to turn off.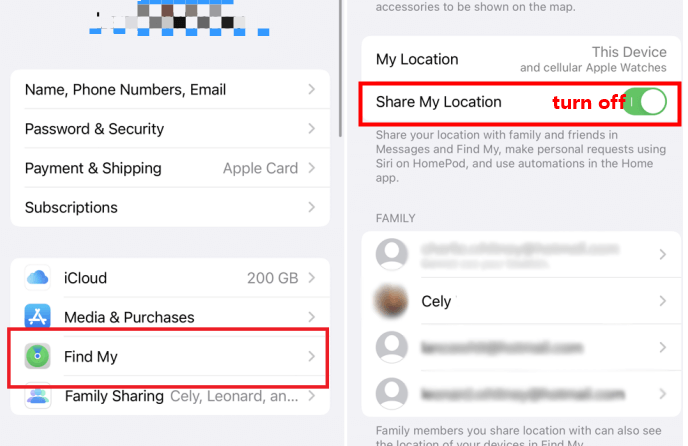 4 - Turn Off Precise Location
If you don't want to alert anyone that you have moved locations and are only going to a nearby area, then you may want to switch off precise location sharing. This will create a larger area where you may be located, like a neighborhood, section of a city, or block, but not your precise location, like a theater compared to a library.
Open Settings and select Privacy.
Tap on Location Services and then Find My.
Tap on the icon next to Precise Location to toggle off.
You can repeat this process for any other apps that are tracking your location.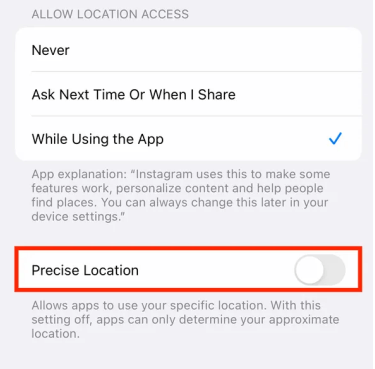 5 - Turn Off Your iPhone
It may seem extreme because you probably want access to your iPhone, but a simple solution is to shut down your device. This will remove it from any network access point and make it appear like your battery went dead or you are out of range from a network. When someone calls to check on you, they will be sent to voicemail.
Final Thoughts
Learning how to freeze your location on Find My iPhone is pretty easy. The bigger issue is finding a way to do it that doesn't require jailbreaking, losing features of your iPhone, or alerting your friends and family.
That is why using iMoveGo to safely change your digital GPS location is the best option. You can download a free copy first from WooTechy to test out the software. When you are ready, upgrade to the premium version to experience all the benefits. Hope this helps you get a bit more freedom and privacy in your daily life.
Download iMoveGo for free and see if it is right for you!