Snapchat is one of the leading social media platforms. It has numerous features, including live location, allowing users to share real-time locations with family and friends. This feature is helpful if you are in any emergency, and your friends and family can instantly reach you. In this article, we will discuss the Snapchat live location feature with a few manipulations. Let's begin and get all the information regarding the live location on Snapchat.
Part 1. What Is Live Location on Snapchat?
The Snapchat live location feature allows you to share your way with your close ones. You can share it privately so they can watch your activity until you safely reach somewhere. This feature is the same as WhatsApp, and the working procedure is similar. Snapchat always extracts the actual location without any bugs.
Sometimes your location gets stuck due to an internet connection error, so stop or resume the location to fix it. If this will not work, then you can reshare the live location. Always make sure that you have a strong internet connection for updated movements on live locations.
Part 2. How Does Live Location Work on Snapchat
The new feature of Snapchat is termed a buddy system. Live location features allow you to share real-time movement with your contacts by selecting the duration. You can share the live location for a minimum of 15 minutes to a maximum of 8 hours. The location will automatically stop without notifying the person you are sharing with. The timer on the top of the map will show you the total sharing time.
There is no option to share the live location with all your friends; instead, you must share it with a specific friend or send each separately. You can pause the location at any time without alerting your friend.
Part 3. How to Share Live Location on Snapchat
In this part, we will discuss how to share live locations and stop sharing when needed. It has straightforward steps that are easy for a new user also. Let's see how you can use this cool feature for privacy concerns and escaping from critical conditions.
3.1 Steps to Use Snapchat Share My Live Location
Step 1. Download Snapchat via Google Play Store and install it on your mobile. Launch the app and log in with your email address or phone number.
Step 2. Tap the Chats icon and open the chat of the person you want to share your live location.
Step 3. Now, tap on the friend's profile icon. Under the Snap map section, hit Share My Live Location and make sure that you have turned off the ghost mode. It will open a pop-up window and ask you to select the duration for the live location.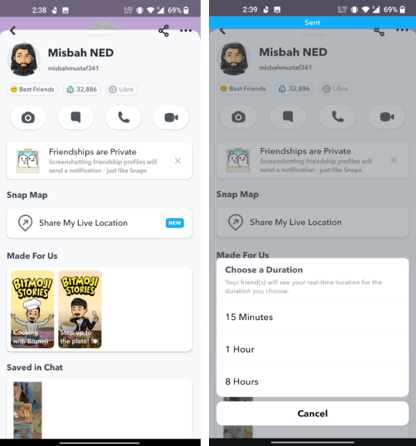 Step 4. It will ask you to give access for location sharing to Snapchat before sharing the live location. Switch the setting to Allow All The Time.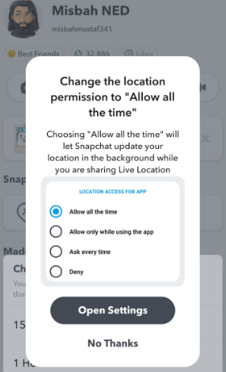 Step 5. After allowing your live location is shared successfully with the desired contact.
3.2 Steps to Stop Sharing Snapchat Live Location
You can stop sharing the location with your friend in two ways. We will guide you through both of them in a separate step. Let's start by launching Snapchat on your phone.
Step 1. Open your friend's chat with which you have shared the live location.
Step 2. One way is to directly tap the Stop Sharing option just below the map on the chats. If the message disappears due to uncertain reasons, head to the next step.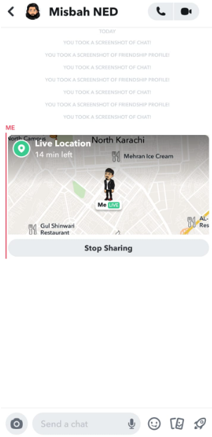 Step 3. Tap on the profile icon of your friend at the top left. Under the snap map section, you will see the Sharing Live Location tab. Tap the Stop button at the right of this tab to remove access to the location from your friend.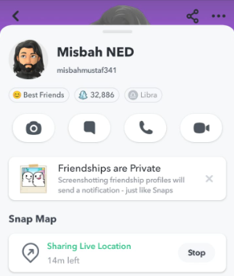 Part 4. Can You Fake Your Live Location on Snapchat?
If you don't want to share your actual live location on your Snapchat, then you can use efficient software to disguise your location without letting the person know about it. The person or your friend will see your masked location.
WooTechy iMoveGo is legitimate software that works professionally to spoof your location on Snapchat and other location-associated apps. You can tweak your live location with the joystick feature for accurate 360-degree movement. It works with location-based apps without jailbreaking and supports the latest iOS version. You can get access to geo-specific services which are not available in your region. It simulates the GPS movement with the customization of route and speed.
Step 1. Download and install WooTechy iMoveGo on your PC. Launch the software and tick the terms of the disclaimer. Hit Get Started to see the following window.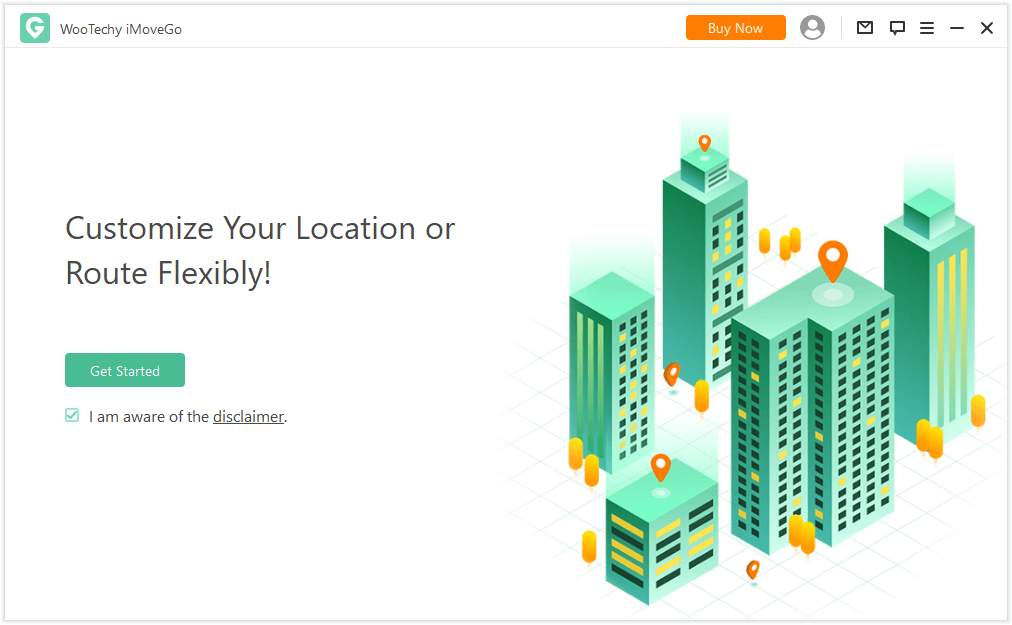 Step 2. Connect your iOS device via the original lightning cable and unlock your device to allow access to the software for location disguise. The map will automatically appear when the device gets connected.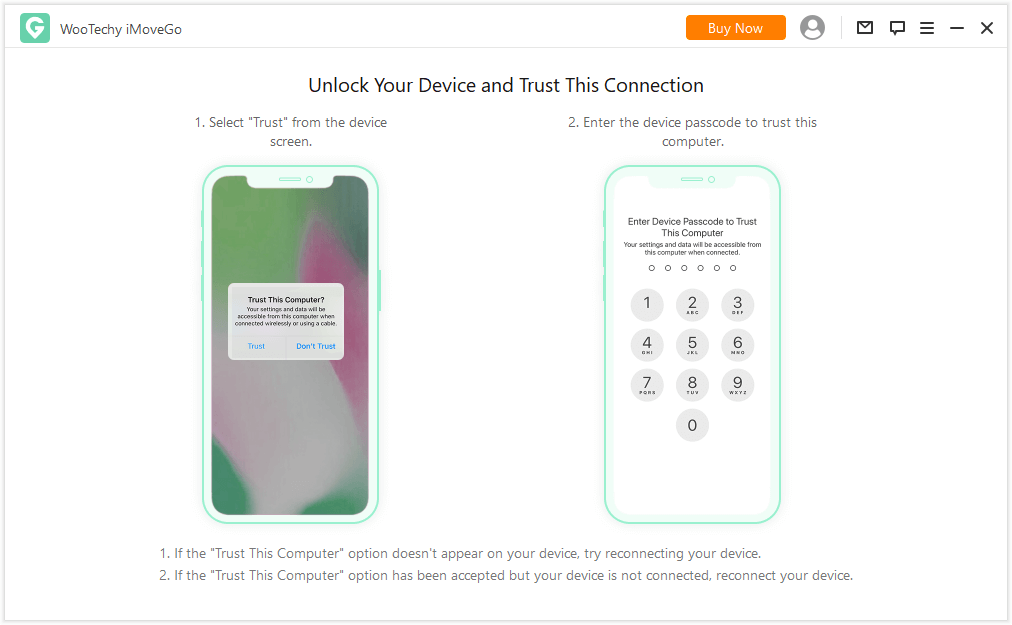 Step 3. Click the Teleport Mode icon and search for the desired location. Hit Move and drag your cursor to the perfect place.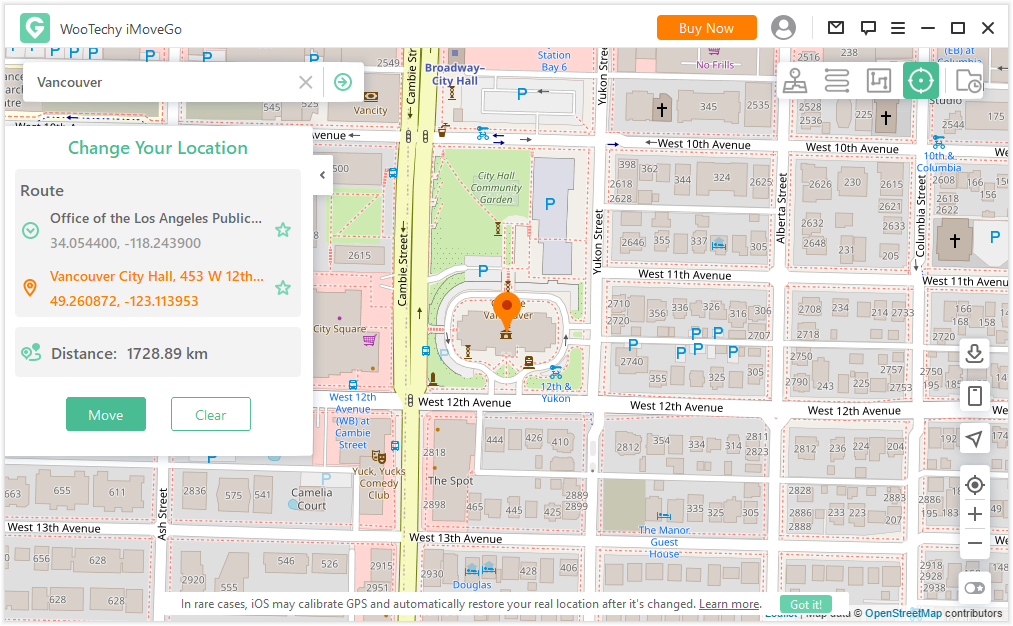 Now, your location is spoofed. You can share your fake Snapchat location with your family and friends.
Conclusion
The Snapchat live location feature is helpful in many cases; you have learned how to share it with friends and family. But if you want to spoof your location, you can use WooTechy iMoveGo. It is an excellent tool to mask your original location with the desired one in no time, and no one will get a clue. Download it and use it for Snapchat and other location-based applications.